If you're a fan of indulgent breakfasts that satisfy your sweet tooth, you're in for a treat! We've curated a list of 37 insanely delicious lovely breakfast ideas that will make your mornings delightful.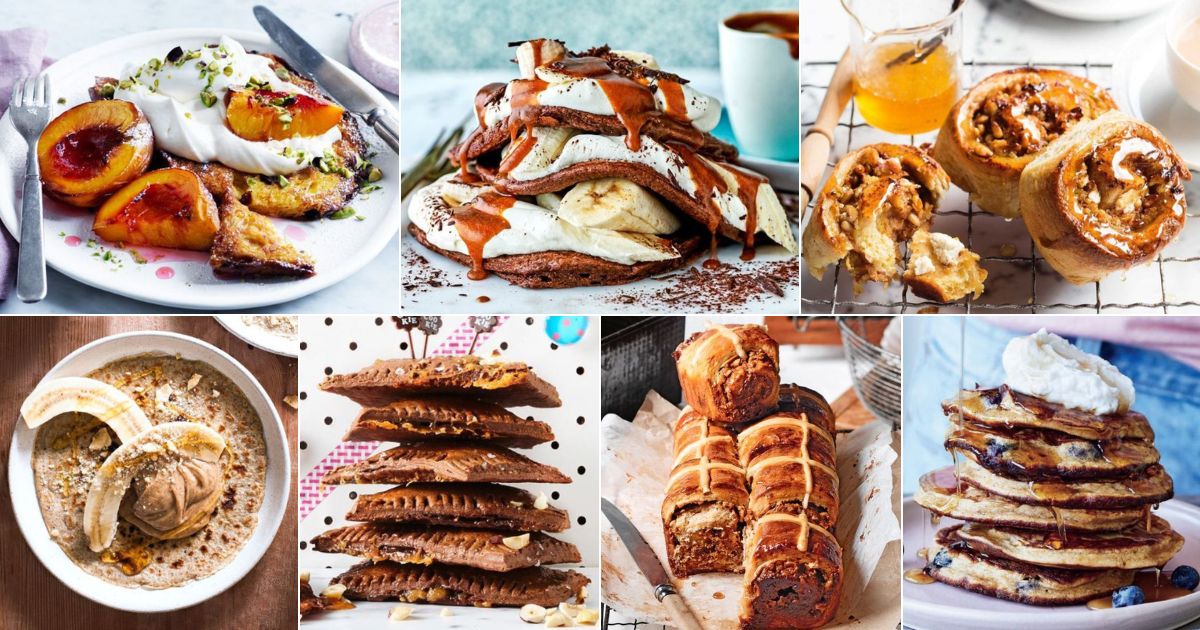 This list has something for everyone, from classic favorites like pancakes and waffles to innovative twists like French toast muffins and breakfast cookies. So, grab a coffee, sit back, and get ready to drool over these mouth-watering sweet breakfast ideas!
Jump to: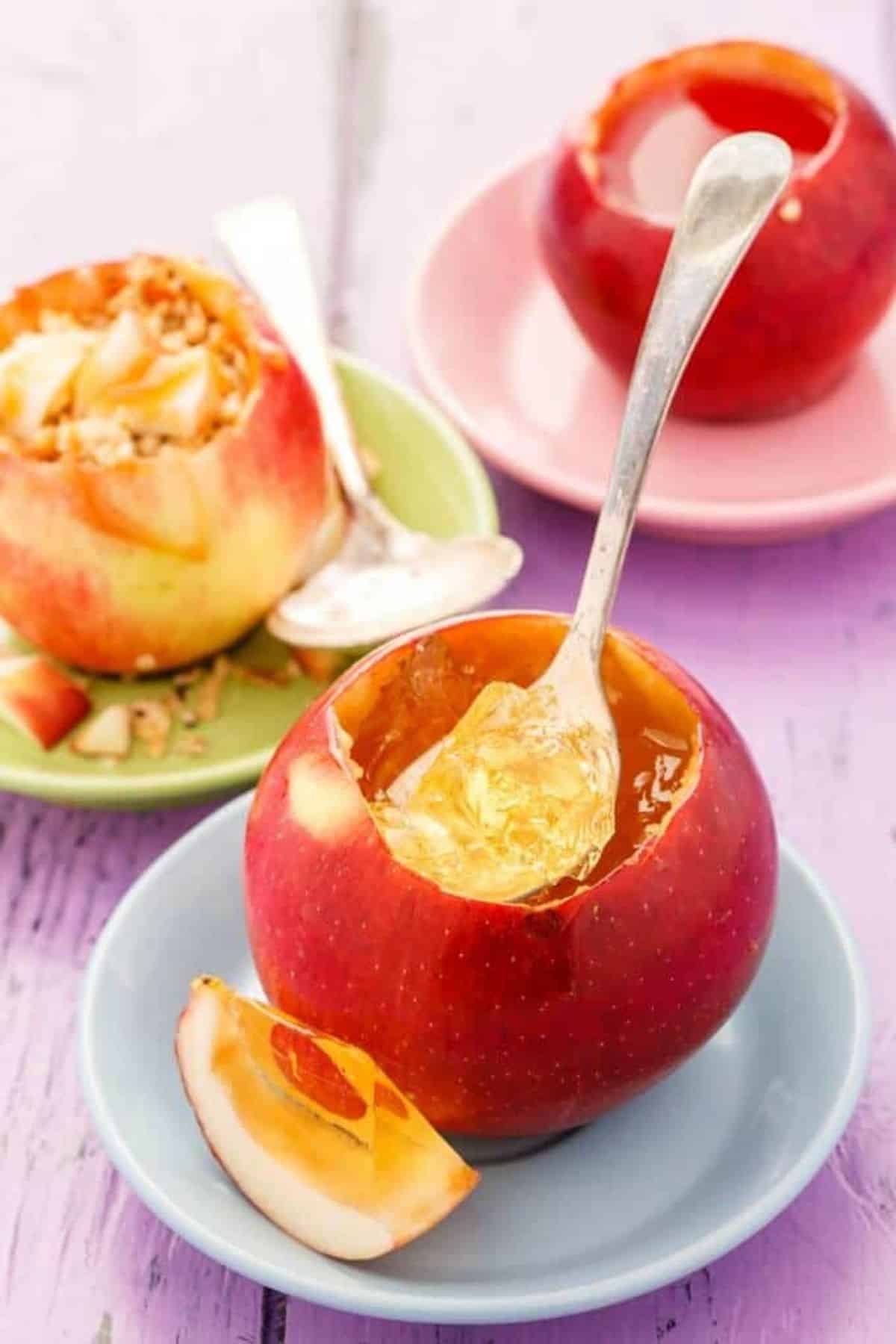 Apple cups are the quintessential fall breakfast treat, filled with warm, spiced flavors that will transport your taste buds straight to the orchard. Picture this: crisp, tart apples carefully cored and hollowed out, then filled with rich cinnamon, nutmeg, and brown sugar. The result is a warm, comforting breakfast that will make you feel like you're being hugged from the inside out.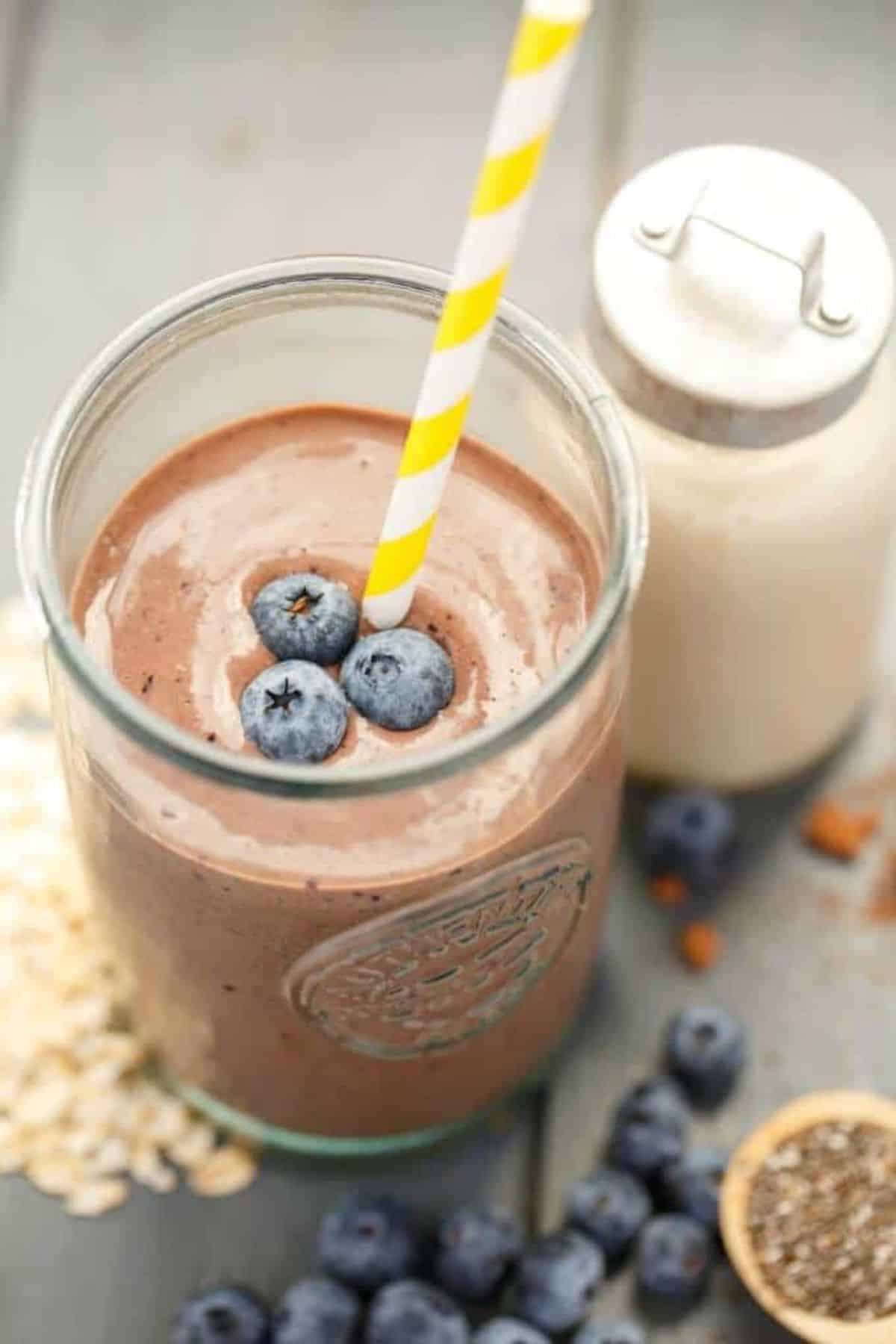 Ladies and gentlemen, prepare yourselves for a breakfast smoothie that will have you feeling like a million bucks before you've even finished your first sip. The Almond Milk Banana Blueberry Breakfast Smoothie is a sweet, creamy concoction with fresh fruit flavors and wholesome ingredients.
This smoothie pairs well with various breakfast items, from classic oatmeal to fluffy pancakes, making it a versatile addition to any sweet breakfast spread.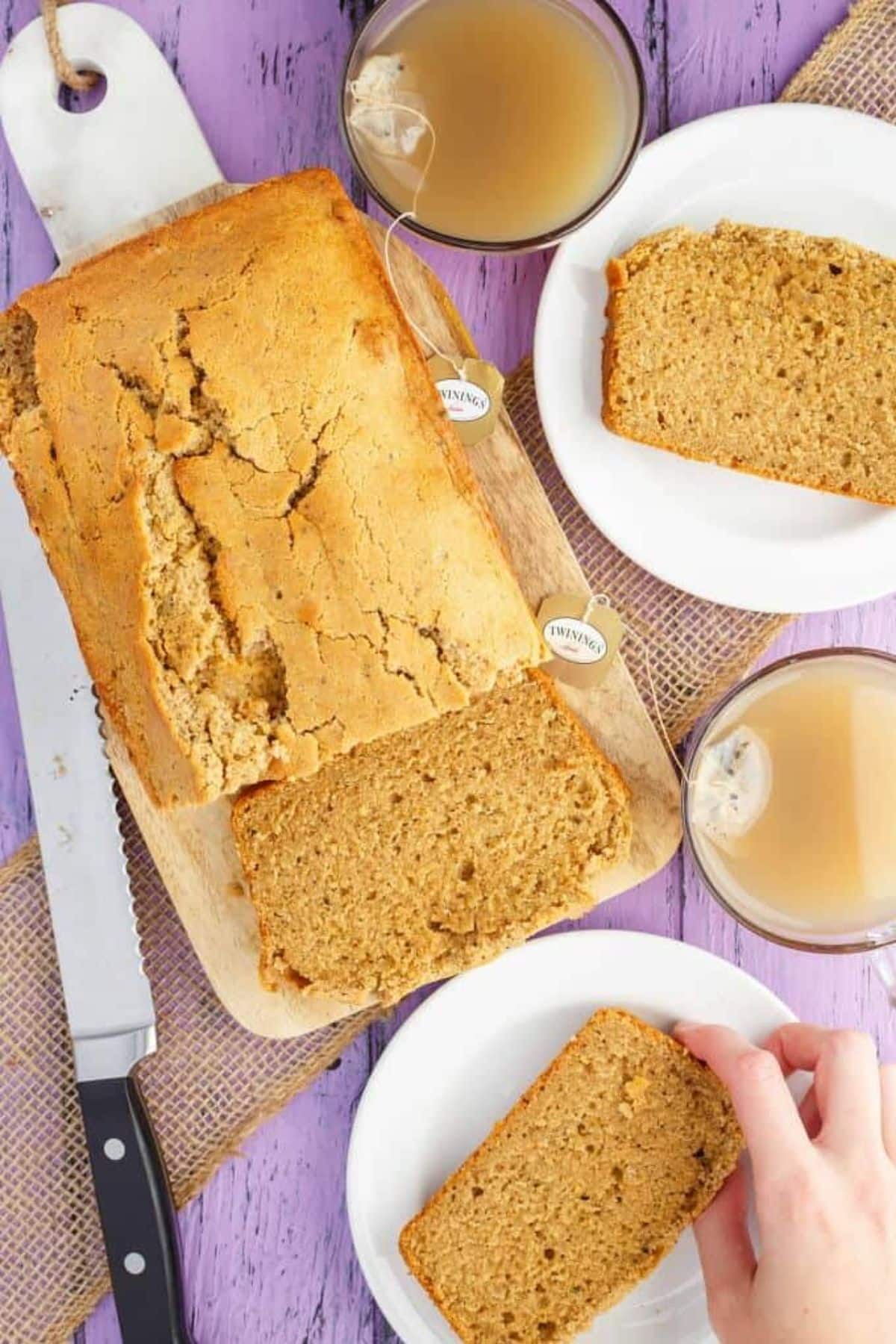 Gather round, breakfast lovers, for a treat that will tantalize your taste buds. The Earl Grey Tea Sweet Bread is a one-of-a-kind breakfast dish infused with the fragrant flavors of Earl Grey tea. Imagine biting into a warm, fluffy slice of bread bursting with the subtle flavors of bergamot and black tea.
The bread is soft and tender, with a perfectly balanced sweetness complemented by the delicate hints of tea. This bread is an excellent choice for those looking to mix up their usual breakfast routine, and it pairs beautifully with a hot cup of tea or coffee.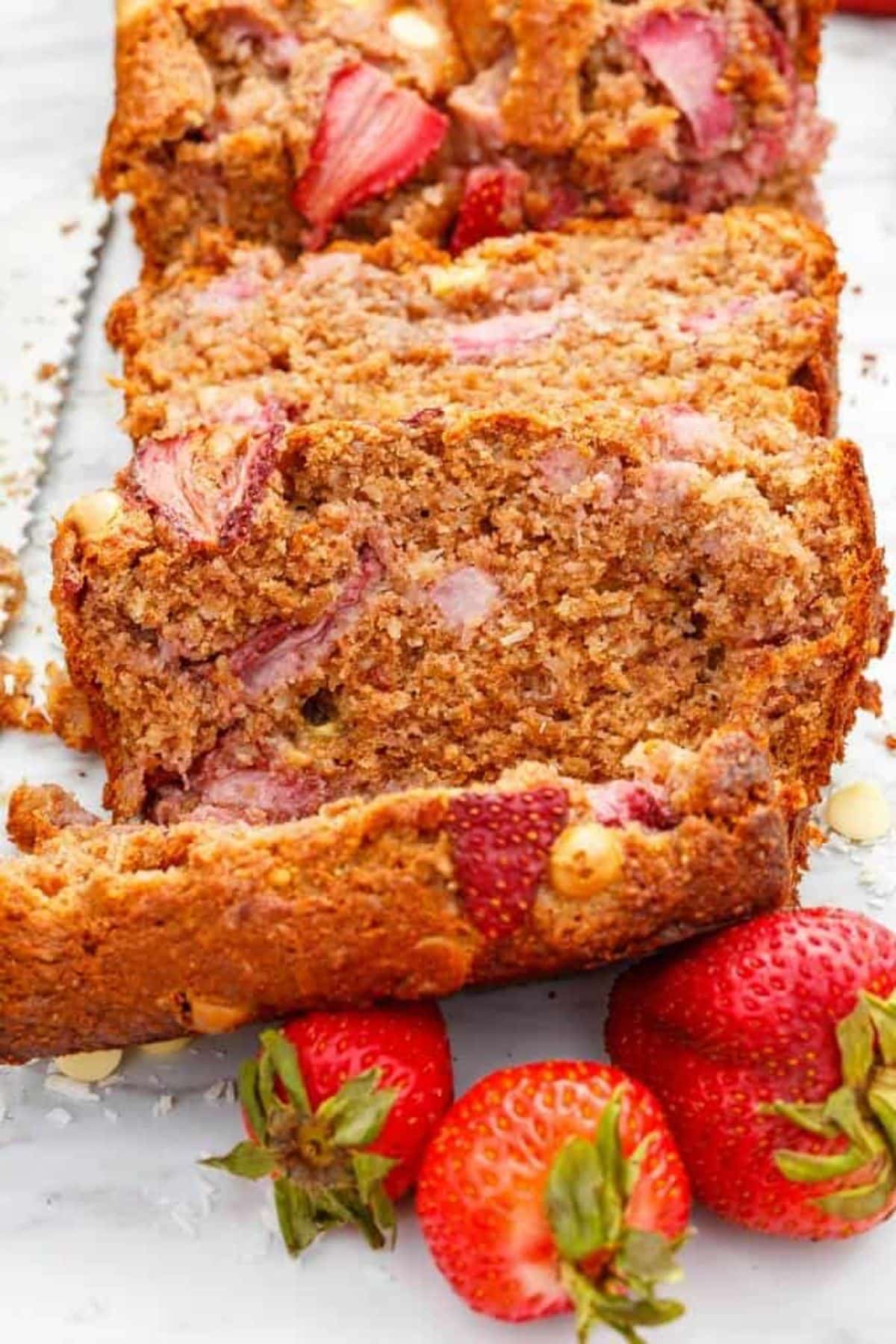 The combination of strawberries, bananas, and white chocolate is a match made in heaven, and it's sure to have you coming back for seconds. This bread is delicious and a great way to use any overripe bananas or leftover strawberries you may have to lie around. Serve it warm with a whipped cream or hot coffee dollop, and you'll have the perfect sweet breakfast.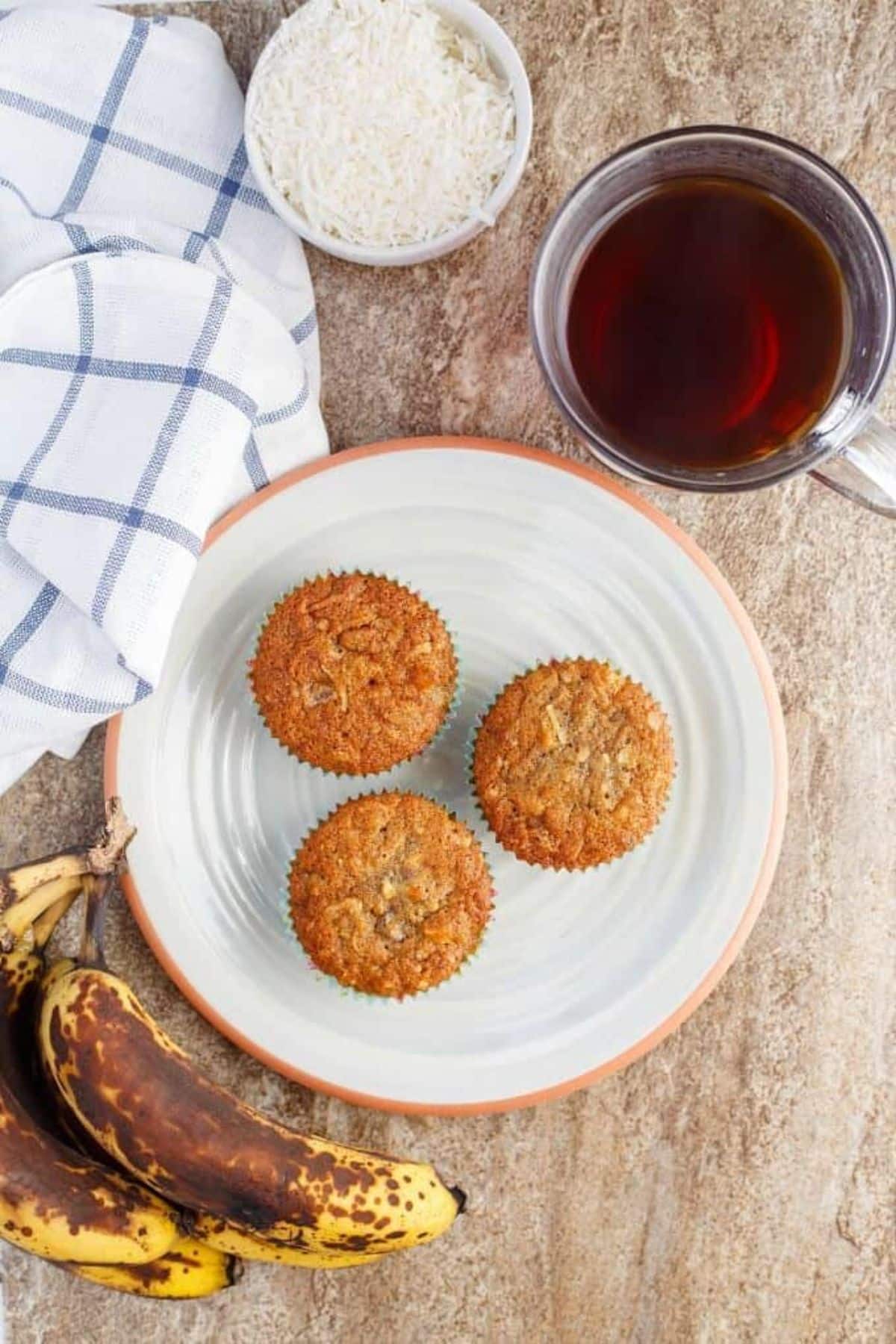 These muffins are flavorful, featuring the rich sweetness of chocolate chips, coconut nuttiness, and chopped nuts' crunch. Each bite is a heavenly combination of moist banana bread and crunchy toppings, creating a rich and complex flavor profile. The combination of chocolate and banana is a classic for a reason, and adding coconut and nuts takes these muffins to the next level.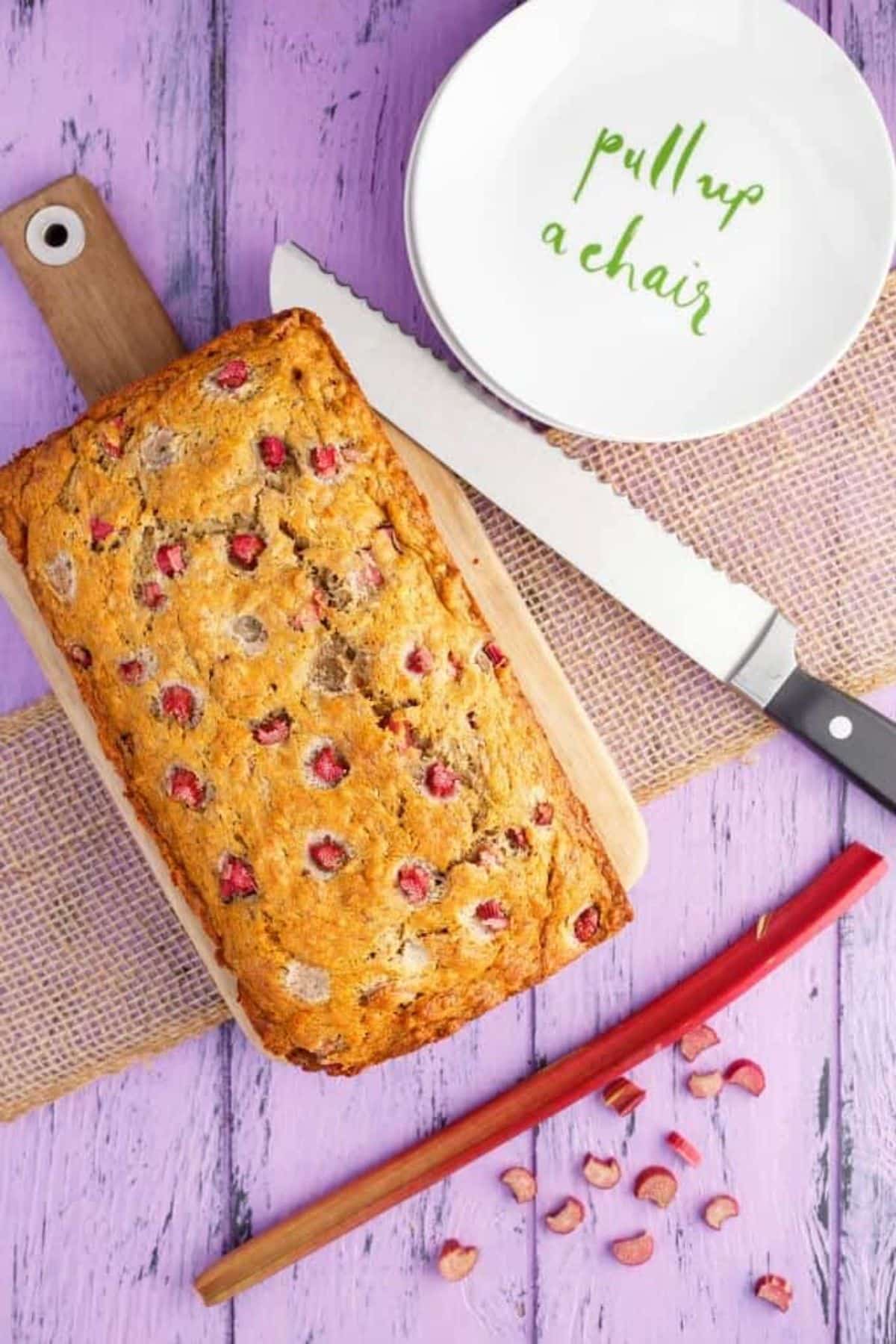 This recipe is excellent if you have extra rhubarb and want to make something delicious and different. This recipe is easy to make and will impress your friends and family. So why not treat yourself to a slice of Honey-Rhubarb Banana Bread and start your day on a sweet and tangy note?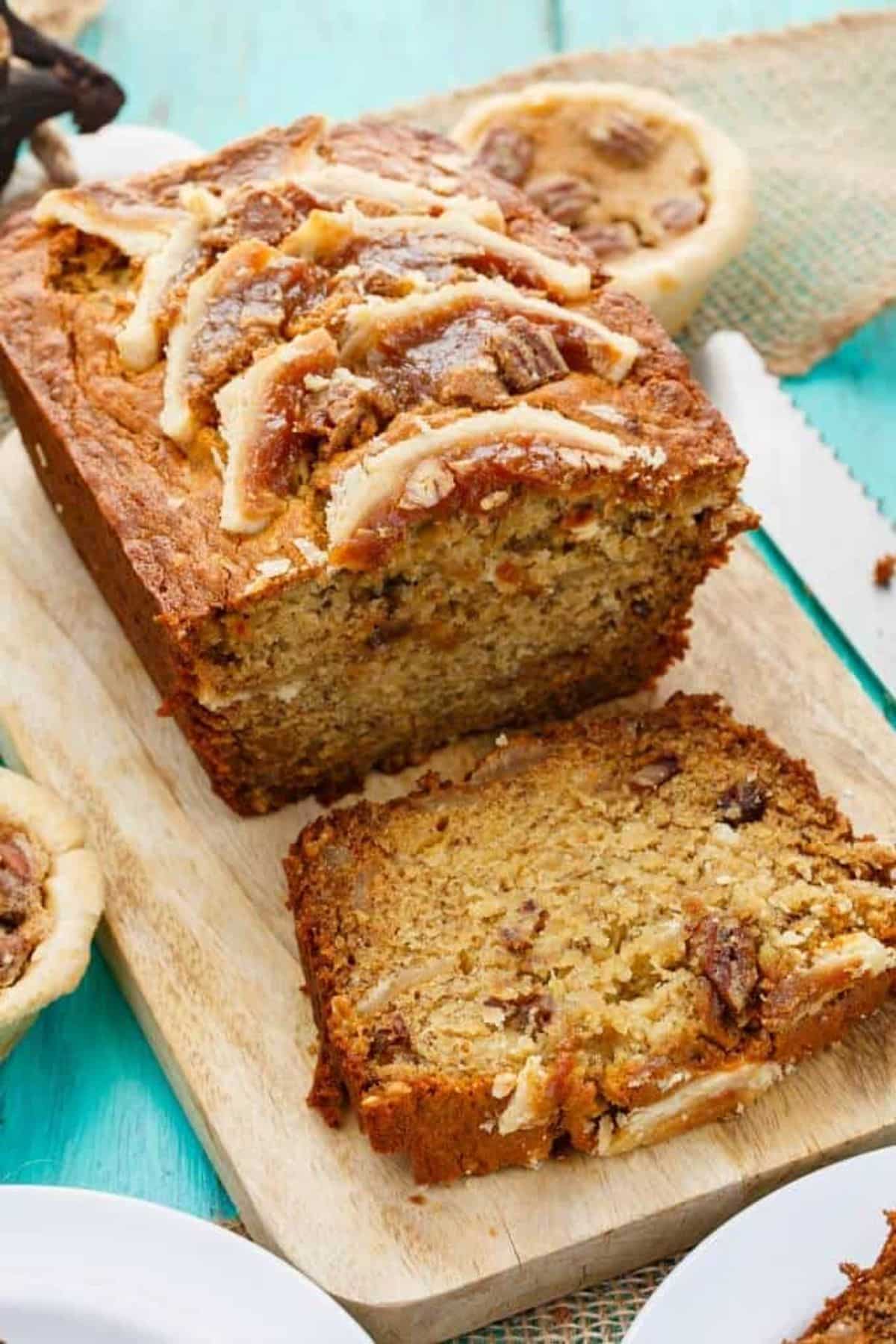 Imagine biting into a slice of banana bread that's perfectly moist and filled with gooey pockets of butter tart goodness. The flavors are bold and intense, with the sweetness of the banana bread perfectly balanced by the richness of the butter tarts. This kind of breakfast will leave you feeling like a king or queen.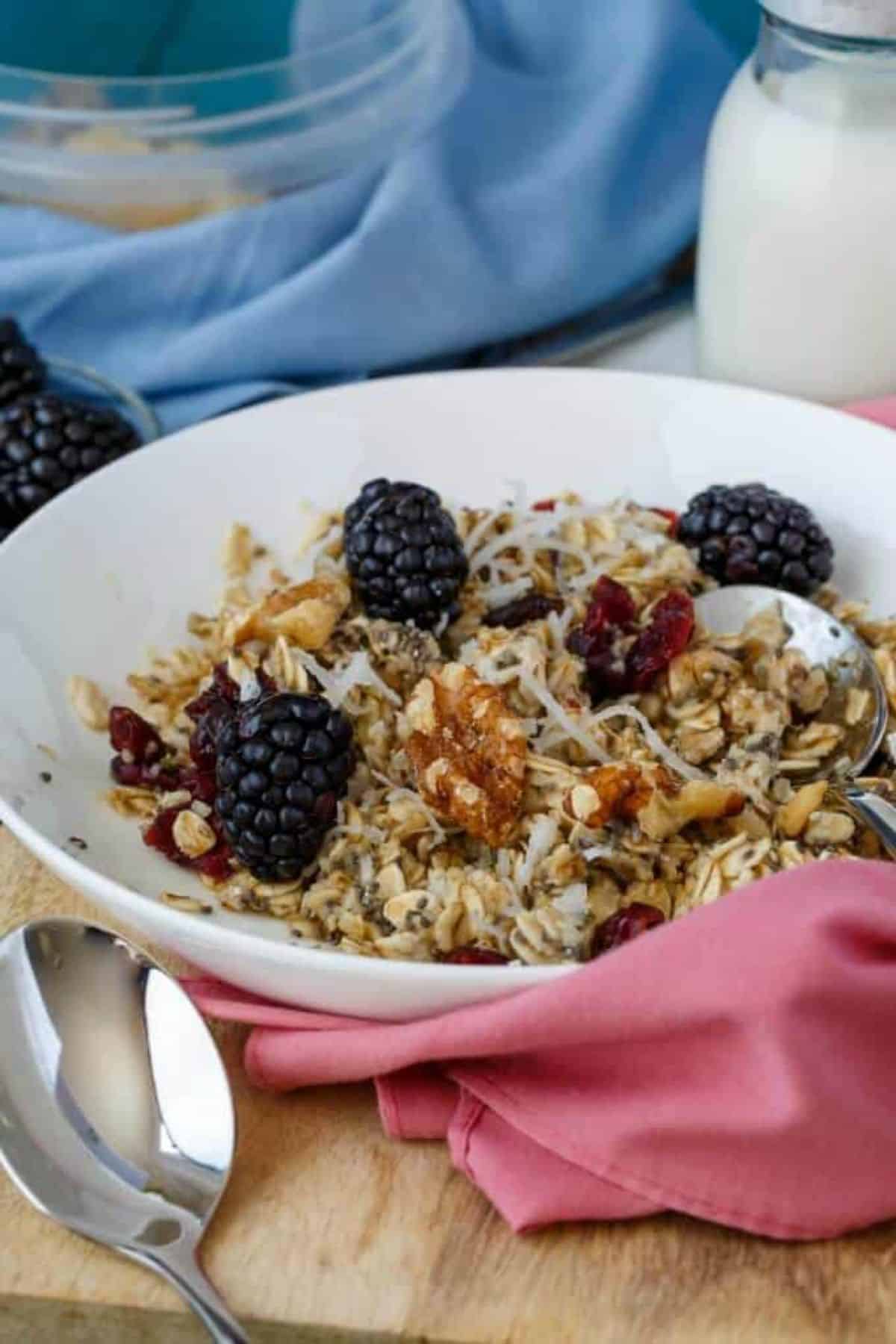 This dish is for the person who wants a quick and easy breakfast without sacrificing taste. The plate has wholesome ingredients like rolled oats, brown sugar, cinnamon, and dried fruit. The flavors in this dish are earthy and sweet with a hint of spice. One can expect a warm and comforting taste that will fill you with just the right amount of sweetness.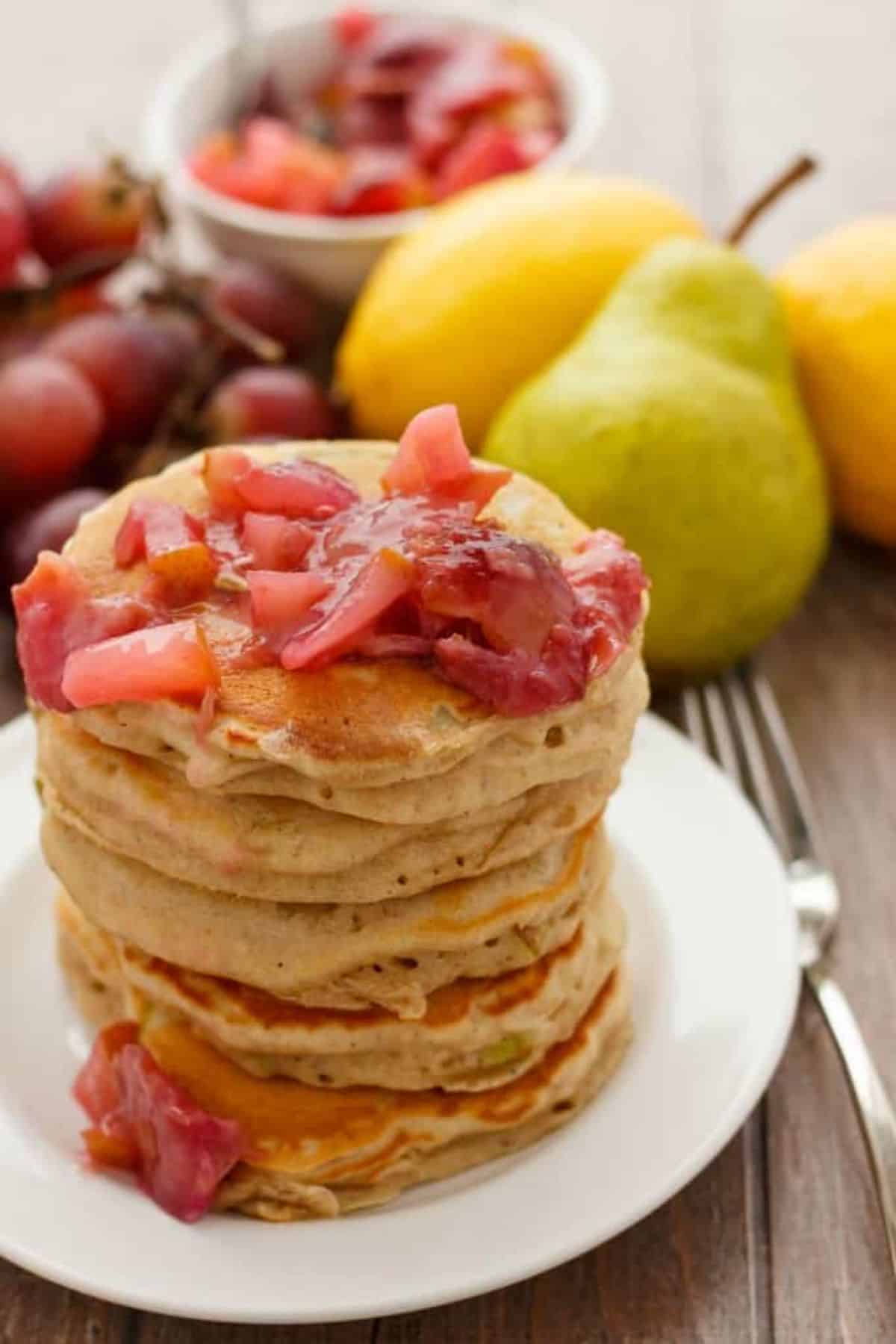 If one thing gets me out of bed in the morning, it's the thought of a stack of fluffy pancakes. And if those pancakes are packed with juicy pieces of pear and drenched in a sweet and tangy grape sauce? Well, then, I'm up before my alarm even has a chance to ring. These Pear Pancakes with Grape Sauce are the perfect way to start your day.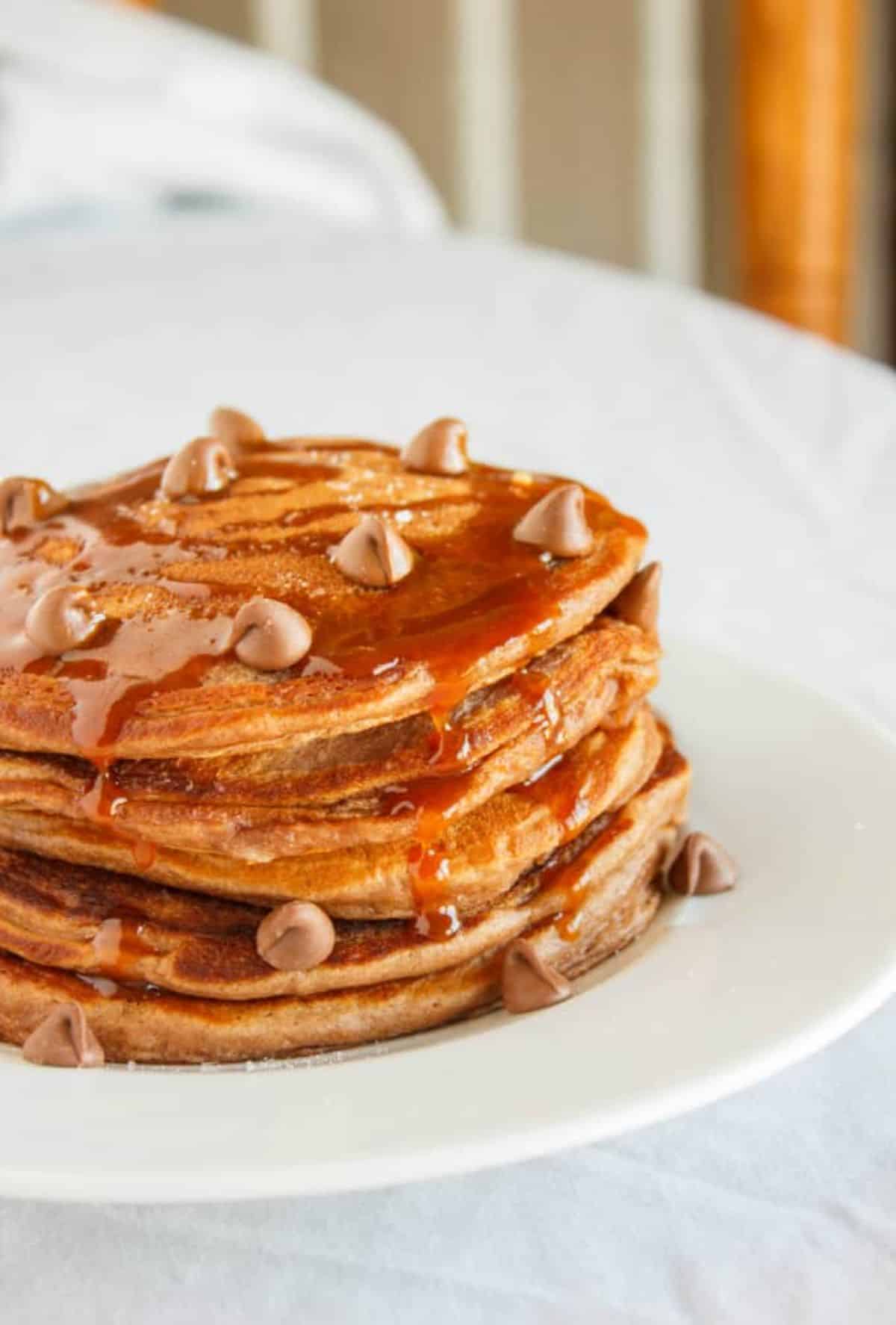 Each bite is a perfect balance of sweet and savory, with the subtle saltiness of the caramel perfectly complementing the rich chocolate flavor. And let's not forget the delicate texture of the pancakes themselves, light and airy with just the right amount of crispness on the edges. This dish will make you feel like royalty from the very first bite.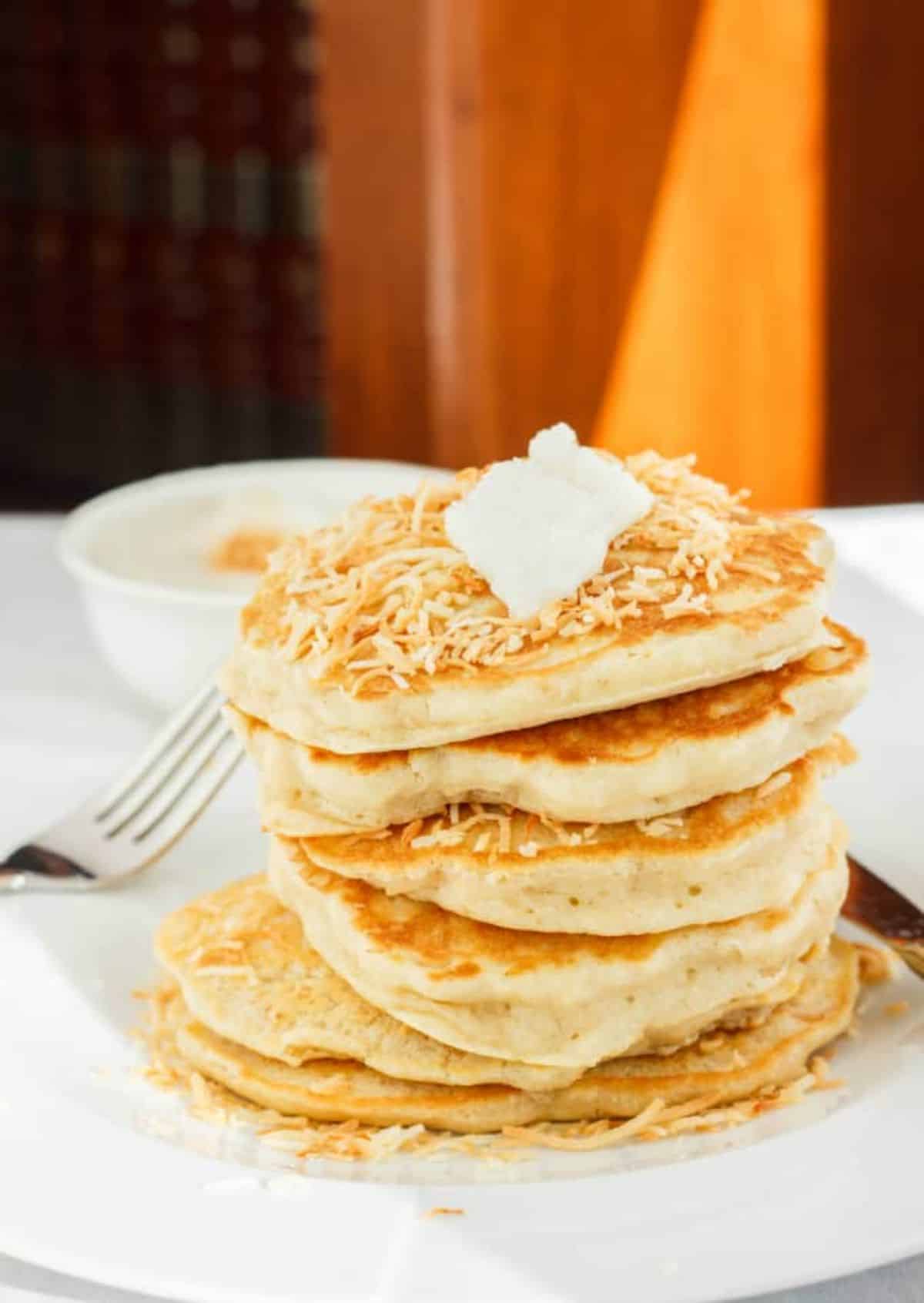 These pancakes are crispy on the outside, soft on the inside, and bursting with tropical flavors. Each bite is like a mini-vacation to a faraway beach, where the coconuts are plucked fresh from the palm trees and roasted over an open flame. The coconut's toasty sweetness pairs perfectly with the light, fluffy pancakes, making it the ideal breakfast to start your day. Top it off with fresh fruit or whipped cream for an extra kick of sweetness.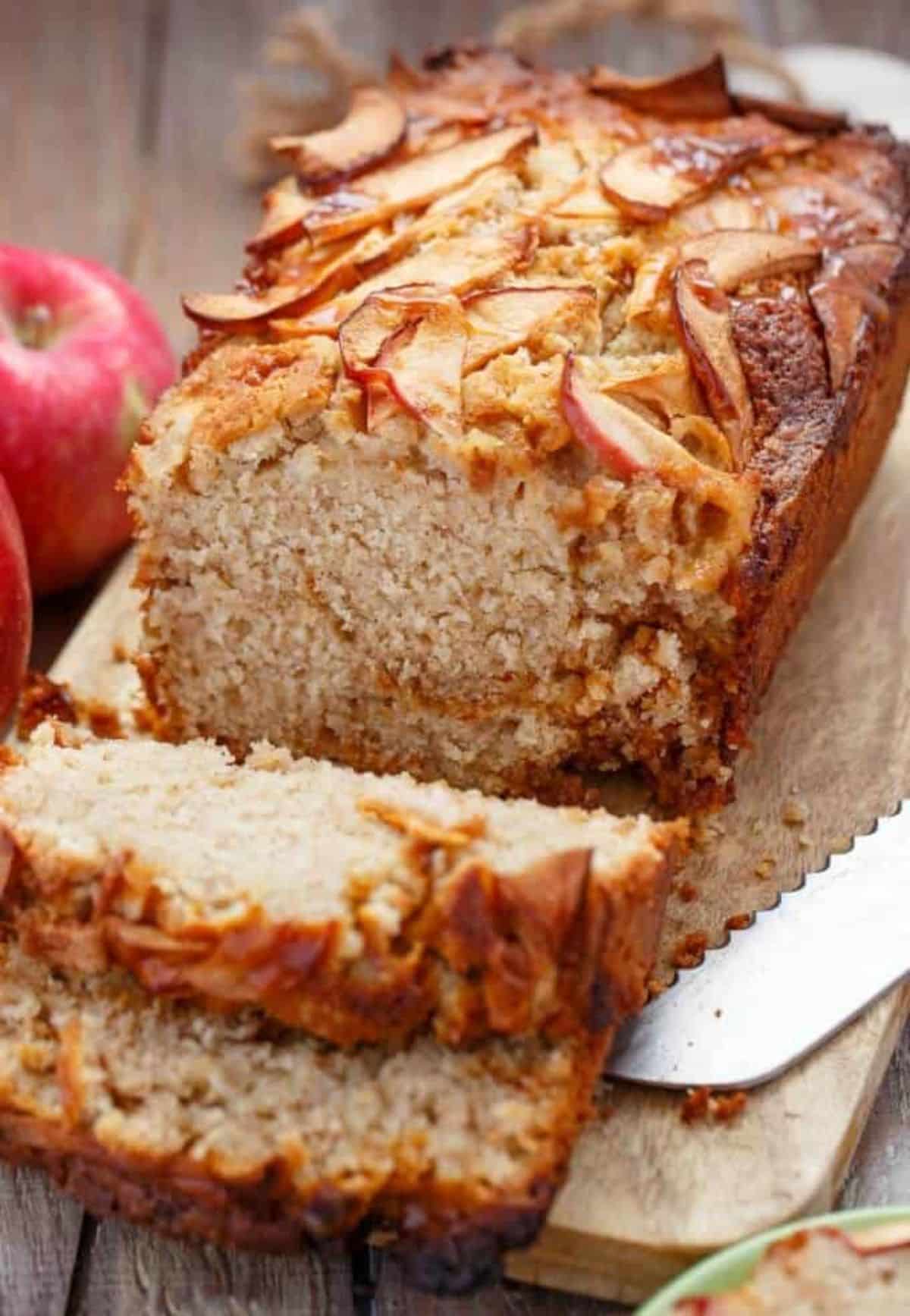 There's something undeniably comforting about the aroma of freshly baked bread, especially when that bread is apple cinnamon bread with caramel drizzle. It's like wrapping yourself in a warm, cozy blanket on a cold winter day. The apples provide a subtle sweetness, and the cinnamon adds a comforting warmth, making this bread perfect for a chilly breakfast. The caramel drizzle adds a decadent touch of richness to each bite.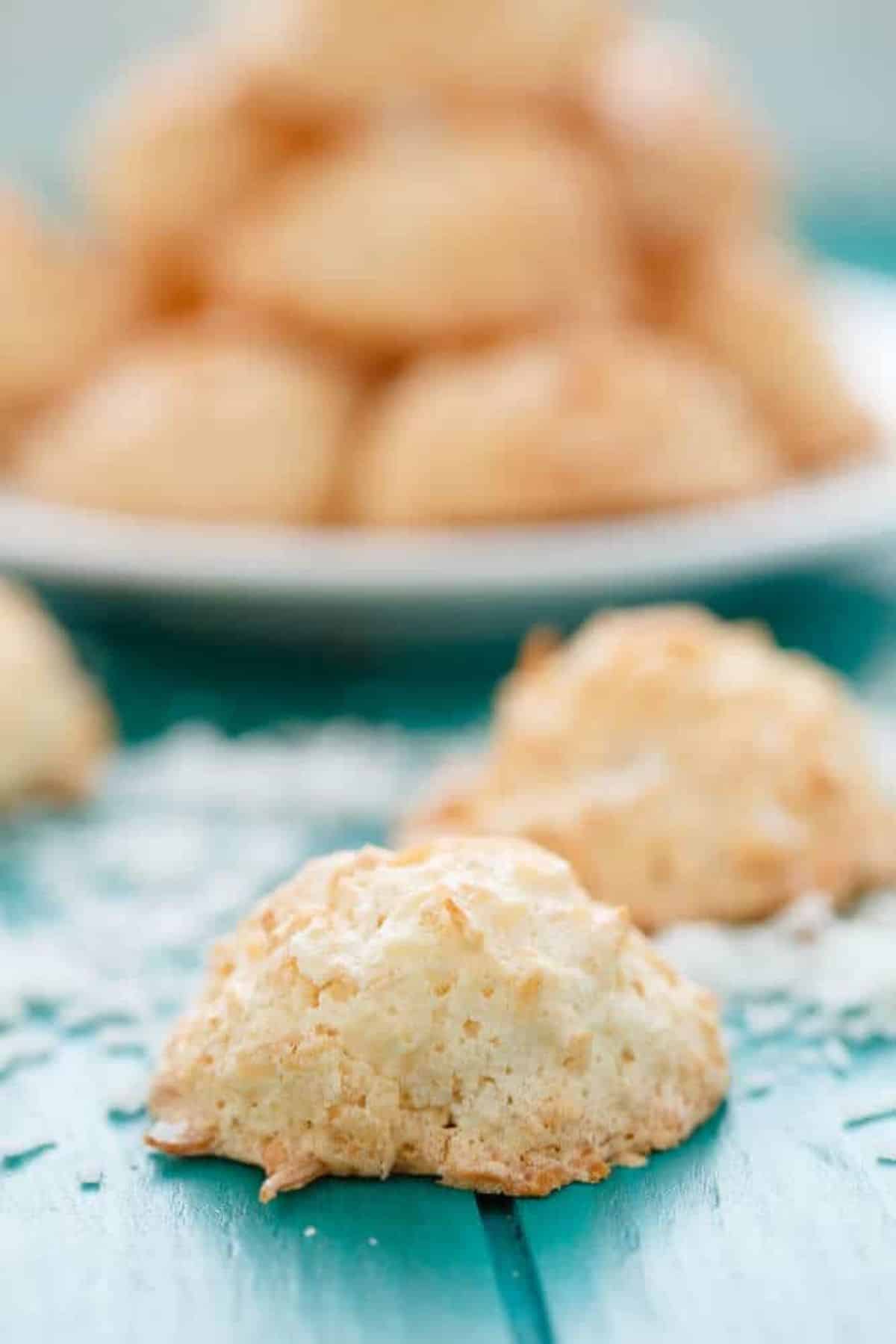 These delightful bites are made with shredded coconut, sugar, egg whites, and vanilla extract and then semi-toasted to golden perfection to add a nutty flavor and a satisfying crunch.
The macaroons have a delicate yet chewy texture with a subtle sweetness that doesn't overpower your taste buds. So take a bite, close your eyes, and let your taste buds transport you to a sunny beach with palm trees swaying in the breeze.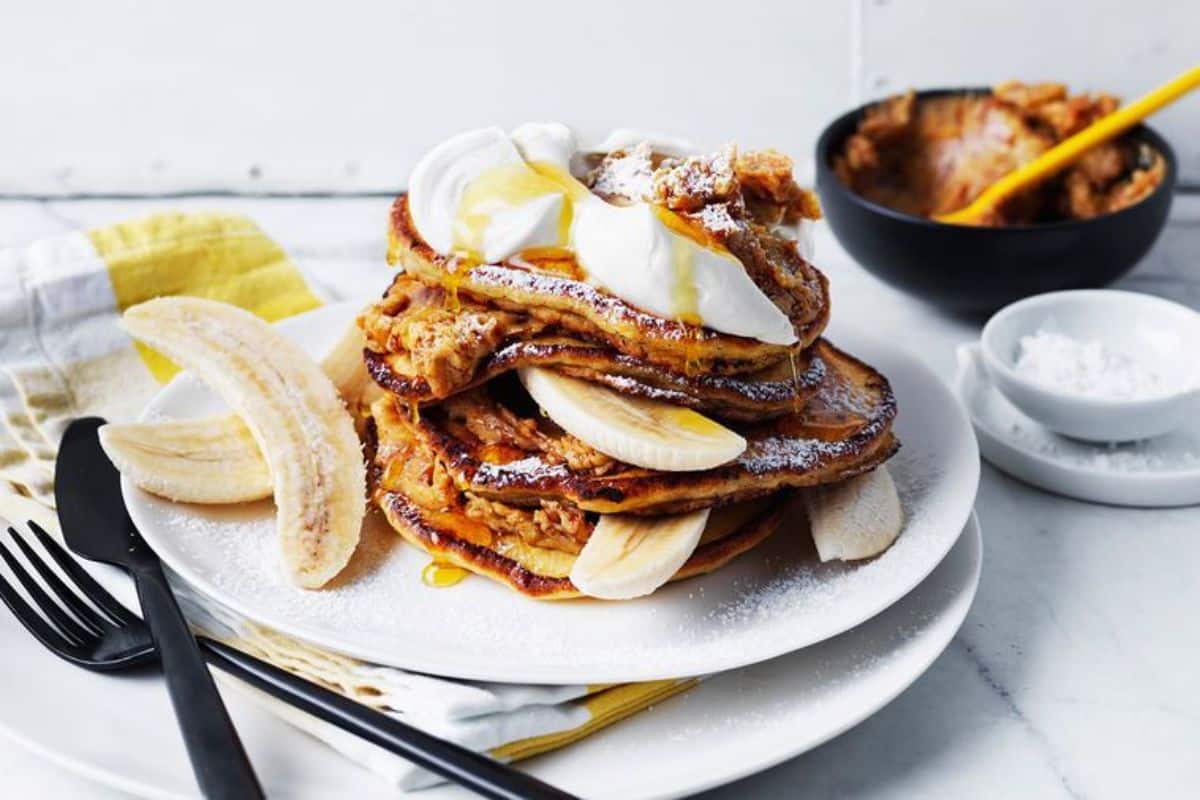 These ricotta pancakes with honeycomb butter are the ultimate sweet breakfast treat - perfect for lazy Sunday mornings or special occasions. They're also versatile enough to be paired with a range of toppings, from fresh berries to a drizzle of maple syrup. Whatever your preference, one thing's for sure: these pancakes are the ultimate indulgence.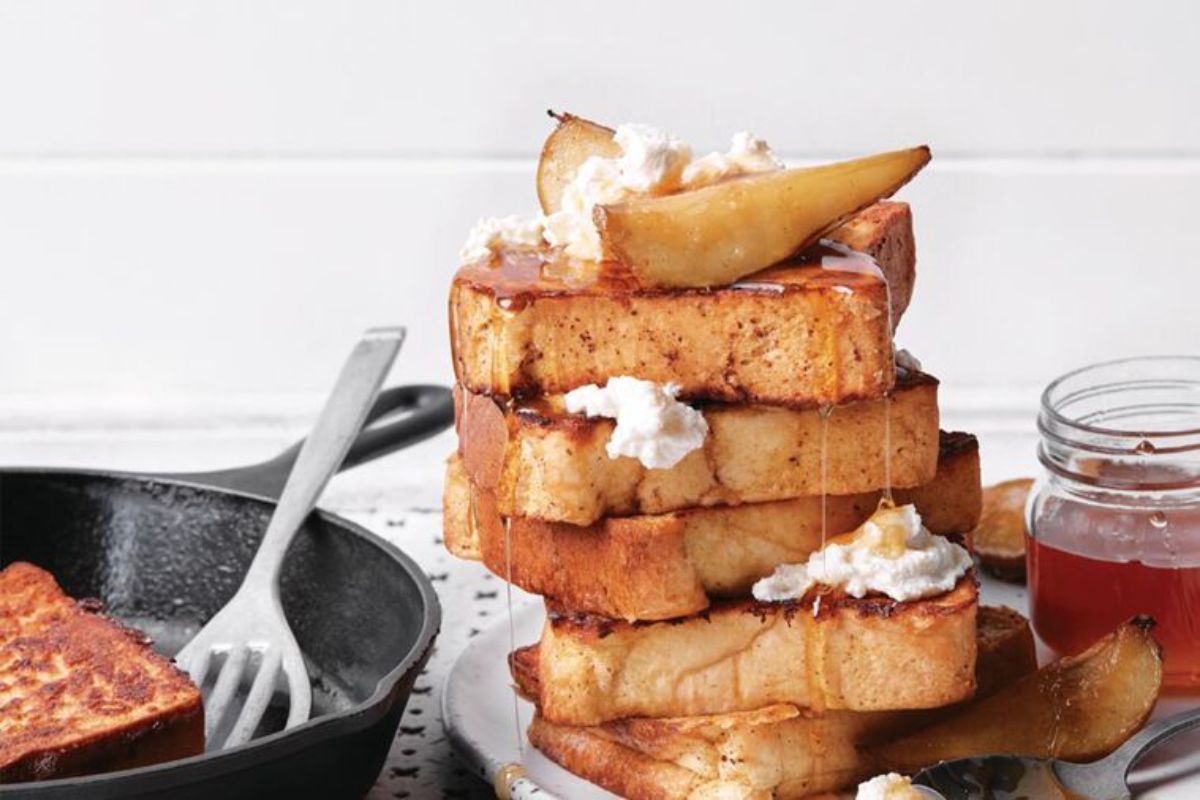 This magnificent creation combines French toast's warm and comforting flavors with the decadent sweetness of caramelized pears and the subtle creaminess of ricotta cheese. The thick slices of bread are soaked in a rich mixture of eggs, milk, and spices, then cooked to perfection until golden brown.
This creation is a flavor explosion that combines the rich chocolate flavor of pancakes with the decadent taste of banoffee pie. The pancakes are fluffy yet indulgent, thanks to adding cocoa powder and banana puree.
And let's not forget about the toppings - a luscious layer of sweetened condensed milk and sliced bananas add even more depth and texture to the dish. It's the perfect sweet breakfast idea for when you want to treat yourself to something extraordinary.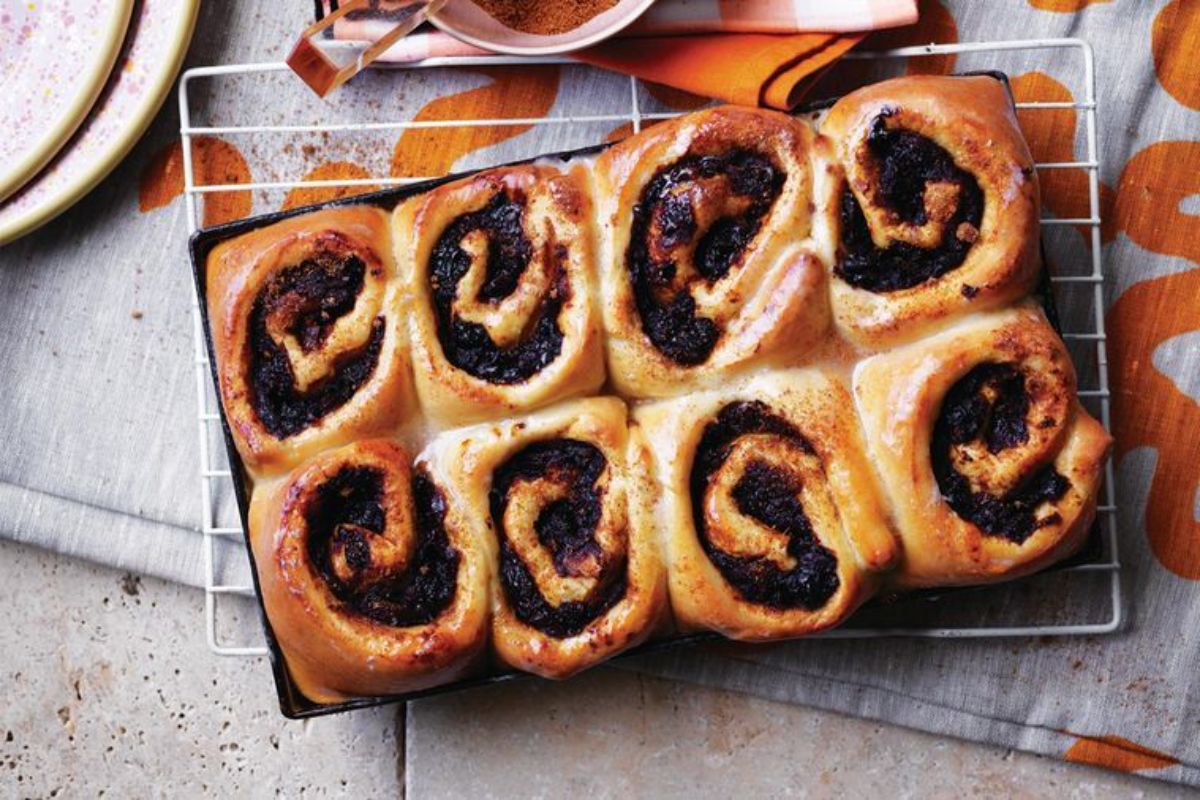 Get ready for some lovely breakfast action with these Cinnamon and Date Rolls. These bad boys have a spicy-sweet punch of cinnamon and the gooey goodness of sticky dates. The dough is pillowy soft and infused with even more cinnamon goodness. But wait, there's more! You top these rolls with a creamy glaze that takes them to a new level of deliciousness.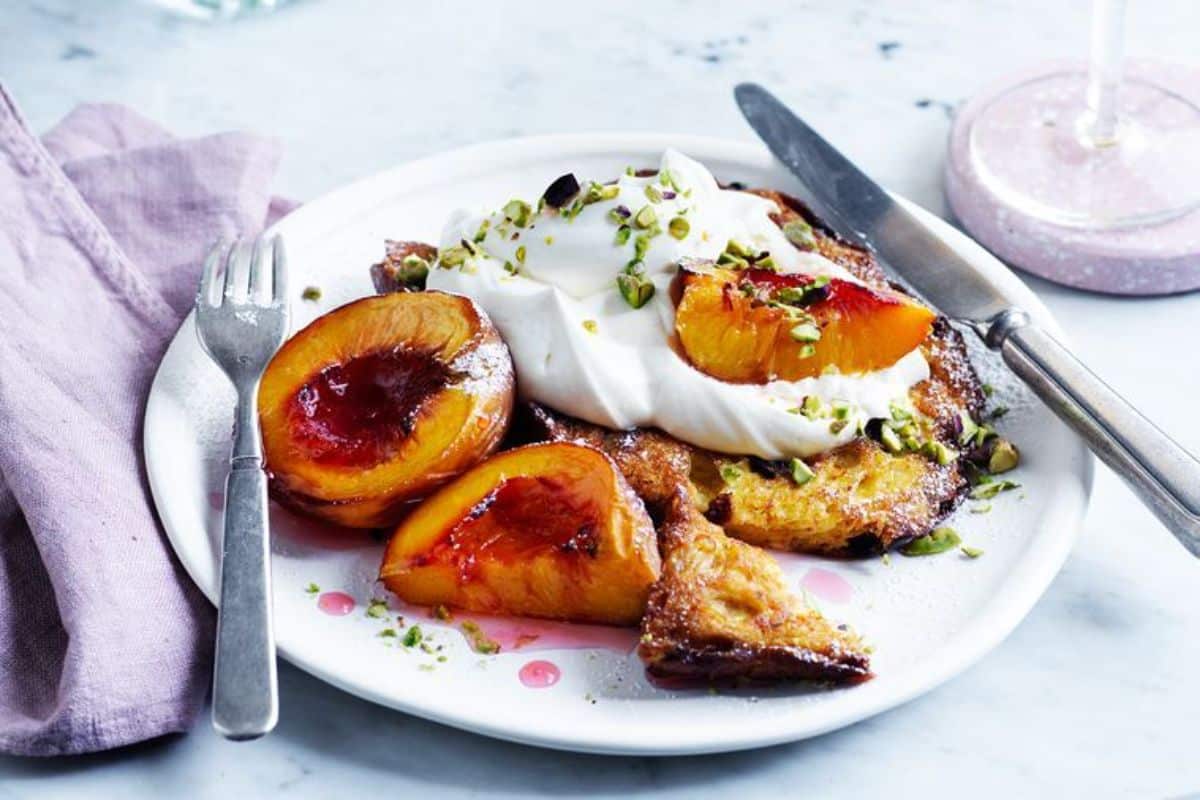 Get ready to indulge in one of the best sweet breakfast ideas – Panettone French Toast. This dish is a flavor bomb of vanilla, orange zest, and raisins, wrapped in a soft, fluffy bread perfect for soaking up all the goodness. You can add a touch of cinnamon and nutmeg to give it that extra oomph!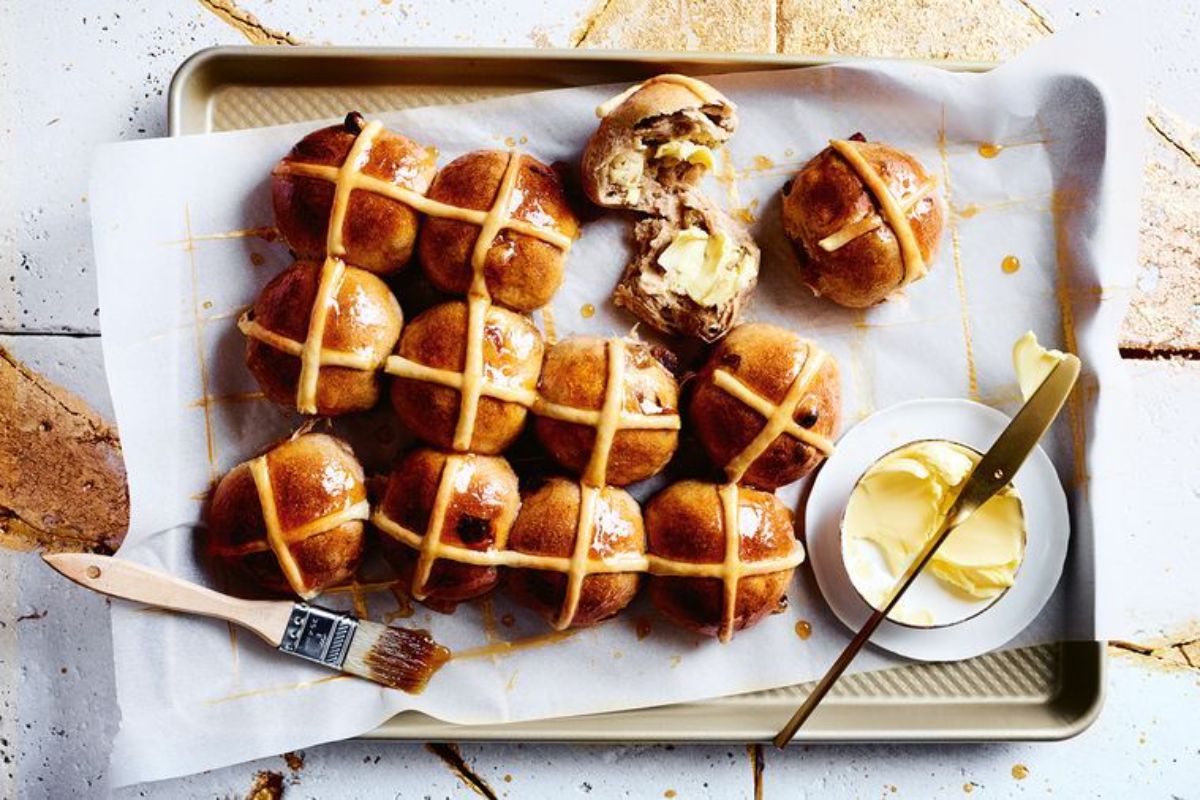 The texture of the buns is soft and pillowy, with a light and airy crumb that'll make you want to savor every bite. The recipe calls for a cross of sweet icing on top that balances out the spice and adds a touch of sweetness.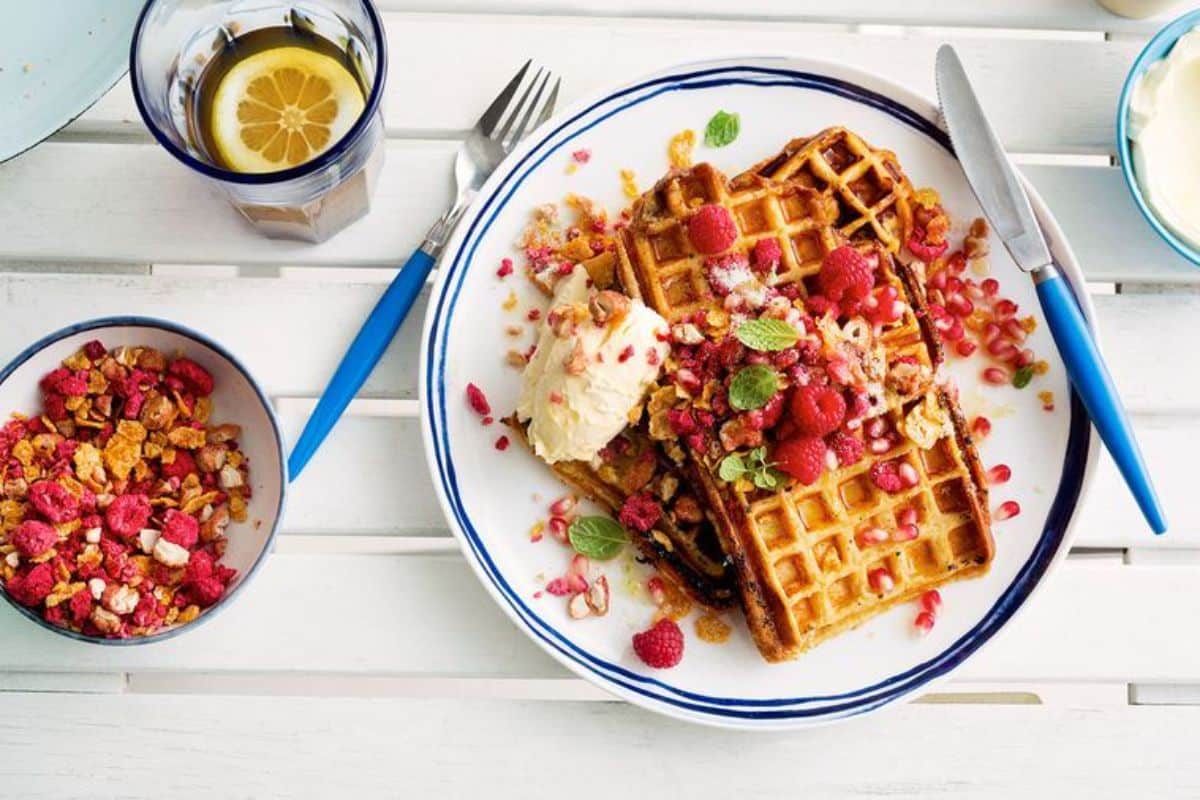 Buckle up, folks, because we're about to take breakfast to the next level! These French Toast Waffles with Berry Brekkie Crunch are like nothing you've ever tasted. The waffles are crispy on the outside and fluffy on the inside, with a sweet and creamy taste that will make your taste buds dance.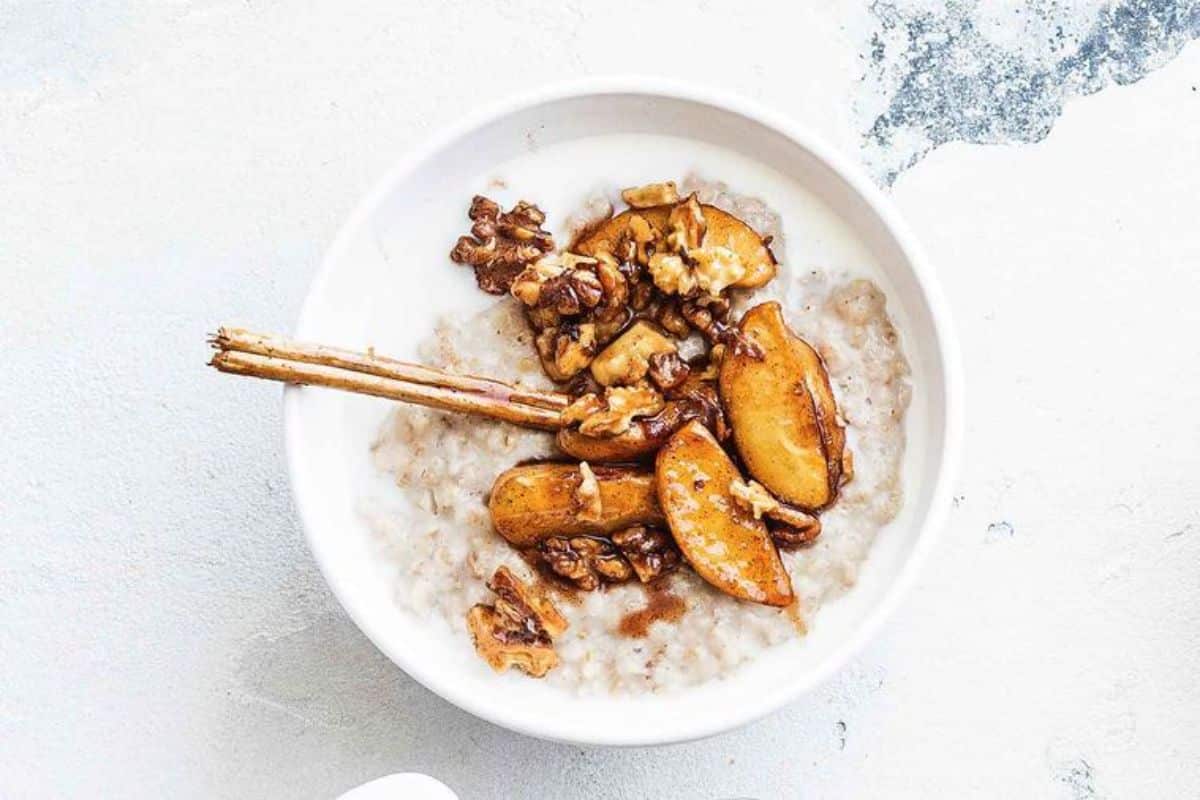 The creamy porridge is infused with cinnamon and topped with sweet, juicy apples cooked until soft and caramelized. It's a flavor explosion in your mouth, with just the right amount of sweetness to satisfy your sweet tooth without being overwhelming.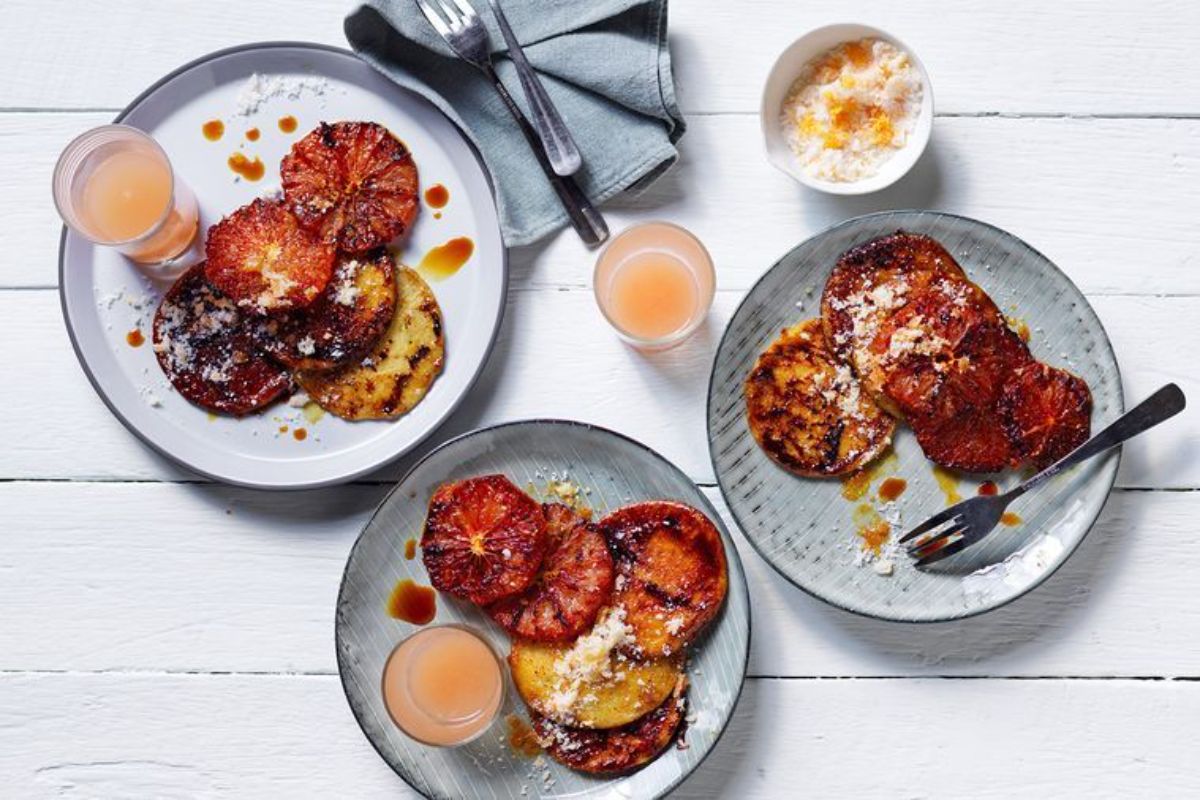 The pancakes are light and fluffy, with just the suitable sugar. And when you top them with ruby grapefruit, it's like a burst of sunshine in your mouth. But wait, it gets even better! We'll brulee the grapefruit to give it a caramelized sweetness that is out of this world.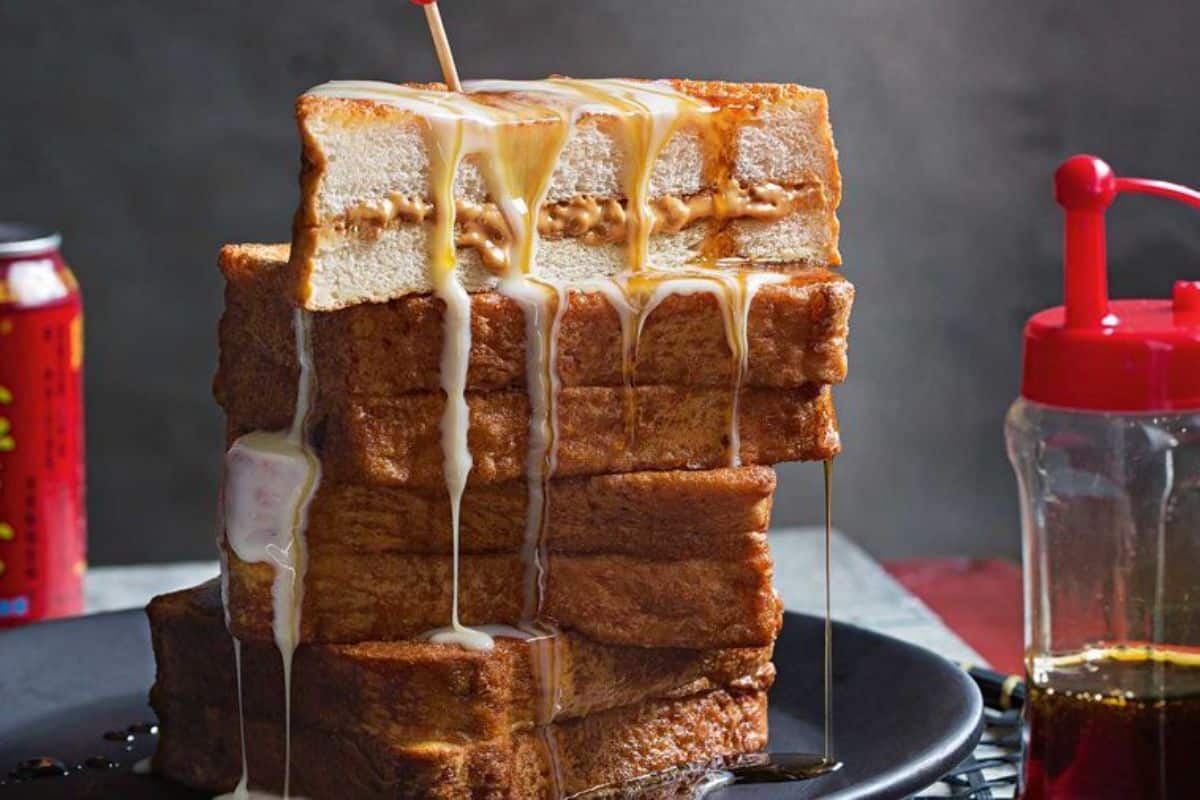 We're taking a trip to Hong Kong with this one-of-a-kind breakfast dish. Hong Kong-style French Toast is a taste explosion that will knock your socks off! We're talking crispy, golden toast stuffed with creamy peanut butter, drenched in a sweet egg batter, and fried to perfection. The final touch is a drizzle of condensed milk on top.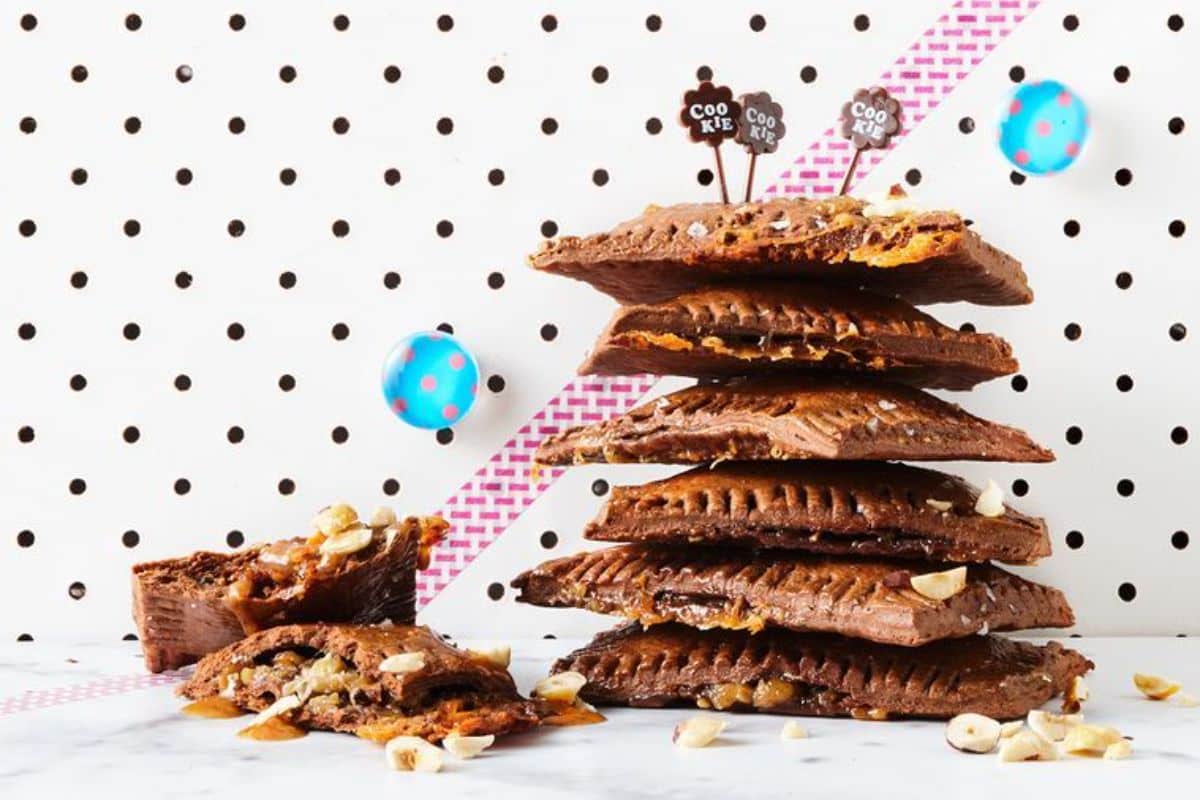 This dish is pure magic, my friends. Picture this: a warm, flaky crust filled with creamy nut butter and slices of ripe bananas. When you take a bite, you get a burst of flavor in your mouth that's both nutty and sweet.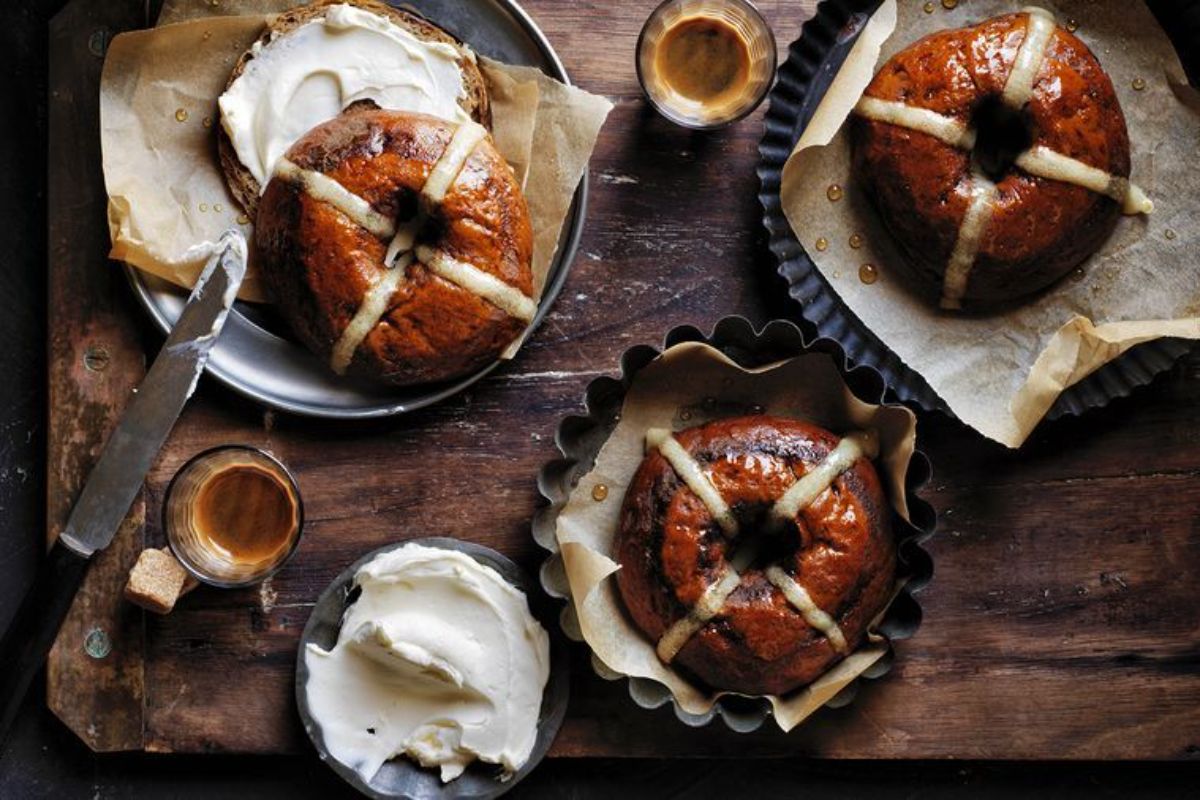 The aroma alone will make your mouth water! Made with a blend of fragrant cinnamon and rich coffee, these bagels have a sweet and earthy flavor. These hot cross bagels go great with a hot cup of coffee or tea, and they're perfect for anyone who loves a little sweetness in the morning. Don't hesitate to give them a try!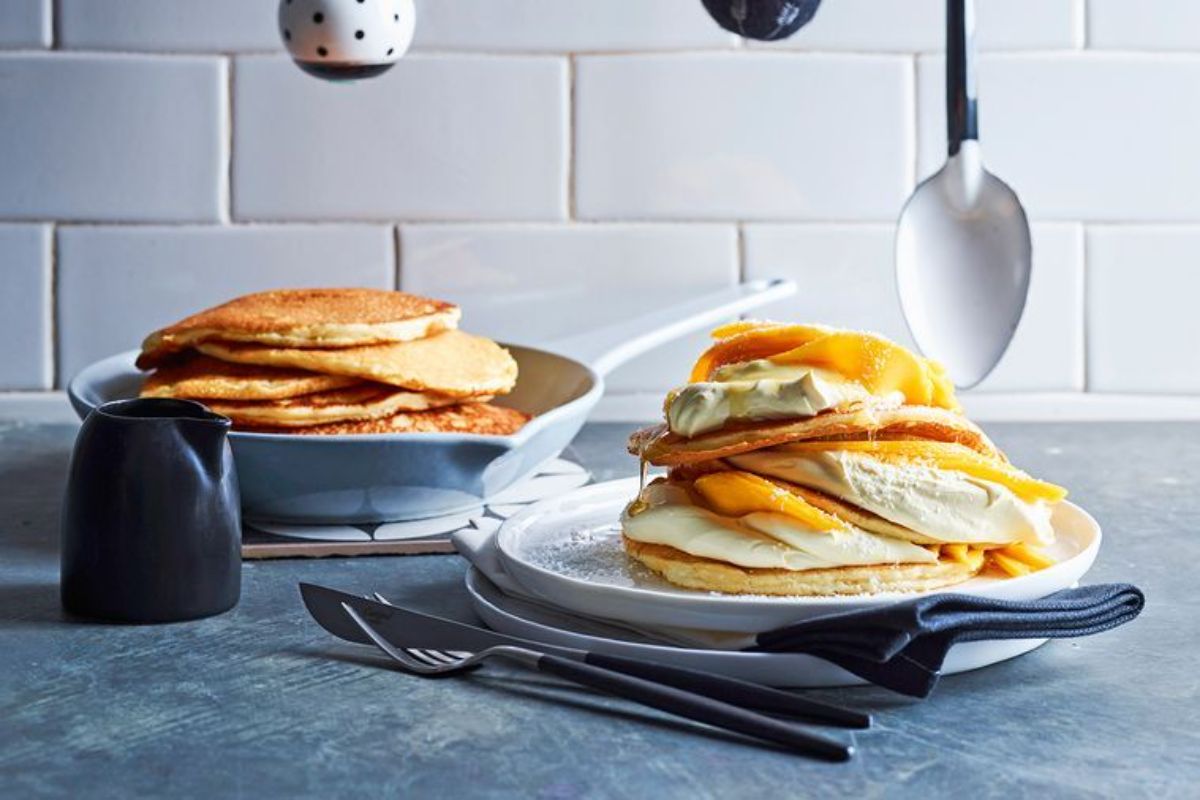 Hey there, foodies! Hold onto your hats because we're going to the tropics with these Mango and Coconut Pancakes. This dish is flavorful and fun, from the sweet and juicy mango chunks to the creamy coconut sauce we pour.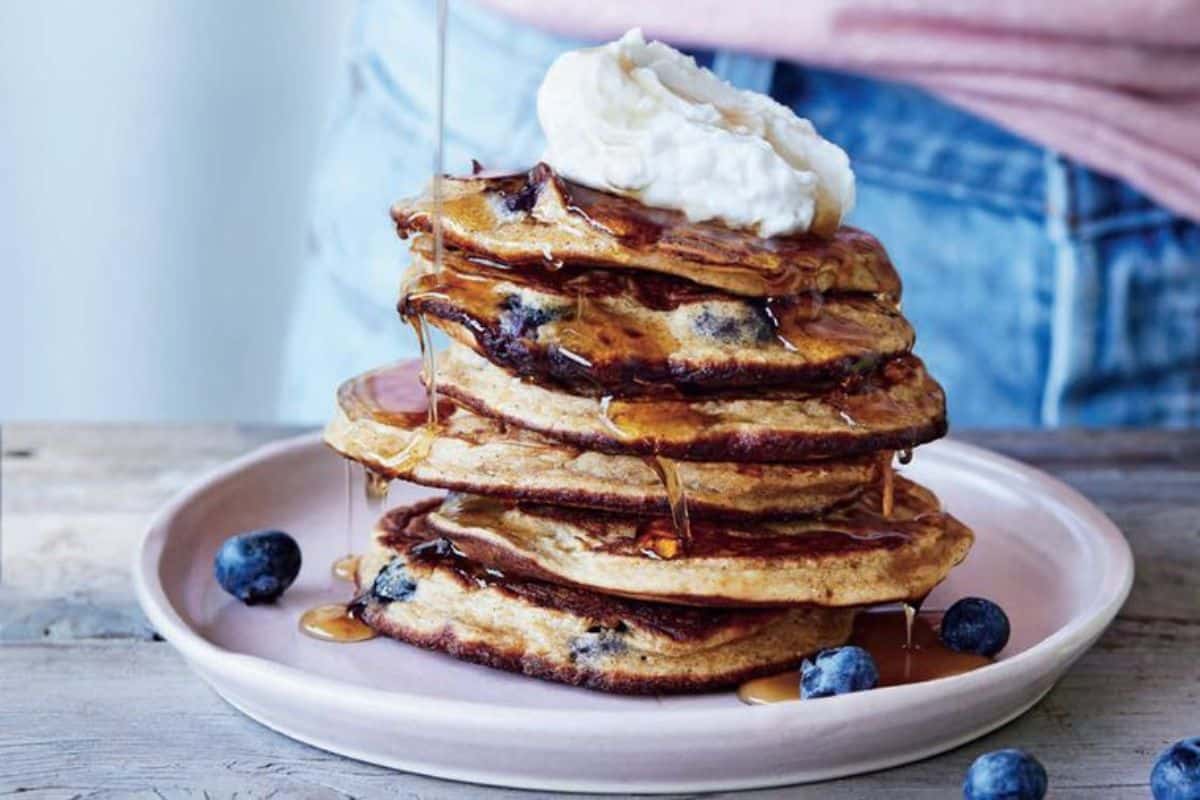 Alright, are you ready for a breakfast of champions? The blueberries burst in your mouth, adding a pop of tartness to the sweetness of the pancakes. And let's not forget the nutty, earthy taste of the buckwheat, which gives these pancakes their distinctive flavor profile.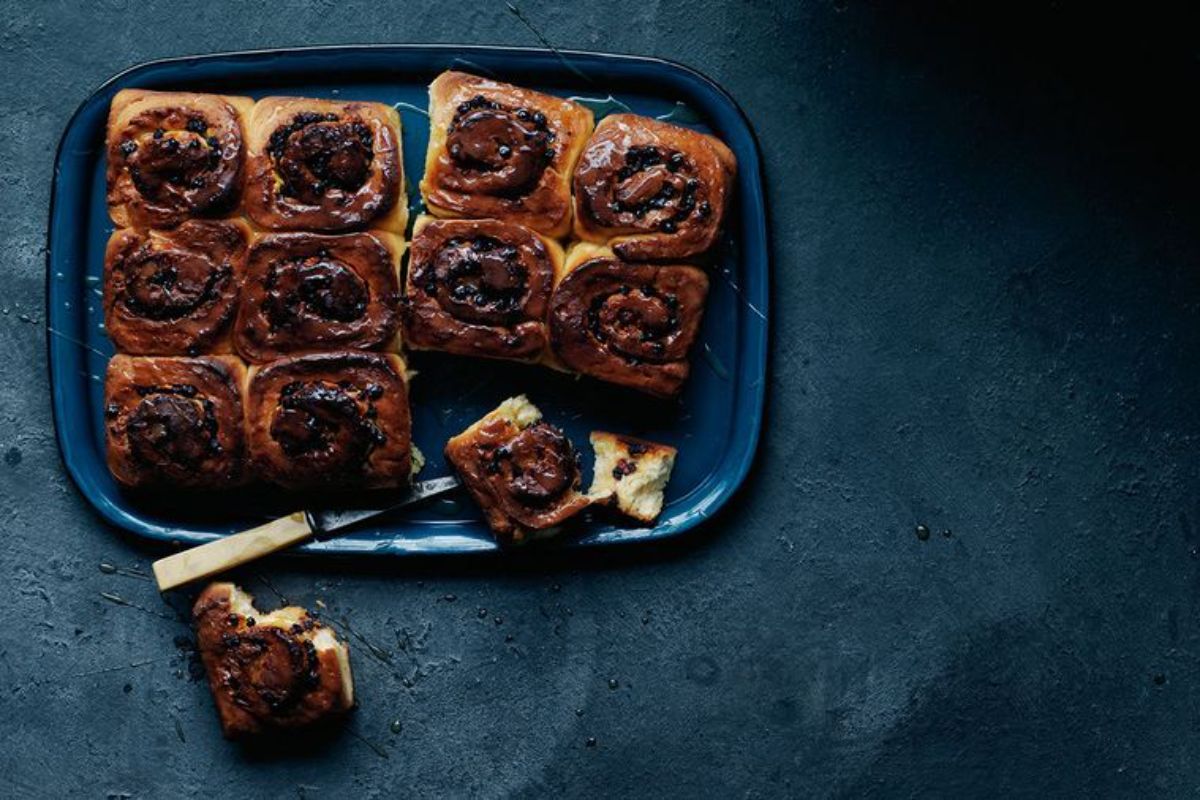 The combination of flavors is out of this world! The sweetness of the white chocolate pairs perfectly with the tanginess of the blueberries, and the honey adds just the right touch of sticky sweetness.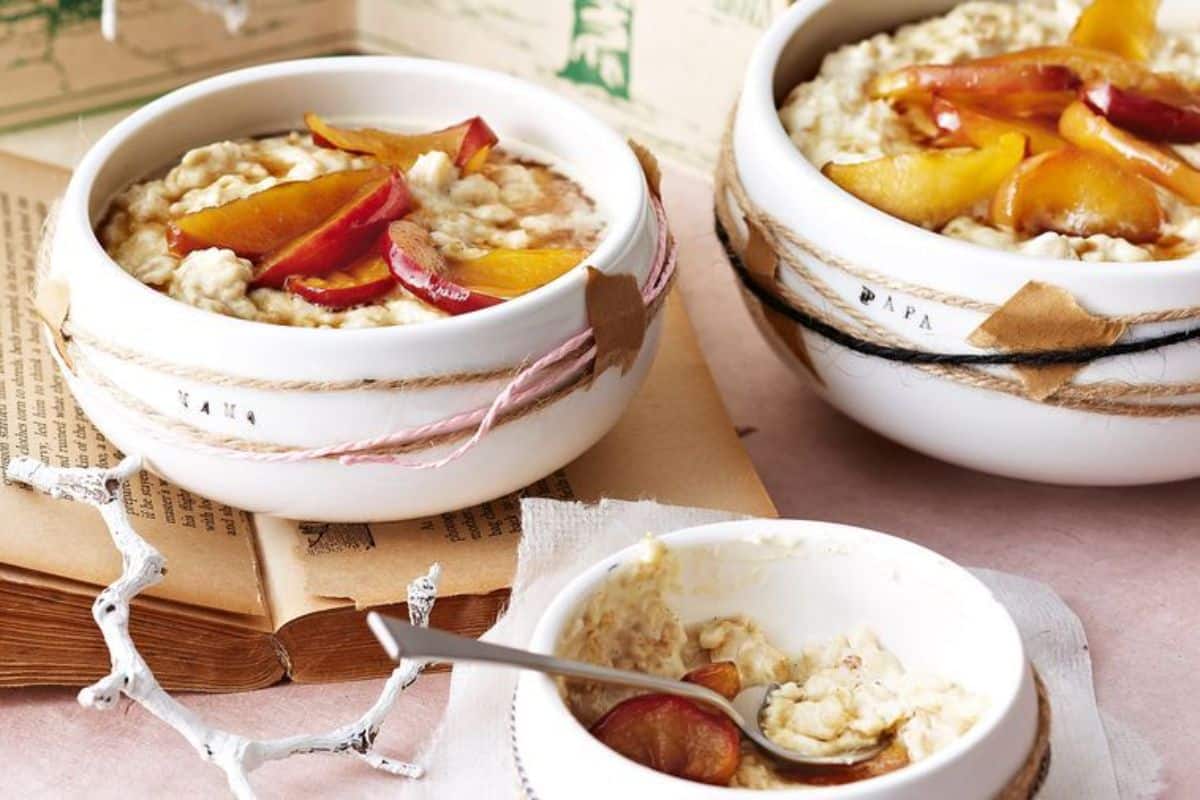 This dish is like a warm hug from your favorite auntie, with the sweet scent of vanilla and brown sugar wafting through the air. The creamy, comforting texture of the porridge is the perfect canvas for the tender, caramelized apples, which are bursting with flavor thanks to the brown sugar and a touch of cinnamon.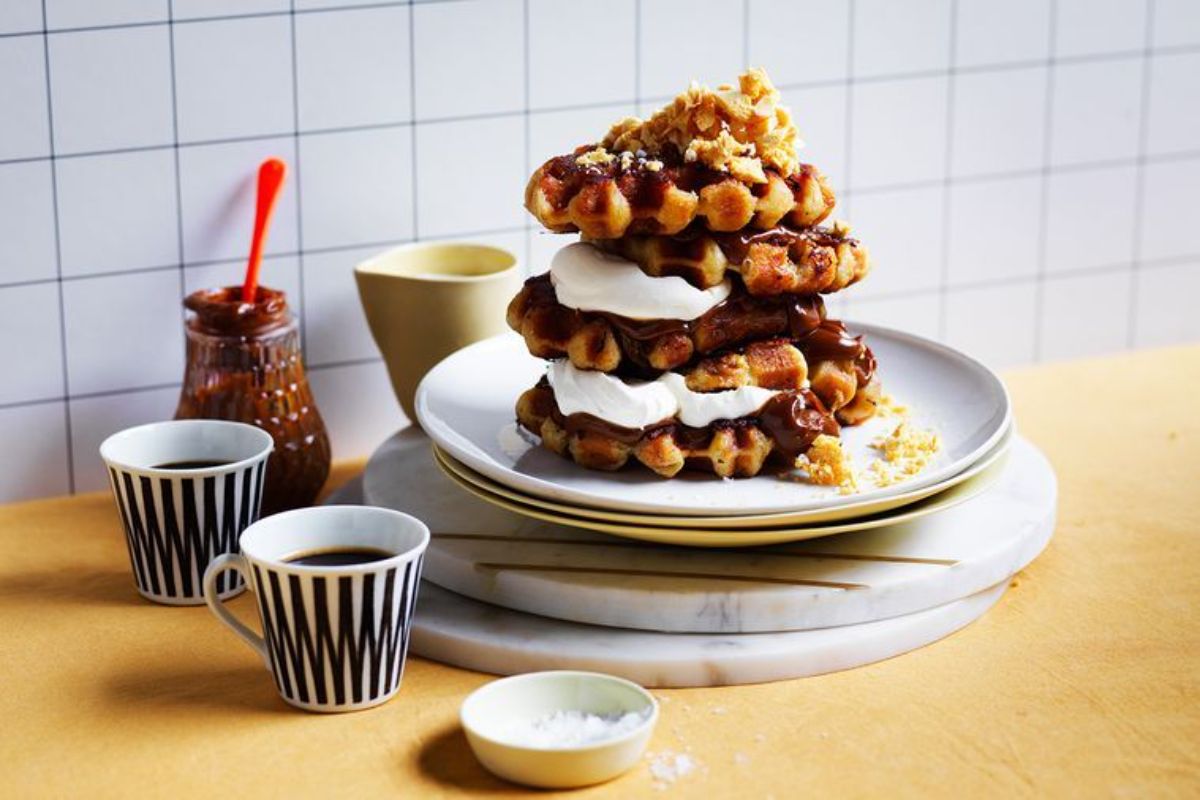 This dish has crispy waffles, fluffy French toast, and a gooey salted caramel topping with crunchy honeycomb pieces. The combination of sweet and salty flavors is out of this world, and the texture is spot on.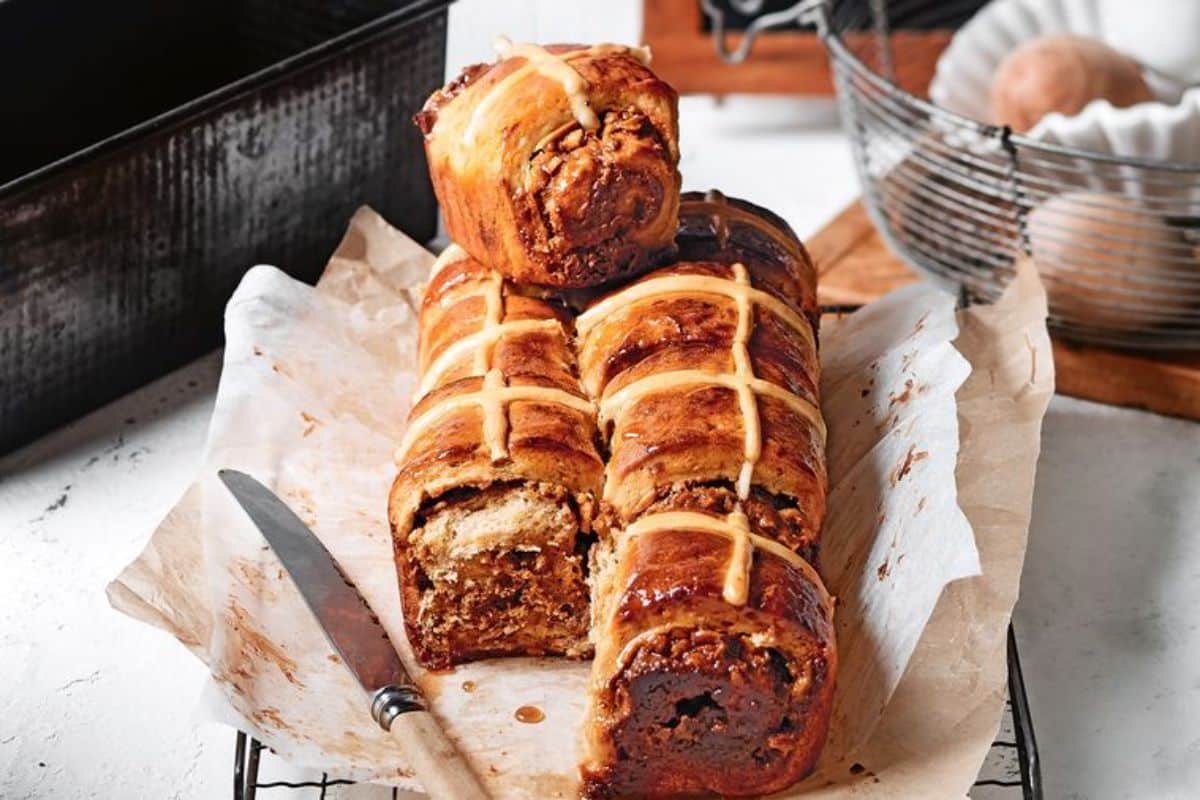 This Dulce de Leche and Pear Hot Cross Bun Pull-apart Loaf is an absolute showstopper of a dish. The soft, fluffy hot cross buns have rich caramel notes of the dulce de leche and the juicy sweetness of the pears. The dough is expertly prepared and baked to perfection, with a golden brown, crusty exterior that gives way to a pillowy, decadent center.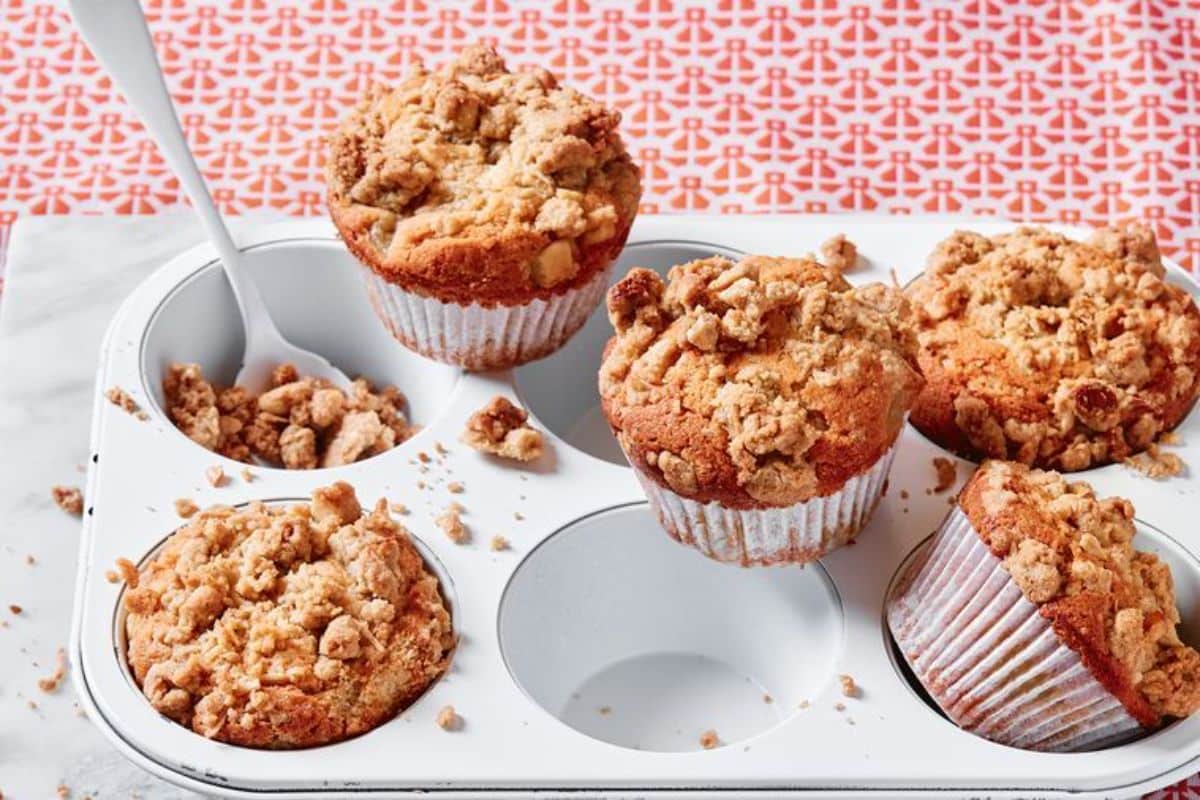 When it comes to sweet breakfast ideas, these Pear and Coconut Crumble Muffins are a real treat. The muffin batter is infused with a touch of vanilla, giving it a warm and comforting aroma that makes you feel right at home. These muffins are perfect for a quick breakfast on the go or as a decadent brunch option.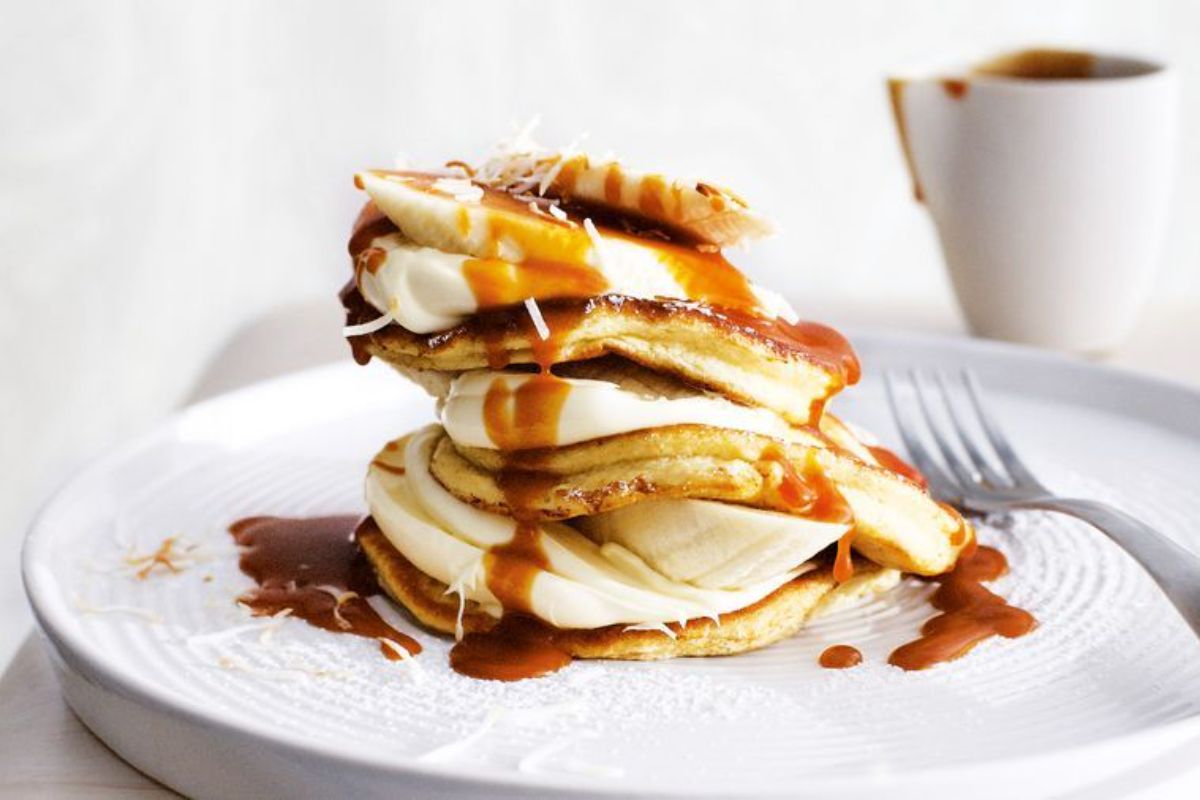 The dish is made with simple ingredients like flour, coconut milk, eggs, and baking powder, so you can whip it up quickly. These pancakes are perfect for a lazy weekend breakfast or brunch with friends and family. So grab a fork, drizzle some syrup, and dig in!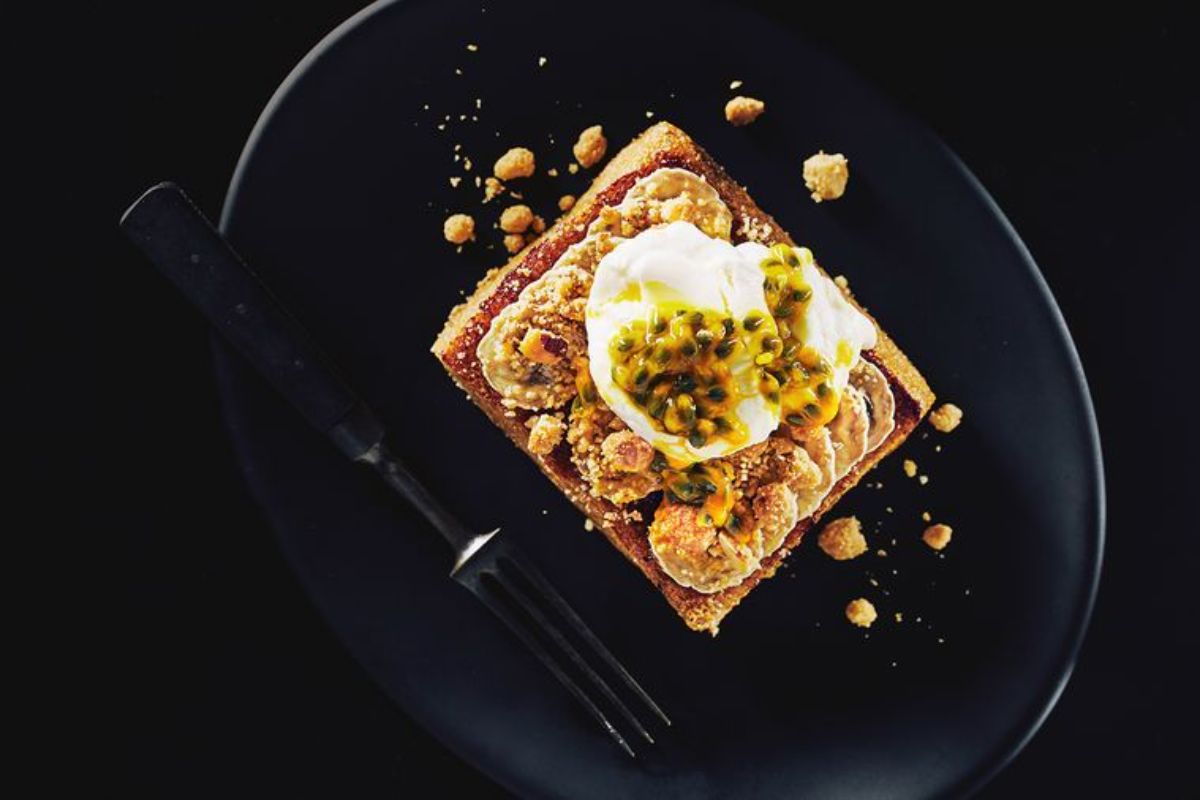 The creamy yogurt complements the dish beautifully, giving it a refreshing and tangy taste. To make this dish, you'll need high-quality coffee, ripe bananas, nuts, yogurt, bread, and voila! You'll have a breakfast that will keep you energized and happy for hours.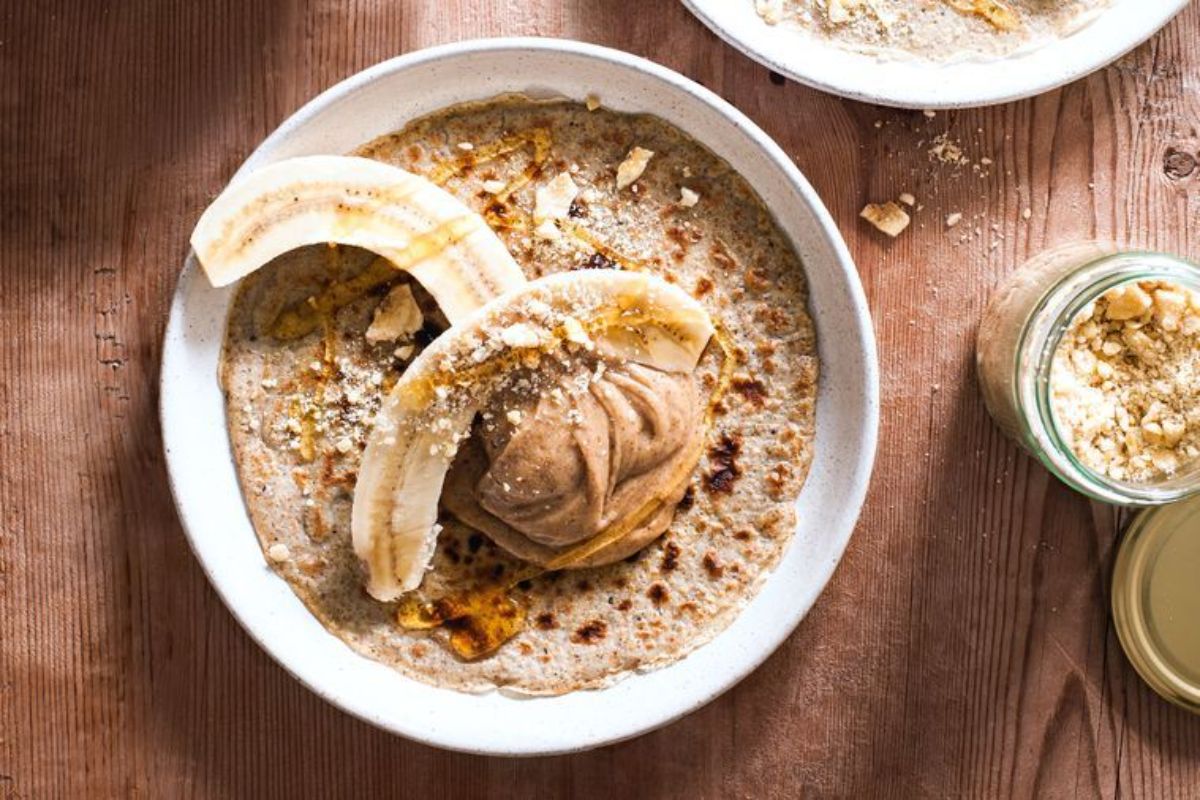 Incredible, absolutely incredible. These Cardamom Rye Crepes with Banana and Salted Caramel are a breakfast masterpiece. The cardamom and rye combination is perfect, and when you add in the sweet and salty flavors of banana and caramel, it's a true match made in heaven.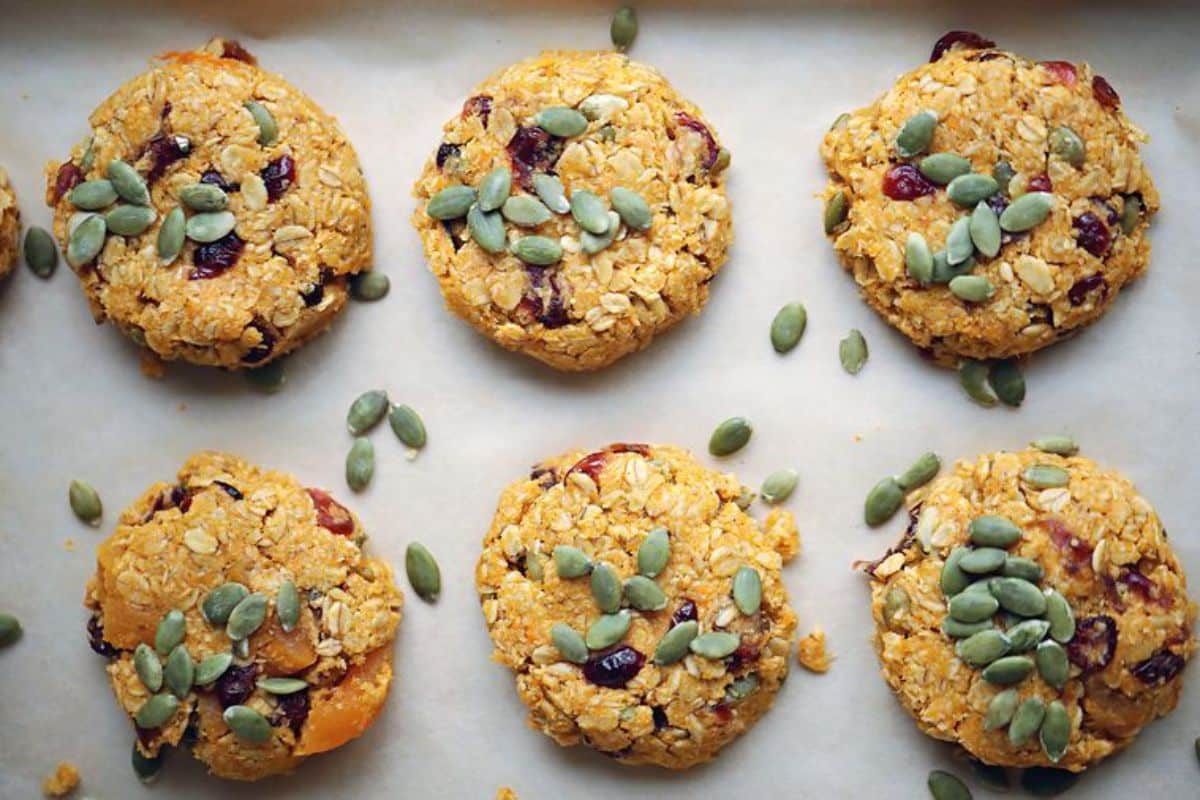 These little cookies are made with oats, almonds, raisins, and honey, and they have a crunchy yet chewy texture that is simply divine. The combination of the nuts and the dried fruit makes for a great flavor profile, and the honey gives just the right amount of sweetness without overpowering.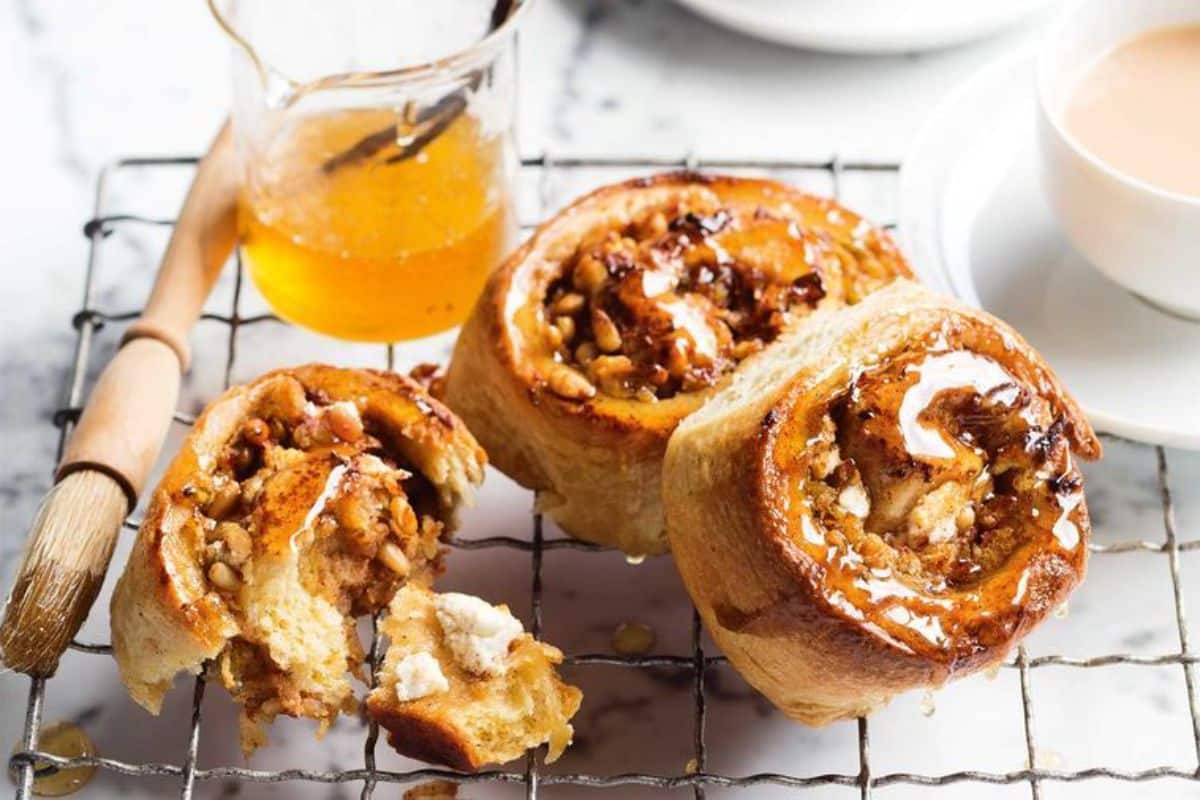 These buns are easy to make, so you can impress your friends and family with your baking skills without breaking a sweat. Serve these with a steaming cup of coffee or tea and have a perfect breakfast or brunch.
Final Thoughts
These 37 sweet breakfast ideas will surely add a delicious and indulgent touch to your morning routine. Whether you're in the mood for a classic stack of pancakes, a fruity smoothie bowl, or a decadent pastry, there's something for every taste bud on this list.
These breakfast ideas are delicious, easy to make, and perfect for those busy weekday mornings. So, try out these recipes and enjoy a sweet start to your day!