Do you love green beans, but you are tired of cooking them the same way you usually do? There are many ways to cook them, whether alongside complementary vegetables, delicious meats, and using different sauces for various regional influences.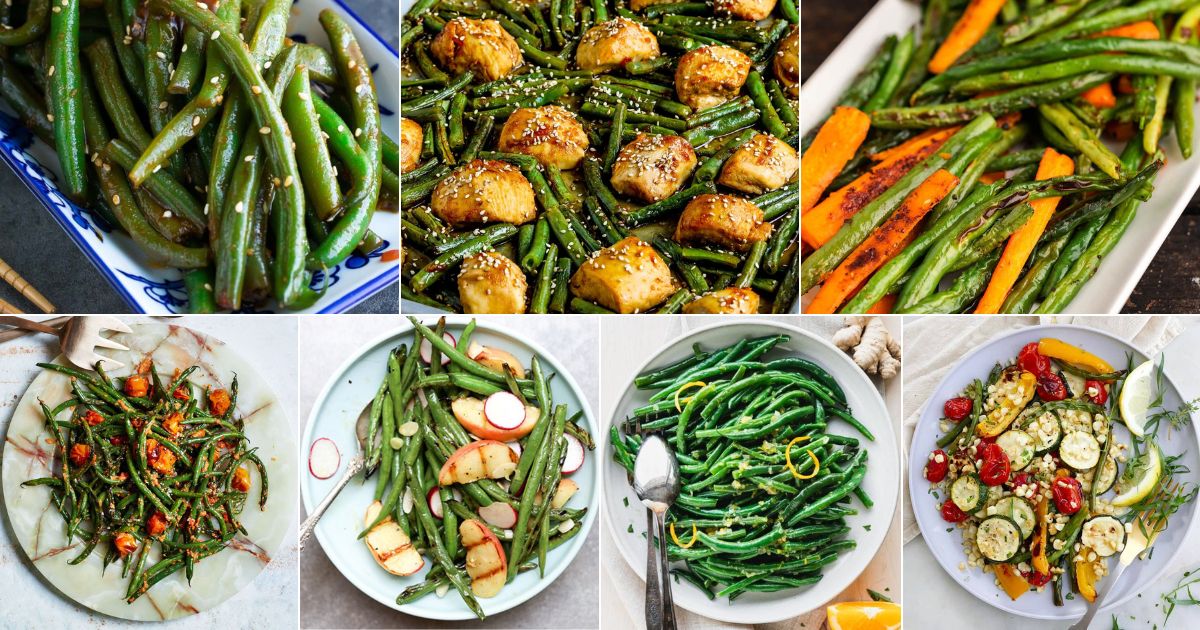 Here are 37 healthy green bean recipes that are insanely delicious. They all offer nutritive benefits without compromising on taste.
Here are a few reminders when making healthy recipe substitutions.
Ghee is healthier than butter because of the polyunsaturated fats.
Butter has more saturated fat than olive oil. Using olive oil gives you more antioxidants and monounsaturated fats, but it can be calorically dense because it is a plant-based oil.
According to the USDA, pork bacon has 210 mg of sodium per slice. Lower the dish's sodium content by reducing the number of bacon slices.
Jump to: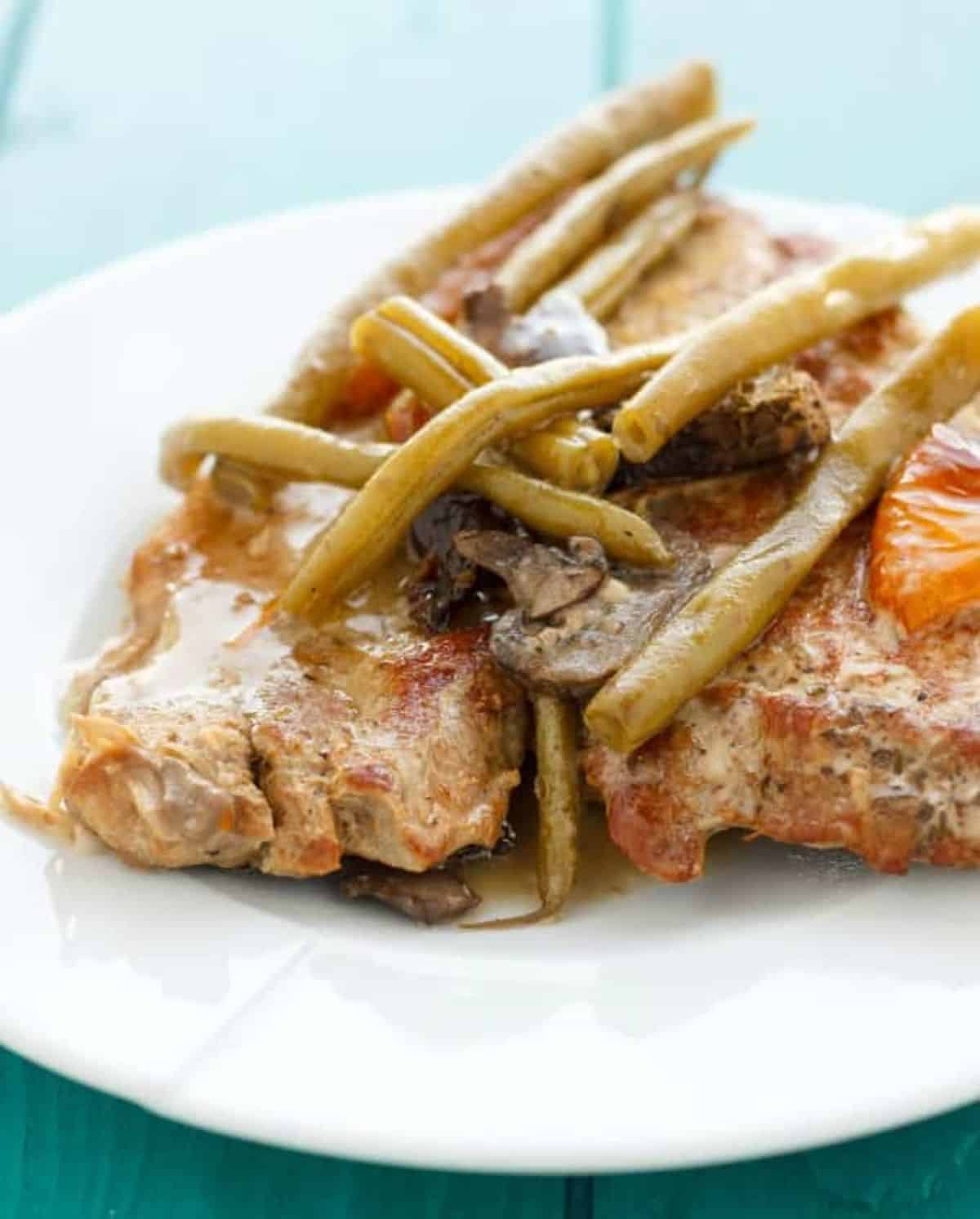 Tender pork, earthy green beans, sweet bell peppers, and creamy mushroom soup are a combination made in heaven! Saute your pork chops until they are golden brown, and add it to your slow cooker with the other ingredients listed.
Cook on high for two to three hours or on low between five to seven hours. Choose quinoa or your favorite rice to place the pork chops and green beans on top.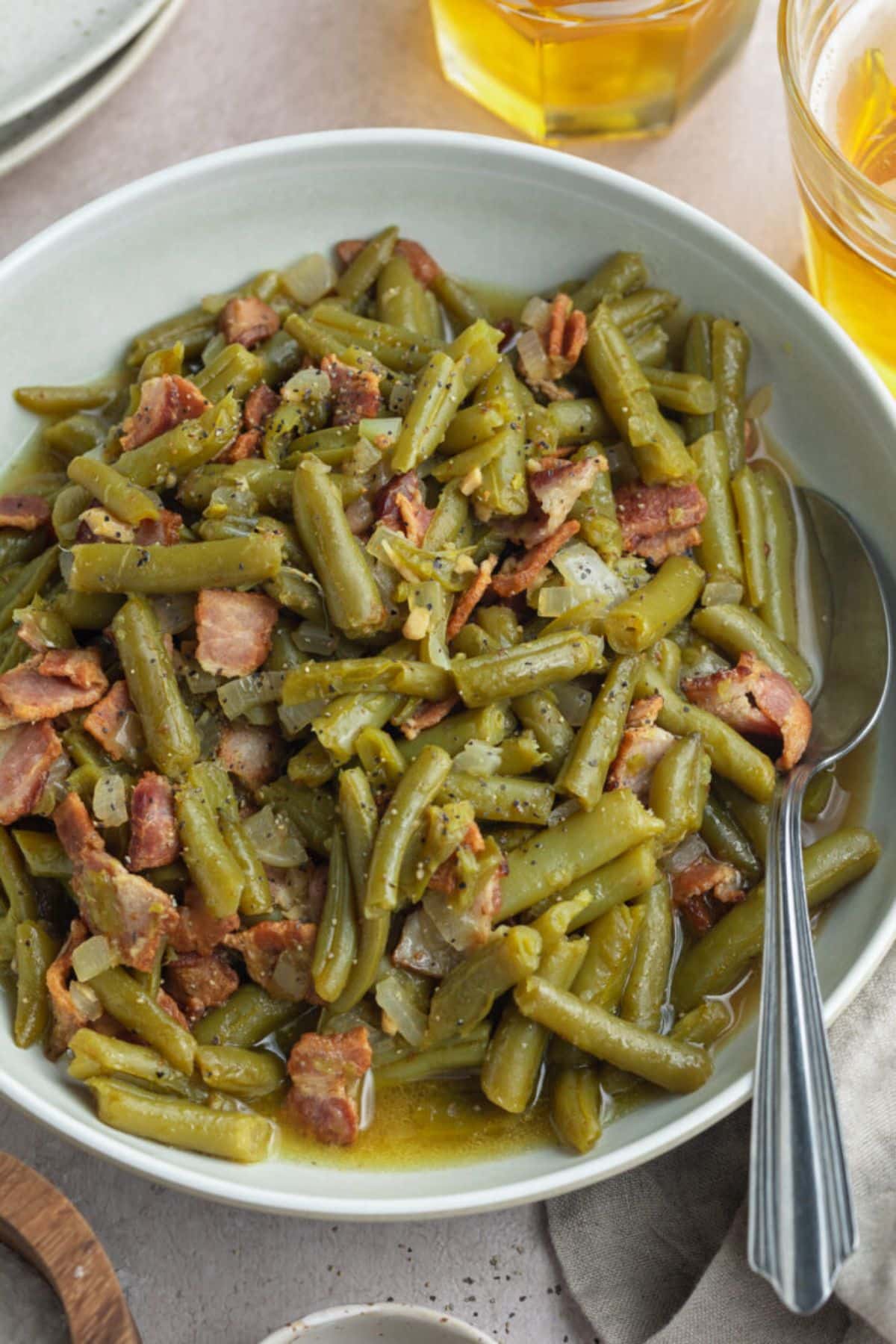 If you love eating at Texas Roadhouse, try this copycat recipe with delicious bacon, garlic cloves, onion, and red wine vinegar. Pair it with your favorite steak recipe or as a complimentary side to mashed potatoes to complete your meal!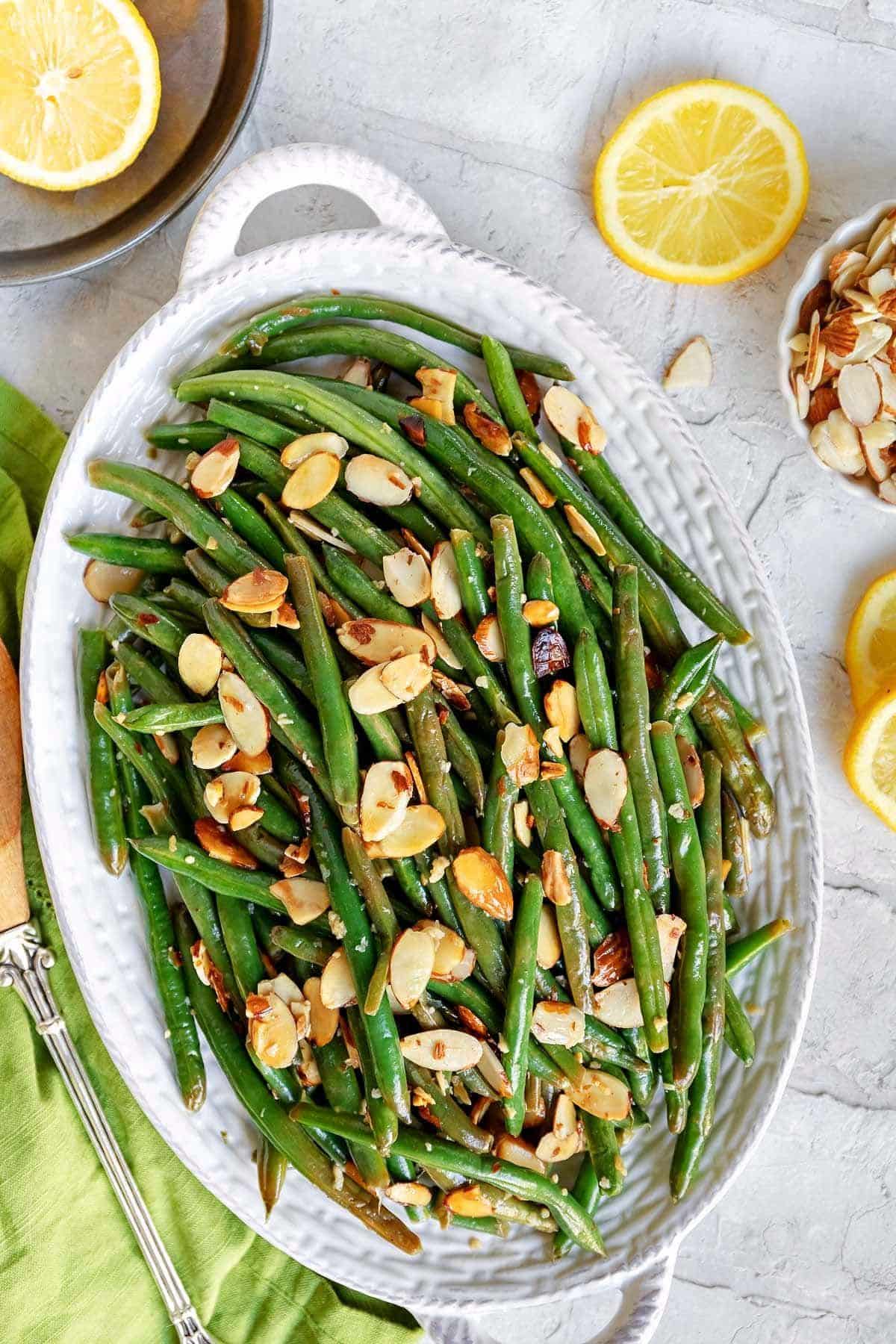 Bask in the tasty flavors of sauteed green beans, crunchy slivered almonds, and a dash of lemon juice for a unique bite. While the recipe does not call for it, if you want more of a lemony fragrance and taste, zest one lemon and place it as a garnish on the dish.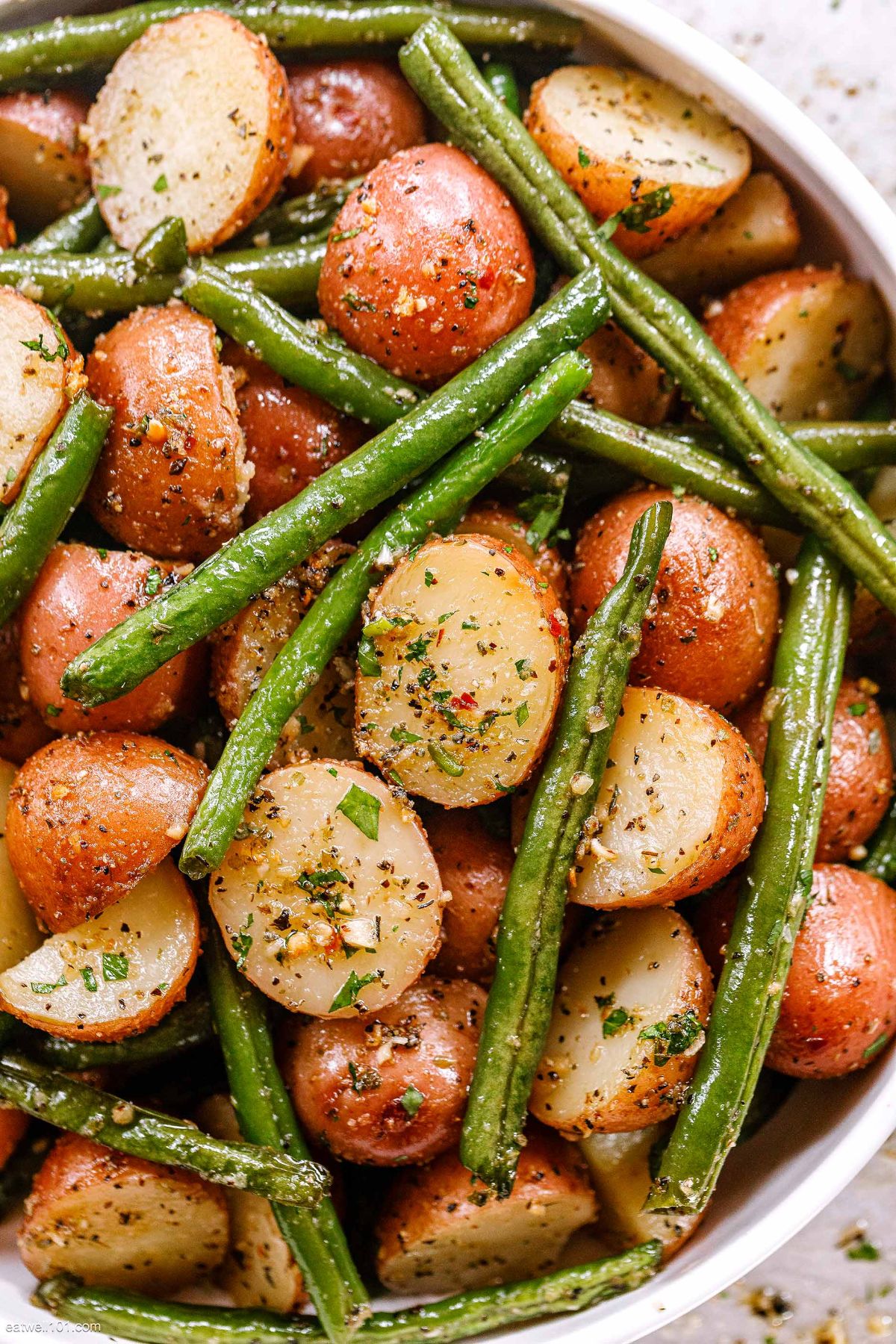 There's something harmonious about potatoes and green beans in one dish. Boil the potatoes and green beans per the directions in the recipe to start the cooking process.
Combine with olive oil and seasonings in a roasting pan in the oven until cooked. This side pairs well with baked herb chicken or pork chops!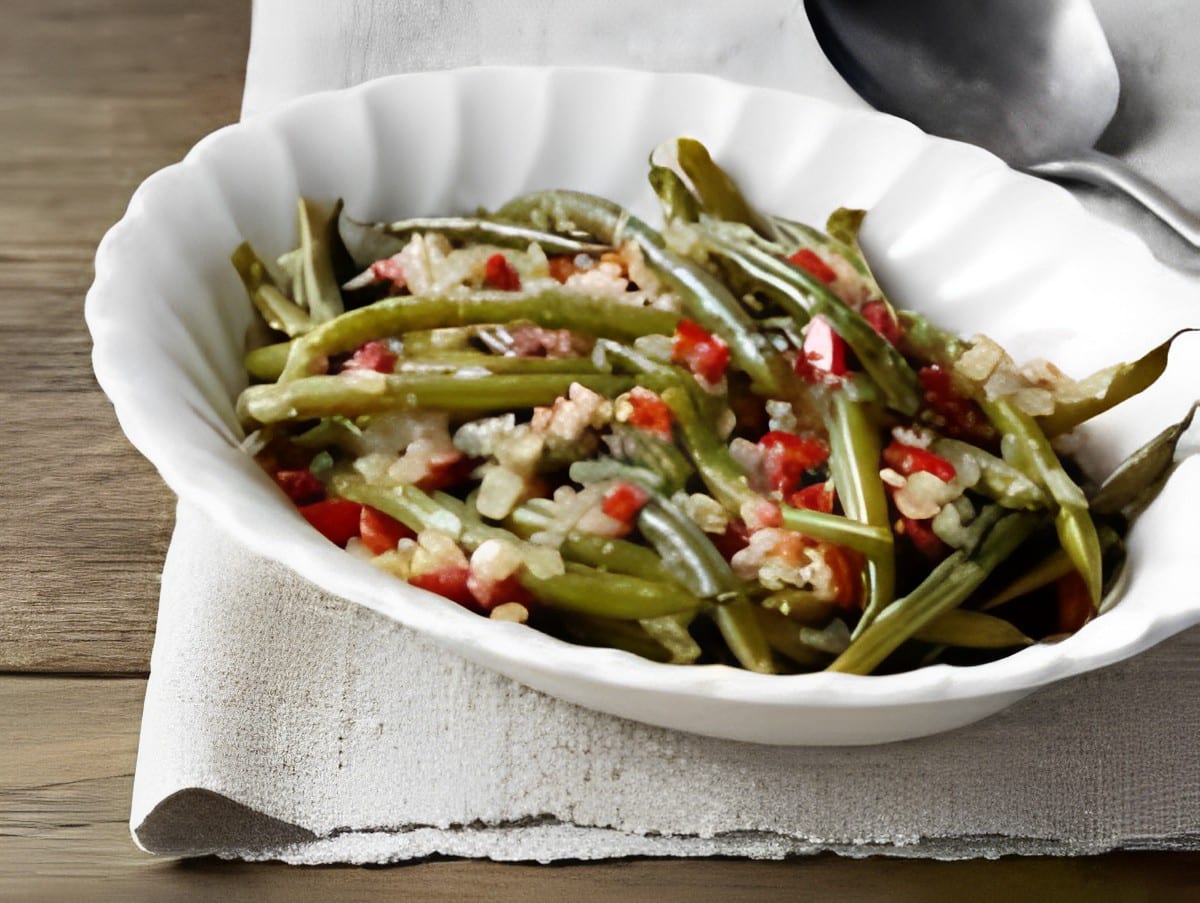 The Pioneer Woman is one of the Food Network's highest authorities in Southern Cooking. What makes this recipe unique is the inclusion of chicken broth and red bell pepper. Instead of two tablespoons of bacon grease, you can use unsalted butter to make the recipe a little healthier.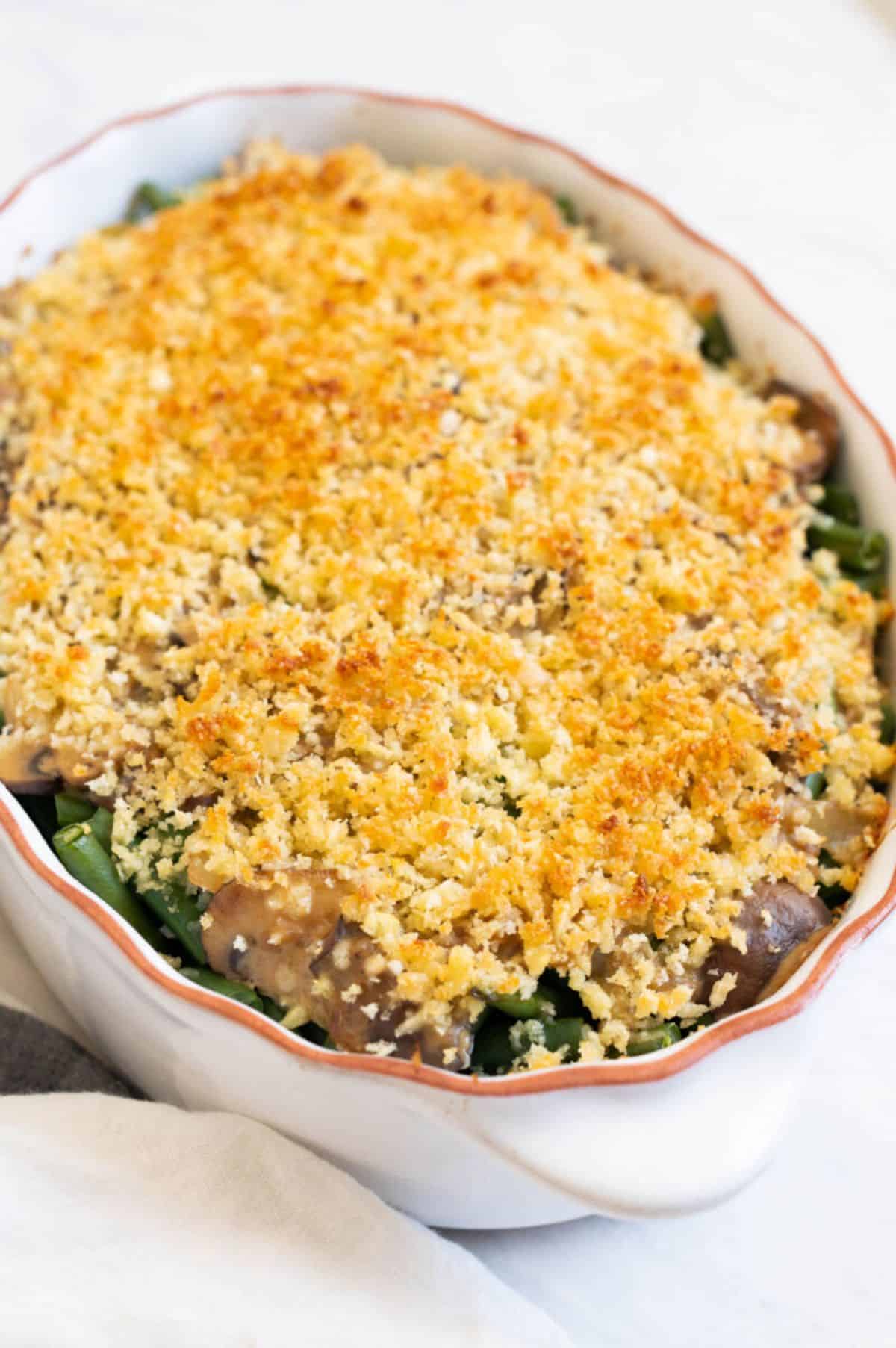 Many green bean casseroles call for salty canned soup. This recipe uses all-natural ingredients without the canned stuff.
Flour, milk, soy sauce, brown mushrooms, sliced onion, and thyme are the basis of the homemade mushroom soup. The panko bed crumbs add a lighter crunch rather than using the bagged fried onions.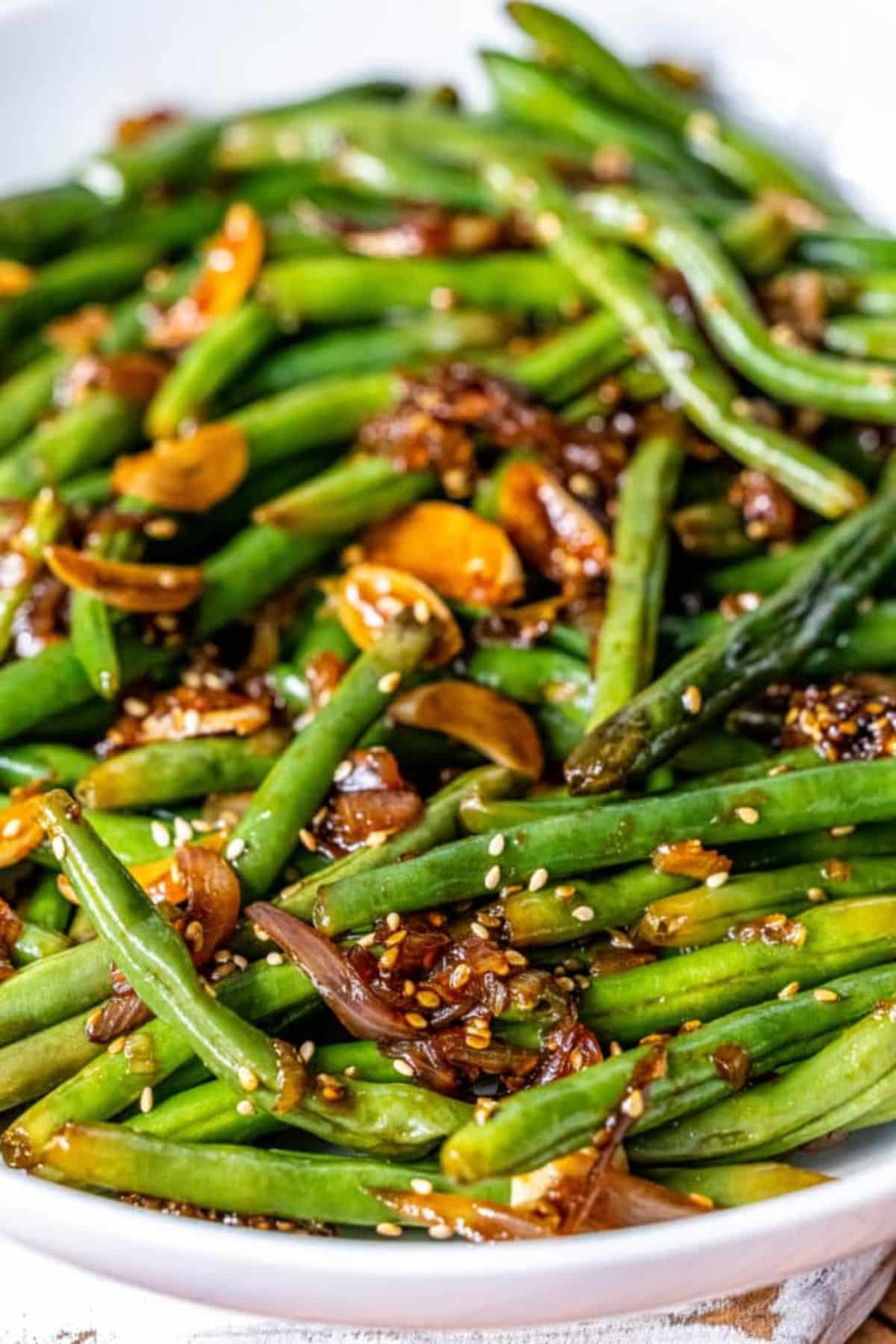 Taste a new twist on a green bean dish. The soy sauce, oyster sauce, diced shallots, dried ginger, and garlic cloves refine the Chinese-inspired flavors infused in the green beans.
The sesame oil as the cooking base ties all the flavors together. Garnish with sesame seeds for an additional crunch.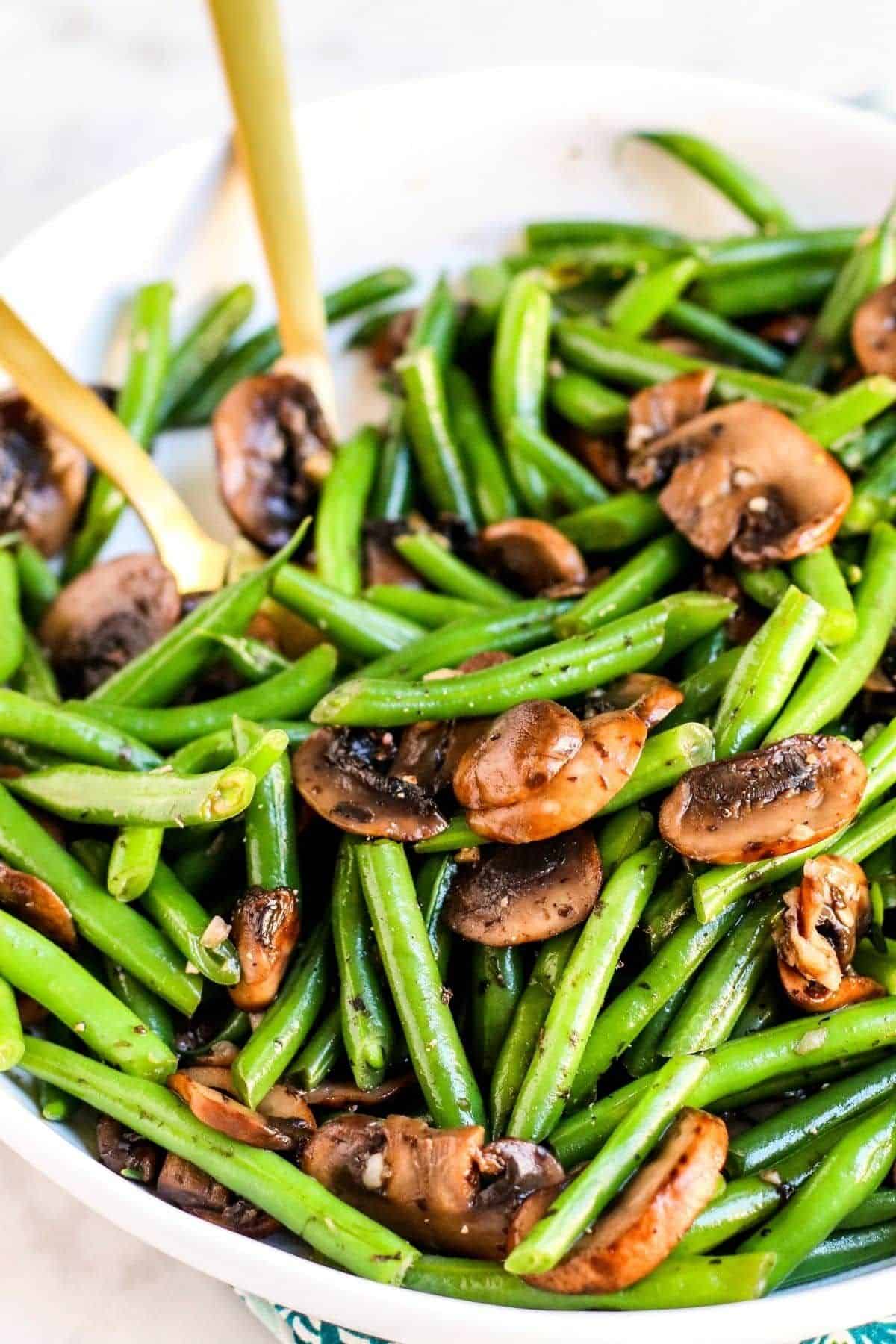 If you are vegan or vegetarian, you'll love this green bean dish with mushrooms. The simple ingredients list includes trimmed green beans, olive oil, garlic cloves, mushrooms, and salt and pepper to taste. Enjoy the natural flavors of the two vegetables starring in this dish.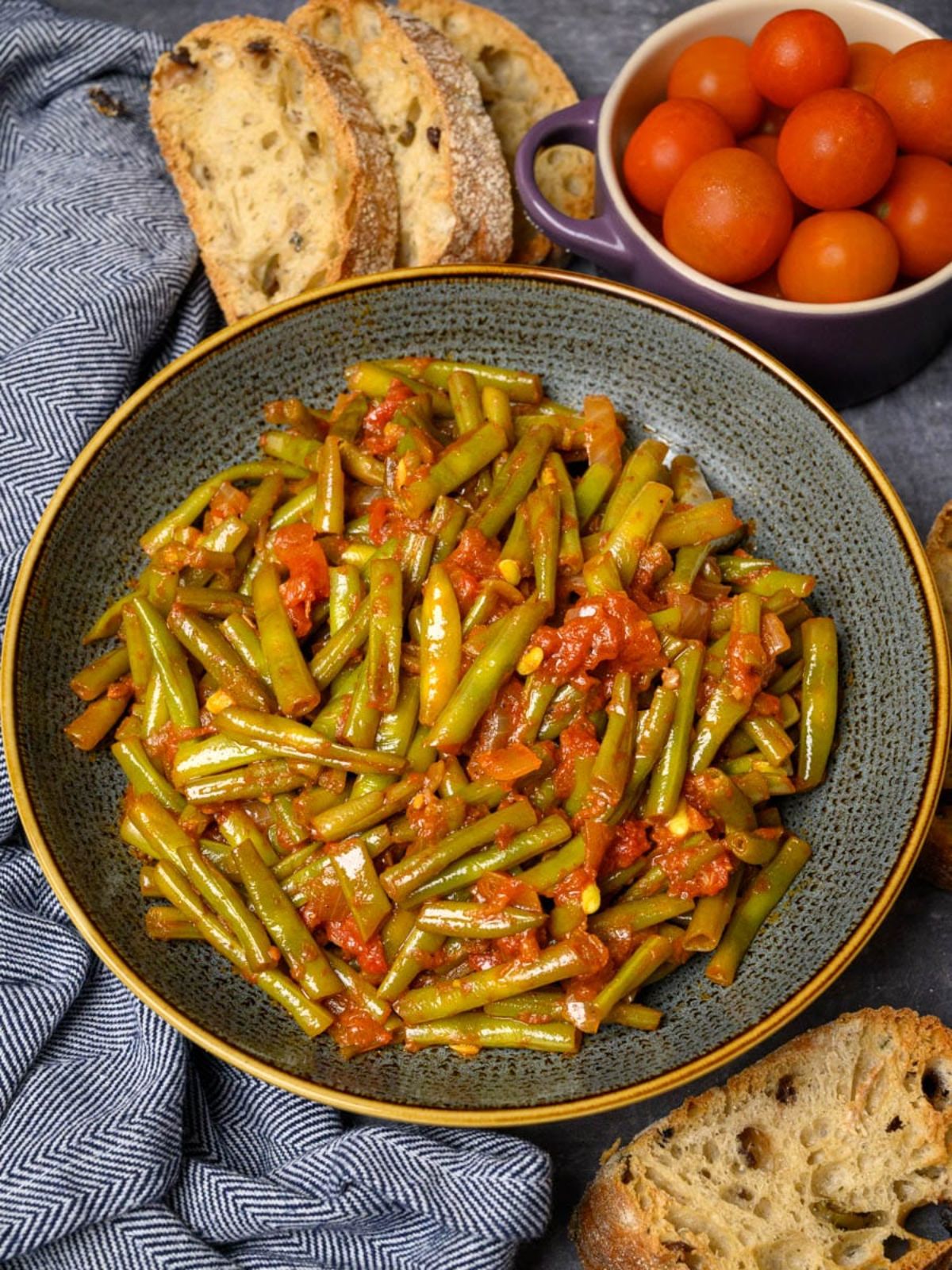 Loubieh is a well-known green bean stew from Lebanon. The unique addition, unlike others on this list, is chopped tomatoes. The acidity from the tomatoes combined with the earthy flavors of the green beans enhances this vegan side dish.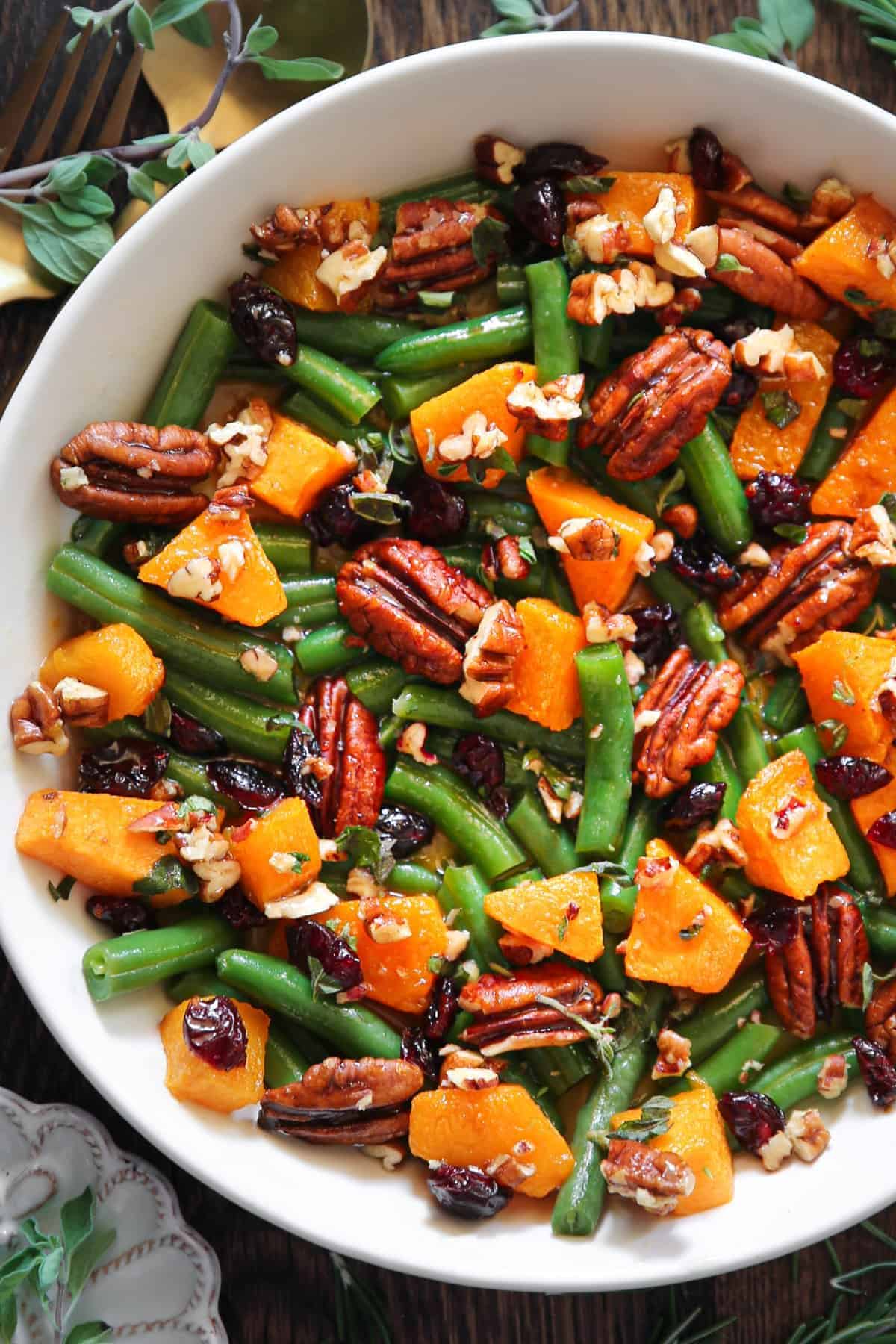 Prepare for unique flavors you may have never thought could go together. The sweet nuttiness of butternut squash, the tartness of the dried cranberries, and the buttery taste sensation of the crunchy pecans collide with your taste buds.
The maple lemon drizzle enhances the overall sweetness and tartness of the start ingredients. Cook this green bean dish for Thanksgiving or Christmas to complete your meal.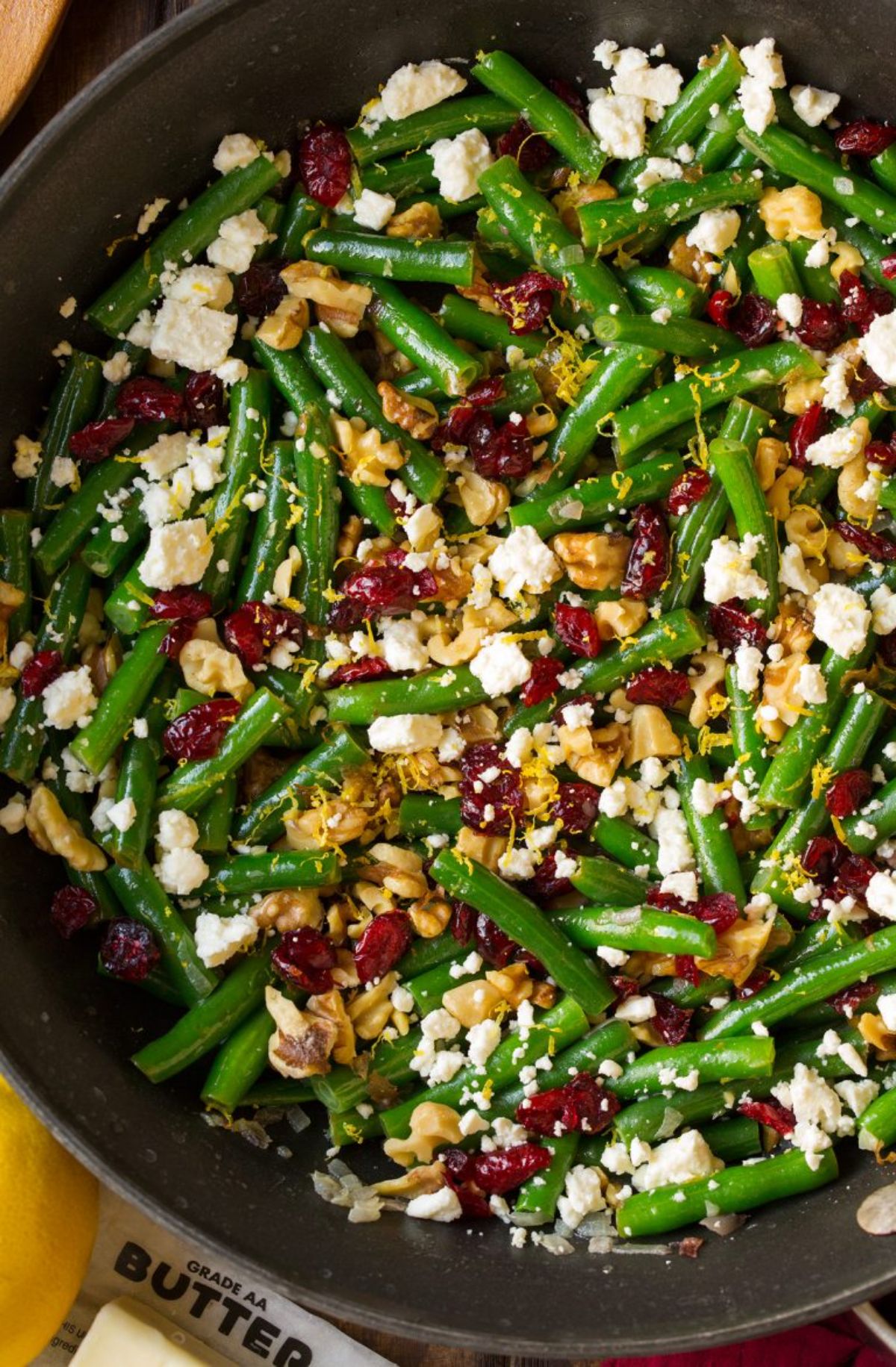 Crumbly, rich feta cheese integrates a different flavor aspect to this green bean dish. The few tablespoons of butter bring flavor while limiting fat and calories.
Walnuts are toasted and chopped to bring out their natural nutty flavors. Dried cranberries and lemon zest refine a delicious tartness to the dish.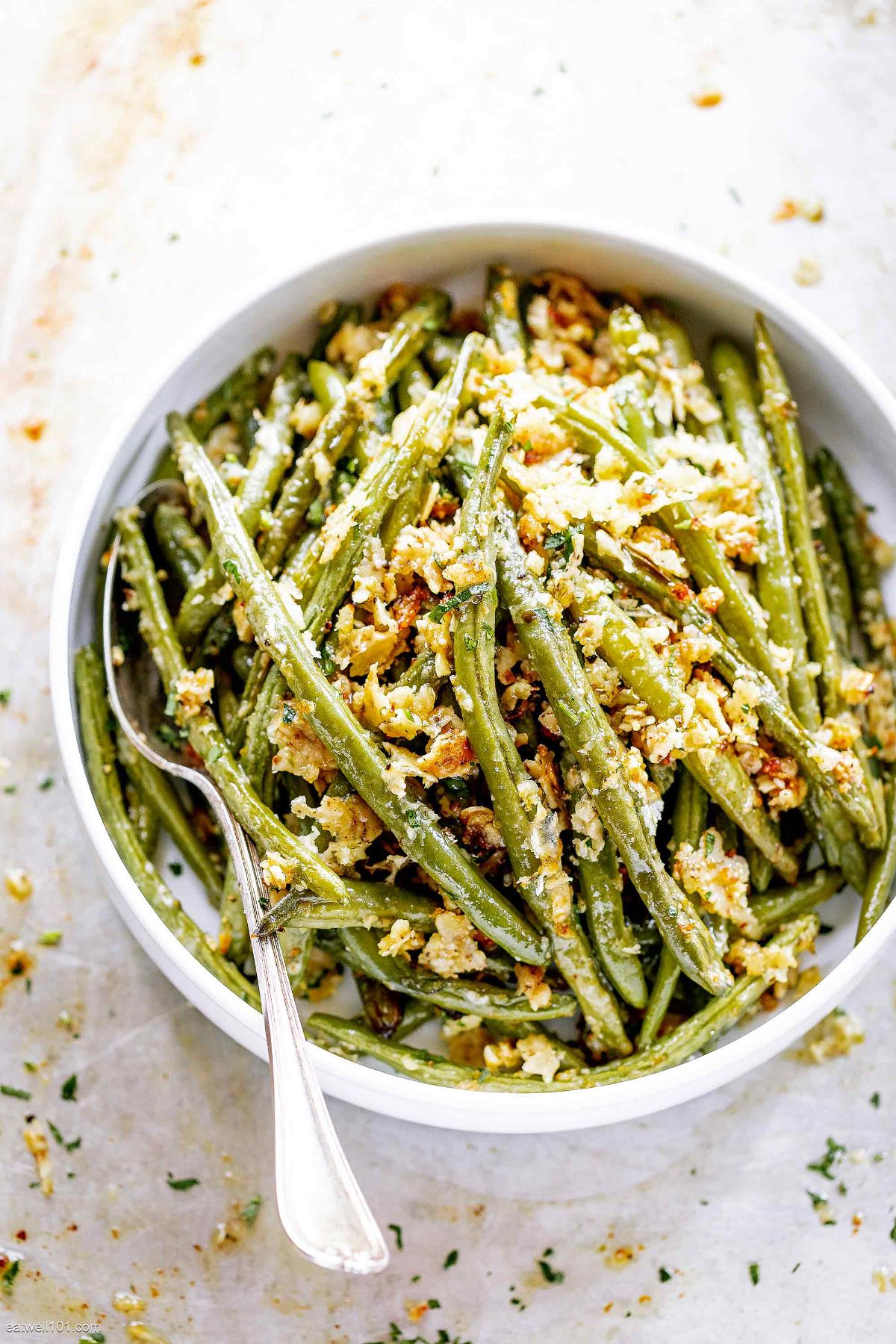 It's like having cheesy garlic bread, but with fewer carbs because of no bread and a refreshing bite from the green beans. Grate parmesan cheese fresh from the block for a higher-quality flavor. Mince fresh garlic to get the full effect of its natural taste.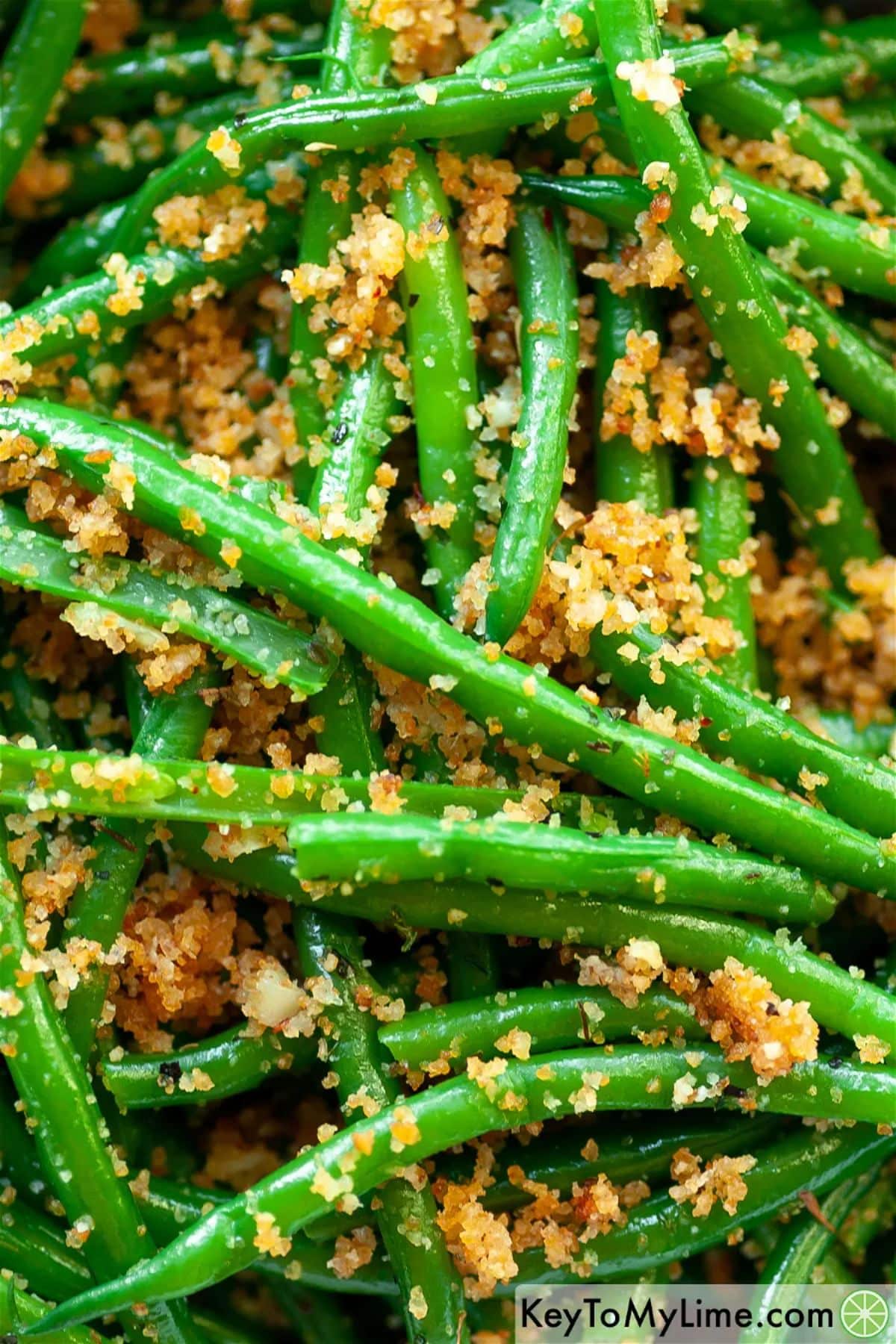 These Italian-inspired green beans only take about 15 minutes to prepare! Parsley, basil, thyme, and oregano make up the Italian seasoning. Red pepper flakes add a bit of heat with the breadcrumbs as a garnish, adding depth and crunch to the overall dish.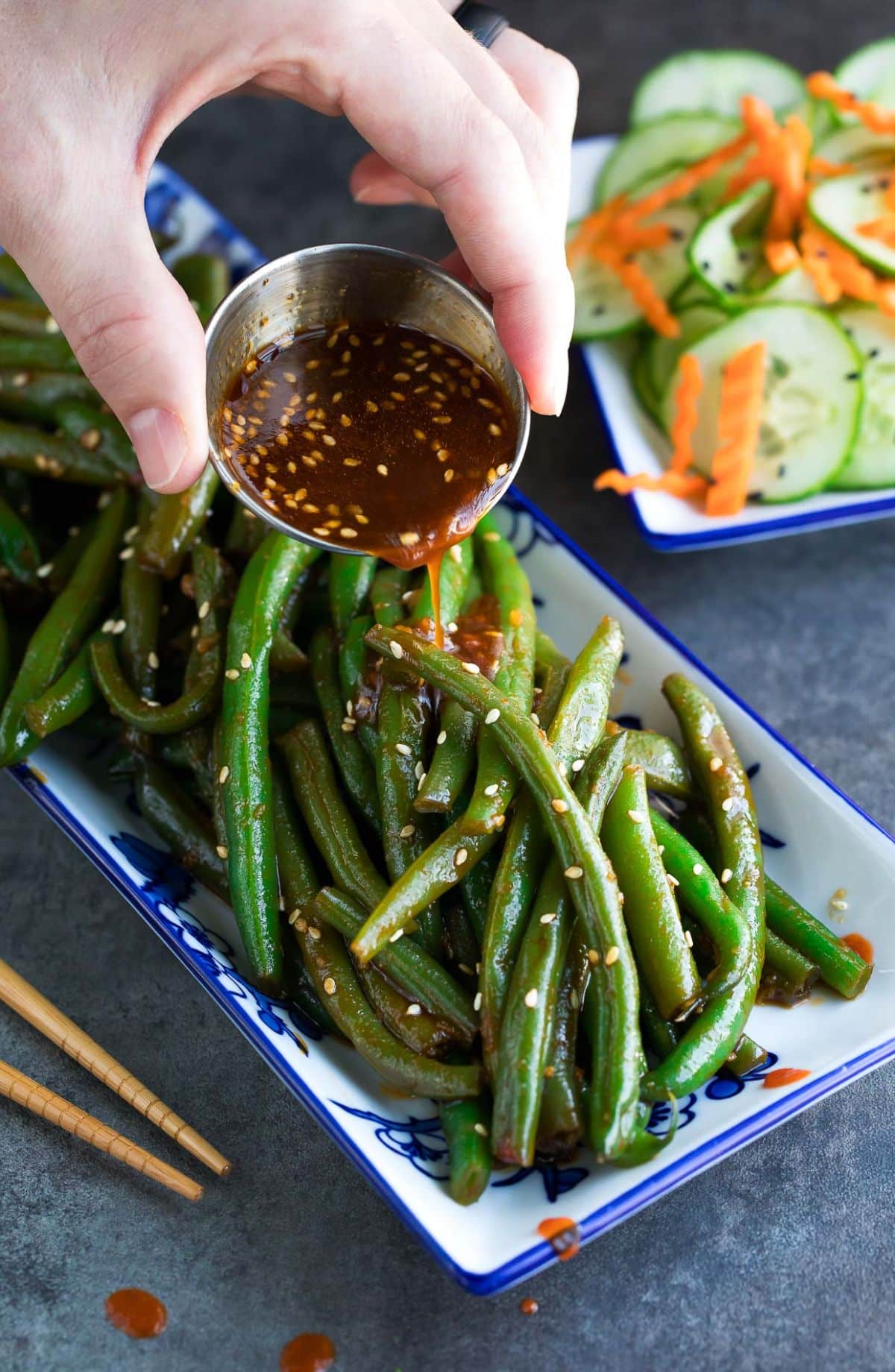 Add the heat to meal time with sriracha mixed with green beans. Sweet chili sauce and sesame oil enhance delectable Thai flavors for an authentic and ethnic take. With a few grams each of fiber and protein, this is a healthy green bean dish packing flavor and nutritive benefits.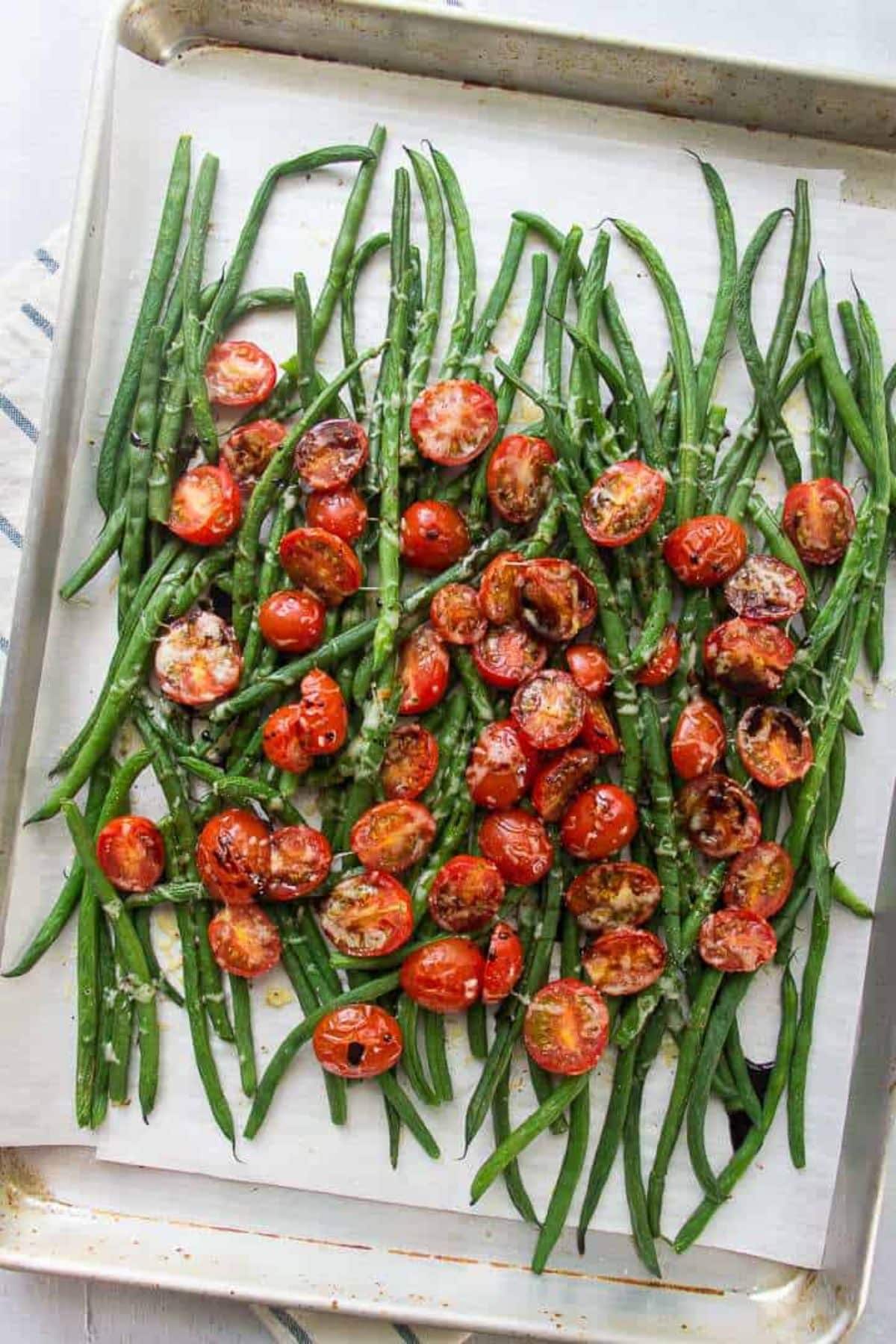 Cherry or grape tomato halves roasted with green beans in a Balsamic reduction hit all flavor notes in this Mediterranean-inspired side dish. Your choice of regular Parmesan cheese or a vegan variety sprinkled on top ties all the flavors together.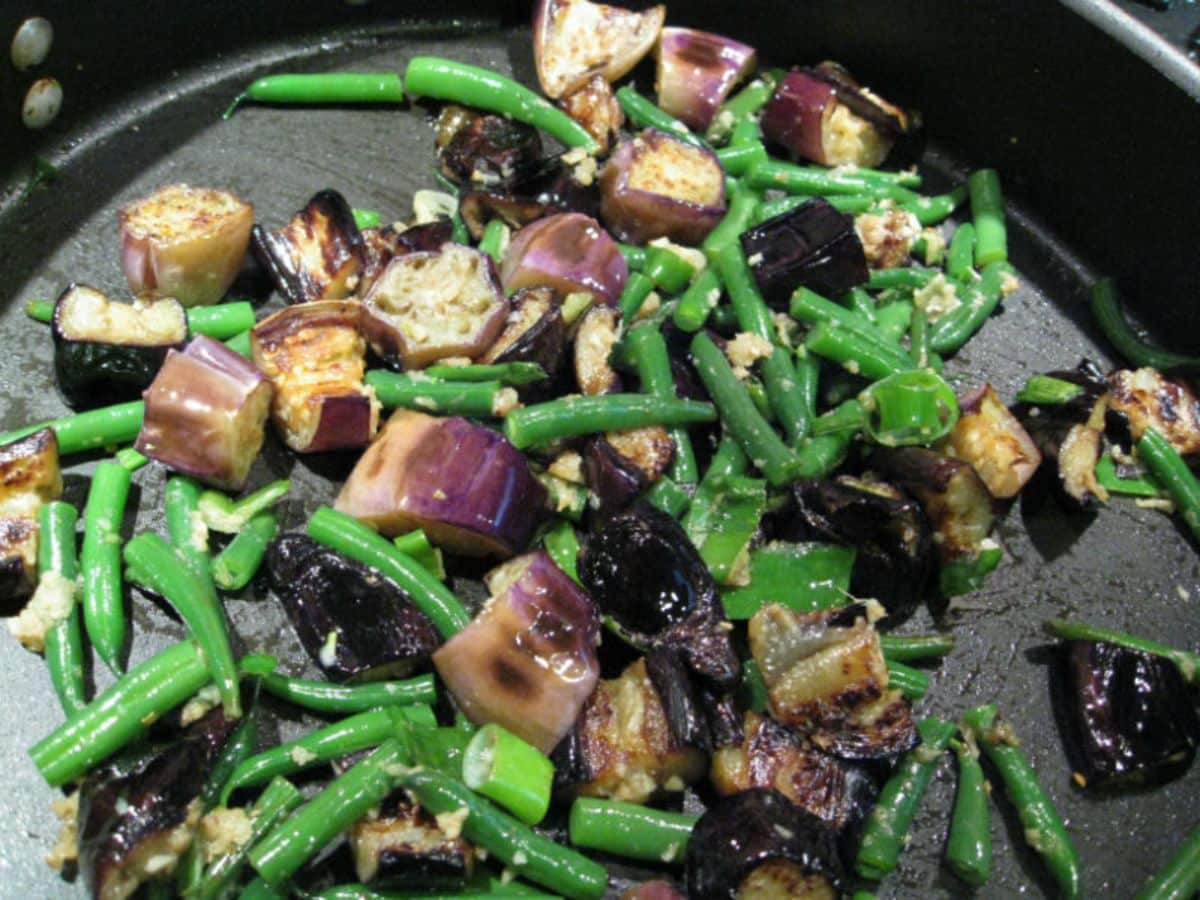 Savory, soft eggplant compliments the subtle crunch of creamy cashews, and cooked green beans bring a unique twist on a stir fry dish. Soy sauce, black bean sauce with garlic, chile-garlic sauce, and rice vinegar integrate Asian flavors that'll satisfy your umami taste buds.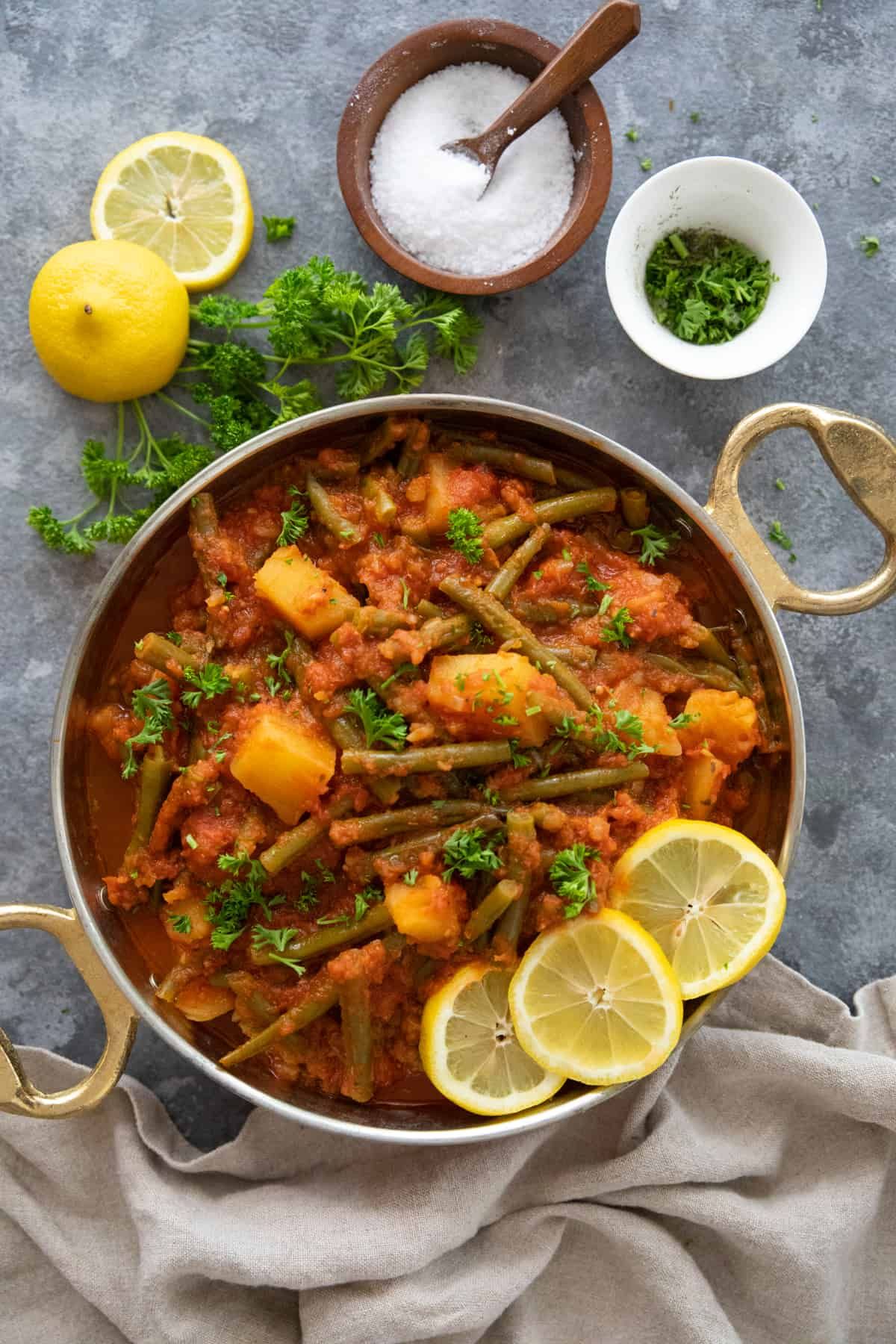 Fasolakia is a Greek-inspired braised green bean dish that integrates olive oil, crushed tomatoes, potatoes, onions, lemon, garlic cloves, and oregano. Serve with fresh pita bread or baked Greek chicken. It's a flavorful gluten-free, and vegan meal option.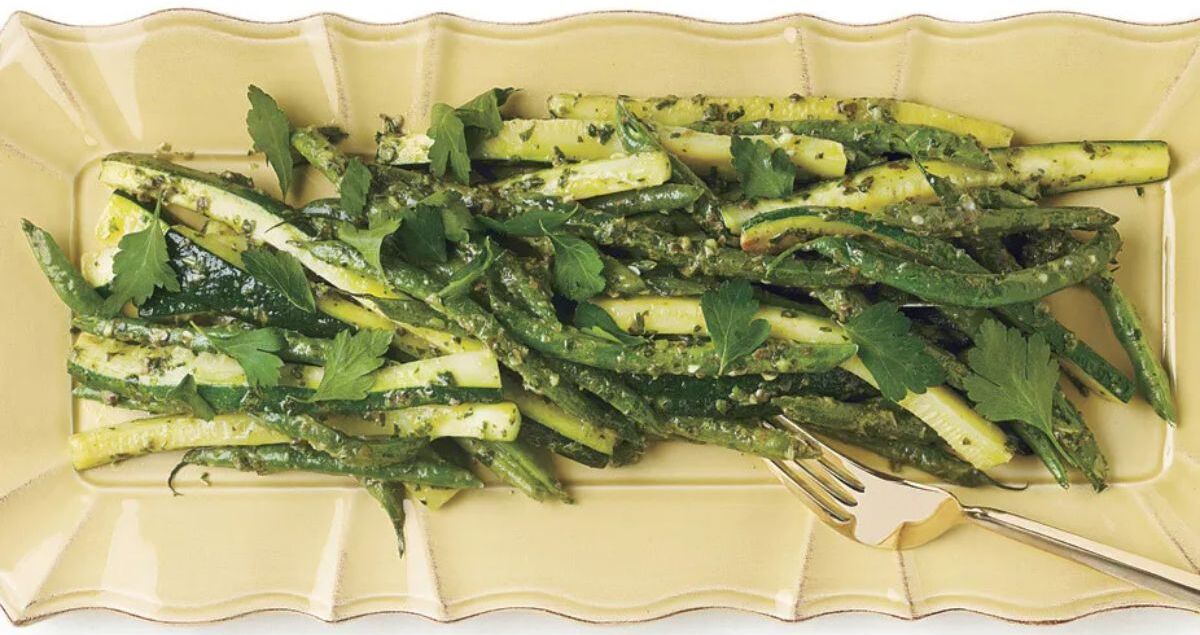 Sauce verte means "green sauce" in French. Indulge in an almost all-green-inspired healthy side dish. The sauce's green elements are Italian parsley, oregano, and green onion. Lemon juice, capers, and dried mustard add a unique bite to the sauce dressing the vegetables.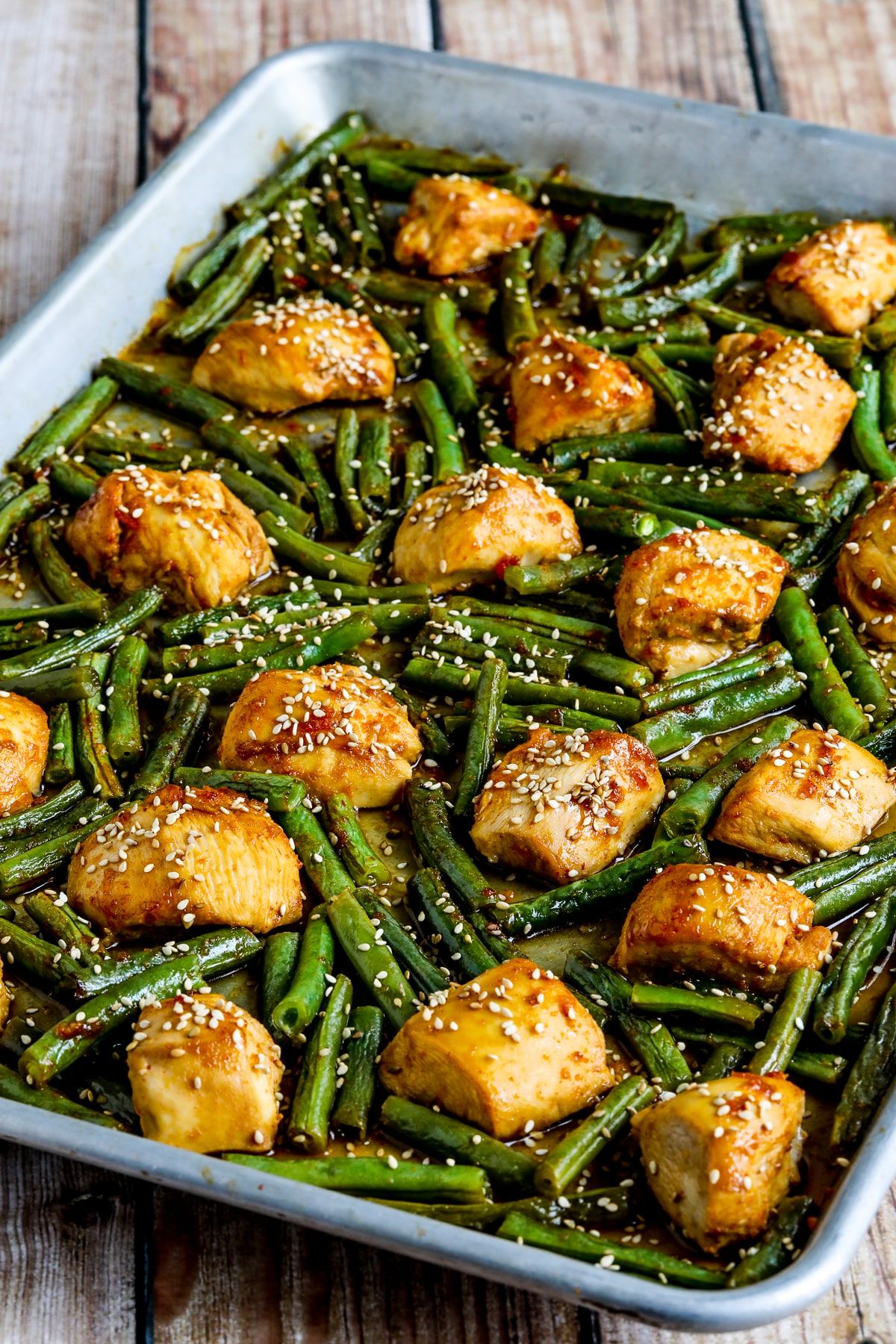 Marinate the chicken earlier in the day or the night before for more integrated flavors. Place the chicken and seasoned green beans on the sheet pan and cook in the oven! It's a simple, flavorful, healthy dinner idea that will prevent you from ordering out.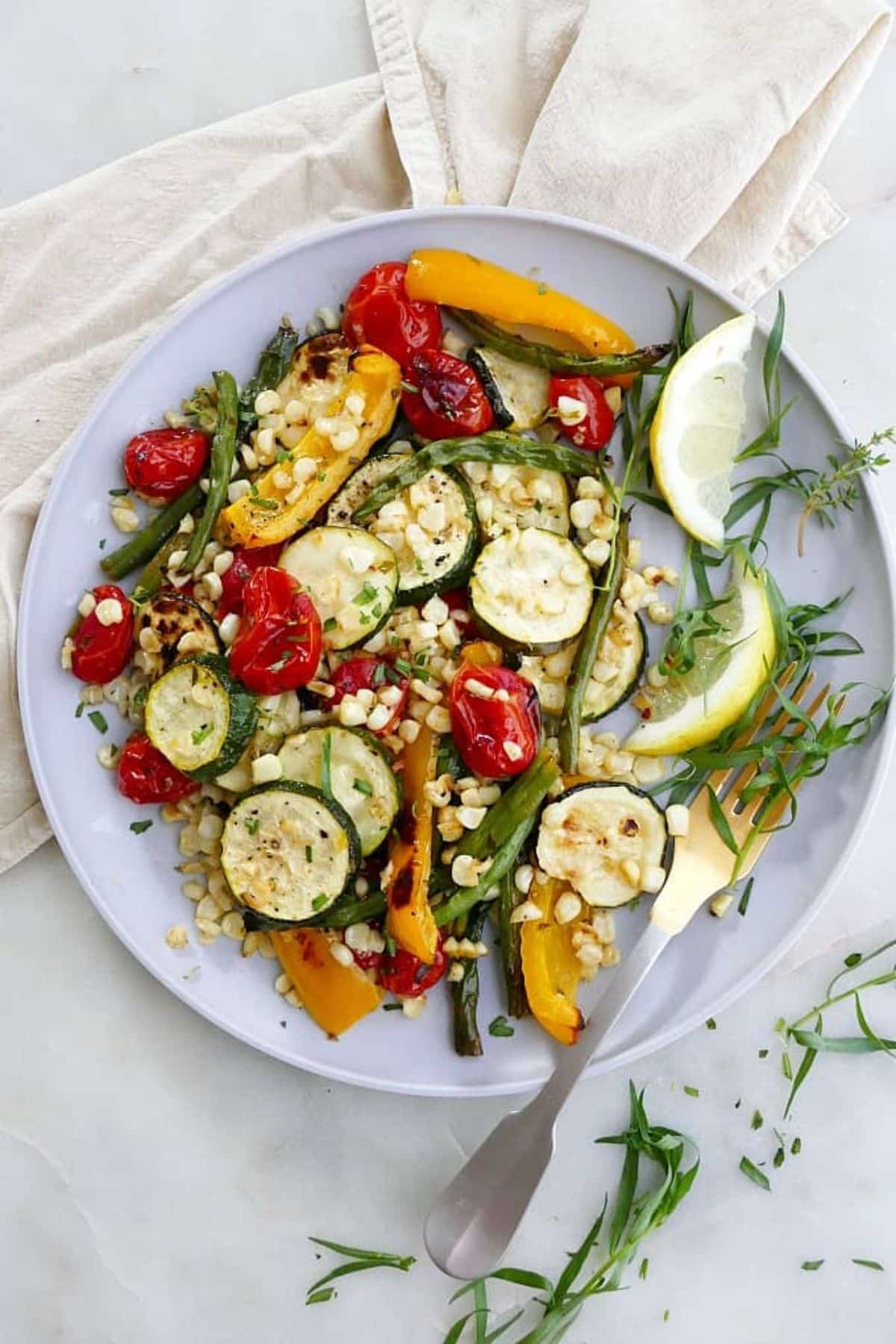 Featured alongside zucchini, yellow bell pepper, grape tomatoes, and corn, green beans make an appearance in this summer vegetable medley dish. Tarragon has a deep, licorice-type flavoring that compliments the sweet and earthy vegetables.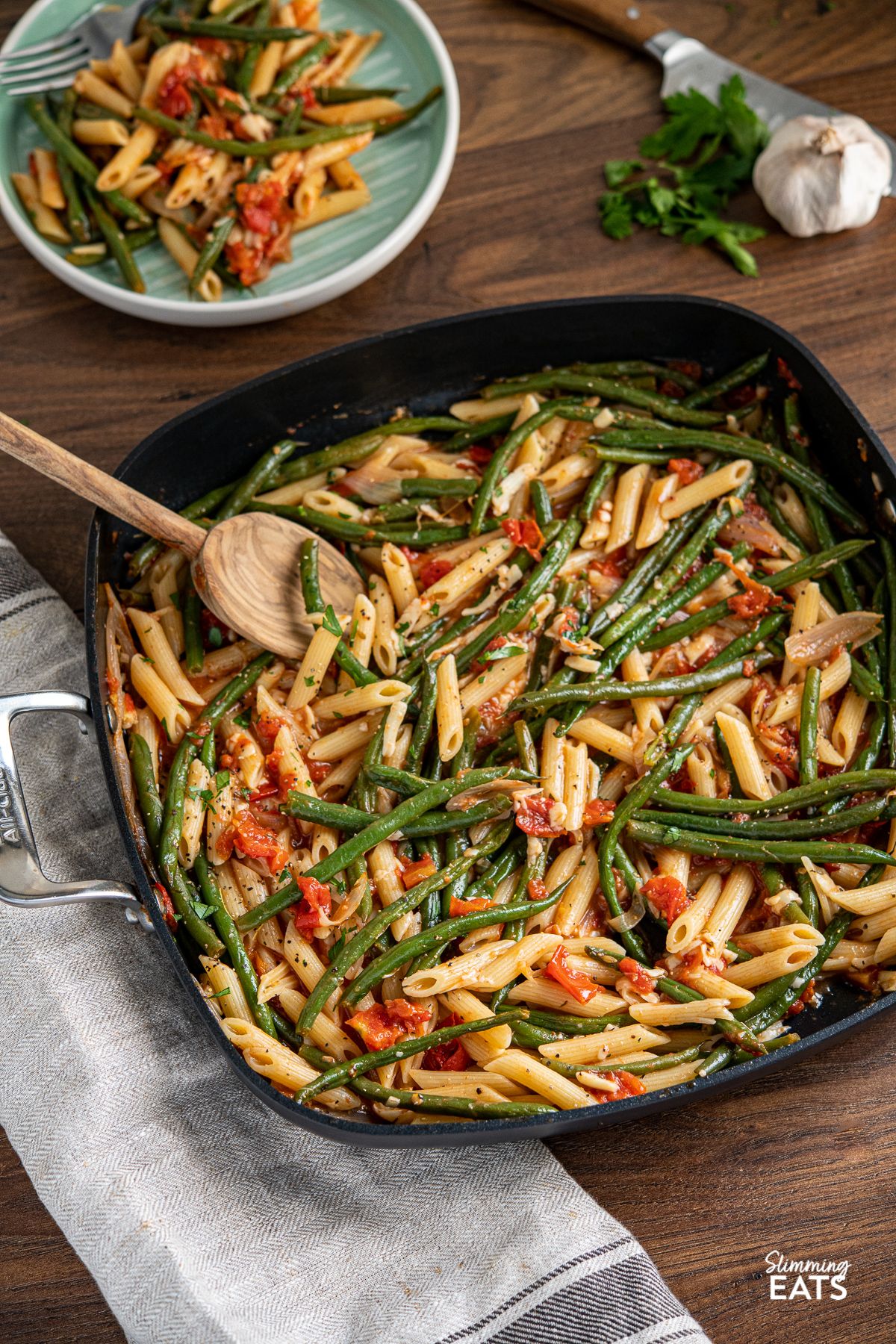 Green beans and tomatoes go great together, as you can see throughout this recipe list. Pair them with penne pasta. Yes, please! Use your choice of vegetable or chicken stock. The Herb de Provence adds a fancy, flavorful flair.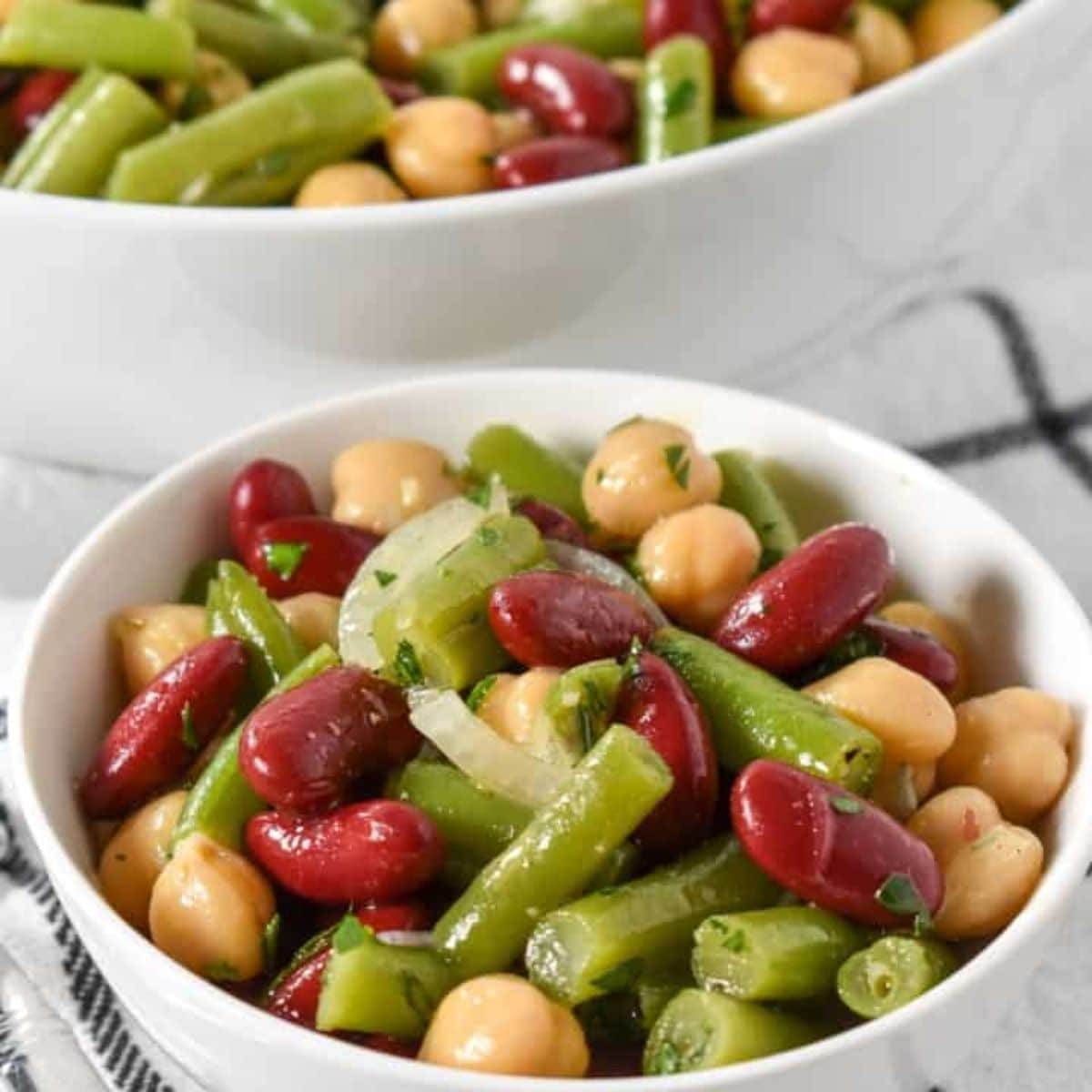 Chickpeas, red kidney beans, and green beans are the three stars of this salad. Olive oil, apple cider vinegar, sugar, salt, and pepper season the beans to perfection for a sweet, briny bite. The three-bean salad makes a great complement to grilled chicken or salmon.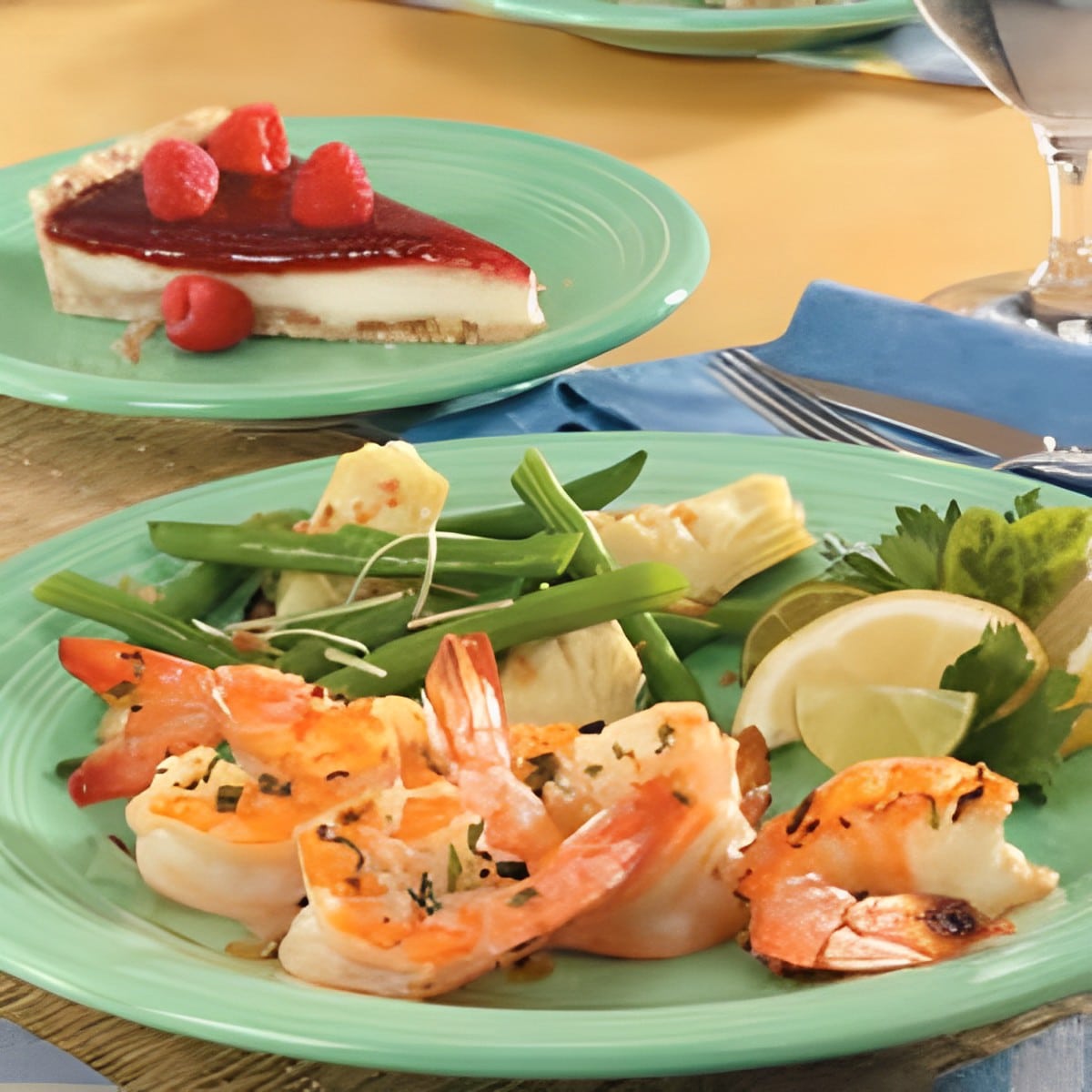 Place the green beans in a steamer basket and the artichokes, onions, and seasonings per the recipe instructions in a skillet. Toast bread crumbs and set aside as a garnish with the shredded Parmesan cheese. Bring them all together and enjoy them alongside shrimp, mussels, or oysters!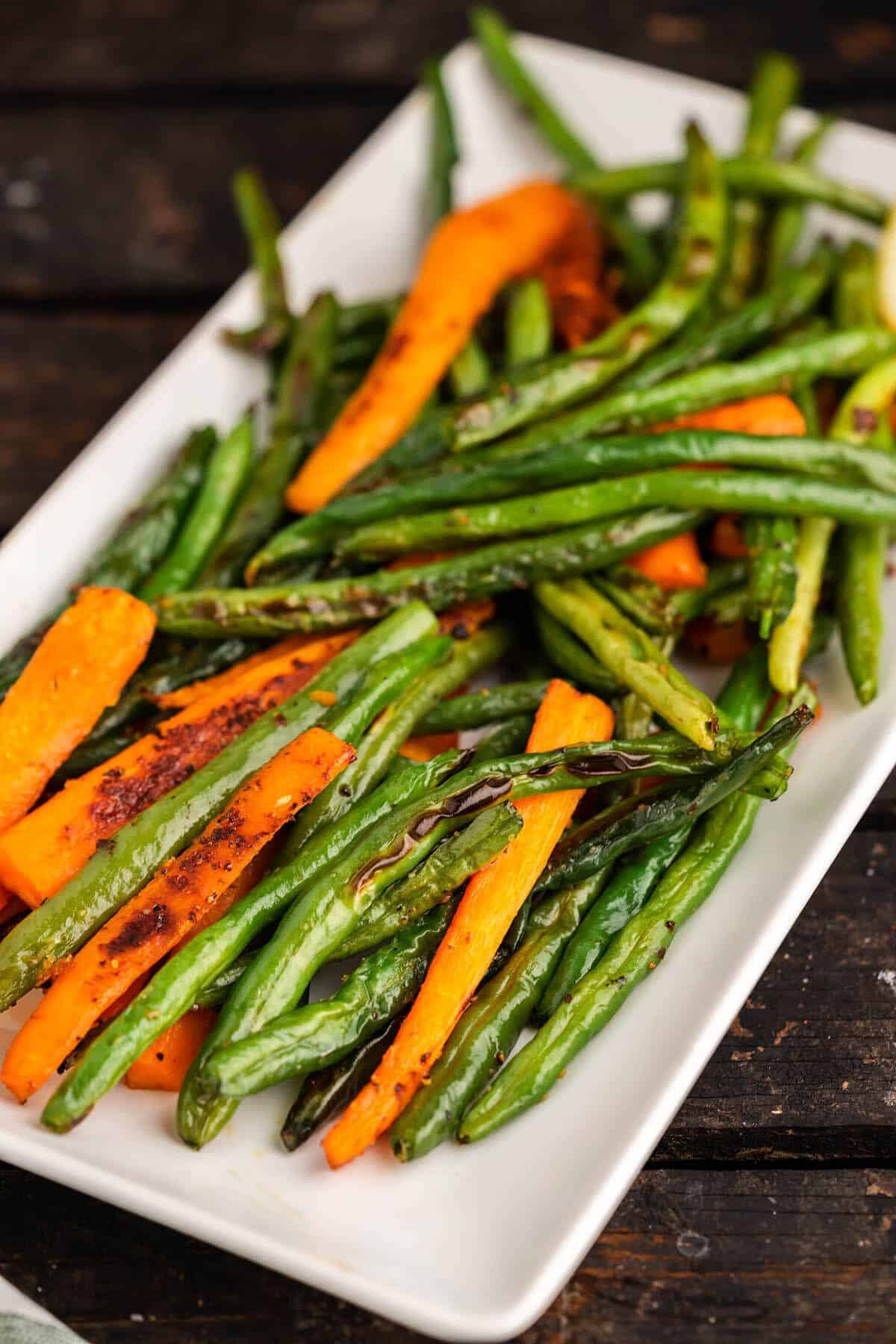 Julienne the carrots, clean and remove green bean stems, season them per the recipe instructions, and place them in the oven. Squeeze a little bit of lemon juice after they are finished cooking. You have a sweet and earthy side to compliment any main dish.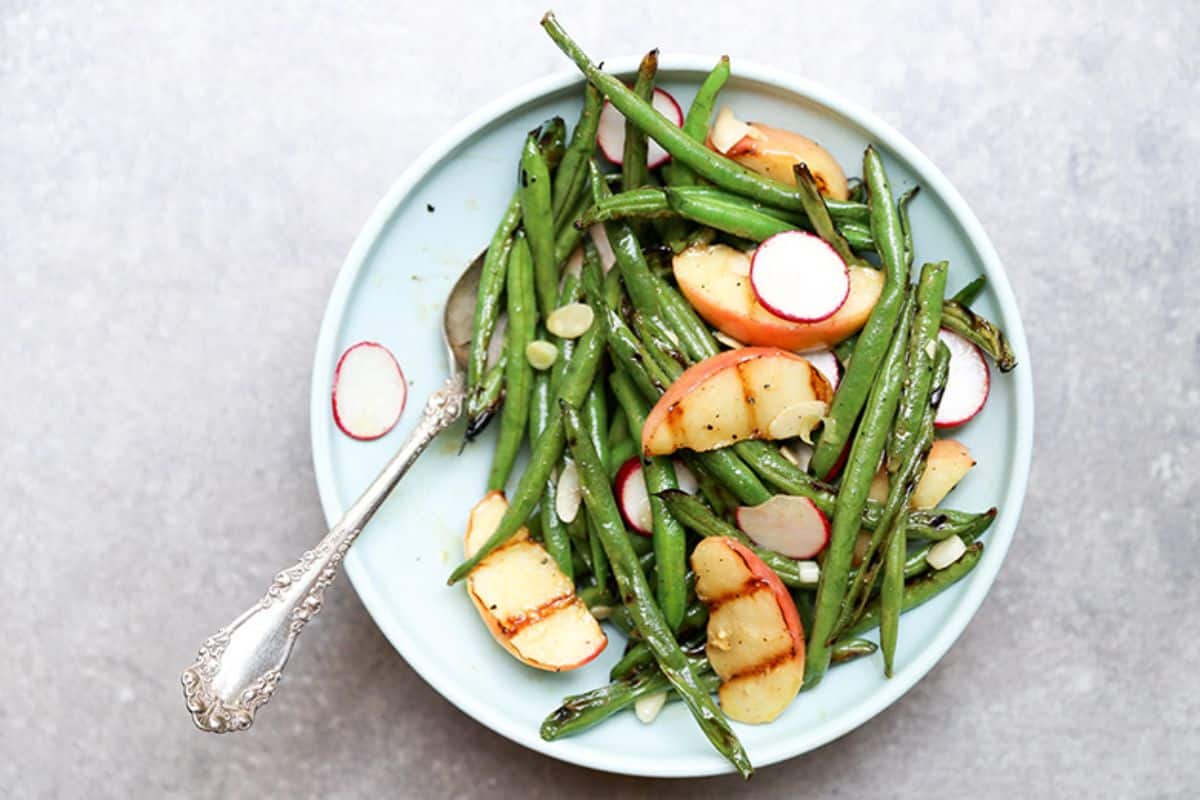 Zesty radishes complement the grassy green beans and sweet, crispy apples in this grilled salad. Scallions, lemon, red wine vinegar, and Dijon mustard enhance the punchy flavors, while almonds and radishes give the salad a delightful bite.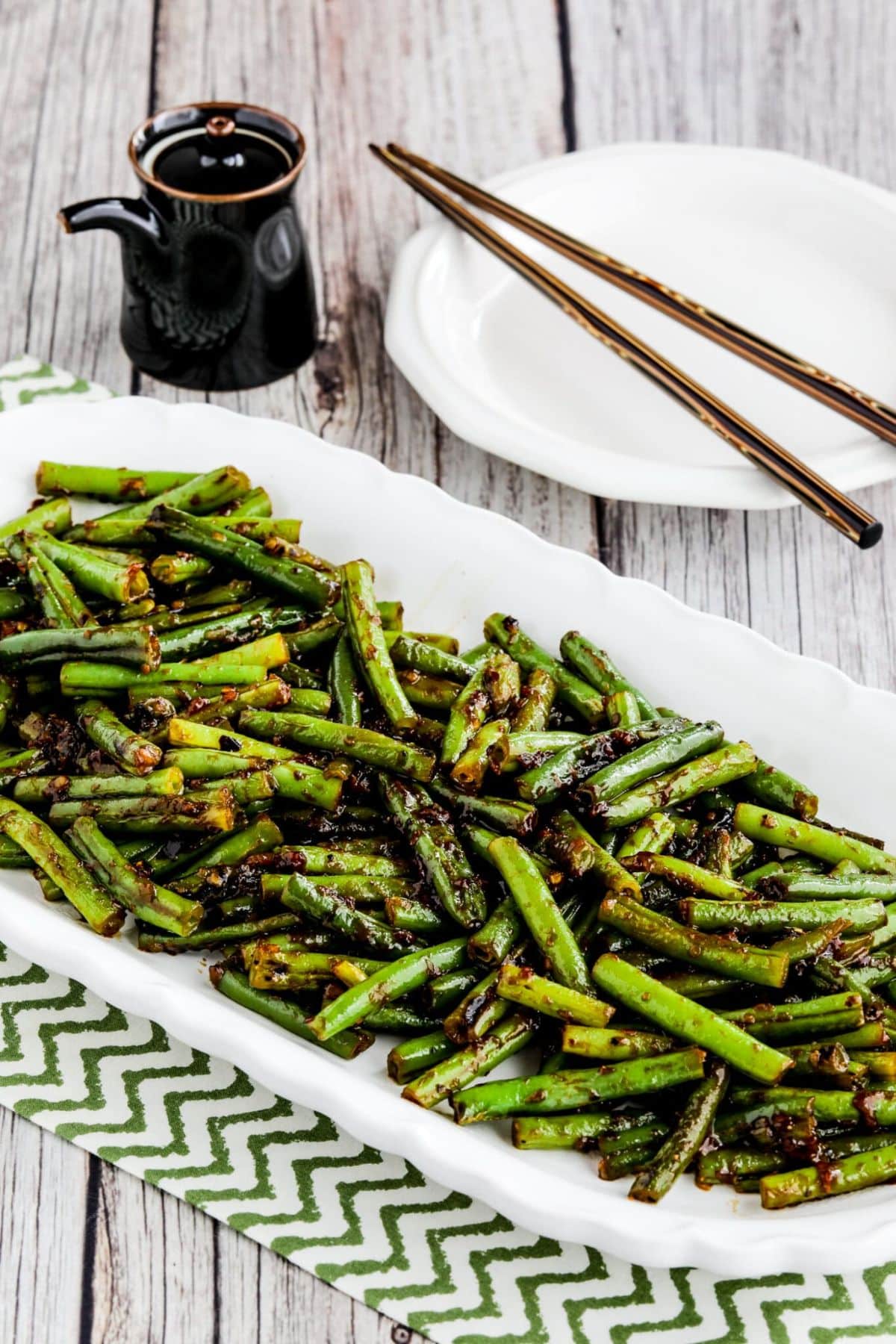 Here's a healthy green bean dish with an exciting flavor. Soy sauce, rice vinegar, fresh ginger, and red pepper flakes are the Szechuan-style elements adding umami flavors. Pair this delightful side with your favorite air fryer chicken recipe to bulk up nutritive benefits.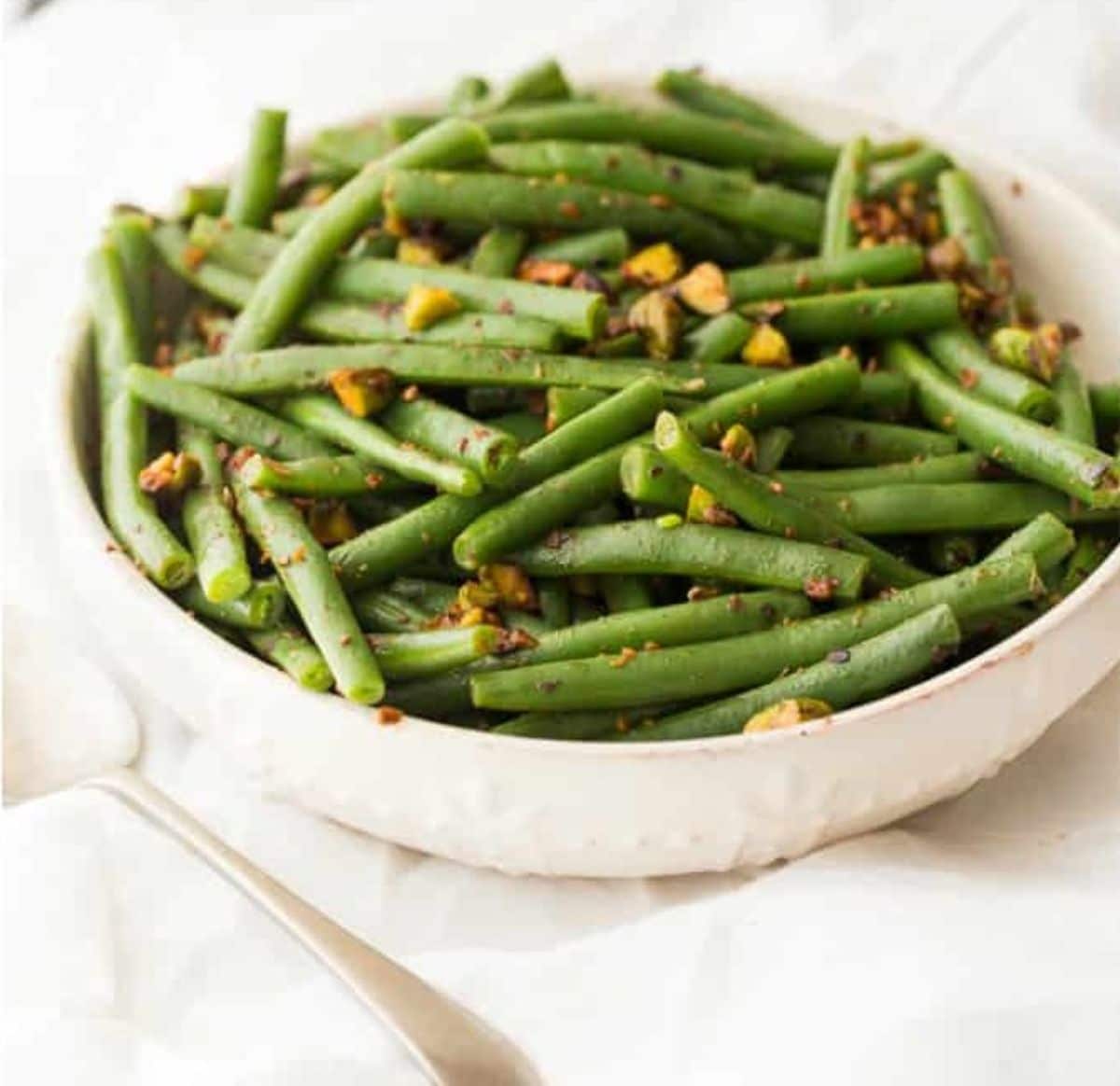 Pistachios are mildly nutty and sweet, which bring out the natural flavors of cooked green beans. Butter, red wine vinegar, and shelled pistachios warmed to perfection dress the vegetable star with flavors you never thought possible for a green bean dish.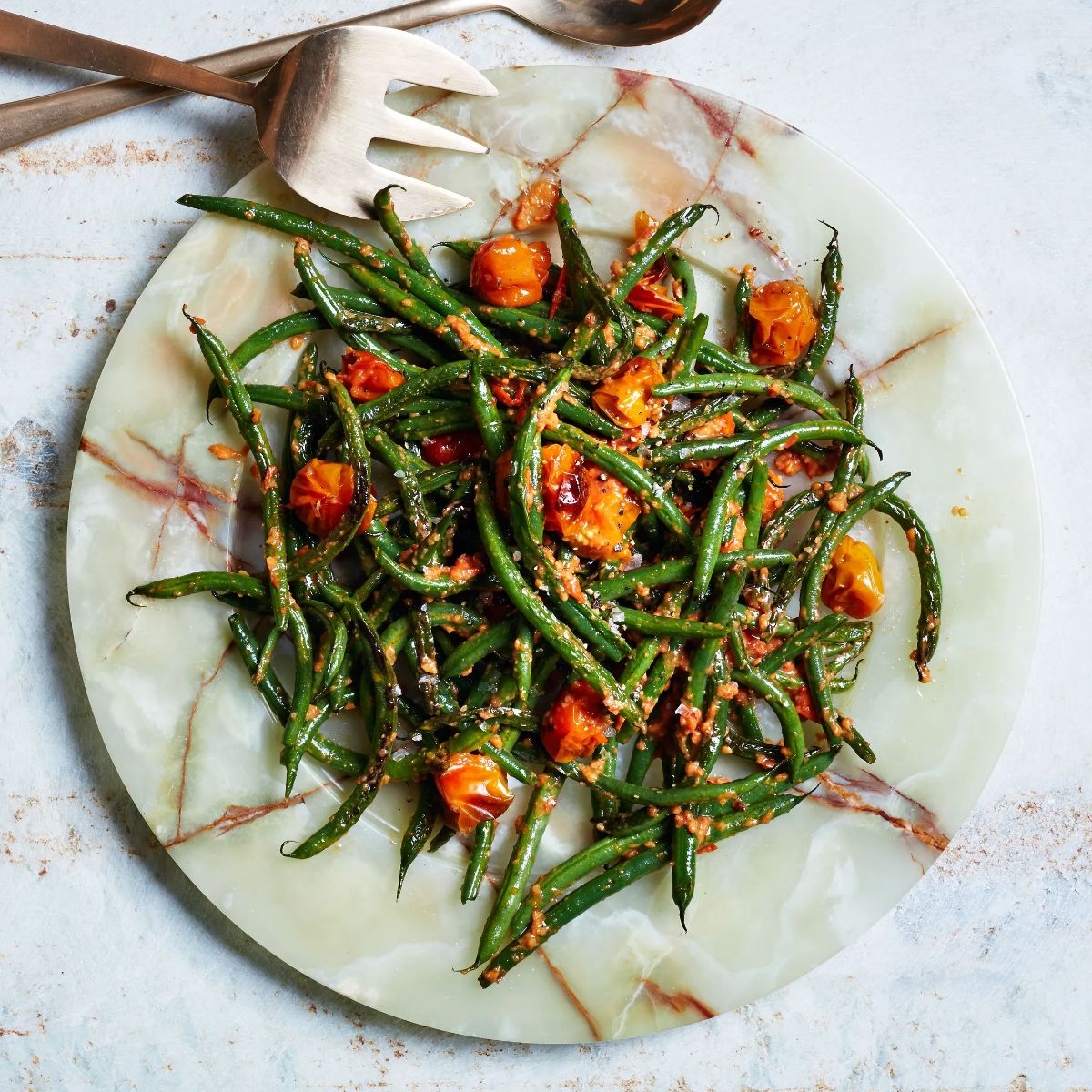 Blister green beans in a skillet as you wait for tomatoes to blister in the oven. The slight char when blistering these vegetables will enhance their natural flavors. Vinegar, olive oil, paprika, and other spices are included in the tomato-almond pesto that completes the dish.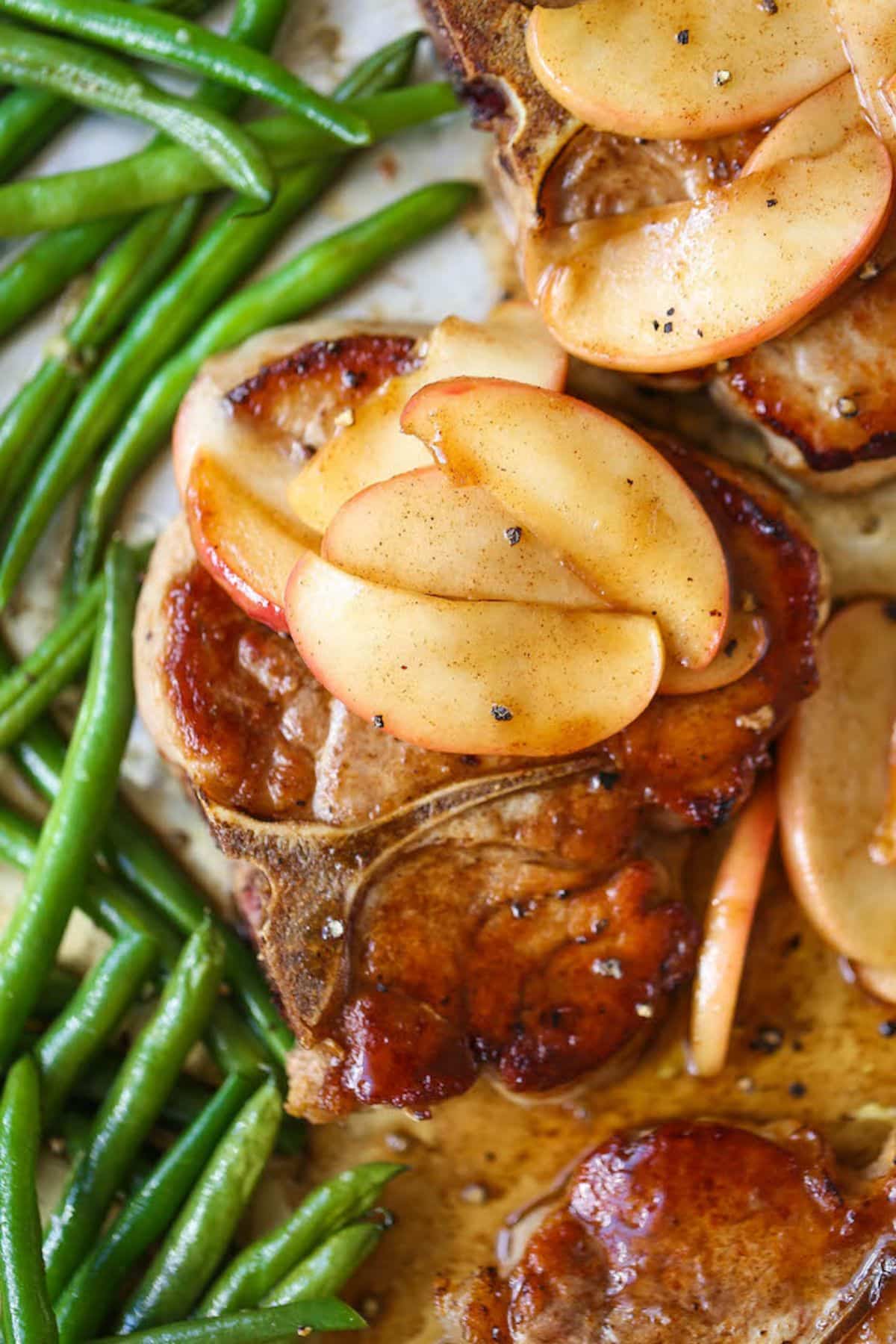 Maple-glazed soft apple slices on top of tender pork chops are the main dish that compliments the simply seasoned cooked green beans. With only olive oil, salt, pepper, and fresh garlic, the simplistic taste of the green beans completes a wholesome, healthy, protein-filled meal.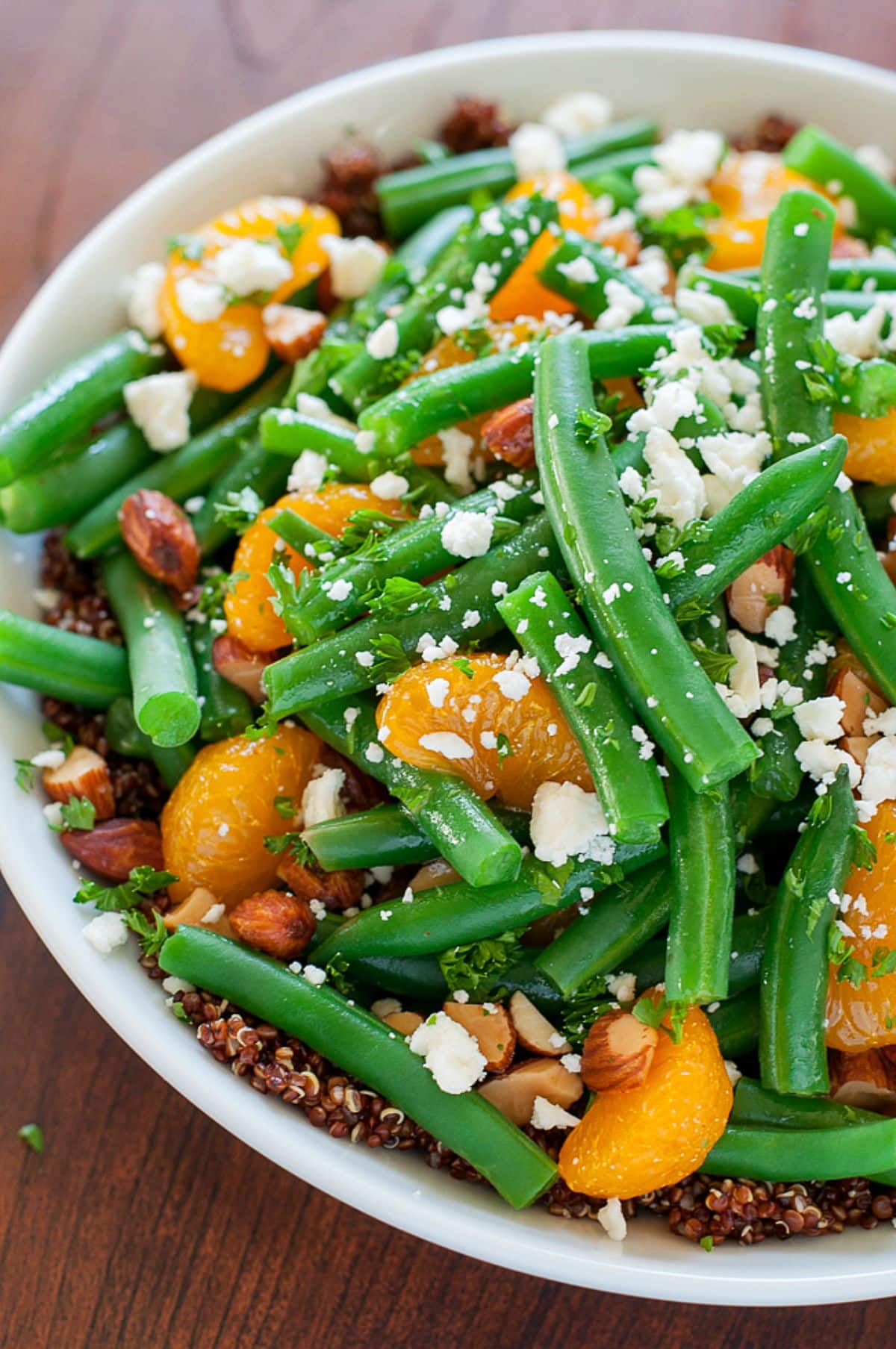 The many flavors and textures of quinoa, maple, roasted almonds, feta cheese, and mandarin oranges bulk up this green bean salad. If you prefer, you can substitute the mandarin orange segments for clementines. Choose from red, white, or tri-color quinoa.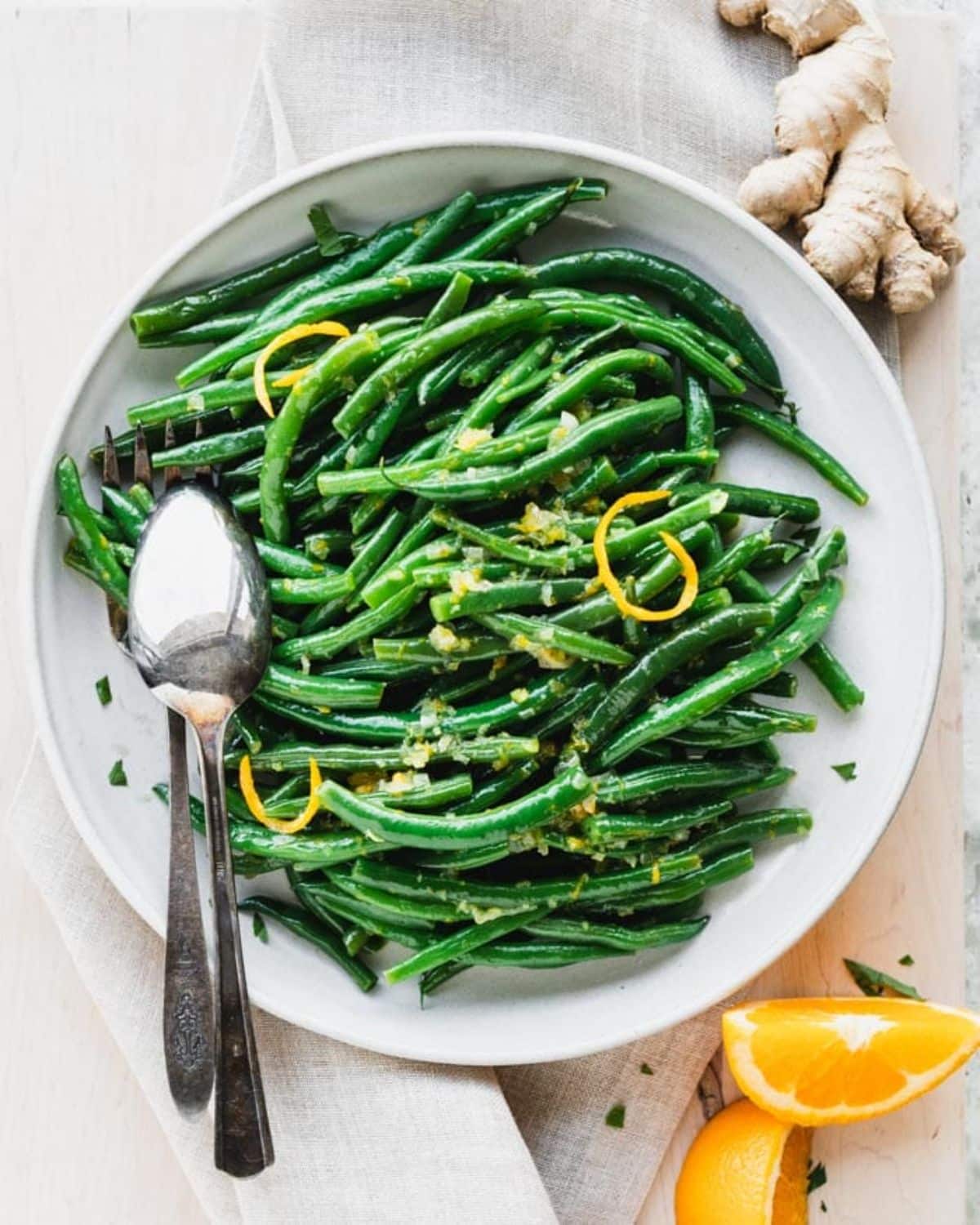 The bite of ginger and the sweet orange enhance the earthy taste of the green beans. Shallots enhance the natural sugary and grassy aromas and tastes. Blanching the green beans after cooking and before tossing them with the other green beans will maintain their crunch.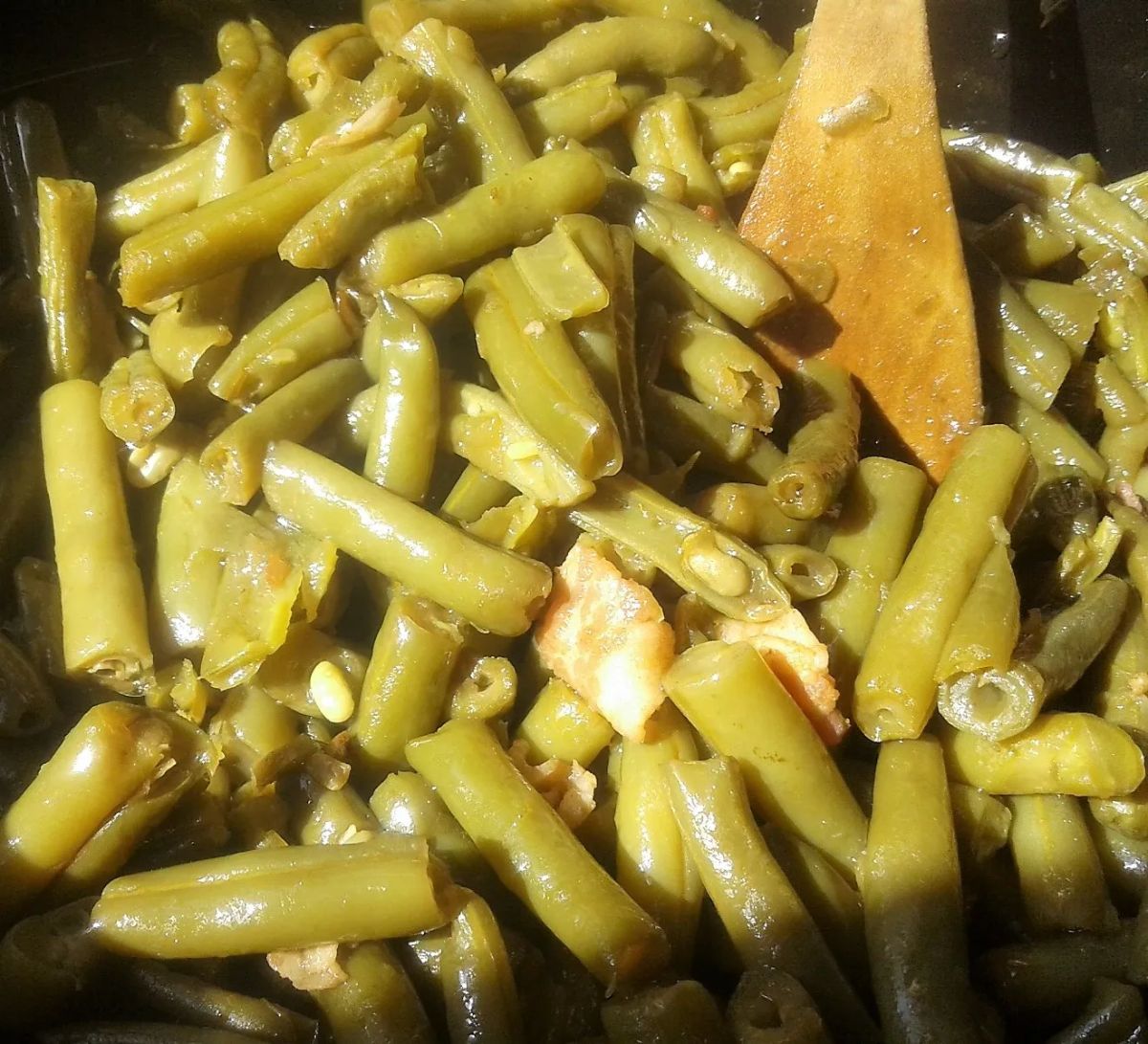 Bring out the crockpot for this Mississippi-inspired green bean dish. Brown sugar, soy sauce, bacon, butter, and olive oil marinade into the green beans for five to seven hours, depending on your crockpot settings.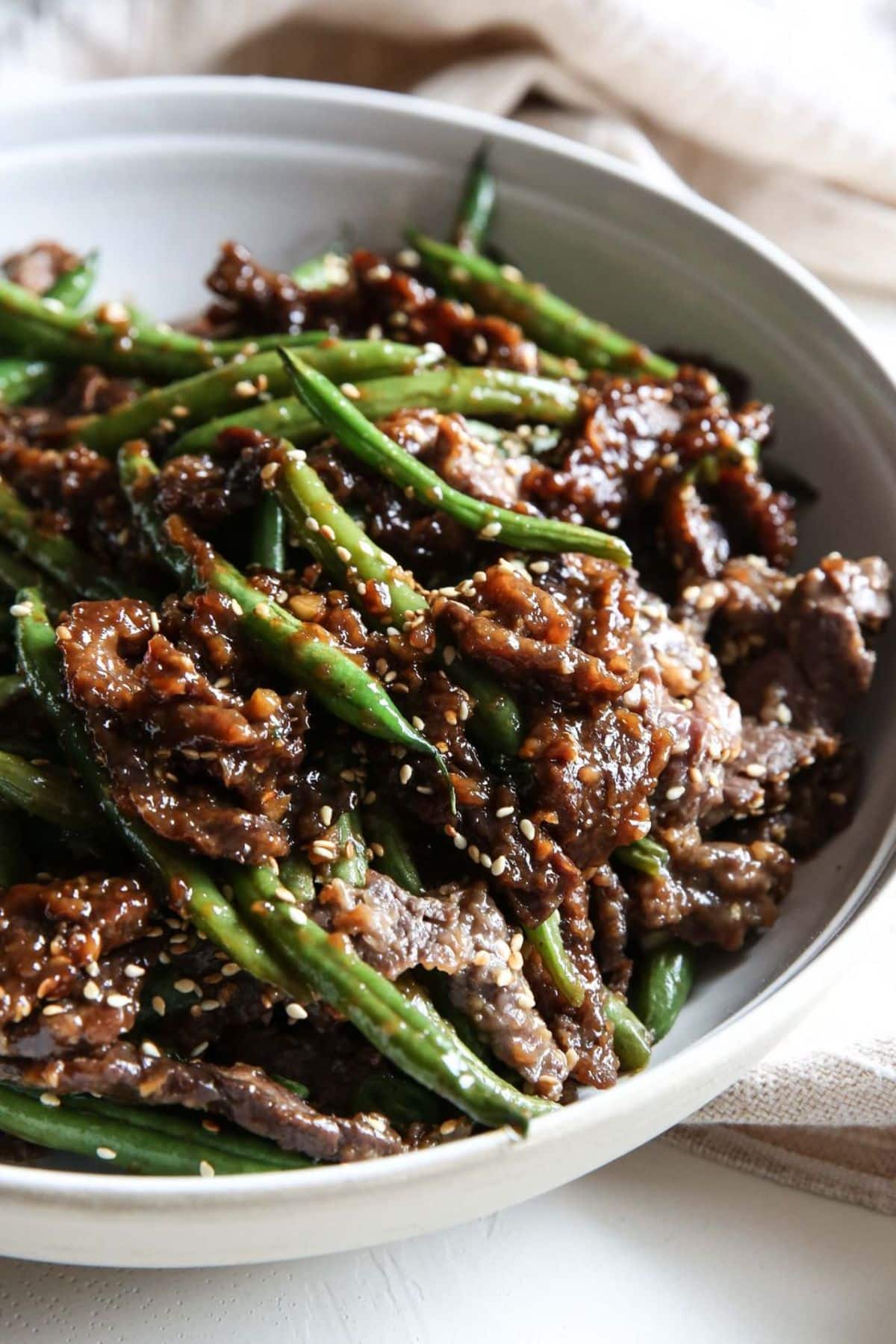 Sesame-glazed skirt steak and crispy green beans make an alluring Asian dish that will leave you satisfied at the end of the meal. Cook the skirt steak per the recipe instructions, boil and blanch the green beans, and mix them for a delicious bite.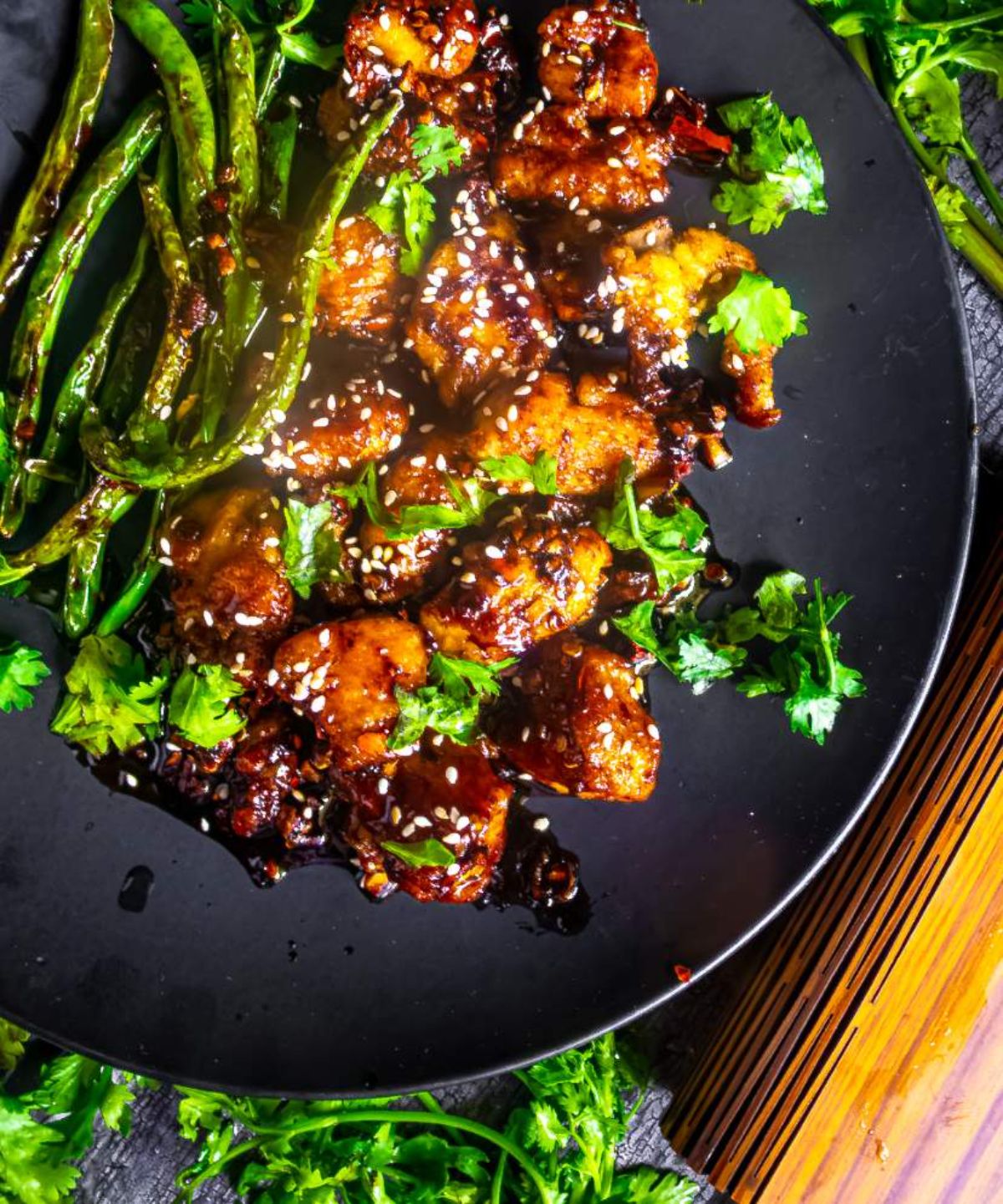 Maybe you are not a fan of skirt steak. Try this chicken and green beans dish with an Asian-inspired twist. Blister the green beans until slightly charred and marinate and cook the chicken by following the recipe instructions for a quick and easy weeknight dinner.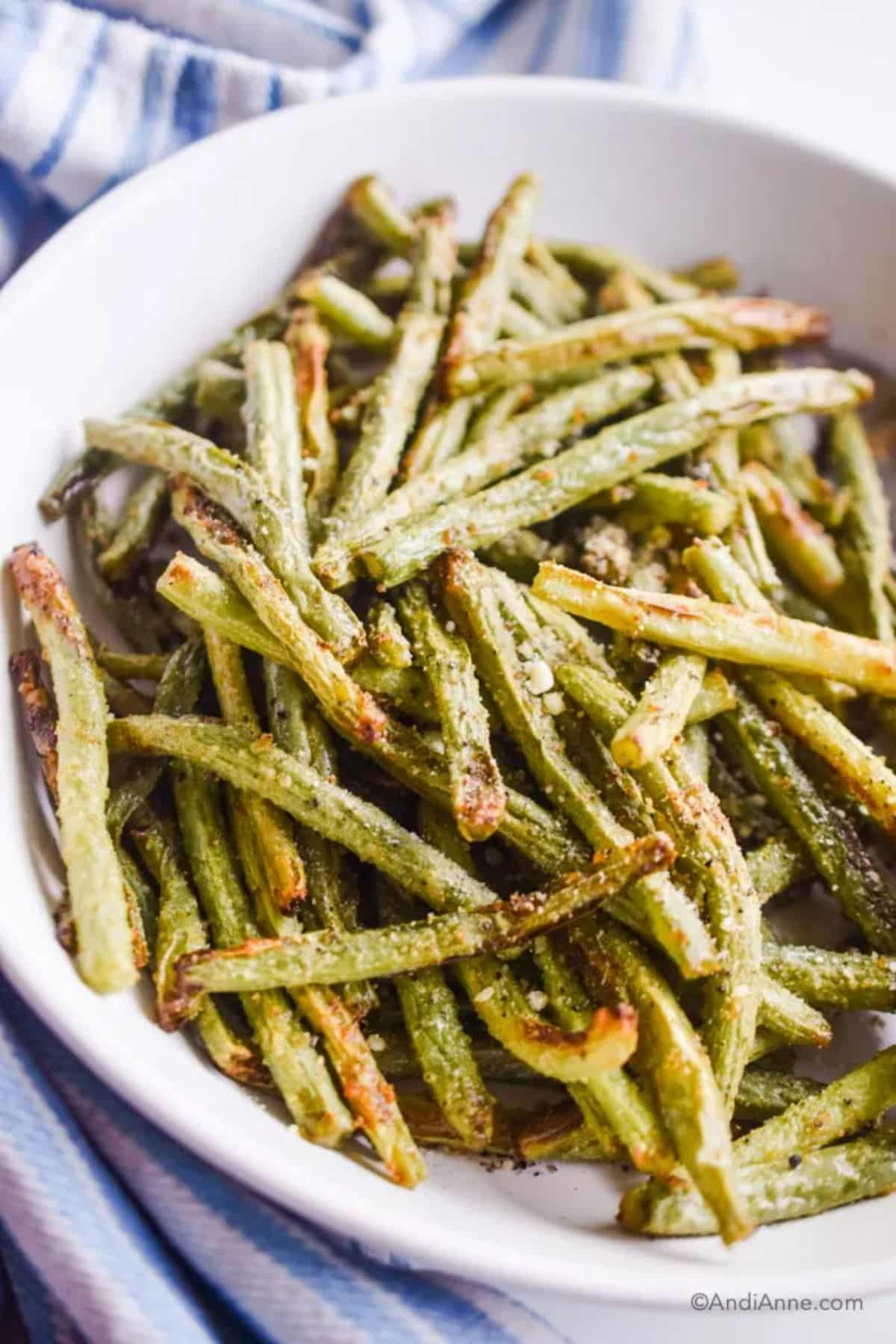 Air frying makes a delicious bite without all the carbs and calories of traditional frying. Combine your favorite cooking oil, garlic powder, onion powder, and freshly grated parmesan cheese with green beans before placing them in the air fryer. Cook until they are crispy, golden brown.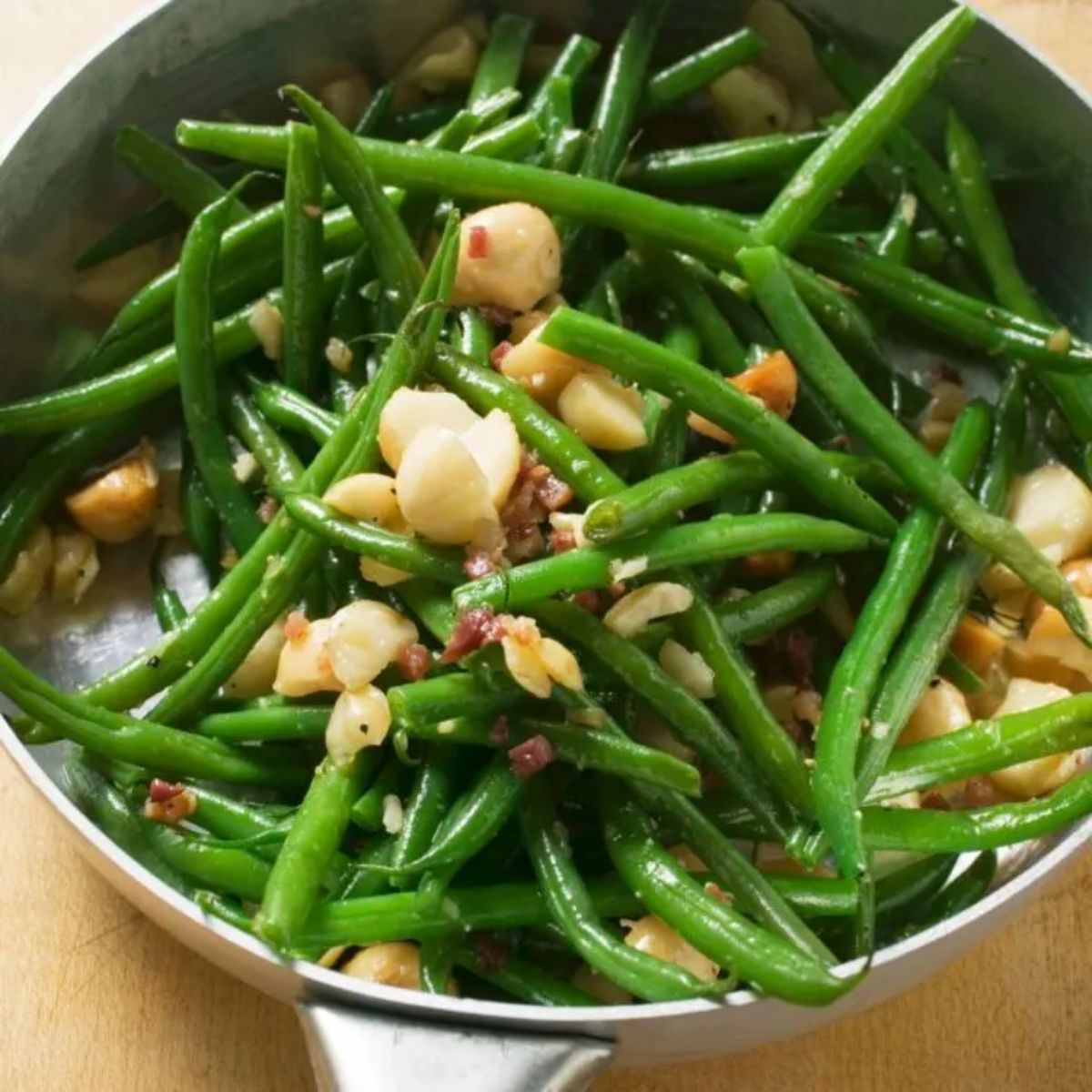 These Bavarian-style green beans include apple cider, a garlic clove, spaetzle noodles, onion, butter, and bacon. The apple cider's sweet yet bitter taste enhances the buttery sauce in this recipe. Spaetzle is a type of egg noodle that takes on the flavors of the dish.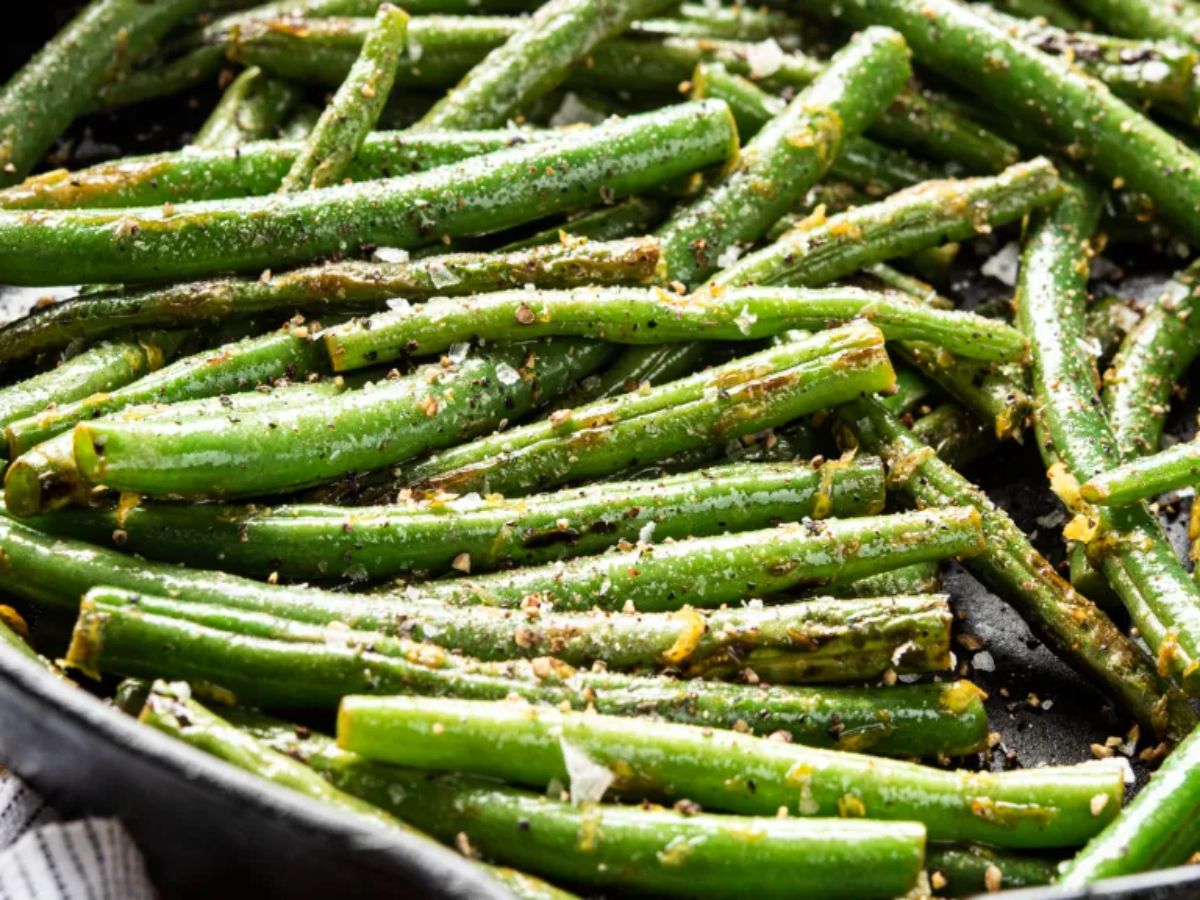 Zesty lemon and pungent black pepper refine the green beans in this flavorful recipe. Using the zest and juice of a fresh lemon and integrating fresh cracked black pepper refine the natural flavors for a higher-quality bite. Enjoy with your favorite chicken fried steak or pot roast recipe.
What's Your Favorite Healthy Green Bean Recipe?
Do you prefer sweet green bean recipes like the ones with citrus? Maybe you love the savory ones that feature tomatoes, potatoes, or mushrooms.
Not all green bean recipes are created equally. There are many different ones to try with regional influences and flavors you may have never seen before.
Let us know your favorite featured green recipe in the comments below. If we missed one of your favorite recipes, tell us more about it in your comment.