Whether you're cooking for a special occasion or just looking for a flavorful and nutritious meal, scallops make an excellent choice for a main course. With their delicate texture and sweet, salty flavor, scallops pair well with various ingredients and cooking methods.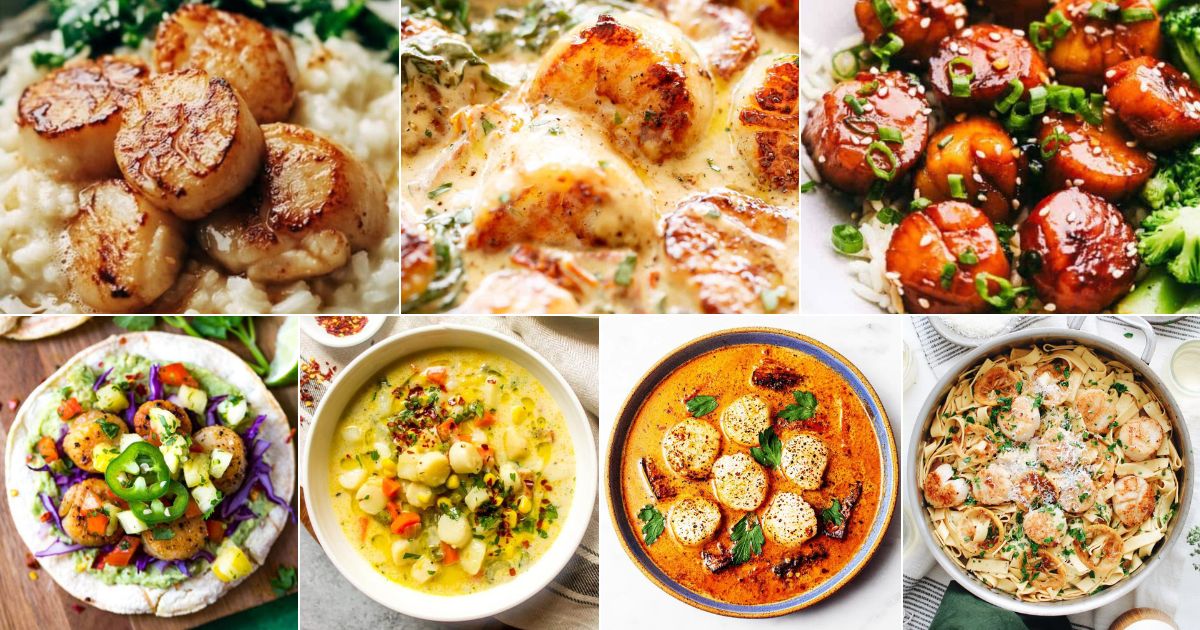 This article has compiled 31 scallop recipes to impress your guests and leave a lasting impression. From simple seared scallops to more complex dishes, there's something for everyone on this list. So grab your apron and get ready to dive into the world of scallop cuisine!
Jump to: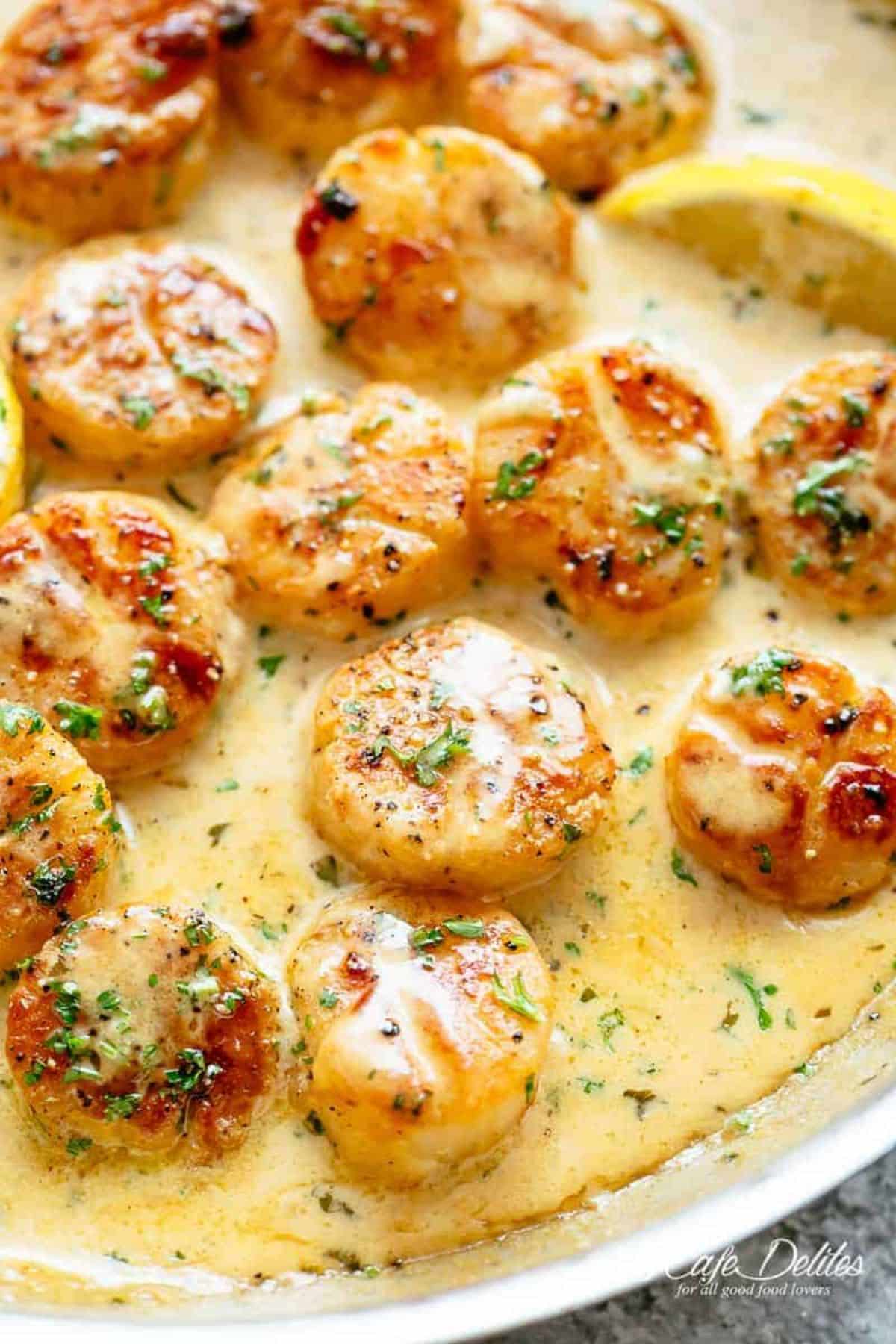 If you're looking for a luxurious and indulgent dish to impress your guests, look no further than Creamy Garlic Scallops.
The rich and velvety sauce is infused with garlic and herbs, adding a depth of flavor that perfectly complements the sweet and tender scallops. The scallops have a delicate texture and melt-in-your-mouth goodness that will leave your taste buds dancing with joy.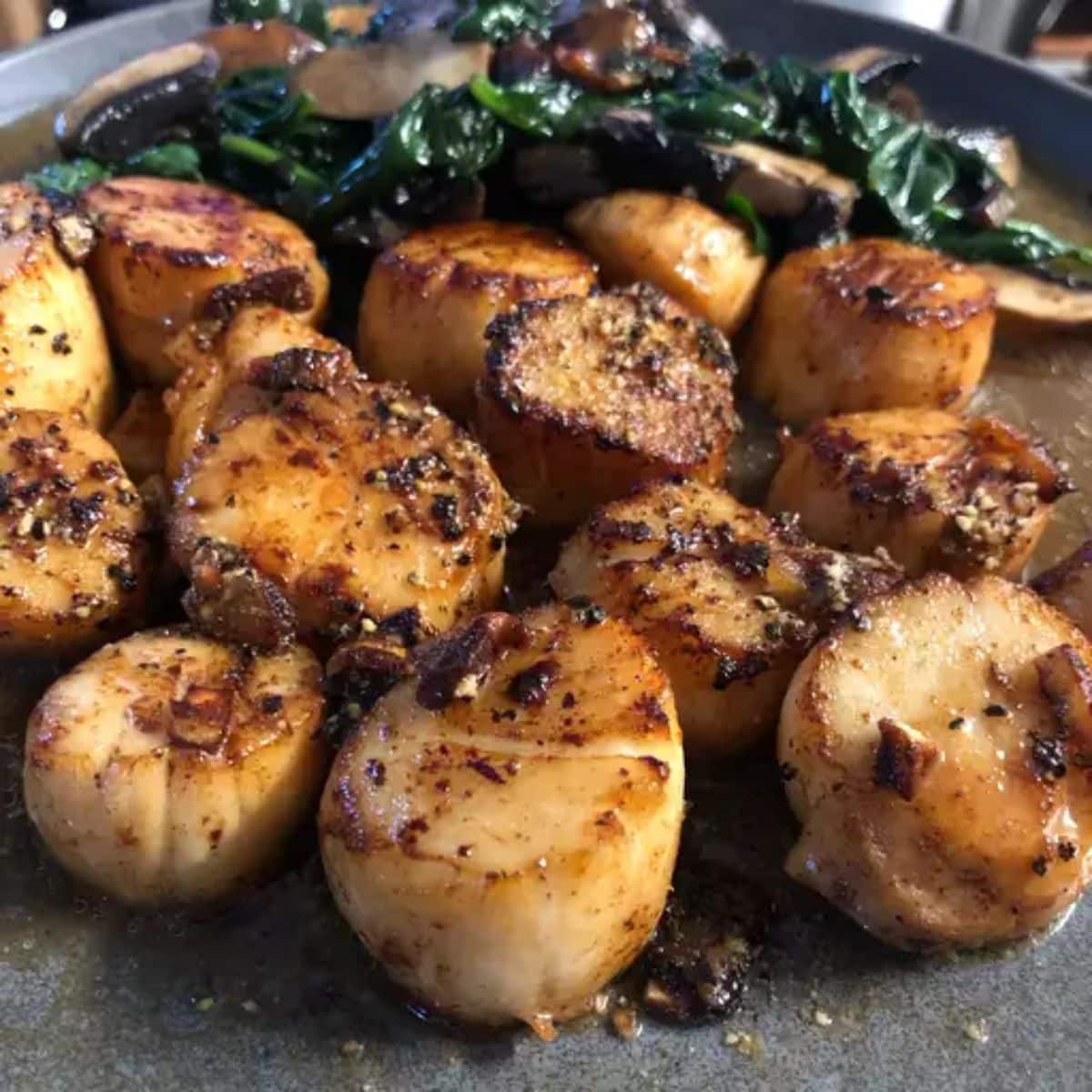 This dish epitomizes fresh, light seafood fare. The scallops are perfectly cooked, with a crispy exterior and a tender, succulent center that melts in your mouth.
Serve this dish with a side of roasted vegetables or a light salad for a complete meal that's both satisfying and healthy.
The crispy exterior of the scallops perfectly contrasts with their tender, juicy center, creating a harmony of textures that's sure to please any seafood lover.
This dish is an excellent option for a special occasion or a romantic dinner, as its understated simplicity is elegant and impressive.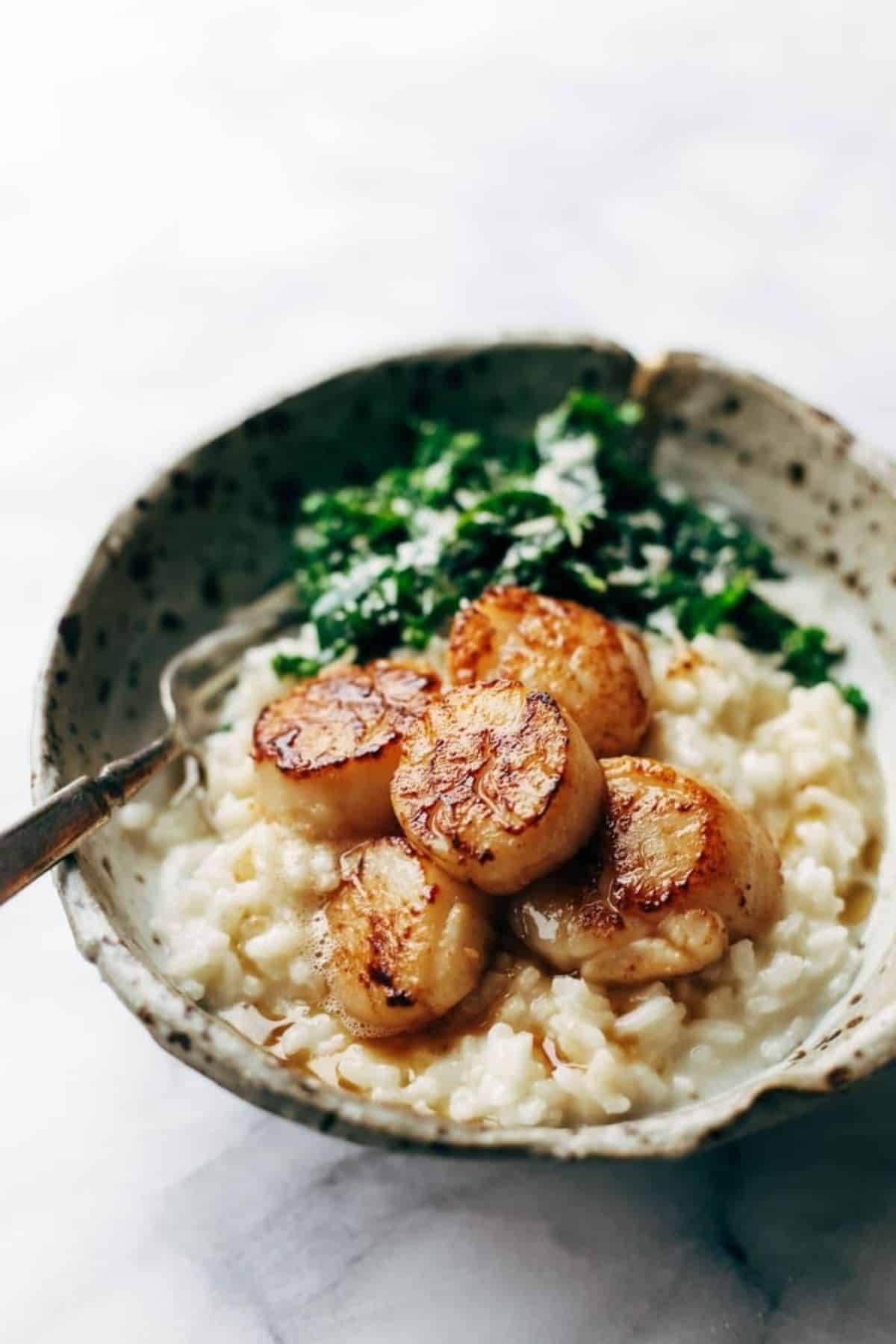 Indulge your senses with Brown Butter Scallops' rich and decadent flavors with Parmesan Risotto.
The perfectly seared scallops are drizzled with a luxurious brown butter sauce, adding a nutty buttery taste that perfectly complements the sweet and delicate flavor of the scallops.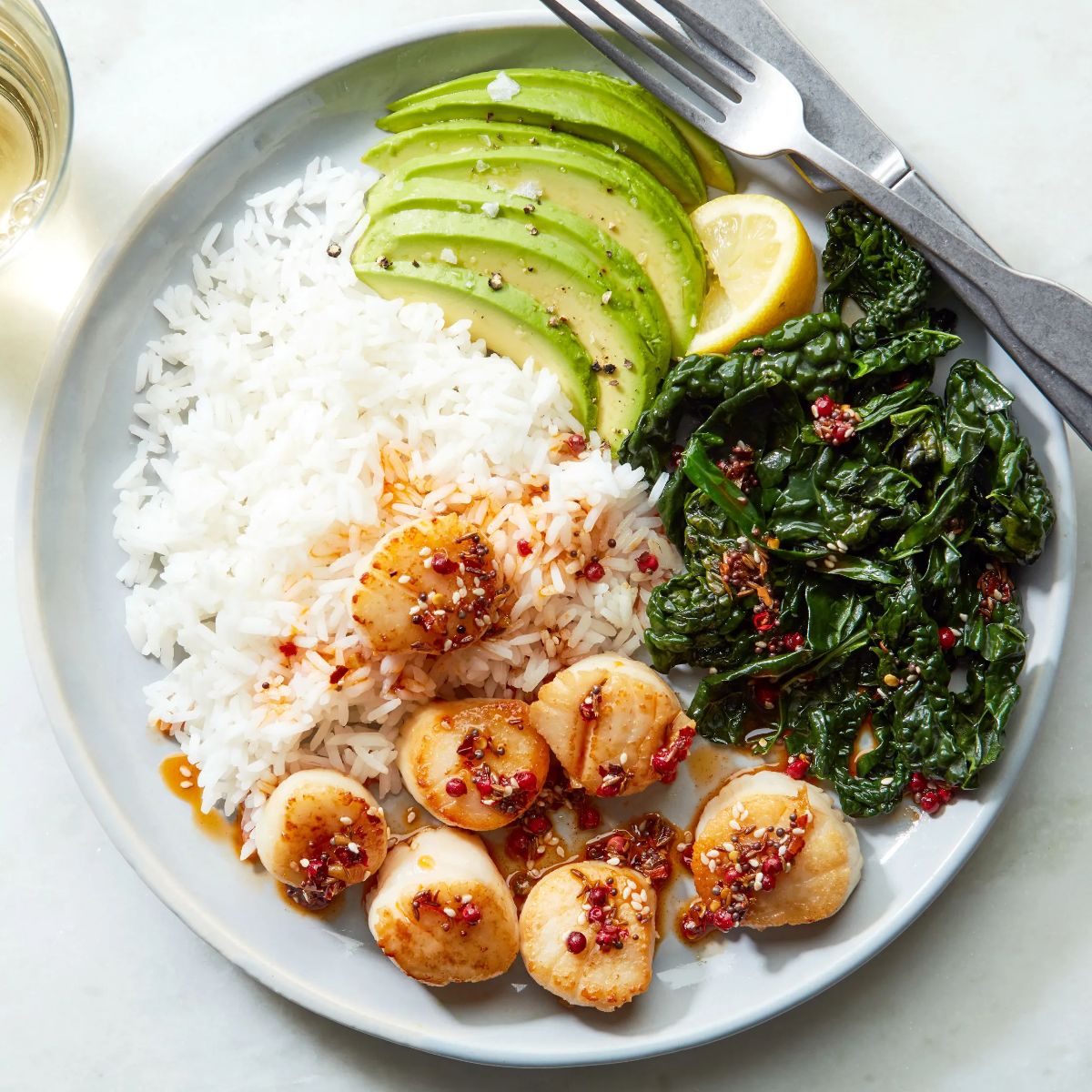 Try Scallop Rice Bowls with Crunch Spice Oil for a fresh, flavorful seafood take. This dish features perfectly seared scallops, served on a bed of fluffy rice and topped with crunchy and spicy oil.
The scallops are tender and succulent, with a sweet and delicate flavor that pairs perfectly with the fragrant spice oil. The rice adds a comforting and filling element to the dish, while the spice oil adds a hint of heat that perfectly balances the sweetness of the scallops.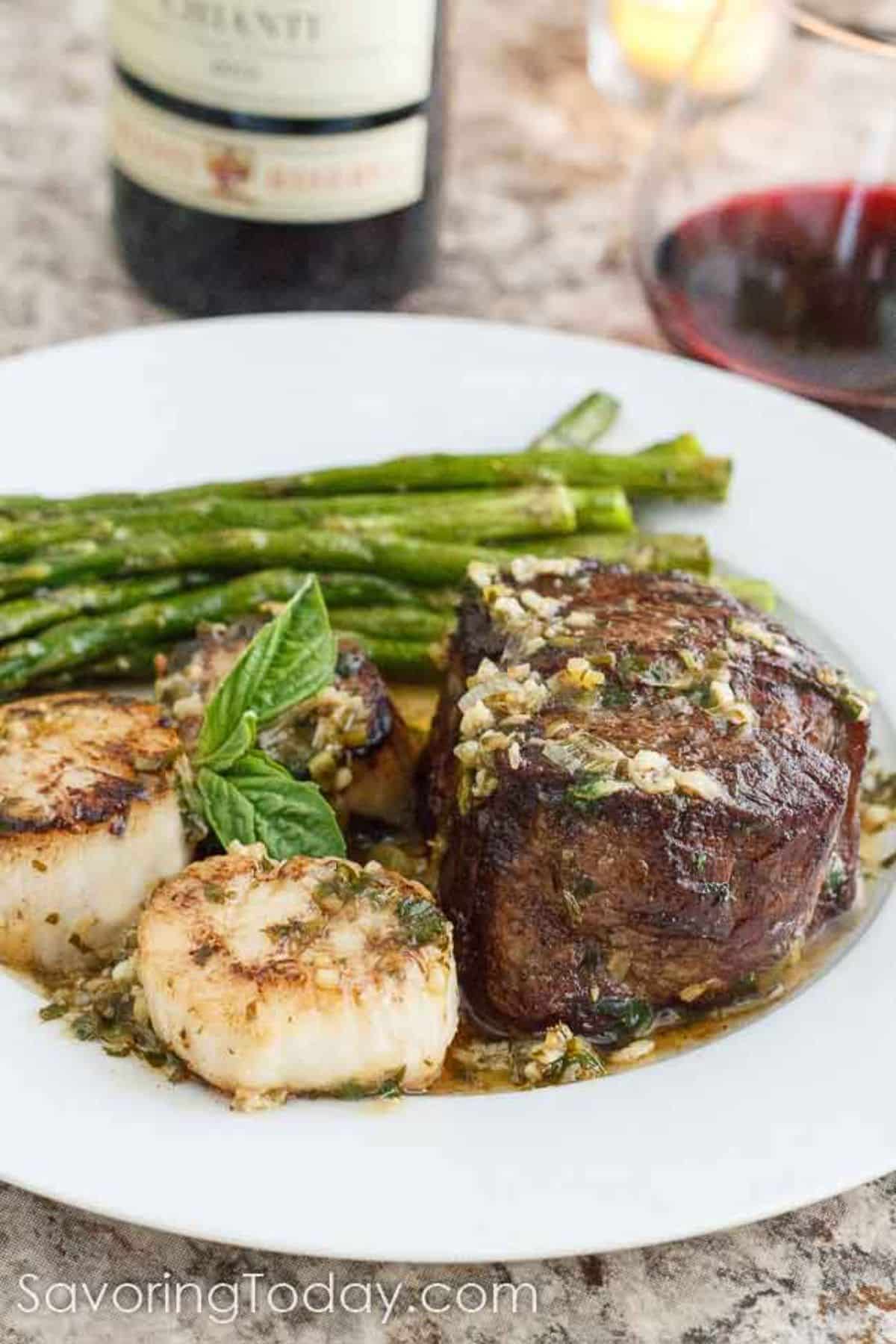 The combination of juicy steak and tender scallops is a match made in heaven, creating a symphony of satisfying and indulgent flavors.
With its simple yet delicious ingredients and easy-to-follow recipe, Scampi-Style Steak and Scallops is the perfect dish to elevate your dinner game and impress your guests with your culinary skills.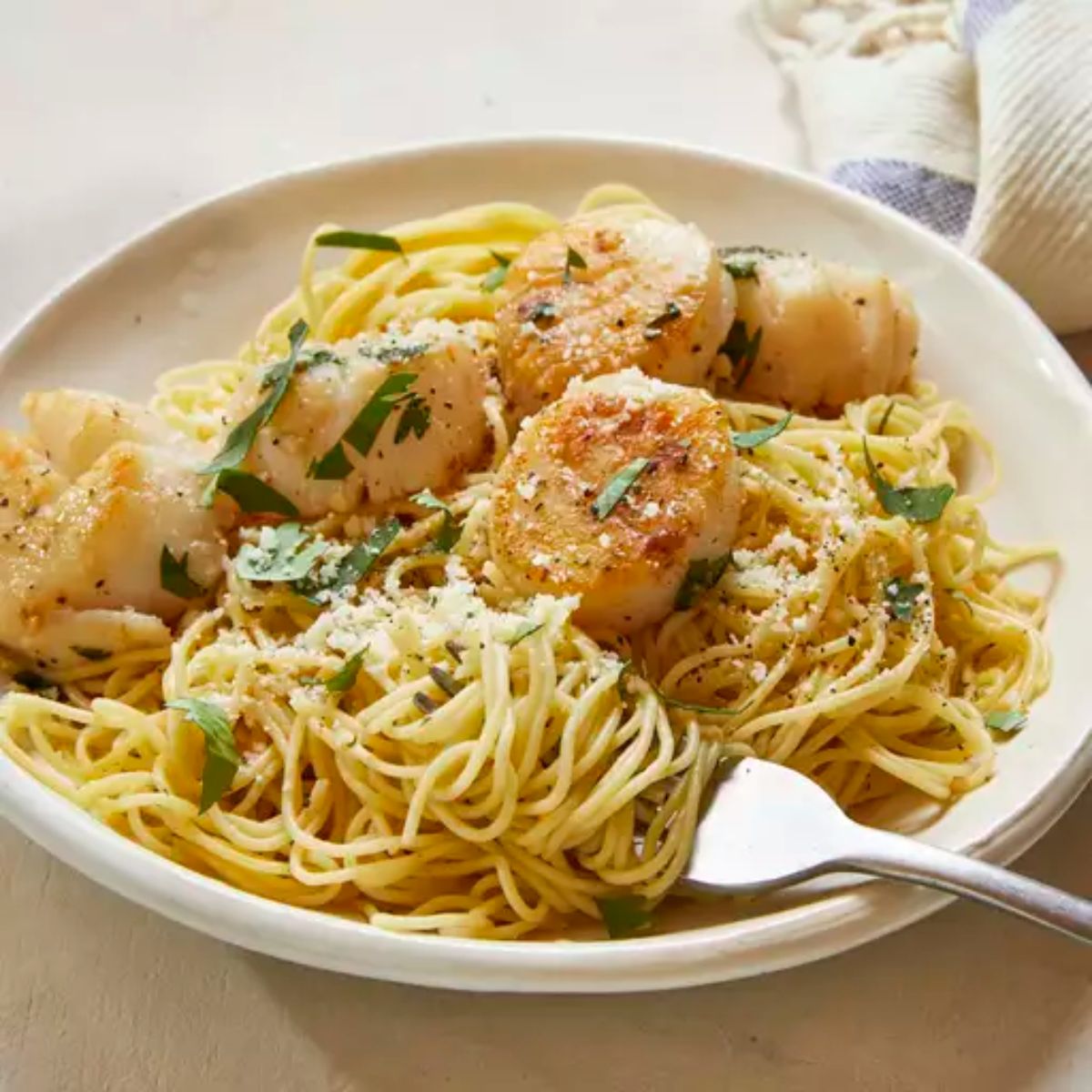 This dish is elegant and comforting, with a generous sprinkling of Parmesan cheese and fresh parsley, making it perfect for a cozy night or a special dinner with friends and family.
It pairs perfectly with crisp and refreshing white wine, which enhances the seafood flavors and adds a touch of brightness to the meal.
With its simple yet delicious ingredients and easy-to-follow recipe, Savory Sea Scallops and Angel Hair Pasta is a must-try dish for seafood lovers and pasta aficionados.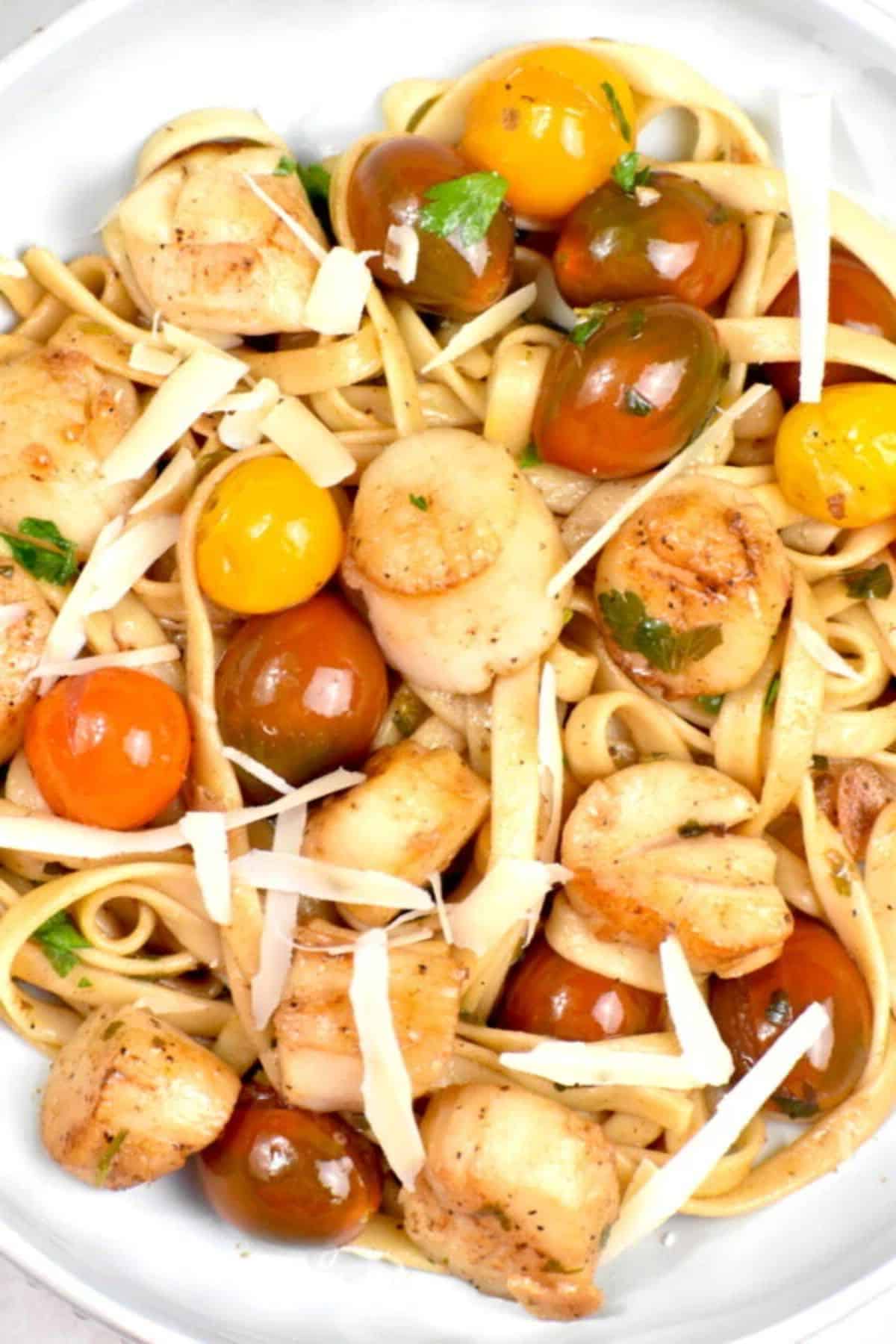 The sweet and juicy cherry tomatoes perfectly complement the delicate taste of the scallops, while the tangy and flavorful sauce ties the dish together.
The al dente pasta provides the perfect texture, adding a satisfying bite to every spoonful. This dish is effortless to make and is perfect for any occasion.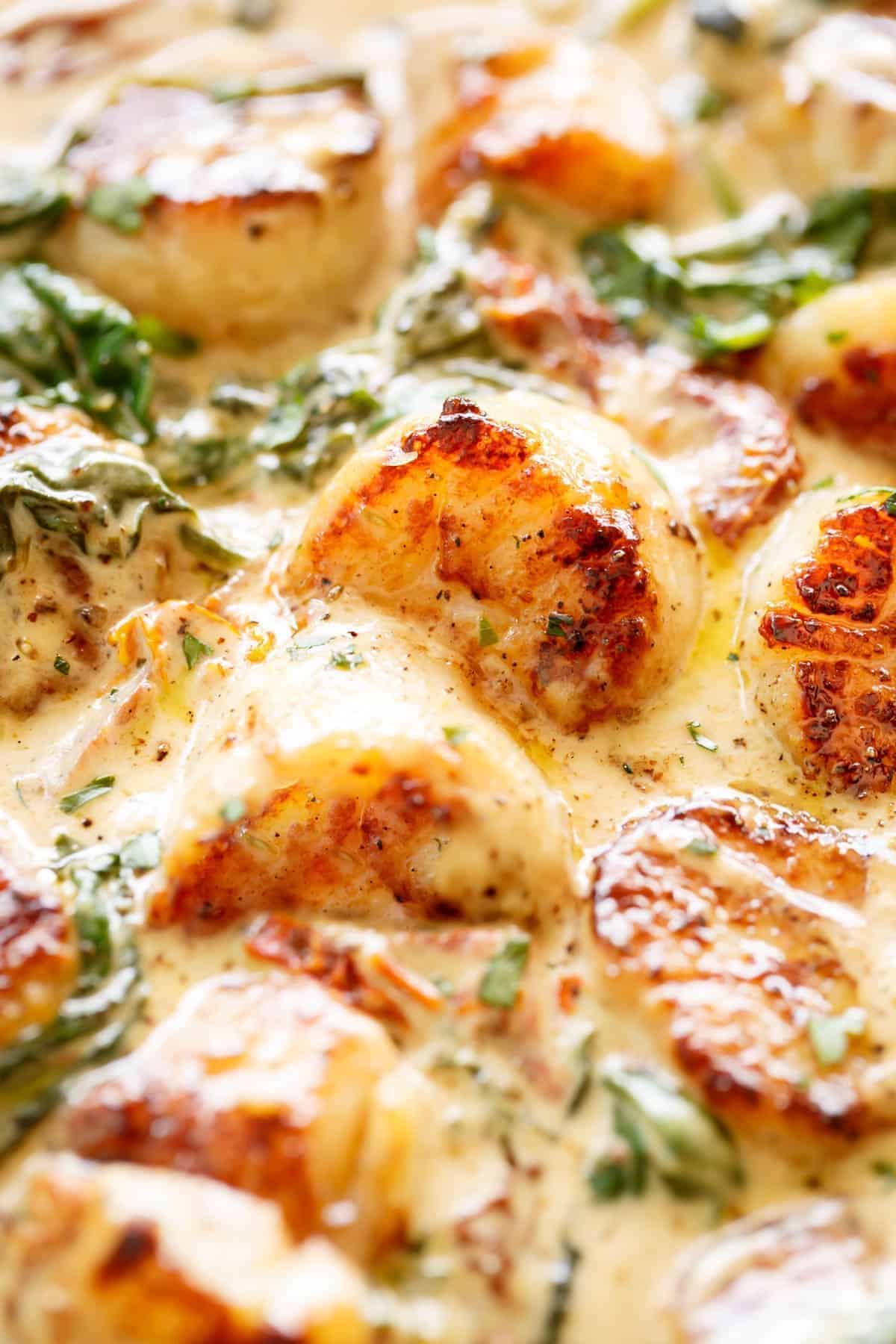 This dish boasts succulent, seared scallops swimming in a rich and creamy garlic-infused sauce with a blend of sun-dried tomatoes, spinach, and Parmesan cheese, giving it a classic Tuscan flavor.
The scallops are perfectly cooked with a crisp, golden-brown exterior and tender, juicy flesh on the inside, making it a heavenly feast for seafood lovers.
This dish is perfect for a special occasion, a date night, or a cozy family dinner. Serve it over pasta, rice, or alongside crusty bread, and you will have yourself an unforgettable meal that is both comforting and sophisticated.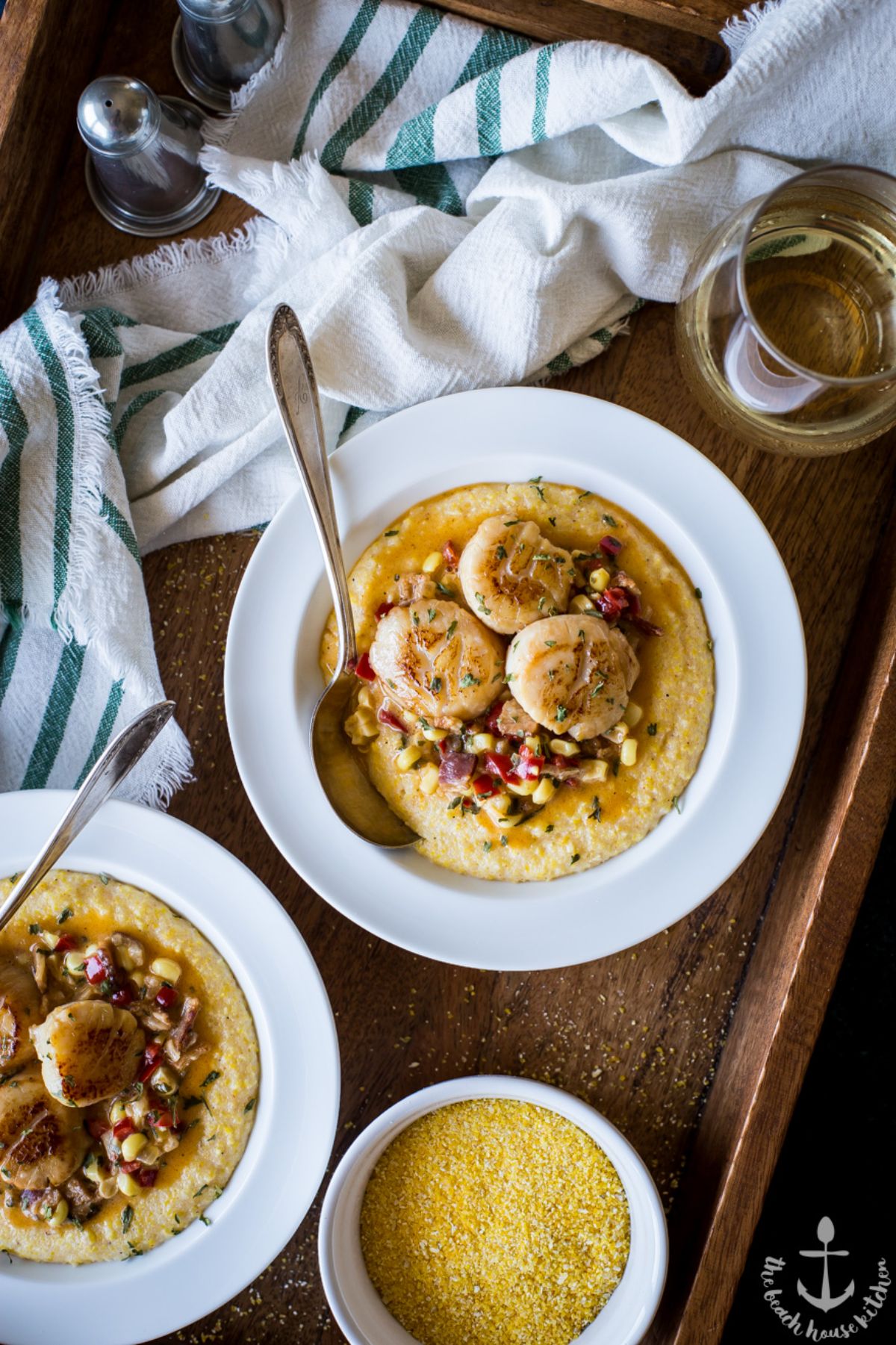 Indulge in a Southern-inspired delight with Scallops and Grits! The dish is then finished with a touch of bacon and scallions to add a savory and smoky flavor.
Every bite is bursting with the sea's taste, and the grits' richness balances out the dish perfectly. This dish is perfect for a weekend brunch or a comforting dinner.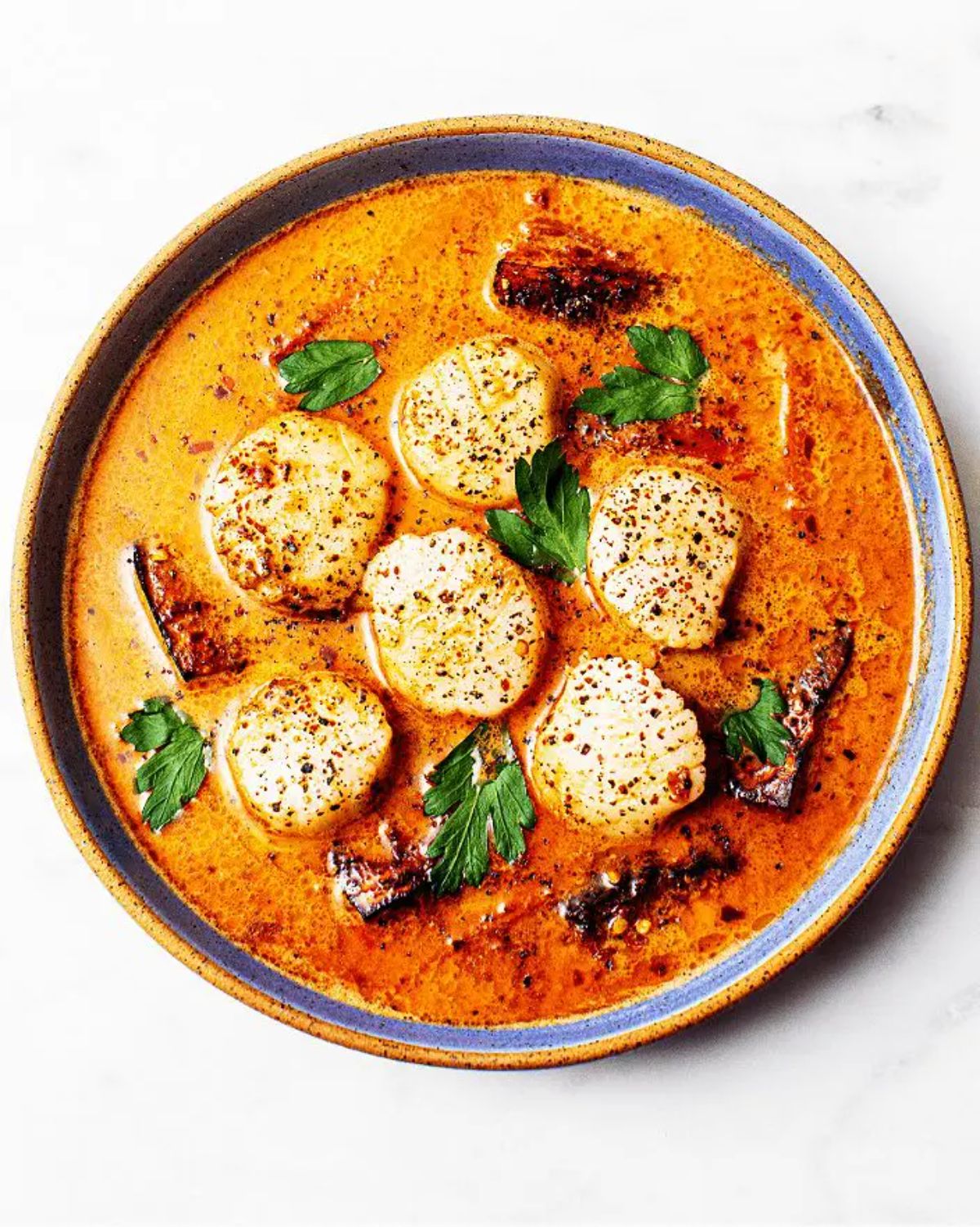 Ah, the ever-alluring scallop. Sweet, tender, and oh-so-delicious. And what better way to enjoy this prized seafood than with a fiery kick of spice and a creamy coconut sauce? Enter the Spicy Coconut Curry Scallops.
Imagine seared scallops, plump and juicy, swimming in a rich and aromatic curry sauce with a medley of vegetables and a touch of heat to give your taste buds a wake-up call.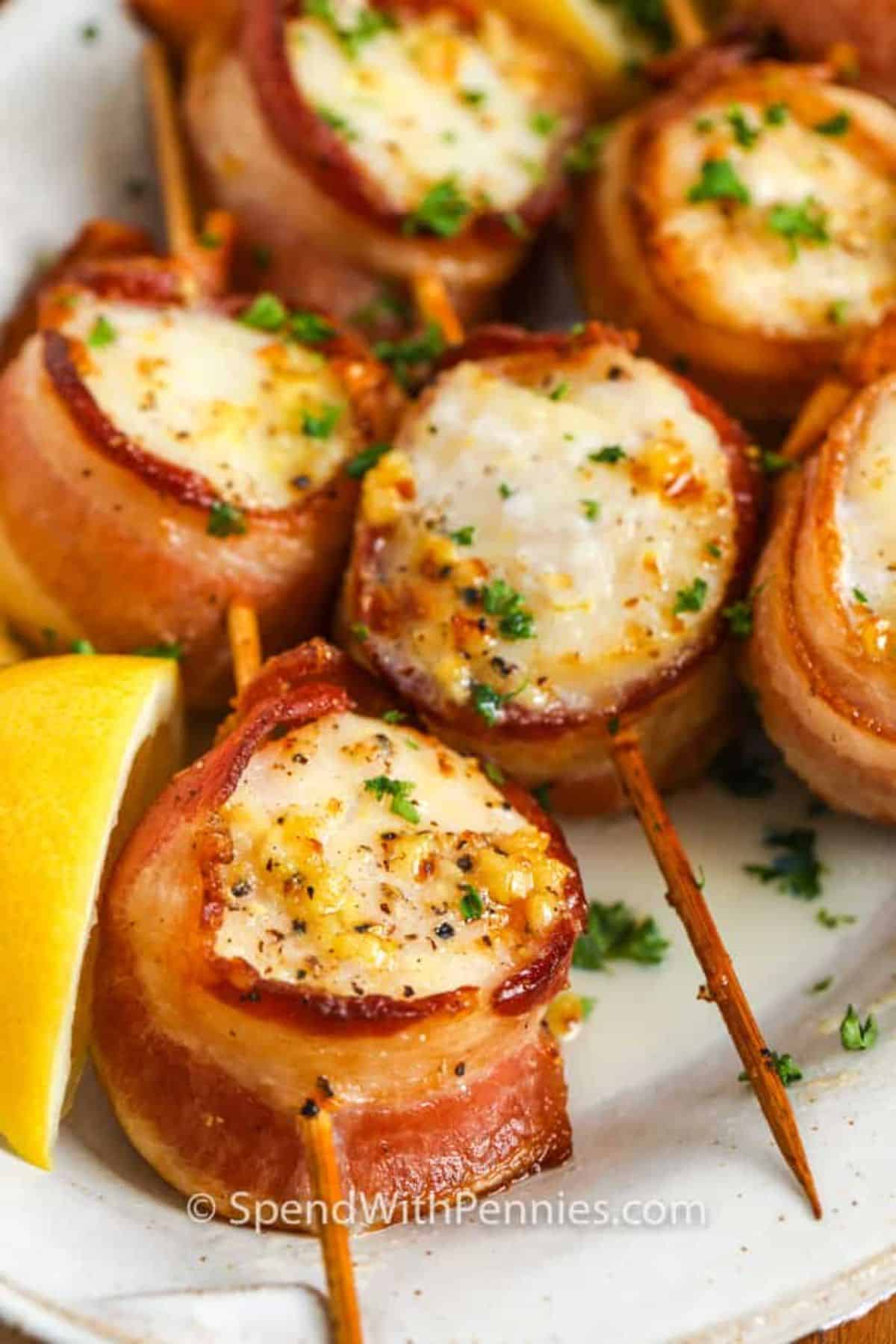 As I sink my teeth into these bacon-wrapped scallops, the smoky aroma of the bacon and the sweet, succulent taste of the scallops flood my senses. The perfectly crisp bacon provides a salty crunch that contrasts beautifully with the tender texture of the scallops. This dish is a classic for a reason. The combination of these two ingredients always satisfies.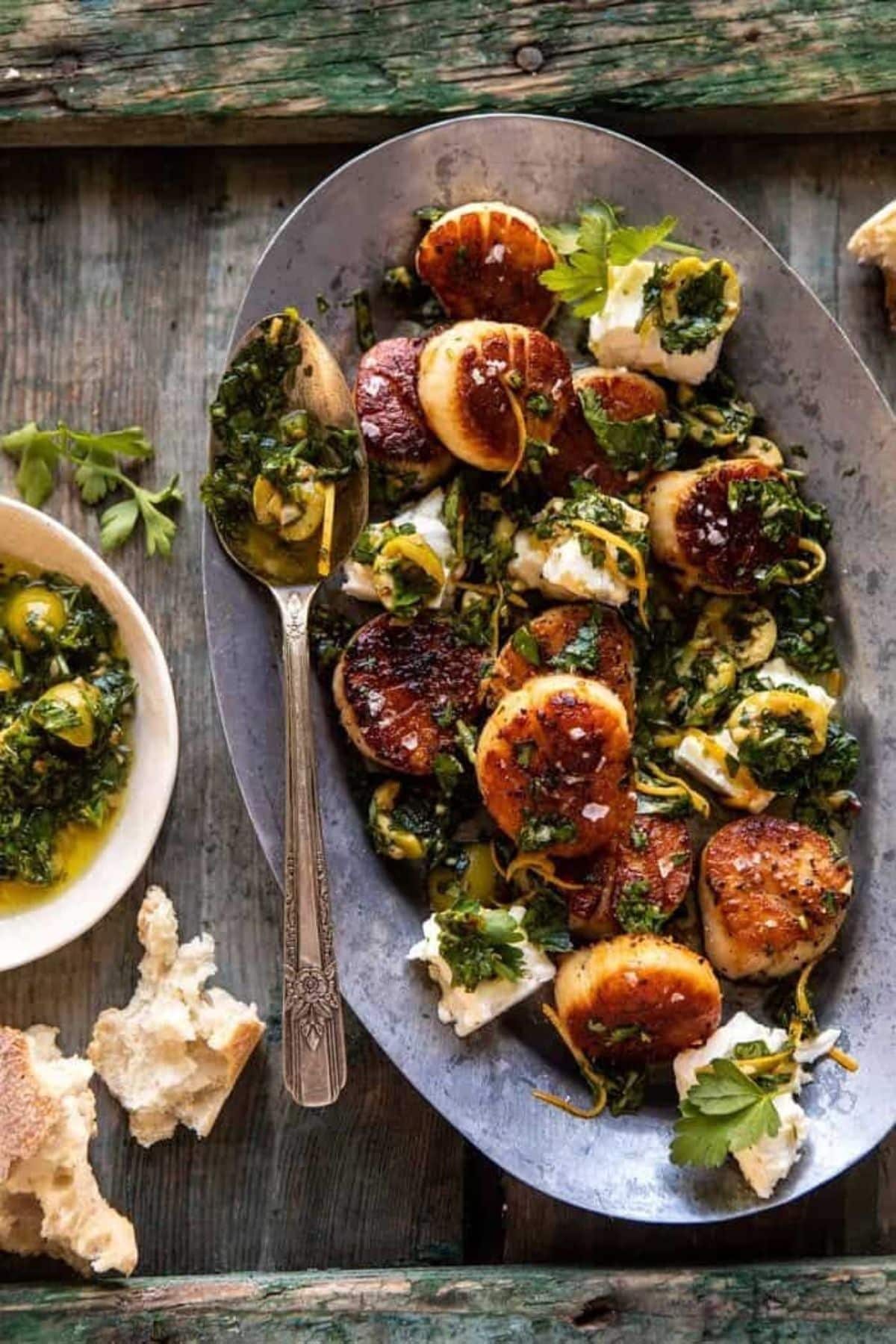 Ladies and gentlemen, let me tell you about a dish that will make your taste buds sing, and your stomach dance with joy: Herbed Garlic Butter Scallops with Lemony Feta Dressing. The result is an explosion of flavors that will leave you yearning for more.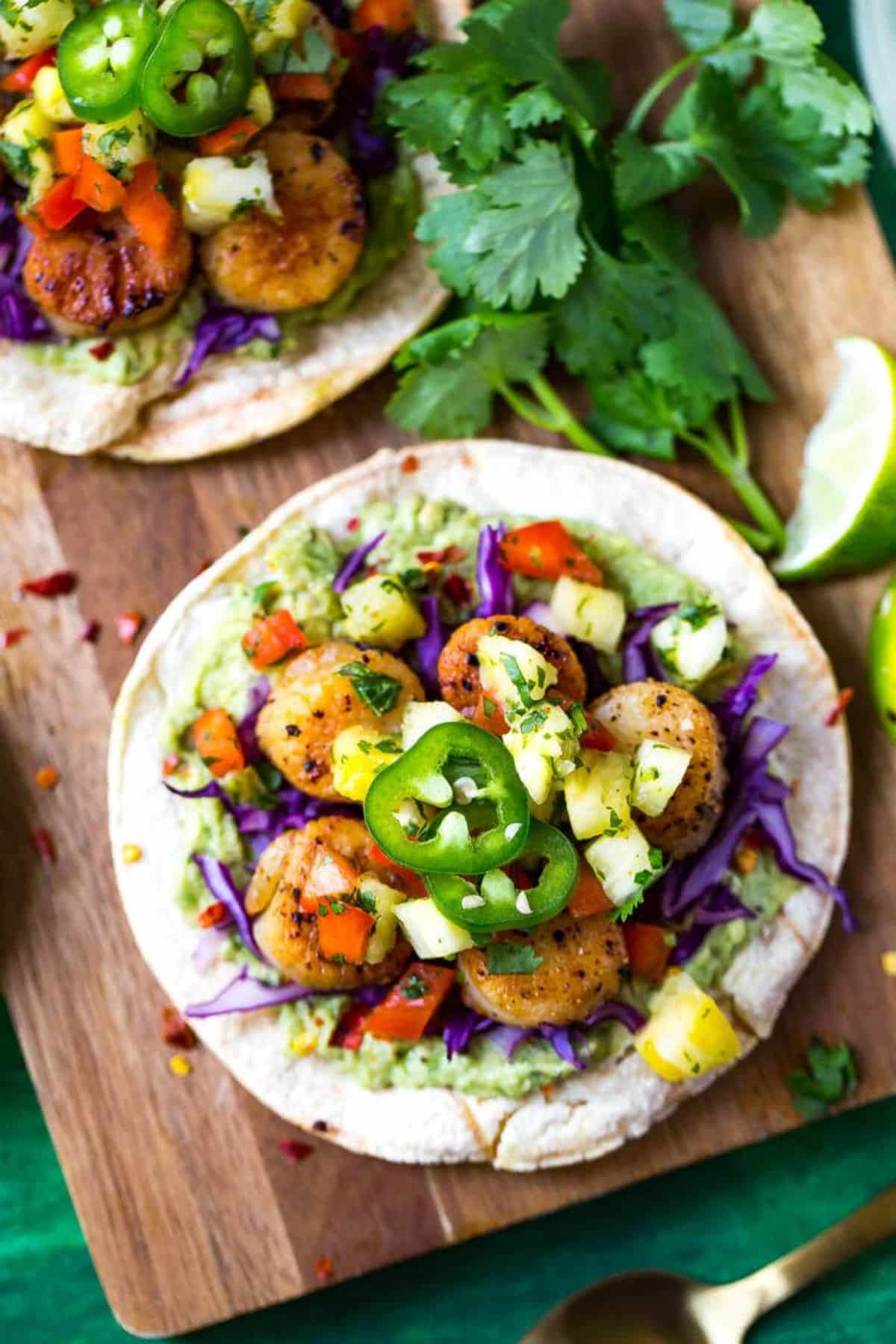 Gather around because we're about to journey to flavor town. This time, our destination is Seared Scallop Tacos. This dish packs a punch with its sweet and savory flavors, taking your taste buds on a wild ride.
The juicy, seared scallops meld perfectly with crunchy cabbage slaw and spicy salsa wrapped in a warm tortilla.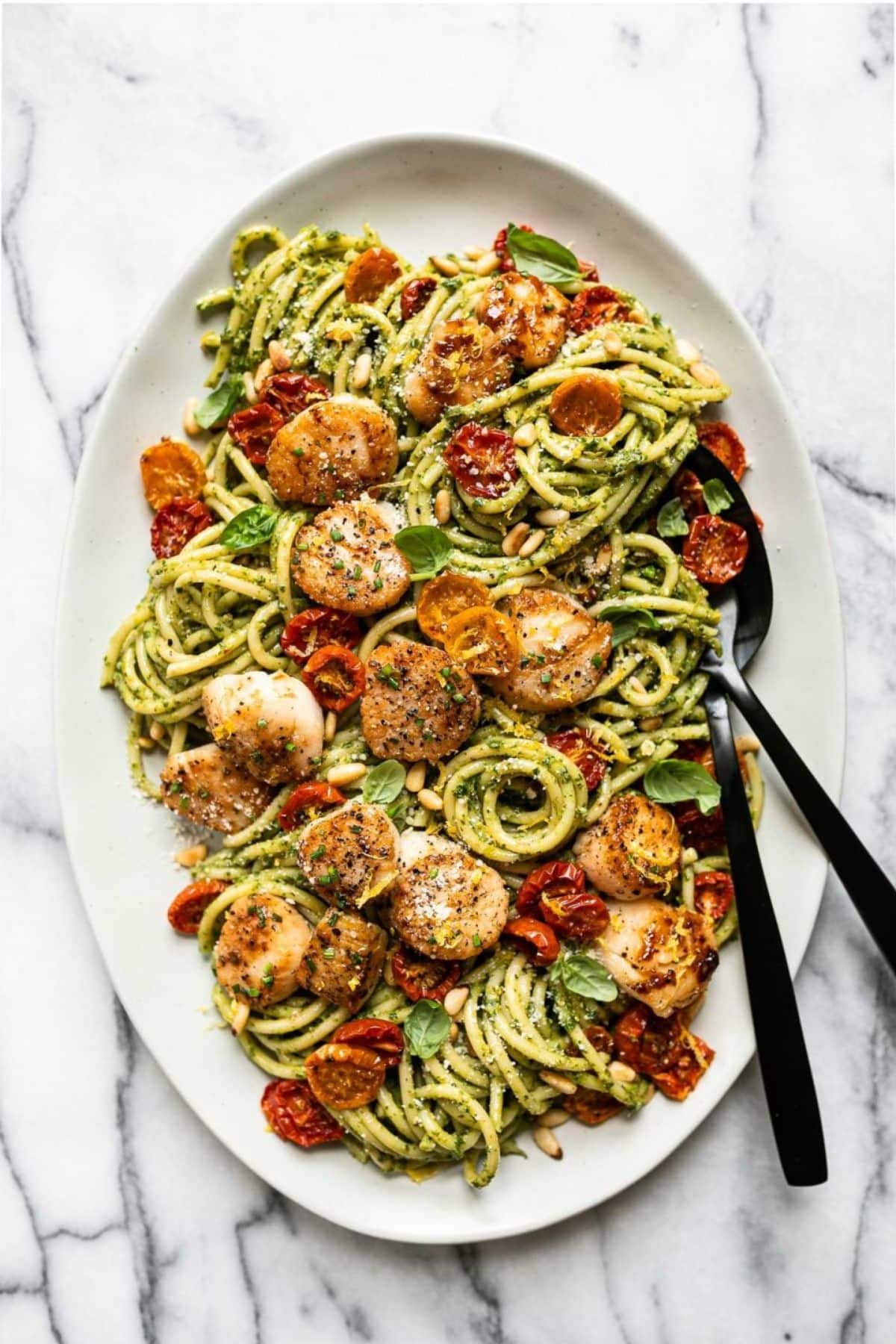 The dish is an explosion of flavors in your mouth - rich, creamy, and satisfying. The scallops, seared to perfection, are the star of the show, with their buttery, delicate texture that pairs perfectly with the tangy pesto sauce.
The nutty aroma of the basil and the sweetness of the garlic makes for a truly unique flavor profile.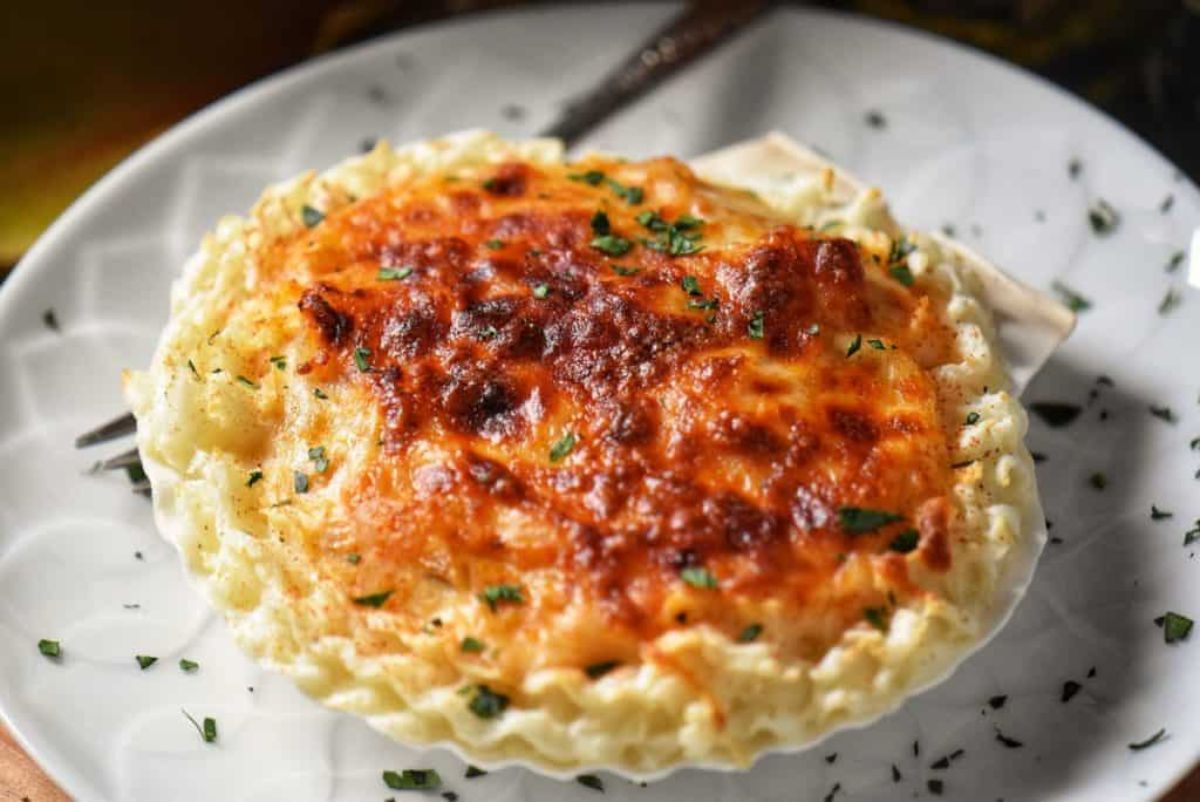 If you're fancy and want to indulge in classic French cuisine, I've got a dish for you - Coquille St. Jacques.
This scallop gratin is a decadent delight of plump, juicy scallops nestled in a rich and creamy sauce of white wine, garlic, and shallots, all topped off with a golden brown crust of breadcrumbs and melted Gruyere cheese.
Each bite is an explosion of flavor in your mouth, with the delicate sweetness of the scallops perfectly balanced by the savory notes of the sauce and the tangy cheese.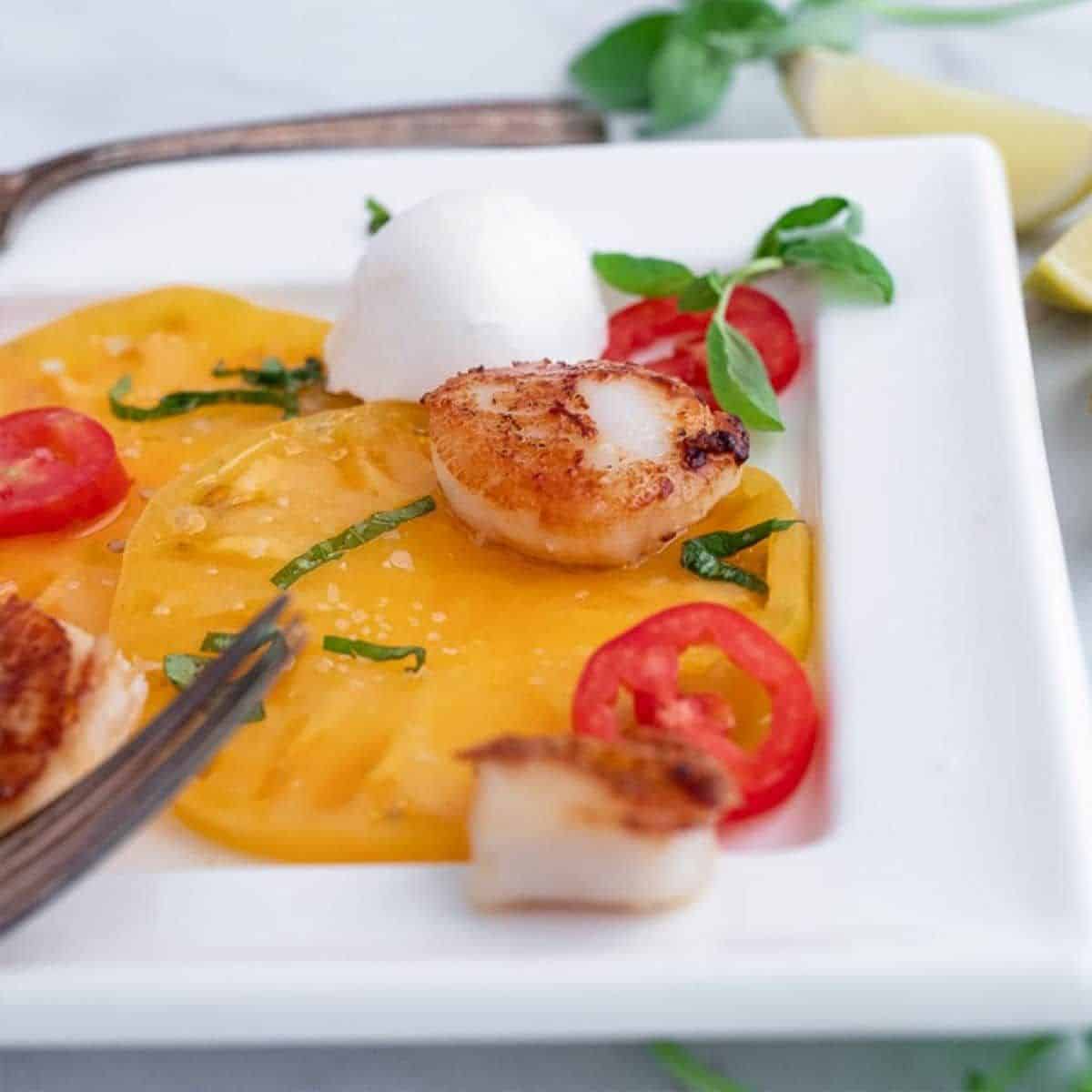 The delicate sweetness of the scallops pairs beautifully with the acidity of the tomatoes and the creaminess of the mozzarella. And the fresh basil brings a pop of herbaceous flavor to the dish.
It's a salad that's both light and satisfying, perfect for a summer evening. Plus, with minimal prep time, it's an excellent option for something quick and easy without sacrificing flavor. Trust me. You won't regret giving this Caprese Salad with Scallops a try.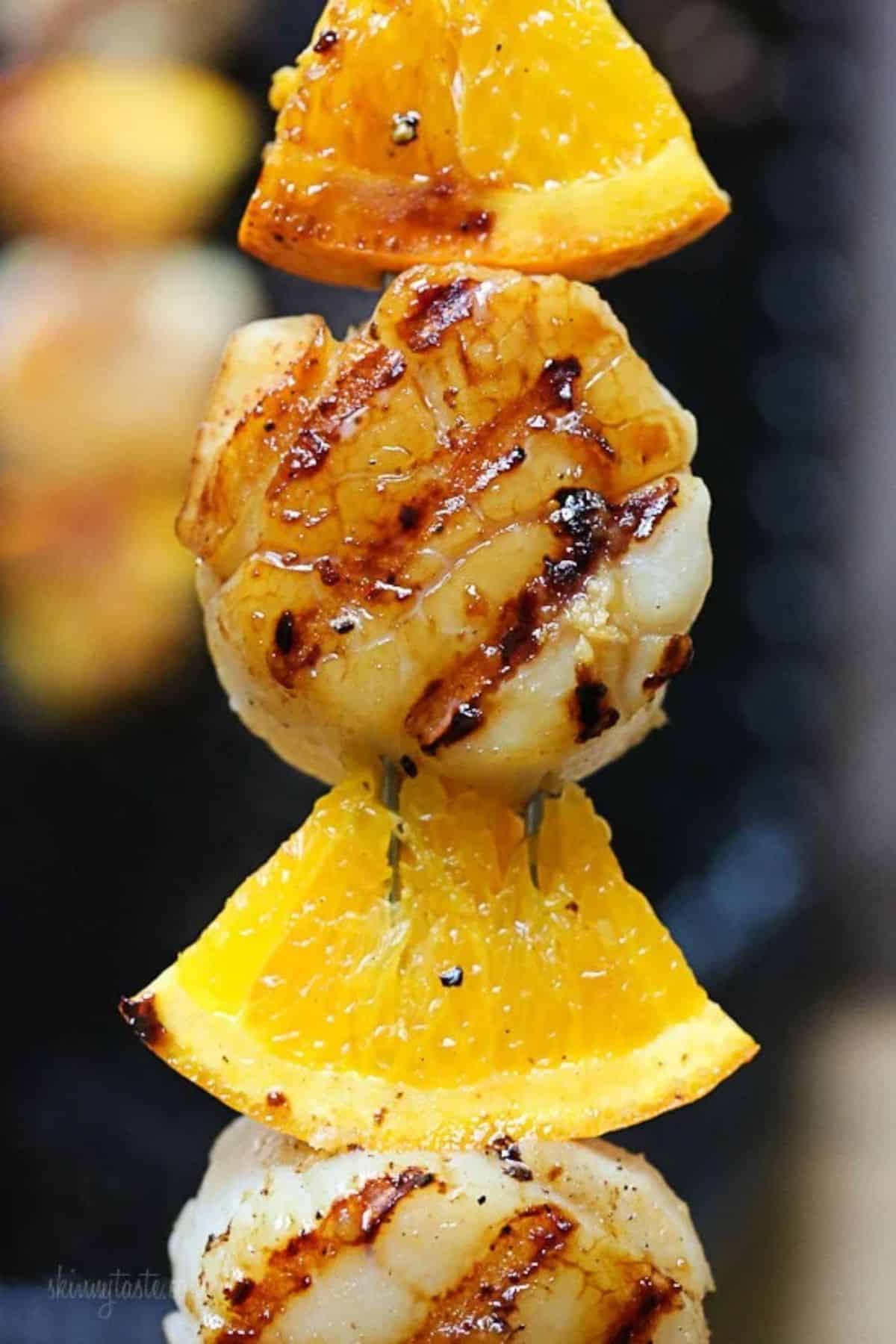 The charred, smoky flavor of the grilled scallops with the bright, citrusy tang of the oranges is a perfect union of flavors. The juicy and succulent scallops are marinated in olive oil, garlic, and fresh herbs, giving them a boost of earthy aroma and flavor.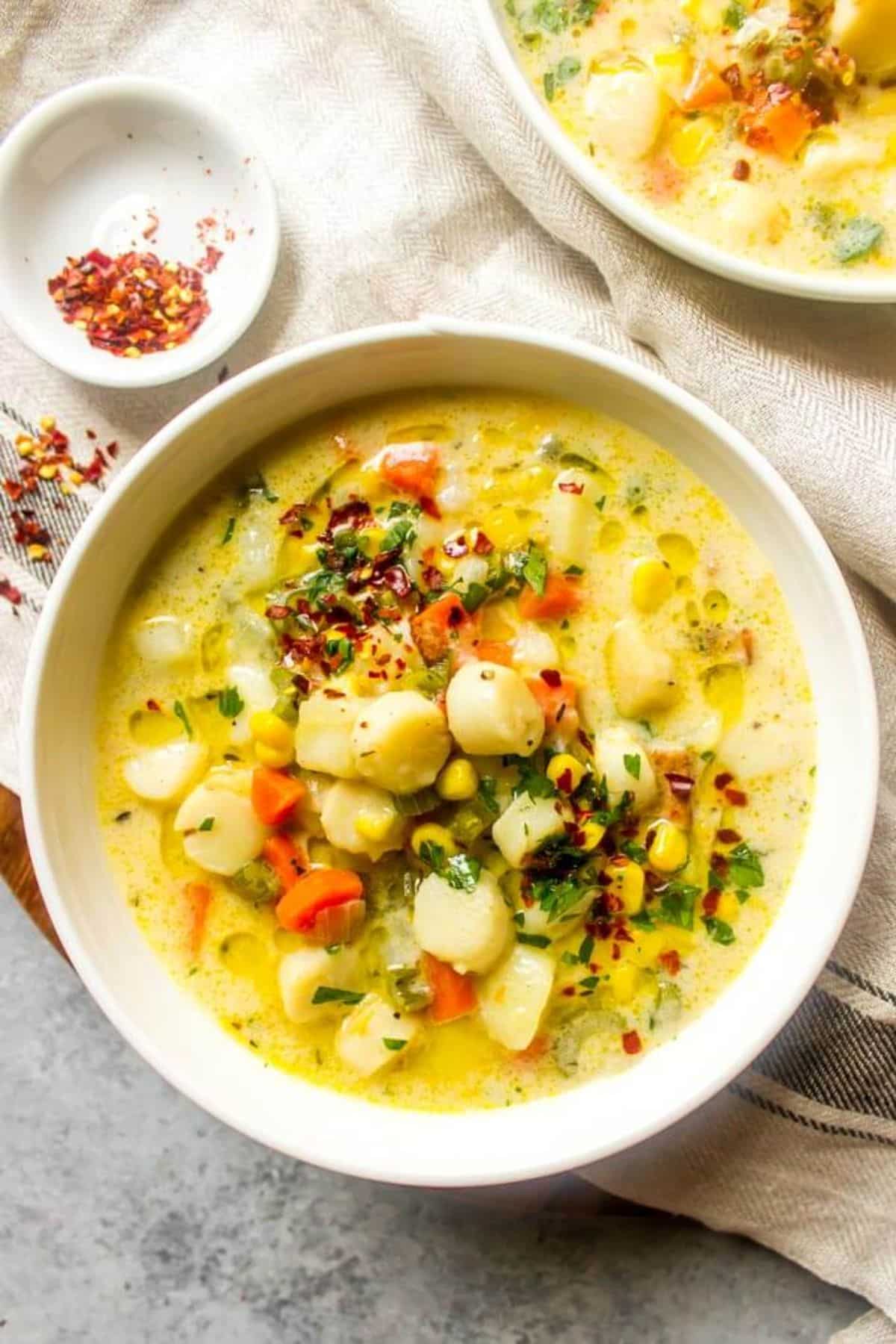 A sprinkle of fresh chives and a dash of hot sauce add a zesty kick to the dish. The Chowder is hearty enough to serve as a main course or a comforting meal for a chilly evening.
Pair it with a glass of crisp white wine or a cold beer and enjoy the soothing warmth and deliciousness of the sea.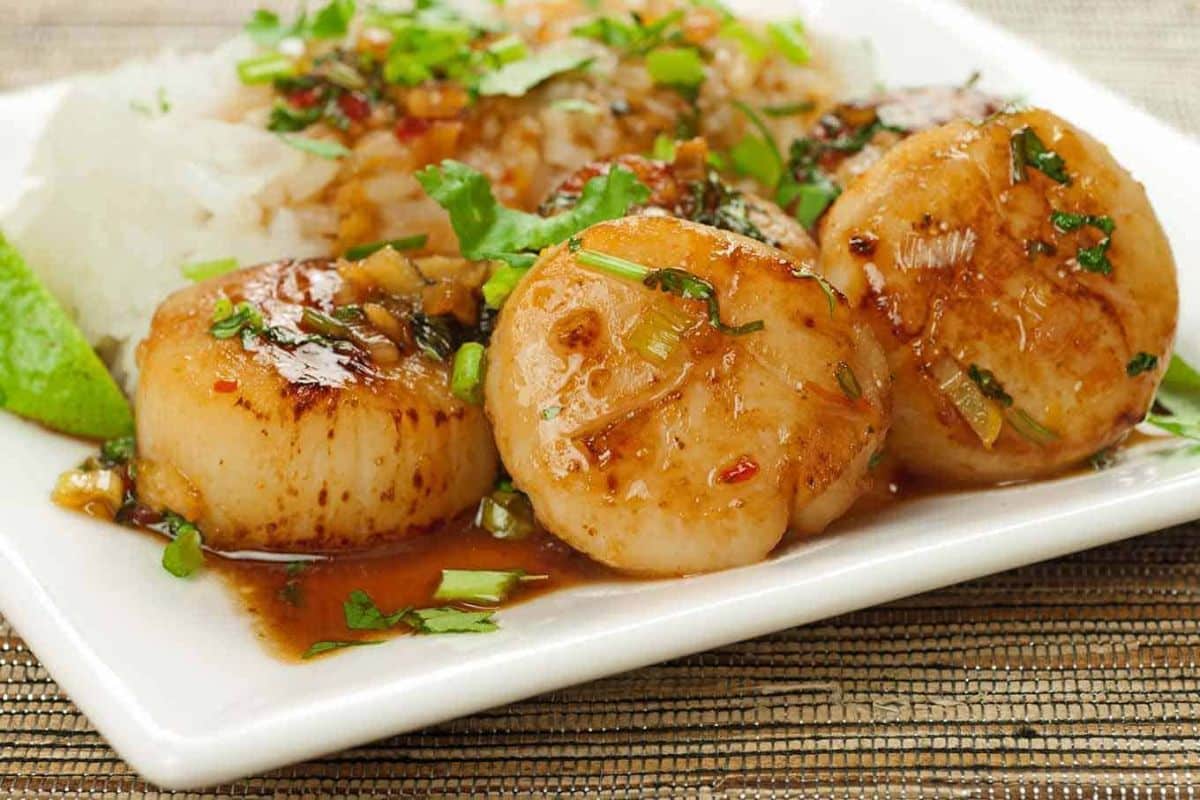 When it comes to flavor, the Thai Sweet Chili and Orange Scallops dish is an explosion of tastes in your mouth. The sweetness from the orange perfectly complements the tangy, spicy kick of the sweet Thai chili sauce.
And the star of the dish, the tender scallops, are perfectly seared to a crispy outside and juicy inside, giving you the best of both worlds in terms of texture.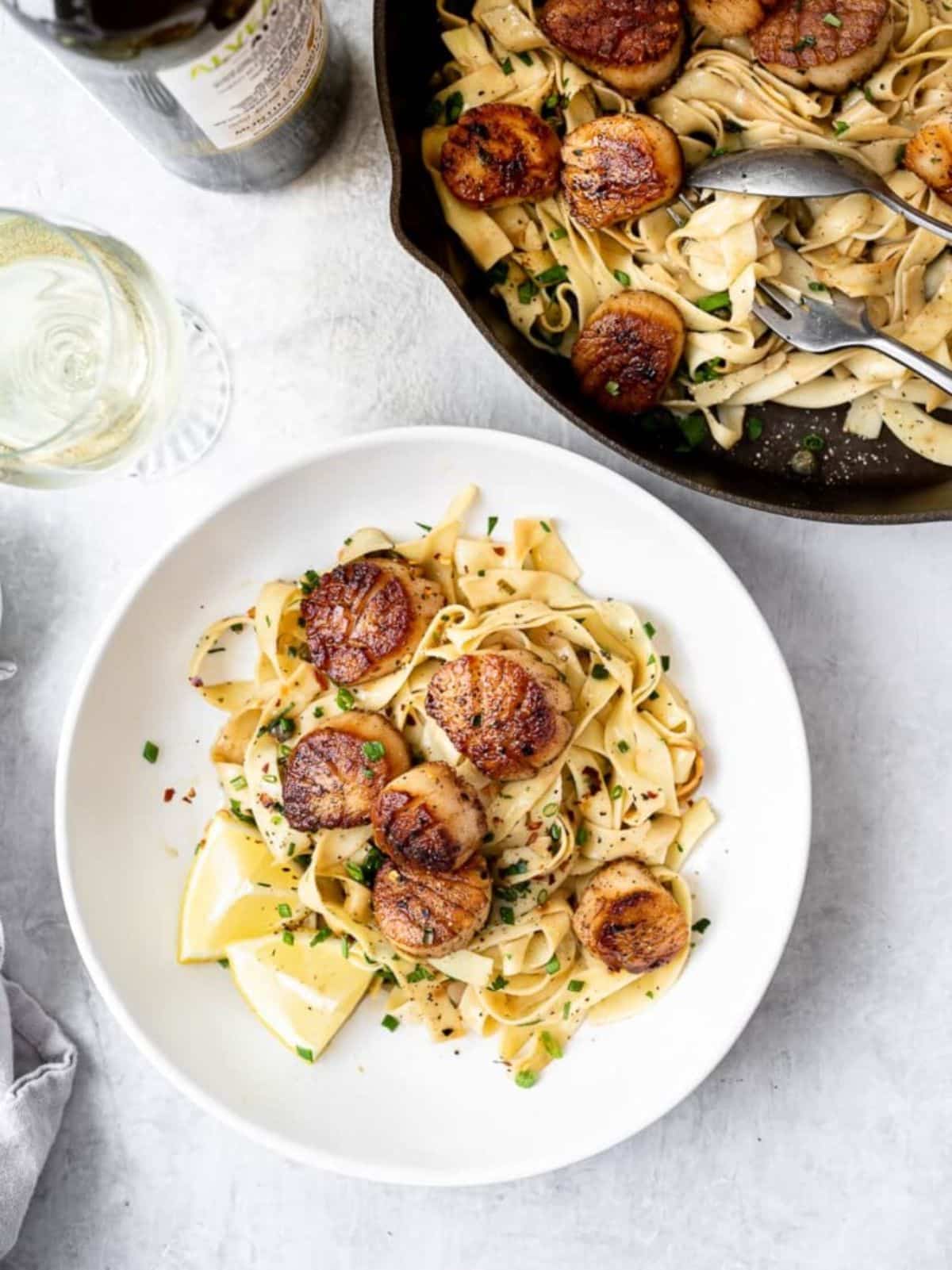 The lemon pasta, tossed with olive oil, garlic, and Parmesan cheese, provides a bright, tangy counterpoint to the sweet and savory flavors of the scallops. The combination is heavenly, making this a dish perfect for a romantic dinner for two or an elegant dinner party.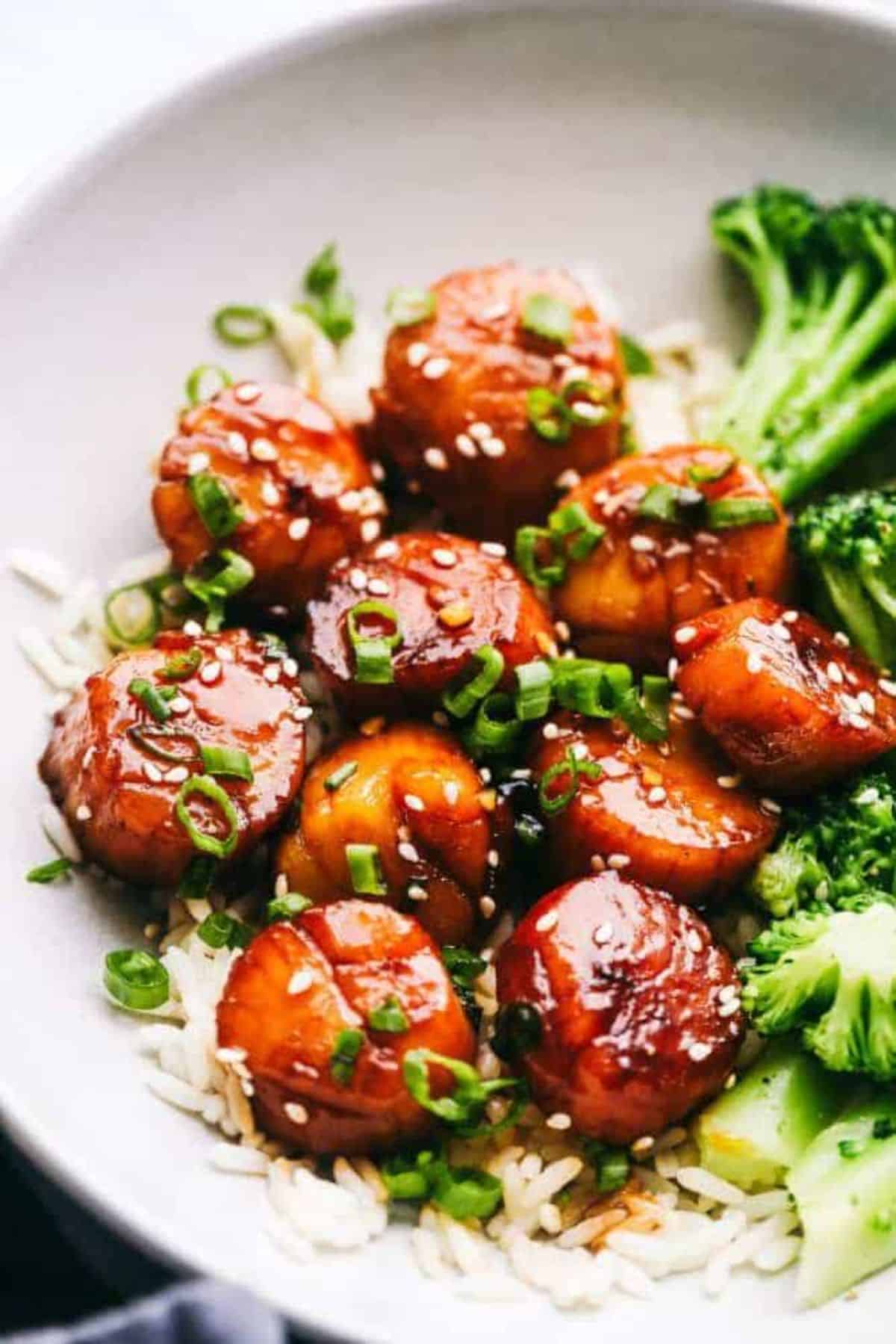 The scallops are tender and juicy, and the sauce adds a delightful depth of flavor that will leave you wanting more. This dish is a great way to impress your guests or treat yourself to something special.
It pairs well with crisp white wine and garlic mashed potatoes to soak up all that delicious sauce. Trust me, once you try these honey garlic butter scallops, you'll dream about them for days.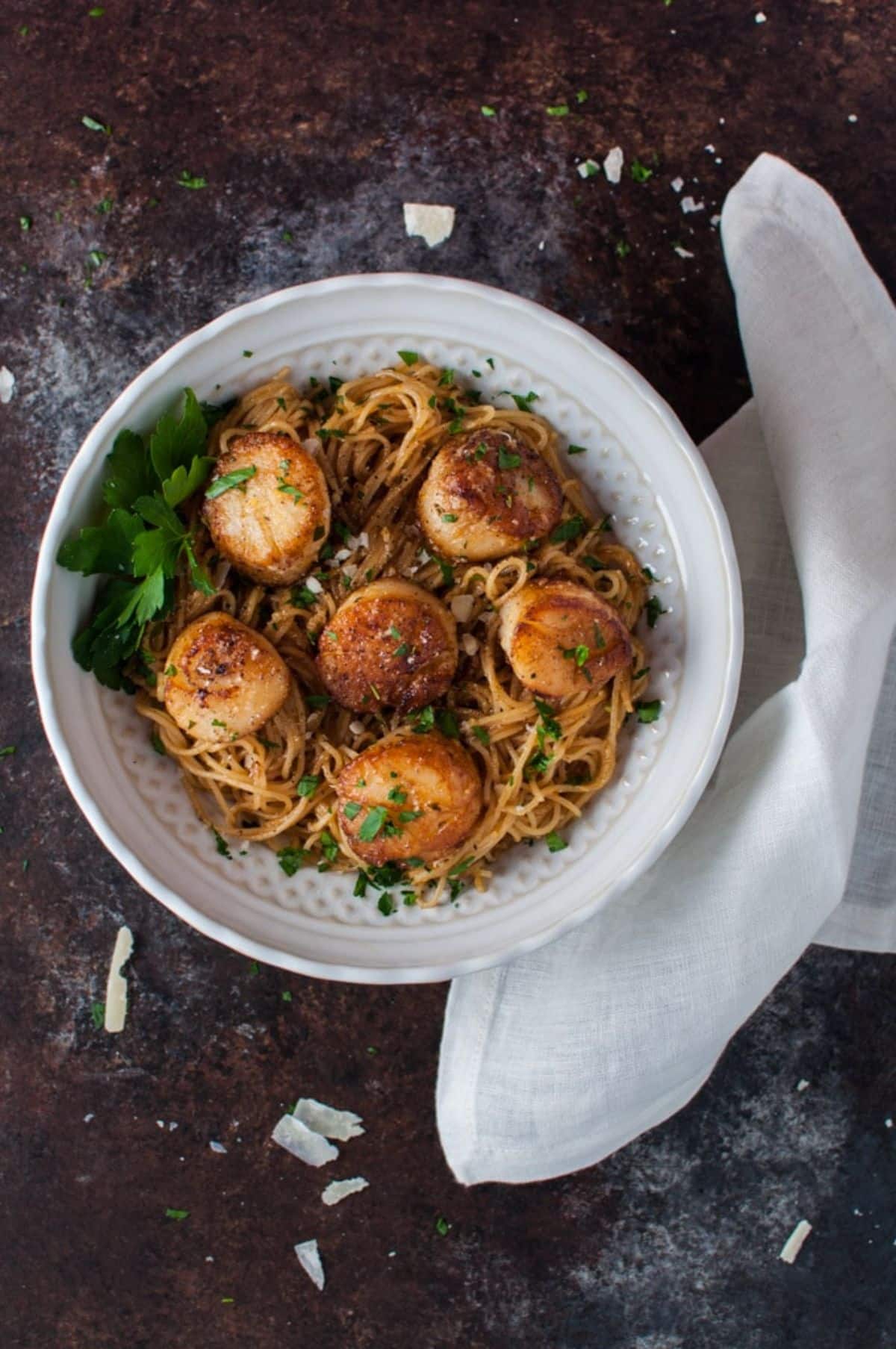 Few dishes make me feel alive, but this Chipotle Lemon Tarragon Scallops with Angel Hair Pasta is undoubtedly one of them.
The tangy and smoky flavors of the chipotle, the bright, citrusy notes of the lemon, and the sweet anise-like aroma of tarragon all come together perfectly with the buttery, delicate flavor of the scallops.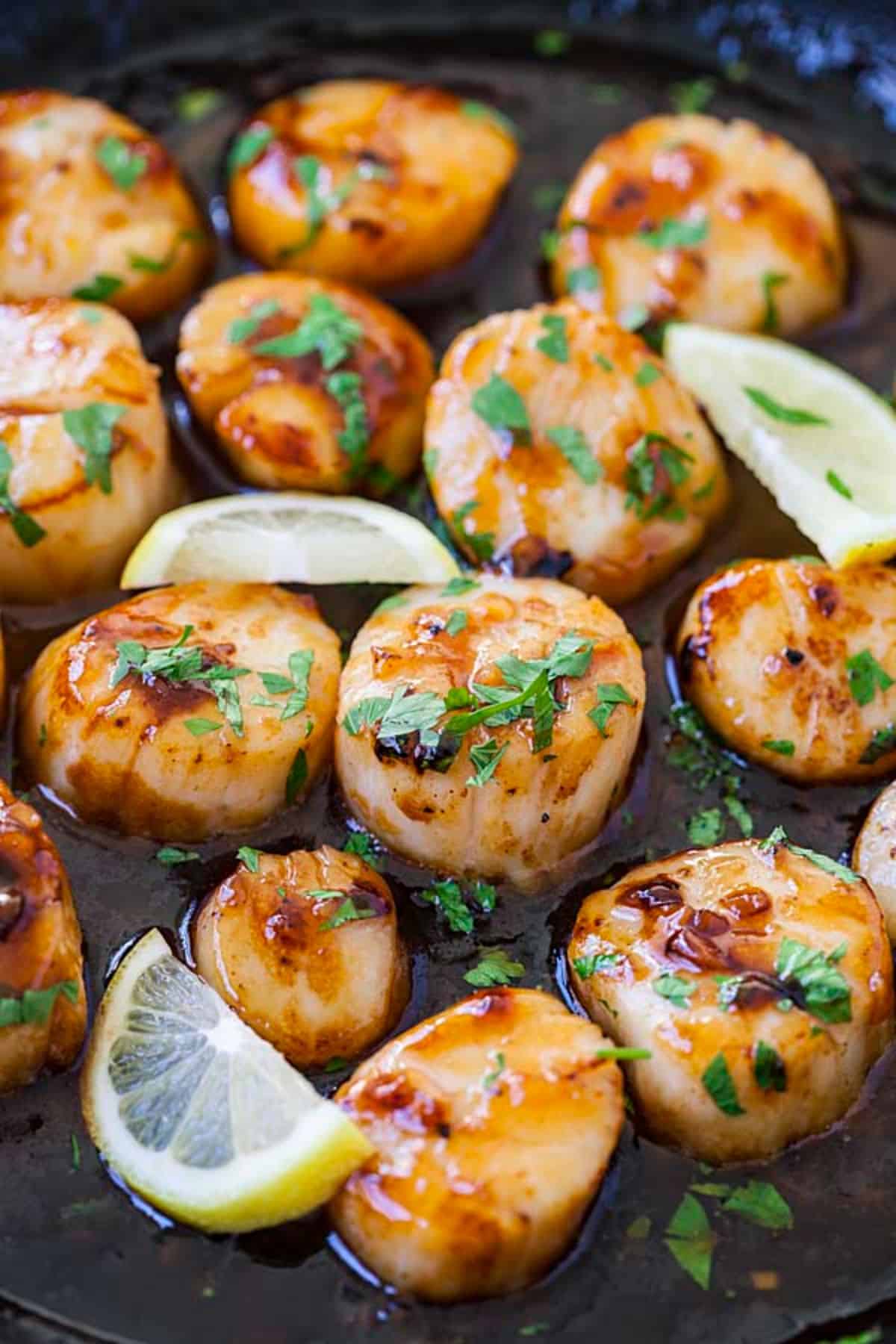 The dish has a perfect balance of sweetness and heat, with the sriracha's tingly sensation complementing the scallops' natural flavor.
The addition of garlic and ginger in the sauce gives it a complex depth of flavor that is simply irresistible. This dish is an excellent choice for a main course, served with steamed rice or roasted vegetables.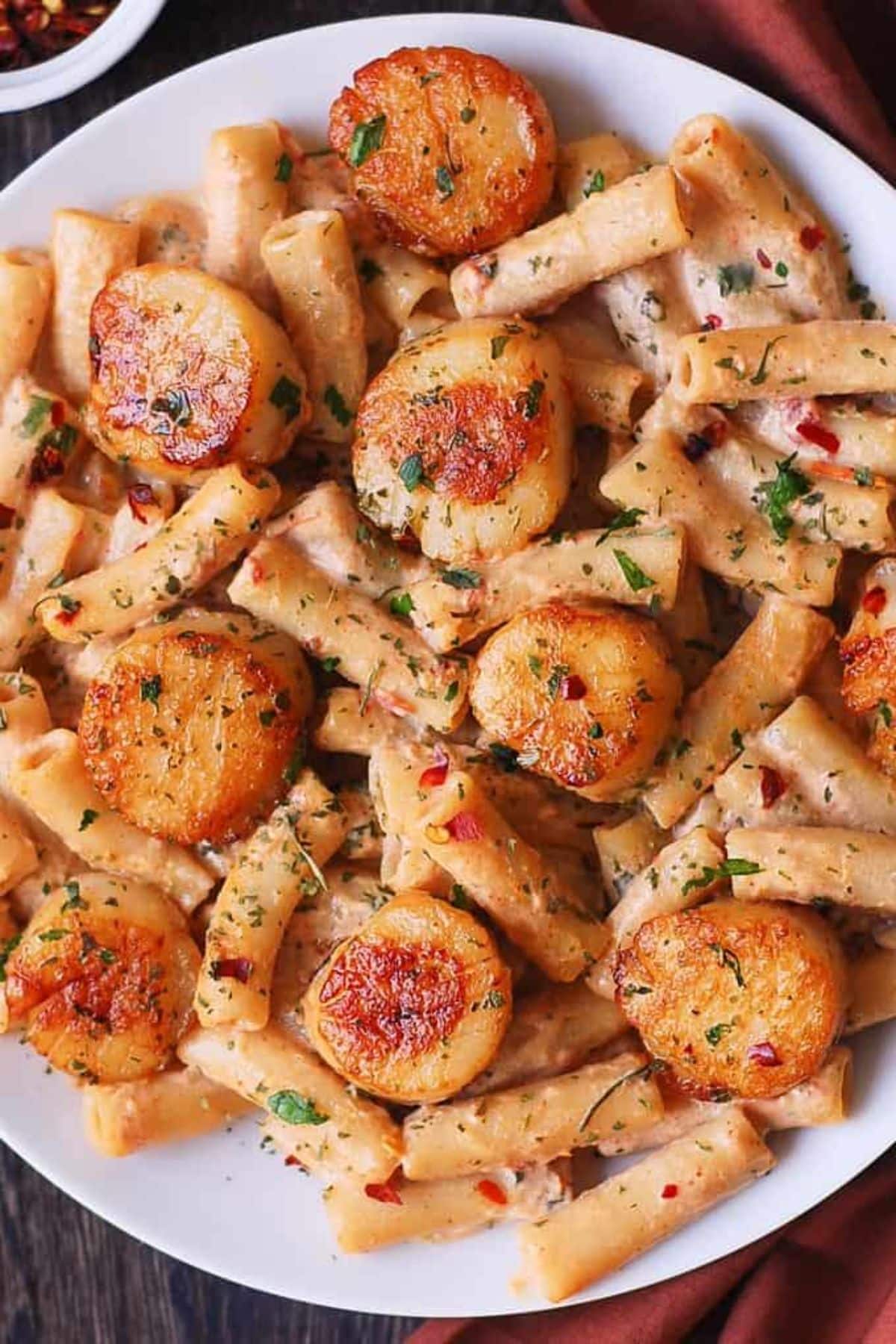 This dish is a harmonious balance of salty and creamy flavors that come together in every bite. The seared scallops add a delicate flavor to the plate, while the creamy mozzarella pasta offers a rich and indulgent taste. The freshness of the scallops pairs perfectly with the cheese and pasta, creating a divine culinary experience.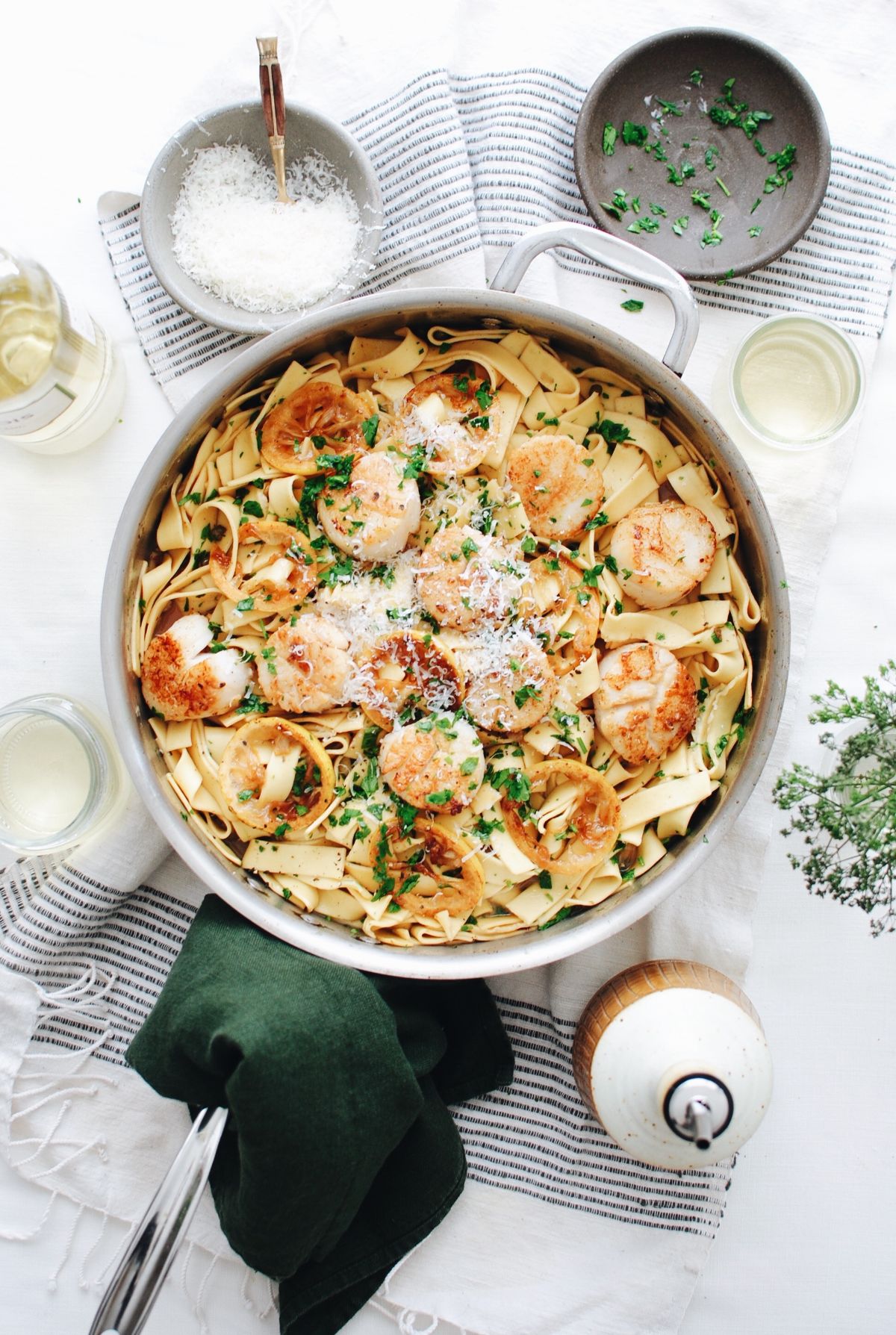 Scallop piccata is a mouthwatering and delicious main course that will leave your taste buds in pure bliss. The delicate, tender scallops are lightly dredged in flour and then pan-fried to perfection, resulting in a crispy golden exterior and a tender, juicy center.
Adding capers, lemon juice, and white wine to the pan sauce creates a tangy, zesty flavor that perfectly complements the sweetness of the scallops.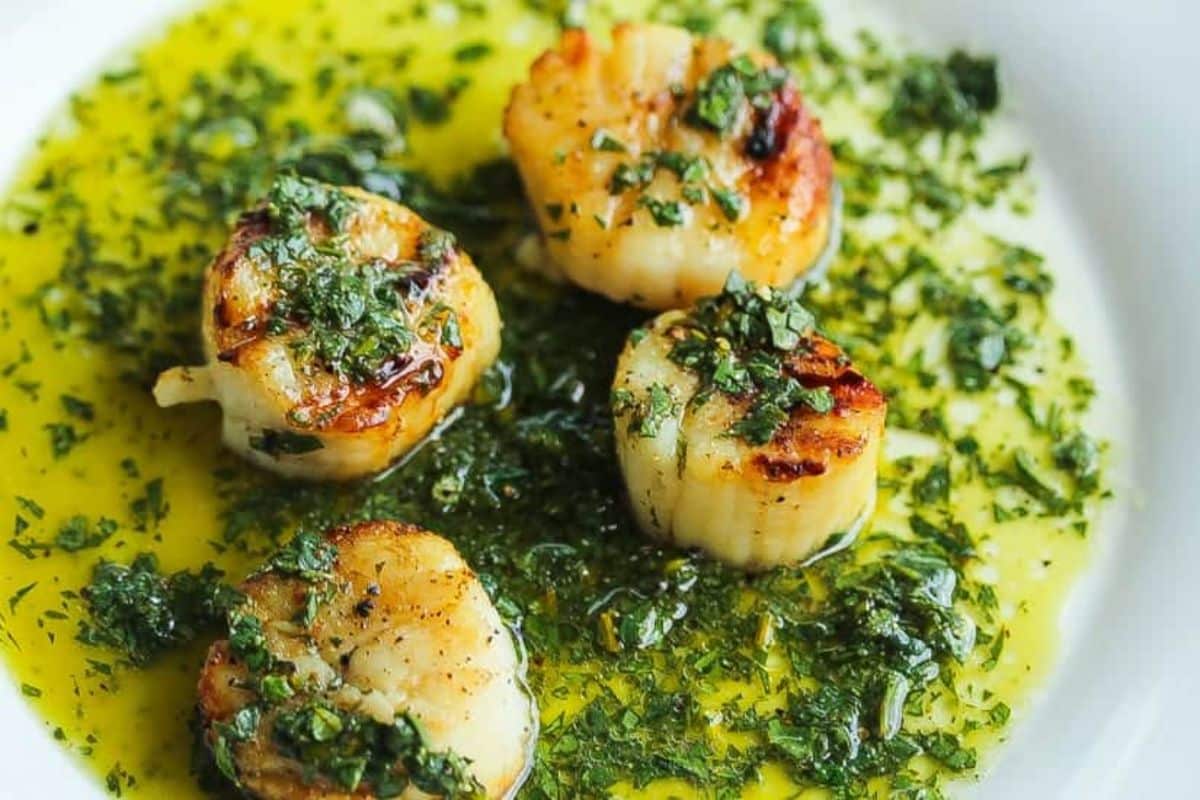 The lemon salsa verde is a refreshing combination of parsley, capers, garlic, and lemon juice, which adds a zesty kick to the dish.
This dish is the perfect entree to impress your guests with its simplicity and elegance. It goes well with a light salad or grilled vegetables, making it an excellent option for a healthy and satisfying main course.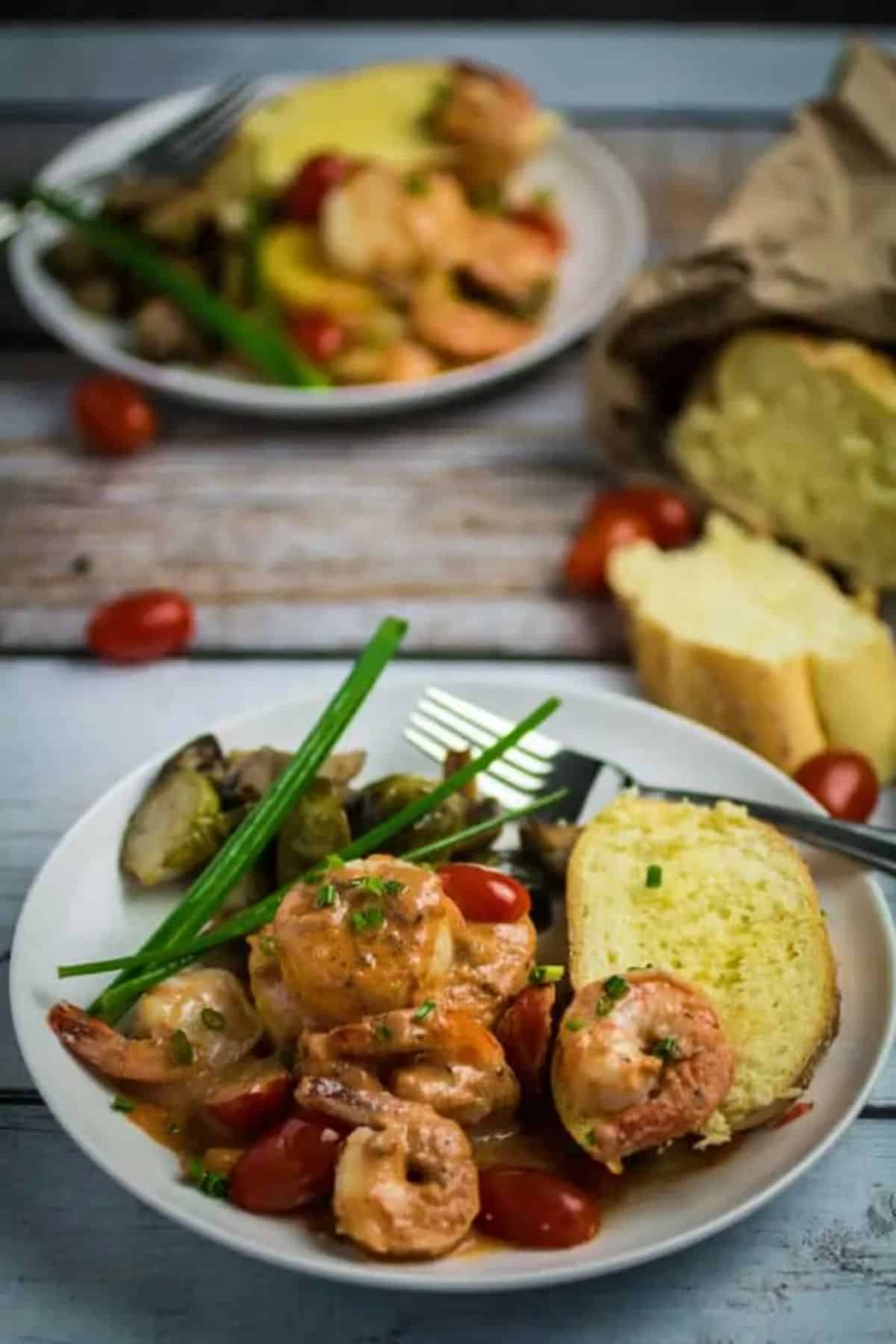 Ah, seafood and marinara sauce, a match made in heaven. And when it comes to shrimp and scallops, the result is simply divine.
This dish packs a punch with juicy shrimp and succulent scallops swimming in a creamy marinara sauce infused with various aromatic herbs and spices.
This dish will tantalize your taste buds with a hint of spice and a lot of flavor. This dish packs a punch of bold and delicious flavors, featuring succulent shrimp and scallops cooked to perfection, paired with juicy tomatoes, fresh jalapeños, and aromatic garlic.
The sauce, made with zesty lime juice, fiery chili powder, and sweet paprika, creates a compelling balance between heat and sweetness.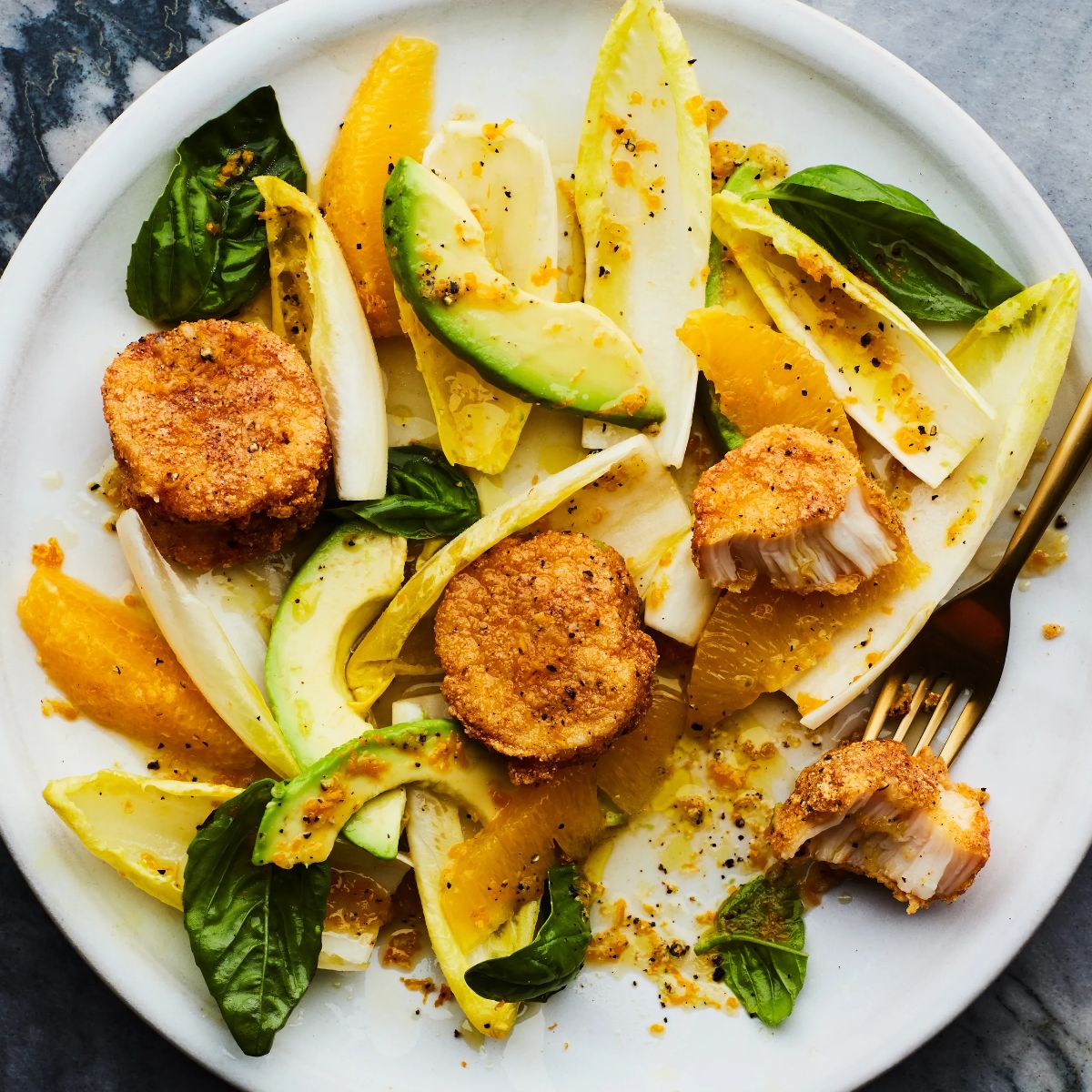 This salad is an attractive option for those looking for a light, healthy meal without skimping on flavor. It pairs well with a crisp white wine or a light beer, making it a perfect summer lunch or dinner option.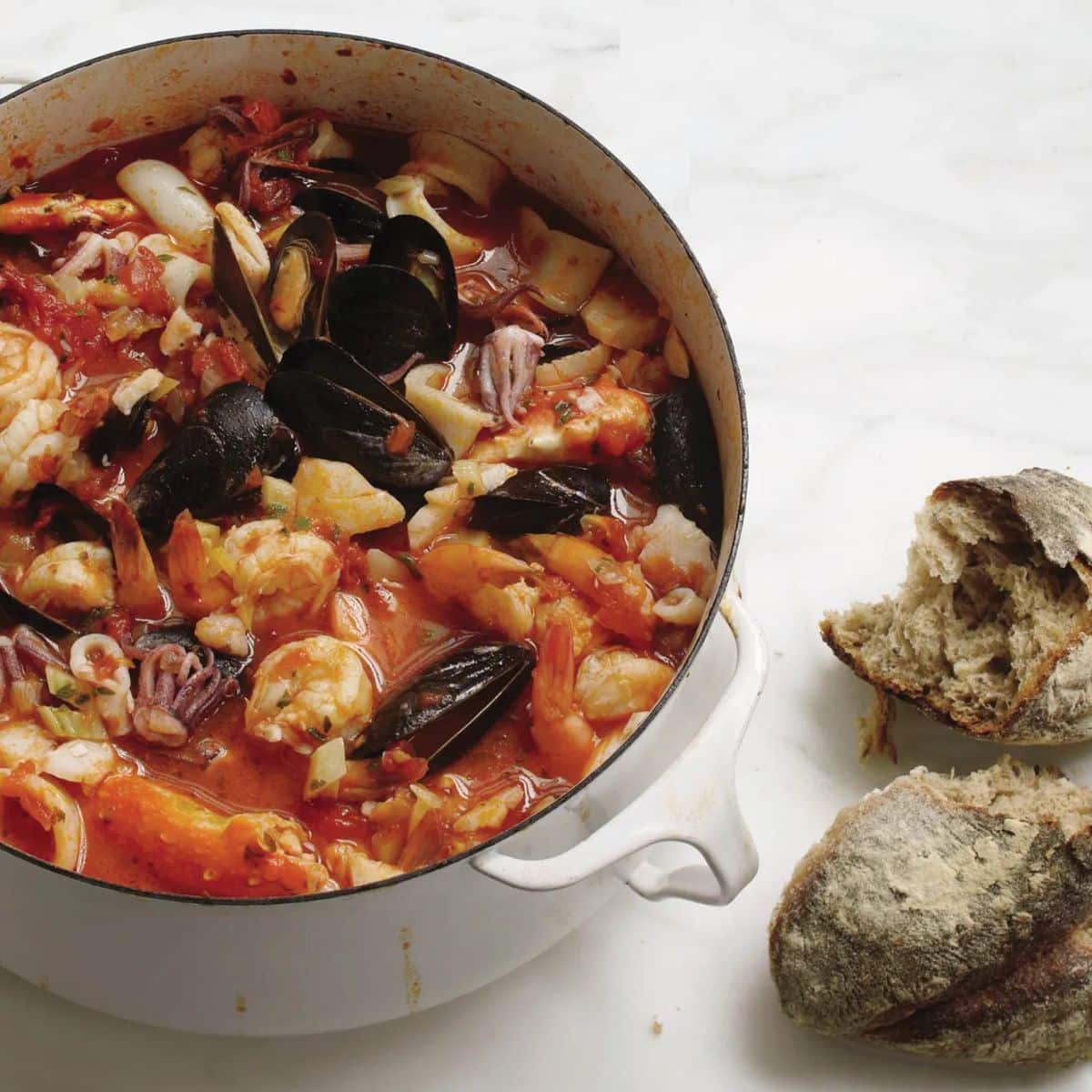 Cioppino, a classic seafood stew from San Francisco, is a true masterpiece of flavors and textures.
It's a symphony of seafood that includes a variety of shellfish, such as mussels, clams, shrimp, and scallops, cooked in a delicious tomato and wine broth with aromatics like garlic, onions, and herbs.
Final Thoughts
The 31 scallop recipes presented in this article offer diverse flavors, textures, and cooking techniques that please any palate.
Whether you're a seasoned chef or just starting in the kitchen, these recipes provide an excellent opportunity to experiment with new flavors and techniques. Why not try scallop recipes and impress your guests with a memorable main course?
With some practice and patience, you'll be sure to create delicious and impressive dishes.