Breaded mushrooms have been a staple in my life as far back as I can remember. My mom would make them frequently, along with her breaded chicken (using the same method.) My sister and I love them. I am sure my brother would too, if he liked mushrooms... He always has loved that chicken though! I find I am spoiled by these breaded mushrooms. Whenever I go to a restaurant and order breaded mushrooms (very rare since it is something I can easily make at home,) I tend to get disappointed. There is always something missing. Whether it not being crispy enough, or lacking in flavor, or just plain falling apart, there is always something. Don't get me wrong, I have had some nice breaded mushrooms are restaurants, however, homemade just seems like the way to go.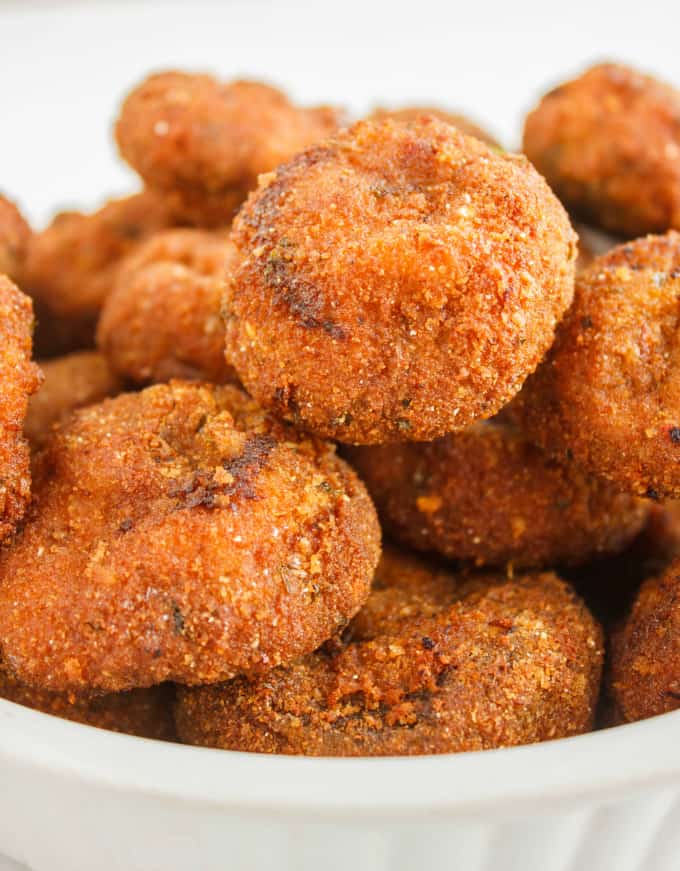 Any time I do make these delicious mushrooms, I always need to send a picture to my sister to make her jealous! Then I send a picture to my husband, who is usually away camping when I make them (they are my special treat when it is just me.) I find since I have had kiddo, my breaded mushroom making has decreased. Probably not a bad thing when it comes to deep-fried foods, but I must admit, deep-frying anything makes me nervous... For some reason, I fear the stove catching fire. I never leave the stove, and I use a thermometer to keep an eye on the oil, but I just feel more comfortable when someone else is around. Then there is the fact that I have a child running around and that is enough to stop me from frying anything!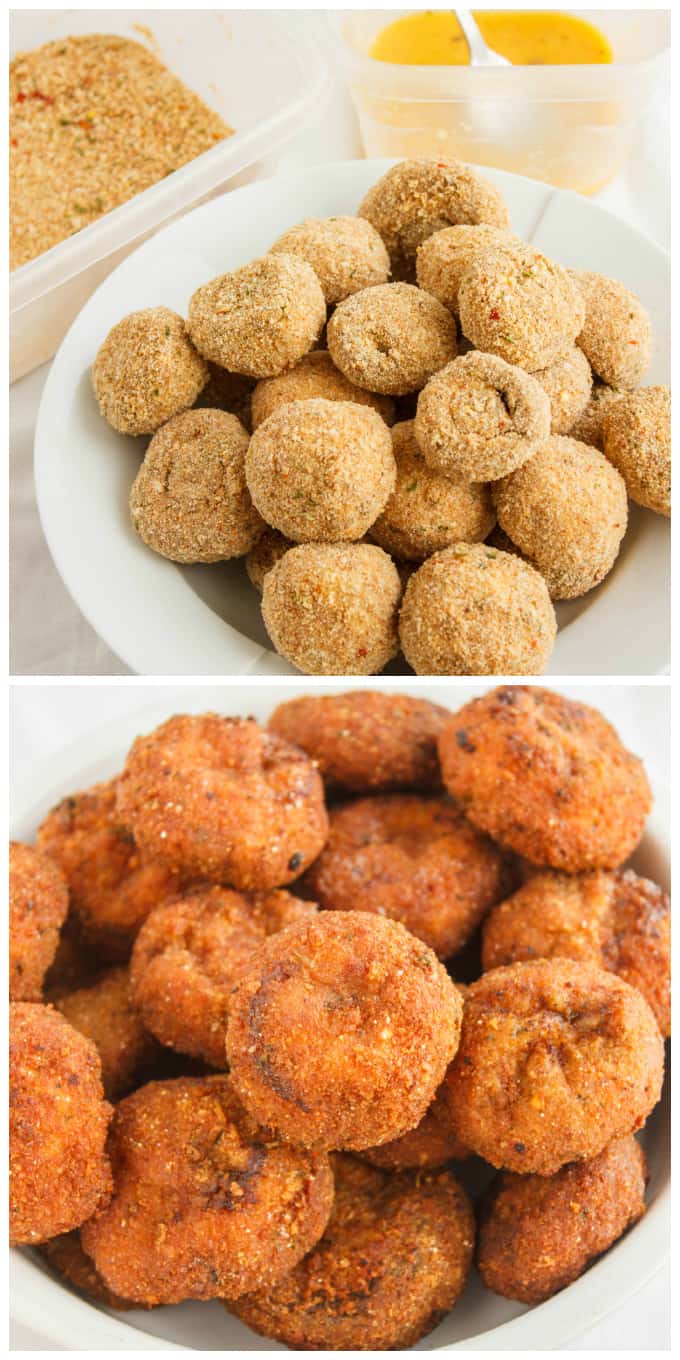 But I have the new stove now, and kiddo is at an age where I can sit her down and explain how dangerous oil is. She had no problem staying out of the kitchen, and actually went about making her own meal in her toy kitchen. The flat-top stove had me much more relaxed while I was deep-frying the mushrooms, but I still was cautious. One day I will relax while making these! Whenever I see chefs cooking on TV, I always cringe at the oil splattering everywhere over a gas stove top! Of course, those industrial kitchens are much more equipped with ventilation, but still... Sigh, it isn't even like I have been in a fire before, I just worry about fires happening on my stove or in the oven. I am sure I am not the only one.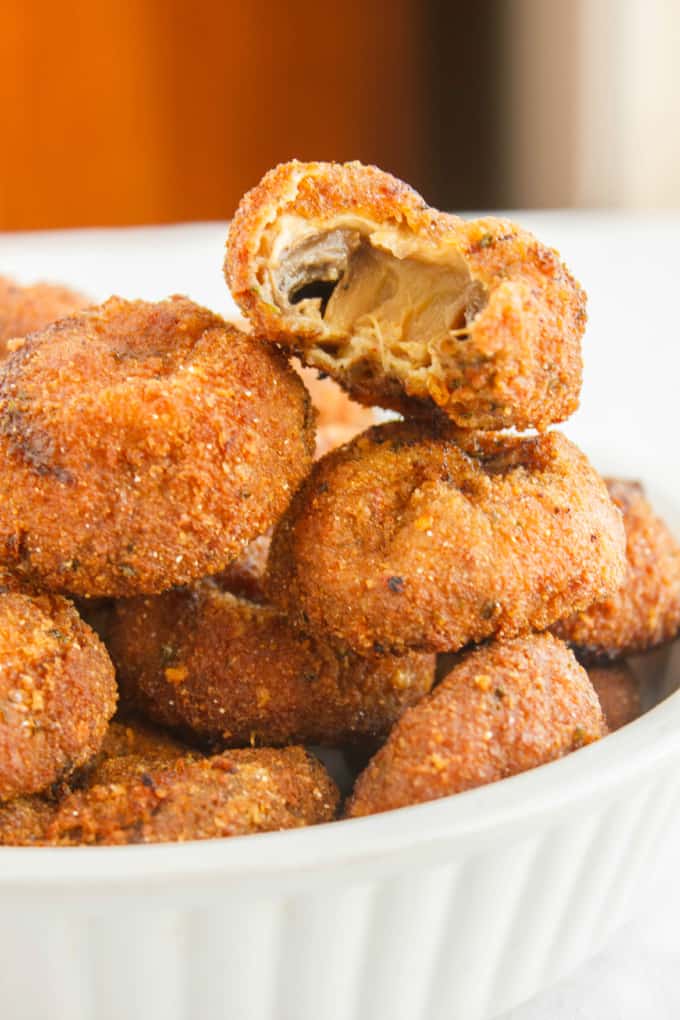 That aside, these breaded mushrooms come out crispy and packed full of flavor! My secret? Salt! Seriously, you have to season throughout this meal. I season the mushrooms with some salt after I clean them. I season my flour with salt and a ton of other herbs. I then add a bit of extra salt to the breadcrumb mixture (though not a lot since I tend to purchase the seasoned breadcrumbs.) I have seen some chefs go as far as salting their deep-fried meals after it comes out of the oil, but I find if you season throughout this recipe, you should be good without that final step. Also, you will probably dip these mushrooms into your favorite sauce! My sister swears by ranch dressing, and while I enjoy it to, the last time I made these, I preferred them with a garlic aioli!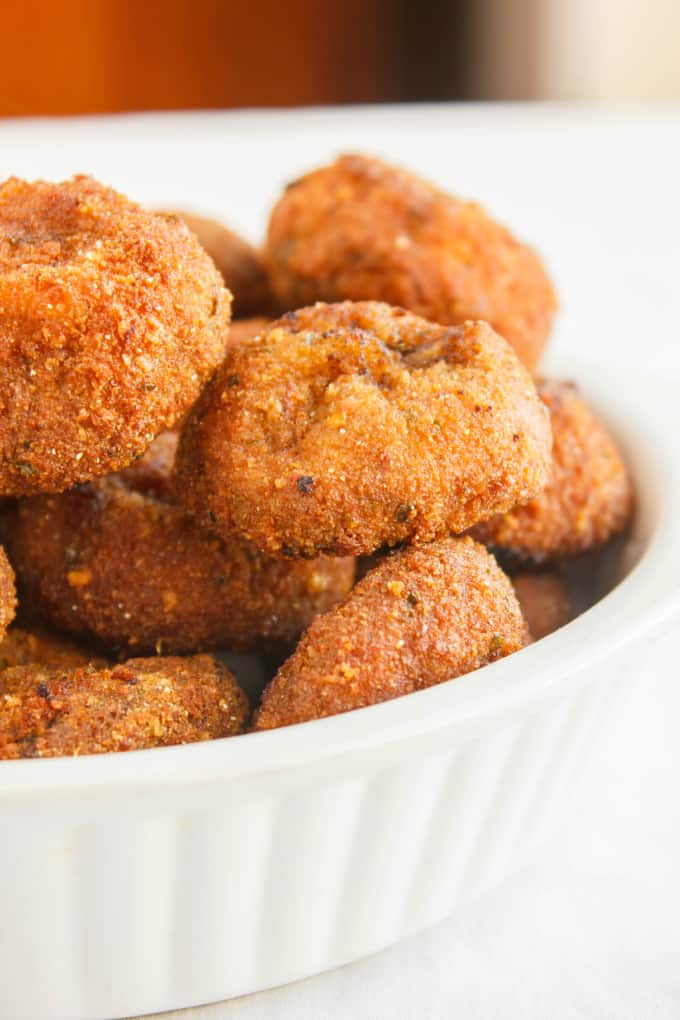 📖 Recipe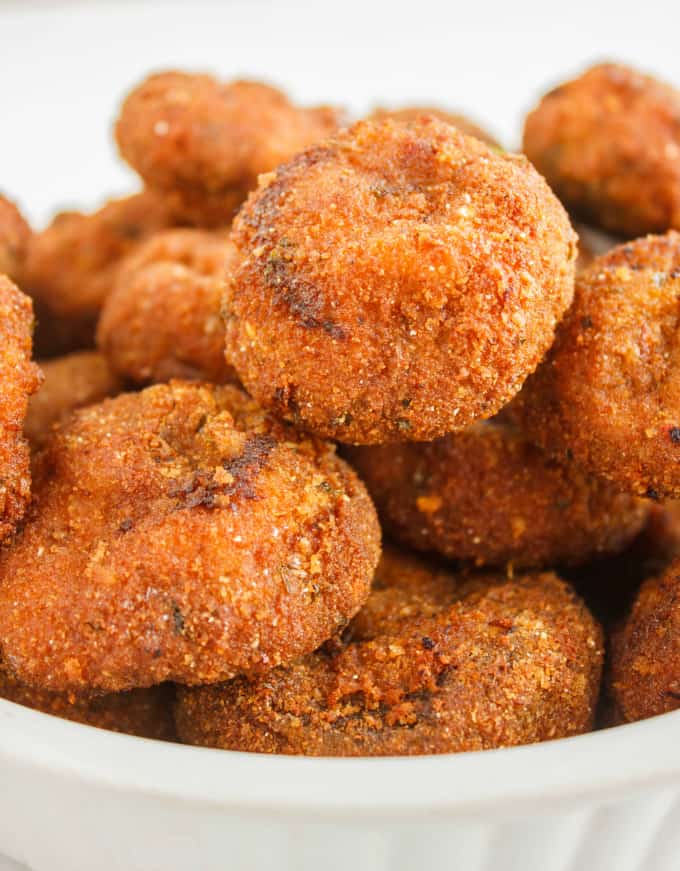 Crispy Deep-Fried Breaded Mushrooms
Breaded mushrooms get that true, crispy crust when deep-fried. Trust me, these deep-fried breaded mushrooms are the best out there!
Ingredients
16 oz button mushrooms, stems removed
1 cup seasoned bread crumbs
½ cup flour
2 eggs
⅛ cup milk
½ tsp. dried oregano
½ tsp. garlic powder
¼ tsp. cayenne pepper
½ tsp. black pepper
Salt
¼ tsp. red chili flakes
¼ tsp. dried basil
¼ tsp. dried thyme
Vegetable oil for deep-frying
Instructions
Clean mushrooms and sprinkle with some salt. Set aside while you prepare your breading station.
Bring out 3 descent-sized Tupperware containers with lids. These will be part of your breading station. Alternatively, you can use mixing bowls if you like.
In one container, place the flour. oregano, garlic powder, cayenne, black pepper, salt. red chili flakes, basil, and thyme. Mix to combine. In another container, break in the eggs and beat together with ⅛ cup milk. In the final container, add the breadcrumbs. I usually add a touch of salt, pepper, and garlic powder here (and some more red chili flakes for the spice lovers!)
Working in batches, place mushrooms in flour mixture. Put on lid and shake until mushrooms are fully coated. Transfer those mushrooms to the egg mixture and shake until fully coated again. Finally, move the mushrooms to the breadcrumbs and shake until evenly coated. Place coated mushrooms on a separate, clean plate and repeat until all mushrooms are coated.
Pour enough oil into your pan that will allow you to deep-fry the mushrooms. Anywhere from 1-2 inches. Heat to 350F (a candy thermometer is best here.) When the oil is hot, add the mushrooms in small batches, about 6 mushrooms at a time. Deep-fry for 6-10 minutes, flipping them halfway through so you get a nice, golden brown color on the mushrooms. Times will vary depending on your temperature. NOTE: Oil temperature will drop drastically when you add the mushrooms in, so before you move onto your next batch of mushrooms, make sure the oil reheats to 350F.
Remove from oil and place them in a bowl that is lined with paper towel to catch any oil drippings. Cook until all the mushrooms are completed.
Serve with ranch dressing or your favorite dipping sauce!
Nutrition Information:
Yield:

4
Serving Size:

1
Amount Per Serving:
Calories:

277
Total Fat:

8g
Saturated Fat:

2g
Trans Fat:

0g
Unsaturated Fat:

6g
Cholesterol:

94mg
Sodium:

588mg
Carbohydrates:

40g
Fiber:

5g
Sugar:

5g
Protein:

12g
I have stated this before but I find deep-frying is the only way to get a true, crispy layer. Then again, I have never baked my breaded mushrooms either. I know deep-frying is not the healthiest of cooking methods, but sometimes you want that crunchy goodness that only oil can achieve. Trust me, it is not like you are eating these every day! You can indulge!