When I came up with this cake flavour combination, I knew what I wanted, but achieving that flavour seemed impossible. Since we changed to freshly ground coffee in this household, instant coffee is nowhere to be found. Not usually a problem, but when it comes to coffee-flavoured desserts, many rely on instant coffee. I wanted to change that!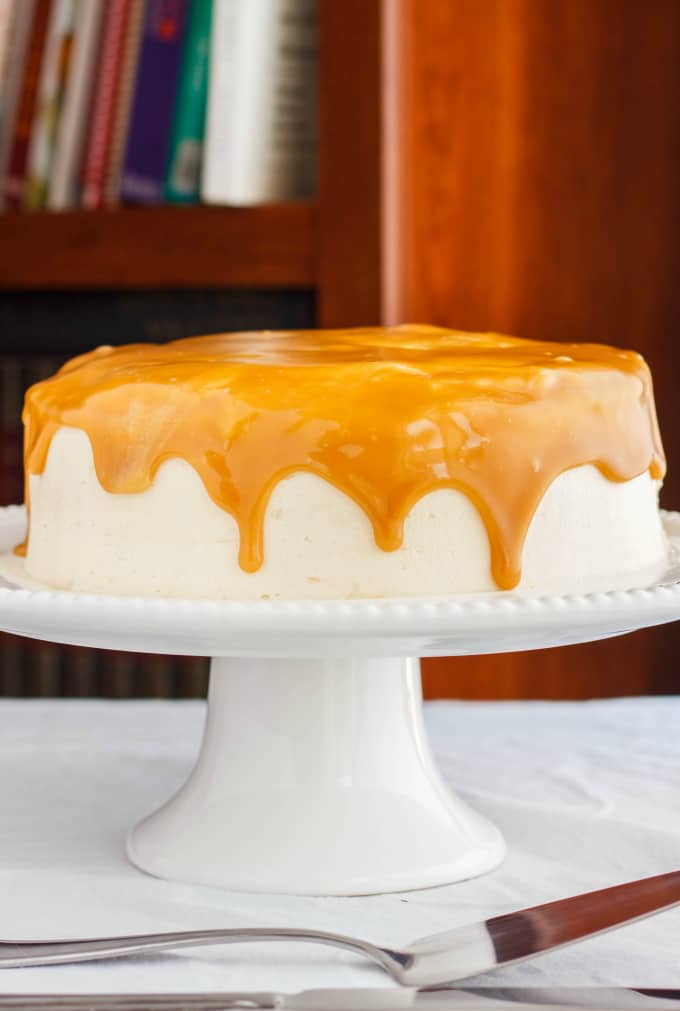 This caramel and coffee layer cake with coffee buttercream is true, rich coffee, with no instant coffee to be found! And the coffee buttercream? None of this 1 or 2 tablespoons of hot, instant coffee water. I took it to a whole new level. Now, it took some work, but if you prepare in advance, things should go quick and smoothly.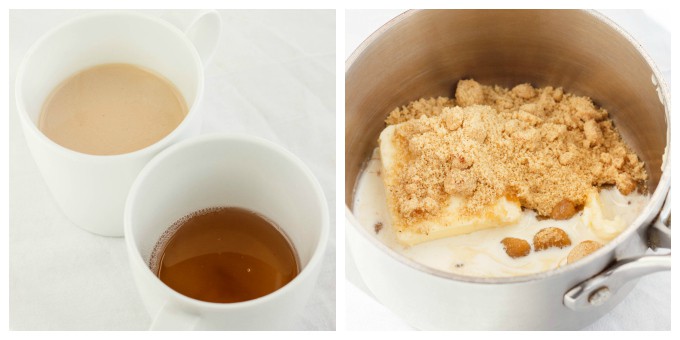 Let's begin. First, you want to infuse all the ingredients you can with coffee. I ground about 5 tbsp. of our favourite coffee beans and set them aside. I heated the buttermilk until almost boiling. I poured the liquid into a cup and added 1 tbsp. coffee grounds to a coffee filter. Carefully I added the filter to the cup and allowed it to steep for 30-40 minutes. The milk will absorb the coffee-flavour nice and easy. Too long will result in a bitter coffee flavour. For the butter and coconut oil, I heated them separately  until nice and hot, once again not boiling. I poured them into the appropriate cups and added 1 tablespoon each of coffee grounds to 4 coffee filters. Then I placed two filters into the coconut oil, and two filters into the butter mixture. The reason for this method was to allow for the oil to penetrate the coffee grounds easier. Too much coffee in one filter would not allow to ample steeping. It took longer for the coffee flavour to come through, but between 1 hour and 1 and a half hours I was able to draw out quite a bit of flavours! Discard all the coffee and allow the ingredients to come back to room temperature.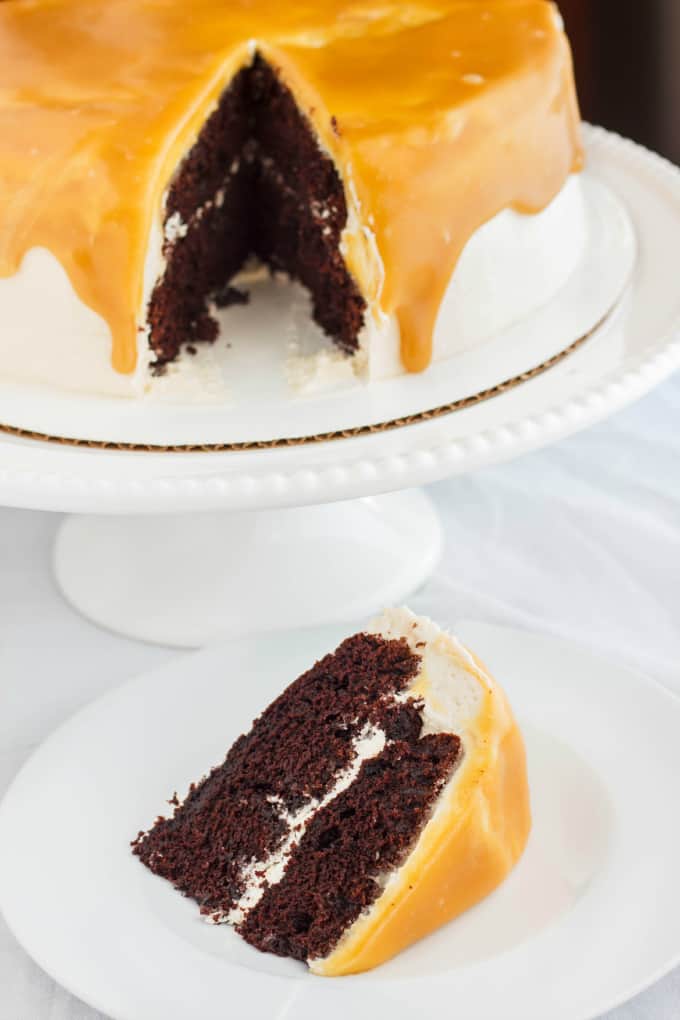 Of course, after writing this all out, I realized for the buttercream I could have just infused the whipping cream with the coffee grounds instead of the butter… But then again, at most, you are using 3 tbsp. of whipping cream in a standard buttercream recipe, so it would not have been worth it! The coffee flavour really came through in the butter. The only downside was a softer buttercream in the end. That was because I melted the butter and allowed it to re-solidify. Next time I will try the coffee-infused whipping cream. Or maybe both! But seriously, this was the best coffee buttercream I have ever had. It actually tasted like coffee, unlike other coffee buttercream I have had. The shortening helped to compensate for the remaining butter amount I needed, and it did not mask the coffee flavour at all. I actually used the shortening in place of more butter because I wanted a stable buttercream. Anymore butter, or had I infused the entire 1 and half cups of butter with coffee, would have resulted in a much too soft buttercream. I DO NOT suggest using this buttercream at all for roses or decorating. Just a nice smooth covering of the cake is all this buttercream is good for (and eating!)

I am not sure how much the coffee flavour came through in the cake from me infusing the coconut oil and buttermilk, but I like to think it helped. This coffee layer cake with coffee buttercream was for Dan's coworker who loves coffee, so I really wanted the flavour of coffee to come through! As a whole, I think it all worked out perfectly! As for the caramel? I would have gone with my homemade caramel recipe, but with so much work already put into this cake, I went with a real simple caramel on the stove top.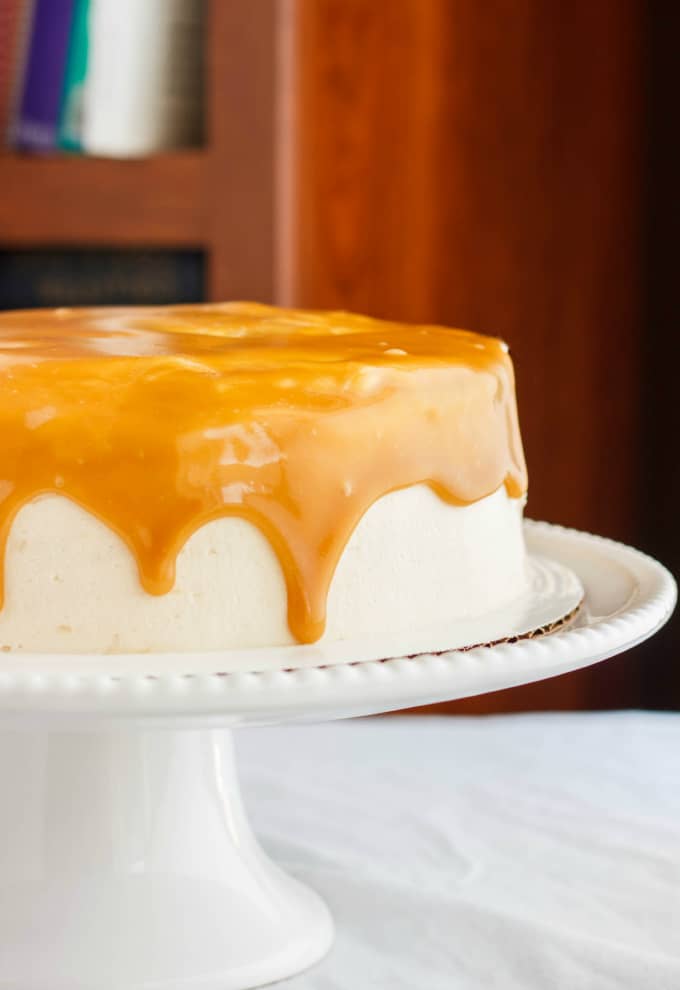 Caramel and Coffee Layer Cake with Coffee Buttercream
---
Kacey
Yields 2-
30 minPrep Time
1 hrCook Time
1 hr, 30 Total Time
Ingredients
2-5 tbsp. freshly ground coffee beans
Cake:
1 cup all-purpose flour
1/2 cup cake and pastry flour
1 cup granulated sugar
1/4 cup brown sugar
1/2 tbsp. baking soda
1/2 cup unsweetened cocoa powder
1/2 cup melted coconut oil
3/4 cup buttermilk
1 egg
3/4 cup hot coffee
1 tsp. vanilla
Pinch of salt
Coffee-Flavoured Buttercream:
1 cup butter
1/2 cup shortening
1 tbsp. Kahlua
3 1/2 cups confectioners' sugar (more if necessary.)
Heavy whipping cream if necessary
Caramel:
1/4 cup butter
1/8 cup heavy whipping cream
1/2 cup brown sugar
Salt
1 tbsp. Kahlua
Instructions
NOTE: I melted the coconut oil and steeped two tablespoons of freshly ground coffee in a coffee filter for 60 minutes. I steeped 1 tbsp. of the coffee in the 3/4 cup of buttermilk. I also melted the 1 cup of butter from the buttercream and steeped 2 tbsp. of the coffee in it for about 60-90 minutes. I then removed all the coffee filters with the coffee to dispose of and allowed the butter to come back to a solid form and the other ingredients to come to room temperature. I did this a day in advance of making the cake!
Cake:
Preheat oven to 350F. Grease two 8-inch cake pans and set aside.
In the bowl of a stand mixer, sift in the flours, baking soda, salt, and cocoa powder. Pour in the sugars. Combine, using the paddle attachment. While the mixer is on low, add in the coffee-flavoured coconut oil, coffee-flavoured buttermilk, and egg.
Gently, and slowly, pour in the hot coffee. The batter appears really liquidity but do not panic! Stir in vanilla until combined.
Pour equally into each pan. I find this cake made small layers. You could use my full recipe (double the contents listed above,) but I find it is then way too much batter, so there is no winning!
Bake for 30-35 minutes, or until toothpick comes out clean. Place pans onto cooling rack and wait until the pans are cool enough for you to handle. Flip cakes out and allow them to finish cooling on rack. Once cool, slice off top for an even surface.
Buttercream:
Add the coffee-flavoured butter and shortening to the bowl of your stand mixer. Whip the butter and shortening until light and fluffy, about 5 minutes. Pour in the sugar and Kahlua. Whip on medium-speed until nice and fluffy. Now, lower the speed to the lowest setting and continue to mix for a minute or two. This will get your air bubbles out and make your final finish appear smoother. The buttercream will be on the soft side because we initially melted the butter. I would not use this buttercream for decorating (ex. no roses, or funky designs!)
Caramel:
Combine the butter, 1/8 cup heavy whipping cream, brown sugar, Kahlua, and a pinch of salt to a small saucepan. Place over medium heat and stir frequently. Once the mixture is fully combined and begins to boil, attach a candy thermometer and allow to boil for a few minutes, until it just passes 200F. Remove from heat and set aside to cool. You still want it a bit warm to be able to pour over your cake.
Assembly:
I placed a bit of caramel between the cake layers and then topped with buttercream. On the top of the cake, I placed a bit of caramel and then continued to cover the cake with buttercream until nice and smooth. Place in the refrigerator to chill. Once a nice crust has formed, bring out and pour the caramel over the cake, having it trickle down the sides of the cake. Immediately put back into the fridge so the caramel can firm up.
7.8.1.2
259
https://thecookiewriter.com/caramel-coffee-layer-cake-coffee-buttercream/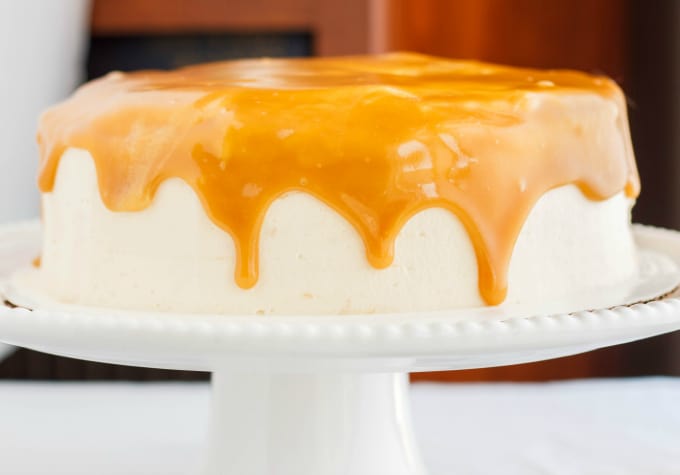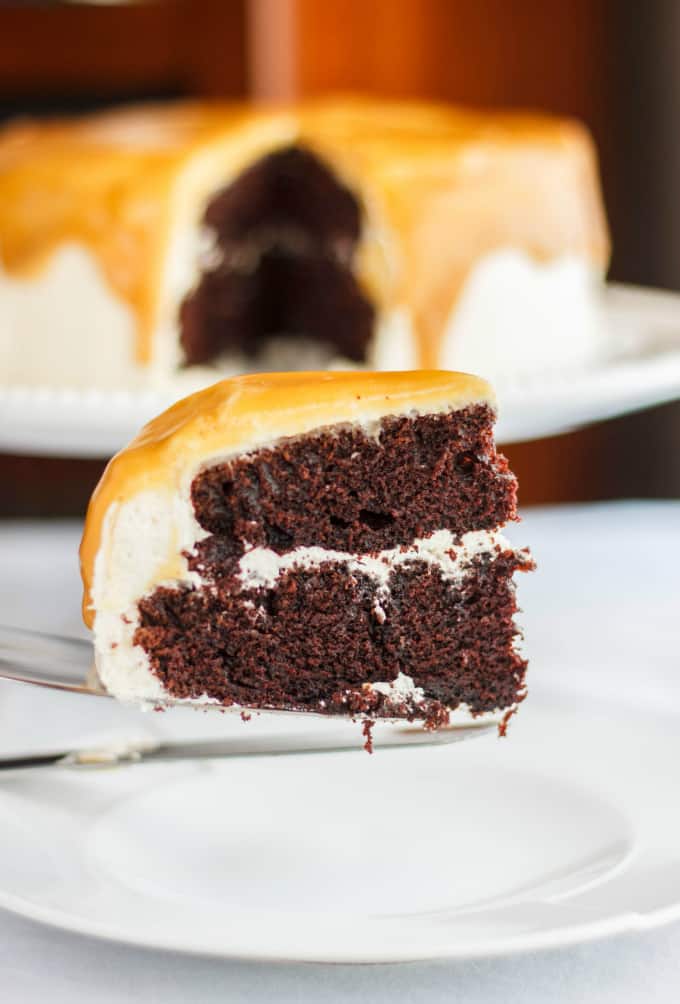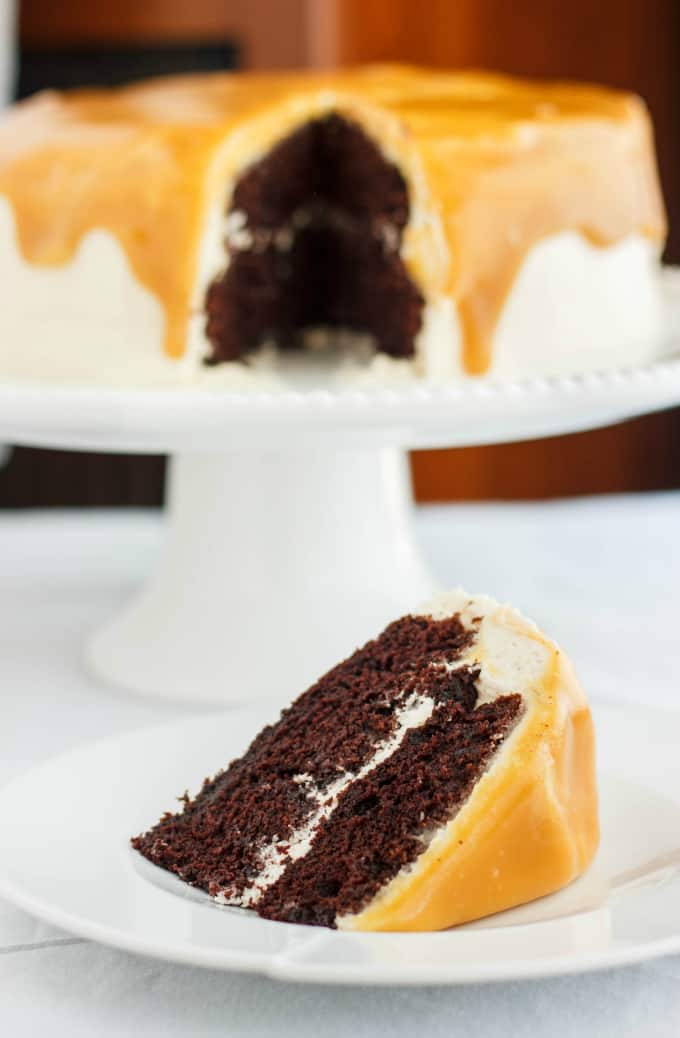 And since Valentine's Day is this weekend, I thought it would be perfect timing to share this cake, even though I made it a couple of weeks ago! Feel free to bypass the steps of infusing all the ingredients with coffee if you just want a chocolate cake. However, for the coffee buttercream, I highly recommend it (because otherwise it would not be coffee buttercream!) And the caramel… You cannot leave that out! Caramel and chocolate and coffee go so well together, just check out my coffee-infused ice cream with a caramel swirl if you do not believe me.