Cheap, tasty, and easy to make, these baked chicken leg quarters with mixed vegetables are the perfect crispy dinner! Gluten-free and dairy-free, too!
The photos and recipe for these baked chicken leg quarters have been updated as of February 16th, 2017!
Today's recipe brings back memories of my childhood. I wrote up the post a while ago and completely forgot about it. It seems fitting to post it today since we have all been battling colds and fevers, and I do not want to keep you hanging for more recipes.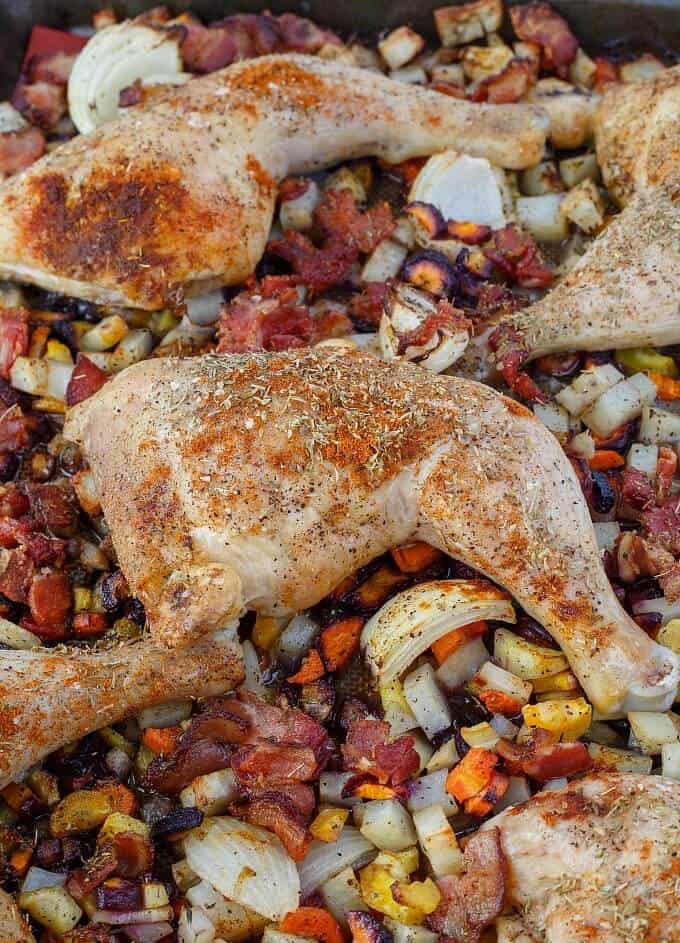 While I no longer eat meat, meals such as this baked chicken leg quarters with mixed vegetables were not uncommon. Sometimes we would have a roast, sometimes a ham. But no matter which meat we used, we always included potatoes, carrots, and onion to the pan so that the vegetables could soak up the drippings from the meat. I still remember making a ham dinner this way, and taking the leftovers to my best friend at school. She was so impressed by the flavors and had never had a meal where the veggies were cooked in the same pot as the roast/ham/meat. I felt pretty darn good that day!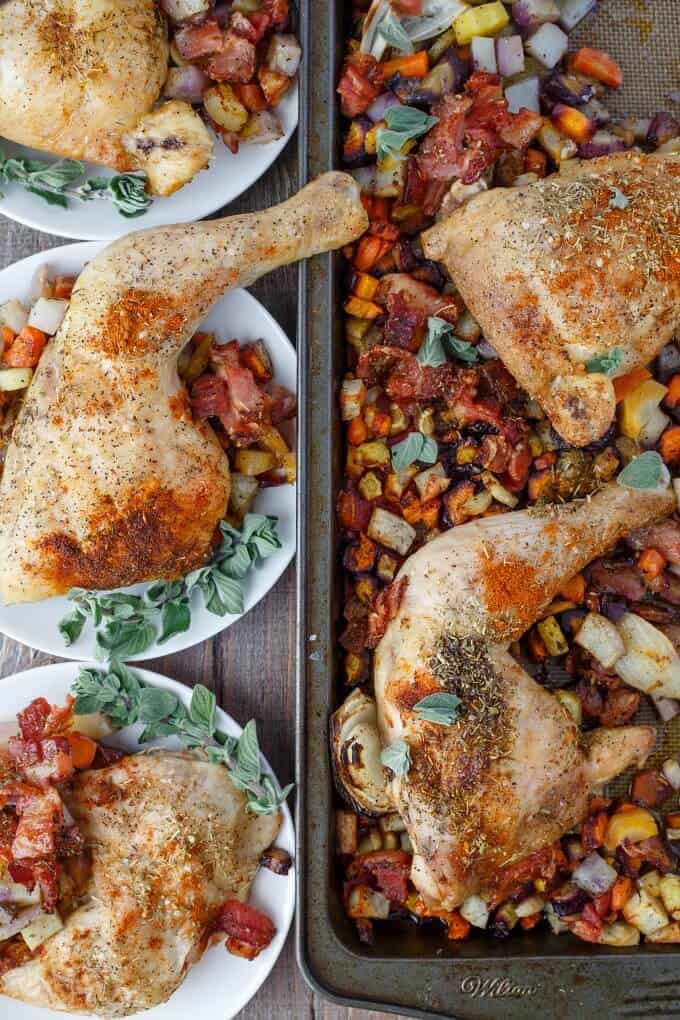 With the cold weather upon us, we are wanting meals that are comforting. Plus, with the cold weather brings the germs, and bugs, and colds... Thankfully I made this recipe two times this past week. Once for a family visit, and the other time to have preparations ready for a chicken noodle soup. Because it was only a matter of time before someone got sick, and the first to catch the bug was Mr. TCW. Followed the next day by kiddo. I like to brag that my vegetarianism immunizes me from colds (I know it really does not, but it is nice to tease Mr. TCW a little since he always swears by eating meat." This time around I did not catch any bug from the two of them, but I was left taking care of them. With the second batch of these baked chicken leg quarters, I turned them into a leftover roasted chicken soup to help them with their colds.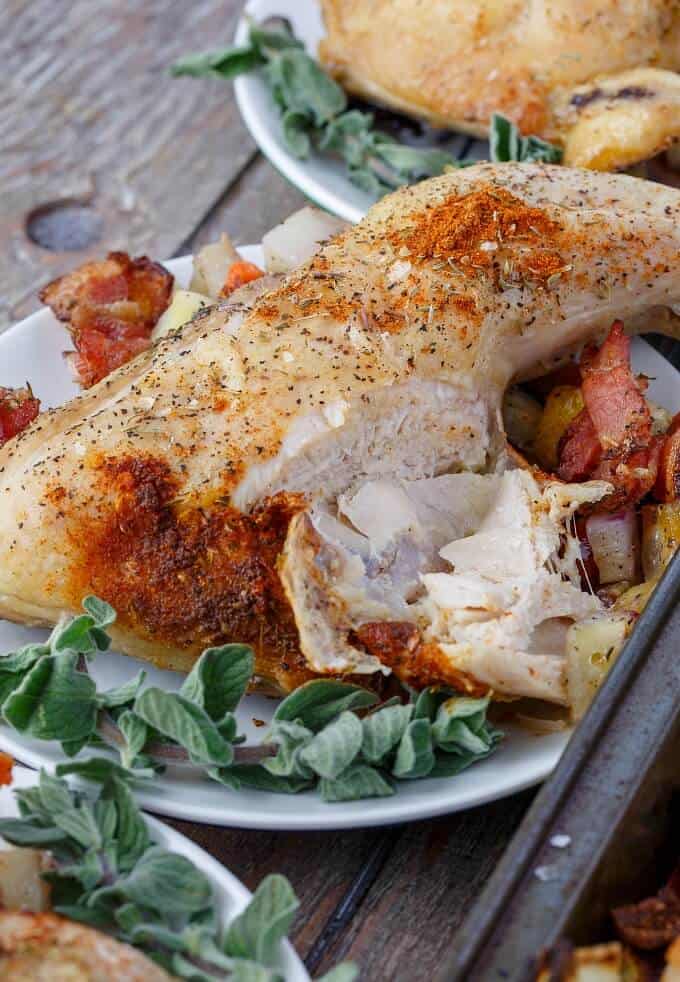 This dish is so easy to make because it is a one pan meal. Prepare your veggies and toss them onto a parchment-lined baking sheet. Pat the chicken dry completely (some people will actually leave their meat in the fridge overnight uncovered,) and place them on top of the veggies. Season accordingly, and there you have it! I made a side of rice to make the meal even more filling, but it is great on its own. Fresh herbs would do wonders here, but during the winter months I find fresh herbs lacking at the grocery market and even if I pick out some descent packages, they do not keep very long in my fridge.
📖 Recipe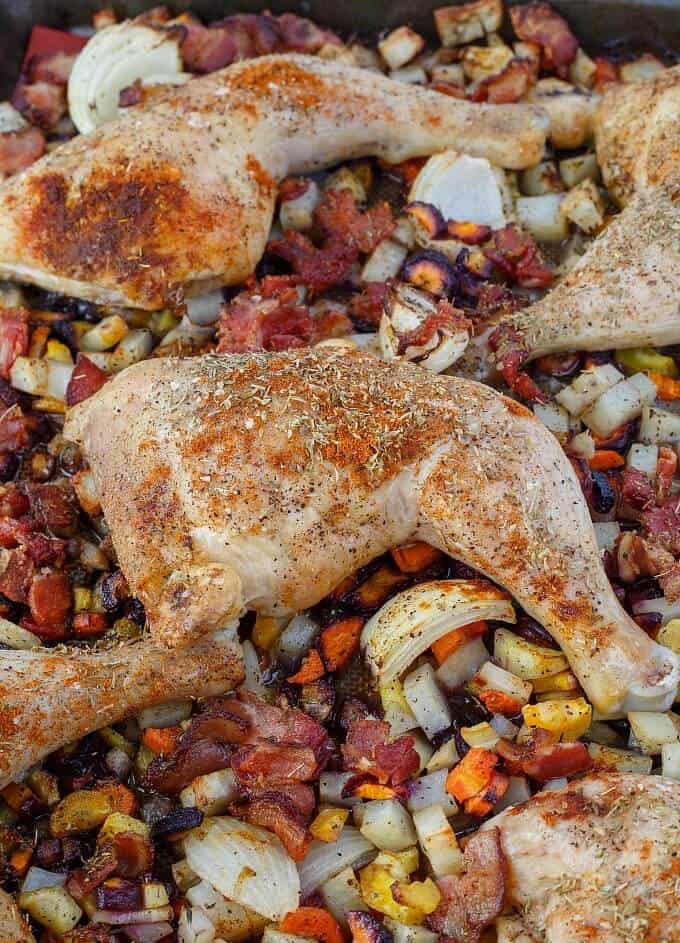 Baked Chicken Leg Quarters with Mixed Vegetables
The crispy skin is created by baking completely dry chicken (no oil needed!)
Ingredients
3 lbs chicken leg quarters, bone in, skin on, pat completely dry.
6-7 slices of bacon, cut into ½-inch pieces
1 lb carrots, sliced ½ inch thick
1 lb potatoes, chopped small
1 onion, sliced in half or quarters depending on size.
4 garlic cloves, halved
Salt and pepper
1 tsp. dried thyme leaves
1 tsp. paprika
1 tsp. dried oregano
Olive oil for coating vegetables and chicken
Instructions
Preheat oven to 400F. Line baking sheet with parchment paper or silicone liner.
Toss bacon, carrots, potatoes, onion, garlic, salt and pepper together. Pour onto baking sheet.
Place chicken pieces onto pan. Season with salt and pepper. Sprinkle pan with paprika, oregano, and thyme as evenly as possible.
Bake, uncovered, for 40 minutes, tossing veggies after the first 10-15 minutes to coat everything in bacon grease. Chicken is finished when internal temperature reaches 160F.
Broil chicken if desired for an even crispier skin!
Notes
Keep your veggie cuts similar in size so they cook evenly. No oil is needed as the bacon will release enough grease to coat the veggies.
Nutrition Information:
Yield:

6
Serving Size:

5
Amount Per Serving:
Calories:

650
Total Fat:

30g
Saturated Fat:

8g
Trans Fat:

0g
Unsaturated Fat:

18g
Cholesterol:

315mg
Sodium:

566mg
Carbohydrates:

27g
Fiber:

5g
Sugar:

5g
Protein:

66g
Now, you could use boneless, skinless chicken here, but you do risk the chance of drying out the meat. The skin crisps up nicely in the oven, but you can crisp it even more by setting the pieces under the broiler for a minute or two.
As for the bacon, I initially wanted to wrap the chicken in the pieces but thought the skin of the chicken would not crisp up nicely. It adds the perfect amount of oil to the dish without overpowering.