Before I begin with today's recipe, I want to say thanks for the success of my lentils week! Five days of five different lentil recipes, including gluten-free, vegan, and traditional recipes! Woohoo! Moving on...
I have to say, my portobello mushroom sauce is doing extremely well! Over 14,000 shares on Pinterest alone! Thank you so much!!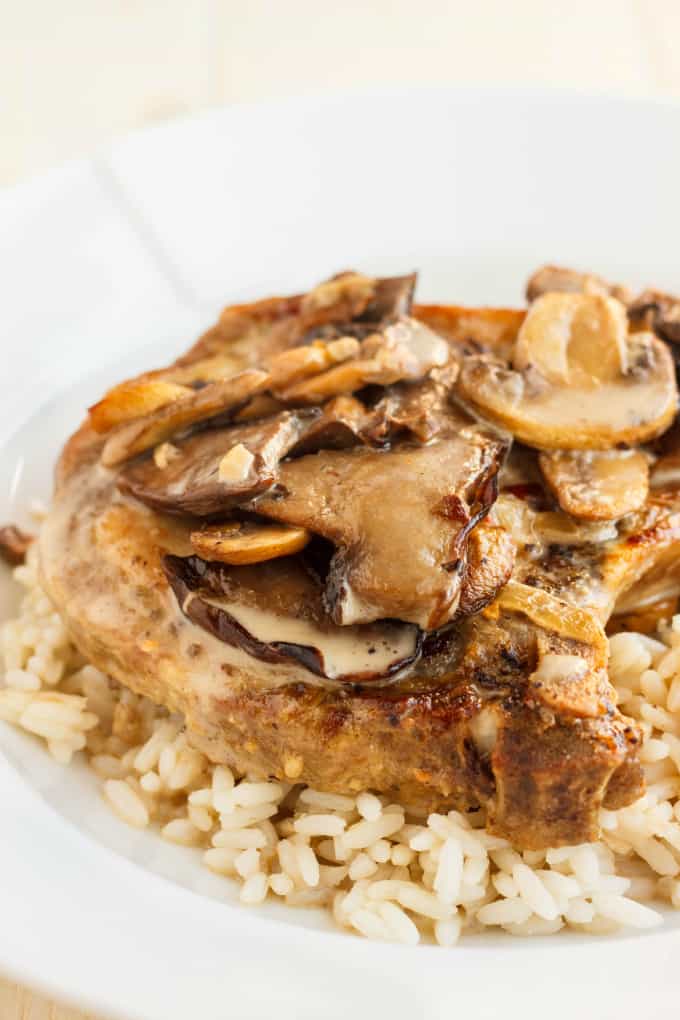 I figured since that recipe is doing so well, I would continue recreating it in awesome ways. My husband picked up some pork loin chops the other day, and I had to use them up fast. Pork and mushrooms pair well together, so why not create pork loin chops in a creamy mushroom sauce?!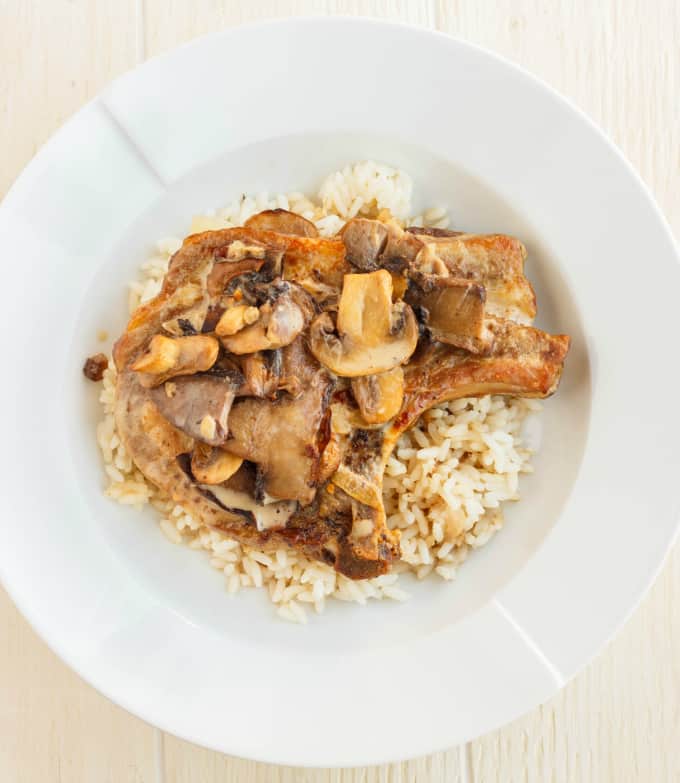 Result? Fantastic! Both Mr. TCW and kiddo gobbled up their plates. Kiddo is really enjoying mushrooms these days, so I try to include them often in our meals. I personally love them, so we try to keep them in the house. Since I never cared for pork chops as a kid, I am always uneasy about cooking them. They are easy to overcook, so you have to keep an eye on them. For this recipe, I seared them quickly over a high heat and then finished them in the oven. It really depends on the thickness of your pork chops. Mine we quite thin, so they cooked quick. Just keep an eye on them and you should be fine. This recipe would also work great in a slow cooker, but I have not tested it out.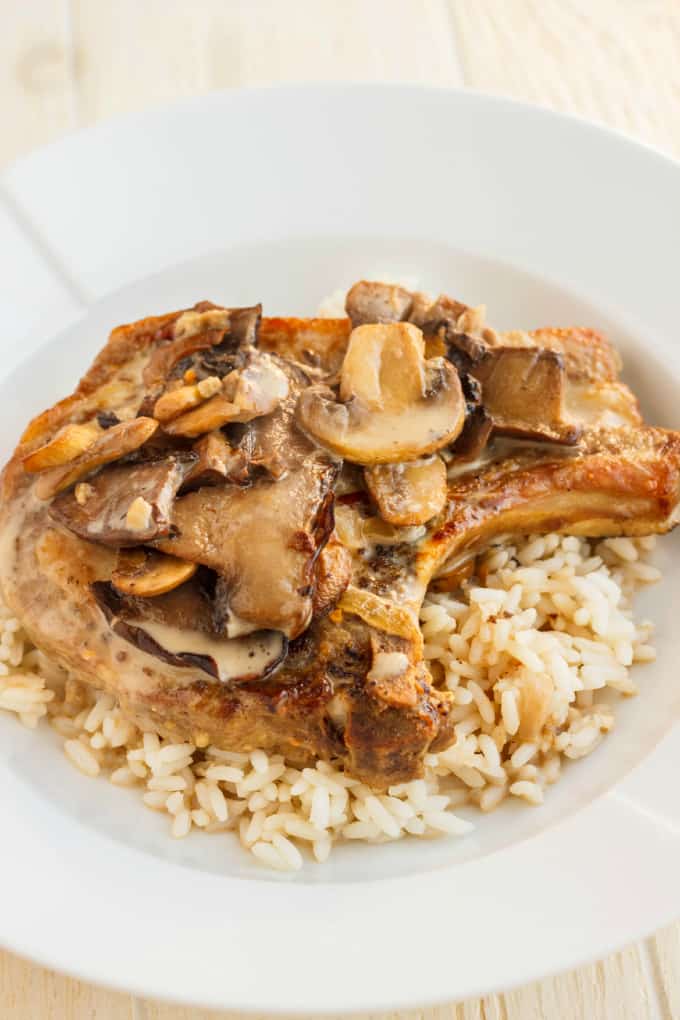 I feel a tad deceitful with these photos. I was so excited about the creamy mushroom sauce that I basically covered up any evidence of the meat in this dish. I had to work fast since daylight hours are sparse right now. Sunlight is definitely one of the main reasons I look forward to spring now!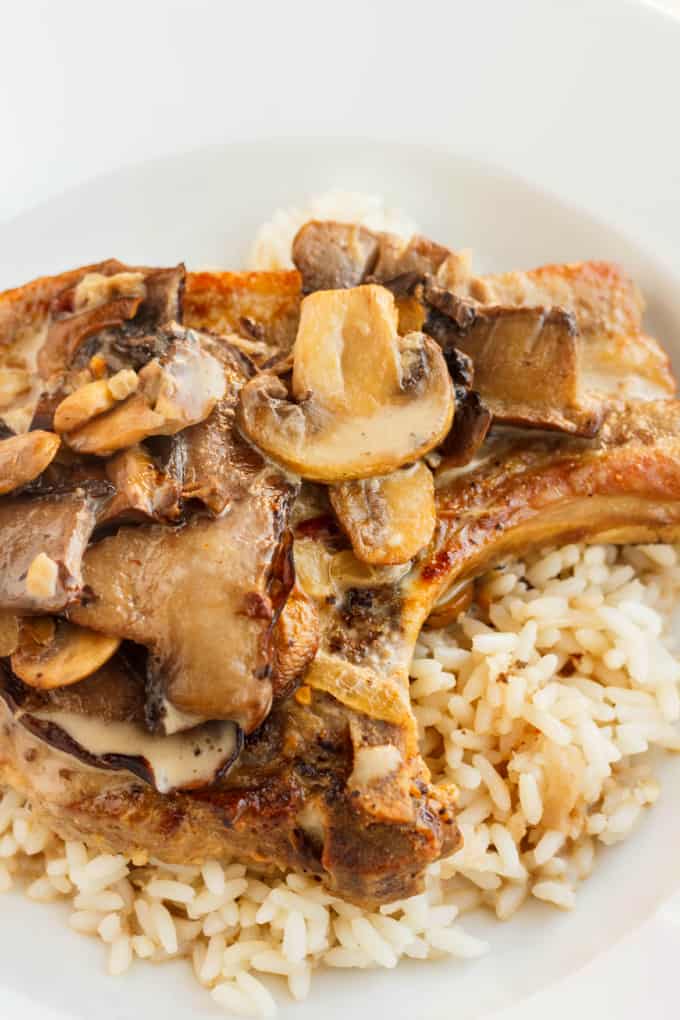 But the mushrooms do look delicious don't they?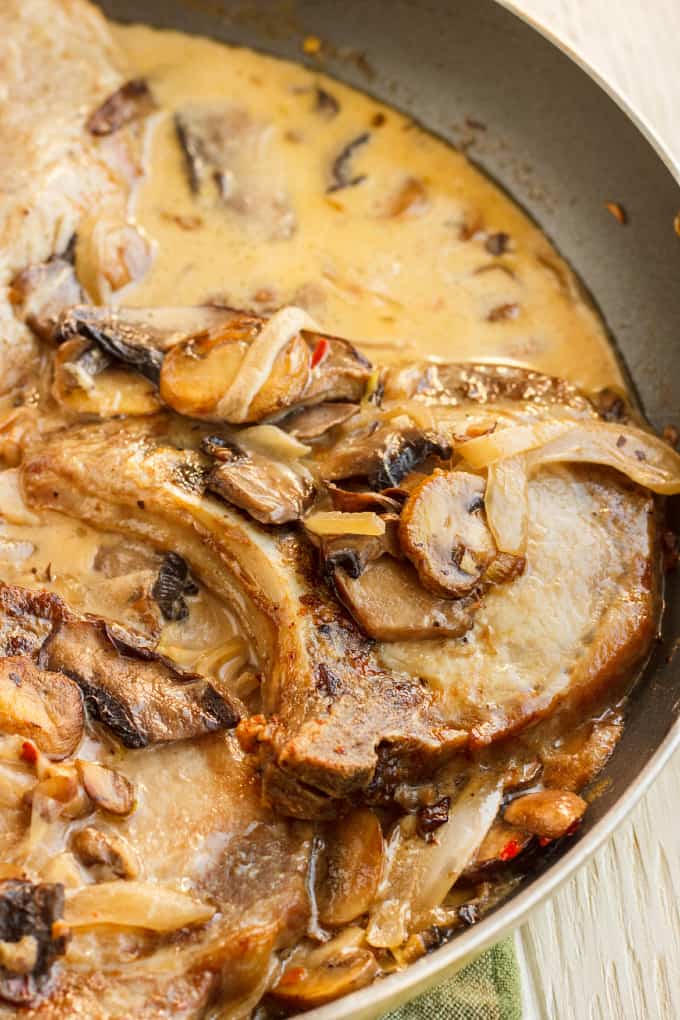 📖 Recipe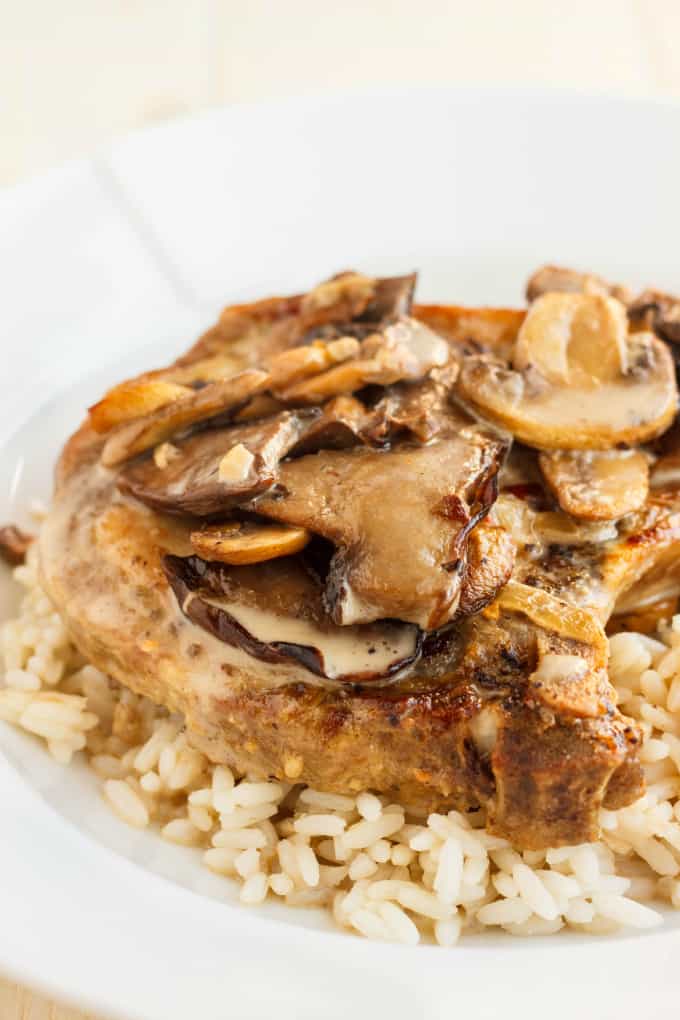 Pork Loin Chops in a Creamy Mushroom Sauce
Total Time:
1 hour
10 minutes
Taking cheap meat such as the pork loin chops and turning them into an elegant, tasty dish. Any pork would work well here, just adjust cooking time.
Ingredients
6 pork loin chops, bone-in
1 small onion, sliced thin
2 large portobello mushrooms
8 oz button mushrooms, sliced
3 garlic cloves, minced
2 tbsp. olive oil
3 tbsp. balsamic vinegar
Salt and pepper
¼ tsp. red chili flakes
⅛ - ¼ tsp. ground thyme
⅔ cup beef broth
½ cup heavy whipping cream
⅓ cup white wine
Instructions
Preheat oven to 425F. Line a baking sheet with parchment paper.
Slice the portobello mushrooms, about ¼ inch thick (if chunks are still long width wise, cut in half again.) Place into a large mixing bowl along with the button mushrooms and pour in olive oil, garlic, balsamic vinegar, thyme, chili flakes, pepper, and salt. Toss until evenly coated. Pour onto the baking sheet and spread out evenly. Bake for 15 minutes. Remove from oven and set aside. Reduce oven to 400F.
Pat your pork chops until dry. Rub olive oil on each side and season with salt and pepper. Heat a frying pan over medium or medium-high heat. Place pork chops into pan (might have to work in batches) and sear one side for a couple of minutes. Flip, and sear other side. Transfer to a baking sheet lined with parchment paper and place into the oven to cook for another 8-10 minutes, or until fully cooked through (160F.)
While pork chops are roasting, heat 1 tbsp. olive oil over medium in the same pan you cooked the pork in. Add the onion and cook until just beginning to brown. Stir in the mushrooms. Cook for another minute or two. Stir in white wine. Cook until almost all the liquid has evaporated. Stir in the broth and cream. Simmer for 5-10 minutes. Add in your pork chops and season again to taste.
Serve over rice!
Nutrition Information:
Yield:

4
Serving Size:

1
Amount Per Serving:
Calories:

716
Total Fat:

44g
Saturated Fat:

16g
Trans Fat:

1g
Unsaturated Fat:

22g
Cholesterol:

231mg
Sodium:

370mg
Carbohydrates:

10g
Fiber:

2g
Sugar:

5g
Protein:

64g
These pork loin chops in a creamy mushroom sauce are a relatively quick meal. You could always cook up the mushrooms a day in advance to save time. The recipe is super easy, as long as you pay attention to the internal temperature of your pork loin chops and do not let them overcook!