Lentil week has come to an end. What better way to finish it off but with a bang!
Day One: Homemade Lentil Flour
Day Two: Chocolate Chip Cookies made with Lentil Flour
Day Three: Vegetarian's Shepherd's Pie (vegan version included.)
Day Four: Beer and Parmesan Bread
Throughout the week you had the chance to see baked goods, appetizers, and a main course made with lentils. I always like a good, hearty meal, so I revisited the main course section and created a lentil lasagna in a roasted portobello cream sauce. I have had great success with this mushroom sauce, and thought it would pair perfectly in a vegetarian lasagna.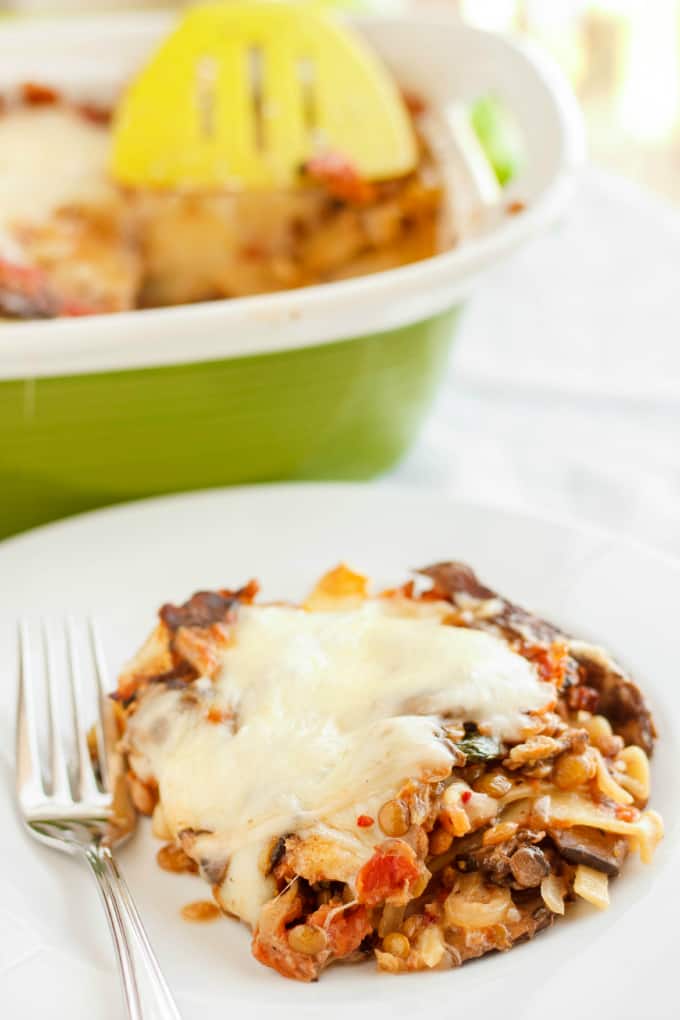 All the flavors pulled together perfectly! I was concerned that the sauce might be too liquidity at first, but it all worked out in the end when I added the lentils. Just think of lentils as the meat of the dish, but without actual meat! I have been using lentils in my vegetarian cooking for years, and I could not live without them. Seriously, any recipe that contains ground beef, I recreate the meal using lentils. Obviously some adjustments are needed, but for the most part it is super easy. I highly recommend giving lentils a try because not only are the healthy, but they are packed full of nutrients! And cheap! Can't forget that!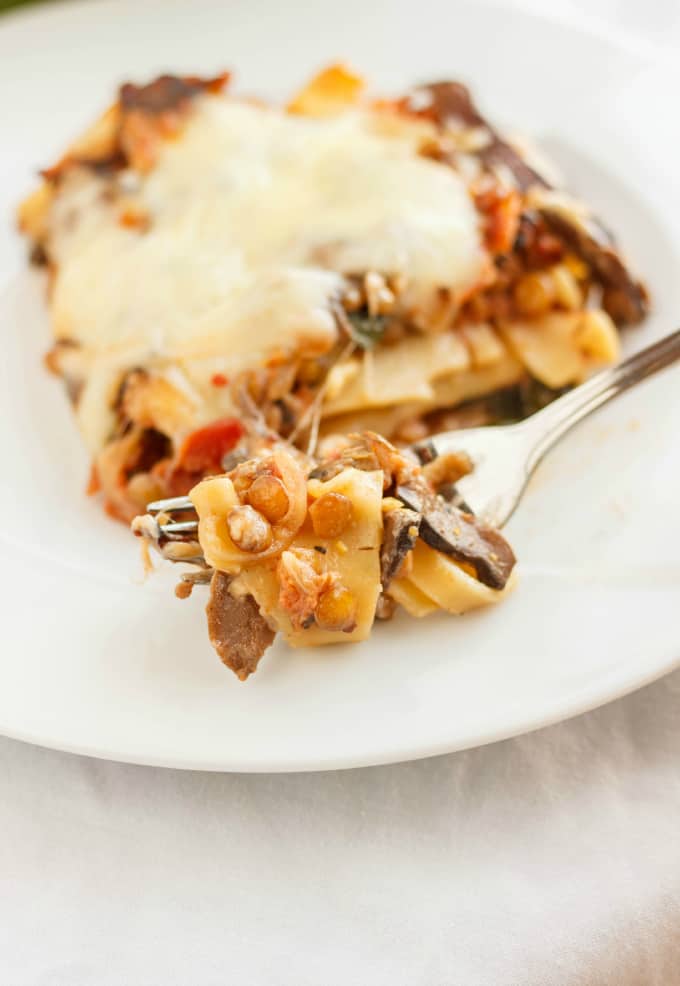 Throughout lentil week I feel I provided some interesting (and delicious) recipes. However, I did not really explain much about lentils. I will be quick, but hopefully thorough. I explained in another post that lentils come in many colors: from green, to black, to yellow, and brown. I have never indulged in black lentils, but I have read they take the longest to cook. There are also whole or split lentils. My green lentils (that always look brown but I assure you that they are labelled green) are always bought whole, while my red lentils tend to be bought split. This means the red ones are going to cook much faster. Another lesson I have learned between red and green lentils from my own experience: green lentils hold their shape much better. I once made my vegetarian meat loaf with red lentils instead of green and the red turned to mush so quick.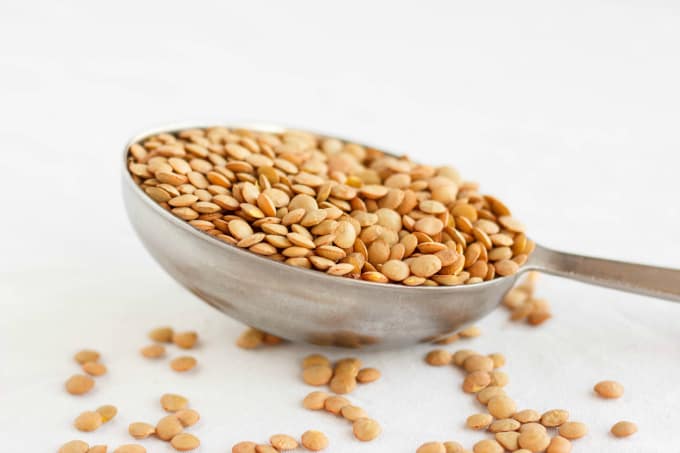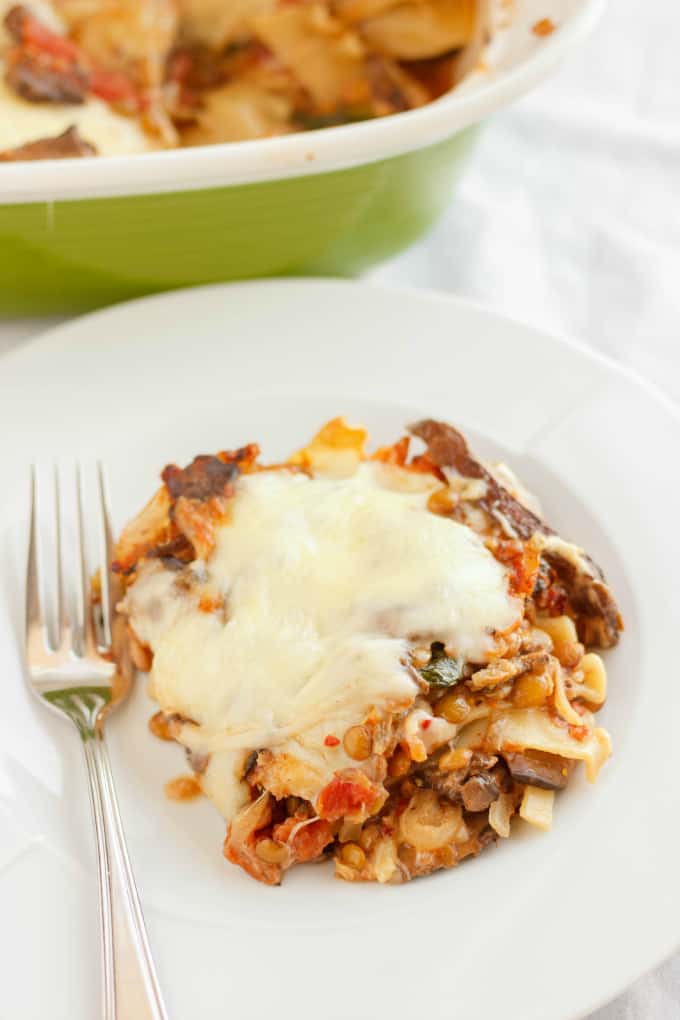 And when it comes to health and nutrition? Lentils are packed full of protein! Any time someone mentions they are going to try a vegetarian diet or are vegetarian and looking for ways to include protein in their diet, I suggest lentils. They are just so versatile and tasty, and a bit more fun in texture over beans. And I won't lie, I popped into Wikipedia and found that Canada is the number one lentil producing country! Woohoo!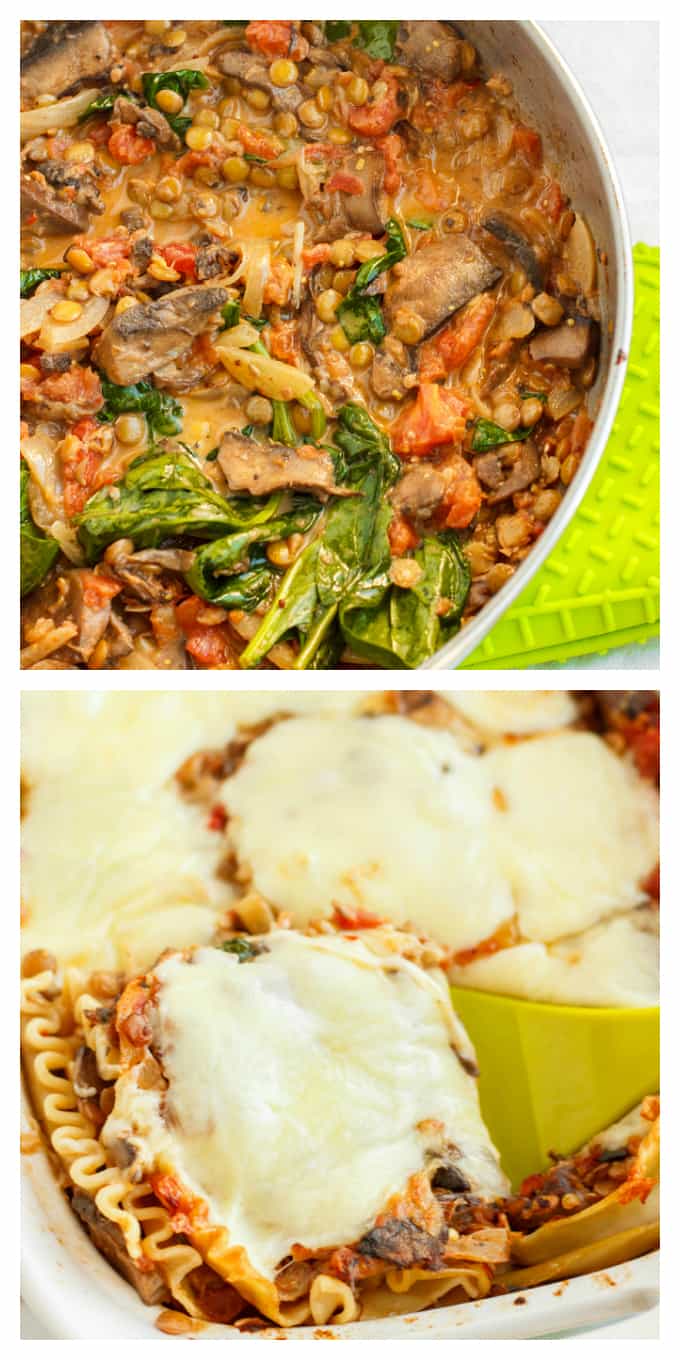 This lentil lasagna does have some steps to it. It seems long and tedious, but I assure you it is not. You can cook the lentils in advance, and prepare your pasta noodles before you begin the meal or buy those oven-ready noodles (never been a fan though, my parents always would boil their lasagna noodles until just al dente or a bit less.) I have made this sauce so many times now that I don't even measure anything. I think that is a common method with food bloggers!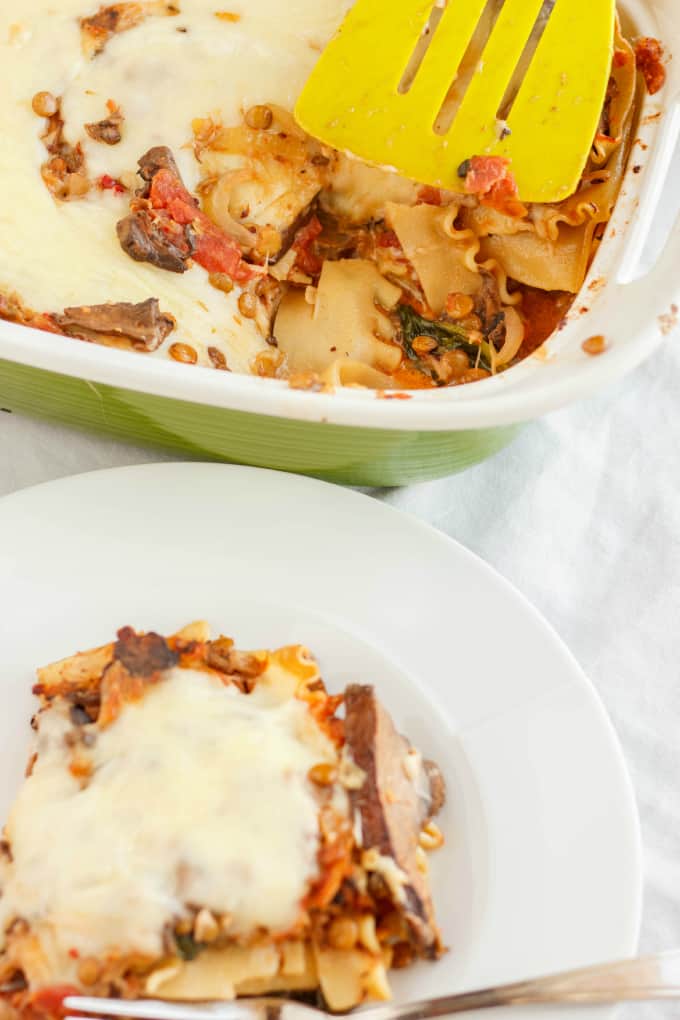 📖 Recipe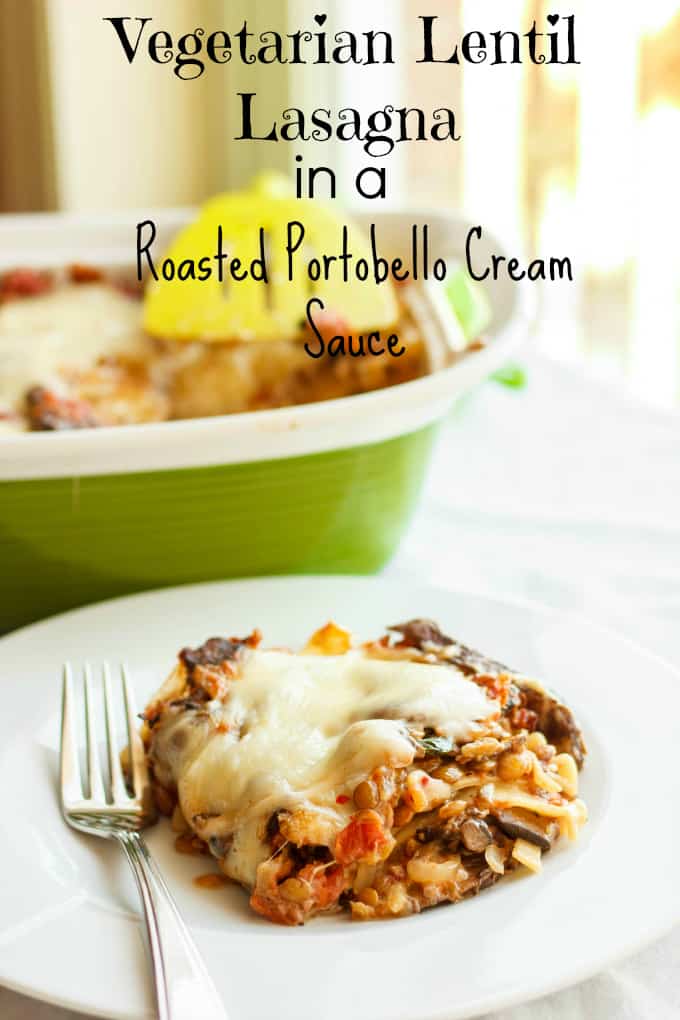 Lentil Lasagna in a Roasted Portobello Cream Sauce
Total Time:
1 hour
30 minutes
Replacing ground beef in meals is super easy if you use lentils. This lentil lasagna is vegetarian and can be made gluten-free if you use the appropriate pasta.
Ingredients
¾ cup dry green lentils
2 cups water
16 oz portobello mushrooms, gills removed and sliced (about 5 large mushrooms.)
3 tbsp. olive oil
3 tbsp. balsamic vinegar
4 garlic cloves, minced
½ tsp. ground thyme
Salt and pepper
¼ tsp. red chili flakes
⅔ cup vegetable broth
⅓ cup heavy whipping cream
⅓ cup white wine
½ tbsp. coarse mustard
8 oz fresh spinach
1 large onion, sliced
1 (28 oz) can diced tomatoes, drained
½ lb (12) lasagna pasta noodles
1 cup cheese of your choosing (I used a jalapeno cheese.)
9 slices of fresh mozzarella
Instructions
Place lentils, water, and some salt into a small saucepan over high heat. Bring to a boil, reduce heat, and simmer, uncovered, for 20-25 minutes. I prefer some stability to my lentils, so I tend not to overcook them. Drain excess water and set aside.
Preheat oven to 425F. Line a baking sheet with parchment paper or silicone mat.
In a large mixing bowl, combine the mushrooms, olive oil, vinegar, garlic, thyme, salt, and pepper. Mix well. Place onto baking sheet and cook for 10-15 minutes, or until nicely roasted. Set aside.
Fill a large pot with salted water and bring to a boil. Add in your lasagna noodles and cook until al dente, about 8-10 minutes. They will finish cooking in the oven!
Place a large frying pan over medium heat. Add some olive oil and add the onions with the chili flakes. Cook for 5 minutes, or until beginning to soften. Stir in the mushrooms and tomatoes and cook for another minute. Pour in the white wine and cook until the wine has evaporated. Stir in the vegetable broth and mustard. Cook for a couple of minutes and add the cream and lentils. Once the cream has heated up nicely, stir in the spinach and cook until just wilted. Remove from heat.
Assembly:
Preheat oven to 350F.
Spoon some sauce onto the bottom of a 9x13 inch pan. Place 3-4 lasagna noodles onto the sauce, cutting the noodles if necessary. Add more sauce and top with ⅓rd of the jalapeno cheese. Place more noodles, followed by sauce, and top with more jalapeno cheese. With the last layer, make sure to put a lot of sauce on top of the noodles so there is no pasta showing (those will get hard in the oven otherwise.) Top with remaining jalapeno cheese.
Place into oven and bake, covered, for about 30 minutes. Remove lid, place on the mozzarella cheese, and bake until cheese is melted and slightly golden.
Allow to cool slightly before cooling.
Nutrition Information:
Yield:

6
Serving Size:

1
Amount Per Serving:
Calories:

404
Total Fat:

27g
Saturated Fat:

12g
Trans Fat:

0g
Unsaturated Fat:

12g
Cholesterol:

62mg
Sodium:

573mg
Carbohydrates:

21g
Fiber:

6g
Sugar:

7g
Protein:

20g
Another theme week. If you are interested, feel free to check out rhubarb week, pumpkin week, and chocolate chip cookie week!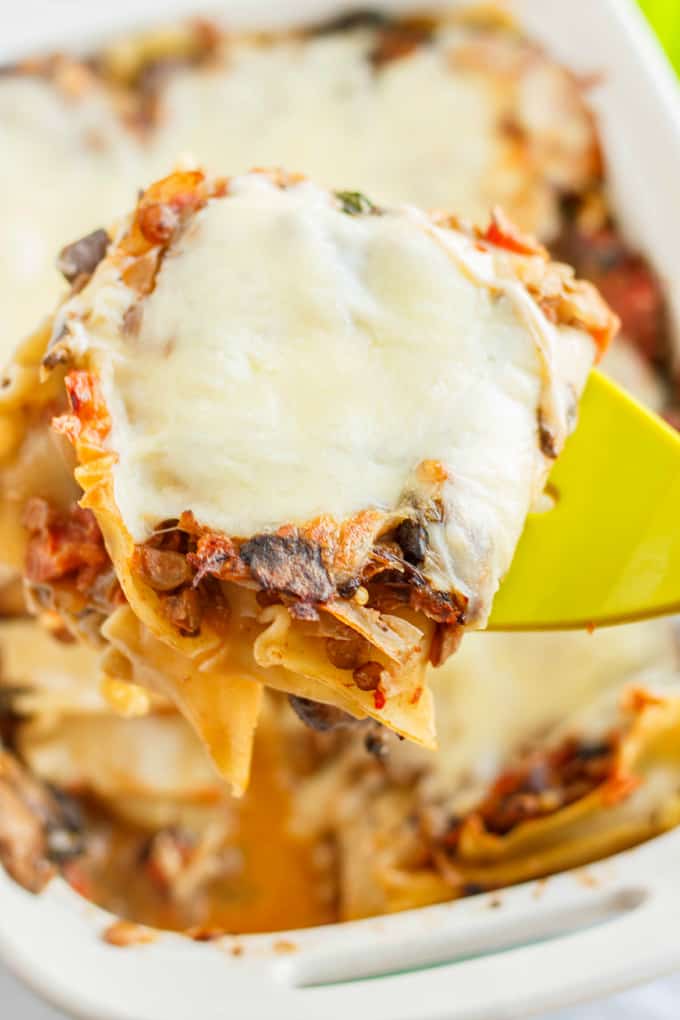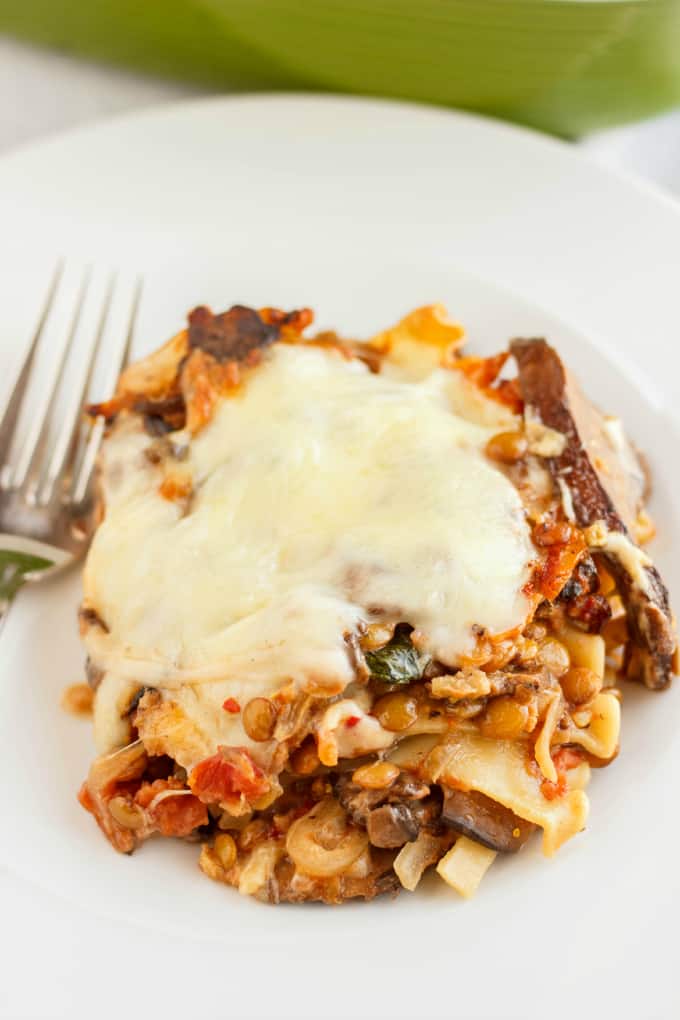 I am happy to finish my lentil week off with this delicious lentil lasagna. All the recipes featured this week were something new and exciting for me. I have actually worked with lentils a lot, and if you are interested, please check out some of my other creations!
PS. I just realized this recipe contained no beer! Three of my five recipes this week contained beer...