Looking for an easy bread recipe that requires no yeast? Try this awesome cheese and dill beer bread that can be made with your favourite beer (but Guinness has been my favourite by far!)
The recipe and photos for this cheese and dill beer bread has been updated as of March 25th, 2016!
Ever since I learned how wonderful fresh dill is in recipes, I have taken on the task of finding more meals that include dill.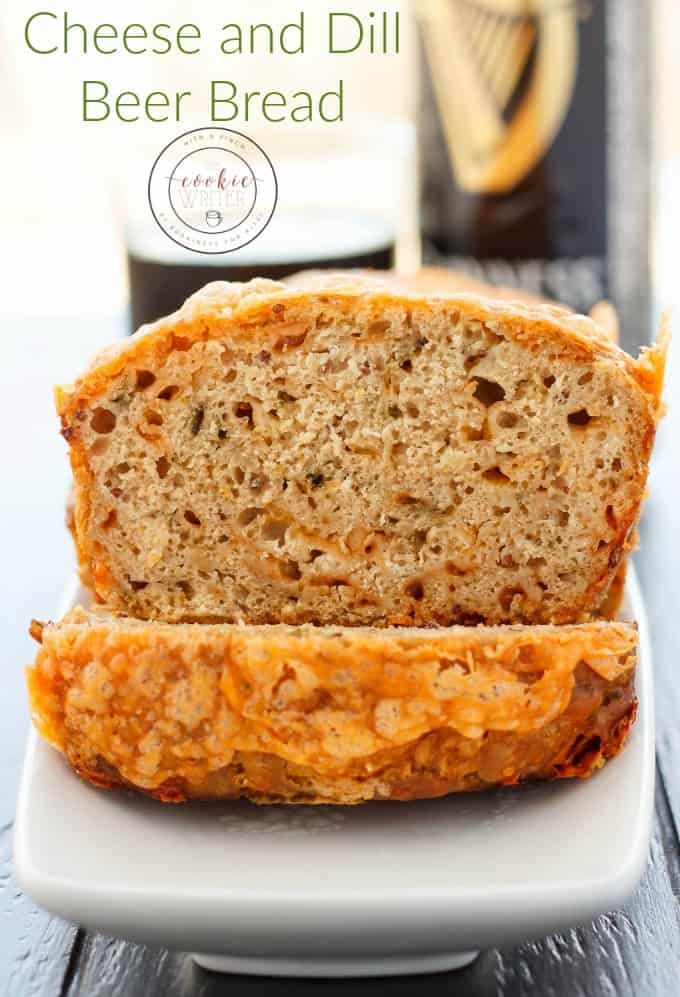 When I did a search on Pinterest, I was not disappointed! But one recipe stood out from the others, and I am so glad to have found it. I thought the recipe would be perfect for Dan, but at the same time I was intrigued myself. In the end, we both loved this cheese and dill beer bread, and I especially was impressed at how easy it was to make!
No bread maker needed here, and no fancy yeast either. Beer is full of yeast so it acts as our yeast "replacement." (Sometimes I get a little excited here! While yeast is important in beer making, by the time it is bottled, there is no active yeast left at all! Which totally makes sense as Dan makes his own mead and kills off the yeast.) I tend to always have yeast on hand, but I know it is not in everyone's pantry (and trust me, I often forget to stock up at the grocery store!)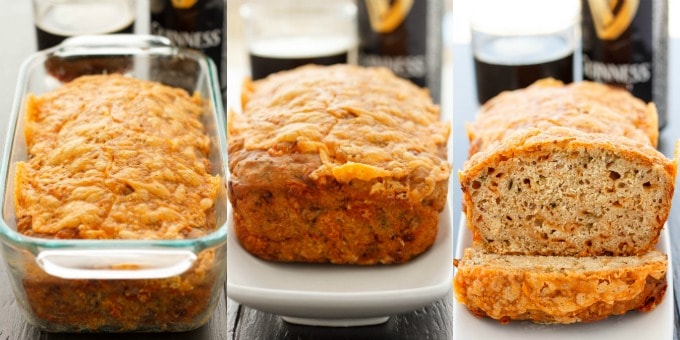 This is a no-fuss, easy bread recipe that is easily adaptable. I can even see it being a great vegan recipe by omitting the cheese and replacing it with more veggies. And of course, for the non-vegetarians, there is always the option of adding some bacon, or even bacon and jalapeno. However, the recipe as is is fantastic, and even if you have never baked bread before, this recipe should be a breeze. My loaf pan was preoccupied so I had to use a smaller pan. Even then, the recipe still turned out. The only noticeable difference is the fact that my bread is longer rather than fuller. So don't be too concerned about the pan, but if you are using a different size, keep an eye out on your bake time. UPDATE: I used a regular bread loaf pan and this recipe still turned out perfectly!!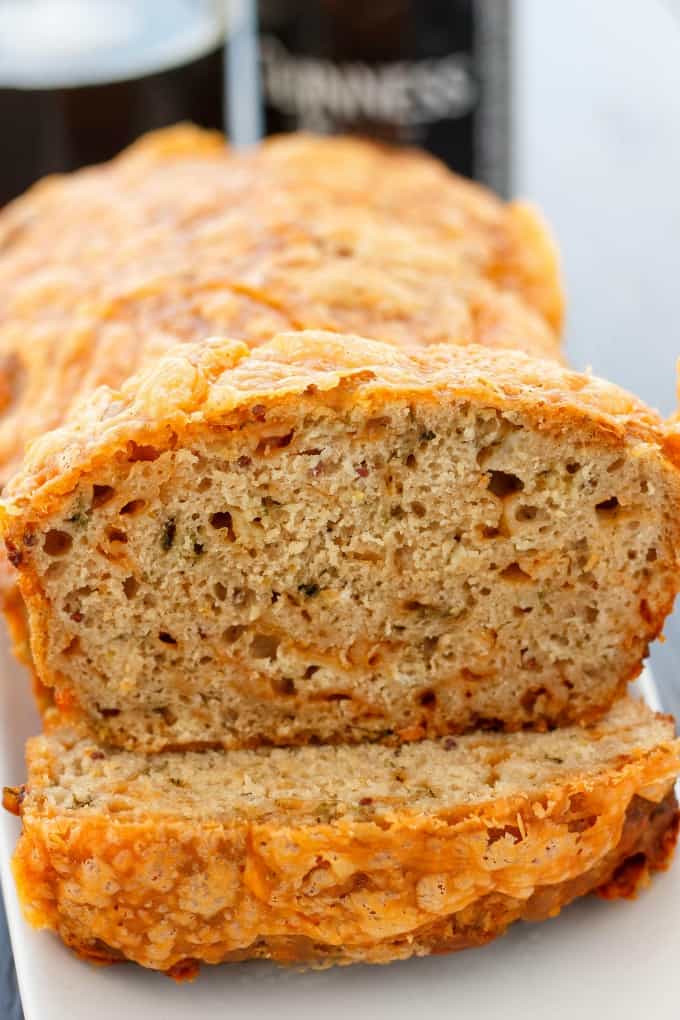 Cheese and Dill Beer Bread
---
Kacey
Yields 1
This cheese and dill beer bread is so easy to make, and so easily customized!
20 minPrep Time
40 minCook Time
1 hrTotal Time
Ingredients
2 cups all-purpose flour
2 tbsp. granulated sugar
2 tsp. baking powder
1/2 tsp. salt
1 1/4 cups beer of your choosing (at room temperature.)
3/4 cup cheddar cheese, grated + more for topping if desired
1 bunch (about 1/4 cup) fresh dill, chopped finely
1 small onion, diced
1 tsp. olive oil
1 tbsp. coarse whole grain mustard
Instructions
In a frying pan over medium-high heat, add in 1 tsp. olive oil. Add the onion and cook until slightly golden, about 5 minutes, stirring frequently. Remove from heat and set aside.
Grease a loaf pan with butter (9x5x3 preferred, but I used a smaller dish with no problems.)

Bread

Sift together the flour, sugar, baking powder, and salt. Pour in the beer, cheese, onions, mustard, and dill. Mix until combined, all the while trying not to over-mix. Pour into greased pan and allow to sit for 30 minutes in a warm location. The dough won't really rise, but it gives it time to rest.
Preheat oven to 375F. Place into oven and bake for 35-40 minutes. You could add extra cheese on top of bread in the last 10 minutes of cooking if desired!
Allow to cool before slicing (I could not wait, but the bread will hold together better if you resist temptation!)
7.8.1.2
167
https://thecookiewriter.com/cheese-dill-beer-bread/
(Adapted from
an edible mosaic
)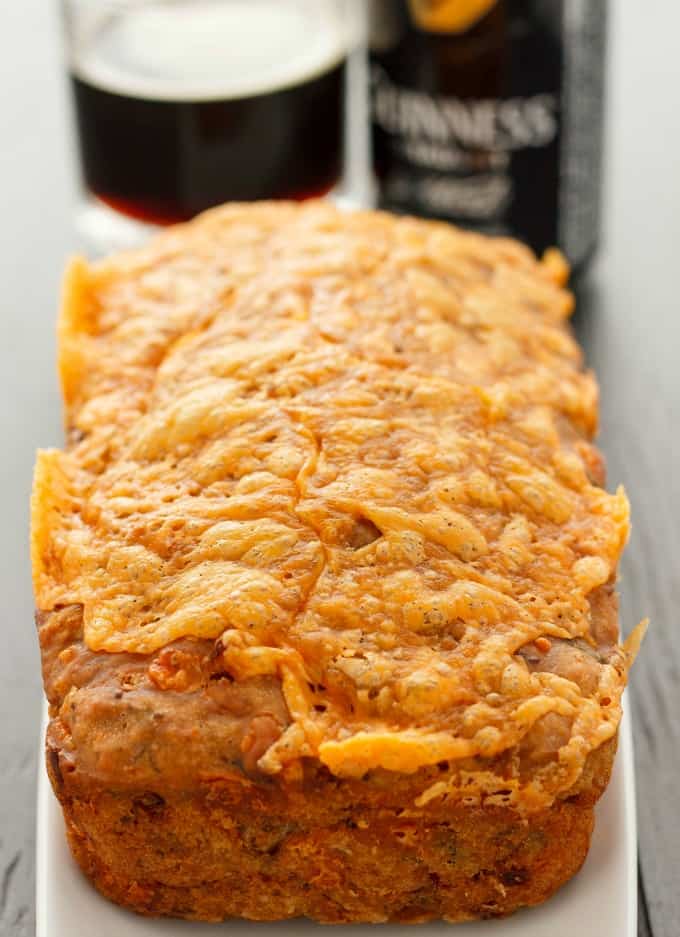 I have been hoarding the last bottle of beer in the house to make another batch of this cheese and dill beer bread! It lasted maybe one day, and even then I had to hold myself back from finishing the loaf. Now, you can taste the beer in the loaf, so be sure to use a beer you like. Funny thing is, I don't like beer, but in this recipe it won me over. Since I can't tell the difference in beer quality, I used whatever we had in the house. UPDATE: I absolutely LOVED Guinness in this beer! As someone who does not care for beer, there was something about using Guinness here that made it special… You can also use non-alcoholic beer according to the original poster's comments but I have not tried that myself.
And lastly, make sure to have some delicious homemade soup ready so you can dip this awesome bread into it! I paired my bread with homemade cream of broccoli soup and I was floored! Amazing pairing, and it helped to keep me full until dinner. My previous broccoli soup recipe has since been deleted, but I will be posting my updated version sometime next week so keep an eye out. New cream of broccoli soup recipe is now up!
Love this cheese and dill beer bread?! Try some of these recipes: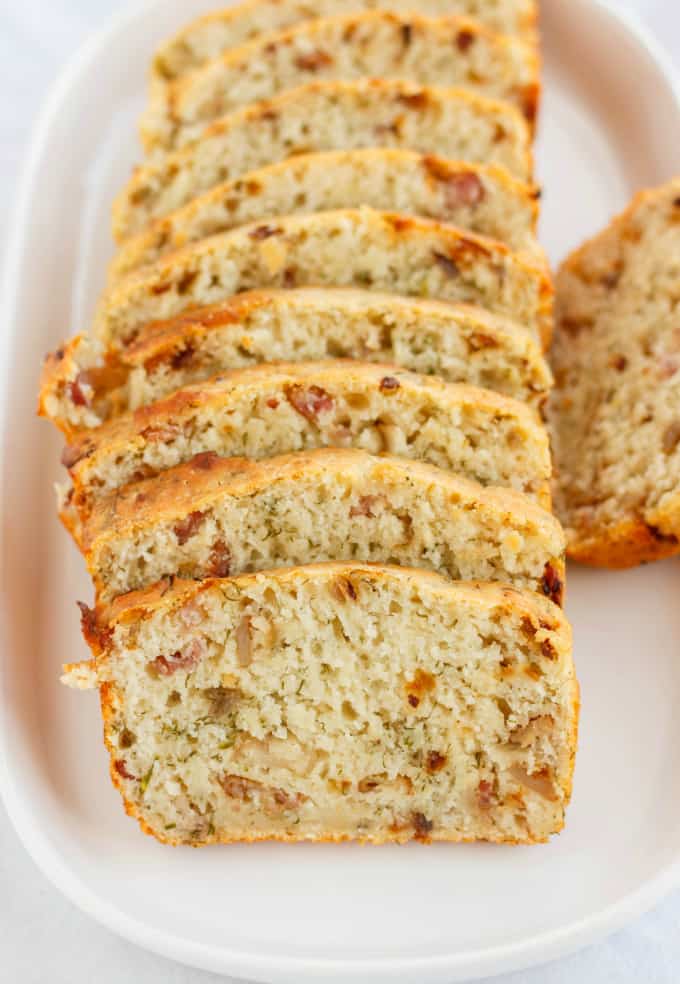 Beer, Bacon, and Parmesan Bread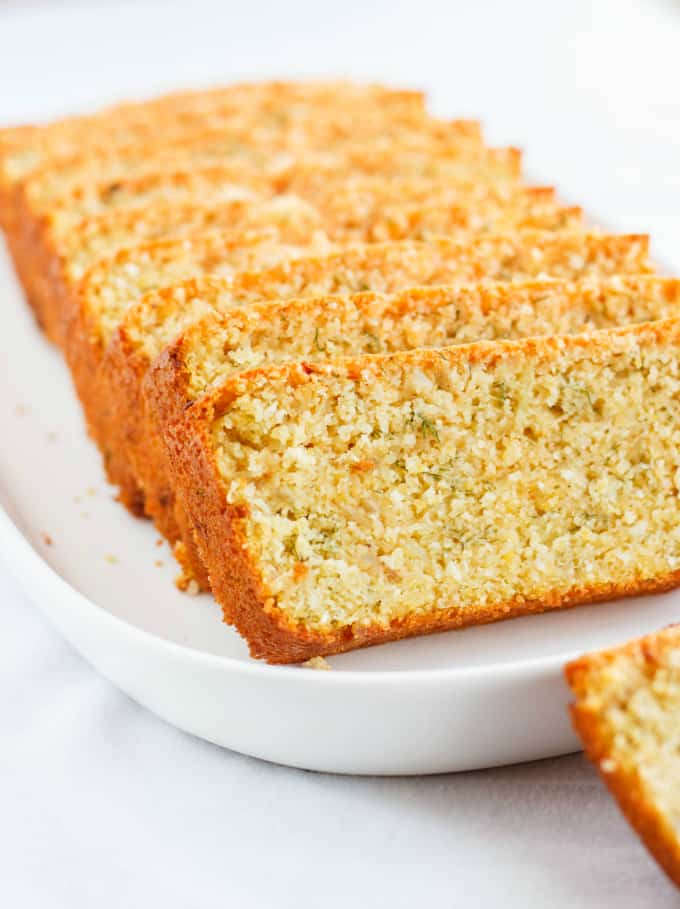 Beer and Parmesan Bread made with Lentil Flour (definitely an acquired taste!)