A blend of roasted cauliflower, garlic, and tomatoes makes this cauliflower and quinoa mac and cheese perfect for a weeknight meal!
One of the most fun (and difficult!) parts about creating recipes is how you name them.
The title is so important because it not only describes the dish, but it is probably the keyword that someone will type into their search engine. Looking for roasted potatoes? If your title is "potato medley," chances are that person will not find your recipe, even if it does include roasted potatoes. Over my time of blogging, I have come to realize how important SEO is and how much my blog relies on it (or any blog for that matter.) But I won't bore you with all that technical talk. What I will talk about is today's creation!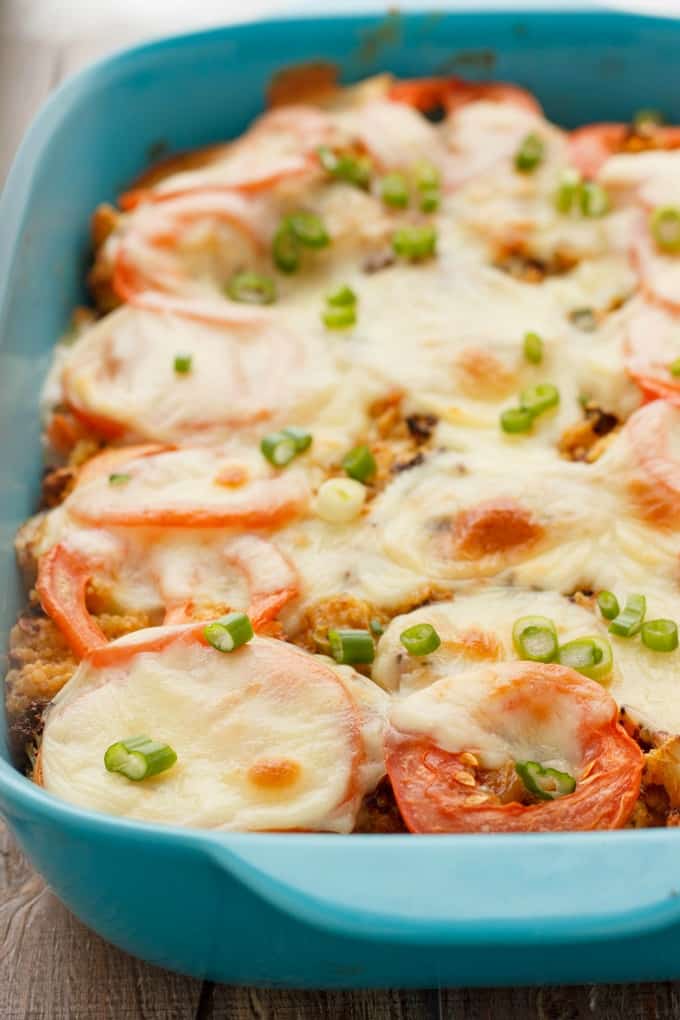 Cauliflower casserole, or in other words, cauliflower and quinoa mac and cheese. I honestly do not know what to classify this dish under! Now you can understand my ramble from above. I mean, here in Canada and the US, casseroles are basically a combination of a protein, sauce, and a starch, cooked altogether in a baking dish. Sometimes cheese is added, and sometimes it is skipped. But as I was doing my research, it seems as though the UK has a completely different approach to casseroles, and theirs is more of a stew than what us Canadians are use to. So, to make everyone happy, I think I am going to call this cauliflower and quinoa mac and cheese!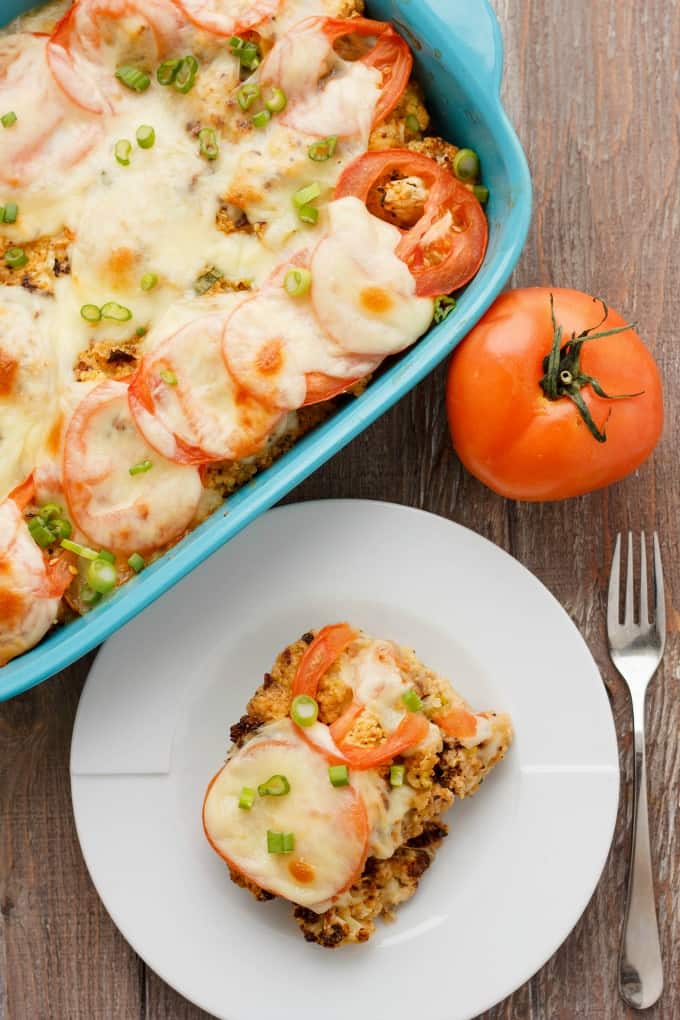 Don't ask me how I came about it. I cooked my cauliflower by my typical method by roasting it (except making sure to double the recipe.) Mr. TCW loves it that way but I feel we definitely do not get enough from it to justify it as a meal. So, I started adding elements. First a cheese sauce to make a casserole. And then I spotted the quinoa in my pantry and knew I had to add it to the dish. And that my friends is how cauliflower and quinoa mac and cheese was born!
📖 Recipe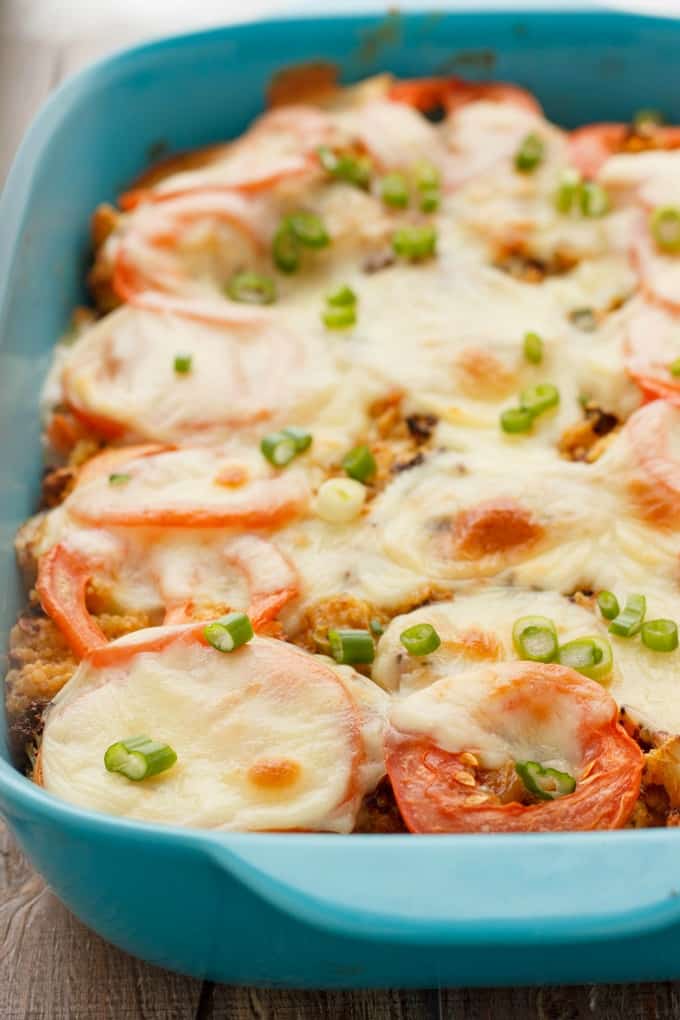 Cauliflower Casserole (or Cauliflower Mac and Cheese!)
Total Time:
1 hour
20 minutes
A gluten-free spin on the classic macaroni and cheese dish. This Cauliflower and Quinoa Mac and Cheese is hearty, tasty, and filled with delicious quinoa!
Ingredients
2 heads of cauliflower roasted in the oven (see post for recipe link.)
1 cup cheddar cheese, grated
1 (240 g) ball mozzarella cheese, sliced
½ cup cream cheese
⅔ cup heavy whipping cream OR milk (I have used both!)
1 tsp. dried oregano
1 tsp. dried basil
¼ tsp. cayenne pepper
½ cup uncooked quinoa
1 cup water
Salt and pepper
2 large tomatoes, sliced and de-seeded
2 green onion, sliced
Instructions
Add the quinoa and water to a small pot. Bring to a boil, cover, and simmer for about 10-15 minutes. Set aside.
Preheat oven to 350F.
In a small saucepan, mix together the cream, cheddar cheese, cream cheese, oregano, basil, cayenne, salt, and pepper. Heat on stove over medium heat until the mixture comes together. Reduce to a simmer and allow to cook for 5 minutes, thickening slightly.
In a large mixing bowl, mix together the cauliflower, quinoa, and the sauce. Pour into a greased 9x13 baking dish. Top with tomato slices.
Bake for 10 minutes. Remove and add the mozzarella cheese. Place back into the oven for another 20 minutes.
Top with green onion and enjoy!
Nutrition Information:
Yield:

4
Serving Size:

1
Amount Per Serving:
Calories:

566
Total Fat:

39g
Saturated Fat:

22g
Trans Fat:

1g
Unsaturated Fat:

13g
Cholesterol:

113mg
Sodium:

485mg
Carbohydrates:

36g
Fiber:

10g
Sugar:

14g
Protein:

22g
(Here is the recipe to my
oven roasted cauliflower with garlic
. Make sure to double it for this mac and cheese.)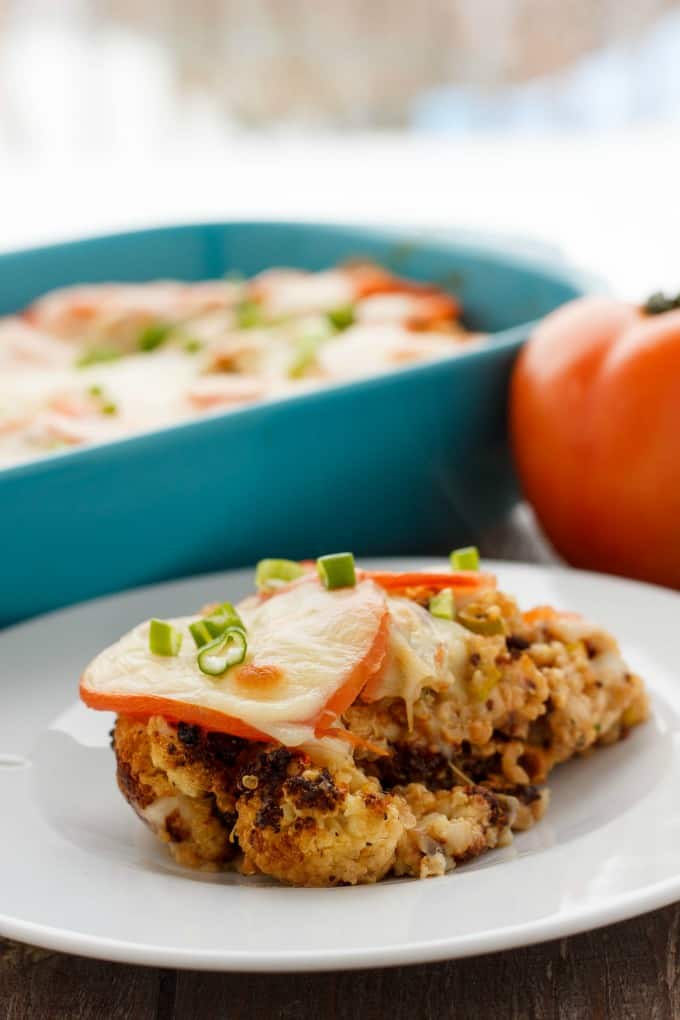 Rich, hearty, and absolutely filling! It was so creamy, and the taste was so delicious that I wanted seconds, but my stomach was way too full to indulge in more. I was a little impatient in letting the dish cool a bit, so the meal does look a bit sloppy in the pictures. We can fix that by calling it sloppy cauliflower mac and cheese! But seriously, don't let it detour you from trying this amazing recipe! What more, it is completely gluten-free and you won't even miss the pasta in this meal.
I have seen some cool mac and cheeses using eggplant to create the "cheese" sauce for vegan creations, but I have yet to try it. Ordering nutritional yeast is next on my list of crazy cooking adventures!
Love this cauliflower and quinoa mac and cheese?! Try some of these recipes: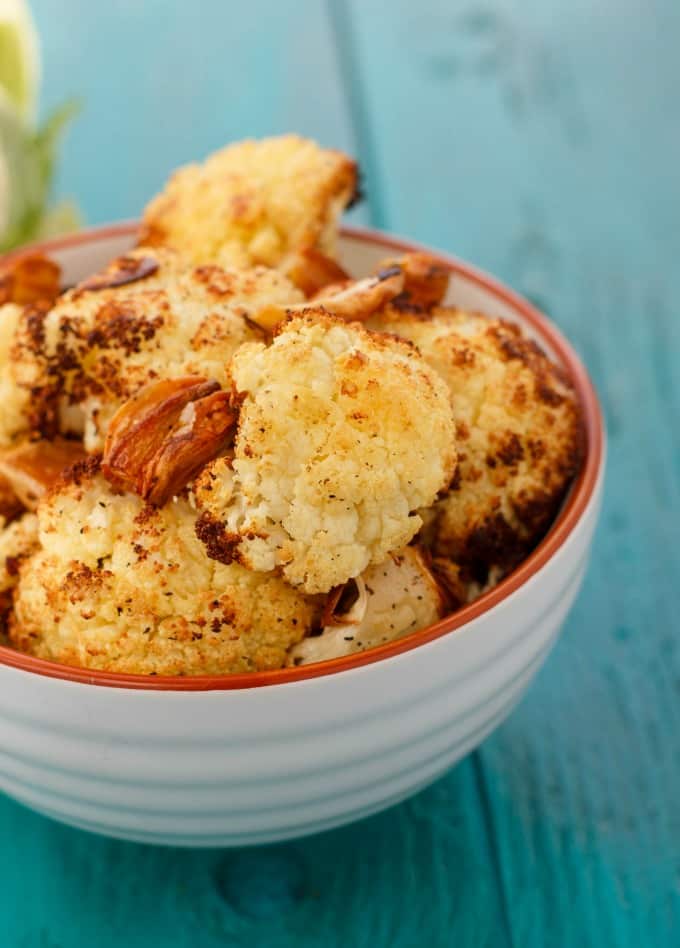 Oven Roasted Cauliflower with Garlic