I always saying roasting a vegetable transforms it into something amazing! So give this oven roasted cauliflower with garlic a try: it is the only method I use when it comes to soup now 🙂
Chocolate chip cookie week was a great success! I think some were really freaked out by the avocado chocolate chip cookies, along with the sweet potato chocolate chip cookies. However, the two are becoming some of my most popular recipes, so I am glad I have enticed some people to look twice.
After all those sweet treats, I thought it would be fitting to post some non-dessert recipes. Today's recipe I have made in the past, and looking back, I cringe at my photos. But that is the journey of food blogging. Sometimes you look back to see ho w far you have come. And I will say, my photos have definitely improved! I find sometimes I like to really spruce up a picture with props, but more times than not I prefer a simple photo that focuses on just the dish. This can be seen in today's oven roasted cauliflower with garlic.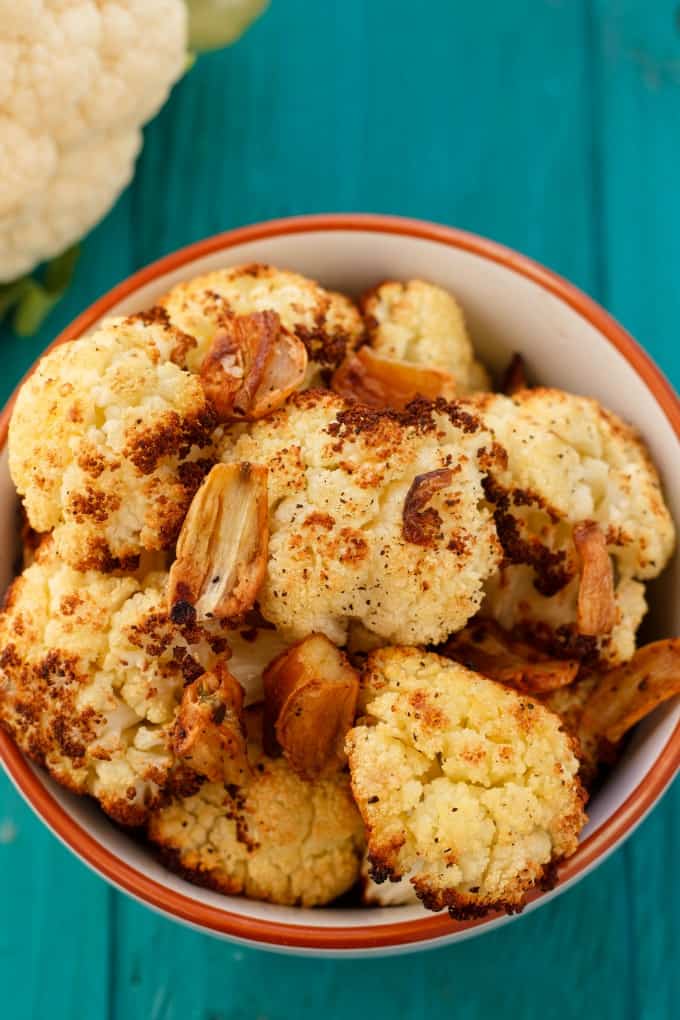 I usually put in all 16 cloves of garlic as the original recipe calls for, but for once I actually ran out of garlic! Even with just 6 garlic cloves, the cauliflower turned out super flavorful. My husband likes all the additional garlic because it roasts to a sweet taste and pairs well with the cauliflower. So basically, it is up to you on how much garlic you want to add to this dish.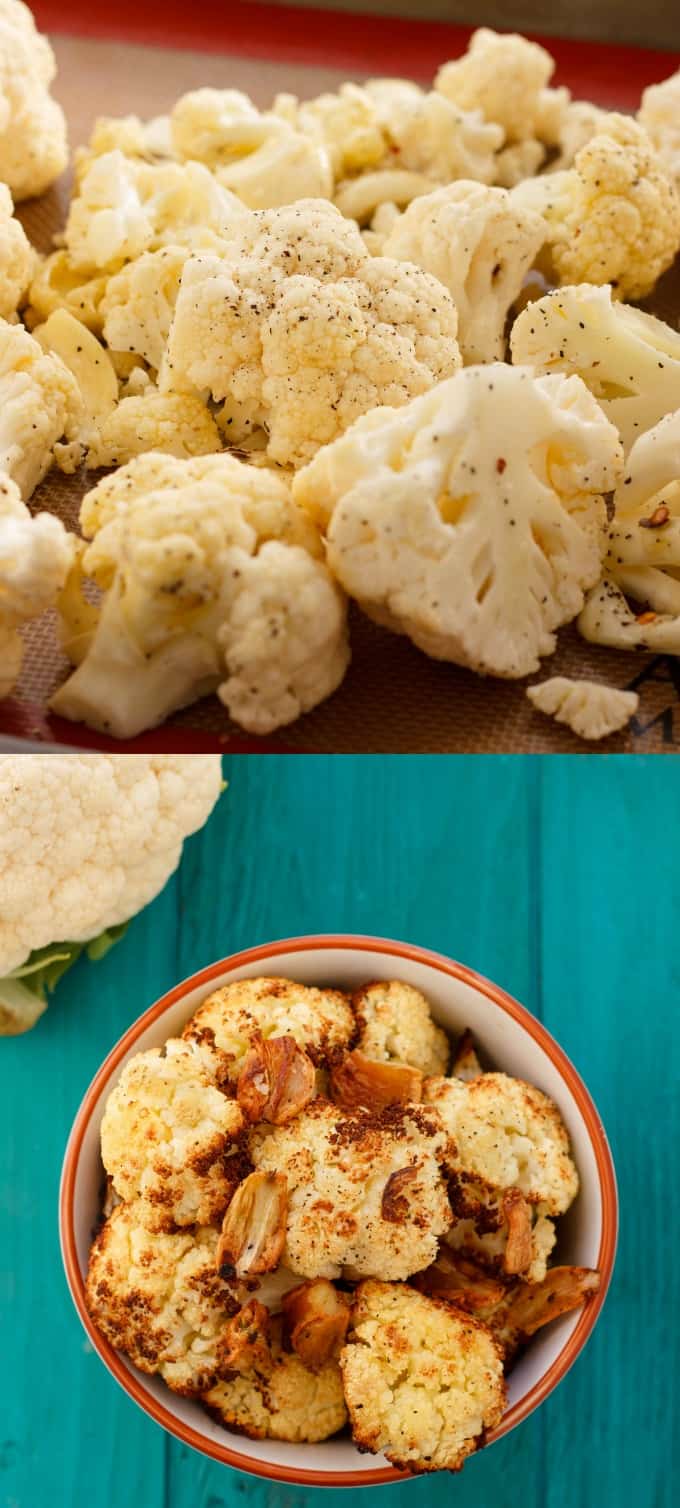 📖 Recipe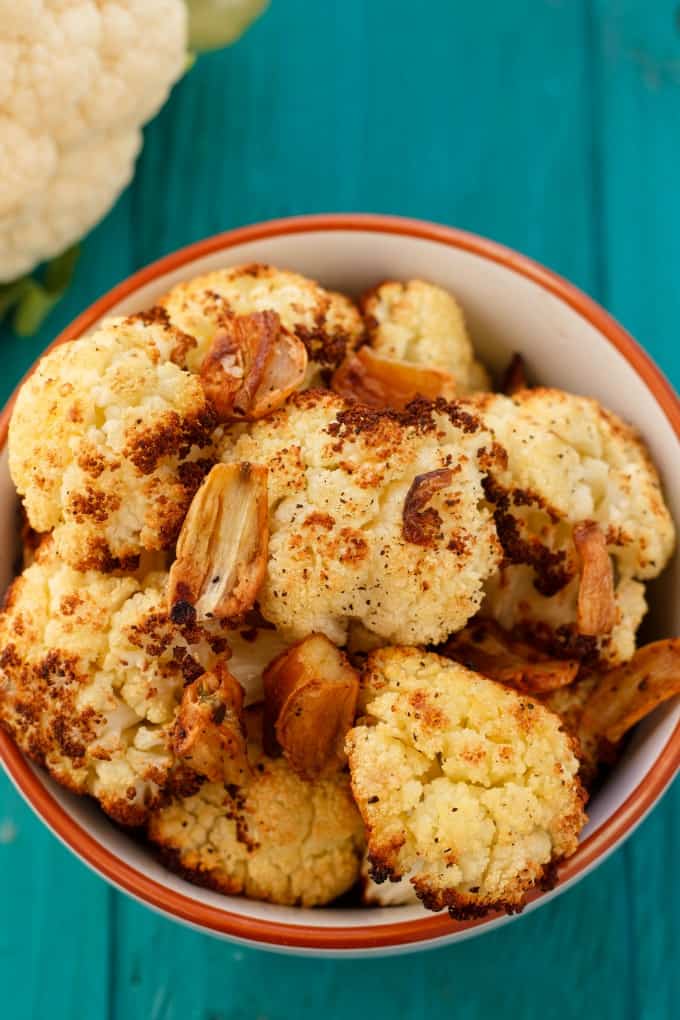 Oven Roasted Cauliflower with Garlic
An easy side dish to pair with your awesome main course, this oven roasted cauliflower with garlic is easy and satisfying. No pieces will be left behind!
Ingredients
1 large head of cauliflower, washed and cut into florets.
6 large garlic cloves, skin removed and smashed with a knife (place the knife sideways so you use the long blade.)
¼ tsp. salt
¼ tsp/ black pepper
¼ tsp. red chili flakes
¼ tsp. dried thyme leaves
2-3 tbsp. olive oil (depending on the size of your cauliflower, you may need more!
Instructions
Preheat oven to 425F. Line baking sheet with parchment paper or silicone mat.
If you find the cauliflower florets are too big, cut them a bit smaller, but not too small. Add the cauliflower and garlic to a large mixing bowl. Pour in enough olive oil so the cauliflower is evenly coated (start with about ⅛th cup and add more if necessary. Sprinkle with salt, pepper, thyme, and chili flakes: mix again.
Toss onto baking sheet and spread out so the cauliflower is not overlapping. Place into the oven and bake for 15 minutes. Stir, and continue cooking for another 10-15 minutes, stirring frequently to prevent burning.
Nutrition Information:
Yield:

4
Serving Size:

1
Amount Per Serving:
Calories:

268
Total Fat:

22g
Saturated Fat:

3g
Trans Fat:

0g
Unsaturated Fat:

18g
Cholesterol:

0mg
Sodium:

200mg
Carbohydrates:

16g
Fiber:

8g
Sugar:

7g
Protein:

7g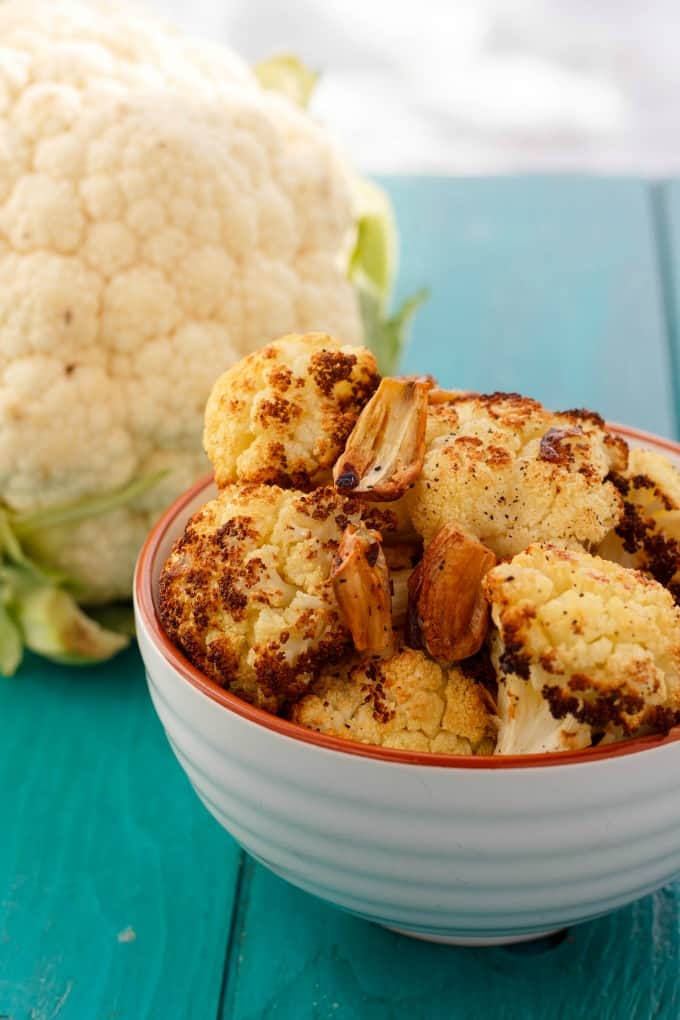 I have yet to find someone who does not like this dish as the cauliflower takes on almost a sweet taste with the garlic. Being so simple, this meal is perfect when you have little to no time to make a side for your main course. We actually make it up on its own and decide to eat it as is. Mr. TCW jokes that he would rather eat this dish over popcorn while watching a movie. It is plausible, but I am not sure how many kids would vouch for that idea.