One of my most popular recipes gets a makeover! This portobello mushroom pasta with cream sauce is so easy to make, but screams gourmet!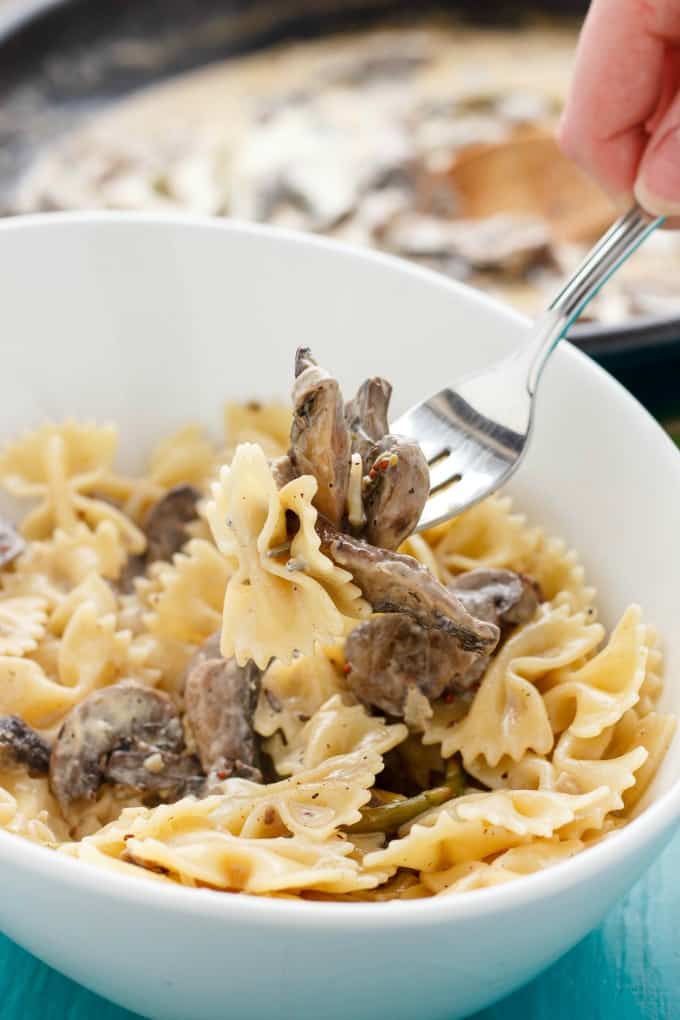 Being a vegetarian, I am always finding new ways to add heartiness to my meals. Many times I will make a recipe and it will be delicious. However, a couple of hours later I am starving again because the recipe didn't provide me with enough (whether it was lacking nutrients or ingredients.) I find myself adding lentils to many of my meals because they are fantastic for you, and they add a fullness to a meal that generally may be lacking. But sometimes lentils are not appropriate for a dish. I was craving pasta and knew I wanted something hearty, so I turned to the remaining portobello mushrooms in the fridge and decided I would create a portobello mushroom pasta with cream sauce. You can never go wrong with a cream sauce! Unless of course you are vegan or lactose intolerant... But I must say, this pasta was so beautiful and tasty, I couldn't help but make it a second time that week!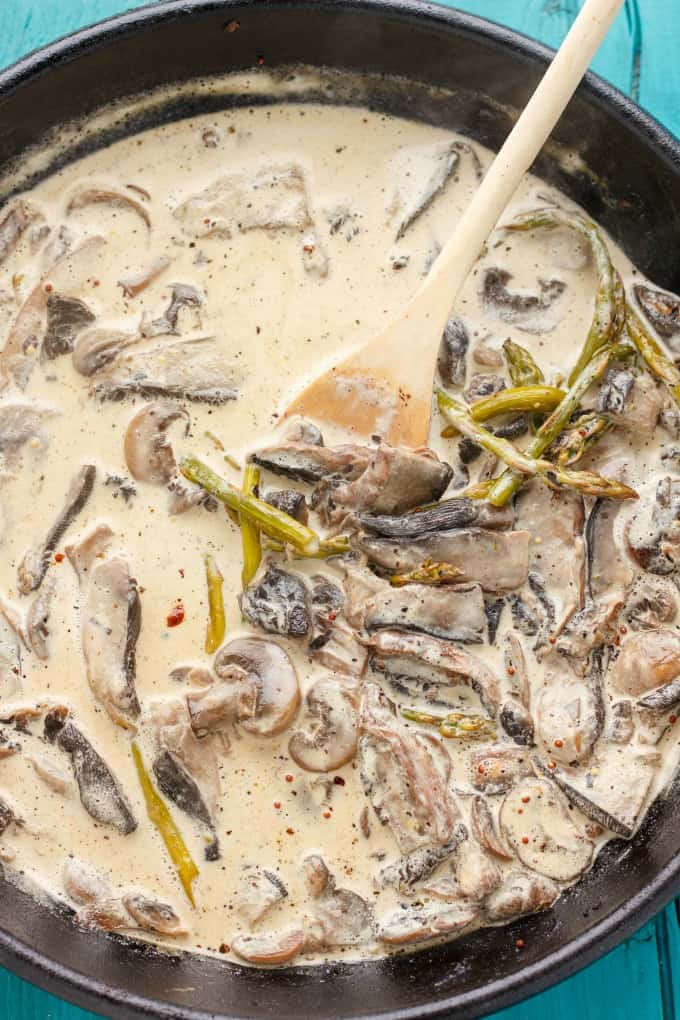 I find rations aren't too important here. Sometimes I use three portobello mushrooms, and sometimes I use two. If you want to get really precise, you can weigh them but I say don't put too much thought into it!! Since I have made this recipe dozens of times, I am always changing it. Personally, some of my more recent cream sauces have less fat to them, but I have to leave this one as is because the whole point of the cream is the richness it adds to the sauce!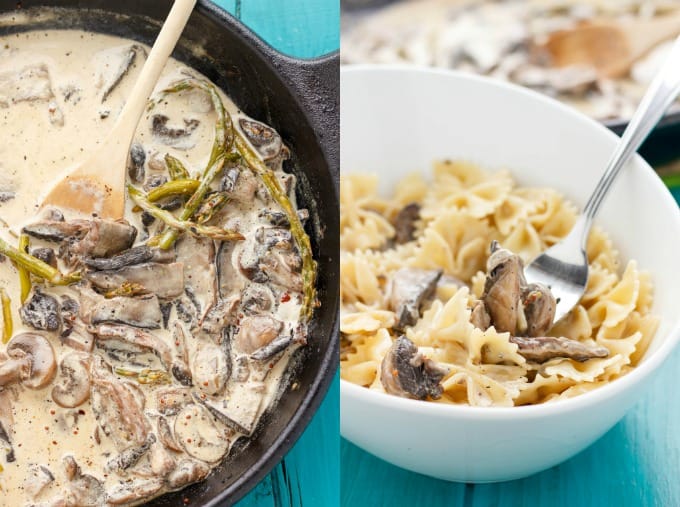 📖 Recipe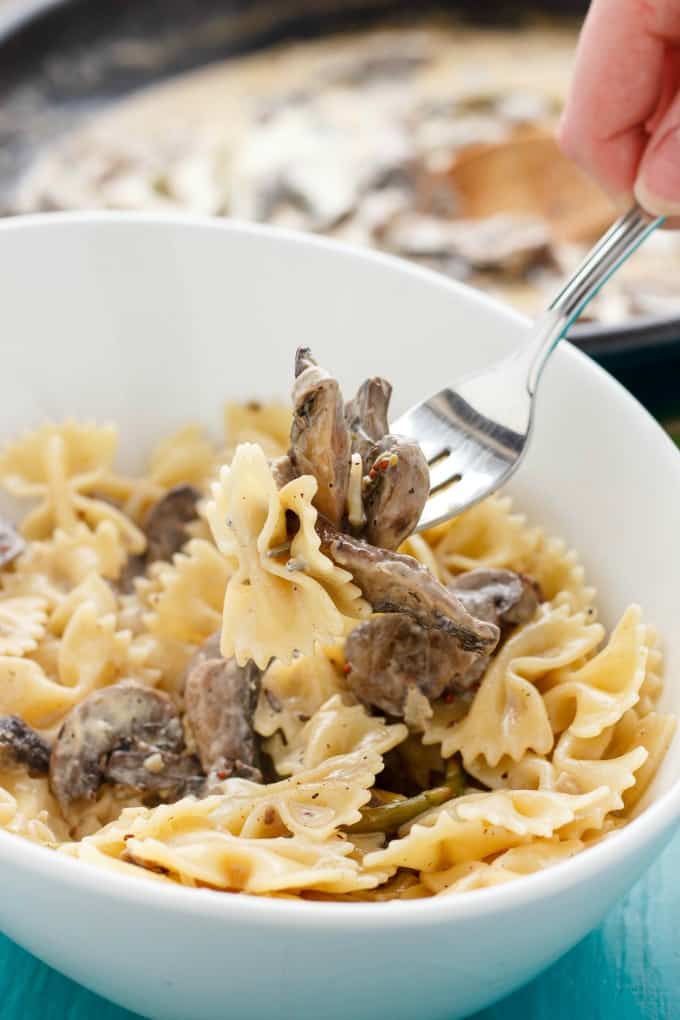 Portobello Mushroom Pasta with Cream Sauce
A hearty vegetarian recipe that can be made with any type of mushroom! Just watch the cooking time!
Ingredients
1 lb pasta of your choosing
3 (½ lb) large portobello mushrooms
8 oz button mushrooms
3 garlic cloves, minced
1 tbsp. olive oil
2 tbsp. balsamic vinegar
Salt and pepper
¼ tsp. red chili flakes
¼ tsp. ground thyme
Sauce
½ cup vegetable broth
1 cup heavy whipping cream
¼ cup white wine (optional)
1 tbsp. coarse whole grain mustard
Instructions
Preheat oven to 425F. Line a baking sheet with parchment paper or silicone liner.
Slice the portobello mushrooms, about ¼ inch thick. Place into a large mixing bowl and pour in olive oil, garlic, balsamic vinegar, thyme, chili flakes, pepper, and salt. Toss until evenly coated. Pour onto the baking sheet and spread out evenly. Bake for 10-15 minutes. Remove from oven and set aside.
Sauce
While the portobello mushrooms are roasting, slice the button mushrooms. Heat a frying pan with 1 tbsp, of olive oil and place over medium-high heat. Add the mushrooms and cook until nicely caramelized (about 8-10 minutes.)
Deglaze the pan with white wine. Stir in the portobello mushrooms and cook for a couple of minutes. Stir in the vegetable broth and mustard and bring to a simmer. Pour in the heavy cream and cook until heated through.
Pour sauce over desired pasta.
Nutrition Information:
Yield:

4
Serving Size:

1
Amount Per Serving:
Calories:

458
Total Fat:

26g
Saturated Fat:

14g
Trans Fat:

1g
Unsaturated Fat:

10g
Cholesterol:

67mg
Sodium:

222mg
Carbohydrates:

43g
Fiber:

4g
Sugar:

6g
Protein:

10g
The addition of fresh basil to the sauce would be a perfect melody to the portobello mushrooms. If you don't have any portobello mushrooms, feel free to use any mushrooms you like, but I find the portobellos add a "meaty" texture to the dish. I usually get creeped out by their meaty quality, but it appears roasting them in the oven with balsamic vinegar transforms them in such a way that I did not gross myself out. Yeah, I am a bit strange sometimes...
And now that I think of it, fresh thyme would be sooooo good here!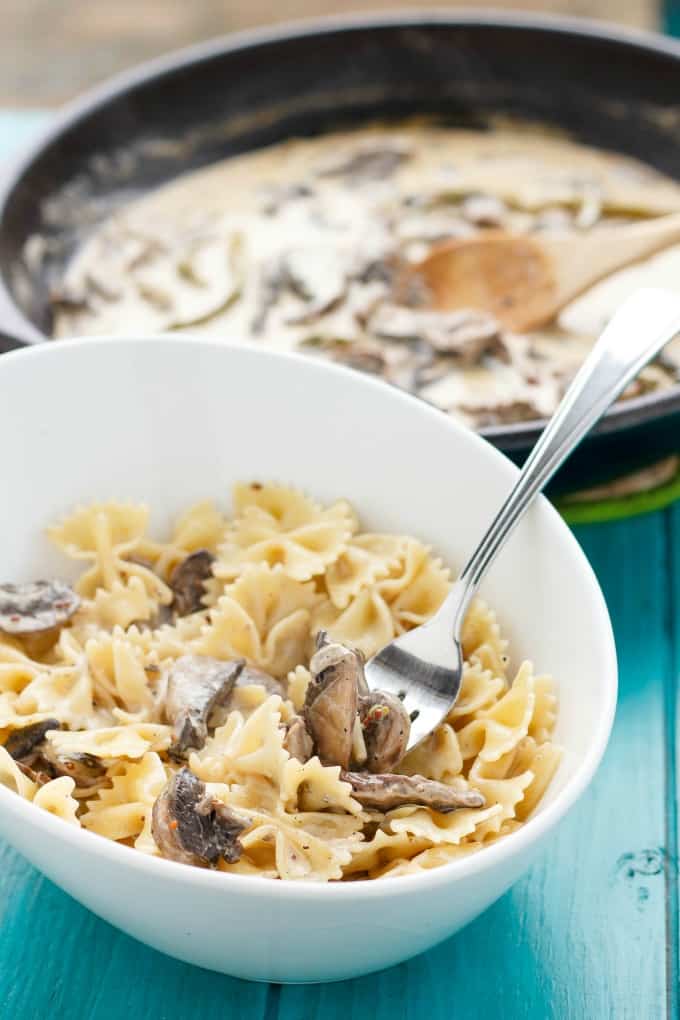 Once again, if you are a person who prefers to use no alcohol while cooking, just deglaze your pan with broth instead. But the wine adds so much flavor!