Some of my favorite meals are vegan! Not flavorful? How about so flavorful that you eat an entire batch of these vegan sloppy joes to yourself without sharing! Thank you to Pulo Cuisine and their awesome Mango Chili Marinade 🙂 #PuloCuisine
This is a sponsored post. I was fortunate enough to receive products and/or monetary compensation from Pulo Cuisine. Though products were received, all opinions are my own and I would not recommend a product that I did not enjoy.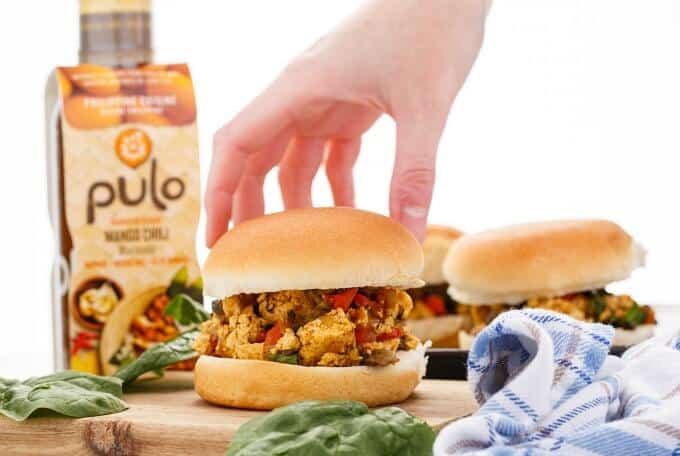 There are so many creative ways to produce recipes that are animal free.
I love using lentils, mushrooms, and beans, but tofu is another popular source. I know tofu isn't for everyone, but my rule of thumb when it comes to tofu is the idea that "it takes on the flavors of whatever it is cooked with." Therefore, if your sauce or ingredients are lacking, so will your tofu.
When I was approached to review a unique array of sauces and marinades from Pulo (Philippine Cuisine), I knew immediately I wanted to work with a vegan recipe because ALL 5 sauces are vegan. I mean, we could take the easy route and work with chicken because let's face it, all 5 flavors would work perfectly with chicken. But that is a little too easy 😉
What are the flavors you ask?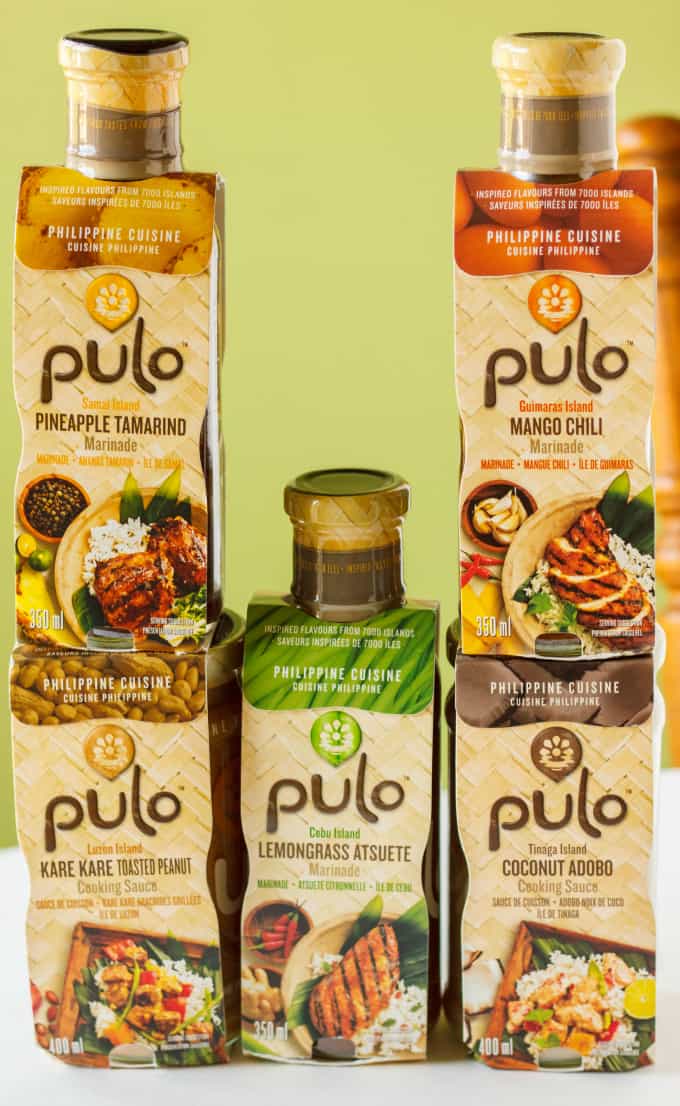 Mango Chili
Pineapple Tamarind
Lemongrass Atsuete
Coconut Adobo
Kare Kare Toasted Peanut (the only gluten-free sauce.)
The first three are marinades, while the last two are cooking sauces. They all sound delicious and it was hard not to open every single bottle when they arrived 😉 However, I thought to myself "whoa, whoa, calm yourself. You don't need 5 open jars in the refrigerator." It was hard to resist, but I went down the list and eliminated them one by one for this particular recipe. I really want to try the coconut adobo, but for vegan sloppy joes, the sauce doesn't sound right. It needs something sweet and tangy, with a bit of kick. I finally decided on the mango chili and I am sooooo happy I did!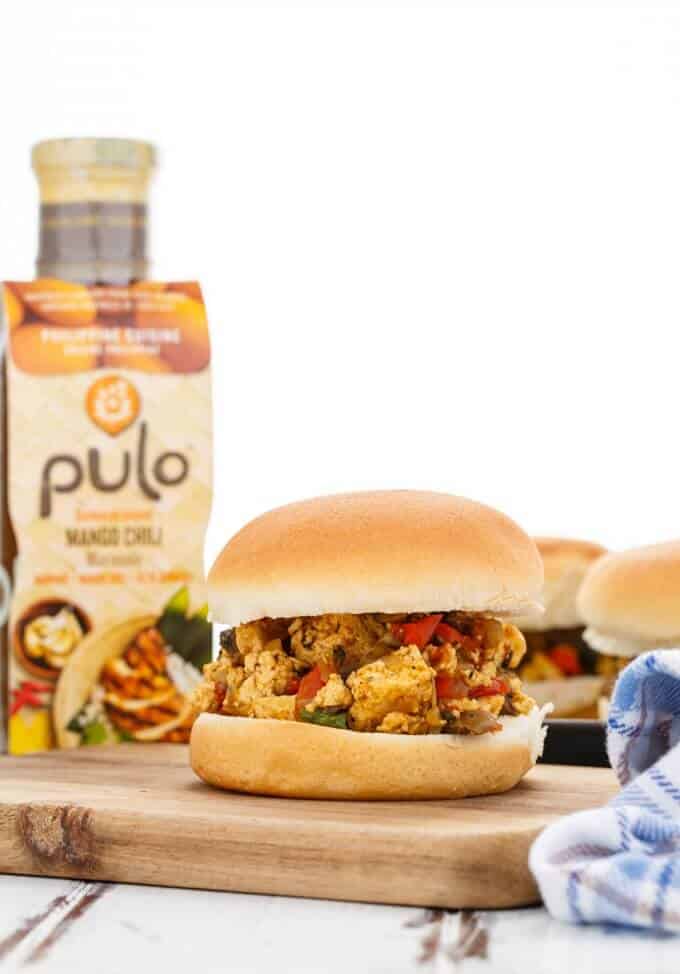 Pulo Mango Chili Marinade= Awesome Vegan Sloppy Joes!
Seriously, as soon as I finished my photo shoot, I didn't even get up off the floor. I literally ate the sloppy joe right where I sat, on the floor, next to my parrot's cage and being starred at by my daughter and dog. I did not care. One bite and I was hooked! Plus, using this bottle of marinade made the meal quick and easy, allowing me to get about with my chores for the day.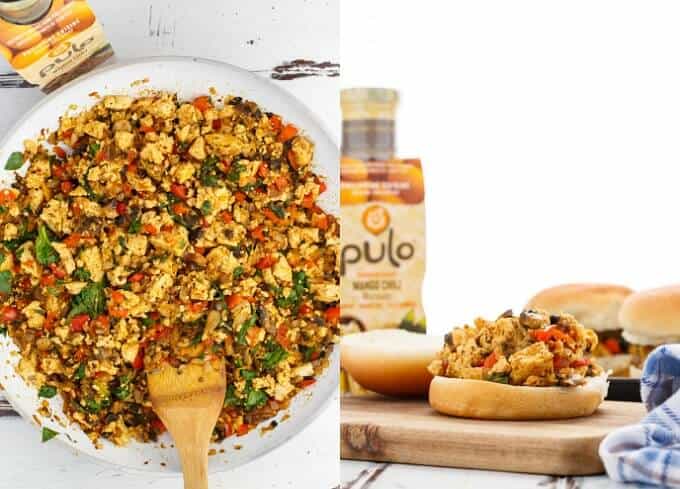 I know traditional sloppy joes are made with a tomato-based sauce (which is my usual route.) However, this mango chili marinade from Pulo was the perfect pairing for the tofu. Plus, their sauces contain no preservatives or additives, making me feel 100% comfortable working with a non-homemade sauce 😉
These vegan sloppy joes did not last. I had one for lunch and one for dinner, followed by my husband taking the rest. Yeah... self control was not a feat here with this recipe. UPDATE: So happy to have my hands on these sauces and marinades again! Again, I ate every.single.sloppy.joe. #Proud 🙂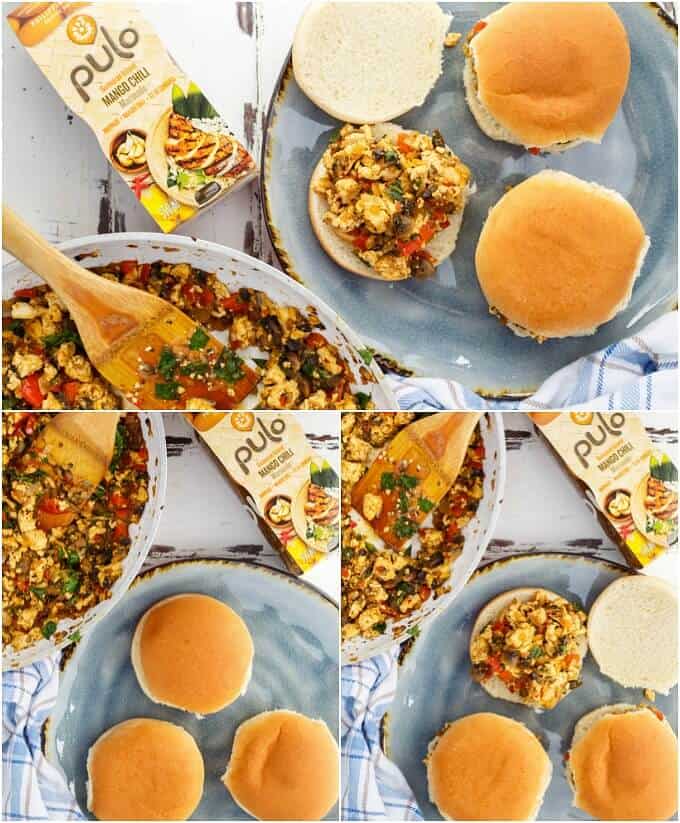 Now, even though the sauces are vegan, doesn't mean you have to go the vegan route. At the end of my post you will see two recipes that I have since done with Pulo Cuisine that utitlize these sauces with meat. Personally, these sauces and marinades are FANTASTIC for the slow cooker and grill, so when the weather becomes warmer, be sure to break out your grill! You won't regret it 😉
📖 Recipe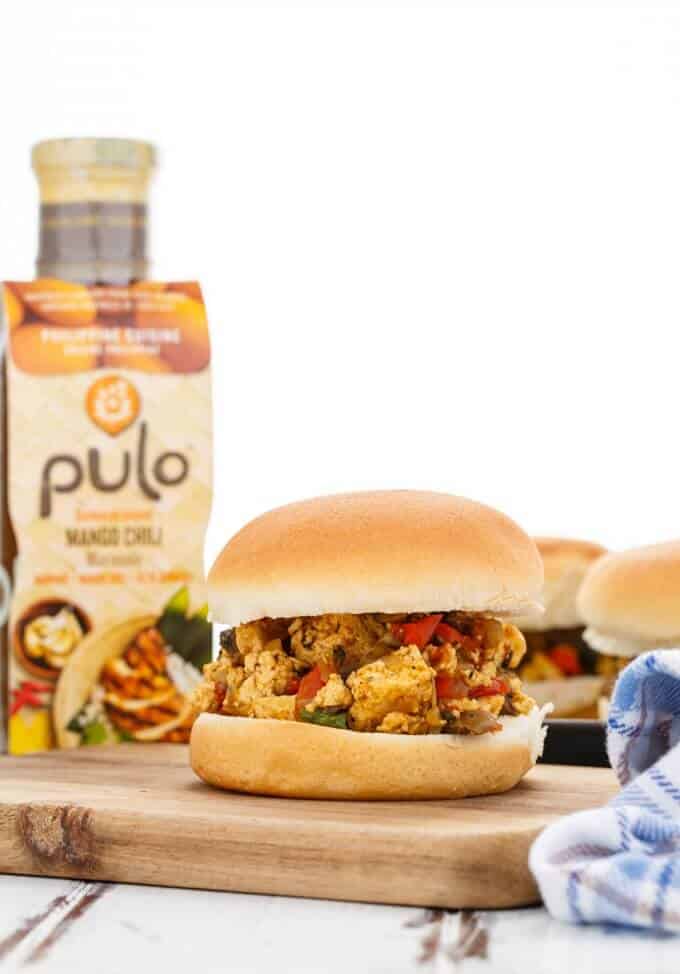 Pulo Mango Chili Vegan Sloppy Joes
Sloppy Joe's are usually made with ground beef and a tomato-based sauce. But trust me, these vegan sloppy Joes are unique and flavorful!
Ingredients
4-6 hamburger buns
1 lb extra firm tofu, drained and squeezed of as much liquid as possible.
1 tbsp. olive oil
1 large onion, diced
1 red pepper, diced
8 oz mushrooms, diced
2 garlic cloves, minced
Handful of fresh spinach, chopped
¼ tsp. red chili flakes (optional)
Salt and pepper
Instructions
Break tofu into smaller chunks. Doesn't have to be pretty since "sloppy" is in the title 😉
Place a large frying pan over medium-high heat. Add tofu, no oil necessary as we are dry-frying it, and toss occasionally until golden brown. Remove from pan.
Add 1 tbsp. of olive oil to the same pan. When hot, add the onions. Cook for a few minutes, or until beginning to soften. Stir in the mushrooms and cook for another 5 minutes. Add in the red peppers and garlic, followed by the red chili flakes, salt, and pepper. Cook for another 5 minutes, or until red peppers begin to soften.
Add tofu back to pan and toss to combine. Stir in the sauce, reduce heat, and simmer for 5-10 minutes. Turn off heat and stir in spinach. Once wilted, get your buns ready and top each with the sloppy joe mixture.
Serve immediately.
Notes
Add any veggies you like! Celery, sweet peppers, pea shoots, you name it 🙂
Nutrition Information:
Yield:

4
Serving Size:

1
Amount Per Serving:
Calories:

390
Total Fat:

13g
Saturated Fat:

2g
Trans Fat:

0g
Unsaturated Fat:

9g
Cholesterol:

0mg
Sodium:

596mg
Carbohydrates:

53g
Fiber:

6g
Sugar:

15g
Protein:

21g
This is a sponsored post. I was fortunate enough to receive products and/or monetary compensation from Pulo Cuisine. Though products were received, all opinions are my own and I would not recommend a product that I did not enjoy.