Woohoo! The final day of chocolate chip cookie week has arrived, and I happy to see the recipes were a success (though some were still puzzled over the ingredients…)
Day One: Orange Chocolate Chip Cookies
Day Two: Vegan Chocolate Chip Cookies
Day Three: Avocado Chocolate Chip Cookies
Day Four: Sweet Potato Chocolate Chip Cookies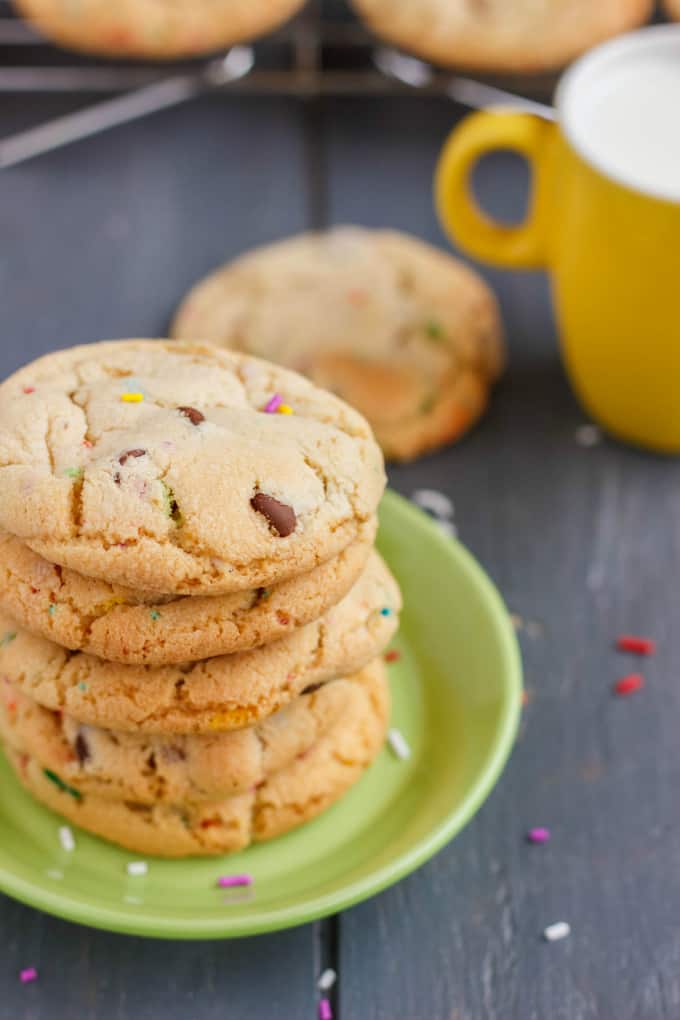 And today brings the best of them all: Birthday Cake Chocolate Chip Cookies! The recipe comes from Sally's Baking Addiction and it is no wonder they are her most popular recipe ever! Soft, chewy, and packed full of fun flavours, there were no leftovers even though the recipe made 3 dozen cookies! There was not one negative complaint about these cookies, and they were tried by many. They are very sweet, but what birthday cake isn't?!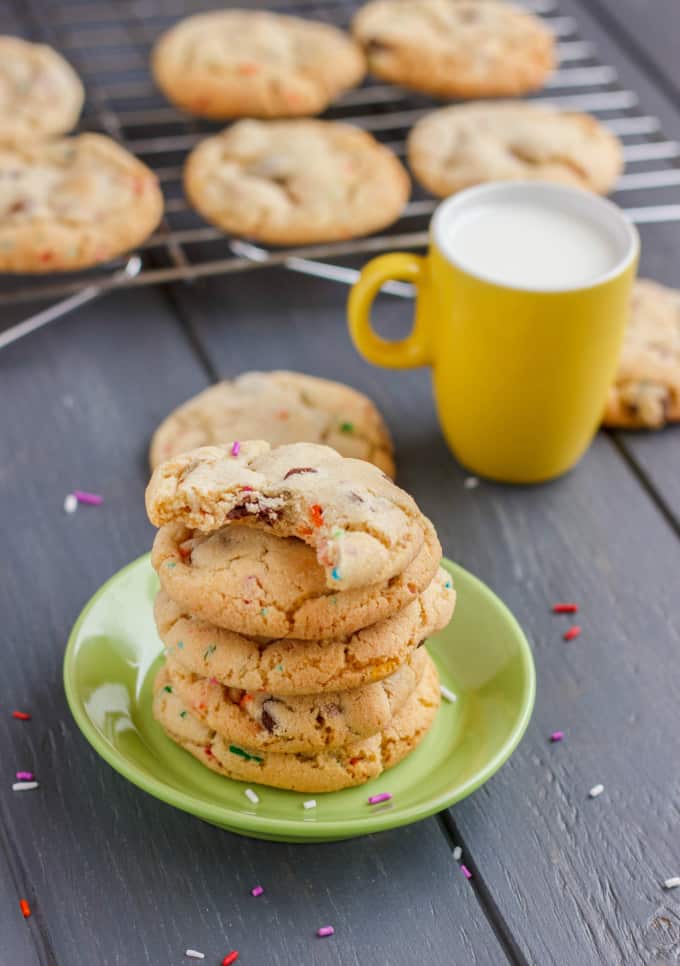 Birthday Cake Chocolate Chip Cookies
---
Kacey
Yields 36
15 minPrep Time
10 minCook Time
25 minTotal Time
Ingredients
1 1/4 cup all-purpose flour
1 1/4 cup funfetti boxed cake mix (vanilla cake with sprinkles in it.)
1/2 tsp. baking soda
3/4 cup butter, room temperature
1/2 cup granulated sugar
1/4 cup packed dark brown sugar
1 egg, room temperature
1 tsp. vanilla
1/2 cup milk chocolate chocolate chips
1/2 cup bittersweet chocolate chips
1/4 cup sprinkles
Instructions
Preheat oven to 350F. Line a baking sheet with parchment paper.
In the bowl of your stand mixer, add the butter and sugars. Cream together until lightly and fluffy, about 5 minutes. Add the egg and mix until well combined. Pour in the vanilla and mix.
Sift together the flour, cake mix (if you catch any sprinkles in your cake mix, just dump them into the sifted product.), and baking soda. Add slowly to your wet ingredients, mixing until just combined. Stir in the chocolate chips and sprinkles until evenly combined.
Measure out one tablespoon-sized portions of dough and roll them into balls. Place into the oven and bake for 10-12 minutes, or until slightly golden around the edges. Do NOT over-bake. Allow to cool for about 5 minutes on the baking sheet and then move to a cool rack.
7.8.1.2
148
https://thecookiewriter.com/birthday-cake-chocolate-chip-cookies/
(Adapted from
Sally's Baking Addiction
)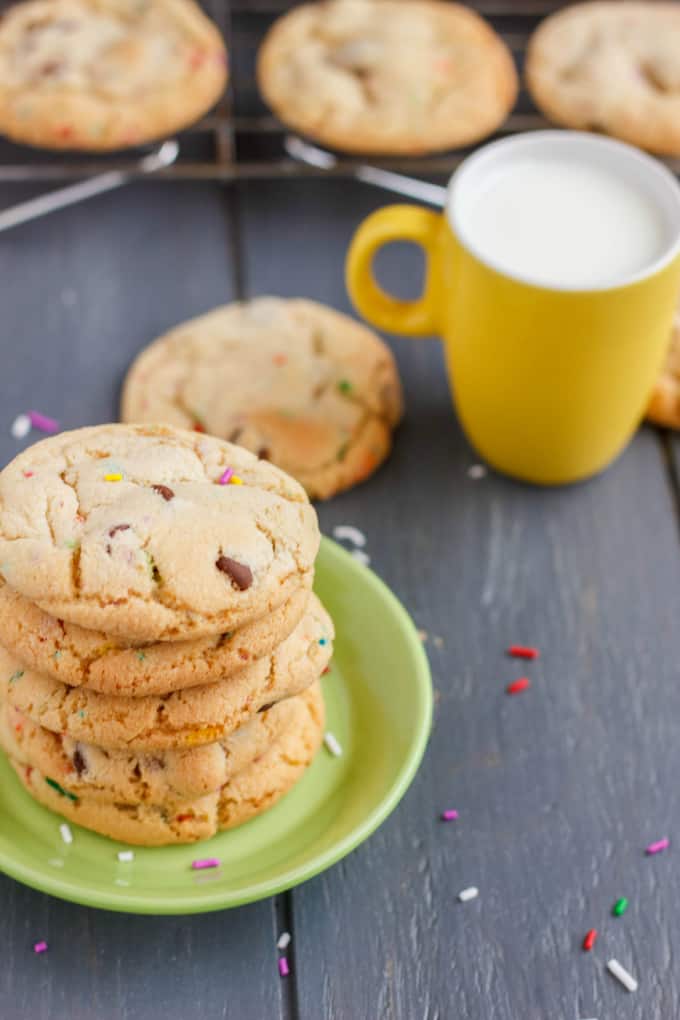 They were so fun to make! The colours are beautiful and invite you to try this tasty creation, never failing in the taste department. I cannot wait to make them again because I know my sister will be all over these as birthday cake ice cream is her favourite flavour.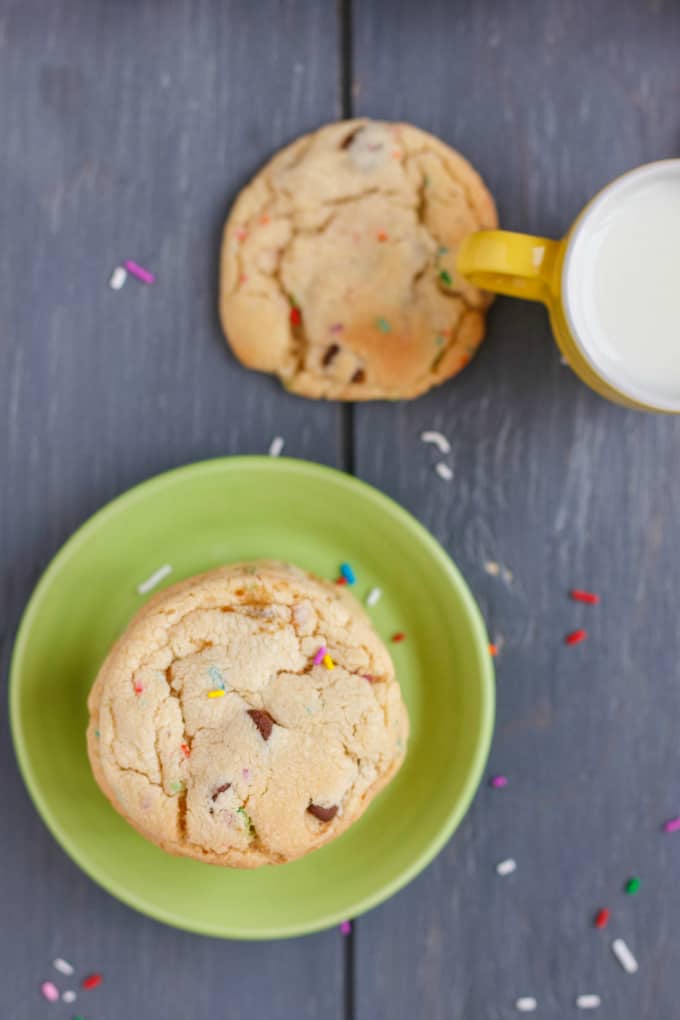 The birthday cake chocolate chip cookies can be made with ordinary vanilla cake mix, but I found the funfetti cake mix to be suitable here (more sprinkles!)
The original recipe says to chill the dough after you roll the cookies out onto the cookie sheet. This is to keep them from spreading, but honestly, I found my cookies worked out perfectly without the chilling step. You can try chilling the dough for one batch and not chilling the next.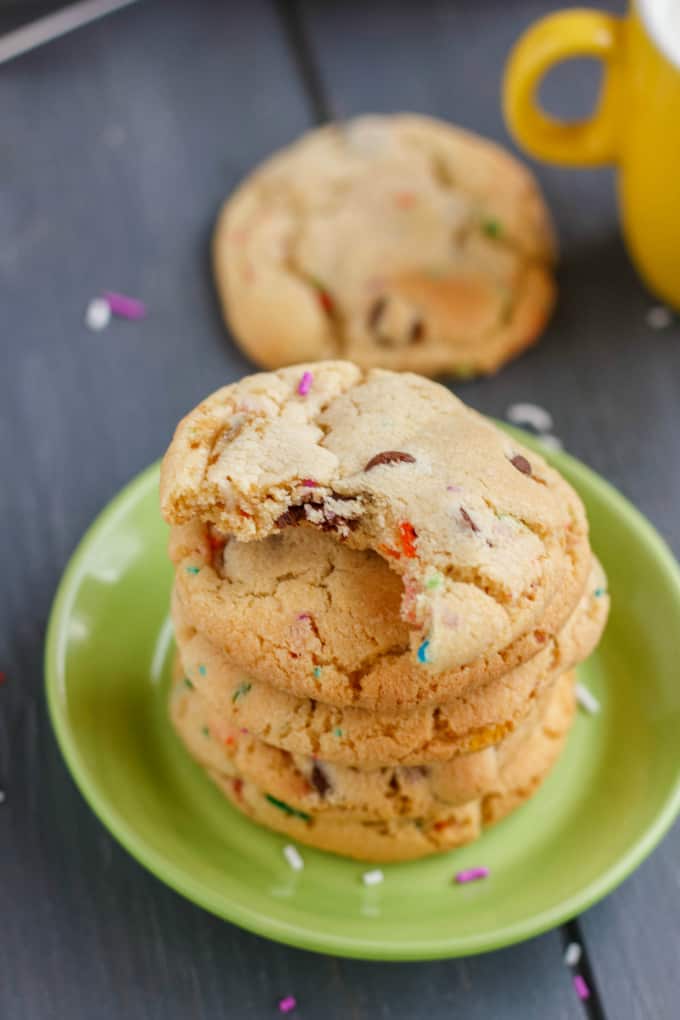 I am glad with how chocolate chip cookie week turned out. I know that the cookies aren't for everyone (have to admit, the avocado chocolate chip cookies seemed to scare a lot of people!) However, I am really happy that I could provide chocolate chip cookie recipes that were suitable for everyone, whether you are vegan, gluten-free, or following a healthy lifestyle. If you do get to try any of the recipes, let me know! It would be fun to see what others come up with when it comes to the basic chocolate chip cookie!