A healthy dessert that is easily made vegan, these sweet potato chocolate chip cookies are also gluten-free and contain no refined sugar (perfect for you fitness fanatics!)
The photos and recipe for these sweet potato chocolate chip cookies have been updated as of May 1st, 2017!
Thank you for joining me here at The Cookie Writer for our second theme week: Chocolate Chip Cookie Week!
Day One: Orange Chocolate Chip Cookies
Day Two: Vegan Chocolate Chip Cookies
Day Three: Avocado Chocolate Chip Cookies
I said yesterday that today's chocolate chip cookies would be even stranger than the avocado chocolate chip cookies! But I cannot believe how well they turned out! Probably one of my favourite cookies and even though I am not very health-crazy, I would make them just for the flavours. I am talking about sweet potato chocolate chip cookies!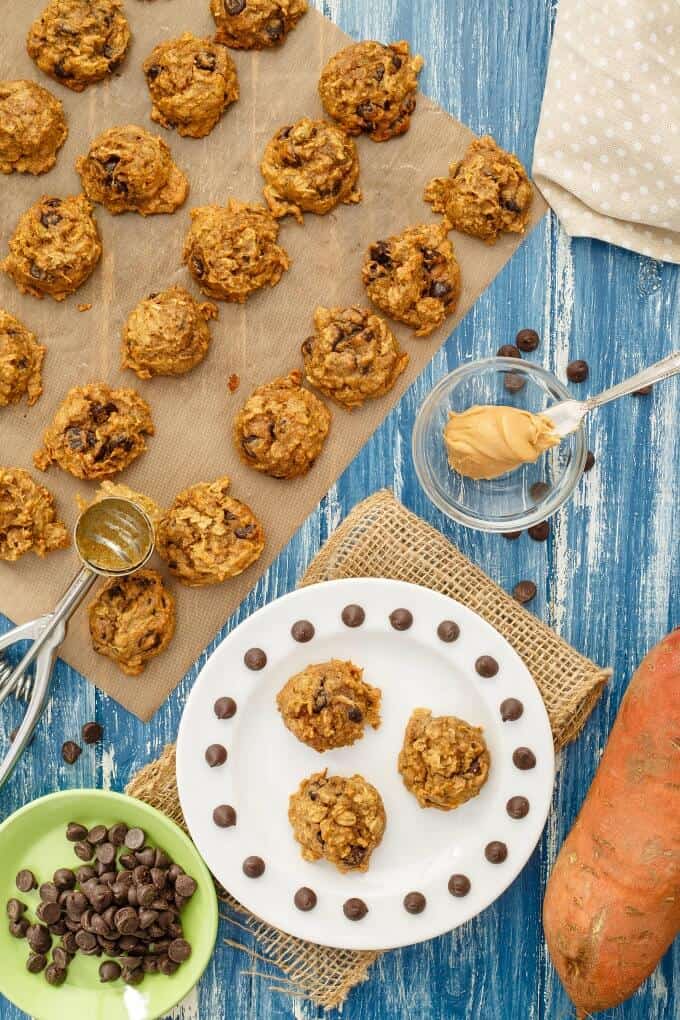 Once again, the crunch factor isn't there, but I think I am a huge fan of soft cookies. These cookies were shockingly delicious and I was so happy with how they turned out.
I won't lie, I was a little hesitant making them because even though sweet potatoes are common in dessert dishes, I just wasn't sure about how these cookies would turn out. And the fact that I thought my purple sweet potato would actually be purple on the inside… That was a disappointing discovery!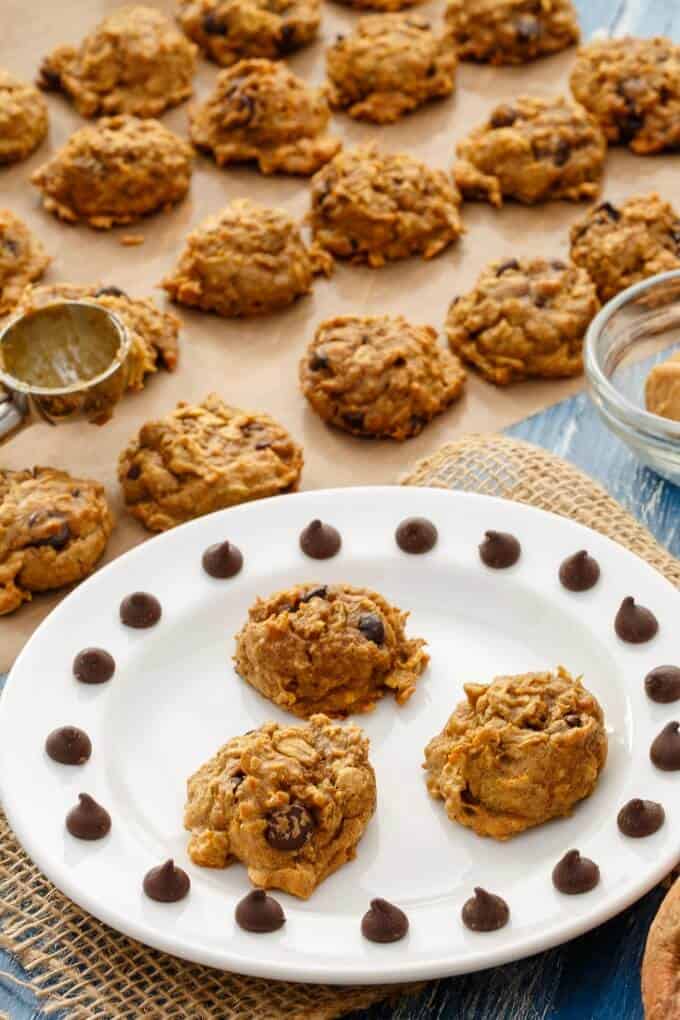 Turns out I bought a Japanese sweet potato which has purple skin and a white flesh. It worked to my benefit though because from my research online, these Japanese sweet potatoes tend to be sweeter than your ordinary sweet potato, which made it perfect for these cookies. Since there is no sugar in this recipe, you want a perfect sweet potato.

(Adapted from the
Betty Rocker
)
No sugar, gluten-free, and vegan: the perfect cookie for fitness gurus!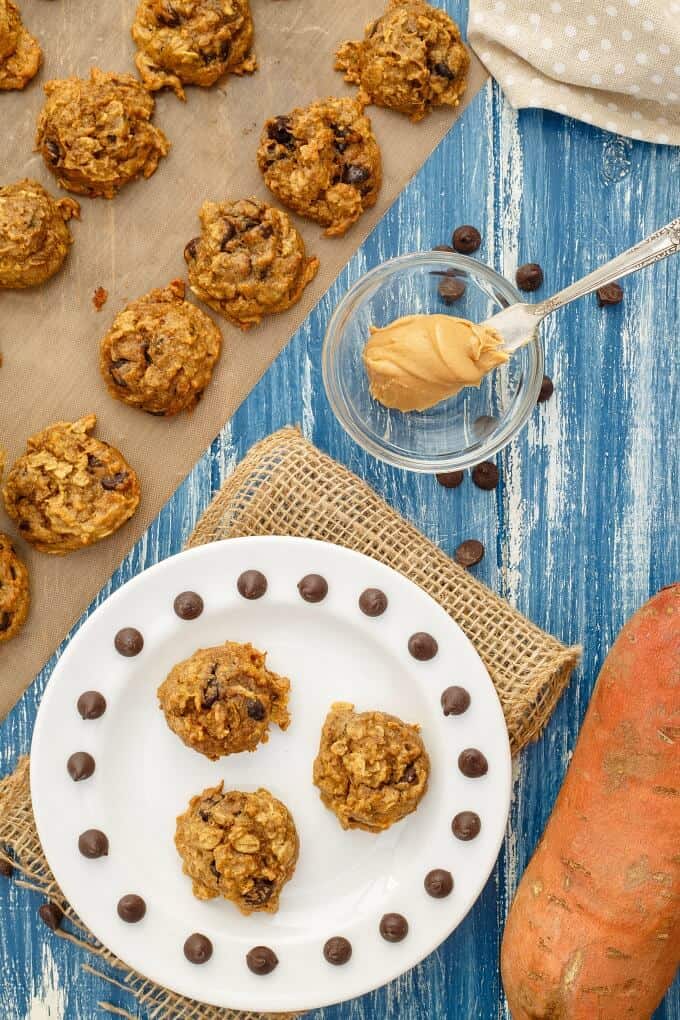 I know these sweet potato chocolate chip cookies aren't your typical cookies, but they are a great snack if you are trying to watch your sweets intake. I think they make a great toddler snack as well (be careful with the peanut butter; you can always sub in something else if allergies are an issue.) I am trying to think of how to make them crunchier because some do like a bit of a crisp to their chocolate chip cookies. Maybe try flattening them out so they are almost like sweet potato chocolate chip cookie crisps. I will fool around with the recipe some more to see what I can come up with.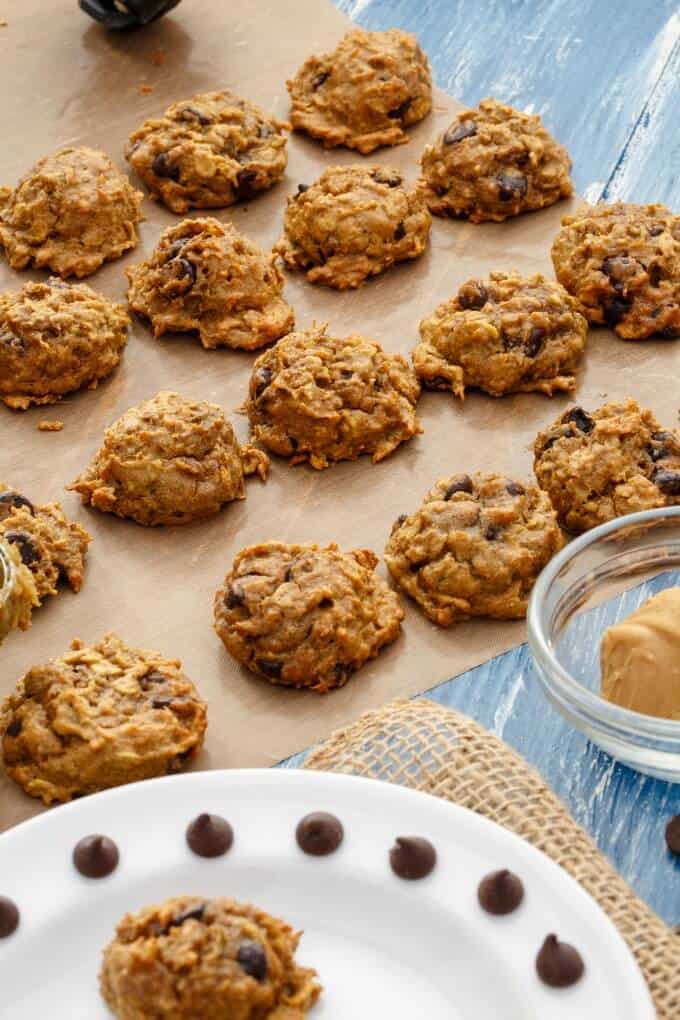 Over the past week we have seen a number of different chocolate chip cookie recipes. Many have turned out to be healthy, some are vegan, but most of all, they are all delicious chocolate chip cookies. Tomorrow marks the last day of chocolate chip cookie week and I saved the best for last! Be sure to tune in tomorrow.
Love these sweet potato chocolate chip cookies?! Try some of these recipes:
Oatmeal Raisin Sweet Potato Cookies