Avocados are so tasty and versatile! Try these avocado chocolate chip cookies to help encourage others to eat better (and who knows, they may never know they are eating avocados in cookies!)
Day three of chocolate chip cookie week!
Day One: Orange Chocolate Chip Cookies
Day Two: Vegan Chocolate Chip Cookies
I always hear about people hiding green ingredients in their recipes because they either don't like the vegetable themselves and want to include healthier foods in their diet, or they want their kids to eat their greens without them knowing. I have never had either issue because we love our veggies (including Girlie) and I wasn't sure how well these foods would actually hide the tastes of the vegetables in the recipes. I mean, kale has a strong taste, I am still unsure if smoothies actually hide that flavor completely (but as I said, I have not tried a kale-berry smoothie, so I would not know.) Today's cookie choice was a bit different that usual. I have used avocado in my banana-svocado green tea chia seed pudding and found it worked well, so why not in cookies?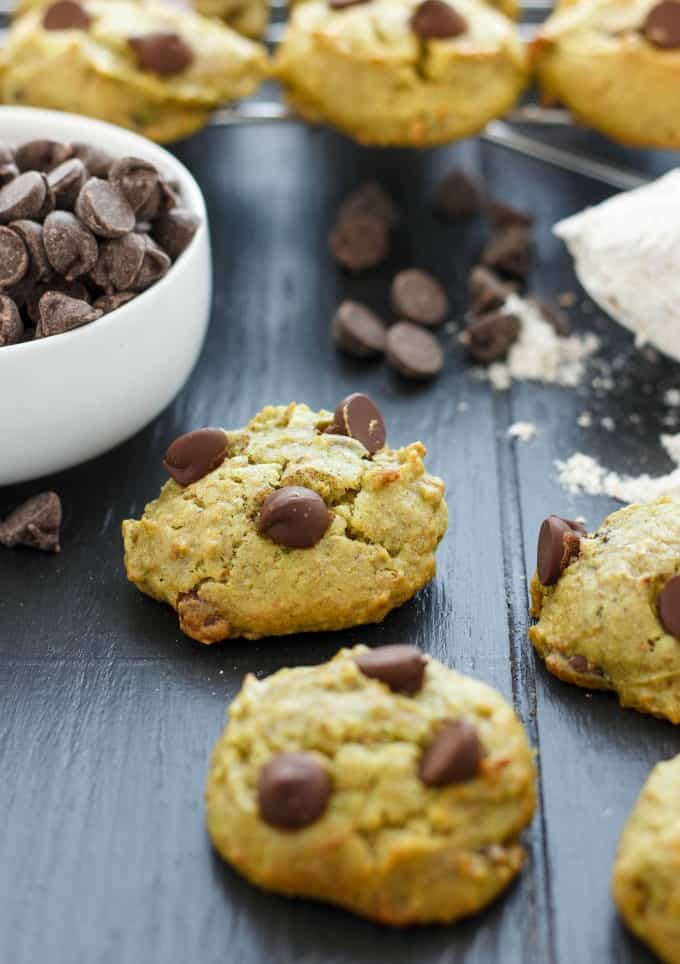 These avocado chocolate chip cookies were very easy to make (though the dough was a bit sticky so rolling them into balls was not really an option.) I liked how they were butter-free because sometimes, we do run out of butter (but it is super rare!) Some people work really hard on their diets and fitness, and these cookies would be a great treat for those who have worked hard and don't want to see their hard work go down the drain. I use regular sugar, but another substitute like coconut sugar could be used here. Also, avocados range in size. I don't tend to measure out ingredients but if you find your cookies are struggling in any way, try mashing the avocado in a measuring cup so you can carefully measure out ½ cup of avocado. I don't think the recipe will be affected too much if you go a bit over or under, but just to be safe, measure it out!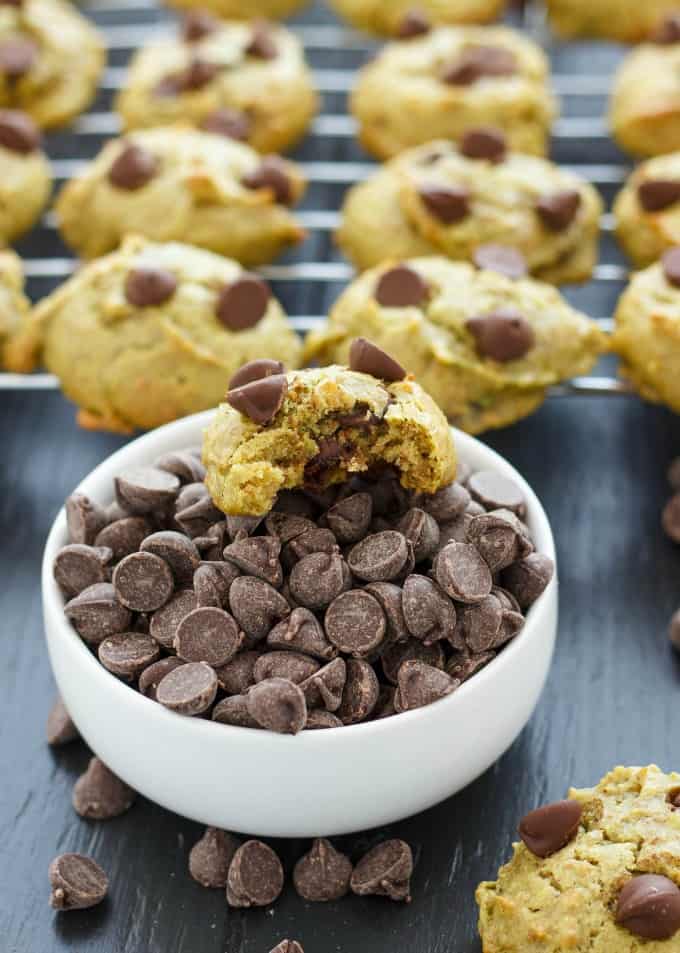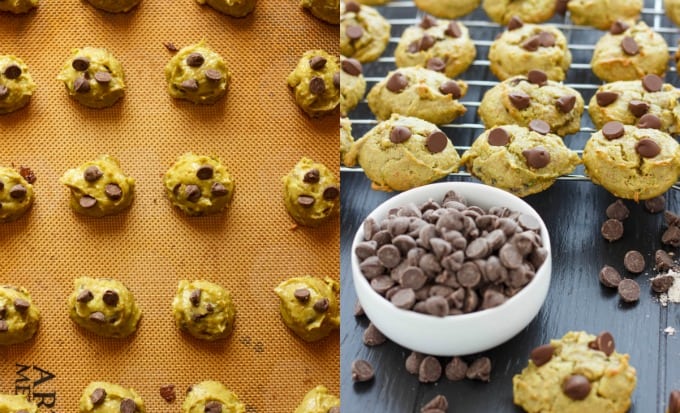 📖 Recipe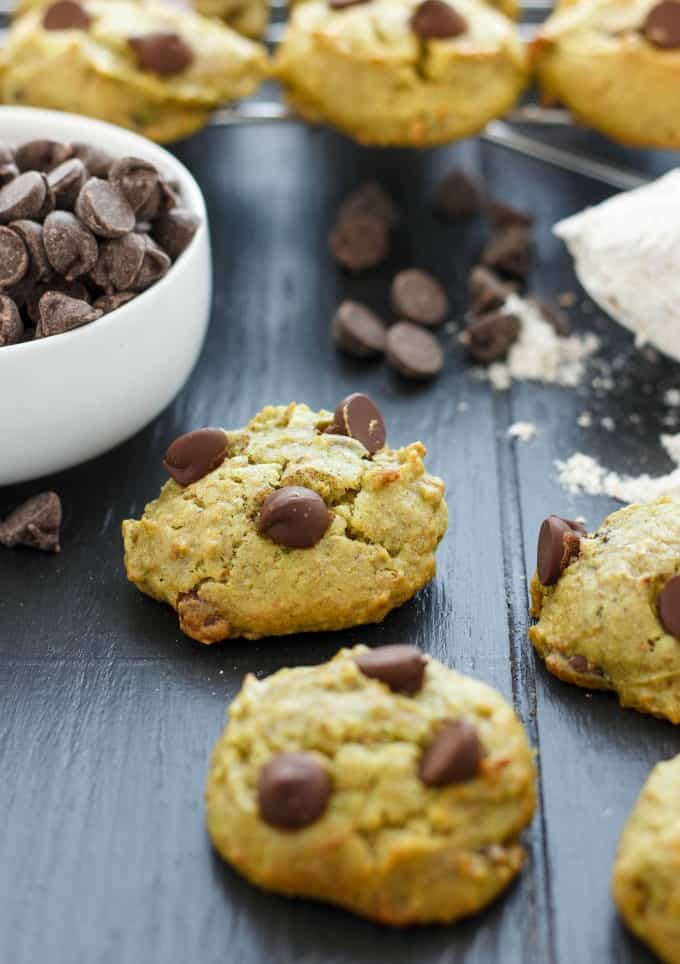 Avocado Chocolate Chip Cookies
These cookies can be made completely vegan! Just remember that avocado doesn't last long so these cookies have a tiny shelf life!
Ingredients
½ cup avocado, soft (I used 2 small ones.)
½ cup granulated sugar
1 egg (use a flax-egg and you have a vegan cookie!)
1 tsp. vanilla
1 cup whole wheat flour
1 tsp. baking soda
⅛ tsp. salt
¼ tsp. ground nutmeg
2 tbsp. coconut oil
2 tbsp. unsweetened applesauce
½ cup chocolate chips
Instructions
Preheat oven to 350F. Line a baking sheet with parchment paper or silicone mat.
Slice avocados in half, remove pit, and place into the bowl of your stand mixer. Add coconut oil, sugar, and mix for about 5 minutes, or until avocados have broken down (will probably still have chunks.) Add the egg, applesauce and vanilla and mix until well combined.
Sift together the flour, baking soda, nutmeg, and salt. With the mixer on, add the dry ingredients to the wet ingredients. Stir until just combined. Mix in the chocolate chips.
Measure out 1 tablespoon-sized balls of dough (a cookie scoop works wonders here!) and place onto baking sheet. Bake for about 10-11 minutes and remove from oven. Allow to cool slightly on baking sheet and then move to cooling rack.
Nutrition Information:
Yield:

36
Serving Size:

1
Amount Per Serving:
Calories:

47
Total Fat:

2g
Saturated Fat:

1g
Trans Fat:

0g
Unsaturated Fat:

1g
Cholesterol:

5mg
Sodium:

45mg
Carbohydrates:

7g
Fiber:

1g
Sugar:

4g
Protein:

1g
I added coconut oil to the base recipe because they seemed like they needed more fat. Avocado provides a high source, but not enough to give these cookies the correct texture. They will still be soft and without a crunch to them, but very delicious! I couldn't tell they were made with avocado (except the fact that the cookies were green!) I think these would be an awesome Christmas cookie because they naturally have a green color to them. Plus, sub in a flax-egg for the actual egg and you have another vegan cookies recipe! For best preservation, I would suggest storing in an air-tight container and perhaps keeping them in the refrigerator. Avocado goes bad very quick, so don't allow these cookies to hang around too long!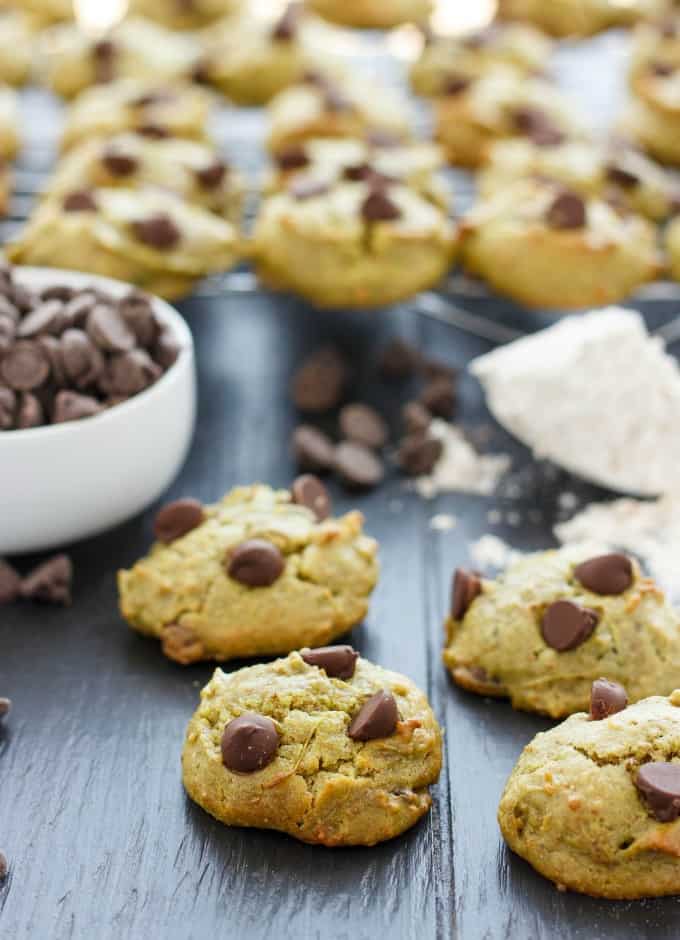 Don't let the avocado part scare you. These avocado chocolate chip cookies are tasty, healthy, and so darn different you just need to try them. However, be prepared for something even stranger tomorrow when it comes to our next chocolate chip cookie recipe!
Love these avocado chocolate chip cookies?! Try some of these recipes: