Today marks day two of lentils week!
Day One: Homemade Lentil Flour
Yesterday I spoke about homemade lentil flour and basically how promising it is.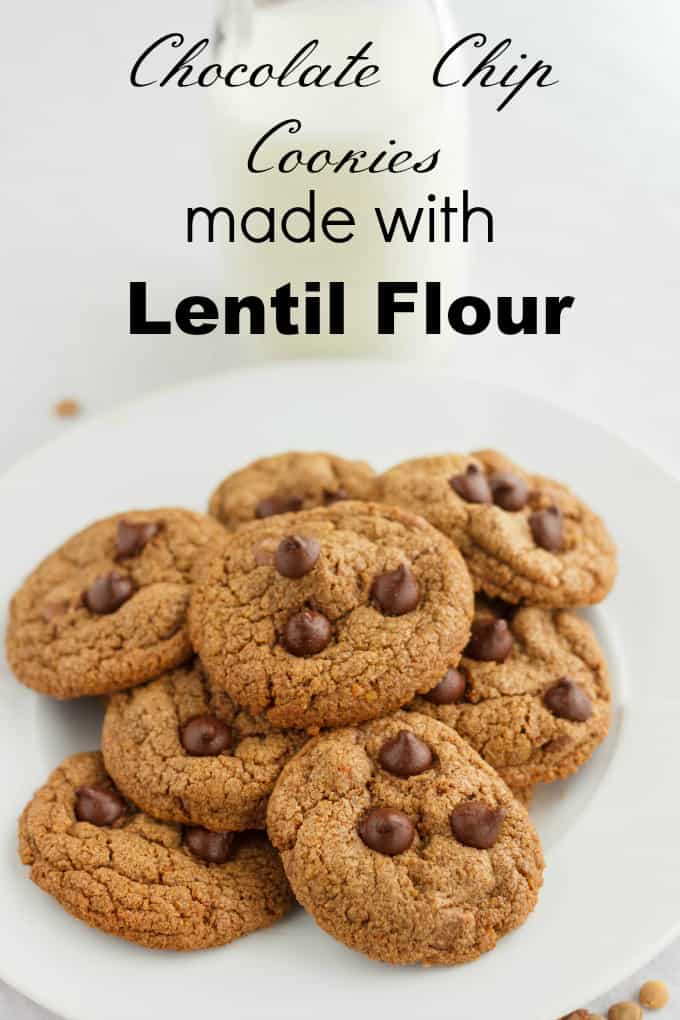 I knew my first creation would be something baked. It is a flour after all! I decided to create chocolate chip cookies made with lentil flour. Basic, to the point, and something that will not scare people off.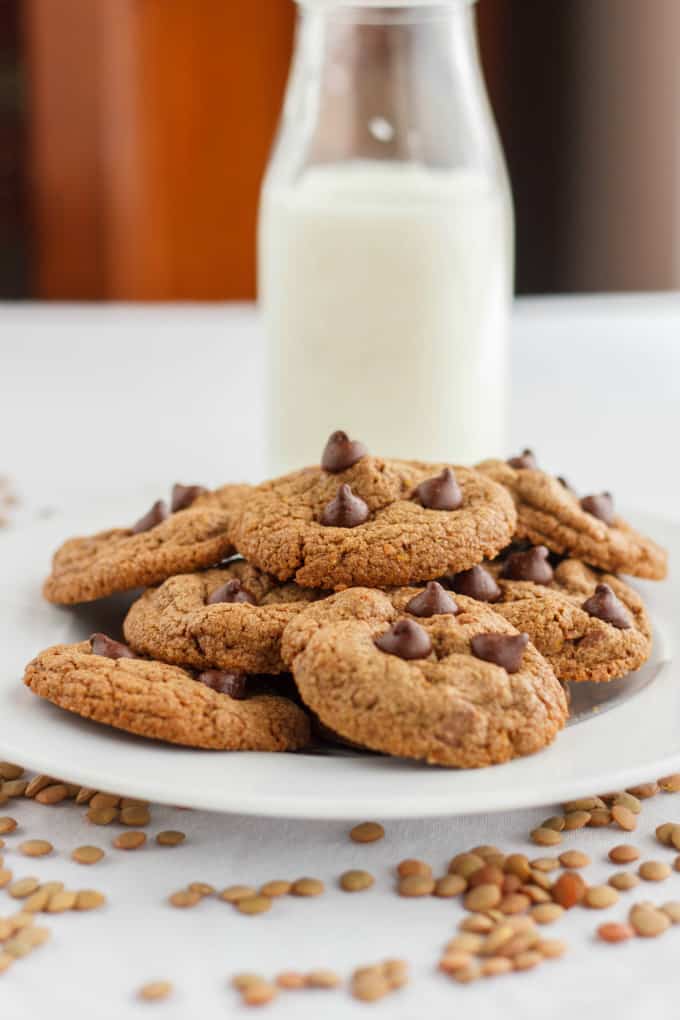 The results? AMAZING! Soooo good! Actually, my daughter inhaled most of them, but my husband took some in for his coworkers, and they were surprised by my use of lentil flour. The texture of these chocolate chip cookies made with lentil flour are like some other gluten-free recipes I have had. Meaning, a tad grainy but still delicious. I am glad my lentil flour combination was 1 cup un-toasted lentil flour, and 1/2 cup toasted lentil flour, because it was the perfect balance. Using pure toasted lentil flour for this recipe would be way overpowering. I actually want to give this recipe a try using a mix of coconut flour in it to see if that results in the cookies staying softer, longer (they were perfect the first day, but the following day you could definitely tell them firmed up. Still delicious dipped in milk!)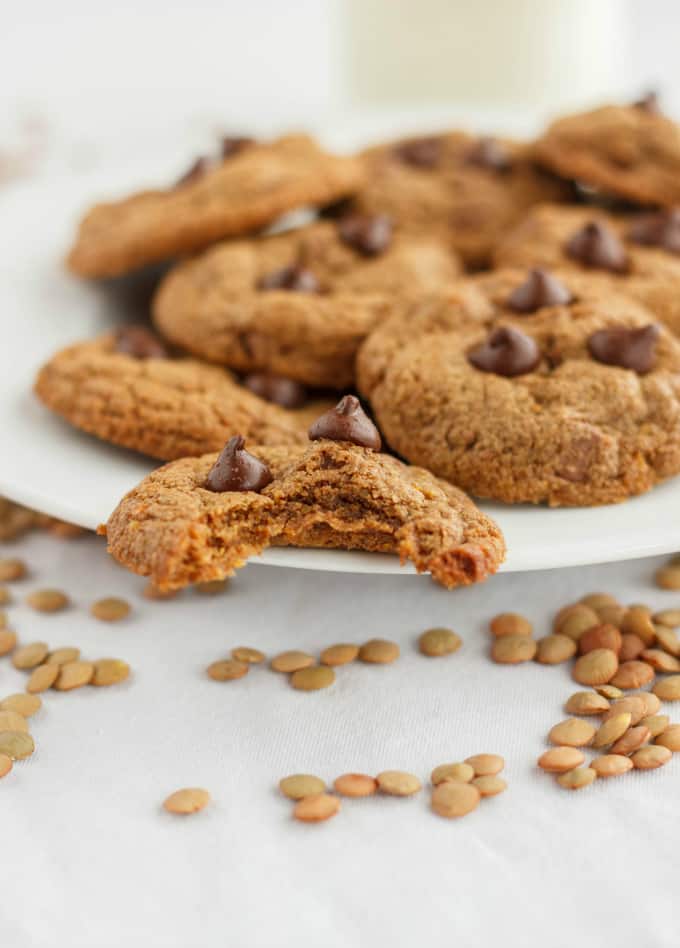 Not only are these cookies gluten-free. but they are super easy to make and require no specialty ingredients. That means no xanthan gum! I want to make a vegan version of this recipe using a flax-egg and coconut oil, but that will have to wait until I can process enough lentil flour again without overworking my food processor.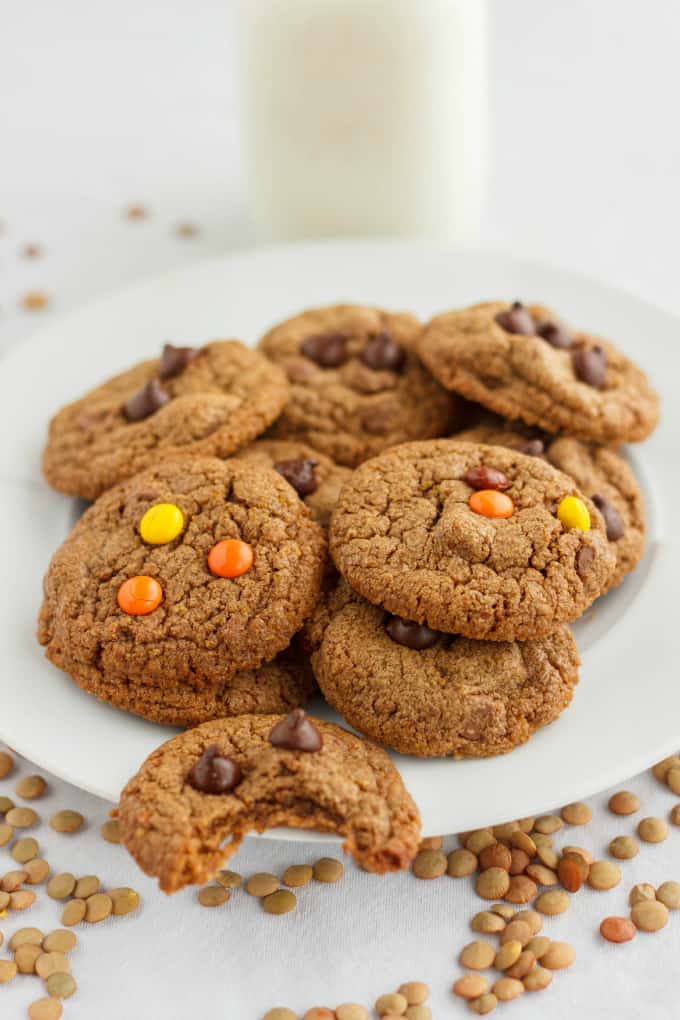 The key to keeping these chocolate chip cookies made with lentil flour soft is by making sure you do not overcook them. I initially baked these cookies for 12 minutes, and that was WAY too long. I found anywhere between 8-10 minutes was perfect. I also always bake on convection, so I am technically cooking these at 325F, but for standard ovens I would bake at 350F.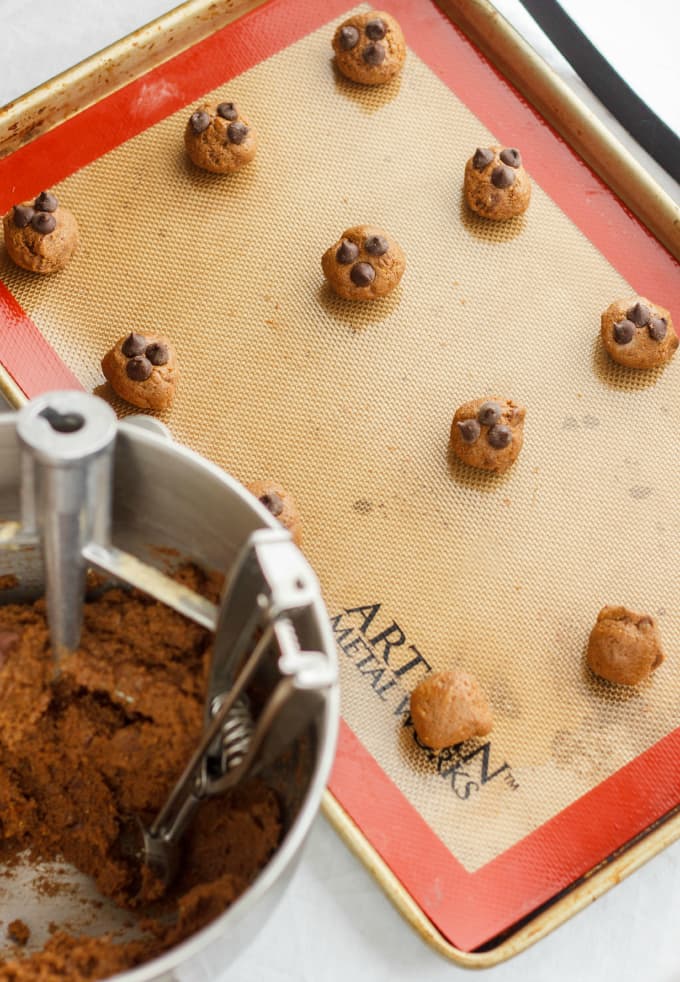 Chocolate Chip Cookies made with Lentil Flour
---
Kacey
Yields 36-40
15 minPrep Time
10 minCook Time
25 minTotal Time
Ingredients
1/2 cup butter, room temperature
1 1/2 cups lentil flour (I used 1/2 cup toasted lentil flour, 1 cup regular lentil flour.)
1/2 cup granulated sugar
1/4 cup brown sugar
1 tsp. vanilla
1/4 tsp. baking powder
1/8 tsp. baking soda
1 egg, room temperature
Pinch of salt (I use salted butter so I tend to omit it.)
1/4 - 1/2 cup melted chocolate (I melted 2/3 cup of chocolate and got between 1/4 and 1/2 cup.)
1/2 cup chocolate chips
Instructions
Preheat oven to 350F. Line a baking sheet with parchment paper or a silicone mat.
Add the butter and sugars to the bowl of your stand mixer. Beat until light and fluffy, about 5 minutes. Add in the egg and mix until combined. Stir in the vanilla. Add in the slightly cooled melted chocolate and mix until well combined (do not add in hot chocolate, or you will curdle the mixture.)
Sift together the flour, baking soda, baking power, and salt. Slowly add this mixture to your stand mixer and mix until just combined. Stir in chocolate chips.
Measure out 1 tablespoon-sized portions and roll into balls. Top with a couple more chocolate chips and place into the oven for 8-10 minutes. Allow to cool slightly on baking sheet before moving to a wire rack.
7.8.1.2
154
https://thecookiewriter.com/chocolate-chip-cookies-made-lentil-flour/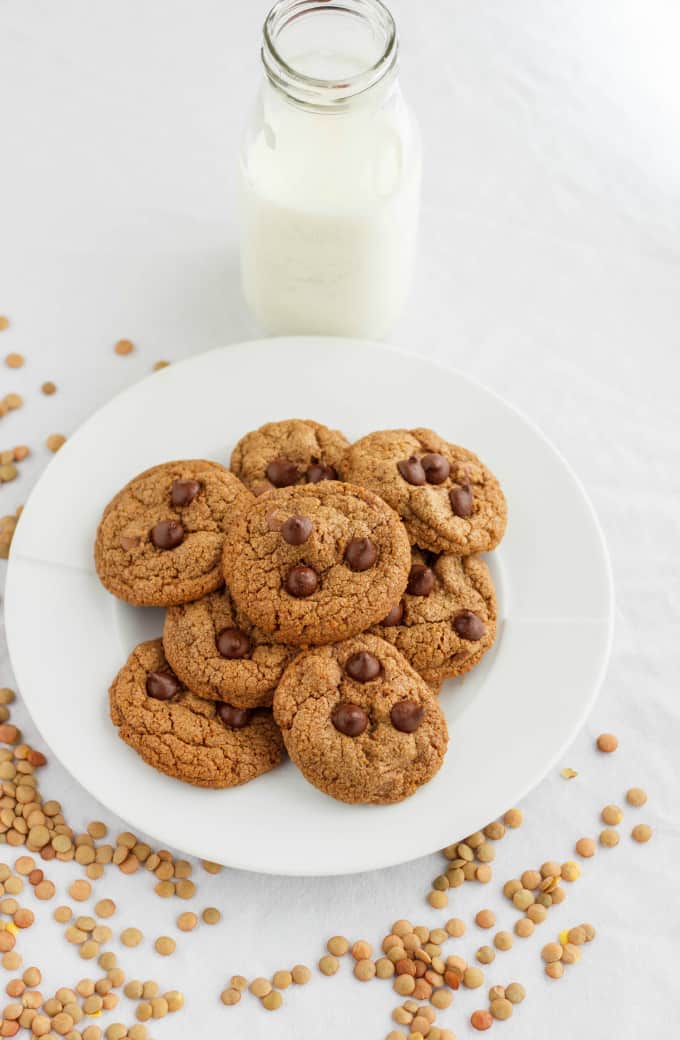 So happy with how these cookies turned out! The lentil flavour is almost nut-like. Everyone who tried them stated that they were different, but the taste, there was something about it that kept bringing them back. I could tell they were gluten-free, but that is not a bad thing. The flour almost reminds me of whole wheat baked goods when it comes to the texture of these chocolate chip cookies made with lentil flour. Technically I would say these cookies are double chocolate, but for ease of namesake, we will leave out the "double." However, using the Reese's Pieces chocolates on top really added a whole new element to these cookies. Maybe peanut butter lentil cookies will be in my future!
My daughter insisted we dip the cookies in milk. I am not a big fan of dipping cookies into milk, but I must say, these cookies paired perfectly with a glass of milk!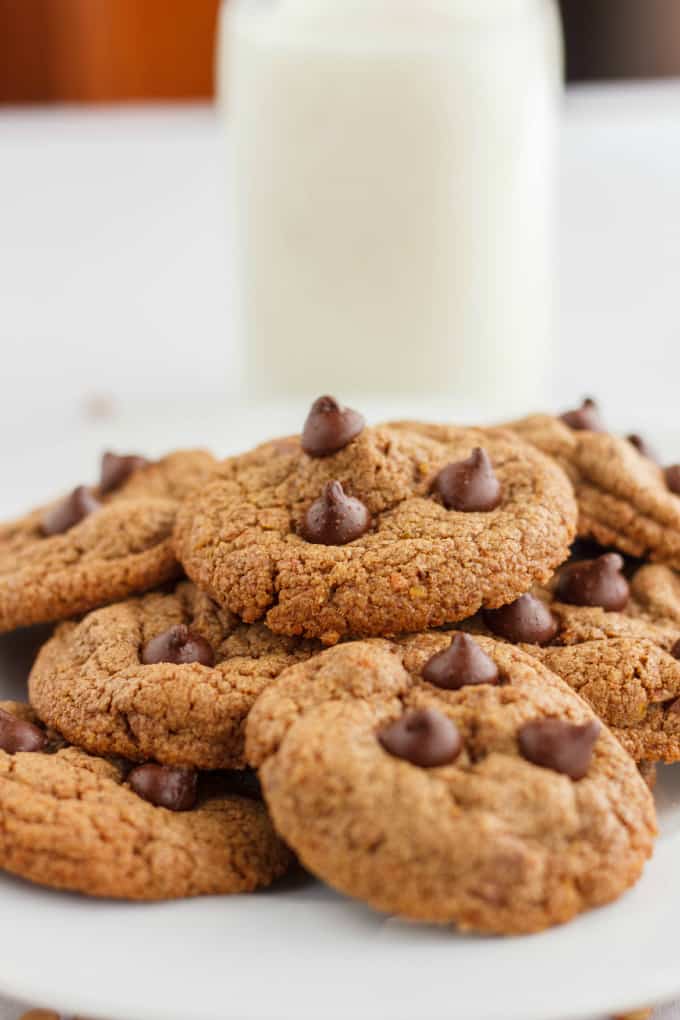 Be sure to give these cookies a shot! Homemade lentil flour is both easy and super affordable (especially compared to other gluten-free flours on the market.) I cannot wait to test out more recipes using this flour!