Don't eat meat? You can still enjoy this vegetarian Shepherd's pie! Full of hearty green lentils and every vegetable under the sun, the recipe also includes a vegan version 🙂
Lentils, lentils, everyone cheer for lentils! Halfway through lentil week here at The Cookie Writer!
Day One: Homemade Lentil Flour
Day Two: Chocolate Chip Cookies made with Lentil Flour
My sister and brother love shepherd's pie. It was a common meal growing up, and even at a young age I was not a big fan of meat. When my parent's would make this dish, I tended to eat the potatoes and cheese off the top, followed by trying to pick out as many veggies from the base. Then I would scoop all the ground meat onto my dad's plate. This was also true when it came to lasagna and spaghetti. I would literally push every pieces of meat sauce off my pasta and eat the noodles... Yeah, strange kid, but my parents were not going to make 3 different recipes for 3 different kids.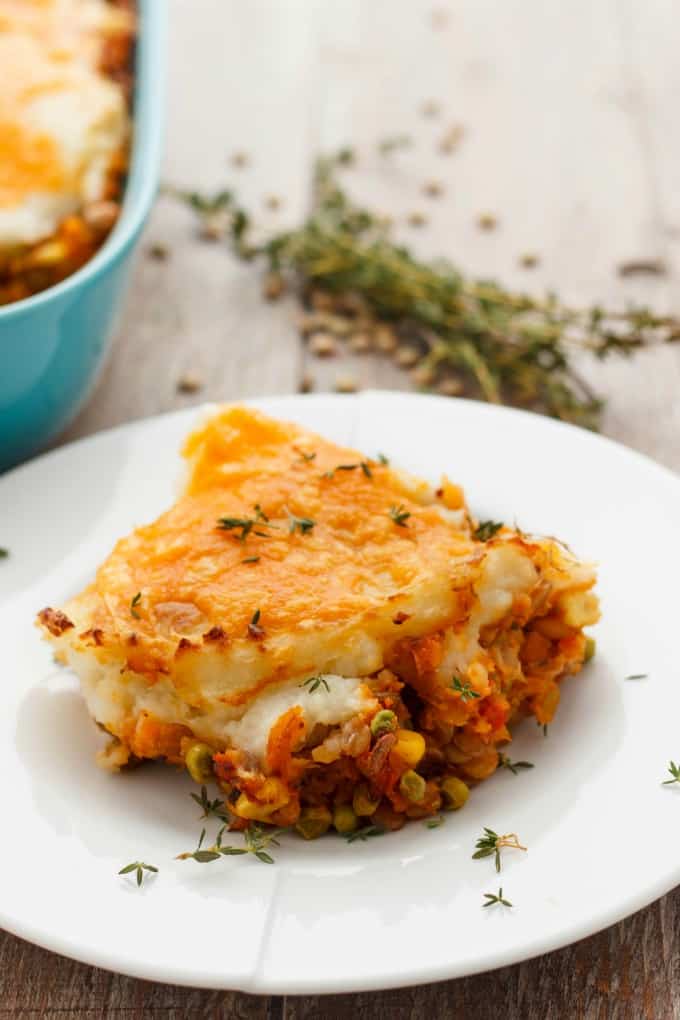 Now that I am older and long out of my parent's house, I can make whatever meal I want! I made Mr. TCW a shepherd's pie and thought to myself "I wonder what a vegetarian shepherd's pie would be like." Well, let me tell you. It was amazing!! I basically recreated the meat version but substituted in lentils and vegetable stock. And the beer? I actually really enjoyed it in this meal. I do not like beer, but something about cooking with beer makes all the recipes better. The same goes for wine!
This vegetarian shepherd's pie is also vegan. All you have to do is omit the cheese on top. That's it! I even left my mashed potatoes vegan by using almond milk and coconut butter. Non-vegans, feel free to use regular milk and butter when it comes to the potatoes. But leave in the apple cider vinegar and nutmeg! Trust me, there is something about the combination...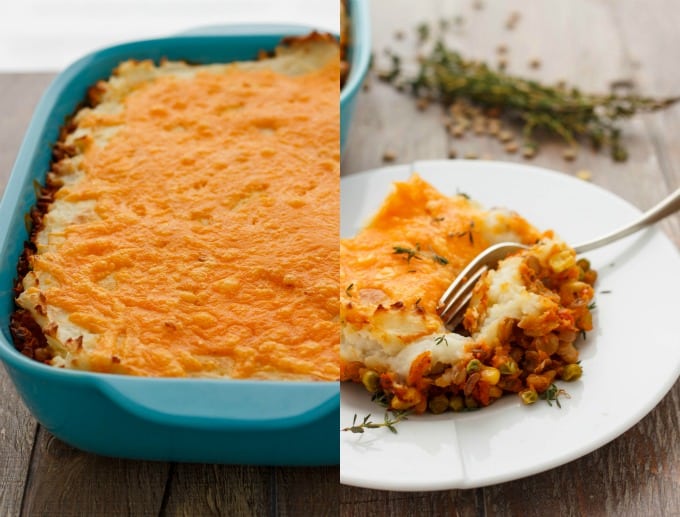 Now, technically you could make this vegetarian shepherd's pie gluten-free by choosing a gluten-free beer and subbing in cornstarch for the flour. I have not tried it, but I do not see the problem.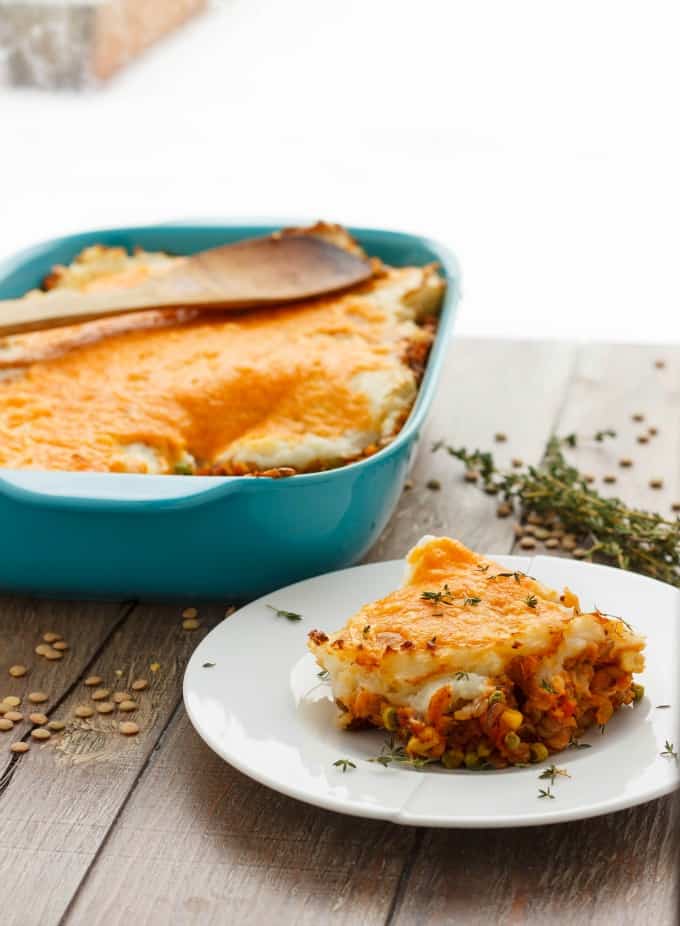 📖 Recipe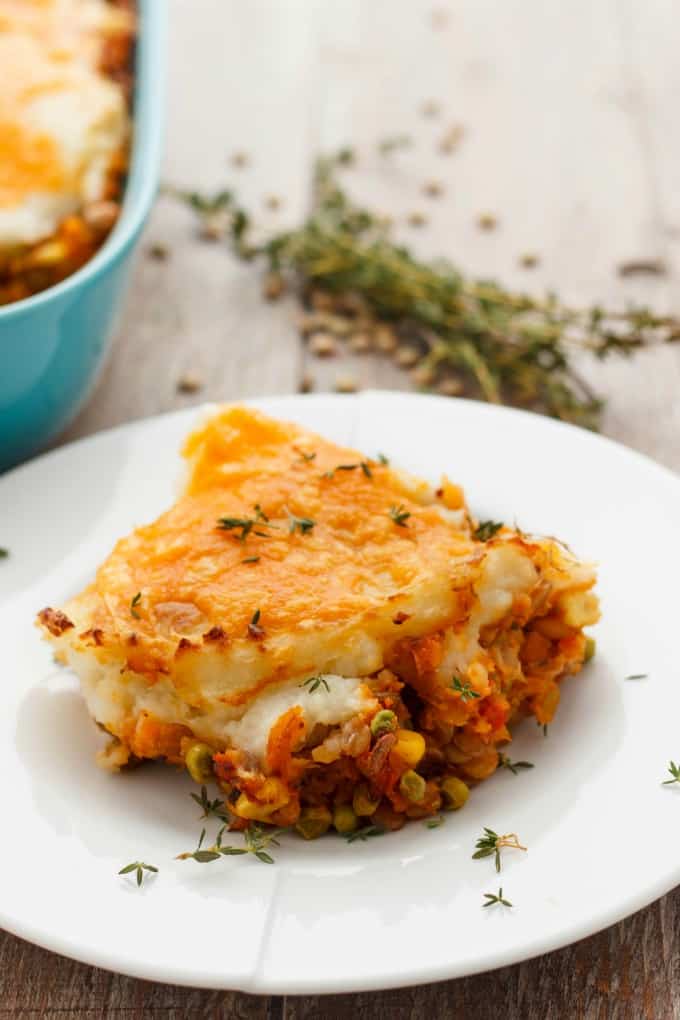 Vegetarian Shepherd's Pie (Vegan Shepherd's Pie Included.)
Total Time:
1 hour
30 minutes
You can use any veggies you like in this shepherd's pie! I personally love adding yellow beans!
Ingredients
¾ cup dry green lentils
1 ½ cups water
1 large carrot, diced
1 large onion, diced
4 garlic cloves, minced
8 oz mushrooms, sliced
1 red pepper. diced
½ cup frozen peas
½ cup frozen corn
Salt and pepper
½ tsp. dried thyme
1 tsp. dried oregano
1 tsp. dried basil
½ cup beer (optional: can replace with broth)
½ cup vegetable broth
1 tbsp. flour
1 tbsp. tomato paste
1 tbsp. soy sauce
1 tbsp. whole grain coarse mustard
Regular Mashed Potatoes:
1 ½ lbs potatoes, skin removed and cubed
½ cup milk
¼ cup butter
Salt and pepper
Vegan Potato Topping:
1 ½ pounds potatoes, skin removed and cubed
3 tbsp. apple cider nutmeg
½ cup almond milk or regular milk
3 tbsp. vegan butter, coconut oil (I would use 2 tbsp.), regular butter, or vegetable broth.
½ tsp. ground nutmeg
Pinch of salt
Nutritional yeast (optional)
1-2 cups shredded cheddar cheese, soy cheese, or "cheesy" nutritional yeast sauce. *OR omit cheese altogether.
Instructions
Mashed Potatoes:
Bring a pot of salted water to a boil. Add in your potatoes and boil until tender, about 10-15 minutes. Drain and add back to pot. Add in the butter and milk. Mash until light and fluffy, and no lumps remain. Stir in the apple cider and nutmeg if using vegan recipe. Season accordingly. Set aside.
Filling:
In a medium size saucepan, ad lentils and water. Bring to a boil, reduce heat, and simmer, covered for 20 minutes. Drain and set aside.
In a large frying pan add some olive oil over medium-high heat. Stir in the onion, celery, and carrots. Cook until softened, about 5 minutes. Add the mushrooms, red pepper, and garlic. Cook for a few more minutes. Season with salt, pepper, thyme, basil, and oregano. Stir in the tomato paste and cook for two minutes. Sprinkle in flour and cook for a few more minutes. Pour in beer (if using,) broth, soy sauce, mustard, peas, and corn. Taste for seasoning. Cook until frozen veggies have defrosted.
Preheat oven to 400F.
Pour the filling into a large casserole pan (I believe mine is 9x13) and flatten the mixture the best you can. Top with the mashed potatoes.
Place into the oven and bake for 15 minutes, or until potatoes are slightly golden. Remove from oven and top with cheese (omit for vegan recipe.) Place back into the oven for another 10 minutes, or until cheese is melted and bubbly.
Allow to cool slightly and serve!
Nutrition Information:
Yield:

4
Serving Size:

1
Amount Per Serving:
Calories:

1091
Total Fat:

53g
Saturated Fat:

31g
Trans Fat:

2g
Unsaturated Fat:

17g
Cholesterol:

132mg
Sodium:

1600mg
Carbohydrates:

119g
Fiber:

18g
Sugar:

22g
Protein:

40g
This recipe is fast and easy! Perfect for a evening you do not want to cook or are a bit busy. The mashed potatoes can be made in advance, along with the lentils. I personally love hearty the meal is, even if it is vegetarian and vegan. And the flavors! So many delicious flavors! The vegetarian shepherd's pie is not lacking at all! Mr. TCW liked this version as well, but said he preferred the meat version (I think it is because I added ½ cup more beer in his but I will let him pretend it is the ground beef.) Both meals are so easy, I have no problems making them on the same night so everyone can enjoy a delicious meal together.