I have not done a theme week in a while, so today begins a new journey! Say hello to lentils week! Lentils are nutritious, easy to work with, and perfect for vegetarian and vegan meals (as well as gluten-free!)
For day one I thought I came up with the most original idea ever!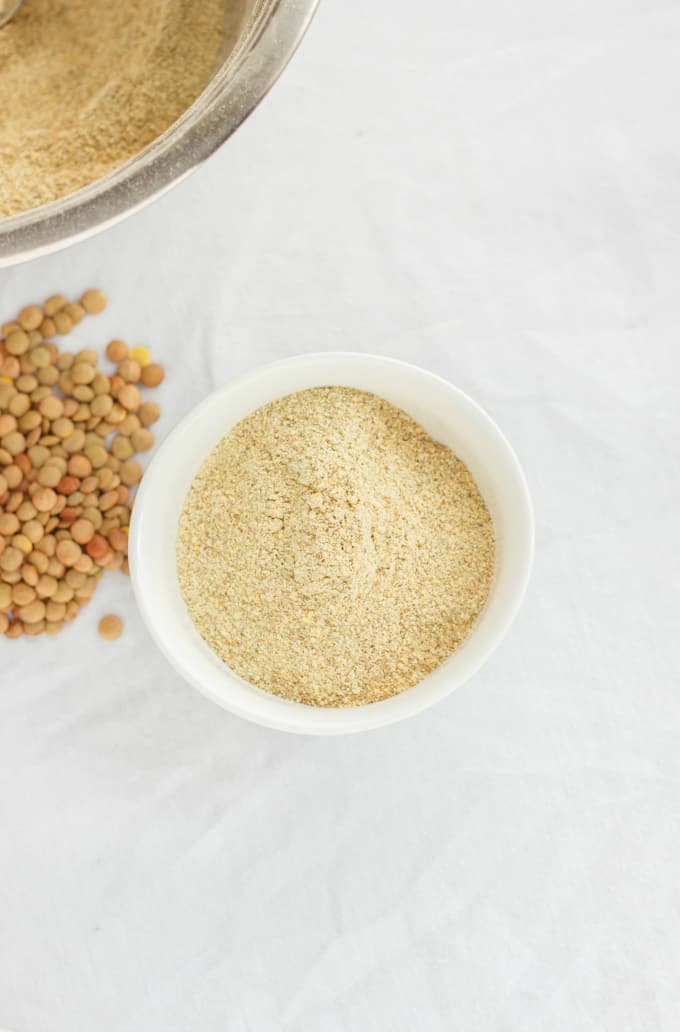 I still think it is pretty darn original, even though it seems like my homemade lentil flour is actually a "thing." Lentil flour is used in Indian cooking, though I was not even aware of that during my entire process of making homemade lentil flour and then baking with it. But the research on the topic was interesting and I found out that lentil flour is typically used in bread making. I will definitely have to try homemade lentil flour bread in the future!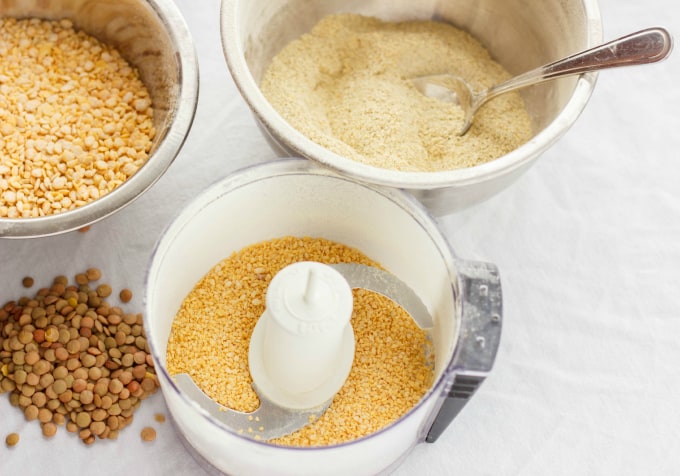 The reason I wanted to make homemade lentil flour... well, there are many reasons. The main reason being that gluten-free diets are a big deal these days, and since my mother-in-law suffers from Celiac, I am always looking at new and creative recipes for her. Generally speaking, a lot of gluten-free baking recipes include multiple flours, and some people do not want to go through the hassle of buying 5 different flours to make a recipe. I know my mother-in-law sure doesn't! This being said, I have tried mixes such as Robin Hood's Nutri Flour Blend (gluten-free) and while surprisingly easy to work with, it can be kind of pricey. So my journey began to try and invent a new flour!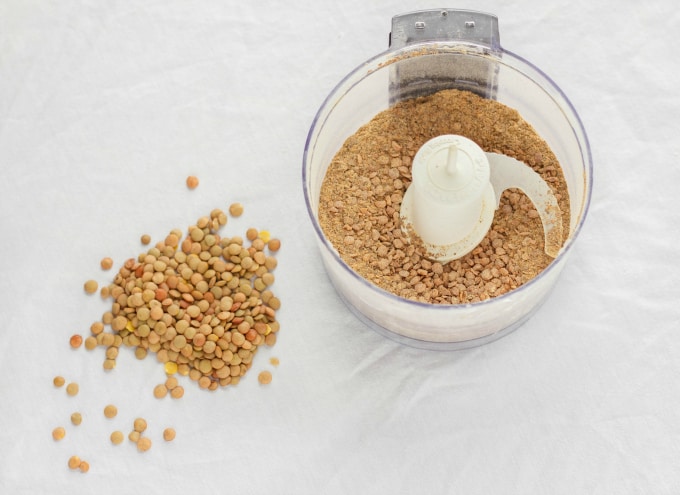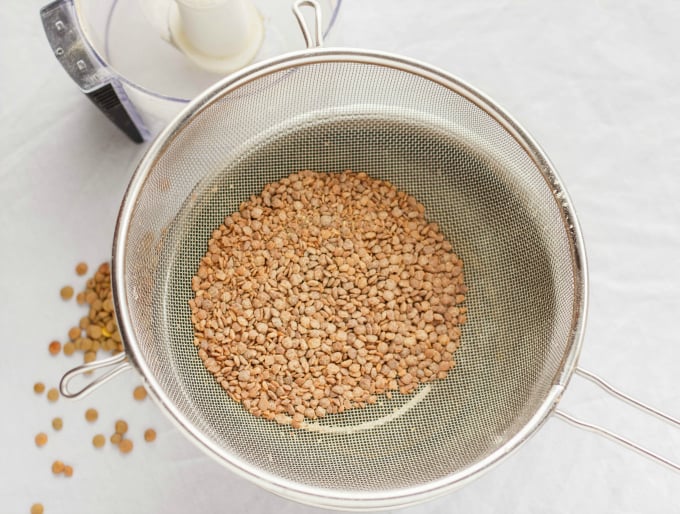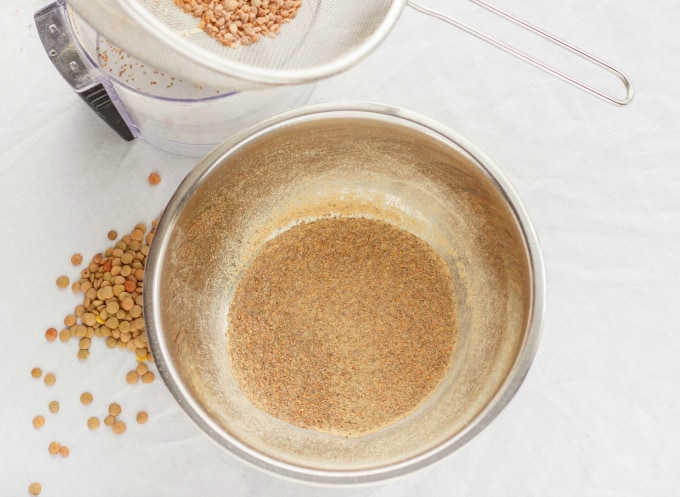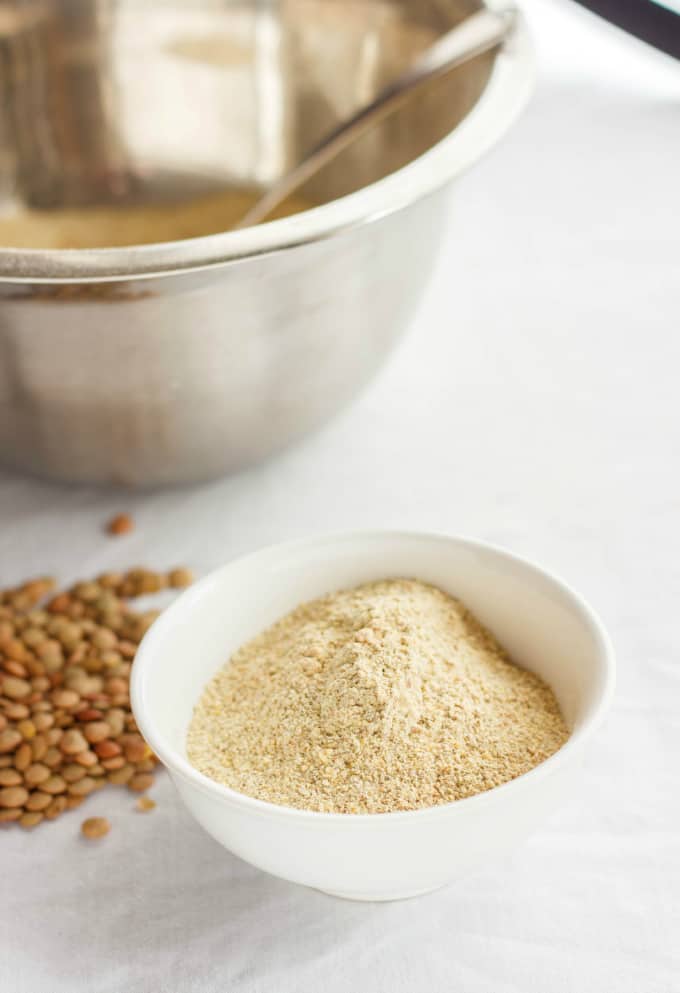 This tutorial for homemade lentil flour is VERY simple. If you have a food processor, you are good to go. I made my flour two ways, and then combined them. I processed enough un-toasted green lentils to equal out 1 cup of lentil flour. I then roasted some lentils in the oven for about 15 minutes and then processed them, creating roughly ½ cup of toasted lentil flour. I then combined the two flours.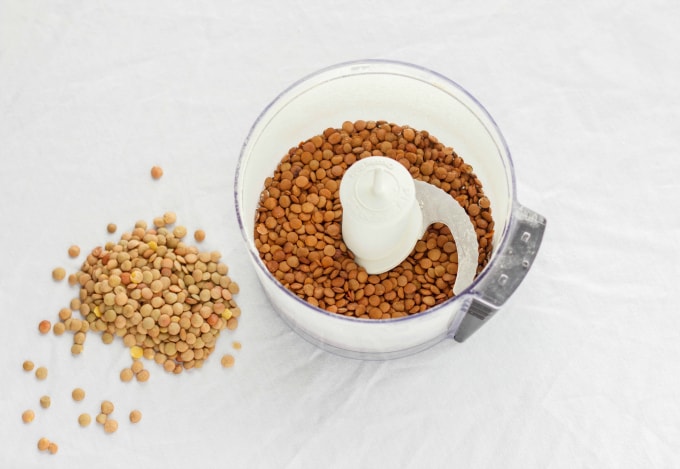 Now why did I do this? No real reason. Personally, the roasted lentils really came through in flavor. You could taste them in the baked goods. However, I think using purely toasted lentil flour in cookies might be overwhelming. Mixing the two flours helped create balance, and my cookies came out with this perfect hint of lentil flavor (without anyone actually knowing there were lentils in the cookies!)
📖 Recipe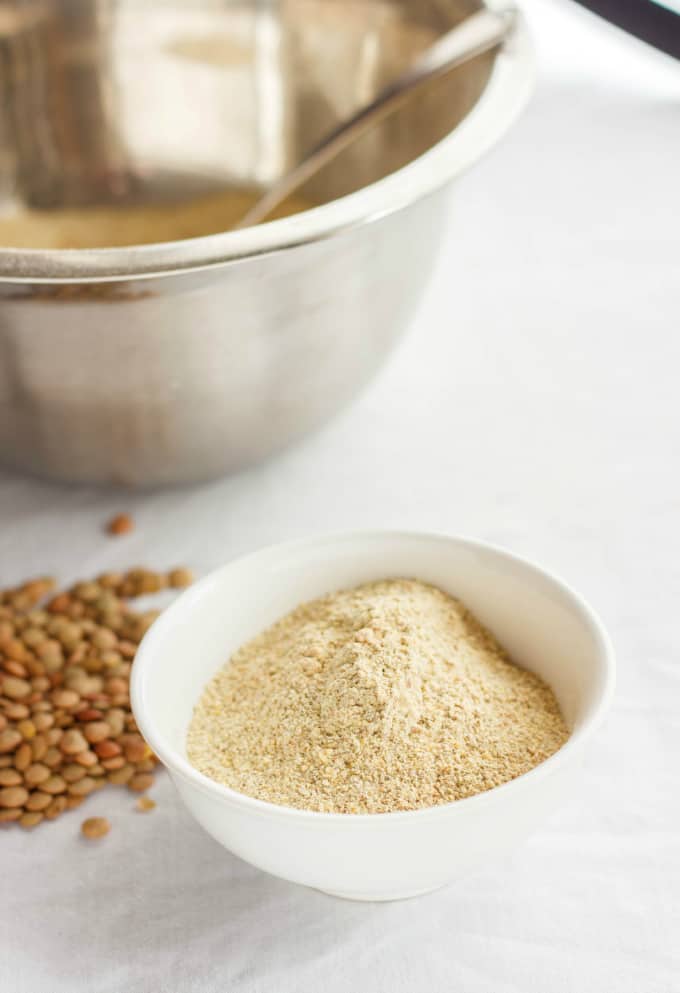 Homemade Lentil Flour Tutorial
Homemade lentil flour is easy to make, gluten-free, and very healthy. It takes no time at all to make, and can be used in baked goods.
Ingredients
3 cups dry lentils of your choosing (I used green.)
Instructions
You can make this flour two ways.
Leave the lentils un-toasted and transfer to a food processor. Working in batches, process until the lentils resemble a fine powder. There will be some bigger chunks left behind, so make sure to sift through a sieve. Store in an airtight container.
If you would like to make toasted lentil flour, preheat oven to 400F. Place lentils onto a baking sheet lined with parchment paper or silicone mat. Sort into a single layer.
Bake for 10 minutes and stir. Bake for an additional 5 minutes if necessary.
Process like you would the un-toasted lentils.
*NOTE: Processing these lentils will take some time. Your food processor will probably heat up. Give it a break and step away for 15-20 minutes and process some more. I usually do this over a couple of days.
Nutrition Information:
Yield:

1
Serving Size:

1
Amount Per Serving:
Calories:

2028
Total Fat:

6g
Saturated Fat:

1g
Trans Fat:

0g
Unsaturated Fat:

4g
Cholesterol:

0mg
Sodium:

35mg
Carbohydrates:

365g
Fiber:

62g
Sugar:

12g
Protein:

142g
I used green lentils, but as most know, there are red, brown, yellow, and even black lentils! It took some time breaking down the green lentils in my food processor (my machine is only a 3 cup maximum.) I purchased some red lentils to try out with this recipe because they are smaller and I find more split pea in shape. I just happen to always have green lentils on hand because they hold their shape better for my vegetarian meals such as
vegetarian meat loaf
, vegetarian shepherd's pie, and so on.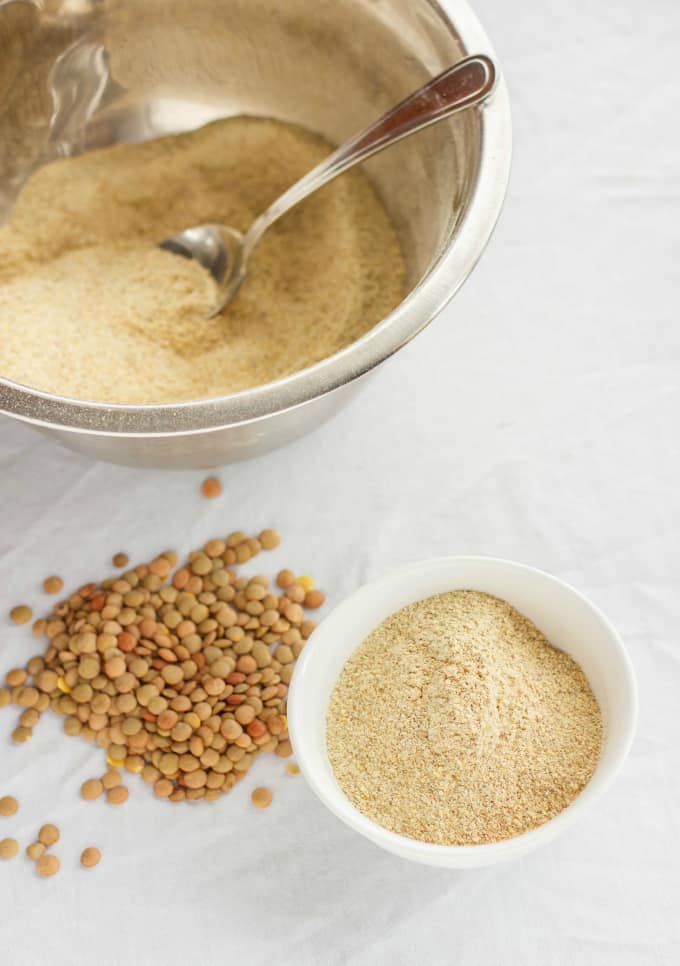 So what exactly did I make with my homemade lentil flour? I'll give you a tease with this photo, but you have to come back next tomorrow to get the recipe!