Do I have a fun post today! Not only am I sharing a delicious recipe, which happens to be vegan, dairy-free, and gluten-free, but I am giving you a chance to win an awesome product!
As my fellow readers know, I had the chance to try matcha green tea powder and experiment with it in recipes. I came up with a vegan, gluten-free, and dairy-free Green Tea Ice Cream that was out of this world! Super easy if you have an ice cream machine (everyone should own one, they are that amazing!) We gobbled it up in no time and even non-vegans were impressed by this recipe (however, you could easily use cream or milk for the base recipe if you aren't feeling the almond and coconut milk combination.)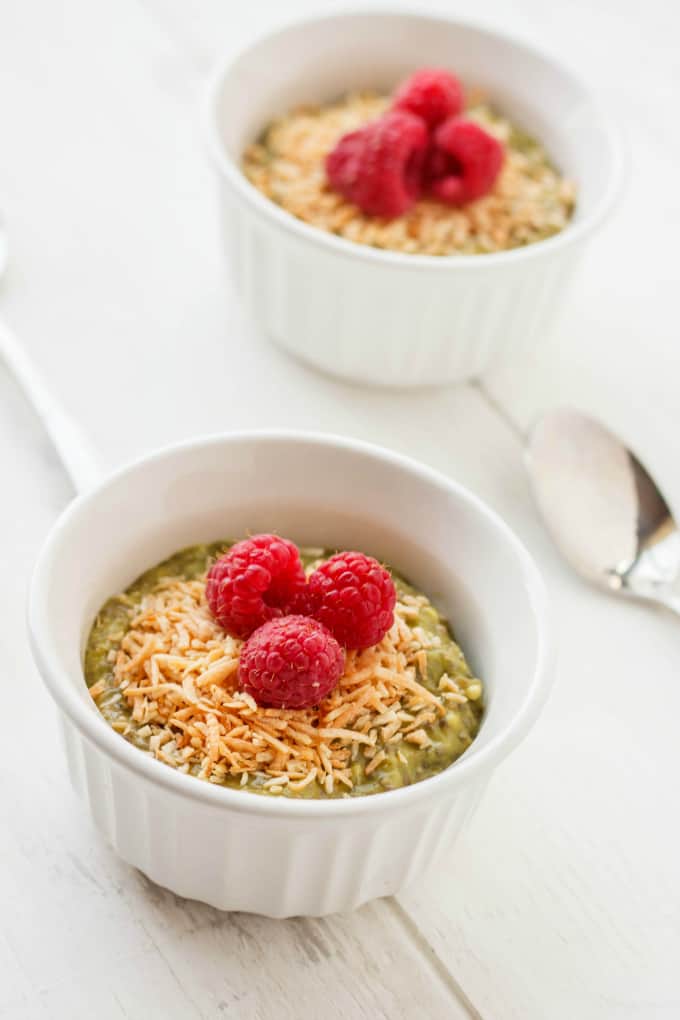 I wanted to stay on the same path when it came to creating another delicious recipe using the same product from Kiss Me Organics. A lot of people are about healthy foods these days, and rightfully so. What many don't realize is that just because it is healthy, doesn't meant it has to lack flavor or fullness. Trust me when I say, this recipe is very flavorful and will leave your stomach feeling satisfied. My husband began using chia seeds in his homemade "instant" oatmeal in the mornings and we both find the seeds fill us right up! I eat about half the amount of oatmeal now with the added chia seeds.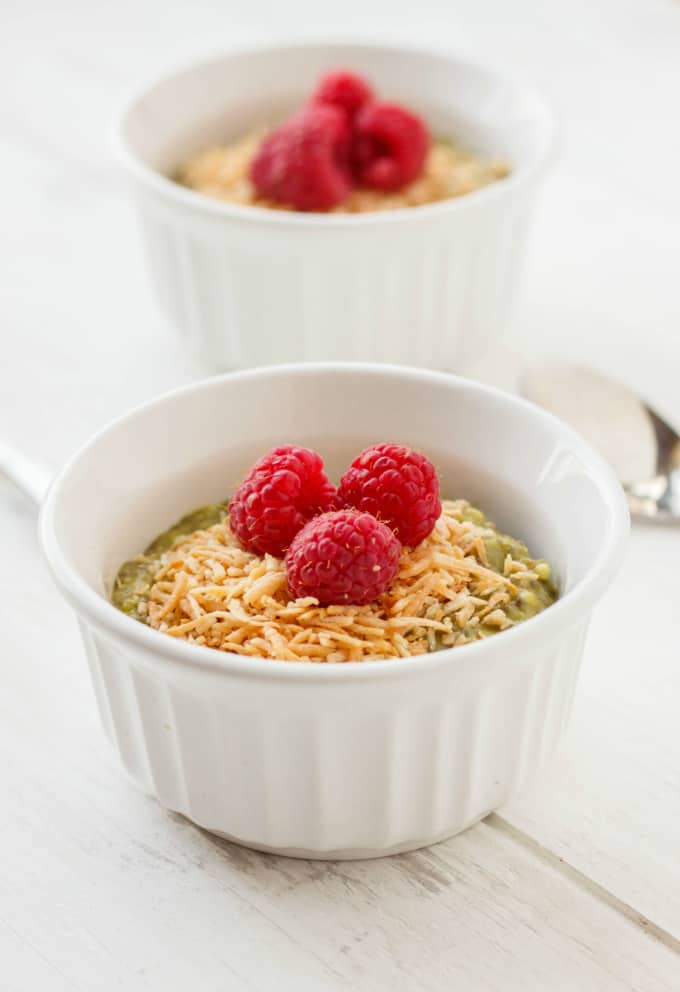 I know some find chia seeds weird in texture, but not us! We love them in this household, and I hope you find this chia seed pudding both easy and delicious! The perfect recipe to introduce yourself to two new ingredients if you have not had the chance to try chia seeds or matcha green tea powder.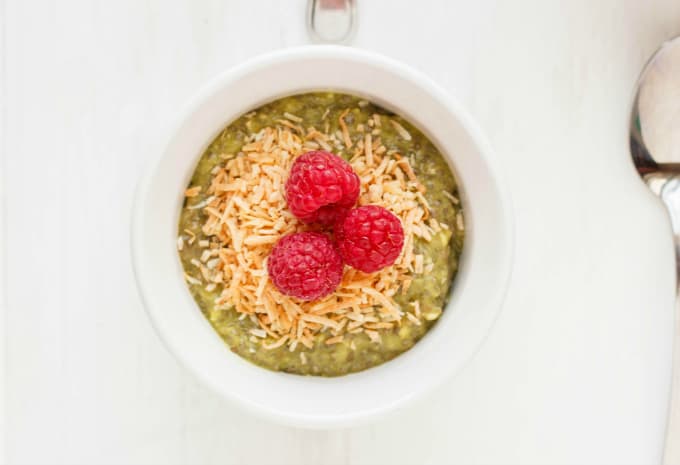 📖 Recipe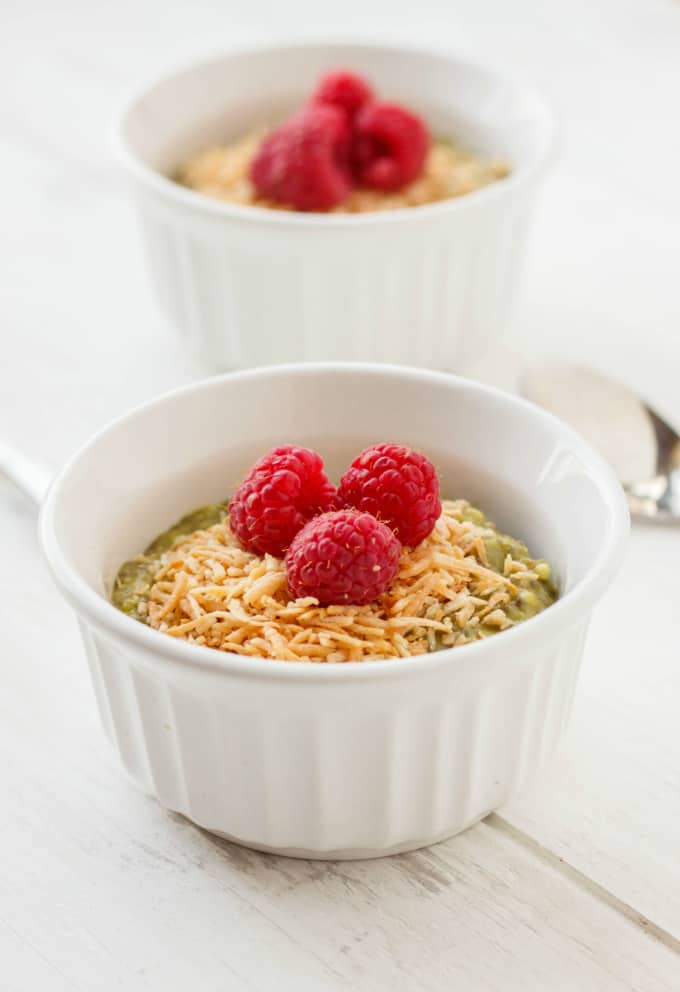 Banana-Avocado Green Tea Chia Seed Pudding
A green tea pudding loaded with power foods like chia seeds and matcha powder!
Ingredients
1 medium or large banana, ripe
1 small avocado, ripe (I used half of a large avocado)
⅛ cup chia seeds
¼-1/2 tsp. Organic Matcha Green Tea Powder
Pinch of salt
¼ cup unsweetened almond milk
½ tsp. vanilla extract *optional
1-2 tbsp. sweetener (sugar, maple syrup, honey) *optional
¼th cup shredded, toasted coconut (I used half sweetened, half unsweetened)
Fresh raspberries
Instructions
Mash banana in a medium bowl until smooth. Add in the avocado and mash until smooth. A blender would also work here but I did not want to make more dishes! Stir in the almond milk. Add in the salt, matcha powder, vanilla, and sweetener (if using.) Mix until combined. Pour in the chia seeds and stir until everything is blended.
Pour into smaller dishes and cover with plastic wrap. Store in fridge to cool and firm up. You might want to give it a stir here and there for the first hour. Best to allow to sit overnight so the chia seeds can expand, otherwise they will be very crunchy (which I like but others may not.)
When ready to serve, top with toasted coconut and fresh raspberries!
Nutrition Information:
Yield:

2
Serving Size:

1
Amount Per Serving:
Calories:

475
Total Fat:

31g
Saturated Fat:

14g
Trans Fat:

0g
Unsaturated Fat:

16g
Cholesterol:

0mg
Sodium:

197mg
Carbohydrates:

51g
Fiber:

17g
Sugar:

25g
Protein:

6g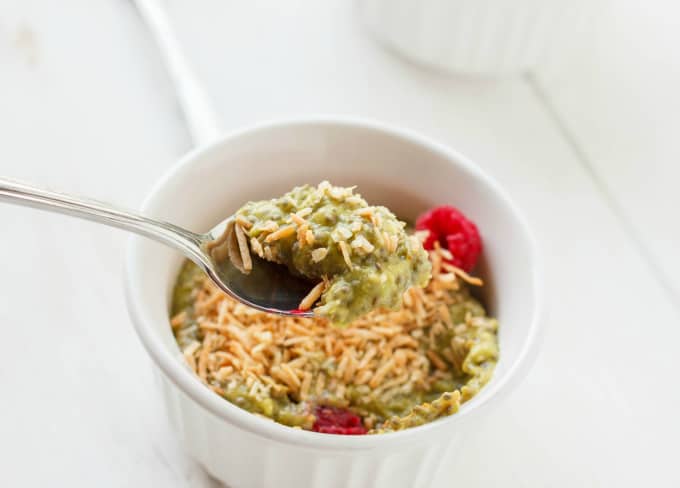 Awesome combination of flavors, and full of healthy ingredients! I added the avocado for extra benefits, but you could substitute in more banana if avocado sounds a little strange for you in this pudding. Now, both avocados and bananas brown over time (very quickly if you ask me!) If your pudding looks a bit brown, don't worry, it has not gone bad. Usually with guacamole I will scoop out the top brown layer or just give it a good mix. With this pudding, I stir the contents and the green color usually shows back up. However, if the mixture looks black or smells funky, it is passed its prime.