As I said before, I am trying to revisit some of my previous posts to tweak up the recipes and also see about sprucing up my old photos. I cannot complain because I love the recipes I post here; but some of my earlier work (photographs) looked dated and plain embarrassing!
My Milestones Bellini Copy Cat has been a recipe that I have indulged in many times. It is tasty, delicious, and pretty easy if you have a blender. The problem I saw with this recipe was the texture issue. The taste was there, but I could not get that slushy-smooth quality about the drink in my blender. It was more like a crunchy ice texture. But it made do, and I pushed that issue aside. Until I got my ice cream maker and saw that you could make slushies in it... Ding ding! Bells were ringing in my head and I knew immediately what I was going to do.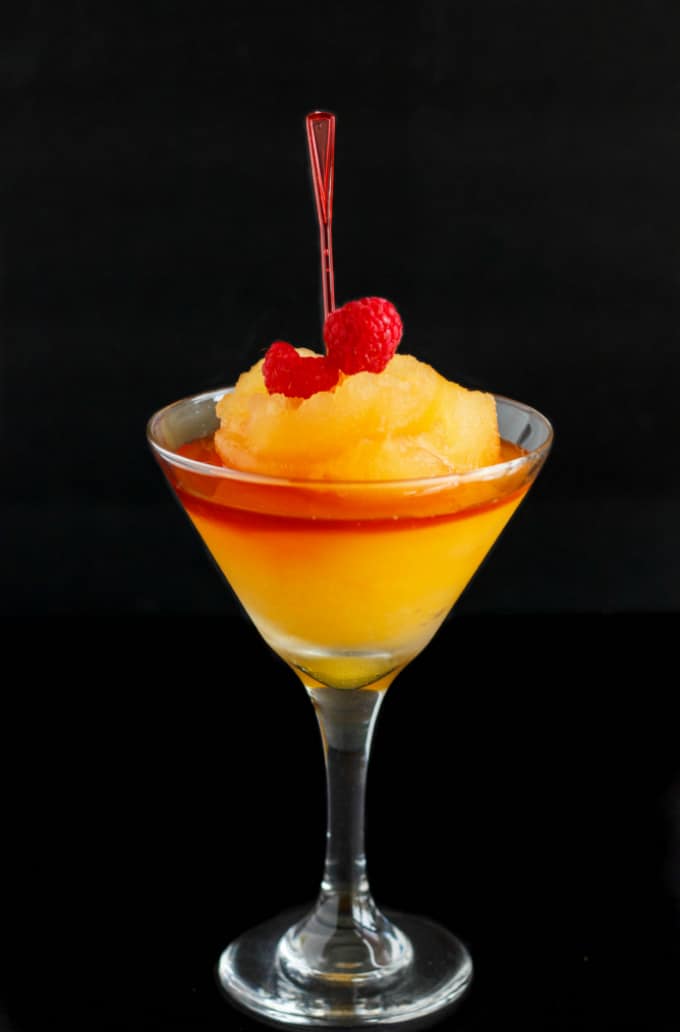 I am happy to report that the Cuisinart ICE-30BCC Pure Indulgence(TM) Frozen Yogurt-Ice Cream & Sorbet Maker makes the perfect Milestones Bellini! My husband and I basically watched the machine make the Bellinis the entire time because we found it so fascinating. The texture was perfect! We couldn't have asked for anything better than what we were presented with. So now, not only do I have an ice cream machine, but a Bellini machine was well.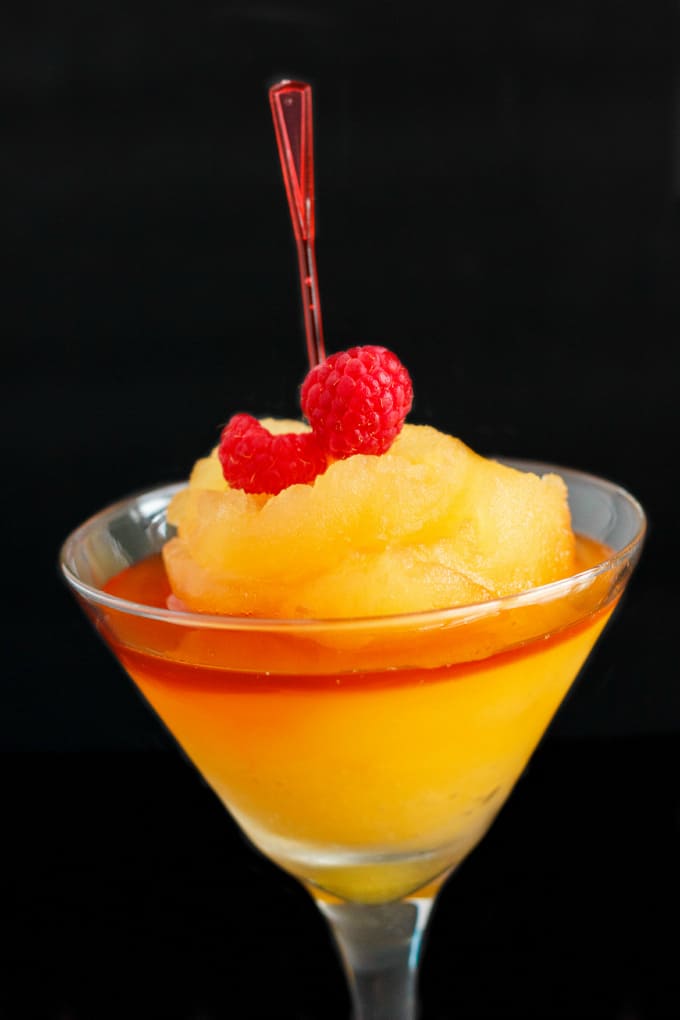 📖 Recipe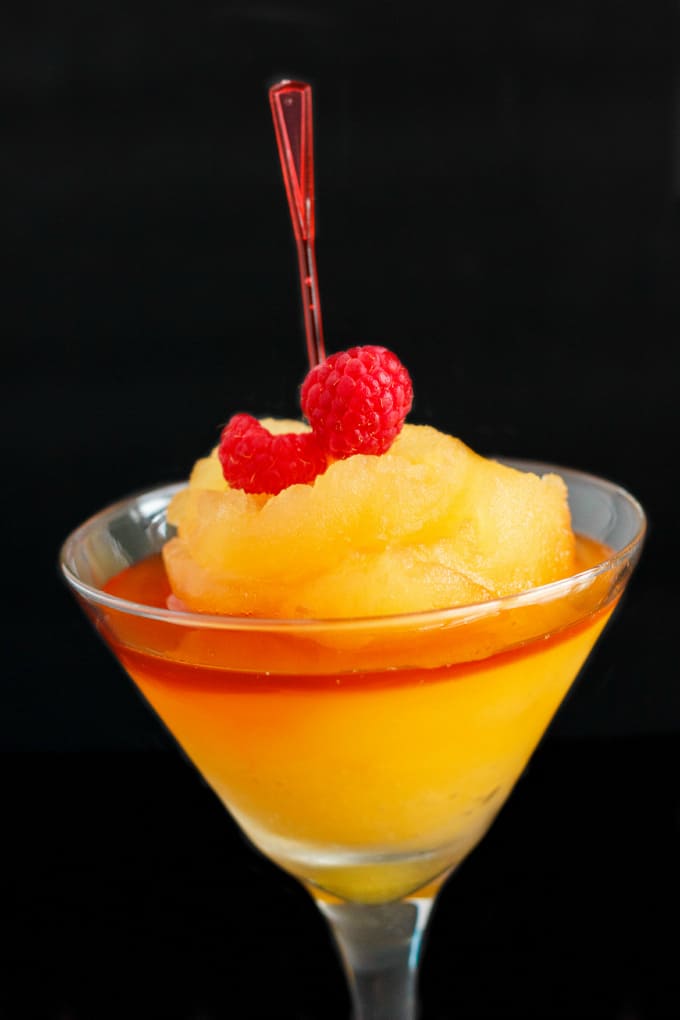 Milestone's Bellini Revisited
A copycat recipe of Milestones Restaurant's famous Peach Bellini!
Ingredients
4 cups 7-Up soda
4 tbsp. peach crystals
3 ounces white rum
2 ounces champagne
Sangria
Instructions
Mix together the 7-Up with the peach crystals. Be careful as the peach crystals will cause the pop to rise up and foam (learned the hard way!) Store in a Tupperware or large container and allow to sit in the fridge overnight to chill. *This will cause the mixture to go flat. You can make it that day to avoid this issue, but once you add the champagne, the difference will hardly be noticed.
Prepare your ice cream machine by following the manufacturer's instructions. For my machine, I placed the frozen ice cream bowl into the machine and attached the arm. Turn the machine on and pour in the 7-Up mixture while the bowl is rotating. Allow the machine to mix for 15-20 minutes, or until the liquid turns slushy-like.
At this point, add in the rum and champagne. The mixture will turn liquid again, but don't worry, continue to mix again until the slushy texture comes back. *Don't add the alcohol into the 7-Up mixture in the fridge, the alcohol will impede the freezing of the mixture.
Divide the mixture into 4 cups and pour the garnish of sangria into each.
Nutrition Information:
Yield:

4
Serving Size:

1
Amount Per Serving:
Calories:

209
Total Fat:

0g
Saturated Fat:

0g
Trans Fat:

0g
Unsaturated Fat:

0g
Cholesterol:

0mg
Sodium:

29mg
Carbohydrates:

31g
Fiber:

0g
Sugar:

29g
Protein:

0g
If you do not have an ice cream machine, you can use the instructions seen in my original post below. However, the ice cream machine makes a big difference! I swear, without the icy texture, you can really taste a difference. I am never going back to the old method again!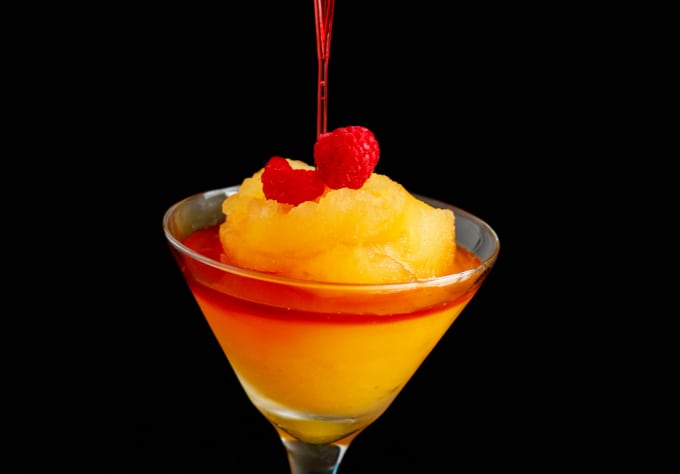 Feel free to up the alcohol contents. I found that this recipe had a fantastic taste that was REALLY similar to Milestones Bellini, but it didn't have that overabundant taste of alcohol. Aka, if you are looking to get a bit tipsy, you may have to up the booze!
1) Place peach crystals into 7-Up.
2) Stir and place in freezer (I use Ziploc bags or Tupperware).
3) When partially frozen or fully frozen, place in blender along with rum and champagne.
4) Blend until smooth consistency.
5) Pour into glass and top with Sangria when ready to drink!
*You could probably cut back on the peach crystals; I do love sugar but this may be a bit too much for some!