Whether you have run out of butter or forgot to bring some to room temperature, do not fret! These no butter chocolate chip cookies are packed full of coconut oil (or your favorite!) with that same great taste!
Shocking news!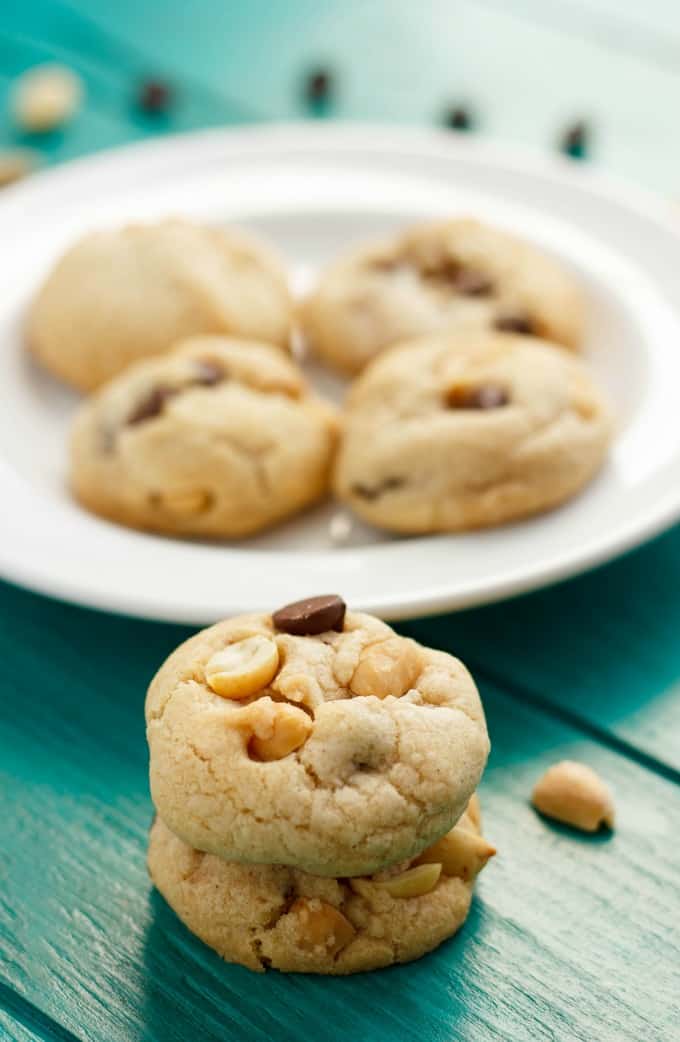 My butter supply is down to the bare minimum! I have two bricks of butter left. Considering my downstairs freezer was stacked with over 20 bricks, this is quite a feat. I am not too surprised though; when it comes to cupcake and cakes, it is usually minimum ½ cup butter used per recipe. And this is not including buttercream recipes! This news had me in search of a recipe that included no butter so I could still enjoy a batch of chocolate chip cookies.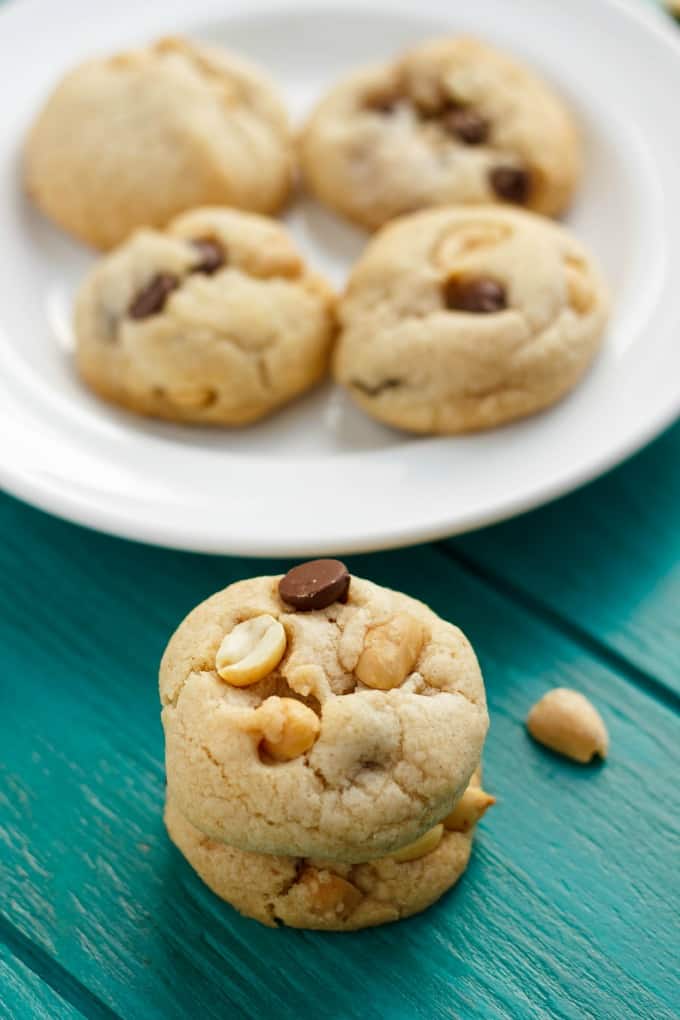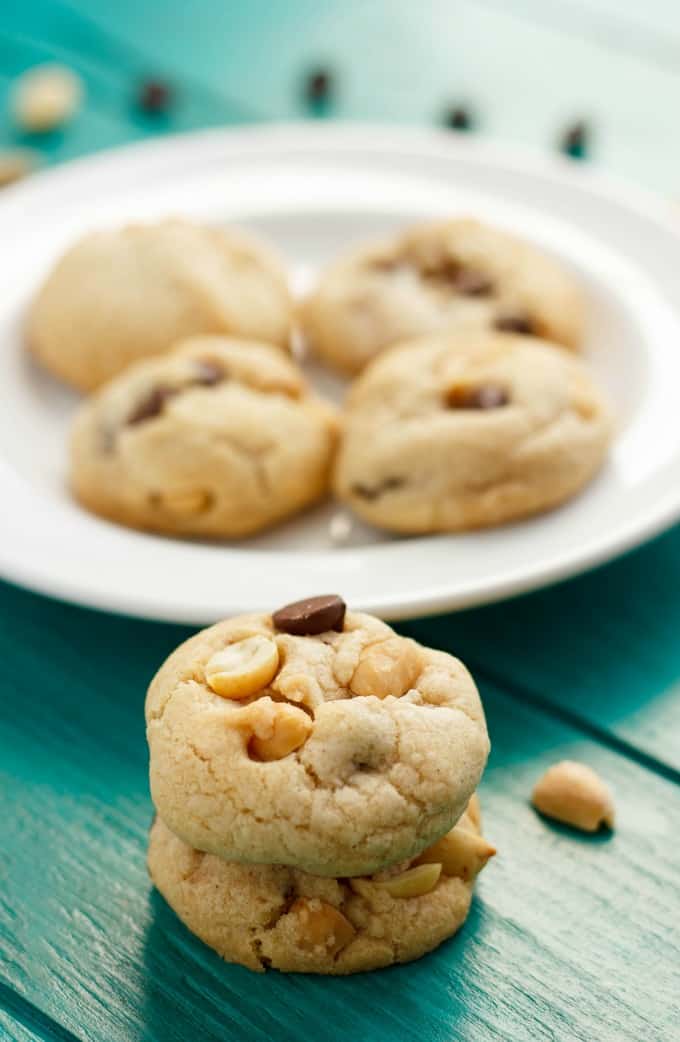 No Butter Chocolate Chip Cookies with Peanuts
These cookies are perfect when you have no butter on hand since they use vegetable oil instead.
Ingredients
1 ½ cups all-purpose flour
1 tsp. baking soda
⅛ tsp. salt
½ cup granulated sugar
¼ cup brown sugar
½ cup coconut oil (I have used vegetable oil with no issues!)
1 egg, room temperature
½ cup chocolate chips
½ cup unsalted peanut halves *optional
1 tsp. vanilla extract
¼ tsp. ground cinnamon
Instructions
Preheat oven to 350F. Line a baking sheet with parchment paper or silicone liner and set aside.
In a small mixing bowl, sift flour, baking soda, cinnamon and salt. In the bowl of your stand mixer, add the oil and sugars. Mix well. Add in the egg and vanilla and beat well until thoroughly combined.
Add flour mixture and mix until barely combined. Pour in the chocolate chips and peanut halves and mix until just blended.
Measure out tablespoon-sized balls and place onto baking sheet. Bake for about 8 minutes or until slightly golden around the edges. Allow to cool for a couple of minutes on the pan and move to cooling racks to finish.
Nutrition Information:
Yield:

24
Serving Size:

1
Amount Per Serving:
Calories:

131
Total Fat:

7g
Saturated Fat:

5g
Trans Fat:

0g
Unsaturated Fat:

2g
Cholesterol:

8mg
Sodium:

68mg
Carbohydrates:

15g
Fiber:

1g
Sugar:

8g
Protein:

2g
If you are craving chocolate chip cookies and don't have butter (or just forgot to bring some butter to room temperature), these no butter chocolate chip cookies will satisfy the hungriest of appetites! I like the addition of peanuts for a salty kick! I have made this recipe a couple of times now and found both coconut oil and vegetable oil work (so choose your favorite!)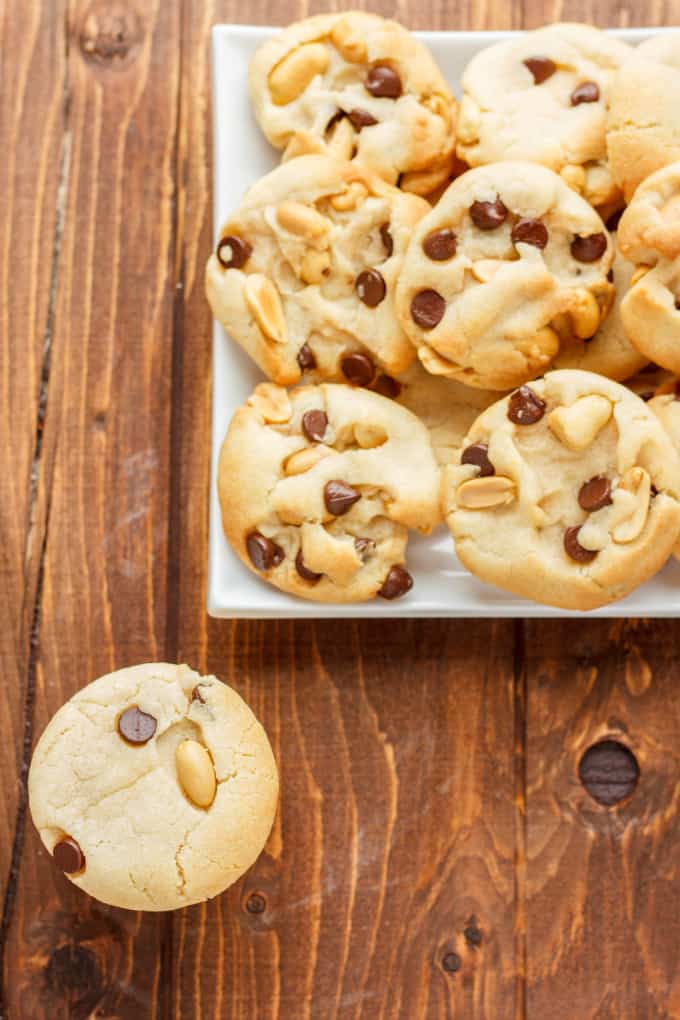 Number 1 husband and I have been talking about our goals for the summer. We have been really good with the food we eat, resorting to takeout as little as possible but sometimes it is nice to indulge. Our biggest problem is not unhealthy food or sugary filled beverages. Our issue is enjoying the food we make so much that we tend to have larger than needed portions. His lunches are HUGE and he admits it, but if you are working hard all day, you need that food. For myself, I find if I really like the flavors of the meal, I will have a second bowl, even if I know I am full. We are not the dieting kind and never will be, but realizing portion control is a big deal. Our goal is to enjoy our meals, and then wait 30 minutes or so, allowing our food to settle and see if we really are still hungry. If so, eat some more! I have to admit, it is nice knowing we eat extra portions because the food tastes so good. But now it is time to enjoy smaller meals more frequently throughout the day.