One drink we love in this house is green tea. We prefer it over water (is that even possible?!) and have at least 2-4 cups a day (and my cup is jumbo size!) But we are particular about what green tea we drink. A lot of our preference is based on taste, however, more recently we began to look at teas that have more nutritional and sustaining values to them.
So I thought it was perfect when Kiss Me Organics contacted me to write a review on their product. We are big lovers of Genmaicha green tea (a Japanese green tea that is commonly served in Canadian sushi restaurants.) Thankfully, our favorite sushi restaurant allows us to buy the tea from them so we are often not without this delicious beverage. The brand we drink happens to have matcha in it, which brings me to today's post: Organic Matcha Green Tea Powder.
I was lucky enough to be given this product to use in my daily routine in exchange for an honest and thoughtful review on it.
All thoughts towards this product are my honest opinion, as I would not recommend a product that I did not find 100% satisfactory. I was super excited to receive the product from Kiss Me Organics because we are familiar with a lot of green teas, and adding another one to our repertoire was just an added bonus.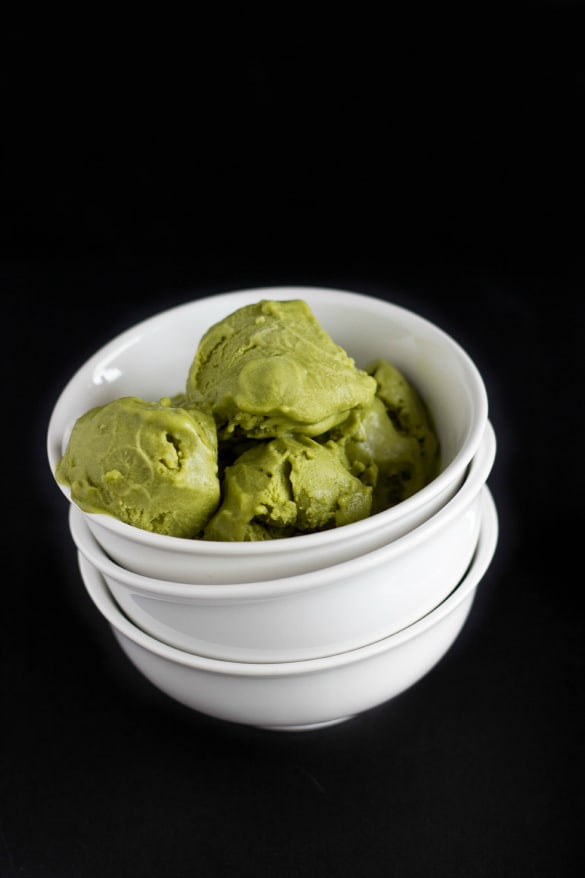 Even before the product arrived, I knew I wanted to make a green tea ice cream. Amazing, considering the fact that I did not own an ice cream maker... However, the green tea ice cream found at Japanese restaurants is a weakness for me. The flavor is bold and delicious, but it did not dawn on me that to make this type of ice cream, you would need to use matcha powder. When I received this product, I knew I had to get an ice cream maker. Thankfully, I was surprised with a Cuisinart ICE-30BCC Pure Indulgence(TM) Frozen Yogurt-Ice Cream & Sorbet Maker for mother's day!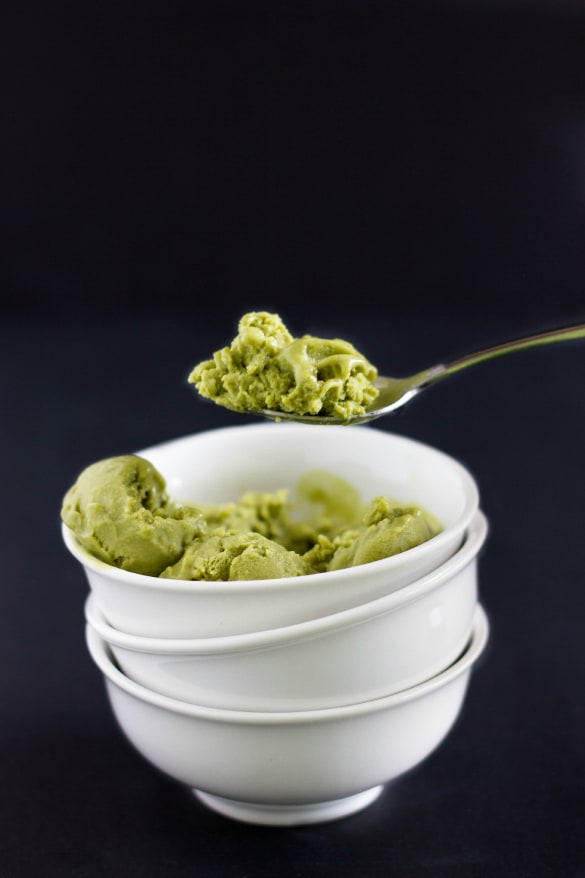 Of course, my first ice cream flavor was sweet cream because it is my all-time favorite. But don't worry, my second recipe was definitely green tea ice cream using the organic matcha powder. And I must say, it turned out fabulous! I wanted to provide a recipe that anyone could try, including any dietary restrictions, so I decided on a vegan green tea ice cream. While it does use almond milk (and there are many with nut allergies), I found the ice cream set up very well considering there are no fats from any cream (just coconut milk.)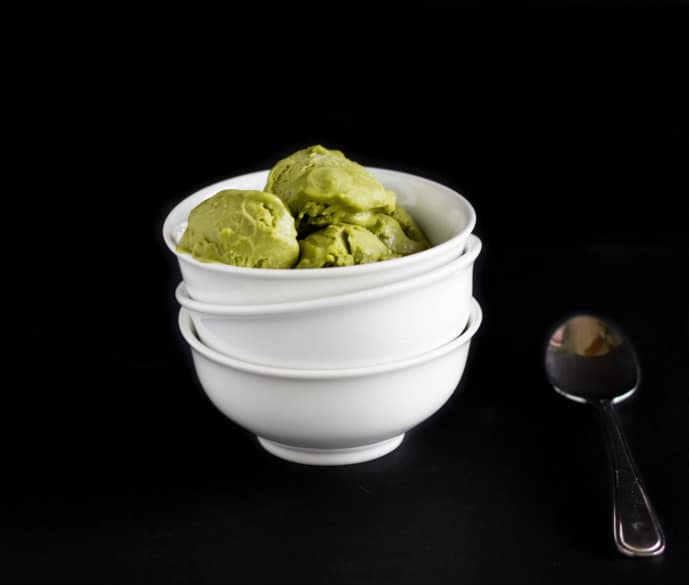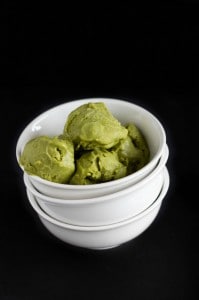 Vegan Green Tea Ice Cream
A delicious and easy vegan green tea ice cream using coconut milk and almond milk. The ice cream does freeze firmer than cream-based ice creams, so make sure you allow it to sit out 10-15 minutes before serving.
Ingredients
400 mL (between 1.5 and 1.75 cups) can of coconut milk
1 ¼ cup unsweetened almond milk
2 tbsp. cornstarch
¾ cup sugar
2 tbsp. Organic Matcha Green Tea Powder
Instructions
Add the almond milk to a large measuring cup. Sprinkle in the cornstarch and whisk until there are no lumps. Set aside. *The almond milk should be nice and cold from the refrigerator.
Pour the coconut milk into a small saucepan and add the sugar. Heat over medium-low and stir occasionally, waiting for the coconut milk to change in consistency (about 10 minutes.) You will see that the coconut milk and sugar no longer separate when stirred.
When the coconut milk is quite warm (never allow it to boil or simmer), give the almond milk one last stir and pour it into the coconut milk. Allow the mixture to meld together over medium heat, but do not bring to a boil. Stir occasionally until the mixture thickens slightly.
When the mixture is nice and hot, remove from heat and whisk in 2 tbsp. of the matcha green tea powder. Allow to come to room temperature, stirring every so often to keep the film away. Place into refrigerator, covered, and allow to chill for 6-12 hours (or overnight.)
Follow the directions of your ice cream maker. In my case, I added the frozen bowl to the ice cream machine and poured in my chilled green tea mixture (at this point, I gave the mixture one last stir as it thickened up quite nicely in the fridge.) It took about 20-25 minutes to firm up in the machine. You can eat it as is, or store it in an airtight container in the freezer so it hardens up more (straight from the machine provides more of a soft-serve ice cream quality.)
Nutrition Information:
Yield:

3
Serving Size:

1
Amount Per Serving:
Calories:

481
Total Fat:

29g
Saturated Fat:

25g
Trans Fat:

0g
Unsaturated Fat:

2g
Cholesterol:

0mg
Sodium:

19mg
Carbohydrates:

59g
Fiber:

0g
Sugar:

50g
Protein:

3g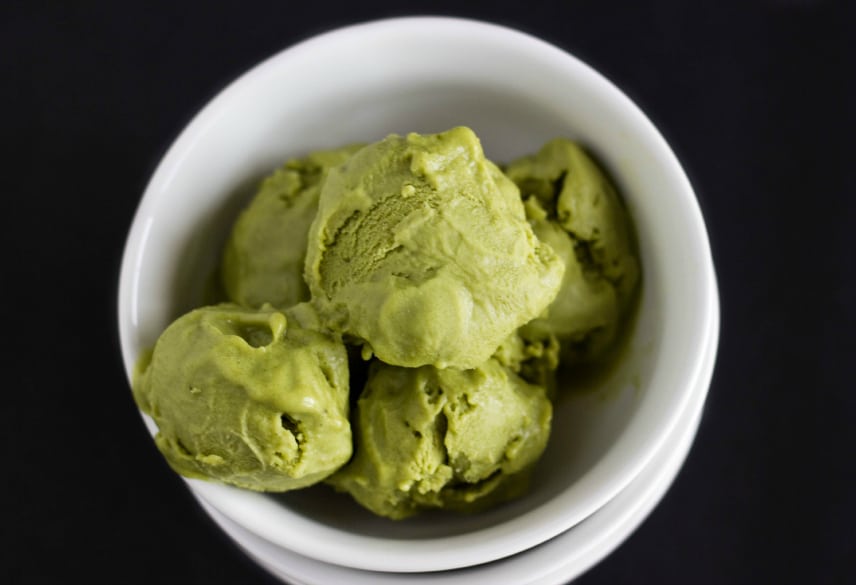 This recipe was exactly what I was looking for! It tastes almost identical to the ice cream I find at our local sushi restaurant. The only difference I can tell is that they make theirs with milk or cream, instead of going pure vegan. This recipe would work perfectly fine with cream and/or milk. Use 3 cups of cream in place of the coconut and almond milk, and perhaps add a splash of vanilla extract to the base. I used 2 tbsp. of matcha powder and found it created a very pleasant taste, not overpowering at all. If using cream in your recipe, you may want to up the quantity of matcha powder.
The matcha powder was easy to work with and I was happy to read about all the benefits it provides to our bodies. Did you know that matcha powder helps provide increased energy, along with metabolism boosts, improved skin health, and a ton of antioxidants? I got the information off their label, but the best part is, even if you are not a big green tea lover, matcha powder can be "hidden" in ordinary recipes like muffins and smoothies so you can still achieve all these added benefits, without having to worry about the taste (which I love, but I know many do not care for the "green" taste.)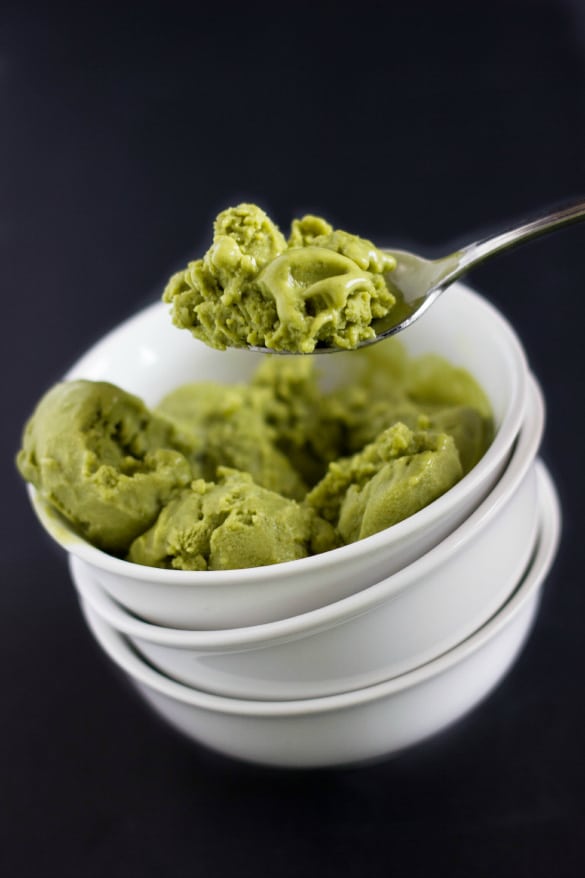 I was so excited to make green tea ice cream that I completely forgot to try a cup of matcha tea first! No big deal since we drink genmaicha all the time, but it was quite funny trying a cup of tea after making ice cream. This brought back many memories, specifically to grade 7, when we had an exchange teacher come from Japan to teach alongside our homeroom teacher. She introduced us to Japanese culture, and I remember her passing around matcha green tea in a bowl for everyone to sip from. I hadn't thought about that memory in years, so just another added bonus to reviewing this product 🙂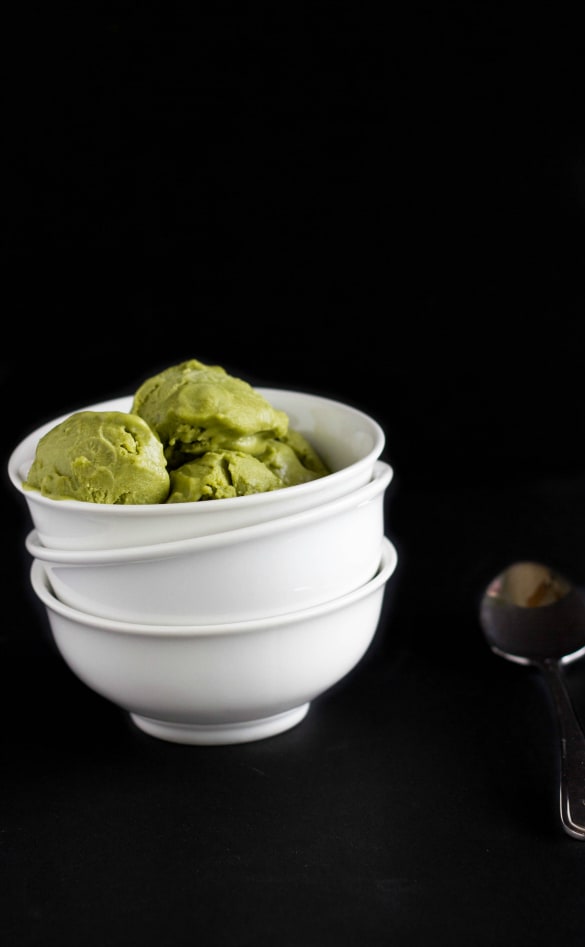 If you are interested in trying a high-quality matcha powder, I suggest checking out Kiss Me Organics' Organic Matcha Green Tea Powder on Amazon.ca. A little goes a long way, so do not be scared off by the size. Most recipes you will only be using 2 tsp. maximum, but you will see that when you receive your free recipe book via email with your order. It contains over 50 recipes using matcha powder! Anything from desserts (cupcakes) to entrees (mushroom gravy.)