Homemade bread is one of the best smells in the world that can fill your house. I love when I bake bread and the whole house gets engulfed in it. I am trying to think of something I cook that smells better... Maybe brownies... But even then, bread seems to top the list (my apple-cinnamon bread had the most wonderful aroma!) Now, I know bread making scares many, but it is sooooo easy! There are so many different methods out there, you are sure to find a favorite. Today's beer, bacon, and Parmesan bread actually contains no yeast and relies on beer to bring out the awesome texture and taste in this recipe. It is great to make when you don't have the time to make a bread recipe that takes many risings. Also, many people tend not to have yeast on hand in their house, so this recipe is perfect for those. Easy, simple, and the taste of beer with Parmesan is just amazing!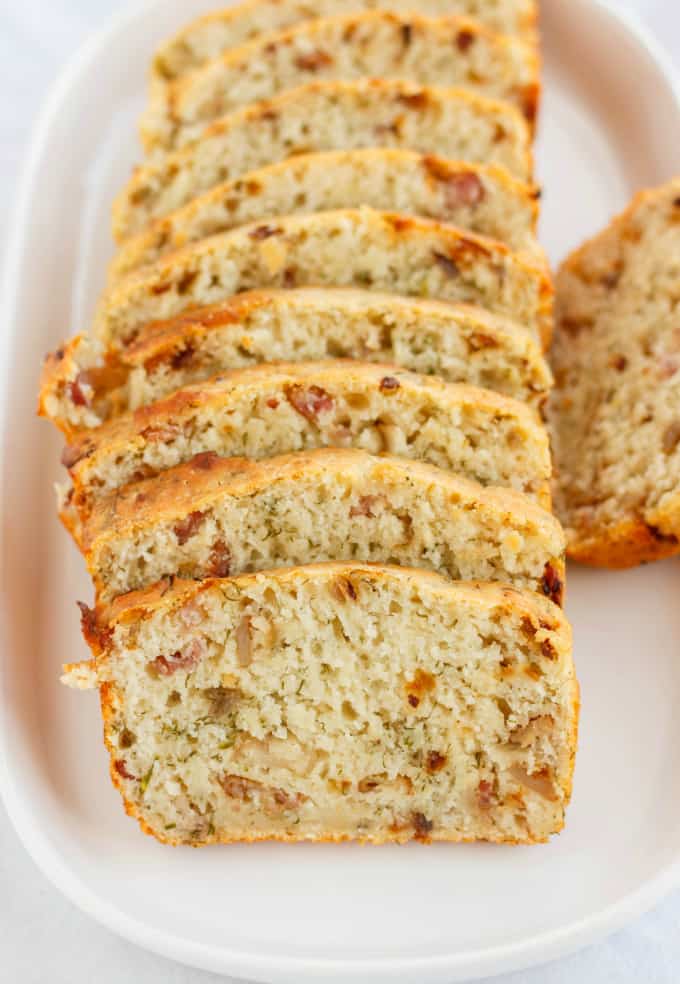 I have made beer bread many times in the past. Actually, the other beer bread recipe I have posted is vegetarian, so hop over there if you are not digging the bacon. But this beer, bacon, and Parmesan bread is perfect for meat lovers (as well as dipping into a bowl of chili or just enjoying on its own.) Seriously, it is probably the easiest bread out there so just give it a try and push your reservations aside!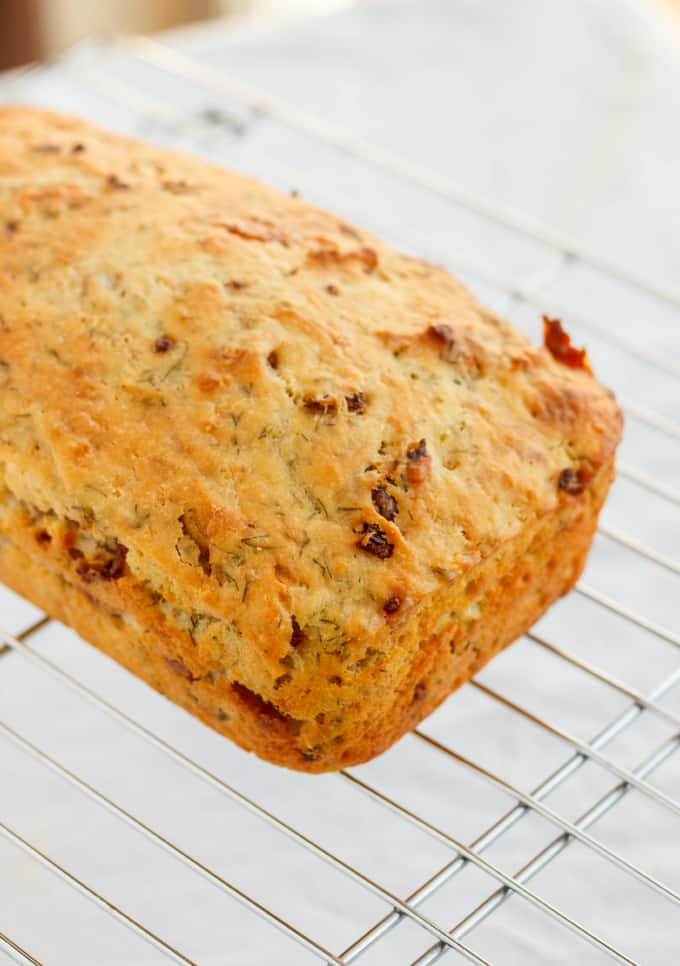 I am partial to fresh dill in the recipe, but any herb should work. I want to see about trying a rosemary and thyme bread, or perhaps a rosemary and sage loaf. Hmm, maybe the smell of fresh herbs run through your fingers is something that beats freshly baked bread in the smell department!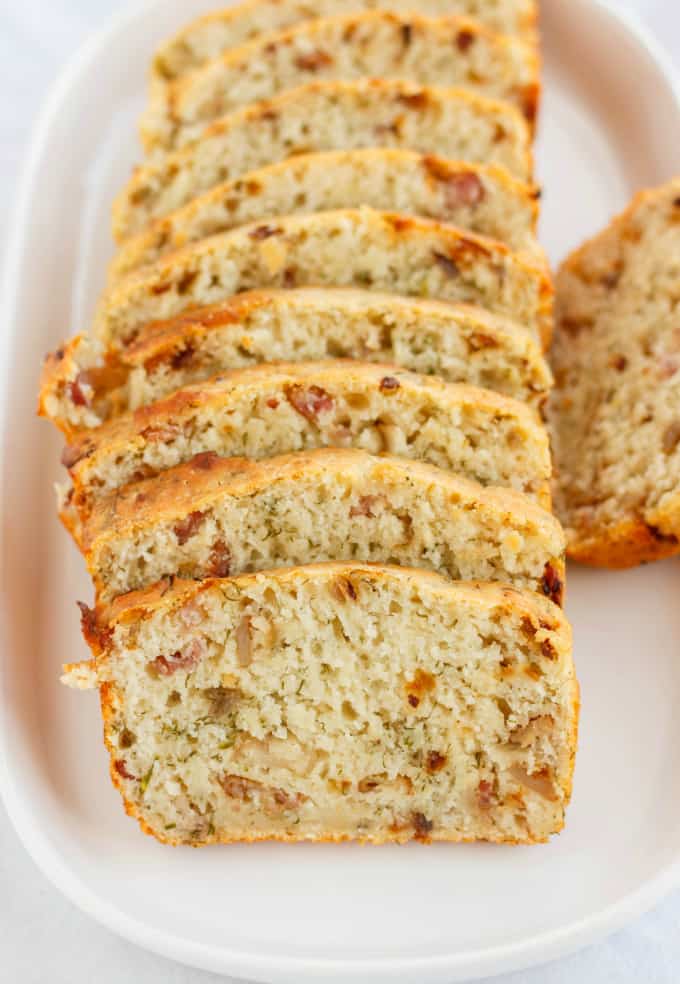 Beer, Bacon, and Parmesan Bread
Total Time:
1 hour
5 minutes
This beer, bacon, and Parmesan bread is the perfect appetizer at any party, but it would also make a great side dish with chili.
Ingredients
2 cups all-purpose flour
2 tbsp. granulated sugar
2 tsp. baking powder
½ tsp. salt
1 ¼ cups beer of your choosing (at room temperature.)
½ - ¾ cup Parmesan cheese, grated
½ cup fresh dill, chopped finely
1 small onion, diced
3-4 slices of bacon, cut small
½ tsp. red chili flakes
2 garlic cloves, minced
Instructions
In a frying pan over medium heat, add the bacon, and onion and cook until slightly golden, about 7-10 minutes. Add garlic in the last minute or two. Remove from heat and set aside.
Grease a loaf pan with butter (9x5x3 preferred, but I used a small dish with no problems.)
Sift together the flour, sugar, baking powder, and salt. Pour in the beer, cheese, red chili flakes, onion mixture, and dill. Mix until combined, all the while trying not to over-mix. Pour into greased pan and allow to sit for 30 minutes in a warm location (I intentionally turned my oven on to a low temperature and then turned the oven off completely before placing the dough inside to rise.)
Preheat oven to 375F (making sure to remove the dough from the oven first if that is where you placed it to rise!) When the dough has risen, place into oven and bake for 35-40 minutes. Allow to cool before slicing (I could not wait, but the bread will hold together better if you resist temptation!)
Nutrition Information:
Yield:

8
Serving Size:

1
Amount Per Serving:
Calories:

194
Total Fat:

4g
Saturated Fat:

1g
Trans Fat:

0g
Unsaturated Fat:

2g
Cholesterol:

10mg
Sodium:

452mg
Carbohydrates:

30g
Fiber:

1g
Sugar:

4g
Protein:

7g
I have made variants of this beer, bacon, and Parmesan bread for most of my guests now, and every one of them has positive things to say about it. I always tell them how easy it is to make and how they should give it a try at home. Seriously, I am going to keep pushing fresh bread making until everyone gives it a try!! No bread machine required, just your mixer, or your hands, and a bread loaf pan.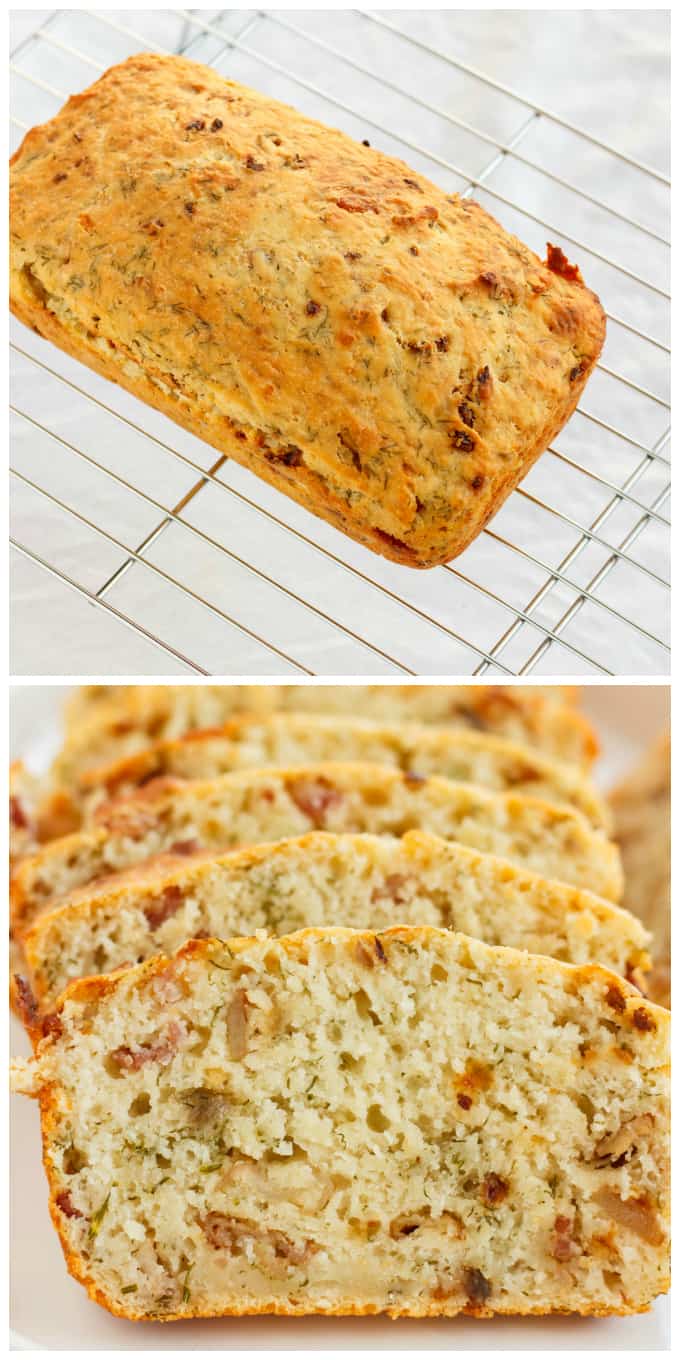 Having worked at a certain popular sub shop for many years, I never thought I would say I enjoy the smell of bread again. I used to go home smelling like the place and while others seemed to enjoy the scent, it reminded me of work and I could not wait to shower! Even now when I go into one of their locations, I find the smell sticks to me like glue and I have to shower when I get in!