A hint of sweet and savory, these sweet garlic chicken breasts are easy to make and great for any family member!
My sister pointed out something surprising the other day. She mentioned how my blog does not have many chicken recipes.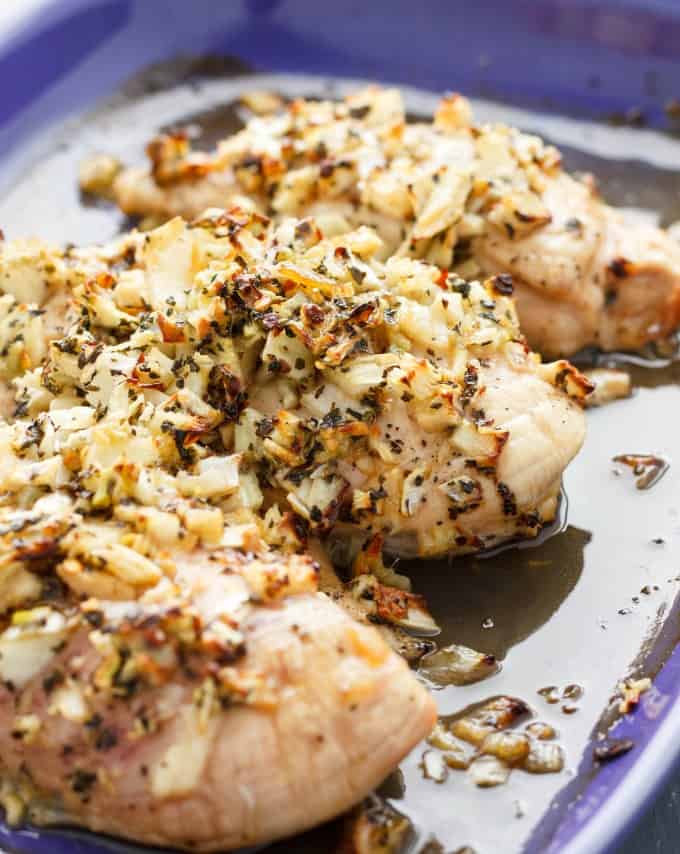 And I have to agree! It is not that I avoid it or anything. I know chicken is the most popular meat among meat consumers, but I never think to pick it up at the grocery store. Probably because boneless, skinless chicken breasts can get pretty pricey. However, Mr. TCW says he prefers skinless, bone-in chicken breasts because it helps keep the meat juicier. So I set about making some chicken recipes!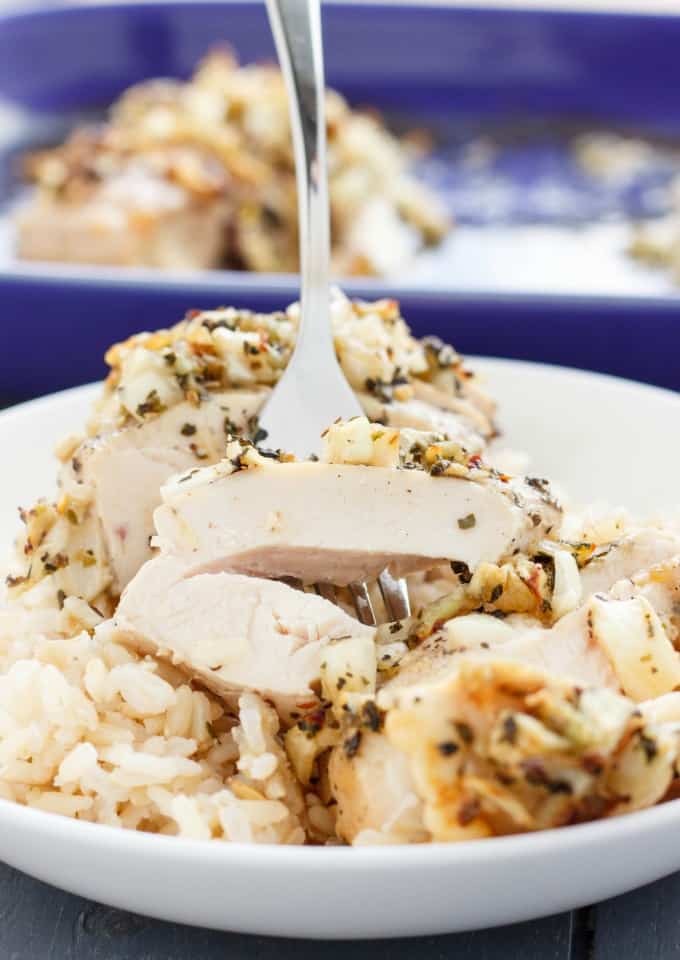 These sweet garlic chicken breasts have been made by me before, but I thought I would revisit them (and take better photos!) The recipe was a hit with both my daughter and husband. Served over a bed of rice, you are left with a sustainable meal that is easy, tasty, and finished in under 45 minutes. Perfect for those short on time or not in the mood to make an elaborate meal.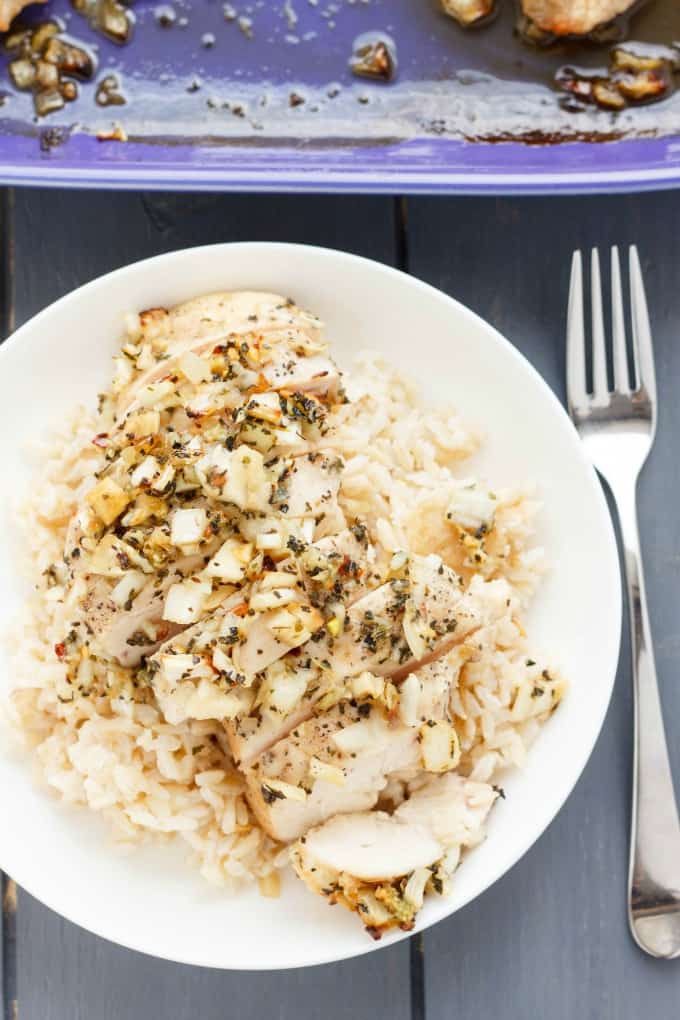 UPDATE: Soooo I revisited this recipe and went the boneless, skinless route for people who prefer that cut of meat. I have left instructions for both bone-in and boneless 🙂 Please remember, all chicken breasts are different! Cook times will vary depending on the size of breasts. If you have a meat mallet, I highly suggest pounding the meat so they are equal in size!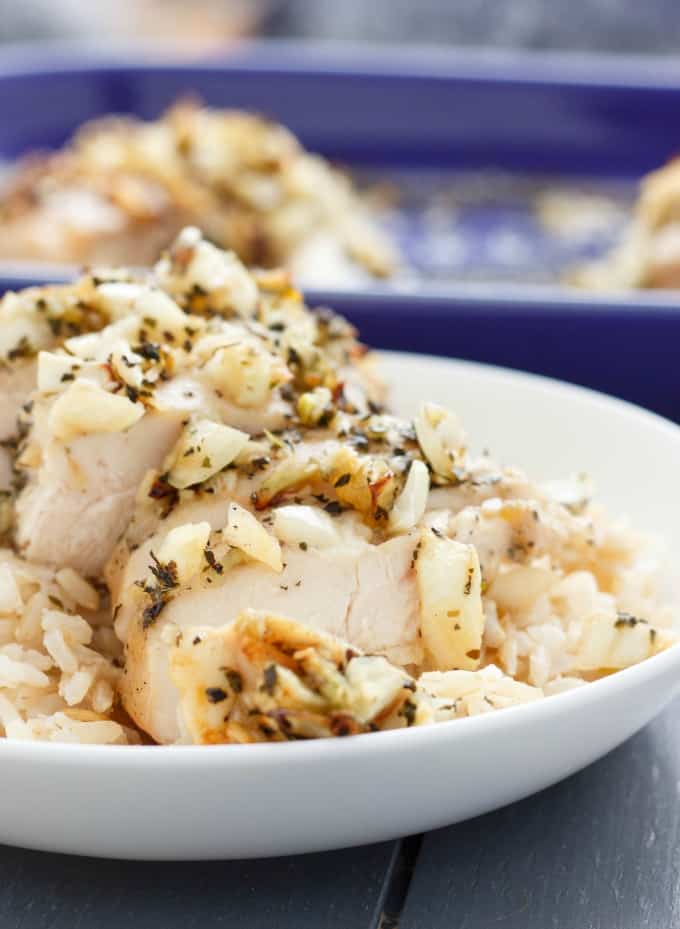 📖 Recipe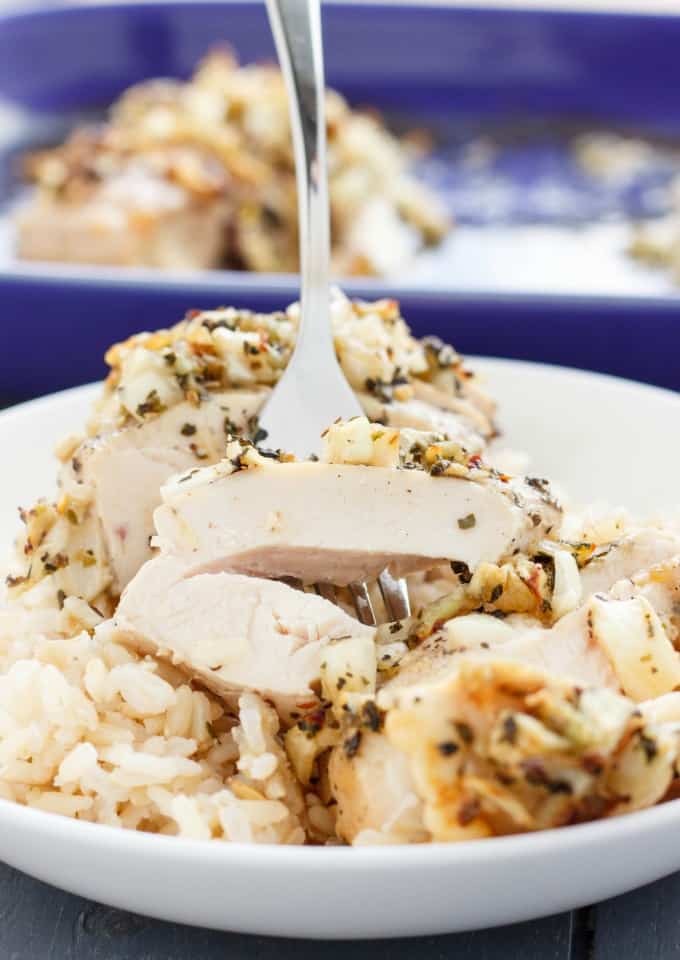 Sweet Garlic Chicken Breasts
Watch the size and type of chicken you use! This will affect your cooking time!
Ingredients
2 lbs bone-in OR boneless chicken breasts (about 3 pieces)
4 garlic cloves, minced
1 small onion, chopped
2 tbsp. brown sugar
Salt and pepper
1 tbsp. butter, melted
¼ cup chicken broth
¼ tsp. red chili flakes
1 tsp. dried basil
Instructions
Preheat oven to 425F.
Place chicken into a baking dish. Season with salt and pepper.
Combine all remaining ingredients and mix well. Pour over chicken pieces and make sure to get that mixture on top of the chicken (pile the onions high!)
Bake for 15 minutes. Baste chicken with juices. Reduce oven to 375F and cook for another 5-10 minutes for boneless chicken breasts, and another 10-15 minutes for bone-in. Chicken is done when the internal temperature reaches 160F and juices run clear!
Serve over rice and enjoy!
Nutrition Information:
Yield:

2
Serving Size:

1
Amount Per Serving:
Calories:

868
Total Fat:

22g
Saturated Fat:

8g
Trans Fat:

0g
Unsaturated Fat:

11g
Cholesterol:

401mg
Sodium:

650mg
Carbohydrates:

16g
Fiber:

1g
Sugar:

12g
Protein:

142g
I originally diced my onions fairly small, and while the flavor did not have any burnt taste, I would say cutting the onions larger would help prevent any excess browning. However, there were no complaints from MR. TCW or kiddo so the small onions must have worked out!
Love these sweet garlic chicken breasts?! Try some of these recipes: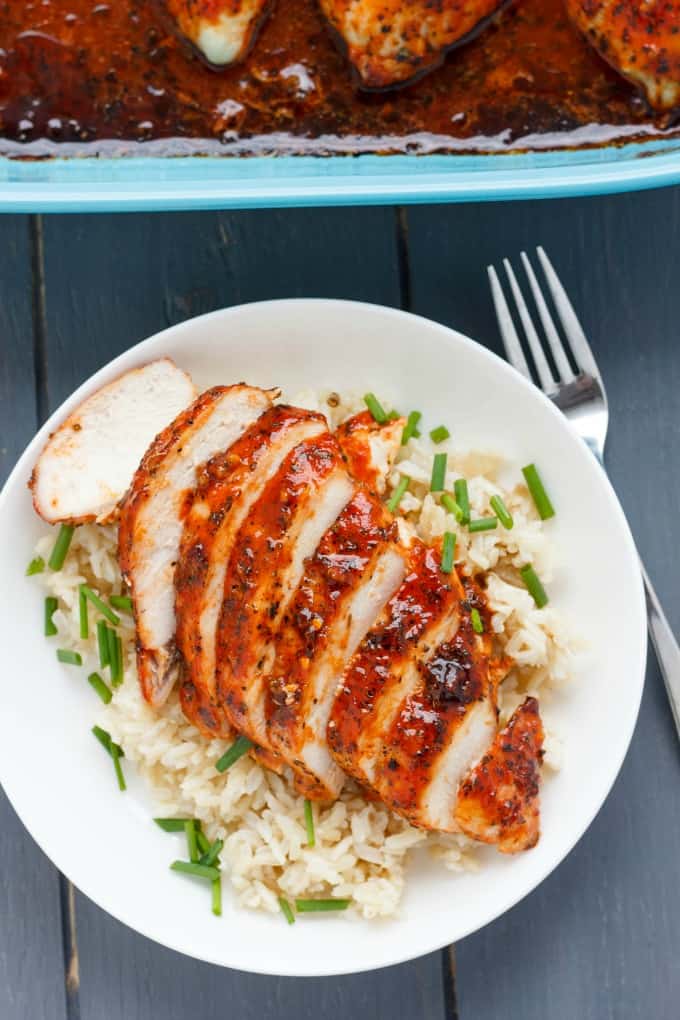 Sweet Sriracha Chicken Breasts