An easy dish that can be made with either boneless or bone-in meat! This baked balsamic chicken is just what you need after a hard day of work!
The photos and recipe have been updated as of March 26th, 2016!
Chicken recipes are usually quick, simple, and delicious!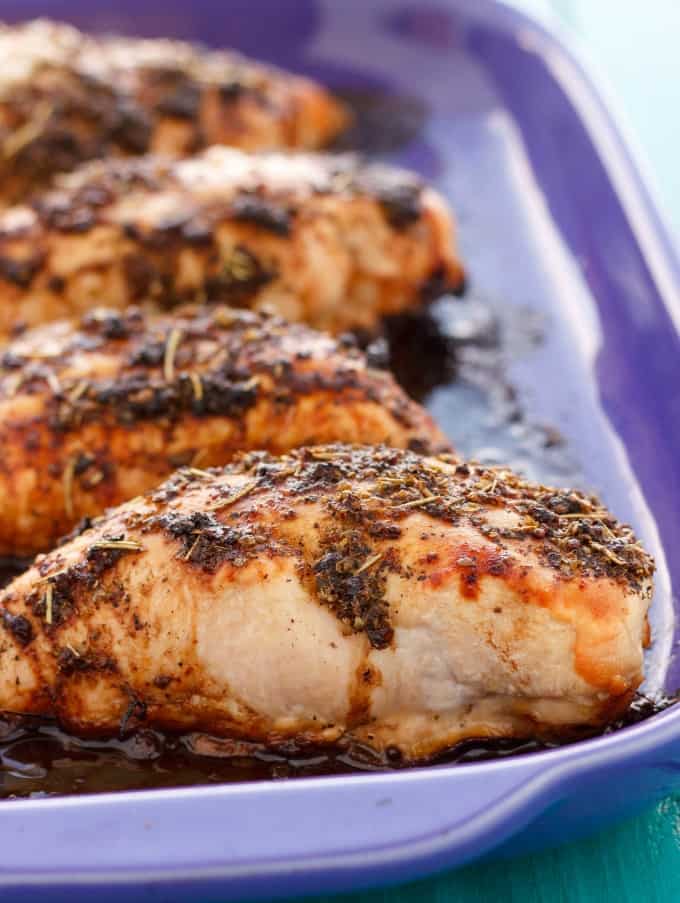 Today's baked balsamic chicken is no exception.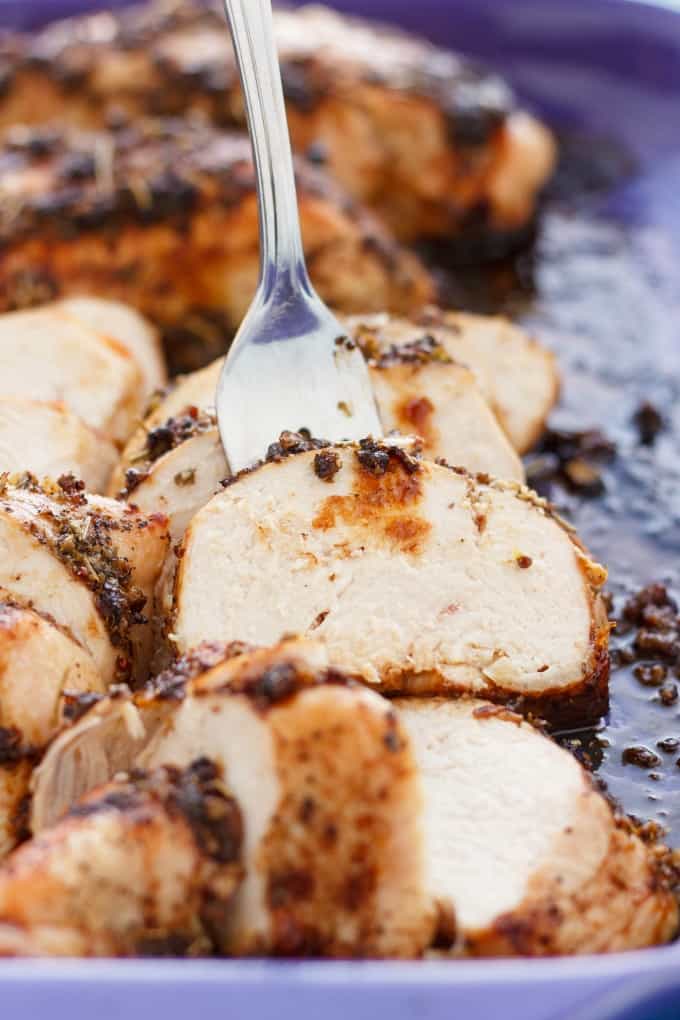 It is a recipe I have made a few times in the past and decided to revisit with my own flair. I think I originally made this baked balsamic chicken when we first moved into the house, so it has been a looooong time. And I am not kidding when I say it is quick and easy! Seriously, marinade the chicken, preheat oven, bake for about 40 minutes and you are good to go! We serve ours over rice, but mixed veggies would be nice, too.
I just wanted to add: bone-in and boneless chicken breasts differ GREATLY! Please pay attention to the recipe details. A meat mallet helps pound the chicken so that the entire piece is the same size, resulting in a more even bake.

Baked Balsamic Chicken
---
Kacey
Yields 4
I have included cook times for both bone-in and boneless chicken breasts as some people do not realize that the two differ greatly!
10 minPrep Time
40 minCook Time
50 minTotal Time
Ingredients
2 lbs bone-in (or boneless) skinless chicken breasts (about 4 pieces)
1 small onion, diced
1/4 cup balsamic vinegar
1 tbsp. olive oil
4 garlic cloves, minced
1 tbsp. dried oregano
1/2 tsp. dried rosemary
2 tsp. coarse whole grain mustard (optional but delicious!)
Salt and pepper
Instructions
*You can marinade the chicken overnight or make it as is.
Combine all the ingredients into a Ziploc bag and give it a good massage with your hands to coat the chicken.
Preheat oven to 400F. Place the chicken into a glass dish in a single layer and pour any excess marinade on top. Season with extra salt and pepper if desired. Place into oven, uncovered, and bake for 20 minutes.

Boneless Chicken Breasts

Start checking your internal temperature for boneless chicken at 20 minutes. They may need only 5-10 minutes more (depending on thickness of meat.)

Bone-In Chicken

Bone-in chicken will take a bit longer, adding at least another 15-20 minutes onto cooking time.
Chicken is cooked when the internal temperature reaches 160F!
Serve over rice or pair with some awesome sides!
7.8.1.2
332
https://thecookiewriter.com/baked-balsamic-chicken/
(Adapted from
Food.com
)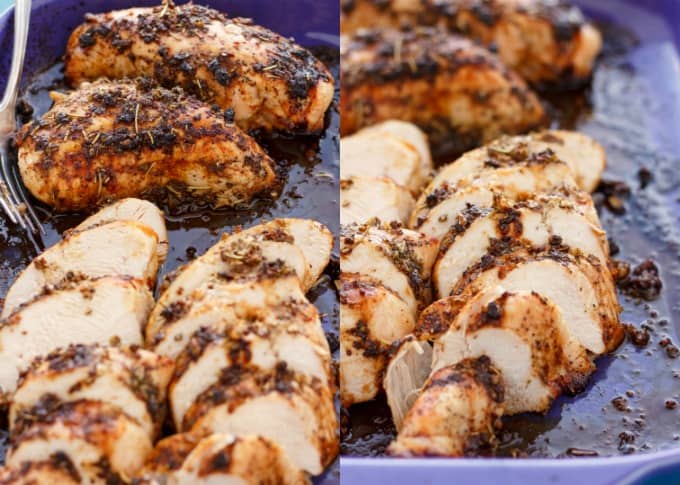 This baked balsamic chicken recipe could easily be made on the grill, and with summer here I know people are looking for more BBQ recipes. Just keep in mind to dispose of any extra marinade that is leftover in the bag.
Love this baked balsamic chicken recipe?! Try some of these recipes: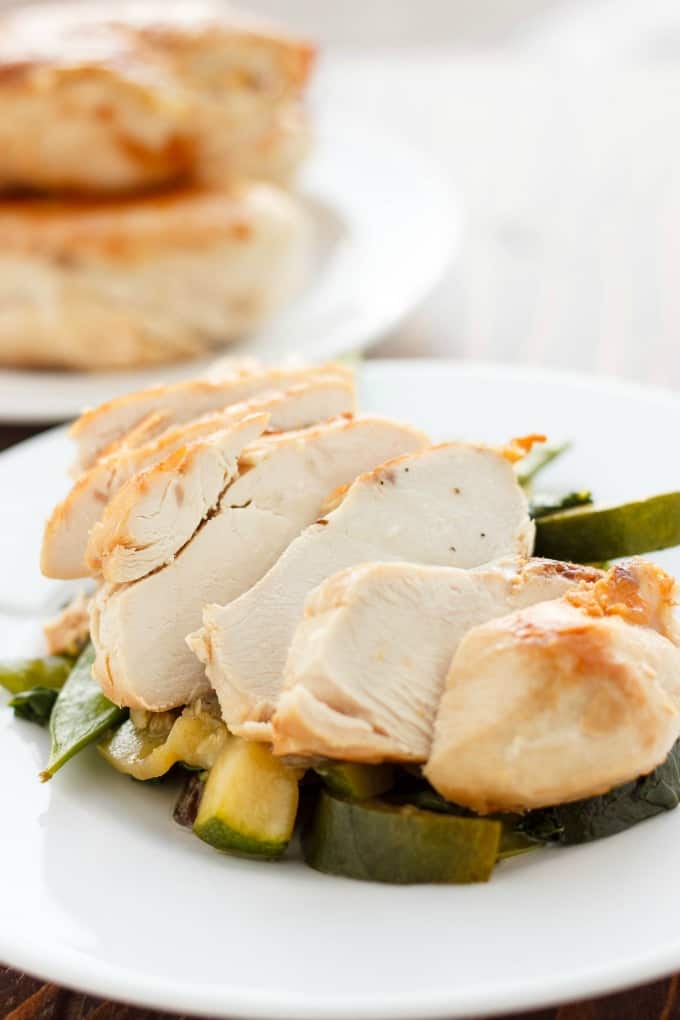 Coconut and Lime Chicken with Mixed Asian Vegetables