A light and healthy meal that utilizes pan-frying, this coconut and lime chicken with mixed Asian vegetables is perfect for a weeknight dinner!
I love when you throw caution to the wind with a recipe and in the end come out with a meal that is FANTASTIC!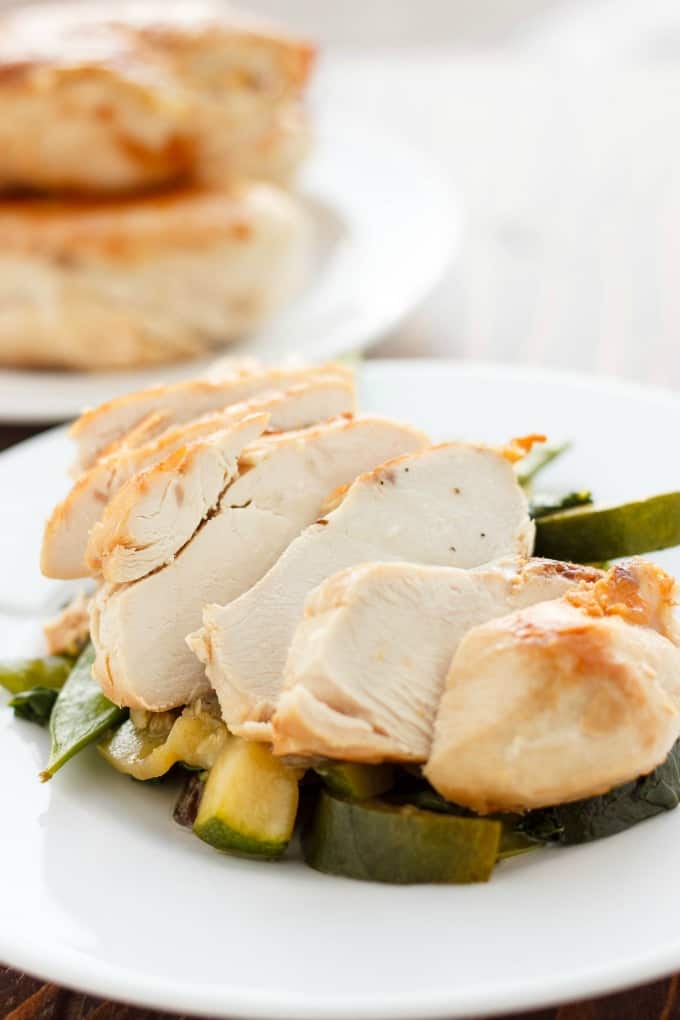 For today's coconut and lime chicken with mixed Asian vegetables, I had no set idea in mind when I began working on it. I wanted something light and hearty, but not something that contained too many exotic ingredients (I feel many people do not like to stray too far from their comfort zone!) Quick, easy, and to the point. The sauce is completely vegan so I couldn't keep myself from sneaking a sip here and there while the chicken was cooking (I totally ate the sauce poured over rice!)
One of the biggest inspirations for this coconut and lime chicken was my sister. She has been working really hard to lose weight and chicken is her go-to protein. Personally, I don't know how someone can eat the same cut of meat over and over again, but then again, boneless, skinless chicken breasts are probably the most popular meat-cut. My husband prefers bone-in chicken but for once my grocery store had a great price on boneless chicken breasts! While my sister did not get to experience this meal, she was in my thoughts (muahaha, we are terrible and like to send pictures of food to one another...)

Now, while on the topic of my sister, she is one of those weirdos who does not like coconut. GASP! I know, somehow we are related but I totally do not agree with her stance on coconut. I love it! Coconut milk is such a great substitute for dairy milk, and it has a wonderful flavor about it. However, I do find it easy to mask, too. In this recipe I did not find it overly abundant. I could always go for more coconut, but this sauce is great for the skeptics in your life (it had the perfect balance of flavors without being too coconut-y.)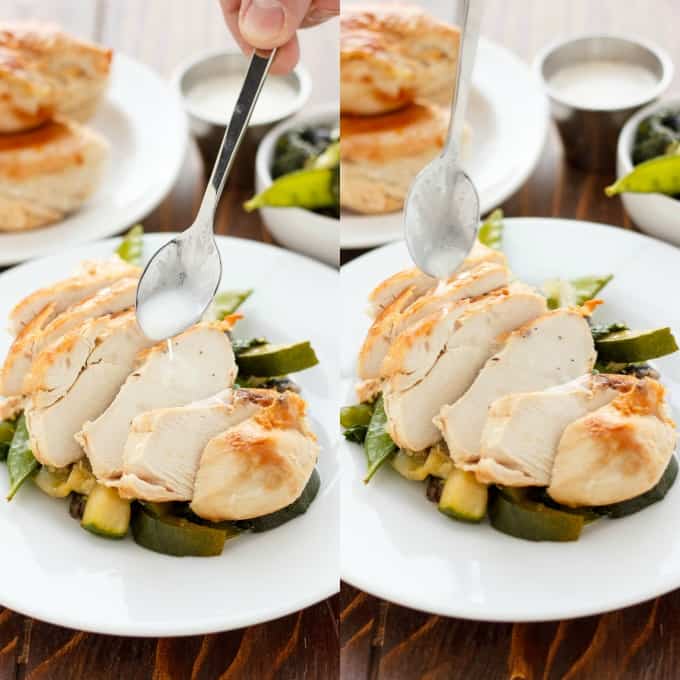 📖 Recipe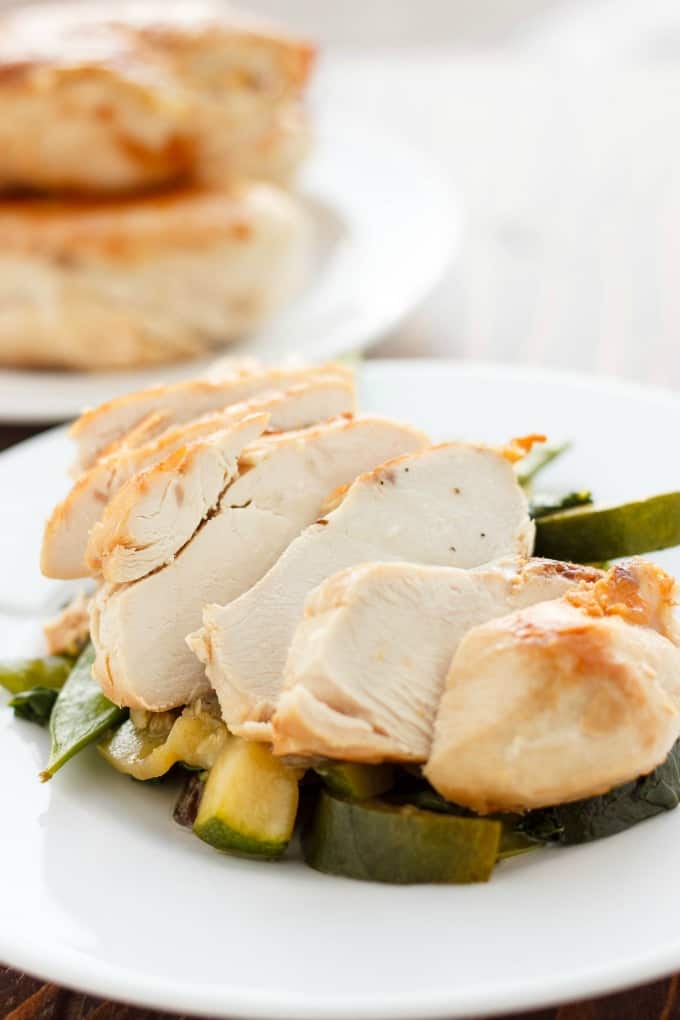 Coconut and Lime Chicken with Mixed Asian Vegetables
All chicken breasts are different, so you may need more or less cooking time depending on their size! If you pound your chicken with a meat tenderizer beforehand, this should help to create even cooking.
Ingredients
2 - 2 ½ lbs boneless, skinless chicken breasts
1 tbsp. coconut oil
Salt and pepper
Sauce
1 (400mL) can coconut milk
¼ cup vegetable broth (chicken also works!)
⅛ - ¼ cup freshly squeezed lime juice (I used the juice of one lime.)
1 garlic clove, minced
1 tbsp. coconut oil
1 tsp. freshly chopped ginger
Salt and pepper
¼ tsp. chili flakes
1 tbsp. freshly chopped cilantro
Veggies
200 g snow peas
1 portobello mushroom cap, halved and sliced
1 lb baby bok choy, washed thoroughly, white stalks sliced, green leaves roughly chopped (keep separated.)
1 zucchini, halved and sliced
1 garlic clove, minced
Instructions
To make the sauce, melt the coconut oil over medium heat. Add the garlic and ginger and cook for 1 minute or until aromatic. Stir in coconut milk, broth, lime juice, salt, pepper, chili flakes, and cilantro. Bring to a boil, reduce heat, and simmer for 10 minutes. Set aside.
Chicken
In a large frying pan, melt 1 tbsp. coconut over medium-high heat. Add the chicken breasts and cook for 3 minutes on one side, then flip and do the same for the other. Reduce heat to medium and flip the chicken again, cooking for 3 minutes. Flip again and cook another 3 minutes. Reduce heat to medium-low and flip chicken, cooking for 2 minutes, 30 seconds and then flipping again to cook for another 2 minutes, 30 seconds. Repeat last step (over medium-low heat) one more time depending on the internal temperature of the chicken (you want it to be 160F.) Remove chicken and allow to rest.
Veggies
Raise heat to medium-high again and add more coconut oil if necessary. Add mushrooms, zucchini, and white stalks of bok choy and cook for 5 minutes. Add garlic and snap peas, cooking for 1 minute. Add the green leaves of bok choy and cook until wilted, about 3 minutes.
Place veggies onto plate. Slice chicken and place on top of veggies. Finish with sauce and fresh cilantro.
Nutrition Information:
Yield:

4
Serving Size:

1
Amount Per Serving:
Calories:

1185
Total Fat:

40g
Saturated Fat:

22g
Trans Fat:

0g
Unsaturated Fat:

13g
Cholesterol:

482mg
Sodium:

673mg
Carbohydrates:

15g
Fiber:

7g
Sugar:

6g
Protein:

184g
I feel this coconut and lime chicken is another great dinner option with back to school upon us. Now I will not only have to worry about my husband's lunch, but my daughter's, too! This means even bigger dinner meals so I can have lots of leftovers the next day. Growing up my siblings and myself had the typical sandwiches, and the occasional hot lunch my dad would drive over on his days off. But for the most part, my family never packed us leftover dinner for lunch the following day. I was only introduced to that method when I met my husband. Now I cannot go back! It just makes sense to make a bit extra for dinner so you have a meal the next day! Then I repeat the cycle the following day 🙂