Looking for a way to have pasta, but remain healthy? This stuffed spaghetti squash with tomato and ground beef helps you get over all your cravings, all the while removing those carbs!
During my last big grocery shop, my sister tagged along to keep my daughter and I company. I spent waaaaay more than necessary and probably grabbed too much, but of course with all the sales, it is hard to pass up.
One of the items I did grab was a spaghetti squash. I usually save them for winter meals, but my husband had been talking about wanting lighter meals that were still filling, so I decided to pick one up. It was perfect timing because my sister did the honors of cooking it in the oven and then removing all the seeds for me. Win, win! She is also weird and loves to chop things, so I handed over my pineapple to be lovingly cubed. And after all that (okay, sounds like nothing, but we probably went to 3-4 grocery stores for sales,) I still managed to whip up this amazing stuffed spaghetti squash with tomato and ground beef!
I have had spaghetti squash before but kept the ingredients separate. When I came across Megan's recipe at With Salt and With I knew I needed to create my own stuffed spaghetti squash! Personally, I love her addition of artichokes and yogurt, but I thought my sister was eating this meal and I didn't see my sister digging into the artichokes (who does not like artichokes?!) Turns out she totally bailed on me! Nonetheless, I was so impressed by the outcome!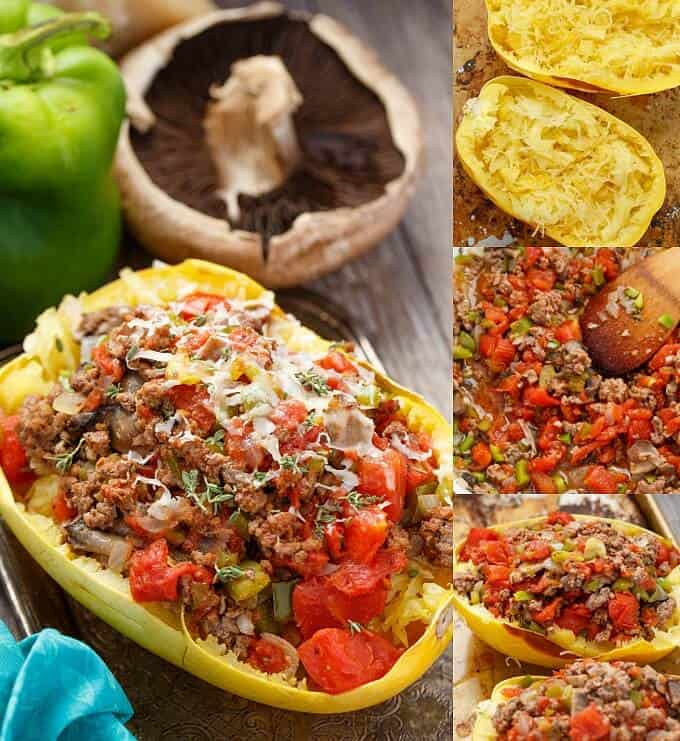 I knew I wanted to make it a "traditional" spaghetti dinner, so I kept everything basic. I would have loved to have added more, but I was running short on time and the husband had to eat sooner than later. He then proceeded to devour the entire squash! Not just half, but the entire thing. I will give him credit though, our spaghetti squash was on the smaller side. You will note in the recipe I do not list a weight for the squash. I totally forgot to weigh it, but there was enough sauce that I had some leftover, so do not be too concerned about picking a small one. Plus, it is entirely how you remove your seeds in the end (my sister has some skills, so I was left with a lot of "spaghetti" filling.)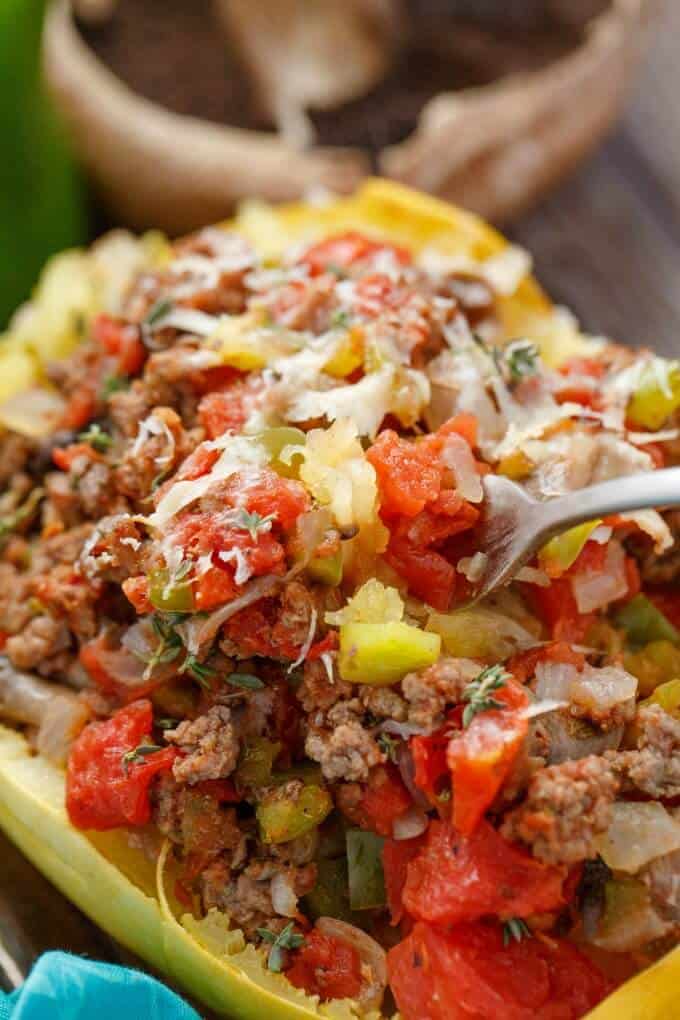 UPDATE: Revisiting this recipe (because it is awesome!) I actually got around to weighing the squash. Mine was 3 lbs and I had a bit of extra sauce leftover, but I would have too much than not enough. You can always use the leftover sauce over pasta, or, my favorite, mini pizzas on English muffins!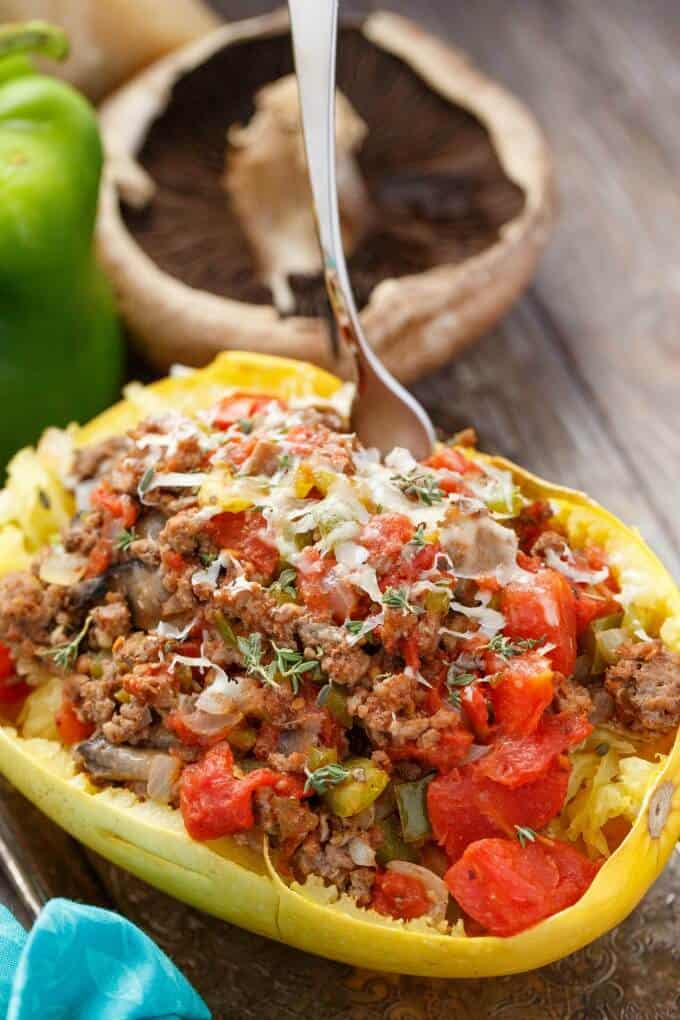 📖 Recipe
Stuffed Spaghetti Squash with Tomato and Ground Beef
Total Time:
1 hour
15 minutes
A fun way to eat "pasta" without the carbs!
Ingredients
3 lb spaghetti squash
1 lb ground beef
1 green pepper, diced
1 onion, diced
3 garlic cloves, minced
1 portobello mushroom, halved and sliced
1 (28 oz) can diced tomatoes, drained
Salt and pepper
½ tsp. dried thyme
1 tsp. dried oregano
¼ tsp. cayenne
Parmesan cheese for topping if desired
Instructions
Preheat oven to 400F. Stab a knife into the spaghetti squash randomly about half a dozen times to allow steam to release. Place on a baking sheet and cooking for 30-40 minutes, or until a knife can pierce through the skin easily. Slice in half and allow to cool. Remove seeds. Using a fork, run it inside the squash to create the spaghetti "noodles."
Filling
Heat a large frying pan over medium-high heat. Add the beef, onions, garlic, and mushrooms. Cook until meat is browned. Mix in tomatoes, green pepper, salt, and pepper. Sprinkle with thyme, oregano, and cayenne. Reduce heat and simmer for 10 minutes.
Reduce oven to 350F. Add the sauce on top of your prepared squash halves. Sprinkle with Parmesan cheese if desired. Bake for 10 minutes, or until heated through and cheese is melted.
Notes
I cook the filling while the squash is baking so that the meal can be completed quicker.
Nutrition Information:
Yield:

2
Serving Size:

1
Amount Per Serving:
Calories:

881
Total Fat:

43g
Saturated Fat:

16g
Trans Fat:

2g
Unsaturated Fat:

20g
Cholesterol:

204mg
Sodium:

637mg
Carbohydrates:

60g
Fiber:

14g
Sugar:

24g
Protein:

70g
What I love most about this stuffed spaghetti squash recipe is how versatile it is. I can easily make myself a vegetarian/vegan recipe, and people who do not like onions or mushrooms can switch up the ingredients or omit them altogether! And it is healthy! I mean, I am a big pasta lover so this is not essential for me, but I know others want lighter meals during the summer. And then come the winter holidays, people are wanting to watch their food intake again so this recipe is a win-win for any season!
Love this stuffed spaghetti squash with tomato and ground beef?! Try some of these recipes: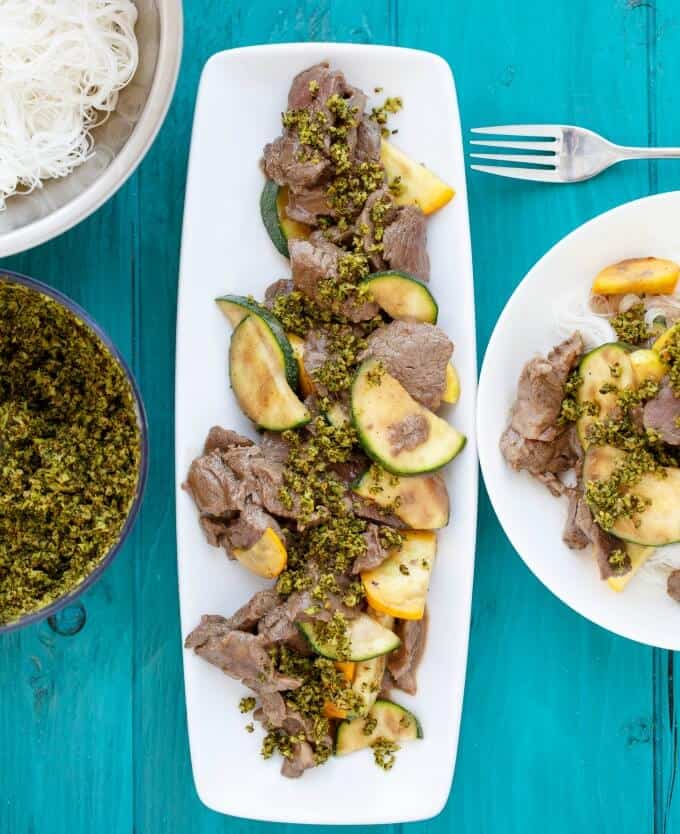 Beef and Zucchini Stir Fry with Roasted Broccoli