I have spoken before about my love for pizza and how it is something I could eat every day. How could you not, the topping choices are endless?! Pizza places even do different toppings for each half of the pizza so you and your significant other can enjoy pizza without clashing over topping choices (no way I want Mr. TCW's olives!) I personally love homemade pizza because I can choose what goes on it and how much. I will admit, I tend to over-do the toppings and have to eat each slice with a fork, but who cares, it is my dream pizza!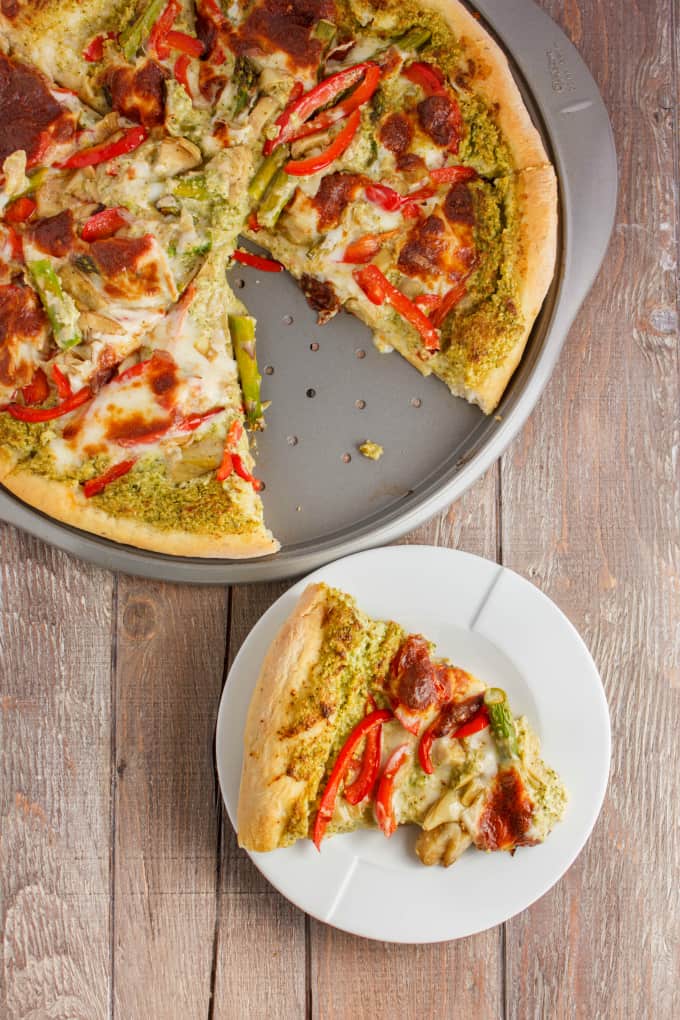 The other night it hit me that there are pretty common pizza sauce flavors: tomato-based, cream-based, and olive oil. There are pestos and such, too, but for the most part, people refer to the first three choices. I wanted something new and exciting and for some reason broccoli sauce came to mind... Yes, broccoli sauce! This is why I don't sleep at night, my mind is too consumed with food! At first I thought my idea was kind of crazy, but as I began to work on the recipe I knew I was making an awesome decision. I could not believe the results! Light, but hearty, and something so unique in flavor. I keep thinking grated Parmesan in this broccoli sauce would only enhance the flavors, but the recipe as is is just divine! My sister was drooling when I sent her a shot of my recipe. That's what I am here for, to make my sister jealous and hungry!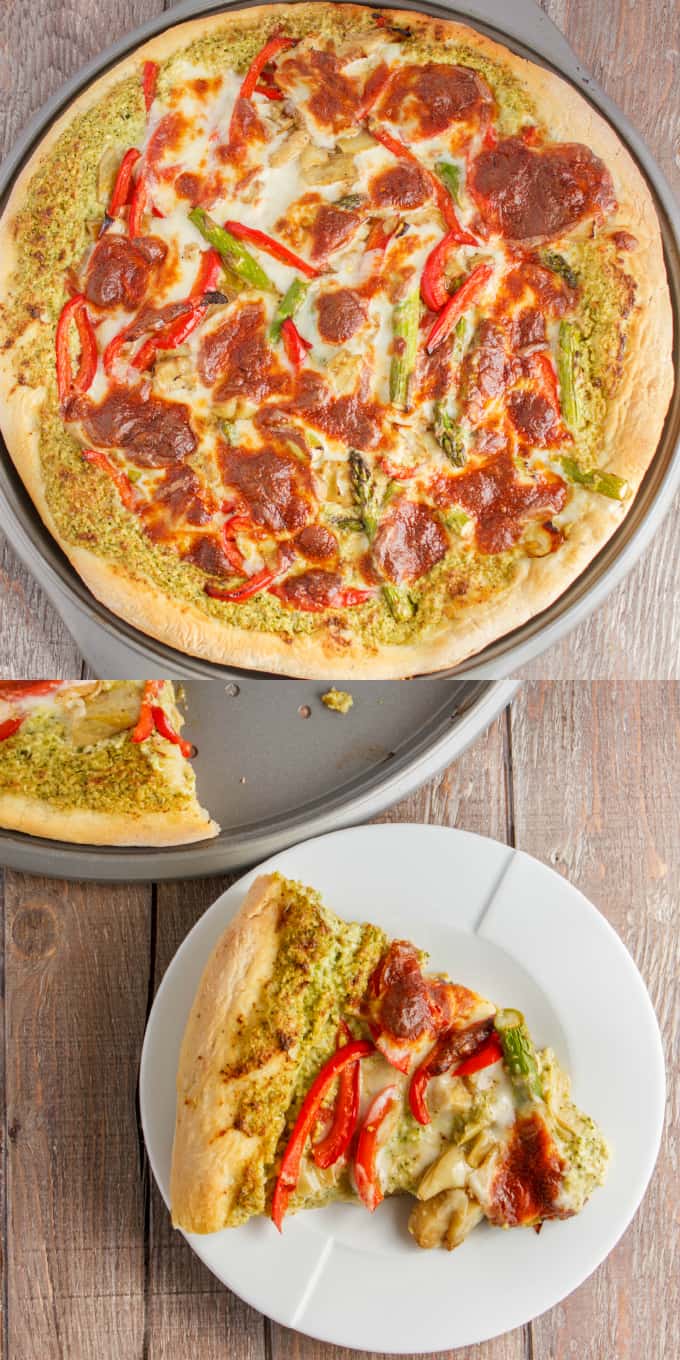 Now, I say this is a pizza sauce, but you could use it anywhere. I am thinking a pasta bake some time in the future using this sauce. I know cream is not the healthiest of choices, but it really adds nice flavor here and we are already getting lots of vitamins from the broccoli! You could reduce the cream to milk, but I am a heavy cream girl!

You will note in the instructions I do not give an amount to the vegetable broth. I only used the broth to thin out the sauce to my necessary consistency. For the pizza, I wanted the broccoli sauce to remain sort of thick. However, in a pasta recipe you may want a looser sauce, so it is all up to you. Also, when the sauce has sat out for a while, it will start to thicken, so you will need to add more broth. Otherwise, the recipe is solid! I won't lie, I licked the spoon after this meal...

📖 Recipe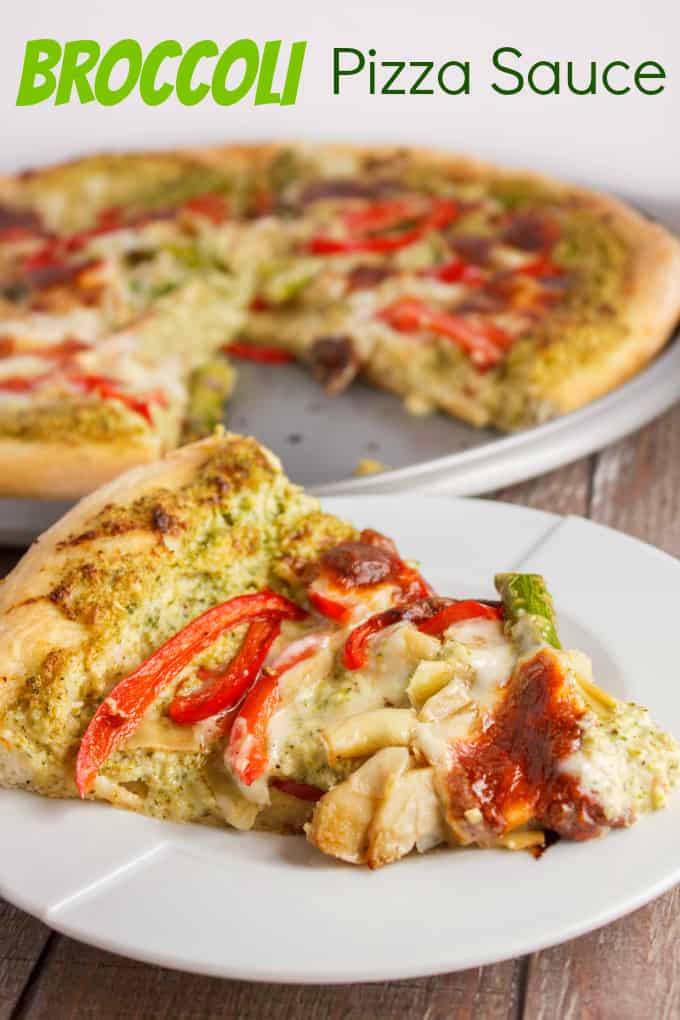 Broccoli Sauce (Broccoli Pizza Sauce)
Tomato, olive oil, and Alfredo are common pizza sauces, but what about broccoli sauce?! Light and refreshing, it adds character and depth to your pizza!
Ingredients
½ lb broccoli (2 cups pureed)
½ tsp. red chili flakes
1 cup heavy whipping cream
Salt and pepper
2-4 garlic cloves, minced
Vegetable broth for thinning
1 tbsp, butter
1 tbsp. all-purpose flour
Pizza Toppings:
Mozzarella cheese
Asparagus
Red pepper
Olive oil
Balsamic vinegar
Salt and pepper
Artichoke hearts
1 batch of homemade or store-bought pizza dough
Instructions
Puree the broccoli until you have 2 cups of pureed broccoli. In a large saucepan over medium heat add the butter. When it has melted, stir in the flour and cook for 5-7 minutes, or until your roux has a nice brown color (the longer you cook it, the deeper the flavor and less of a chance of your sauce tasting like flour.) Add garlic and cook for about 30 seconds or until aromatic. Whisk in the cream and mix to get that roux separated. Add the broccoli, chili flakes, salt, and pepper. Reduce heat and simmer for 15 minutes, or until sauce looks creamy and melded. Add vegetable broth as necessary (I found when my sauce cooled quite a bit it needed a thinner.)
Preheat oven to 475F. Roll out dough and spoon the sauce onto the dough, spreading out the best you can. Top with your favorite pizza ingredients and finish with cheese. (*NOTE: I marinaded my asparagus and red pepper with olive oil and balsamic vinegar, along with salt and pepper. Then I placed them onto the pizza sauce with the artichokes.) Place into oven and bake 15-18 minutes, or until nicely golden.
Nutrition Information:
Yield:

1
Serving Size:

1
Amount Per Serving:
Calories:

1692
Total Fat:

131g
Saturated Fat:

73g
Trans Fat:

4g
Unsaturated Fat:

49g
Cholesterol:

340mg
Sodium:

2461mg
Carbohydrates:

102g
Fiber:

16g
Sugar:

25g
Protein:

38g
I was debating about when to publish this recipe, but with summer here, I know people still enjoy pizza but are looking for healthier options. I really think this sauce is a great alternative and you can really adapt it to suit your needs (almond milk for vegan recipe, another thickening agent for a gluten-free meal.) Plus, it is a great way to get your kids to eat their veggies!!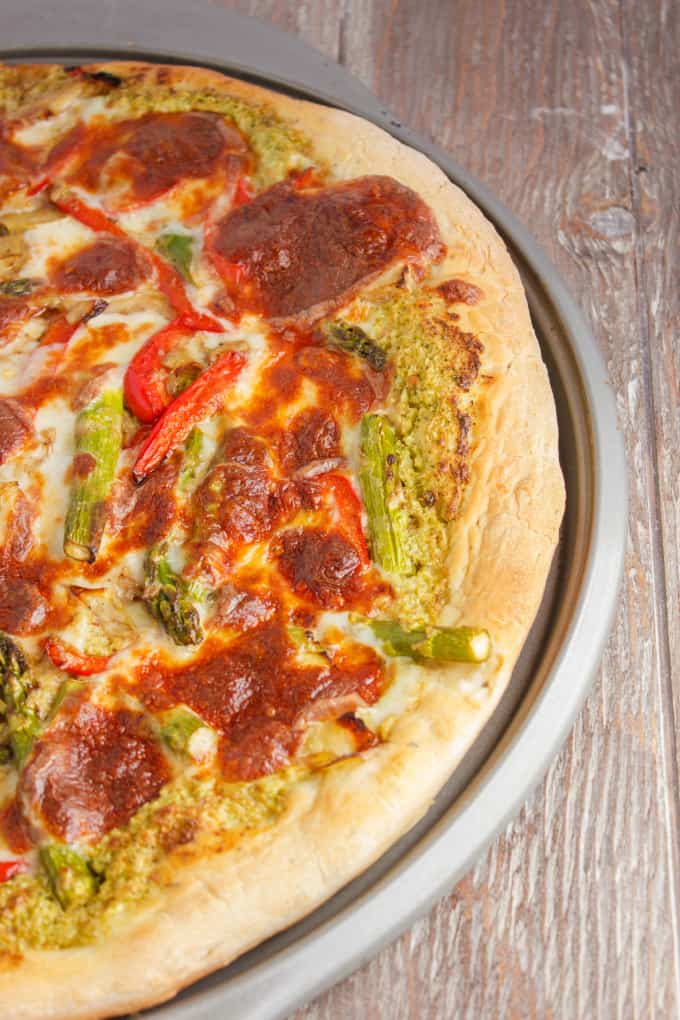 As for the pizza toppings, I wanted simple (and something that screamed, summer!) Tossing the asparagus and red pepper with some oil and vinegar helped stop any burning and added a ton of flavor. Surprisingly, my pizza toppings were quite simple and I could actually eat this utensil free!