Colorful, tender, and perfect any time of the year, this blueberry molasses pork tenderloin is a great way to use up an abundance of fruit!
Well, I can officially say summer is here, according to our temperatures that is.
Thankfully I enrolled my daughter in swim lessons for the next two weeks at an outdoor pool, so she gets to enjoy the weather while I sweat watching her! All that matters is that she is having fun, right? Tell that to Mr. Sun who appears to hate me. I am just glad kiddo takes after her dad when it comes to the sun, because otherwise she would resemble a wonderful shade of tomato.
Today's recipe is something special. As you can see from my side bar, I am part of the awesome community Food Bloggers of Canada. They have been great with their support towards Canadian food bloggers and helping to build our audience. Every so often they have wonderful opportunities for us that we can try and sign up for. You win some and you lose some, but along the way you meet great people.
Today's opportunity is a bit different: instead of writing a post for compensation, I am entering a contest to try and win a grand prize and be featured in an eBook. Totally awesome, right?! And it is only open to Food Blogger's of Canada members!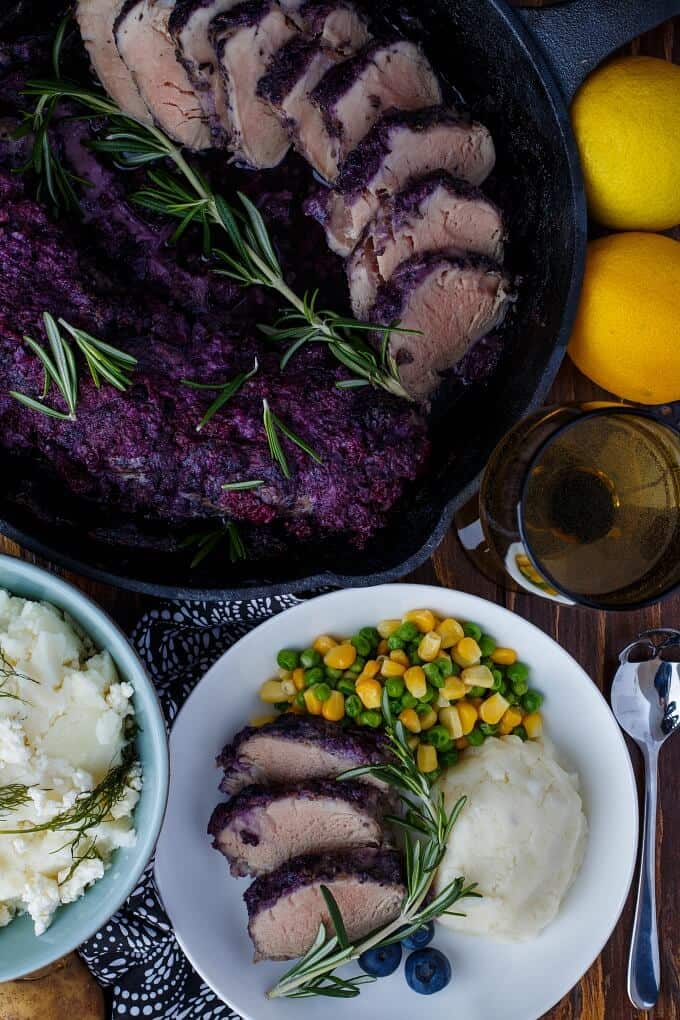 This blueberry molasses pork tenderloin is my entry into the main dish category for Crosby's Molasses. I was so excited when I saw the contest pop up! I mean, Crosby's Molasses is the only molasses I ever use (no affiliation, just stating my honest opinion.) When I read the contest rules, I immediately ran to my pantry and found a container of their molasses. Woohoo! Then the planning started.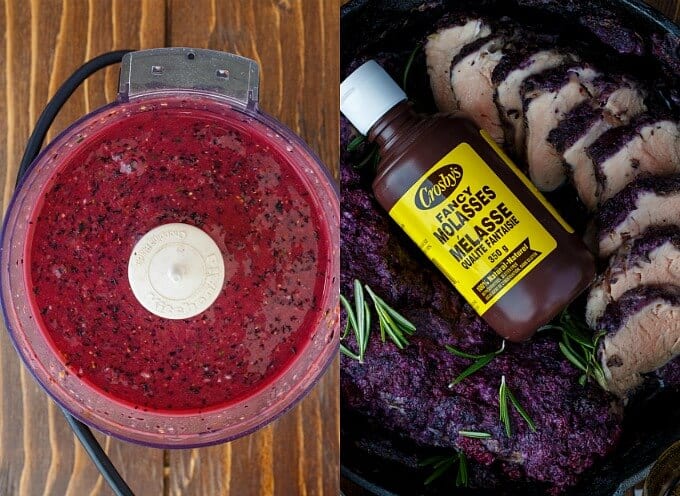 I went with pork tenderloin because it was a meat I already had on hand, and it is also a meat that is really easy to cook (but also easy to overcook.) It is a great BBQ meat, but it also does well in the oven. While summer usually means BBQing, I know some either do not care to grill (blasphemy, haha!) or some do not own a BBQ. That is why I decided to provide cooking techniques for both the oven and the grill. I made mine in the oven because our BBQ is on the fritz and you need to throw in a match to start it... Yeah, I prefer not to blow up and I was not waking up Mr. TCW since he was on shift.
I must say though, the cast iron method worked perfectly. Seriously, everyone should own a cast iron skillet! It makes cooking so easy and I honestly think it made this blueberry molasses pork tenderloin work. Plus, cast iron can fit onto your BBQ so you can cook this dish in the pan outside!
What happens if you do not have a cast iron skillet? No worries, you can use a shallow baking dish. I advice something pretty small so your sauce does not spread out too much and burn. Cooking time may take a bit longer just because you are not using a preheated pan, but your thermometer should help you.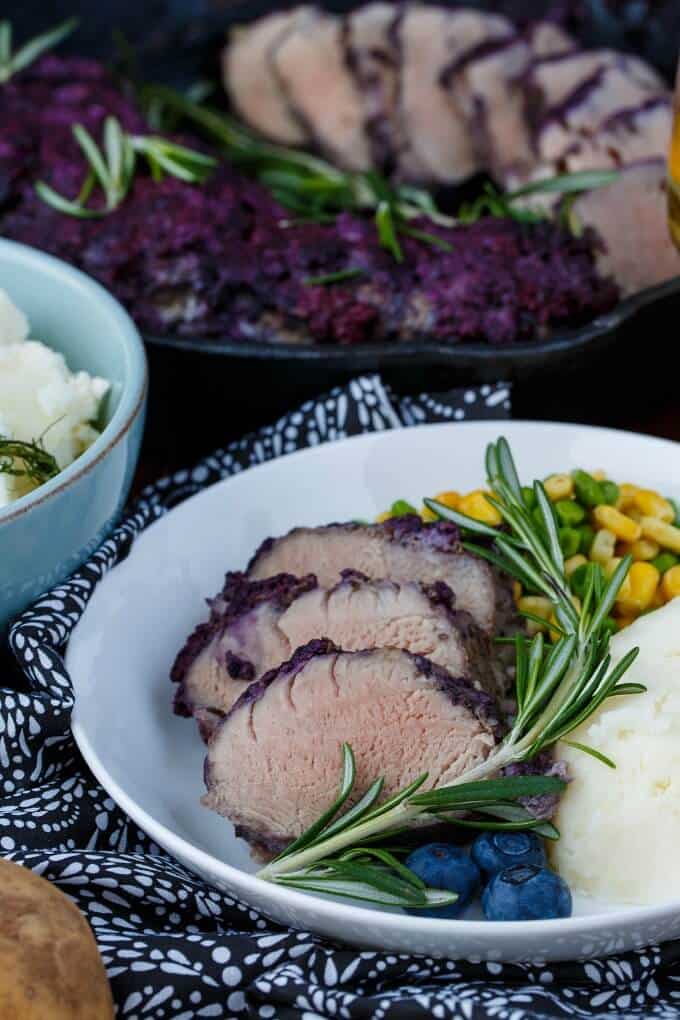 Another tip I want to share is in regards to pureeing the blueberries.
I used blueberries because they are sweet and pair perfectly with molasses. I wanted a bit more punch, so I added balsamic vinegar (if you follow my blog regularly, you know my love affair with balsamic vinegar!) You are going to puree the entire pint of blueberries in your food processor. While the blueberries get smooth, their skin still provides texture. It does not bother my husband or I, but some may want to run the puree through a sieve to get it even smoother. Choice is completely up to you (basically if you want a chunky sauce or not.) Mr. TCW pointed out that the reason he preferred the sauce to be left as is is because it actually sticks to the meat when you dip it, unlike other sauces that kind of just puddle. Once again, all up to you when it comes to this blueberry molasses pork tenderloin.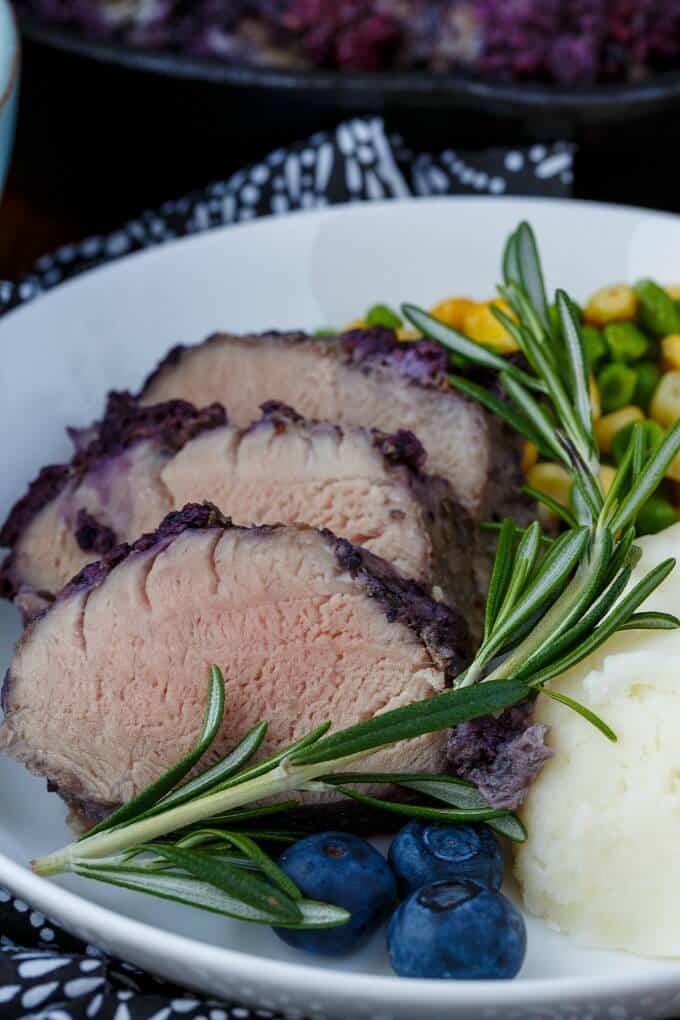 📖 Recipe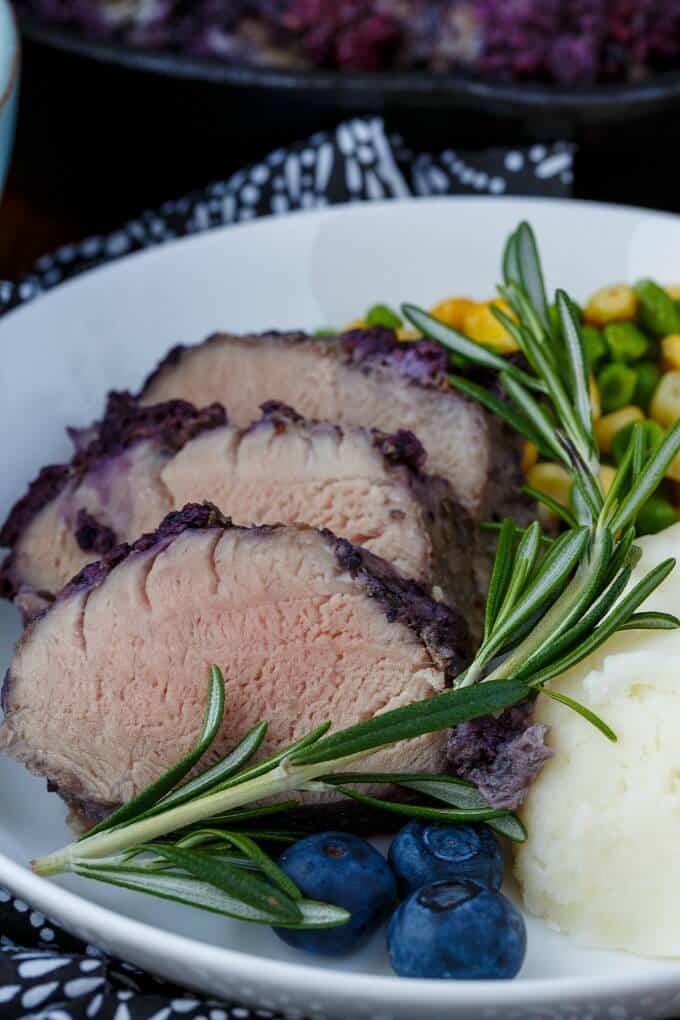 Blueberry Molasses Pork Tenderloin (Baked or Grilled!)
Simple, and yet a perfect gourmet meal for midweek!
Ingredients
2 (1 lb each) pork tenderloins, silver skin removed
1 tbsp. coarse whole grain mustard
¼ cup Crosby's Molasses
1 pint blueberries
Salt and pepper
3 garlic cloves
1 tbsp. balsamic vinegar
1 tbsp. olive oil
⅛ cup fresh rosemary leaves
Instructions
Add all ingredients except pork to a food processor. Puree until smooth.
Season pork with salt and pepper. Place pieces into a large Ziplock bag. Pour marinade over pork and refrigerate overnight.
Preheat oven to 400F. Place a cast iron skillet into the oven to preheat. Bring pork to room temperature as the oven heats. Remove from oven and place the pork into the pan. Pour marinade over top and discard bag. Place into oven and bake for 10 minutes. Remove and turn pork, cooking for another 10-15 minutes, or until pork reaches 140-145F on a thermometer.
Move pork from pan to a cutting board and cover with aluminum foil.
Allow to rest for 10 minutes. Slice and serve with additional sauce (and a sprinkling of fresh rosemary if desired.)
Grilling:
To grill the pork instead, you can still use the cast iron skillet on the BBQ or, if you do not mind less sauce, cook the pork tenderloin directly on the grill for about 15-20 minutes at around 450F. Just keep an eye on it as pork tenderloin overcooks quite easily.
Notes
Pork tenderloin is EASY to overcook so keep an eye on it (a thermometer helps greatly.)
Nutrition Information:
Yield:

2
Serving Size:

4-6
Amount Per Serving:
Calories:

425
Total Fat:

18g
Saturated Fat:

5g
Trans Fat:

0g
Unsaturated Fat:

11g
Cholesterol:

36mg
Sodium:

277mg
Carbohydrates:

57g
Fiber:

4g
Sugar:

48g
Protein:

12g
And there you have it, my main dish entry! I was super happy with how this blueberry molasses pork tenderloin came out. It looks gourmet, but I can assure you it is both easy and quick to make! I know marinading is an often skipped task, but please, it makes all the difference!
Love this blueberry molasses pork tenderloin?! Try some of these recipes: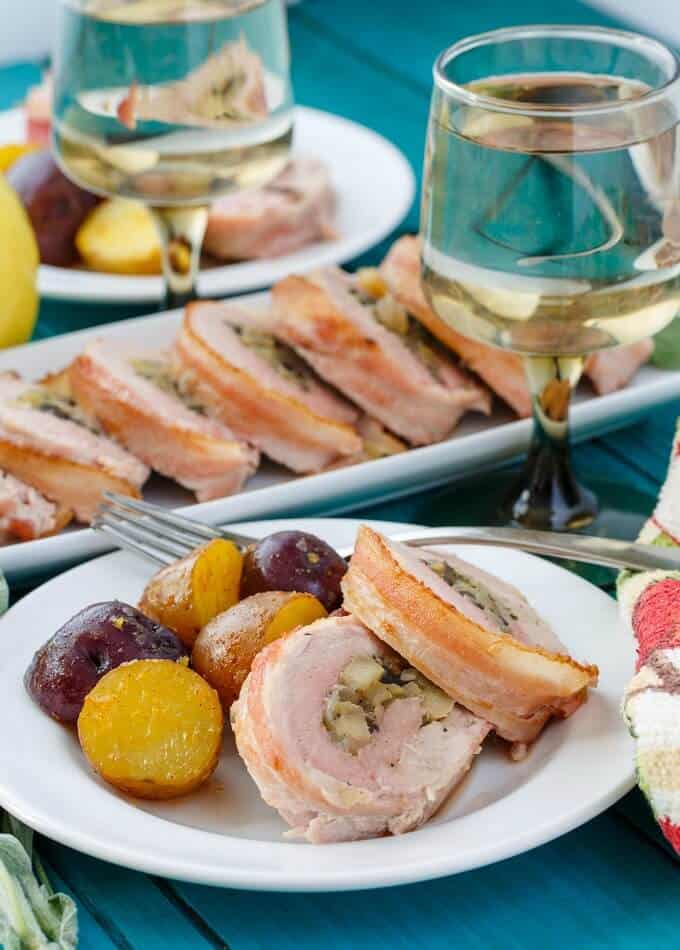 Bacon-Wrapped Apple Stuffed Pork Tenderloin