Bacon-wrapped pork loin is a simple dish completed in the oven. You could give it a try in the slow cooker but you will definitely want to broil that bacon afterwards to get the awesome, crispy texture!
During the summer months, I find a lot of meat goes on sale at our local grocery store. Mostly different cuts of steak, but ribs and pork are common, too.
My husband loves steak and 99% of the time asks me to marinade it. But he does the cooking. He has a method he prefers so I have nothing to do with steak when it comes to cooking! But other BBQ/summer meats? Well, that is all me!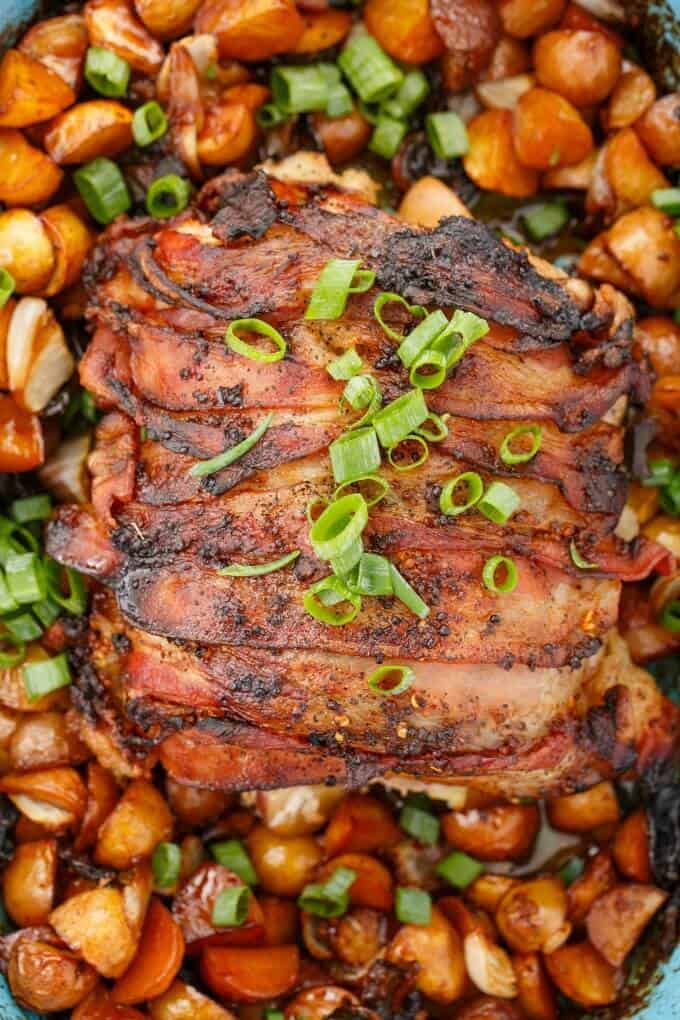 Pork loin has been popping up a lot and I know one of the most popular uses for it is pulled pork (which I finally experimented with!) I actually prefer to cook this meat in the slow cooker, but the other day I was short on time (started dinner too late) so I had to go about cooking it in the oven. While some would think pork chops, I decided to leave the cut whole and create a bacon-wrapped pork loin with roasted veggies. One word: delicious! So quick and simple (I cooked my veggies separately in the meat juices afterwards,) this recipe was big enough to create a couple of leftover lunches for Mr. TCW. UPDATE: I prepared ahead of time and cooked the veggies with the pork loin. The veggies still needed some extra cook time, so while the pork rested, I placed the veggies back into the oven.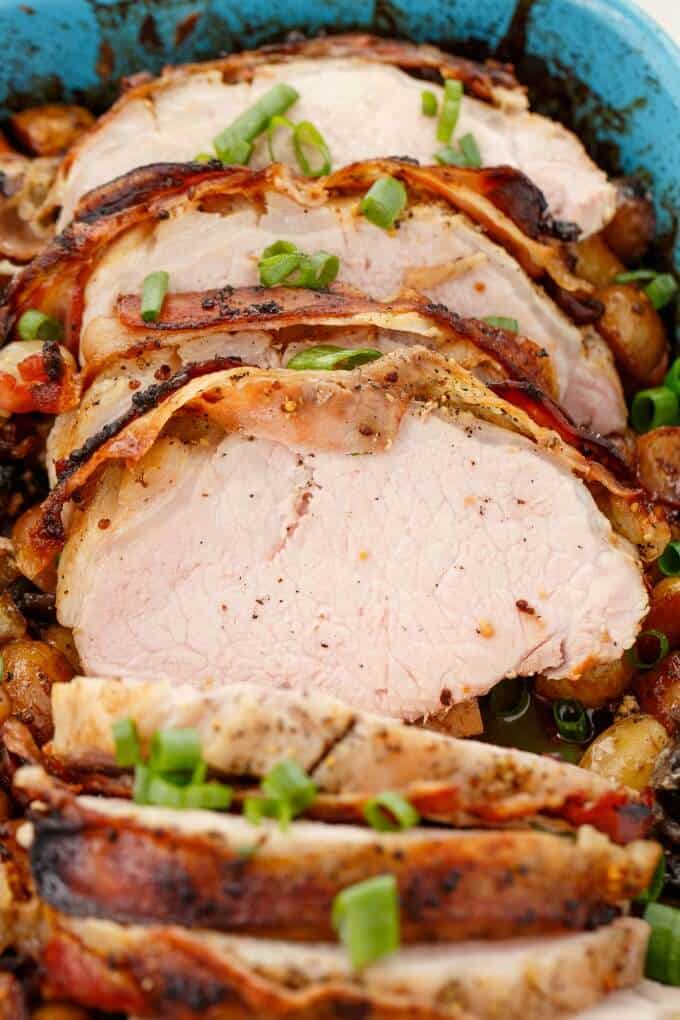 Lunches... My demise! I try to make meals big enough for the three of us so Mr. TCW has enough to take to work for a couple of days. This allows me to create recipes in between that do not make a large quality (or do not do well the second day for lunch.) However, more times than not Mr. TCW and kiddo gobble up an obscene amount of food, leaving me to figure out a lunch for the following day! I love cooking, but having to cook again after already making a large meal can sometimes be annoying (I love you both but sometimes I like to do things outside of the kitchen!) This does not help when I make one meal for them, and a vegetarian version for myself. Oh well, this will only become worse when kiddo starts school this September!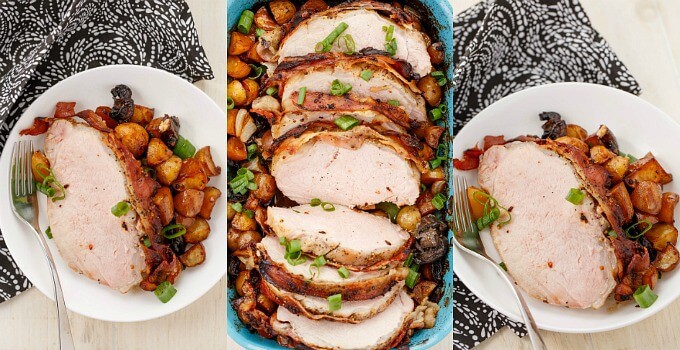 Now, depending on the size of your cut of meat, this bacon-wrapped pork loin SHOULD be large enough to serve a family of four or more. Should being the key word! Since I had some time on hand, I used the leftover juices from the meat and cooked some veggies in it to offer as a side dish along with the rice. I guess I could have cooked the veggies with the meat, but I did not think of that at the time (house renovations sure consume your head!) UPDATE: I recommend cutting the veggies quite small so they finish on time with the meat (mushrooms can be sliced large.) Also, I wanted to point out that the bacon may begin to brown a bit before the actual pork loin is finished cooking. No worries! Just place a piece of foil over top to help keep the bacon from burning (I had to in the last 10 minutes.)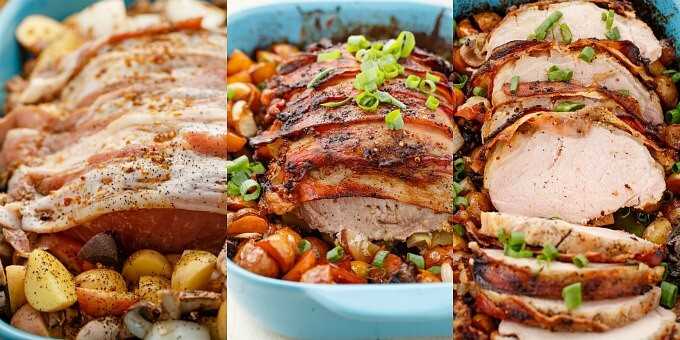 📖 Recipe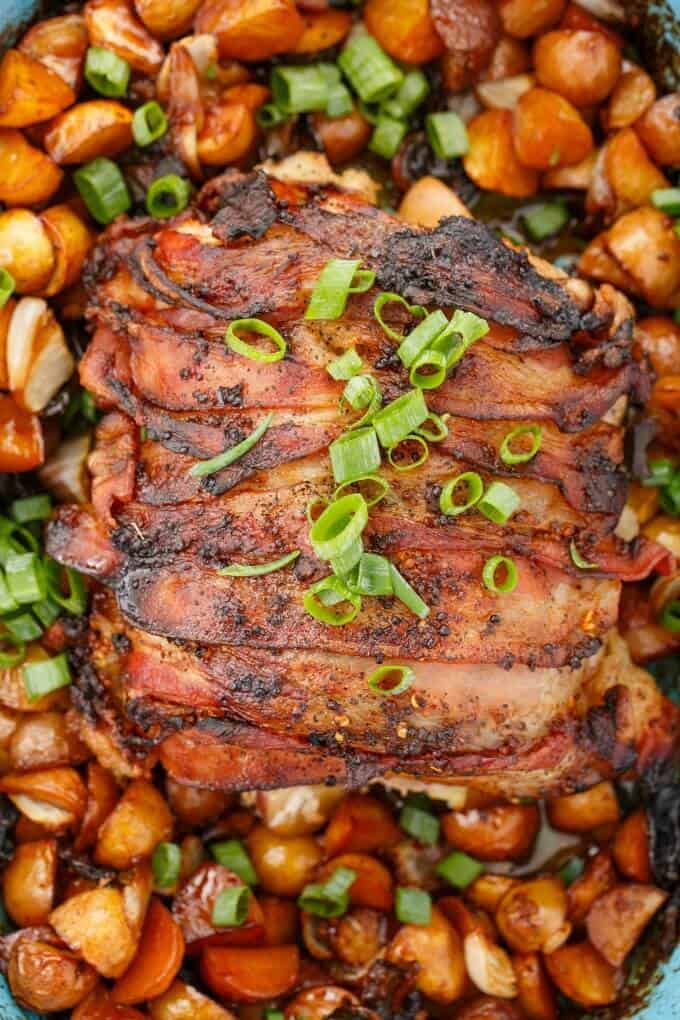 Bacon-Wrapped Pork Loin
Total Time:
1 hour
15 minutes
Ditch the traditional pulled pork & use the pork loin to create an awesome bacon-wrapped pork loin dinner that is easily made in the slow cooker if desired!
Ingredients
2 ½ - 3 lb pork loin
8 slices of bacon
Black pepper
3 garlic cloves, minced
1 tsp. freshly chopped ginger
¼ tsp. crushed red pepper flakes
¼ cup soy sauce (use GF sauce for gluten-free.)
1 tbsp. coarse whole grain mustard
1 tbsp. rice wine vinegar
2 tbsp. honey
1 lb Creamer potatoes, quartered
½ lb button or cremini mushroom, sliced
1 onion, chopped
Instructions
Preheat oven to 375F. Place the pork loin in the pan and score the top of the meat. Season with pepper. Arrange potatoes, onions, and mushrooms around the roast.
Combine the garlic, ginger, chili flakes, soy sauce, mustard, vinegar, and honey into a small bowl. Whisk together until combined, seasoning with pepper. Pour half the mixture over the pork loin and veggies. Take your bacon slices and wrap them around the pork (I did not go underneath the pork, just kind of draped it.) Pour on remaining sauce.
Bake for 1 hour or until internal temperature reaches 145/150F. If you bacon is looking dark, cover pan with aluminum foil.
Allow meat to rest for 15 minutes before slicing and serving!
Notes
My 2.5 lb pork loin took 1 hour to cook to 145F internally. For a larger cut of meat, add on another 15+ minutes. Pork is safe to eat at 145F so if you take the meat out then, it will have time to rest and climb in temperature.
Nutrition Information:
Yield:

8
Serving Size:

4
Amount Per Serving:
Calories:

1003
Total Fat:

47g
Saturated Fat:

19g
Trans Fat:

0g
Unsaturated Fat:

22g
Cholesterol:

352mg
Sodium:

898mg
Carbohydrates:

19g
Fiber:

1g
Sugar:

6g
Protein:

119g
I really love simple dishes such as this bacon-wrapped pork loin. During the summer, I know many do not like to spend too much time cooking, so I am sure you could adapt this recipe to suit the slow cooker. In the end you may just have to broil the meat so the bacon gets some color to it, but otherwise, I see no harm in using the slow cooker. These last few weeks, between home renovations and summer classes/activities, I can see why people want simple recipes! I only have one child and balancing everything has proven interesting.
Love this bacon-wrapped pork loin?! Try some of these recipes: