The sauce is sure to wow you in these Asian inspired chicken leg quarters! So easy, and great on their own or over stir fry!
Don't you love it when you toss together a whole bunch of ingredients and it works?
Chicken legs have been going on sale quite frequently this summer so I scoop them up whenever I can. My husband and daughter do not mind this cut of meat at all, but I know others prefer the breast piece. That aside, chicken legs/thighs are great for family meals not only because they are cheap, but because they are super easy to work with and you can get really creative with the dressing.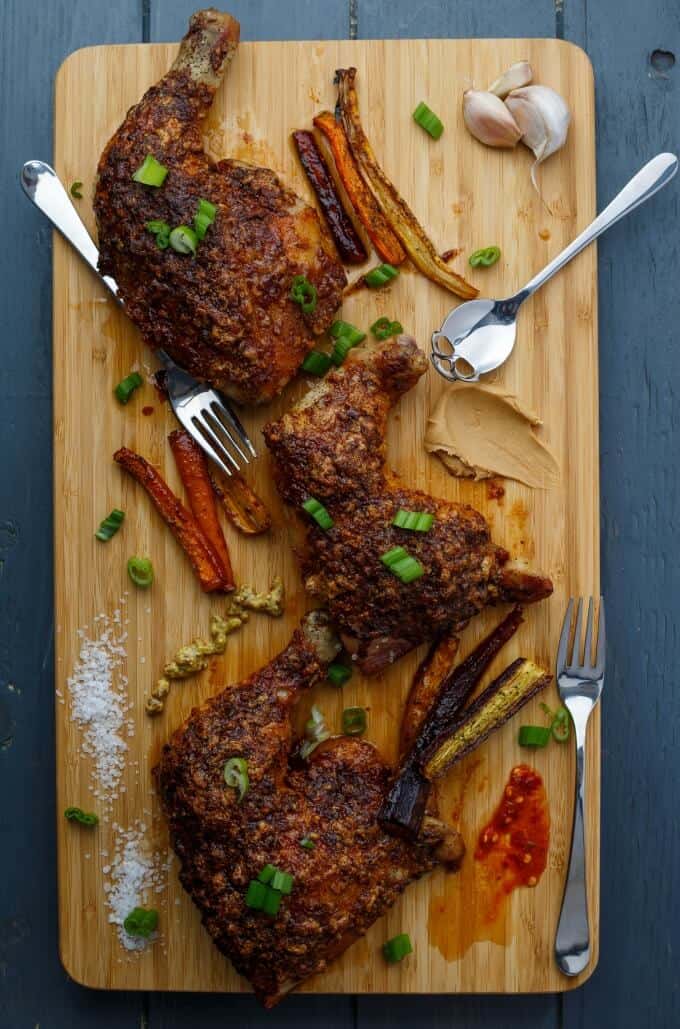 I decided to make Asian inspired chicken leg quarters because I always tend to use balsamic vinegar or dried herb rubs on my chicken recipes. It was time to change things up! And I am so happy I did because the recipe was fun to make and it was accepted very happily by my family. Plus, my daughter loves mixing things, so this sauce was perfect for her to help me with. I try to include her as much as I can. You can never teach your children too early to cook!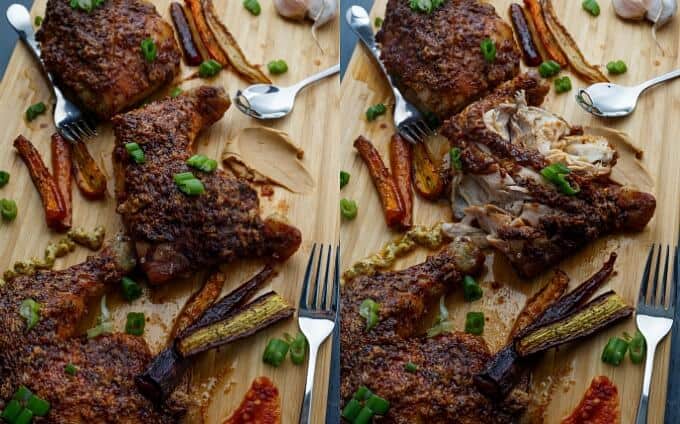 Now, I made these Asian inspired chicken leg quarters in the oven using two different temperatures. I always worry about marinades burning, so this was one of the reasons for my method. However, I really think this recipe would be great on the BBQ. *When I updated this recipe I decided to for-go the marinating stage. It is best to cook the chicken a bit first for a crispy skin, and then place the sauce on!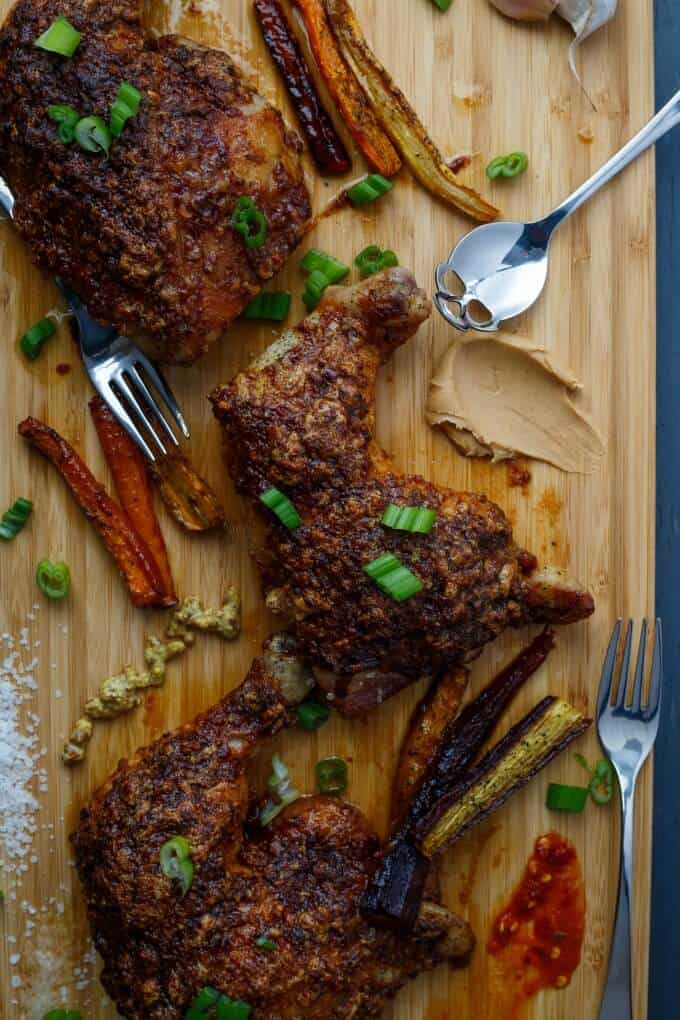 📖 Recipe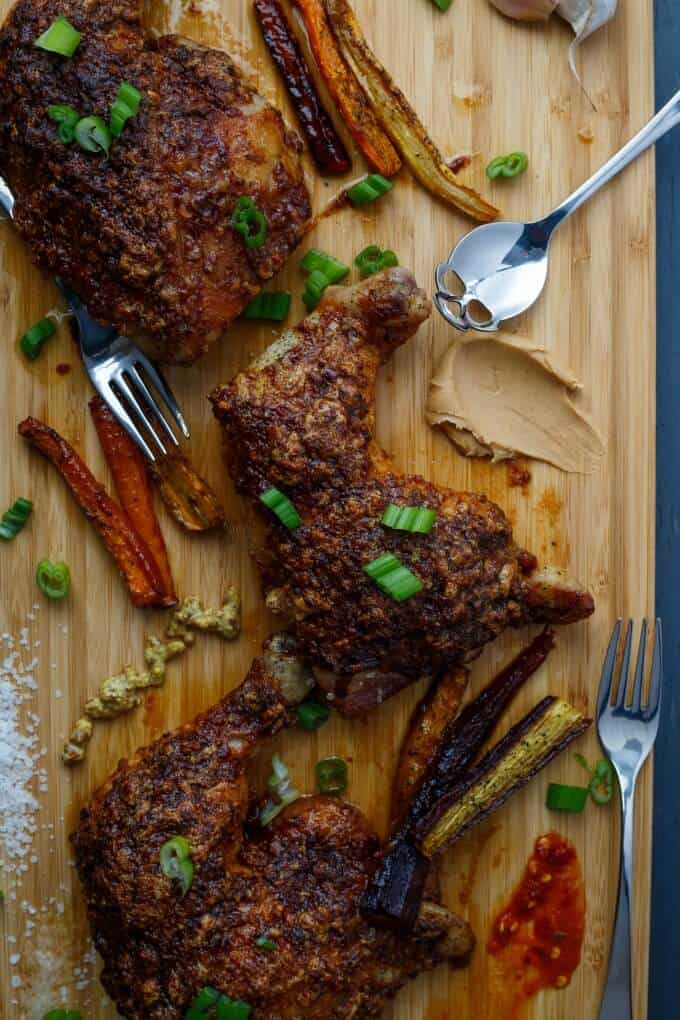 Asian-Inspired Chicken Leg Quarters
Easy, quick, and truly delicious, these Asian inspired chicken leg quarters are great for a family BBQ or in the oven. A fantastic midweek dinner!
Ingredients
4 lbs chicken leg quarters, skin on, bone-in
Salt and pepper
Sauce
¼ cup peanut butter
½ cup soy sauce (use GF for gluten-free recipe.)
2 tbsp. chili garlic sauce
4 garlic cloves, minced
Freshly squeezed juice from half a lime
1 tbsp. coarse mustard
½ tbsp. rice wine vinegar
3 tbsp. maple syrup
Instructions
Preheat oven to 400F. Line baking sheet for easy clean up. Pat chicken completely dry. Place onto pan and season with salt and pepper. Pop into oven and cook for 15 minutes.
Combine all sauce ingredients into a mixing bowl and use a whisk to really breakdown that peanut butter.
Remove chicken from oven and baste with sauce. Lower oven temperature to 375F and continue cooking chicken for 10 minutes. Remove and baste again. Cook for another 10-15 minutes, or until you reach 160F on your thermometer. Broil in the end for a crispier skin!
*We served our chicken over stir fry!
Nutrition Information:
Yield:

4
Serving Size:

1
Amount Per Serving:
Calories:

1033
Total Fat:

49g
Saturated Fat:

13g
Trans Fat:

0g
Unsaturated Fat:

30g
Cholesterol:

576mg
Sodium:

2567mg
Carbohydrates:

27g
Fiber:

2g
Sugar:

18g
Protein:

116g
This week I begin my blog remodel! So excited!! It is going to take some time (maybe even a couple of months,) but in the end it is going to be everything I imagined and then some! I hope there are no hiccups along the way, and down time should be minimal. When I first started the blog, I never imagined I would be where I am now. I have met so many awesome bloggers and the community is very friendly. With my daughter starting school this year I look forward to focusing on the blog even more and making The Cookie Writer a place where not only I feel at home, but my readers feel welcomed and comfortable.
Love these Asian inspired chicken leg quarters?! Try some of these recipes: