Grilled or oven-baked, these jalapeno popper stuffed chicken breasts are the perfect summer and filled with cheesy goodness! Plus, bacon!
The photos and recipe for these jalapeno popper stuffed chicken breasts have been updated as of May 18th, 2016!
I love, love, love stuffed jalapeno poppers. It seems only fitting that I would eventually make jalapeno popper stuffed chicken! Of course, none for me, but I knew Dan would love them, and Éowyn enjoying them was an added bonus.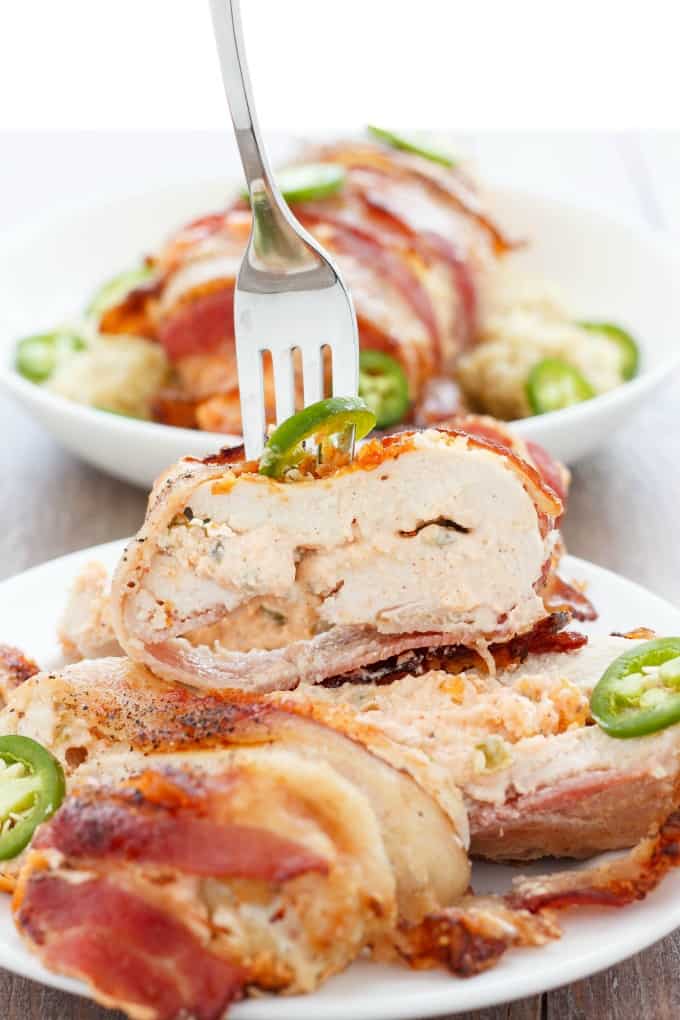 I have made jalapeno popper stuffed chicken before but never got around to posting the recipe. Funny because I took pictures too, but they were AWFUL! I can really see a difference in my food photography photos, especially from when I first started the blog. Cringe. Oh well, you have to practice to get better, and that is what I have been doing. It has been fun researching food photography because everyone has their own style. However, one thing is for sure, better photos=better results. People are more likely to click on a photo on Pinterest if it is attractive (I am guilty of this: judging a book by its cover.) It is marketing to the fullest extent, and people want to eat something that looks good.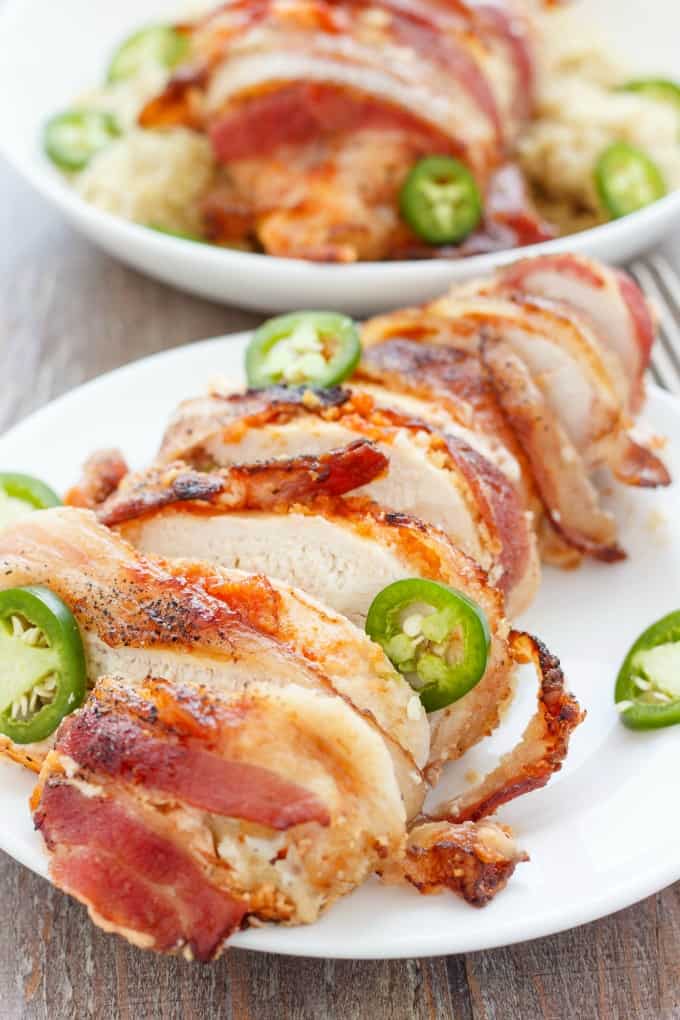 This being said, I am pretty darn impressed with how these jalapeno popper stuffed chickens turned out. Of course the insides leaked out a bit, but I think if you threw the stuffed chicken into the fridge for a bit before cooking, it would help the insides from melting out. It wasn't horrific, since I put parchment paper on and scooped the melted cheese onto the plate. But if you are really concerned, you can seal the chicken breasts better. For us: we don't care, they will be eaten nonetheless!

Jalapeno Popper Stuffed Chicken
---
Kacey
Yields 5
Craving jalapeno poppers? Try a filling alternative with this bacon-wrapped jalapeno popper chicken breasts!
15 minPrep Time
30 minCook Time
45 minTotal Time
Ingredients
2 1/2 lbs boneless, skinless chicken breasts
375 g package bacon (12-15 slices)
8 oz Philadelphia cream cheese (one brick)
1/2 tsp. paprika
1/4 tsp. cumin
1/2 cup grated cheddar cheese
3 jalapenos, minced (1/4 cup)
1/8 cup Italian seasoned breadcrumbs
1/8 cup Panko breadcrumbs (can use all regular breadcrumbs)
Salt and pepper
BBQ sauce for topping
Instructions
Preheat oven to 400F. Line a baking sheet with parchment paper or aluminum foil.
In a medium bowl, mix together the cream cheese, cumin, paprika, cheddar cheese, and jalapeno.
Pour breadcrumbs and Panko into a shallow bowl or plate and stir to combine.
Season the chicken with salt and pepper. Using a sharp knife, cut a slit into each chicken breast (in the thicker part of the chicken.) They should open up to look like a "butterfly." Don't cut all the way through or you will have trouble keeping the mixture inside the chicken. Take the cream cheese mixture and evenly distribute it among the chicken breasts. Secure the mixture in place by returning the chicken breast to its original form (closed.) Roll the chicken breasts into the breadcrumbs, drizzle with BBQ sauce if desired, and wrap each breast in two-three slices of bacon. For added measure, you can secure the chicken with toothpicks but I found the bacon was enough.
Place onto baking sheet and bake for 20-30 minutes, or until chicken is cooked through.
7.8.1.2
82
https://thecookiewriter.com/jalapeno-popper-stuffed-chicken/
(Adapted from 
Cassie Craves
)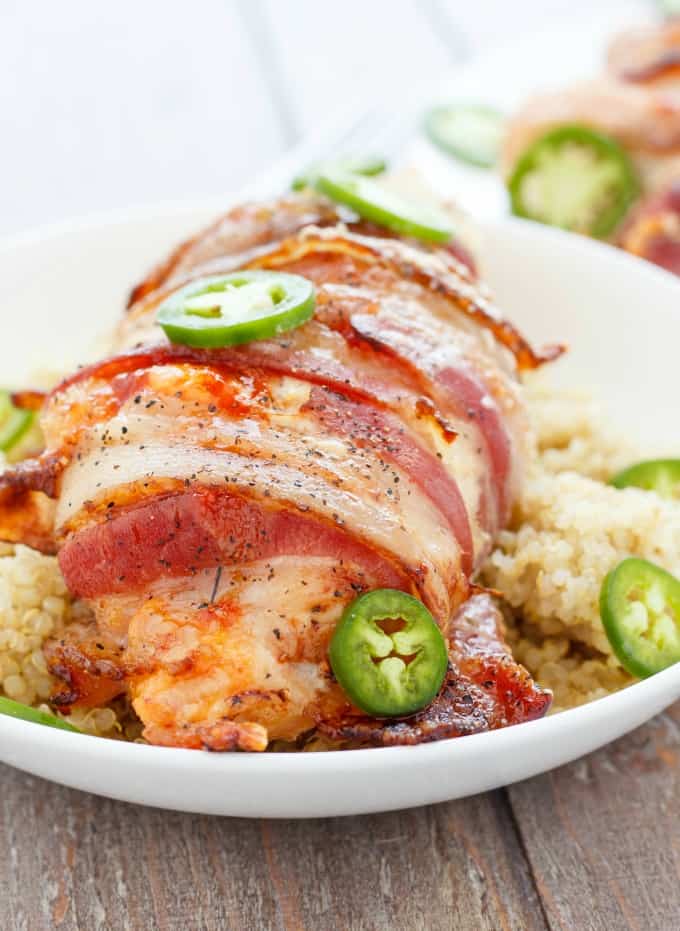 Does this jalapeno popper stuffed chicken taste as good as it looks?! I wouldn't know, but the family sure did gobble them down. Since I have made the recipe multiple times now I am safe to assume it is a keeper!
For a crispier bacon layer, broil the chicken for a couple of minutes when it is completed cooking. You want to make sure your chicken is completely cooked so there is no food poisoning worries. Otherwise, simple recipe that can be made on the grill, or in the oven like we did.
Love these jalapeno popper stuffed chicken breasts?! Try some of these recipes: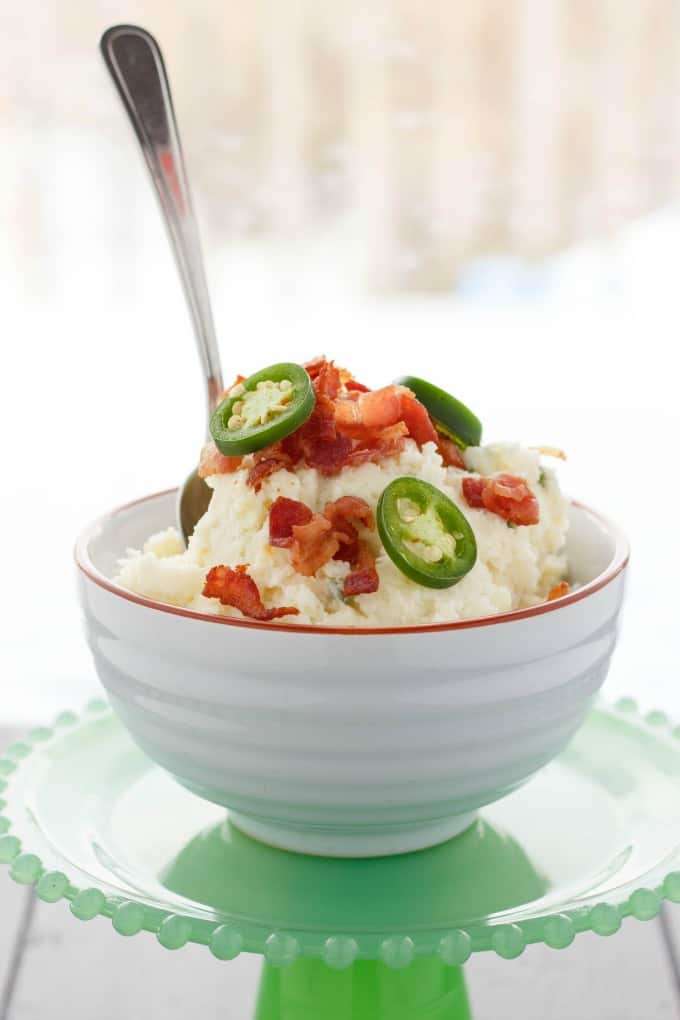 Jalapeno Popper Mashed Potatoes