Mashed potatoes are always a big hit any time of the year, so why not spice it up with these jalapeno popper mashed potatoes?!
I am behind with this post.
I try to publish Monday, Tuesday, and Thursday. For the blog, I find it a nice balance of posting new things, all the while taking the opportunity to revisit old recipes (and updating some pics along the way!) However, lately life has become so hectic and I still wonder how the heck people manage to pull this life off with more than one child! I always give food bloggers, or any blogger actually, the credit they deserve because they work SO hard and love what they do. Just need to find that balance between blog life and real life 🙂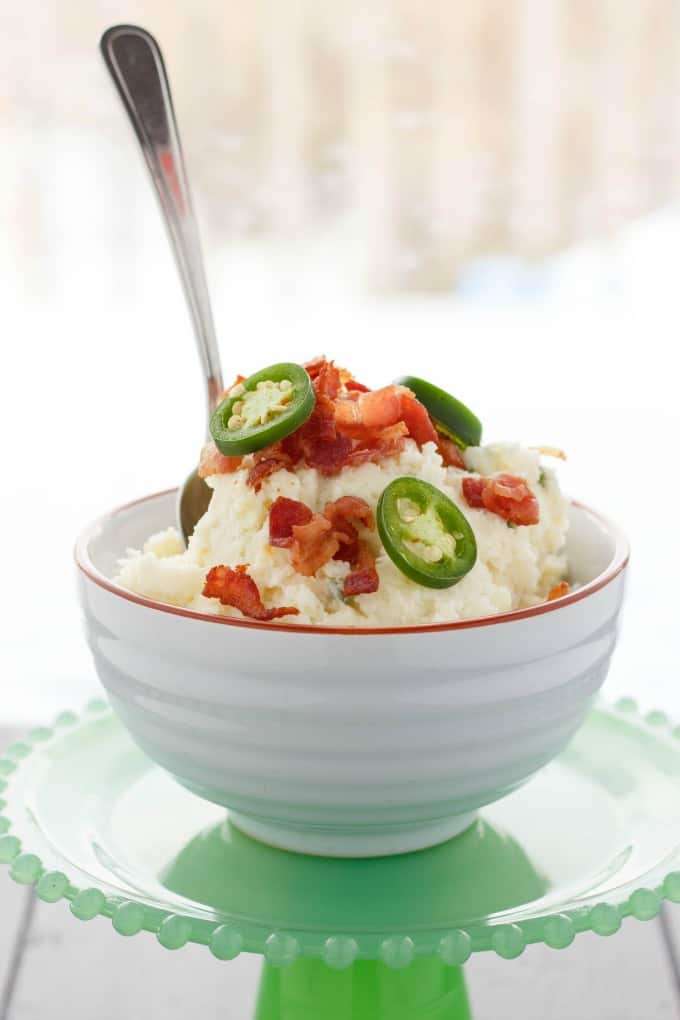 That aside, these jalapeno popper mashed potatoes are the last recipe from the Valentine's Day dinner I made for my husband and myself. See, far behind! But worth it! I loved these potatoes so much and did not find them spicy at all. This is probably because I made sure to remove all the jalapeno seeds, but you could easily make the dish spicier if desired. However, it is perfect for a family meal as children will not be scared off from any crazy spice!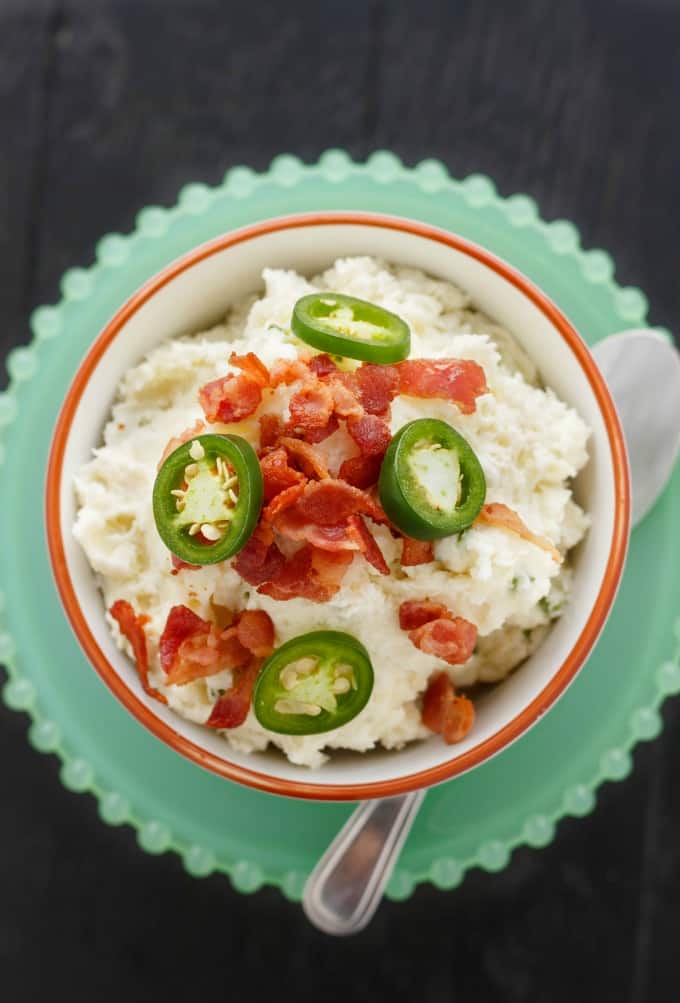 I cooked the bacon on the side so I could still enjoy these jalapeno popper mashed potatoes, but if no vegetarian resides in your house, I say just cook the bacon with the veggies! Less dishes and more deliciousness!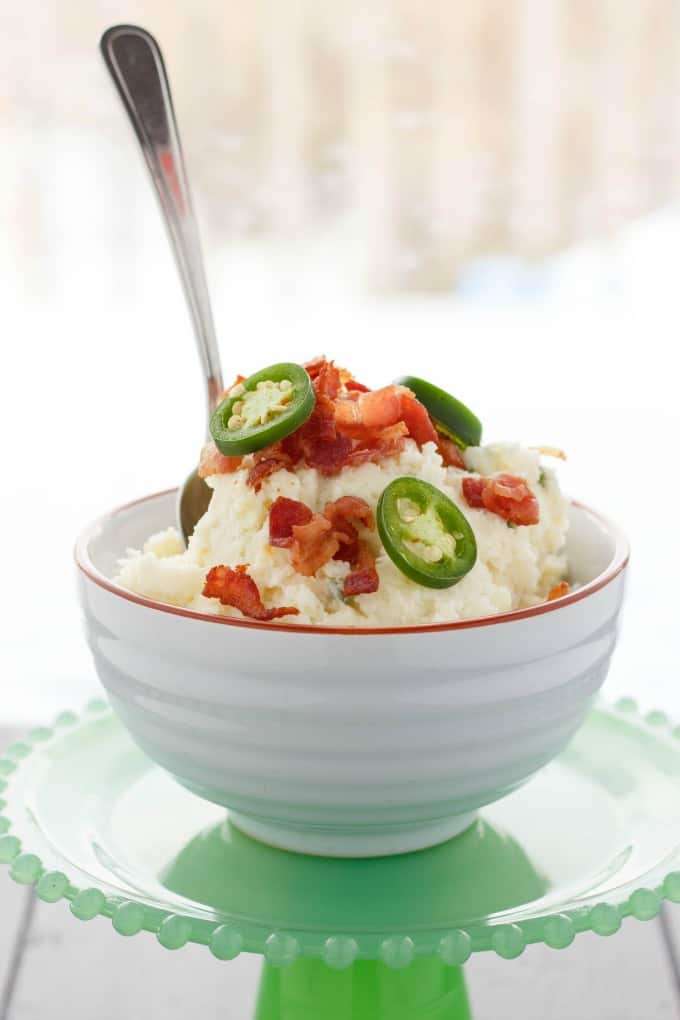 Jalapeno Popper Mashed Potatoes
I cooked my bacon separately so I still had a vegetarian meal, but the bacon can easily be cooked with the veggies!
Ingredients
3 lbs potatoes, peeled and cubed
1 (250 g) package cream cheese, softened
1 cup cheese, grated (I used mozzarella to preserve color)
2 jalapenos, diced
1 large onion, diced
3 garlic cloves, minced
1 tbsp. olive oil or butter (omit if using bacon)
1 tsp. dried oregano
Salt and pepper
7 slices bacon, sliced (optional)
Instructions
Add potatoes to a large pot and add enough water until the potatoes are just covered. Season with salt. Bring to a boil over high heat and cook until tender, about 15 minutes. Drain and move back to pan.
Add the cream cheese and mash. Stir in cheddar cheese.
In a medium frying pan, heat oil or butter over medium-high heat. Add the onions, garlic, jalapenos, salt, pepper, and oregano and cook until mixture is soft. Pour into mashed potatoes and stir again. *If using bacon, you add either cook it on the side or add the bacon with all the veggies and omit the oil. Cook until bacon is nice and crispy.
*If you find your potatoes are a bit dry (they really should not be!) you can easily add in some milk to help 🙂
Nutrition Information:
Yield:

6
Serving Size:

1
Amount Per Serving:
Calories:

424
Total Fat:

18g
Saturated Fat:

8g
Trans Fat:

0g
Unsaturated Fat:

8g
Cholesterol:

43mg
Sodium:

463mg
Carbohydrates:

52g
Fiber:

6g
Sugar:

4g
Protein:

16g
These jalapeno popper mashed potatoes are going to be a regular here! Our Oscar Party is coming up this weekend and I still have no idea what I am going to make for the two films we were given, so maybe I will just throw in these potatoes and say screw it!
Love these jalapeno popper mashed potatoes?! Try some of these recipes: