The dish that has been glorified by Gordon Ramsey but with my own spin: Beef Wellington with Bacon and Button Mushrooms!
I did it!! I made a beef wellington with bacon!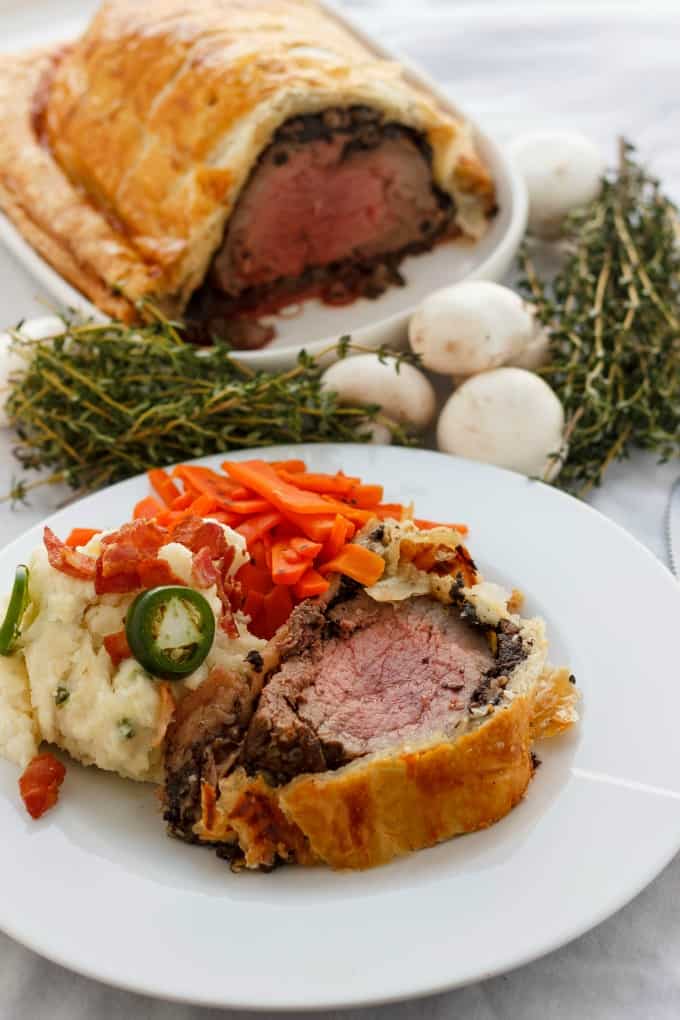 It has been on my to-do list for a very long time, and having someone who would actually eat it is a big plus (because we all know I was not making this for myself!) It always looked so intimidating but you know what? It is quite an easy meal (my internal thermometer built into my oven really helped) and a lot of it can be prepped ahead of time, leaving you with the task of just throwing it into the oven on the day you need it.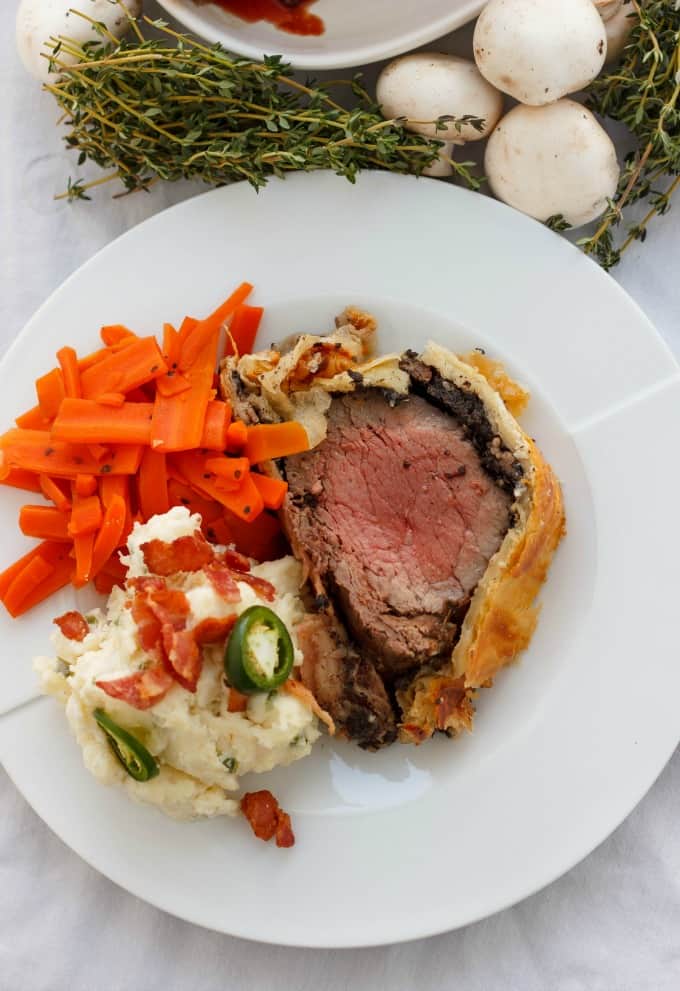 Since it was only my husband and myself for Valentine's Day, I knew I wanted to make something special (no way are we stepping foot near a restaurant on Valentine's Day!) I prepared the entire beef wellington with bacon a day in advance (right up to the wrapping in puff pastry stage) and the day of cooking I transferred the beef wellington from the fridge, straight into the oven. Our 4-year old got to enjoy this meal as her lunch for school (what four-year old has beef wellington for lunch?!)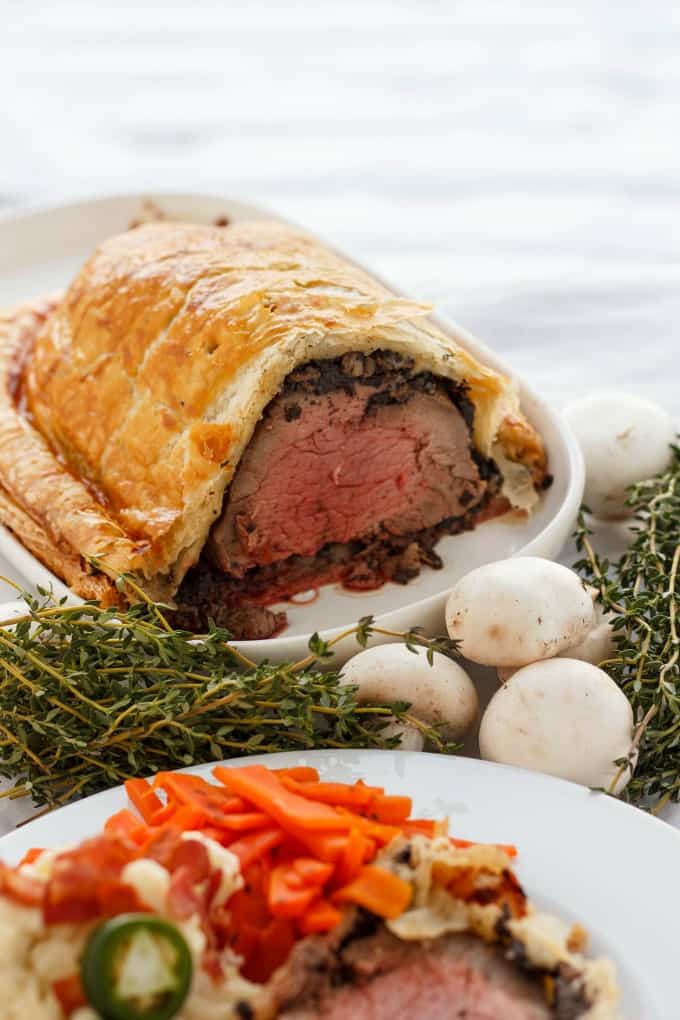 I did base my recipe off Gordon Ramsey's recipe, but let me tell you, much like many of the reviews, I needed WAY more cooking time. I mean, my husband prefers his meat on the rarer side, but if I had taken the meat out at the suggested time, it would still have been mooing! This is where my internal thermometer really helped. I did not have to constantly open and close my oven door so the heat stayed consistent. I won't lie, I was panicking that the meat was overcooking but trust your thermometer! In the end, I removed my meat when it reached around 125-127F internally. Perfection! For those who like it a bit more well-done, I advice leaving it in the oven until it reaches over 130F (even 135F would be best.)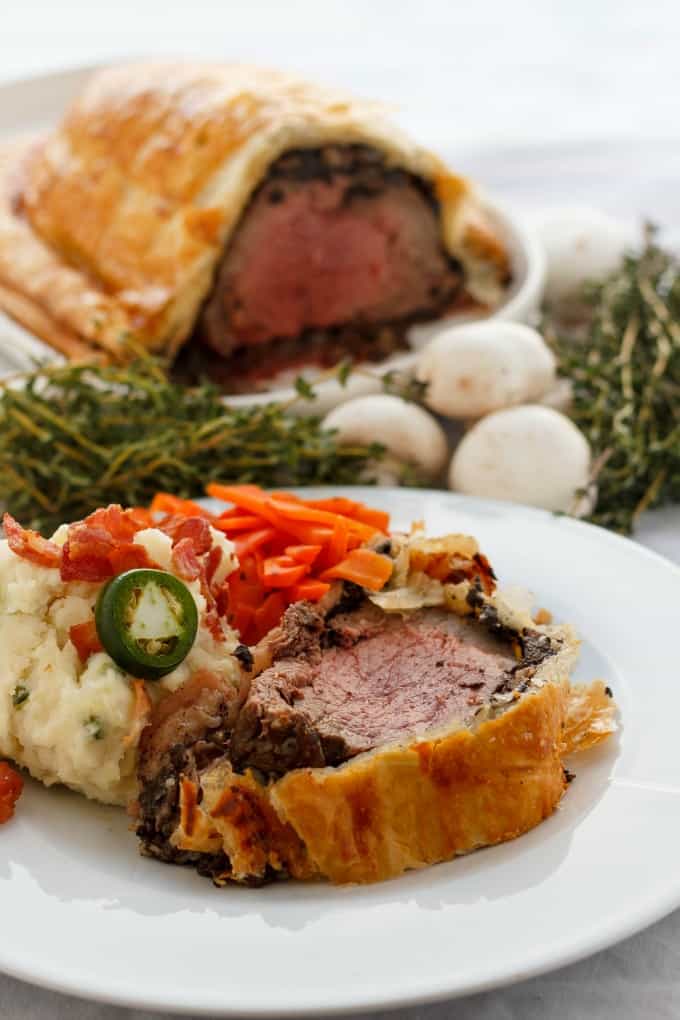 📖 Recipe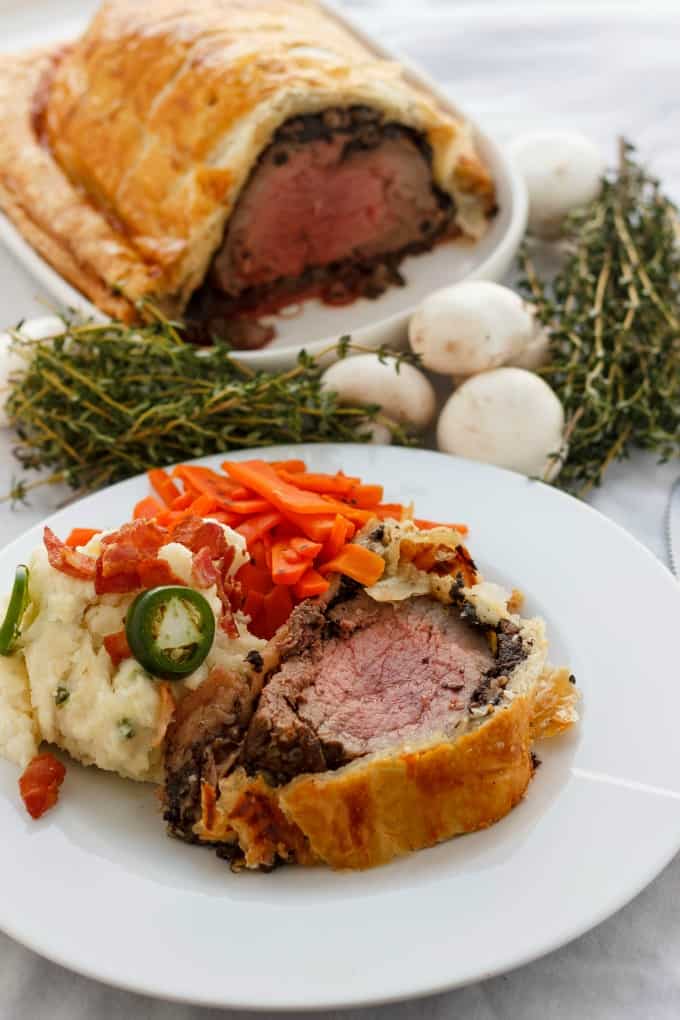 Beef Wellington with Bacon and Button Mushrooms
Total Time:
1 hour
25 minutes
The beef wellington can be prepared in advanced and then taken from your fridge and thrown straight into the oven!
Ingredients
2.25 lbs beef tenderloin, silver skin removed
1 tbsp. olive oil
Black pepper
Duxelles filling
½ lb button mushroom, washed and patted dry
1 large sprig of fresh thyme
½ cup white wine
3 slices of bacon, sliced
⅜ cup butter
Wrapping
500 g puff pastry, thawed in refrigerator (I used two 340 g boxes from my local market.)
2 egg yolks
1 tsp. water
Instructions
Preheat oven to 400F if using convection, or 425F with a standard oven (I use convection for 99% of my recipes so this is what my recipe method is based on!) Brush 1 tbsp. of olive oil onto beef tenderloin and sprinkle with some black pepper. Place onto baking sheet. Bake for 20 minutes. Remove from oven and allow to cool to room temperature. Place into refrigerator to chill.
Note: My meat thermometer read 80F when I first removed the meat, and after resting it reached 100F internally.
Duxelles Filling
Place mushrooms into a food processor and chop until very fine, but not mushy. You can attempt this by hand but you want really fine pieces, almost like breadcrumbs.
Set a large frying pan over medium heat. Melt the butter. Allow to bubble for 1 minute and then add in the mushrooms and thyme. Cook for 10 minutes, stirring frequently. Pour in white wine and add the bacon. Continue to cook for another 10 minutes, or until mixture holds together and most (if not, all) of the liquid is gone. Allow to cool to room temperature.
Wrapping
Lightly dust your work surface with flour. Roll out two sections of dough, one slightly larger than the other. Place the smaller piece onto a baking sheet lined with parchment paper or silicone mat. Spread half the mushroom mixture onto the puff pastry (only large enough to where the meat is going to sit!) Place the meat on top. Spread the rest of the mixture on top of the meat.
Blend the water and egg yolks. Brush over the meat and the puff pastry closest to the meat. Carefully lay the other sheet of pastry over top and gently seal the edges by using your hands and molding the pastry to the meat. Trim off excess pastry (I left about a 1-inch trim.
Using a fork, press the edges of the pastry to the hold together. Use the rest of the egg wash to brush over your pastry. Return to fridge until ready to cook (the longer, the better!)
Final cook stage
Preheat oven to 350F convection, or 400F in a normal oven. Bake for 30-35 minutes, or until nice and golden. This will result in a medium-rare wellington. Cook for another 5-10 minutes if you want medium or medium-well. I removed my roast when it reached 127F internally.
Allow to rest at least 10 minutes before serving!
Nutrition Information:
Yield:

6
Serving Size:

1
Amount Per Serving:
Calories:

1212
Total Fat:

92g
Saturated Fat:

30g
Trans Fat:

0g
Unsaturated Fat:

53g
Cholesterol:

243mg
Sodium:

502mg
Carbohydrates:

41g
Fiber:

2g
Sugar:

2g
Protein:

51g
I will for sure be making this beef wellington with bacon again! What a memorable dish and something you can kind of brag about! The downside was removing all the silver skin off the beef tenderloin... You can always pay a butcher extra to do this but since we are already paying an arm and a leg for beef tenderloin I chose to do this step myself. Much like my previous beef tenderloin recipe, I used this website for guidance on how to trim a beef tenderloin.
And one final note: you think the duxelles filling won't be enough, but trust me, it is! I would love to use gourmet mushrooms here next time for bolder flavor, but that hint of bacon does add some nice elements!