Once all the prep is out of the way, this beef stew with barley is a breeze to make, and totally worth the time!
My husband loves a good beef stew. I have been trying to perfect my recipe for years and may have finally achieved that with this beef stew with barley! Once all the meat searing is out of the way, this recipe turns into a simple stew that needs stirring occasionally. Plus, all the ingredients are approximate, so you can add in as many, or few, as you like! Just don't be like me and forget that barley sticks in the beginning... Yeah, a nice burnt aroma fragranced (is that even a word?!) our stew the last time...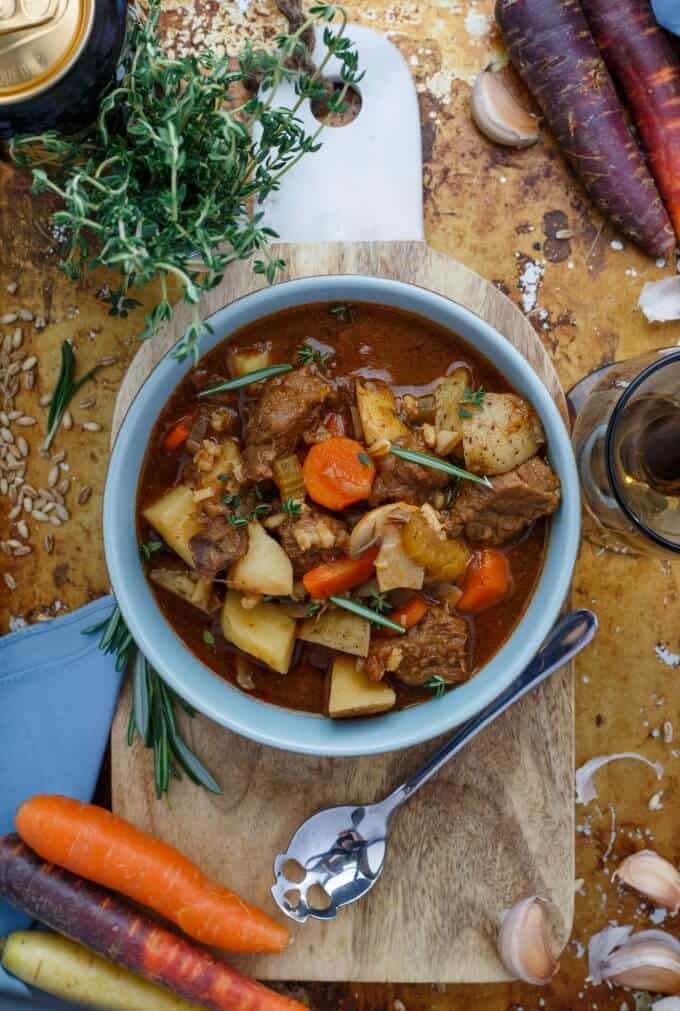 So yes, stirring is necessary, but otherwise, you are good to go! We sear the meat after it has been doused in flour, but for a gluten-free variety, omit this step and the barley and you can please all your Celiac friends. I tend to slack on my meat searing because it takes some time and I just do not have the patience... The beef stew with barley turns out every time! Update: I doused the meat in cornstarch instead of flour and while it did work, the meat sure stuck to the pan! Skipping the flour-step is the best way to go to keep this recipe gluten-free.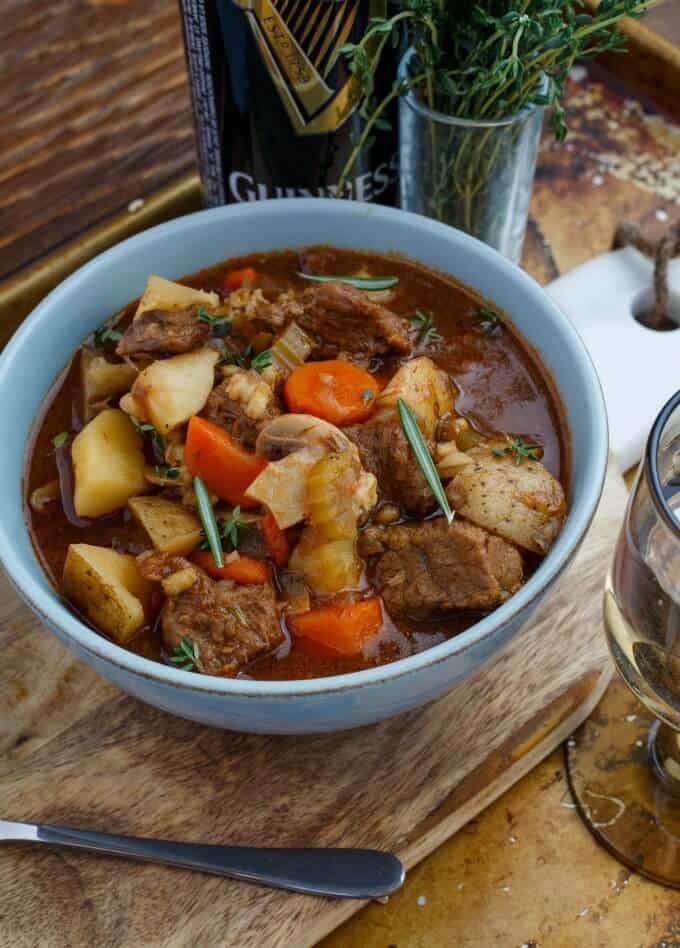 📖 Recipe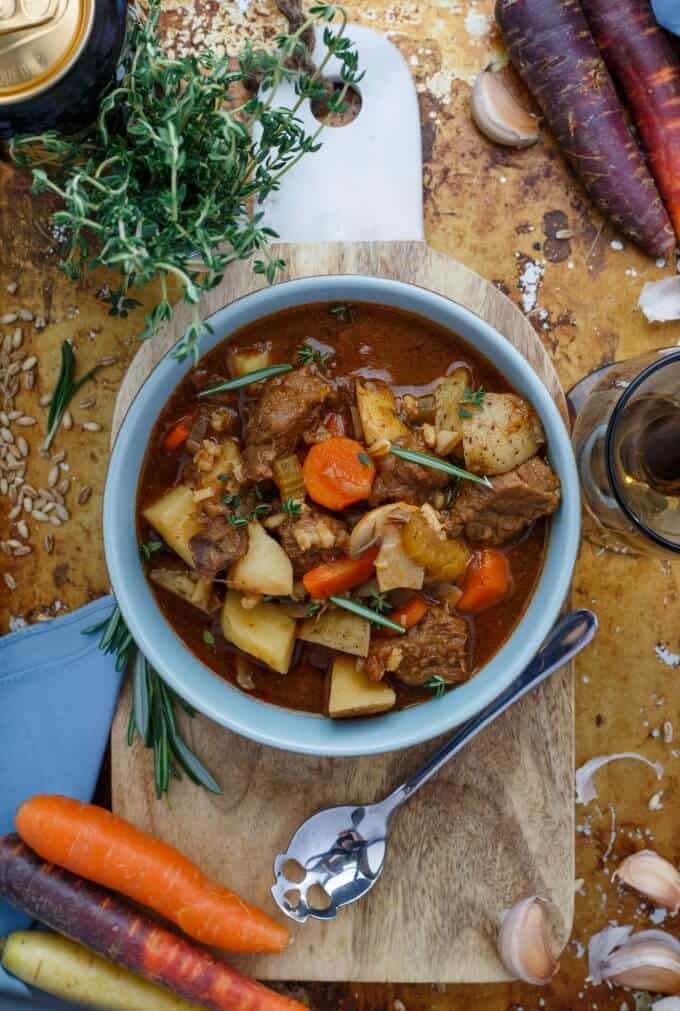 Beef Stew
A little bit of work by searing the meat, but you will be well rewarded in the end!
Ingredients
1.5 lbs potatoes, cubed
1 lbs carrots, sliced
2 celery stalks, sliced
2 onions, chopped
4 oz mushrooms, sliced
4 garlic cloves, minced
2 lbs stewing beef
1 can of beer (I used a 500 mL tall can of Guinness)
⅛ cup tomato paste
Salt and pepper
4 cups beef broth (1 cup removed)
1 tbsp. freshly chopped rosemary
1 tbsp. freshly chopped thyme
1 tbsp. Worcestershire sauce
¼ cup barley
½ tbsp. cornstarch
Oil for searing the beef
Instructions
In a large pot over medium-high heat, add a couple of tablespoons of oil.
Add beef to pan in small batches. Do not overcrowd the pan! Work in batches, flipping the meat until each side is nicely browned. You will probably have to add more oil as you go. Set aside in a clean bowl.
Stew
In the same pan, add in the onions and celery. Cook until translucent, about 5 minutes. Stir in garlic and tomato paste. Cook for another couple of minutes, stirring constantly! Pour in beer and really give the bottom of the pan a good scraping to get all those brown bits up. Season with salt, pepper, Worcestershire, and fresh herbs. Add in beef. Stir in broth (minus the 1 cup) and bring to a boil. Cover and simmer for 30 minutes.
Add carrots and simmer for another 30 minutes, uncovered. Add potatoes, mushrooms, and barley. Cook for 30 minutes, uncovered, making sure to really stir the mixture at this point for a good 5 minutes so the barley doesn't stick to the bottom of the pan! Mix the cornstarch and remaining broth and add to the stew. Cook for another 30 minutes, or until everything is nicely thickened and all veggies are cooked through!
Serve with additional herbs if desired! Once cooled, this stew can be placed into Tupperware and stored in the freezer.
Notes
Any beer can be used here (or even omitted) but you probably want a darker variety for deeper flavors.
The stew thickens up greatly as it cools.
Nutrition Information:
Yield:

4
Serving Size:

4
Amount Per Serving:
Calories:

459
Total Fat:

12g
Saturated Fat:

4g
Trans Fat:

0g
Unsaturated Fat:

7g
Cholesterol:

37mg
Sodium:

1140mg
Carbohydrates:

63g
Fiber:

10g
Sugar:

11g
Protein:

22g
Valentine's Day was perfect at our house. We avoid restaurants to the fullest extent during this holiday, and for good reason: you cannot get within a foot of them! I do not envy the servers and chefs on those nights. It was dinner at Chef Kacey's house, and boy do I have some recipes for you! I'll probably begin posting them within the next week or so because they will work perfectly with Easter dinner!