A blend of roasted cauliflower, cashew milk, and potatoes makes this creamy vegan cauliflower soup perfectly delicious (and healthy!)
Winter is finally coming to an end (I think.) We had some wicked cold temperatures over Valentine's Day weekend. I am not quite sure if we hit minus 40 degrees Celsius, but we were pretty darn close! I am just glad these temperatures held off for the most part until the weekend so I did not have to worry about walking kiddo to school. Still got the dog walk in with Rex, as short as it may have been 🙂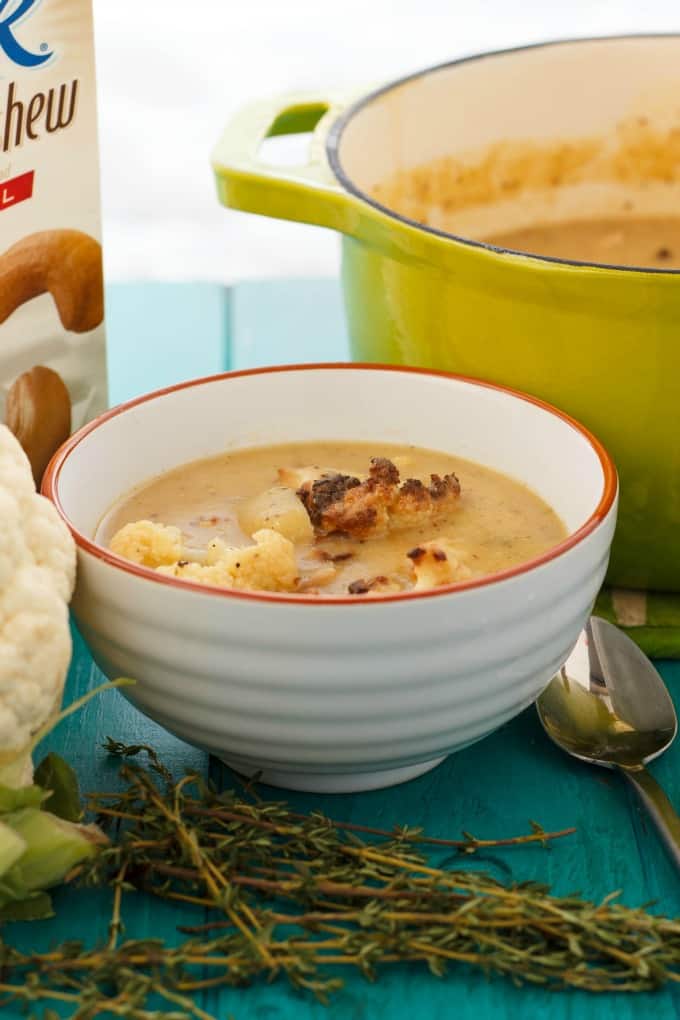 That aside, this creamy vegan cauliflower soup really hits the spot, no matter what the temperature is outside! I feel this is a great winter soup, but as light as it is, it can be quite refreshing for the summer months. Another plus? My husband can actually eat this soup without feeling ill as he battles some serious lactose intolerance (thankfully I don't have to worry about that because if cream was ever kicked out of my diet, I think I would starve!)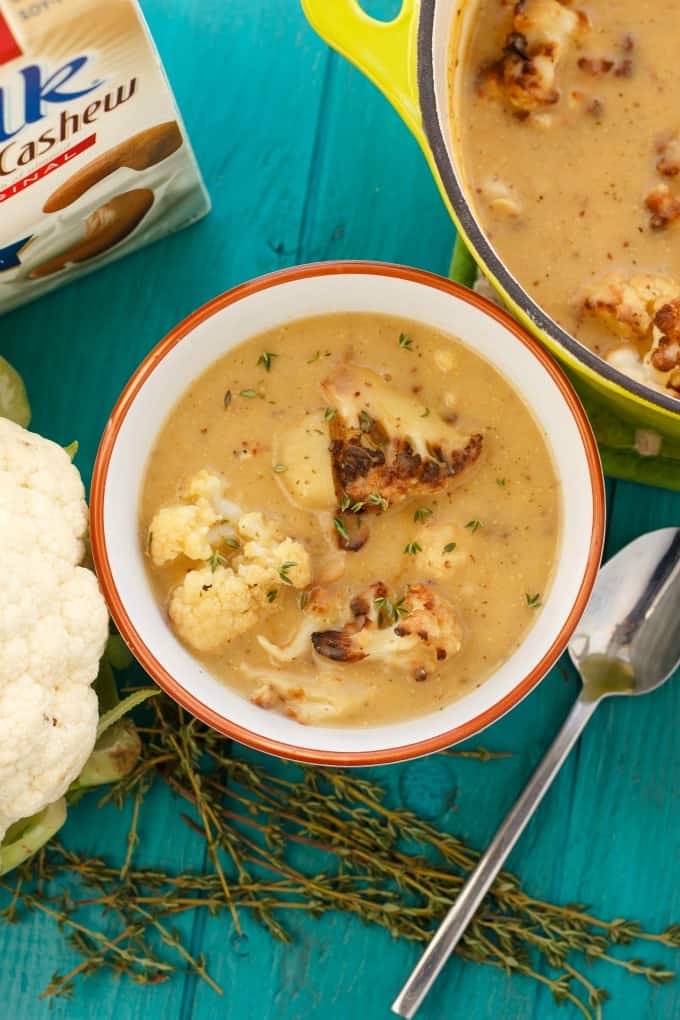 Quick, simple, and sooooo tasty. Don't let this creamy vegan cauliflower soup fool you: it is truly full of bold flavours! I do not even miss the cream or cheese. You'd be surprised how far a soup can go when you roast your veggies first. I don't think any meal is the same once you begin roasting veggies (especially cauliflower!)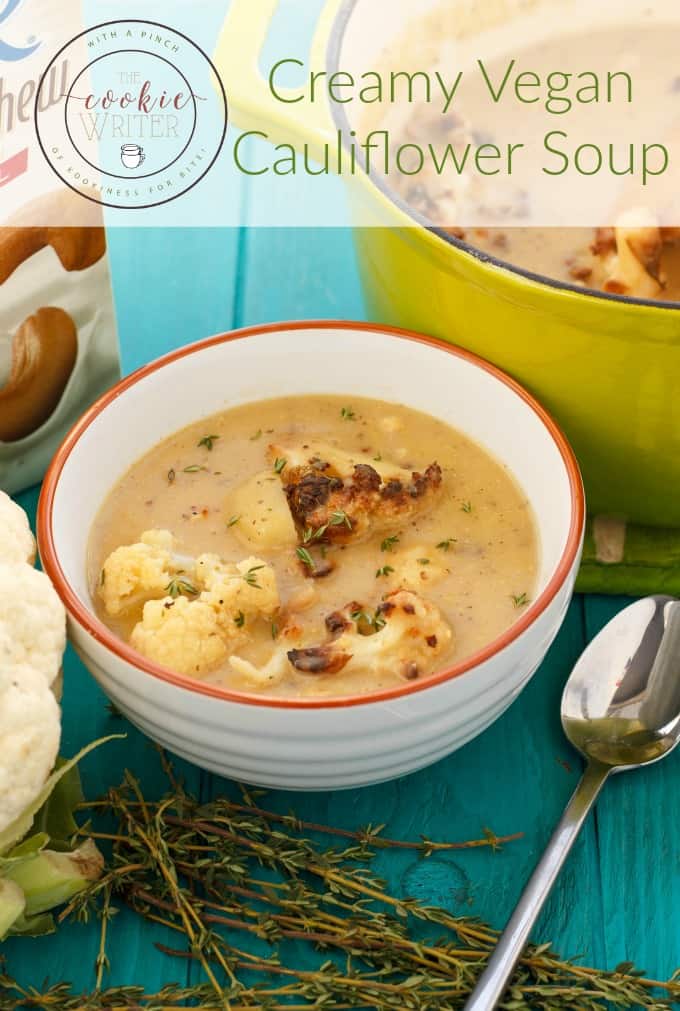 Creamy Vegan Cauliflower Soup with Cashew Milk
---
Kacey
Yields 4-6
20 minPrep Time
20 minCook Time
40 minTotal Time
Ingredients
1 large onion, diced
1/2 lb potatoes, peeled and cubed
2 cups vegetable broth (adding more for a thinner soup.)
1/4 cup white wine (or use all veggie broth instead.)
1 cup original cashew milk
1 tbsp. coarse whole grain mustard
1 tablespoon fresh thyme
Salt and pepper
Instructions
In a large pot, heat 1 tbsp. olive oil over medium-high. Stir in onions and sweat until translucent, about 4 minutes. Add the potatoes and cook for a couple of minutes, stirring occasionally as the potatoes will begin to stick. Season with salt and pepper. Deglaze pan with wine (or vegetable broth if omitting wine.) Simmer the wine for a couple of minutes. Pour in the vegetable broth, mustard, and thyme, and bring the soup to a boil. Reduce heat, cover, and simmer for 15 minutes, or until potatoes are soft enough to puree.
Puree potatoes in broth with a hand blender until smooth (you don't have to get it perfect, but the potatoes will act as the thickener here.) Pour in the cauliflower and cashew milk. Simmer for another 10 minutes so the flavours can combine. Serve with some additional fresh thyme if desired!
7.8.1.2
242
https://thecookiewriter.com/creamy-vegan-cauliflower-soup-with-cashew-milk/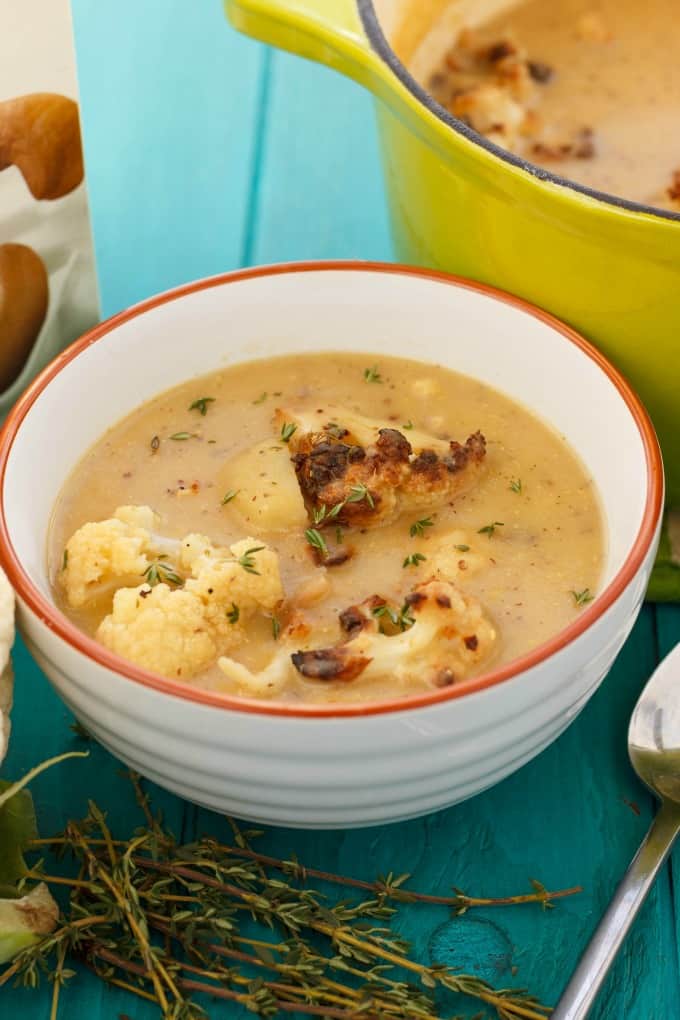 Valentine's Day was a hit and I cannot wait to share with you tomorrow a recipe I taste-tested for a fellow food blogger (seriously, amazing!) So stay tuned and hope for spring to come sooner than later!
Love this creamy vegan cauliflower soup with cashew milk?! Try some of these recipes: