Fun and a change from the norm, these butternut squash fries are vegan, gluten-free, and totally healthy!
What a fun recipe this was! I have been making cookies the past couple of days and needed a change of scenery (pshh, who needs a break from cookies?!) In reality, we needed something other than dessert to eat for dinner.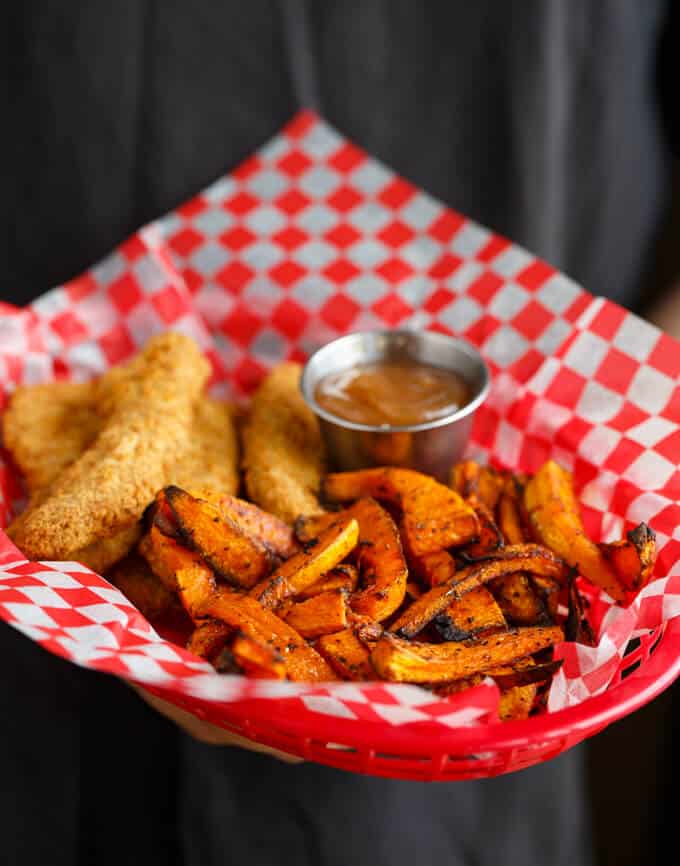 #1 husband gets home at a later time now, and Girlie and myself wanted something to snack on. I had a butternut squash that had been sitting around doing nothing and knew I had to cook it up eventually. I wasn't feeling soup or mashed "potatoes." I wanted a simple snack, and remembered not too long ago I saved a butternut squash French fry recipe to my board on Pinterest. It was the perfect day to try something new!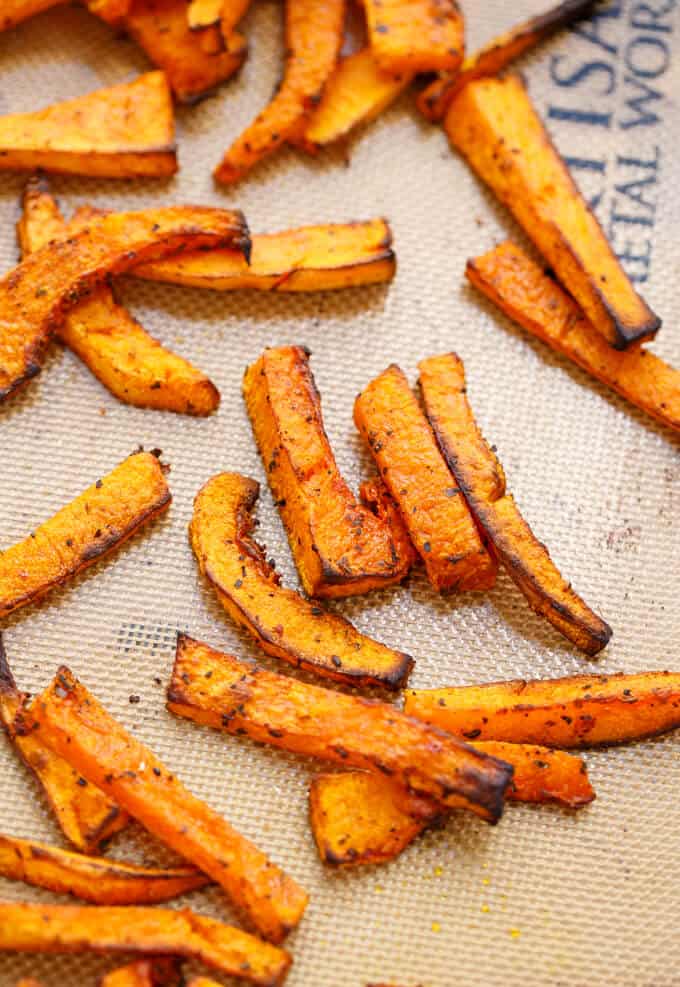 Results? Amazing! When Mr. TCW got home I asked him to try them and tell me what he thought. He thought they were sweet potato fries! Sure tasted like them, but at the same time, these fries had their own nutty flavor about them. I was super pleased with the results, and while some were soft and others were crispy, I knew where I went "wrong." It all depends on how you cut the squash. The smaller pieces got crispy, while the thicker pieces had a bit of crisp but were more of a soft fry (not a bad thing at all!) Just be aware of how you cut your butternut squash.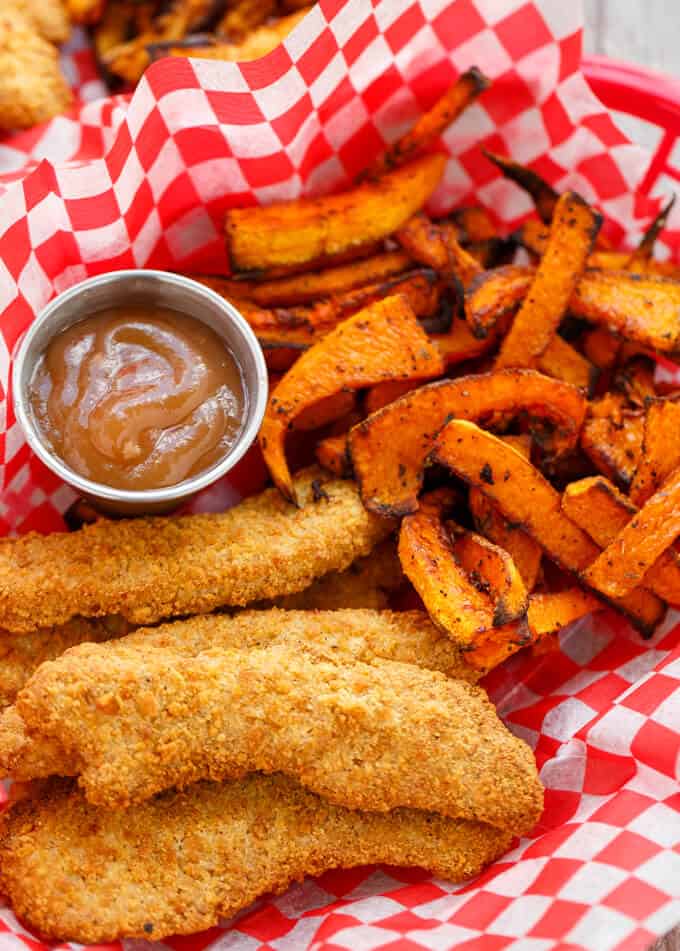 📖 Recipe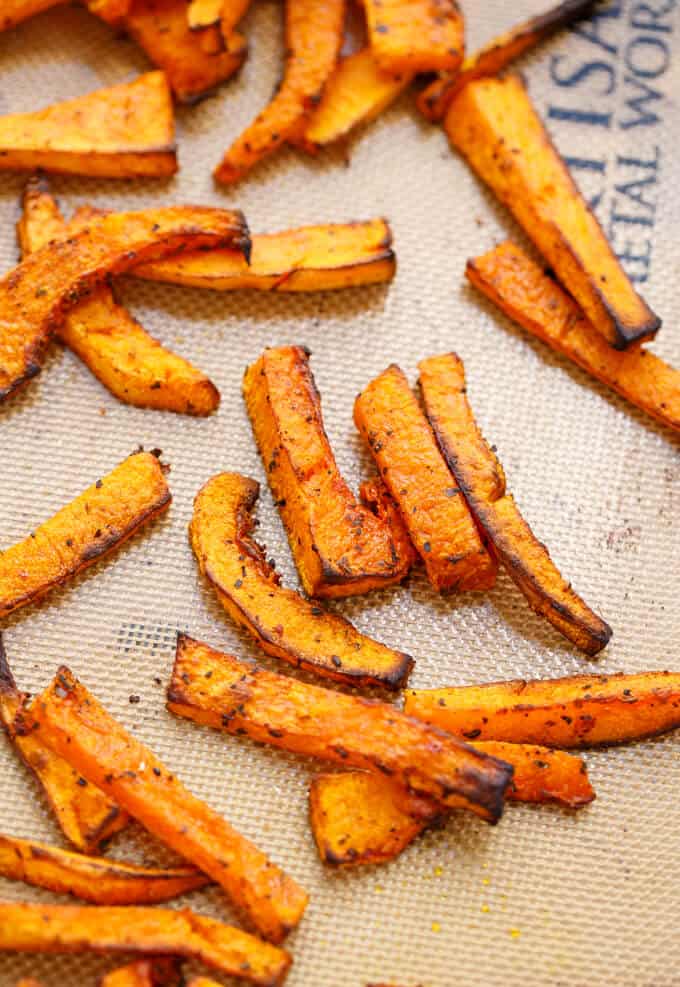 Butternut Squash Fries
While most of us are familiar with sweet potato fries, here is a different take using butternut squash!
Ingredients
1 small (1-2 lb) butternut squash, peeled, de-seeded, and sliced into "fries"
1 tbsp. olive oil (you can use more if needed!)
¼ tsp. salt
¼ tsp. garlic powder
¼ tsp. dried basil
¼ tsp. black pepper
⅛ tsp. cayenne powder
Instructions
Preheat oven to 450F. Line baking sheet with silicone liner if available (placing on direct pan should work!)
Place the fries into a bowl with the olive oil. Toss until all the fries are coated. Season with remaining ingredients and mix until combined.
Pour onto tray and evenly spread out so no pieces overlap. Place into oven and bake for 20 minutes. Flip, and continue baking for another 10-20 minutes, or until desired crispiness is reached.
Note: Cook time will vary depending on the thickness of your "fries." If you see noticeable browning, you can always flip your "fries" earlier.
Nutrition Information:
Yield:

2
Serving Size:

1
Amount Per Serving:
Calories:

266
Total Fat:

16g
Saturated Fat:

2g
Trans Fat:

0g
Unsaturated Fat:

12g
Cholesterol:

0mg
Sodium:

415mg
Carbohydrates:

28g
Fiber:

3g
Sugar:

2g
Protein:

3g
I cannot wait to make these again, although I find cutting butternut squash to be a pain since you have that rather stringy middle part to work around. I am going to pick up some other squashes and try them out as fries to see how they go, as I am partial to acorn and buttercup squash.
When I made the recipe, I used ½ tsp. of salt and it was a little too much. It all depends on the size of your squash. You can also sub in coconut oil for the olive oil for a healthier take. Plus, the spices are all up to you! Maybe a rosemary and thyme variety would work, or perhaps a pizza inspired flavor. Decisions, decisions. Also note the little hands helping me with my food photography. She tries so hard!
Love these butternut squash fries?! Try some of these recipes: