Looking for a way to use up that leftover rutabaga hanging around? Why not try these rutabaga fries that are vegan, gluten-free, and healthy!
The photos and recipe for these rutabaga fries have been updated as of June 20th, 2016!
Another Thanksgiving recipe today!
Well, more of a leftover Thanksgiving creation.
I was in charge of making the rutabaga this year and I bought two good-sized ones to make sure I had enough for everyone (it is definitely a favourite in my family.) After cutting up one and a half I realized that we had more than enough. I wrapped up the other half and placed it into the refrigerator because I knew I would not be getting to it until much later (all that leftover Thanksgiving food kept us fed for quite some time!) Even though it was stored away in the refrigerator, I knew immediately what I was making.
Rutabaga fries!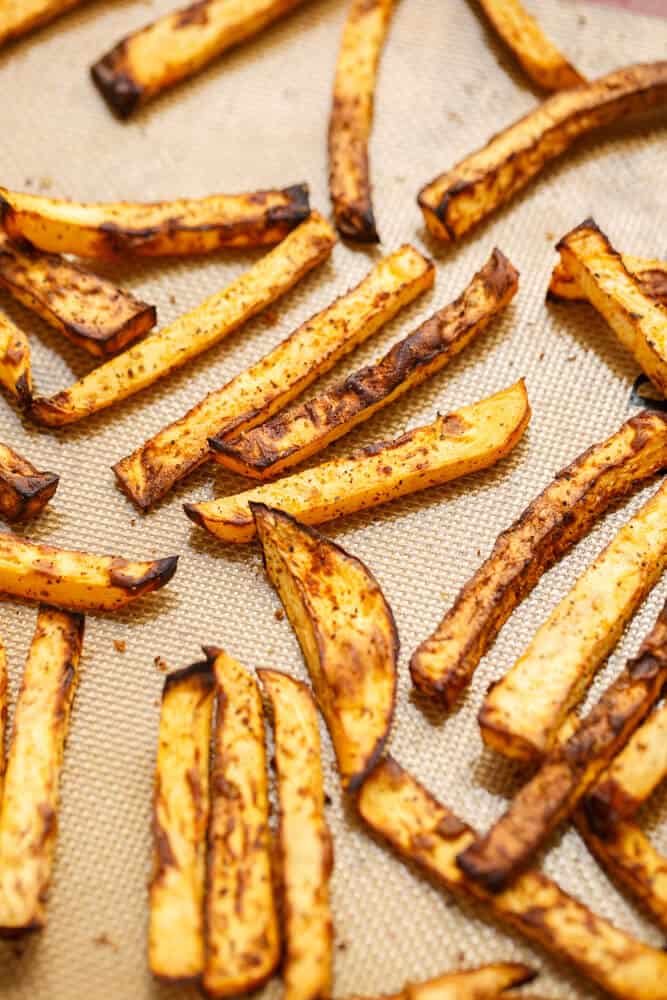 Since I had such great success with my butternut squash fries, I knew these ones would be just as great. As long as you love rutabagas, these fries are for you. Compared to the butternut squash fries, they are equally as great. What I really loved most about these rutabagas fries is how easily they crisped up in the oven even though I placed them directly onto parchment paper. It all depends on the size of them. I also soaked my rutabaga fries overnight in the refrigerator before patting them dry to bake in the oven. My oven needed a good cleaning before I cooked at high temperatures, so I had to wait a day to get to these fries.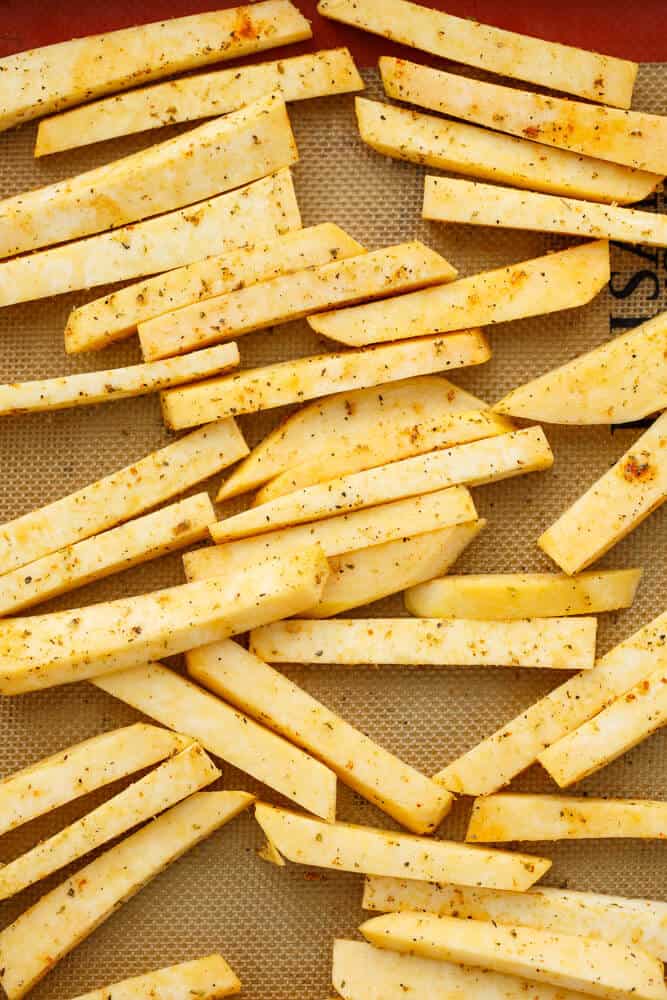 Feel free to adjust seasonings accordingly. Salt, pepper, garlic powder, and cayenne are usually my staples when it comes to fries, so I figured there was no going wrong with them here. Dill would be a good addition here, which I will probably try next time!

Rutabaga Fries
---
Kacey
10 minPrep Time
30 minCook Time
40 minTotal Time
Ingredients
1 small rutabaga, skin removed
1/4-1/2 tsp. salt
1/4-1/2 tsp. cayenne powder
1/2 tsp. garlic powder
1/4 tsp. dried oregano
1/4 tsp. black pepper
1-2 tbsp. olive oil
Instructions
Slice the rutabaga in half, and then cut into "fries."
*I placed my "fries" into cold water and allowed them to sit in the fridge overnight. I heard this trick works for crispy french fries. You can skip if you like.
Preheat oven to 450F. Line a baking sheet with parchment paper.
Drain rutabaga fries if you chilled them overnight. Pat dry. Add 1 tbsp. olive oil and toss until evenly coated (I only needed one tablespoon, but add more if necessary.) Add the spices and toss again. Transfer to baking sheet and spread out so no fries overlap.
Place into oven and bake for 15 minutes. Remove from oven and flip. Continue baking for another 10-15 minutes, or until desired consistency is reached.
Remove from oven and serve immediately.
7.8.1.2
192
https://thecookiewriter.com/rutabaga-fries/
When I cooked my
butternut squash fries
, I placed the fries onto a cooling rack before putting them onto the pan. I figured this would help with crisping them up. Higher temperatures help avoid this extra obstacle, plus, avoid over-crowding the pan and you should have no problem achieving crisp rutabaga fries. Over-crowding causes the fries to steam instead of bake.
I have a couple more Thanksgiving recipes left before I get into the holiday spirit and begin posting Christmas recipes! So excited!
Love these rutabaga fries?! Try some of these recipes: