Let's be honest: this recipe was created months ago but I have not had the time to post it. With American Thanksgiving coming up, I thought it would be a nice treat for vegans looking to indulge in delicious treats this holiday.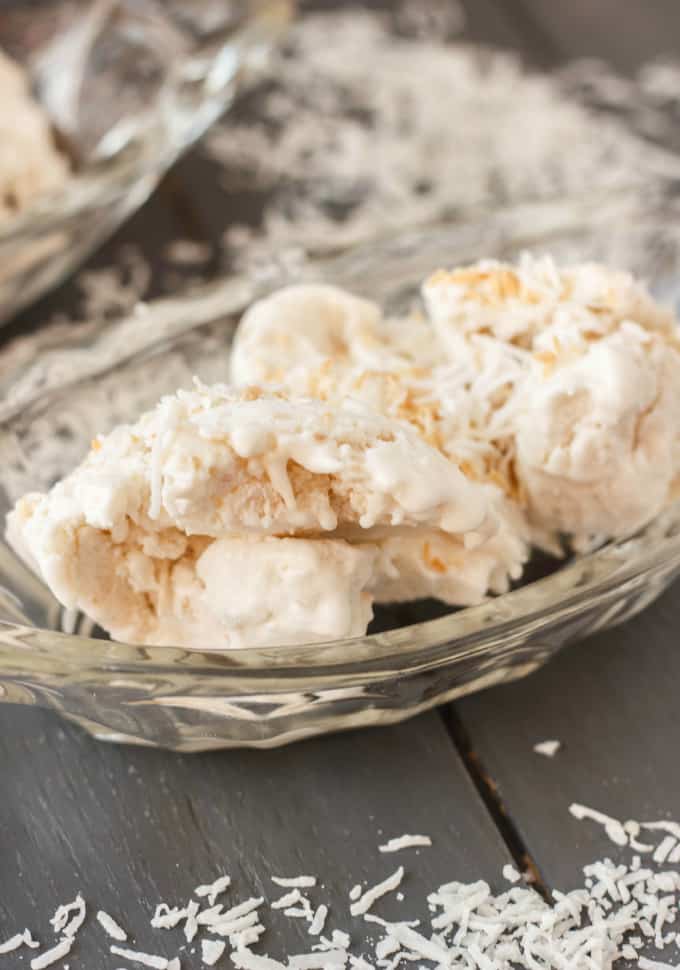 This vegan toasted coconut ice cream was so delicious and tasted just as great as my original toasted coconut ice cream (or maybe even better!) I had made some coconut chocolate bars (still working on getting the recipe right, you can see one in the pictures below) and was left with extra coconut cream (finally found some in the least expected location!) I did not want it to go bad, as the can says to use the leftovers up within a couple of days. So that is where the vegan toasted coconut ice cream was born!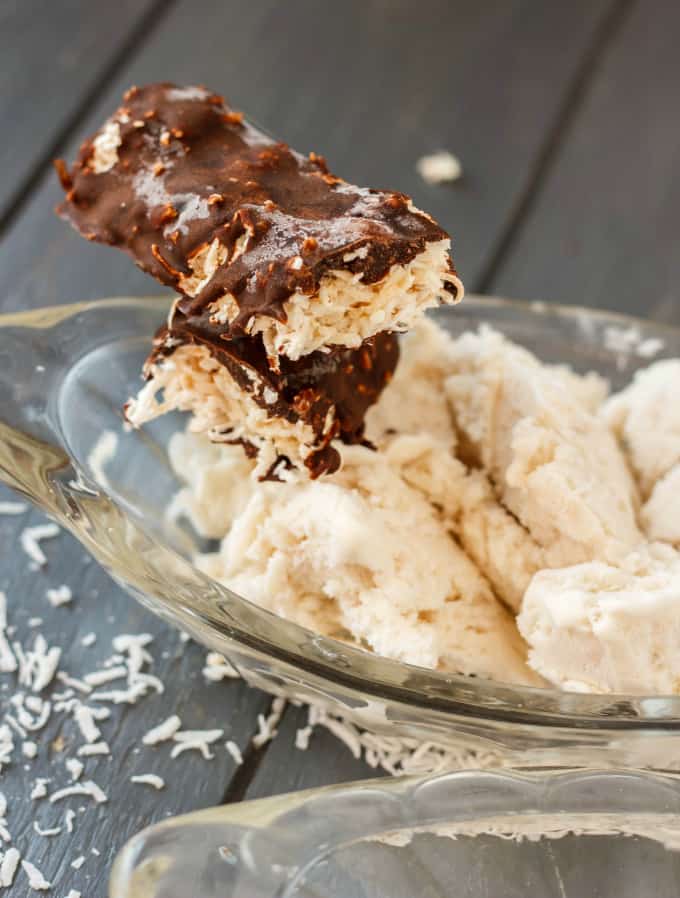 Rich, "creamy," and totally coconut inducing, I was super impressed with my creation! I was licking the ice cream maker clean (let's be honest, my daughter was right in there with me!) I have been experimenting with cornstarch in my ice creams, especially vegan creations, and find it does help create that creamy texture you are use to with gourmet ice cream. Less water crystals in the ice cream, and even non-vegan ice cream recipes sometimes lean towards cornstarch over eggs because they find the cornstarch creates the perfect texture. Give it a try, you will surely see a difference from your usual recipe that calls for no eggs or cornstarch!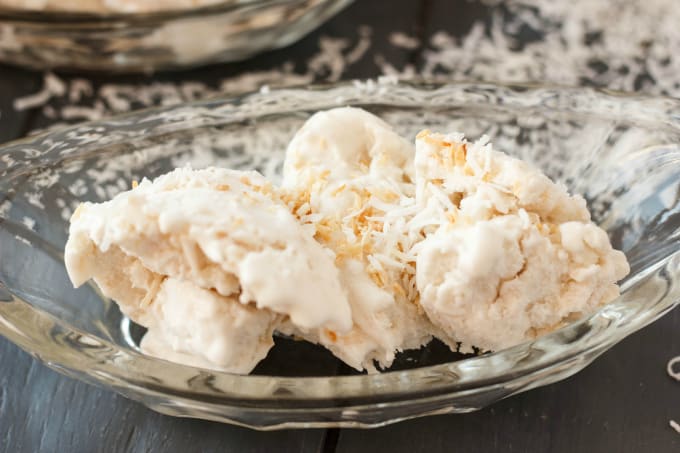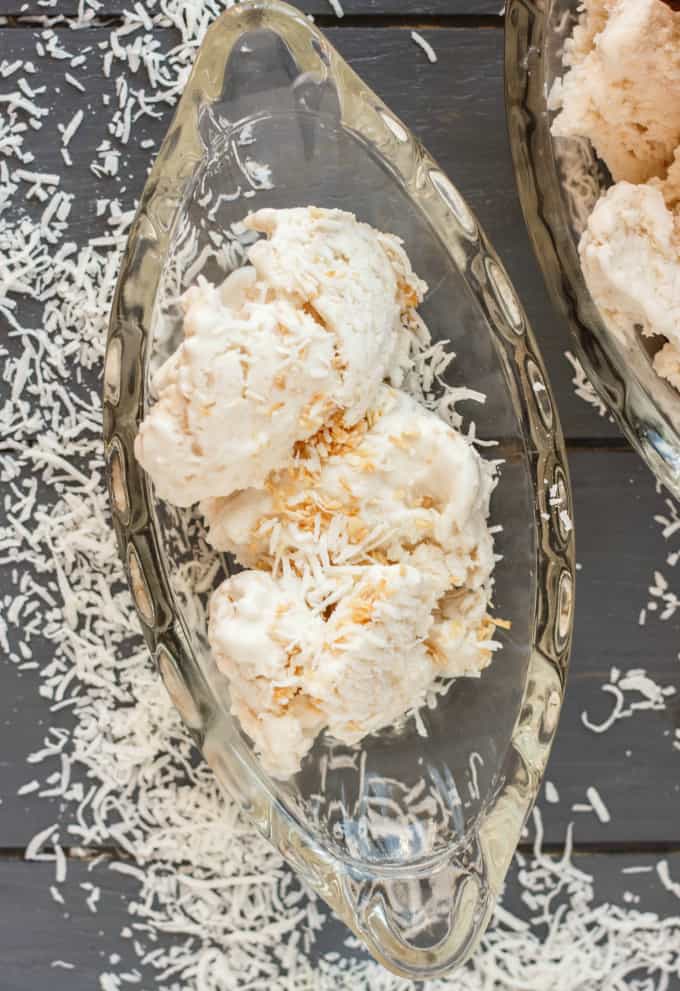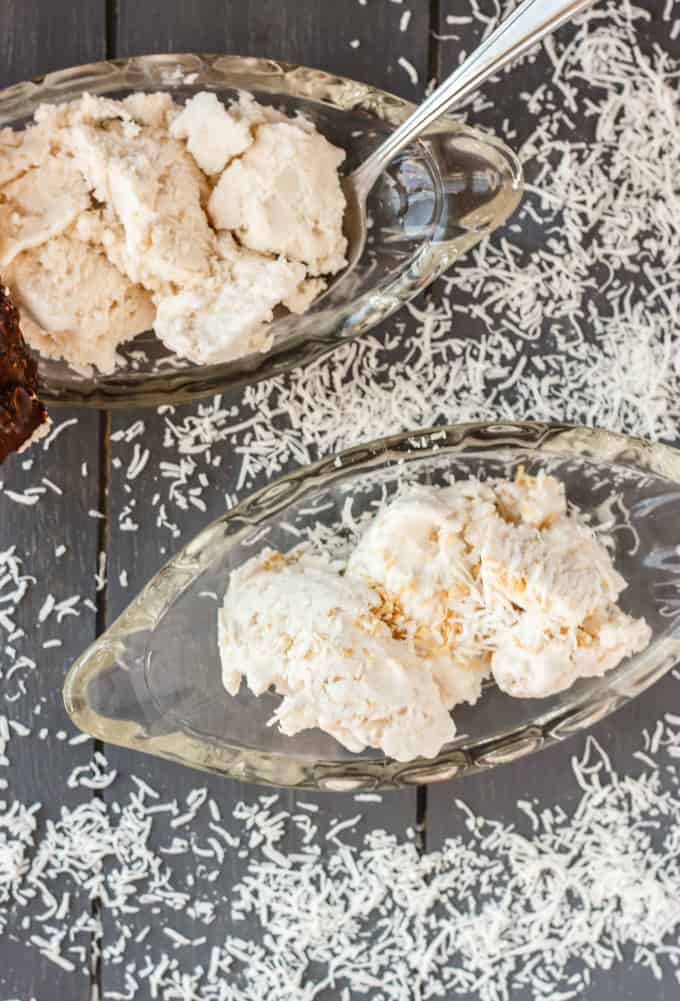 📖 Recipe
Vegan Toasted Coconut Ice Cream
Do not settle for anything less this holiday season when it comes to vegan diets. This vegan toasted coconut ice cream is perfect on its own or on top of pie!
Ingredients
1 cup coconut cream
400 mL coconut milk
½ tsp. vanilla
1 tbsp. rum *optional
½ tbsp. cornstarch
1 cup unsweetened coconut
2 tsp. confectioners' sugar
½ cup granulated sugar
Instructions
Preheat oven to 350F.
Reserve half a cup of coconut milk in a measuring cup. Mix in the cornstarch.
Place the remaining coconut milk, coconut cream, and granulated sugar into a small saucepan over medium-low heat
While the mixture is heating, mix together coconut with 2 tsp. confectioners' sugar. Place into a shallow baking dish, and bake for 7-10 minutes, stirring every so often, until the coconut is nicely toasted (keep an eye on it so it does not burn!) Set aside to cool.
When the ice cream mixture on the stove is very hot (but not boiling,) give the cornstarch and coconut milk one more stir and pour into hot mixture. Add in the vanilla and rum. Stir until combined and bring back to a very hot temperature.
Remove from heat, stir in coconut, and allow to cool to room temperature, stirring occasionally to prevent a film from building up. Chill overnight in the refrigerator.
Follow the directions according to your ice cream machine.
Nutrition Information:
Yield:

5
Serving Size:

1
Amount Per Serving:
Calories:

567
Total Fat:

37g
Saturated Fat:

34g
Trans Fat:

0g
Unsaturated Fat:

2g
Cholesterol:

0mg
Sodium:

38mg
Carbohydrates:

59g
Fiber:

3g
Sugar:

53g
Protein:

3g
I have made vegan green tea ice cream in the past, but I am going to revisit it and use the cornstarch method. It makes that much of a difference! Just because you follow a vegan diet, does not mean you have to settle for second best. Even with just a vegetarian diet, I really do enjoy these vegan ice creams. The vegan toasted coconut ice cream is no different from the original, as far as I can tell. My next plan is to veganize my coffee ice cream with toasted pecans and a caramel swirl!