The last month has been insanely busy. Every weekend we had plans and could not wait until we had a weekend to ourselves.
I had a somewhat lazy weekend where Girlie and I made homemade hot chocolates and curled up in front of the TV to watch some movies (How the Grinch Stole Christmas has officially been watched!) Might as well get ahead on those Christmas movies as it actually snowed here on Halloween (thankfully, after we were done going out in the cold rain.) Have to love that crazy Canadian weather!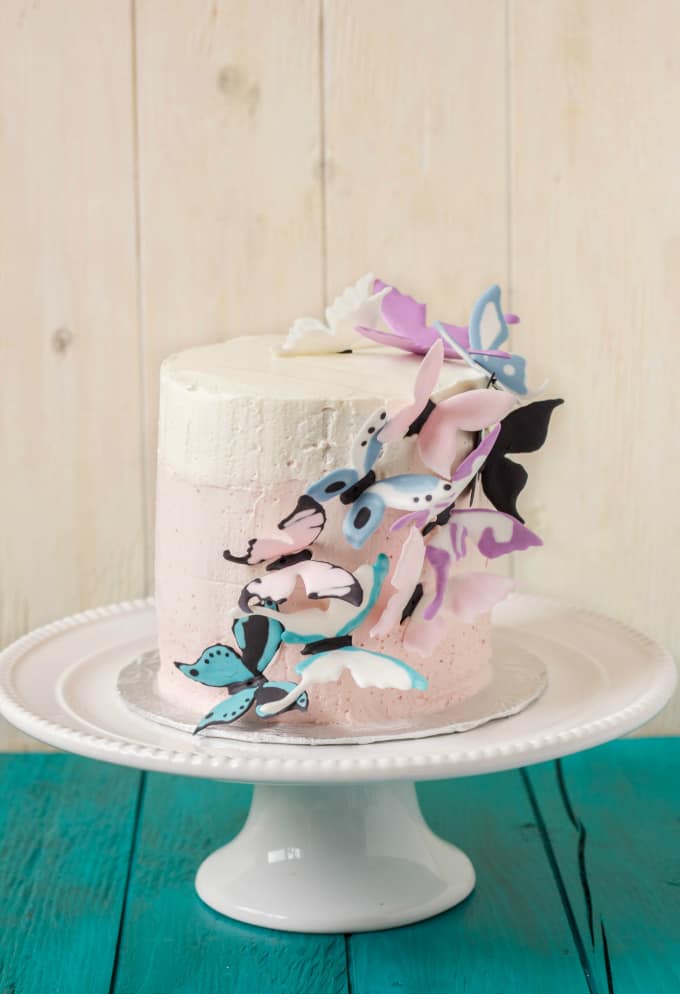 After almost a month, I figured it was a good time to show off kiddo's birthday cake. I love making her cake each year. It is a tradition I will forever love, but I have a feeling she will be that child who wants to make her own cake at some point (I must admit, I will be both happy and sad!) At first I was a little disappointed with how the cake turned out. The pink ombre cake wasn't really showing three different colors. There are three shades on the cake, but it is hard to tell. But the butterflies more than made up for that! Kiddo was in love with the butterflies. When we cut into the cake at the bowling alley, she took one bite of the cake and decided the butterflies were the cool part. It was her birthday so I let her have a couple. I made way too many royal icing butterflies, but best to be safe than sorry!
The pink ombree cake with royal icing butterflies consisted of a banana cake with strawberry Swiss meringue buttercream. The filling between the four layers of cake was a blend of strawberry Swiss meringue buttercream and the leftover strawberry puree. Basically a very flavorful strawberry icing. The only issue with mixing the buttercream with the extra strawberry puree is the result of an almost curdled looking mixture (too much puree for the small amount of buttercream.) Tasted fantastic, and looked pretty good considering my mistake.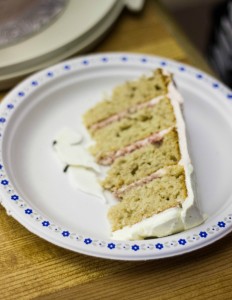 Since our party was going to be small and basically immediately family only, I decided to make a 6-inch cake, four layers high. It was the perfect amount for the 10-12 people that attended (all adults besides Girlie.) I like the look of highly stacked cakes, but that means you have to cut smaller pieces for your guests as the slices are so tall! I only grabbed a poorly lit pictures at the bowling alley of the inside of the cake, but you get the point.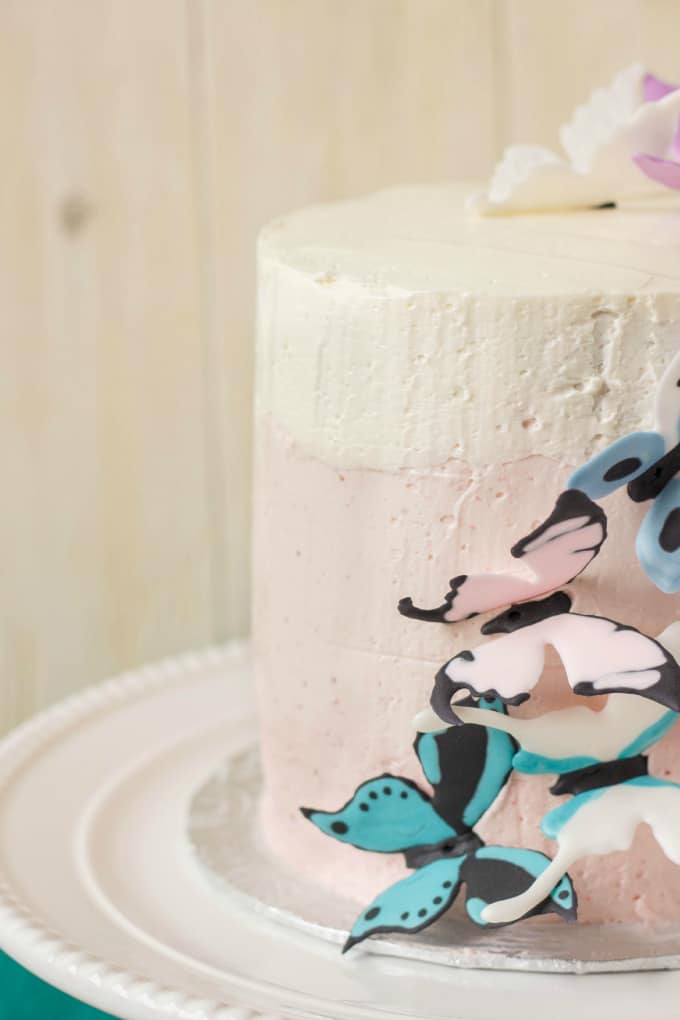 I had decided on a banana cake because of many reasons. One: I always turn to chocolate or vanilla cakes when baking my creations. They are the two standards, and generally the crowd pleasers. I wanted to do something different. That brings us to reason number two: I had made these banana cupcakes with peanut butter frosting and was super impressed by the moistness in the cake, without being your standard banana bread. It actually had a cake texture! And kiddo loves bananas so this was an easy decision. Now, I was not making cupcakes, so I had to adjust the recipe accordingly (cooking one and a half times the original recipe.) Hopefully my math is right in these conversions! For the original cake recipe, please check the link below the recipe.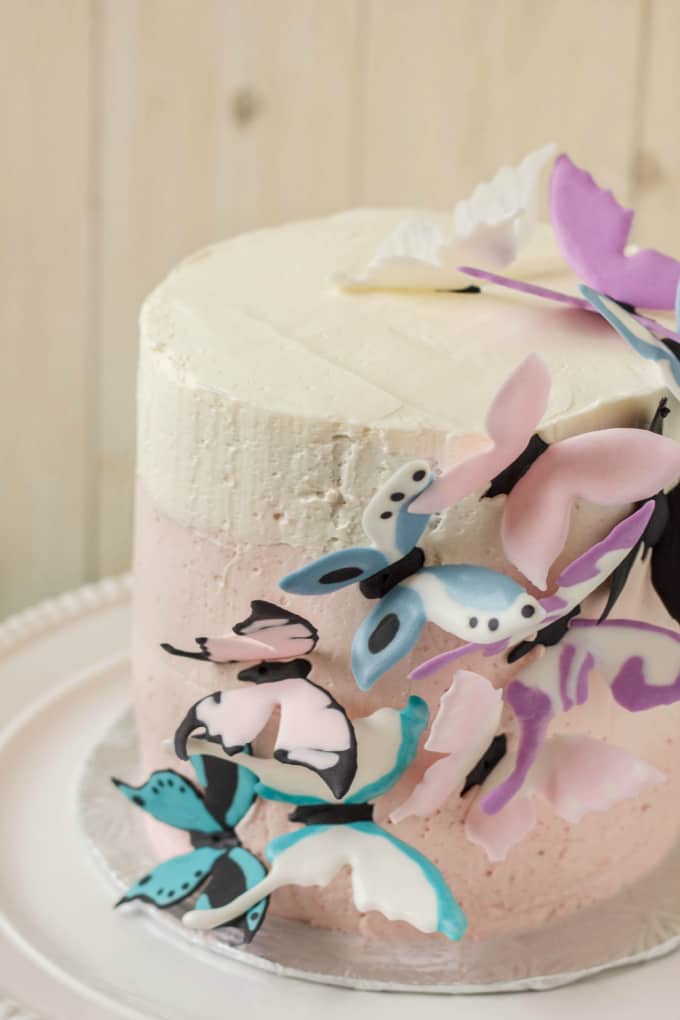 📖 Recipe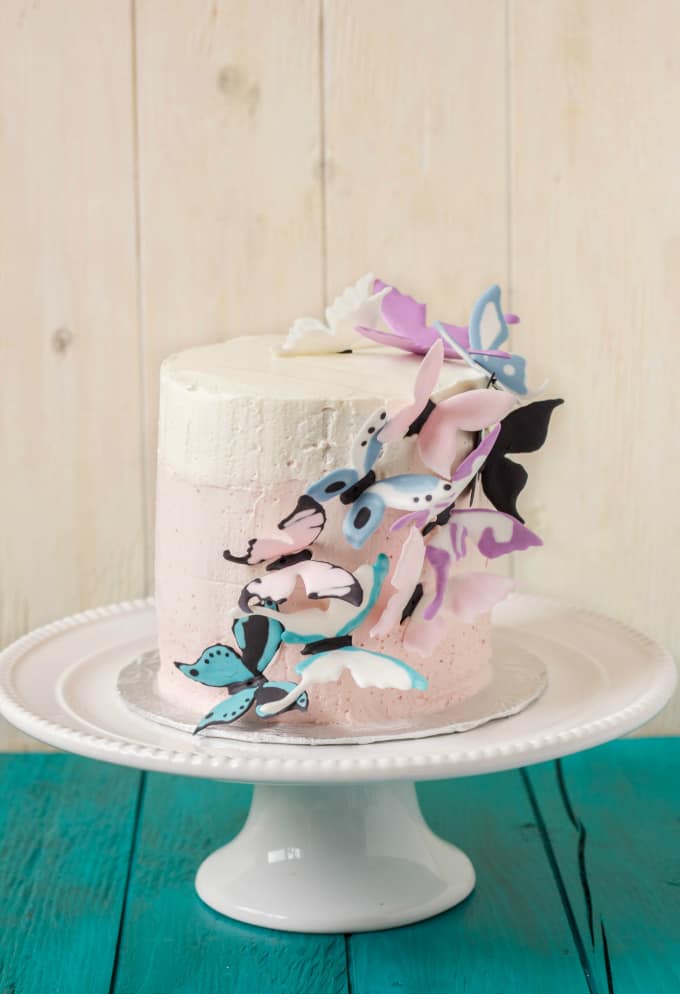 Pink Ombre Cake with Royal Icing Butterflies
Total Time:
1 hour
5 minutes
A 6-inch four layer pink ombre cake with royal icing butterflies. Perfect for a little girl's birthday or a just-for-fun cake!
Ingredients
3 eggs, room temperature
2 ¼ cups well mashed bananas (approximately 4 bananas)
3 ¾ cups cake flour
3 tsp. baking powder
¾ tsp. baking soda
¼ tsp. salt
¾ cup granulated sugar
¾ cup brown sugar
¾ cup butter, room temperature
1 ½ tsp. vanilla
¼ cup + ⅛ cup buttermilk
3 tsp. rum (can omit if not comfortable with alcohol.)
½ tsp. cinnamon
Instructions
Preheat oven to 350F. Grease 4 6-inch round pans accordingly (I use shortening and flour.) If you only have two pans, you will have to work in batches like I did.
Add the butter and sugars to the bowl of your stand mixer. Beat until light and fluffy.
While that is going on, sift together the flour, baking powder, baking soda, cinnamon, and salt.
Add the eggs to the butter mixture one at a time, making sure each egg is well mixed. Add the vanilla and rum and stir until combined.
Combine the bananas and the buttermilk. Add the bananas and flour mixture to the butter mixture in batches, alternating between the two, starting and ending with the dry mixture. Mix until just incorporated.
Divide into your prepared pans, filling about halfway each. Place into oven and bake for 25-30 minutes, or until cakes comes out clean when a toothpick is stuck in the centre.
Nutrition Information:
Yield:

10
Serving Size:

1
Amount Per Serving:
Calories:

491
Total Fat:

16g
Saturated Fat:

9g
Trans Fat:

1g
Unsaturated Fat:

5g
Cholesterol:

93mg
Sodium:

441mg
Carbohydrates:

81g
Fiber:

2g
Sugar:

35g
Protein:

7g
Instead of explaining my assembly in the recipe above, I thought it would be easier here!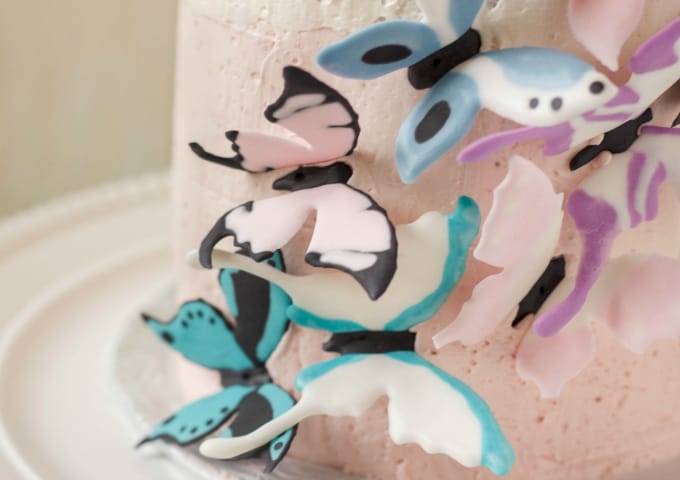 I only used one batch of my Swiss meringue buttercream. Now, you want to create an ombre effect so DO NOT pour in all the strawberry puree (1 lb fresh strawberries blended until smooth.) Take out about half the icing, maybe even a bit more. You should have two bowls of white icing now. Add the bowl with the bit of extra icing back into your stand mixer bowl. Add in ¼ - ½ cup strawberry puree and mix until blended. Taste and add more if desired (but be careful, too much may make your icing loose.) If you want more of a pink color, add some food coloring, but I did not add more. Add the pink around the bottom layer and a half of cake and smooth the best you can (don't worry, we will touch it up later.) Now, to make the next pink shade, add some of the white to the dark pink color, mixing with a spatula to blend. Once you reach a desired lighter pink shade, apply that as your next layer. Finally, finish off the last layer and top of cake with the white icing.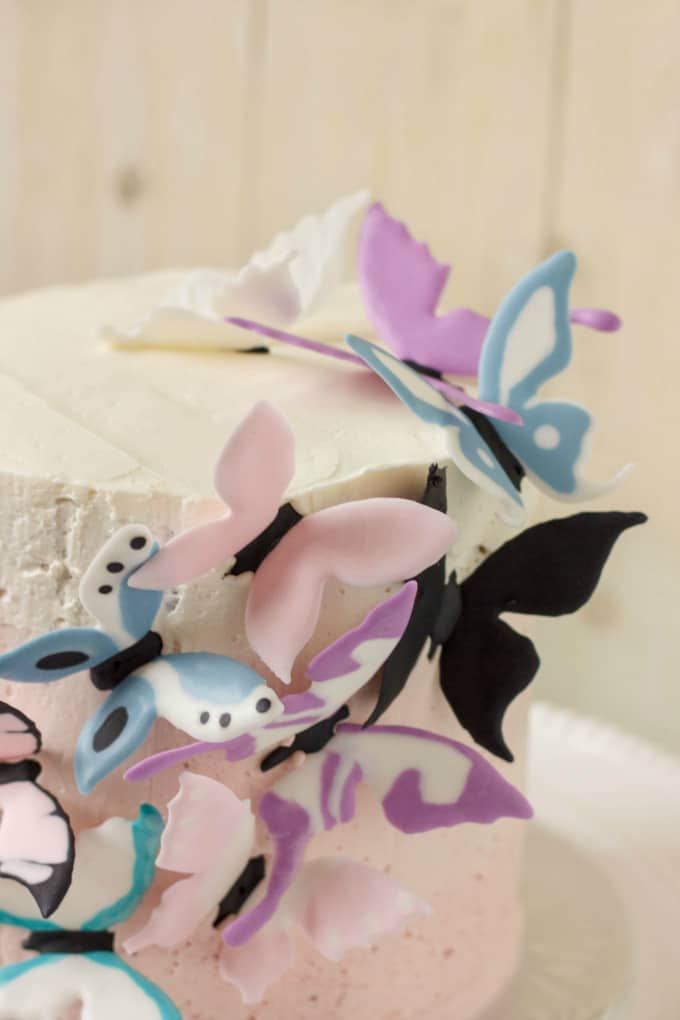 Now comes the fun part! Use a giant flat spatula (I use a large Wilton one) and go around the cake, smoothing all the layers at once. The whole point of ombre is to show a gradual transition, so don't worry if one layer color rises up more on one side. The pink ombre cake allows for imperfections because it is suppose to look natural. Plus, adding all the butterflies will hide any real noticeable imperfections!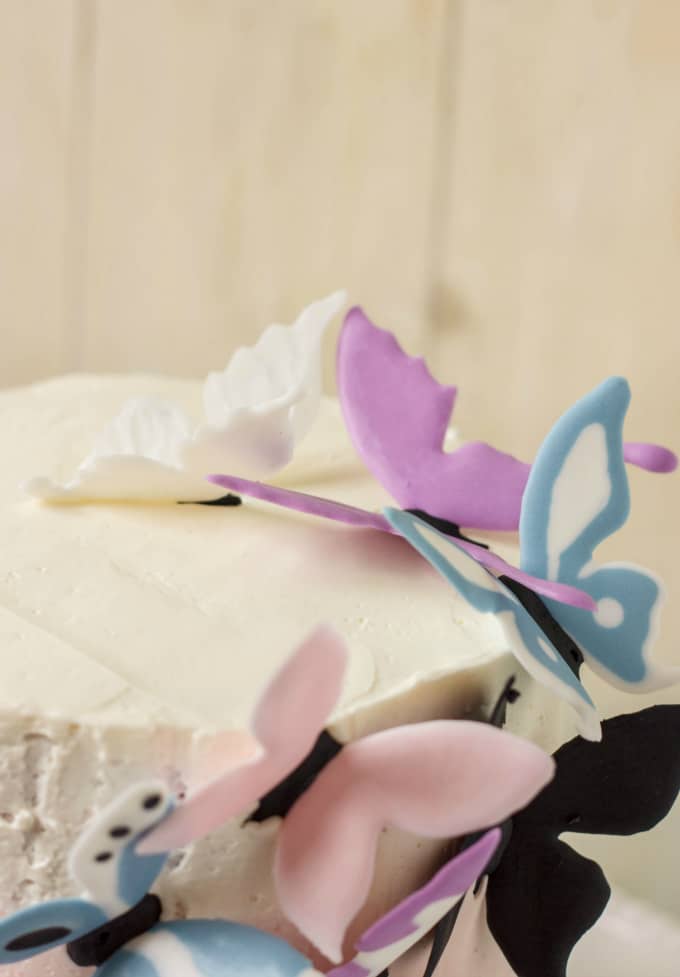 And there you have it! I attached the butterflies by gently pushing them into the buttercream. If you are concerned, you can add a dollop of buttercream onto the cake before adding the butterfly for extra support.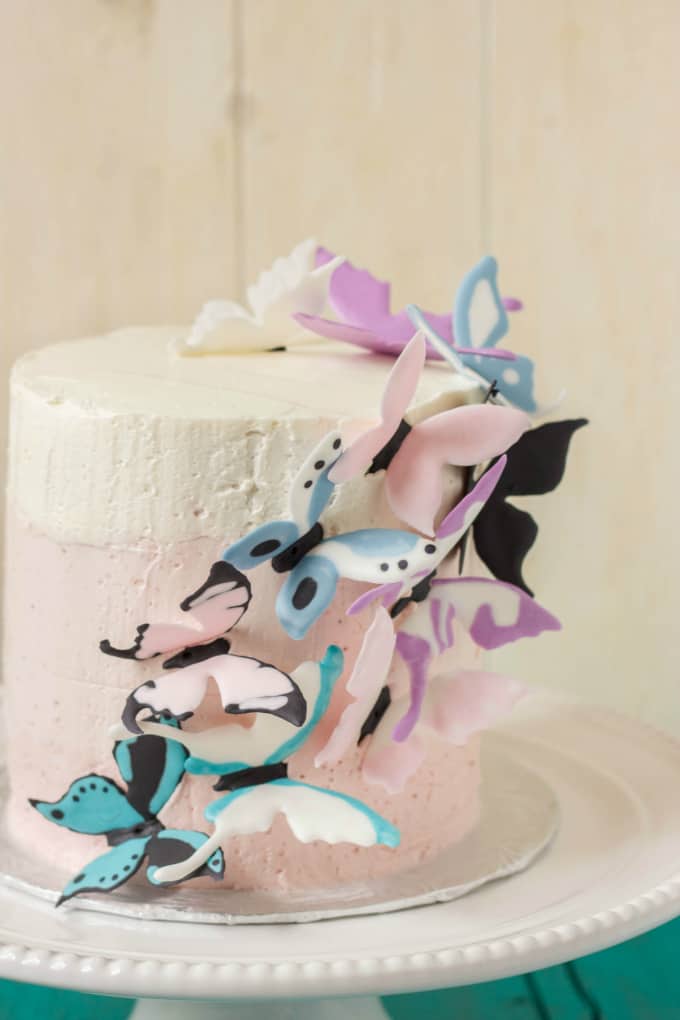 I had a lot of fun making the cake, even though I worried constantly about running out of icing! The pink ombre cake was my first attempt at the whole ombre craze, and it wasn't as scary as I initially thought. Worse comes to worse, you will have to make another batch of icing.