Craving a creamy cauliflower soup but cannot eat dairy? Try this vegan roasted cauliflower soup! So creamy, and yet no real dairy has been used!
I am so happy to have had the opportunity to work with Almond Breeze and their delicious almond milk! As a vegetarian, I am always looking at ways to create awesome recipes that can easily be made vegan for the convenience of non-meat-eaters. Over the years, vegan diets have become very popular, and for whatever reason you choose to partake in such a lifestyle choice, I know finding a fantastic vegan recipe can sometimes prove difficult. Not so much nowadays, but I will admit that my vegan recipes see a lot more traffic than some of my other posts. I am glad to be creating vegan recipes that are enjoyed by many, and I plan to keep them coming!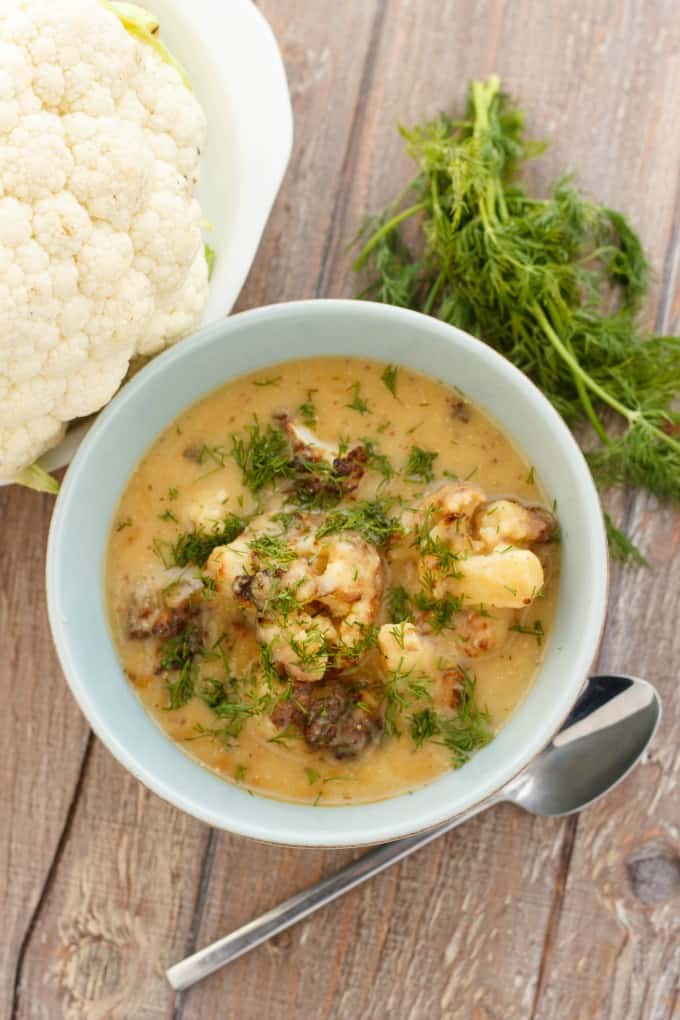 Working with almond work has proven to be enjoyable and rewarding. I was concerned I would not achieve that rich, creamy flavor I am use to with heavy whipping cream, but you will be surprised at what you can come up with. For those of you who missed it, I made an almond milk breakfast smoothie and was impressed at how delicious it was! I am not a dairy-lover in smoothies, so it was nice to see how well the almond milk worked with my recipe. While that recipe was super simple, I knew I wanted to do something much more creative with the almond milk when it came to my next recipe. And once I came up with my recipe, I could not wait to try it!
Say hello to vegan roasted cauliflower soup! I cannot believe how thick and creamy this soup is! I kid you not, it totally reminds me of my roasted cauliflower soup, yet there is no cream or cheese in this soup. Amazing, right?!
If there is no cream or cheese in this recipe, how did I achieve the creamy, rich flavor? Well, let me tell you.
I knew the almond milk was on the thin side. I have had some success with making whipped almond milk, but I still need to do some testing with it. So, to compensate for the lack of thickness from the almond milk, I decided to boil some potatoes in the soup and puree them to create the thickness the vegan roasted cauliflower soup needed. And it worked! Almost a little too well, I must add. If you feel your soup is too thick, stir in more almond milk. It is all about tweaking. I really wished I had some nutritional yeast on hand to try in this recipe because I hear it helps with the missing cheese aspect, but the store was completely out. I will definitely be making this recipe again so no worries there!
📖 Recipe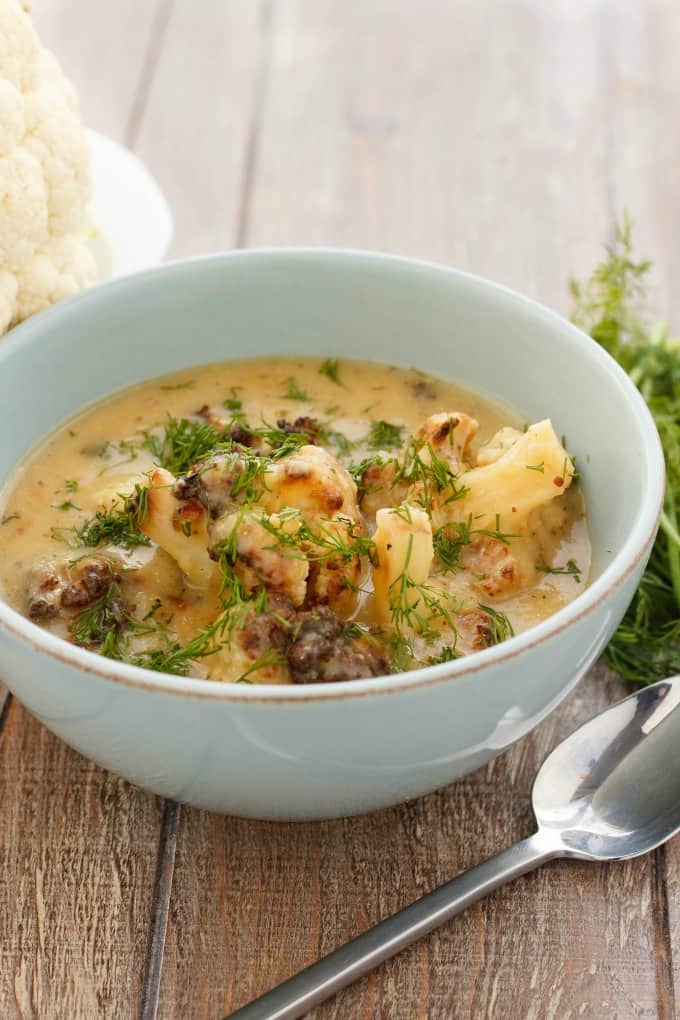 Vegan Roasted Cauliflower Soup
This winter, when the cold weather hits, be sure to whip up a pot of vegan roasted cauliflower soup! The addition of fresh dill really heightens this soup.
Ingredients
1 roasted head of cauliflower (recipe found in post.)
1 large onion, diced
½ - 1 lb potatoes, peeled and cubed
2 cups vegetable broth (adding more for a thinner soup.)
¼ cup white wine (or use all veggie broth instead.)
1 cup unsweetened almond milk
1 tablespoon fresh thyme OR ¼ tsp. dried thyme
Salt and pepper
¼ cup fresh dill, chopped (optional but delicious!)
Instructions
Prepare one recipe of roasted cauliflower (https://thecookiewriter.com/2014/09/oven-roasted-cauliflower-with-garlic.html) and set aside.
In a large pot, heat 1 tbsp. olive oil over medium-high. Stir in onions and sweat until translucent, about 4 minutes. Add the potatoes and cook for a couple of minutes, stirring occasionally as the potatoes will begin to stick. Season with salt and pepper. Deglaze pan with wine (or vegetable broth if omitting wine.) Simmer the wine for a couple of minutes. Pour in the vegetable broth and thyme, and bring the soup to a boil. Reduce heat, cover, and simmer for 15 minutes, or until potatoes are soft enough to puree.
Puree potatoes in broth with a hand blender until smooth (you don't have to get it perfect, but the potatoes will act as the thickener here.) Pour in the cauliflower and almond milk. Simmer for another 10 minutes so the flavors can combine. If adding dill, stir in during the last few minutes and serve!
Nutrition Information:
Yield:

1
Serving Size:

1
Amount Per Serving:
Calories:

509
Total Fat:

6g
Saturated Fat:

1g
Trans Fat:

0g
Unsaturated Fat:

4g
Cholesterol:

0mg
Sodium:

1749mg
Carbohydrates:

93g
Fiber:

21g
Sugar:

24g
Protein:

20g
(Here is the recipe for my
oven roasted cauliflower
.)
Now, if you don't feel comfortable using wine, just sub in more broth. I used red wine for this recipe but it definitely gave the potato puree a grey tone to it, and I was not impressed (with the color that is.) I would have used white wine for both flavor and color, but I was all out. I adjusted the recipe accordingly. You can use red wine, but be aware of color changes!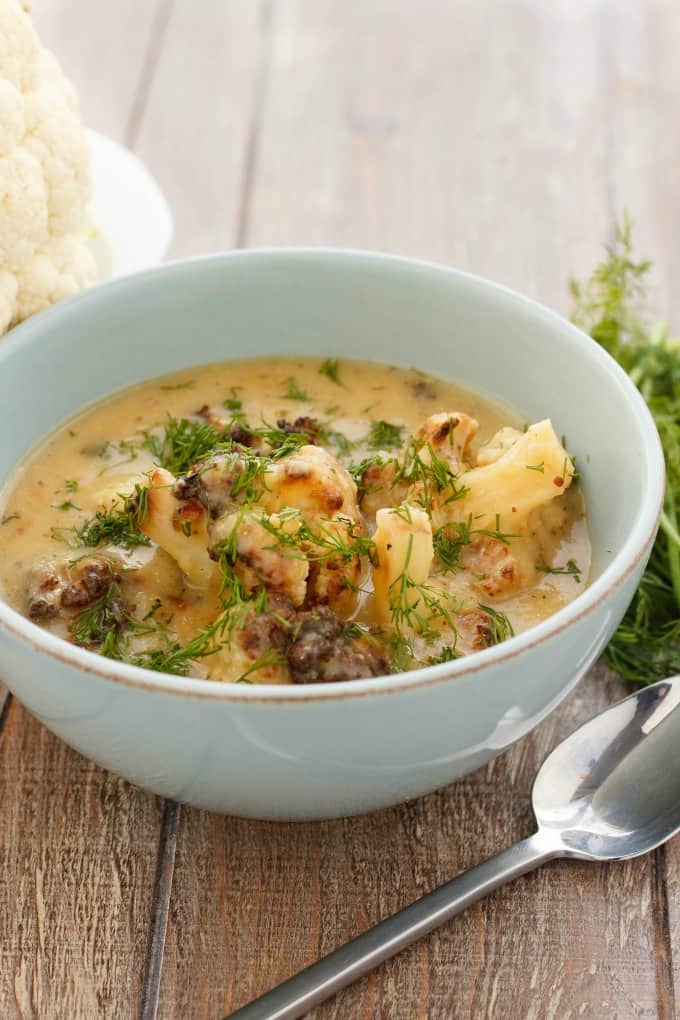 And of course, ROAST THAT CAULIFLOWER. Not only does it add flavor,but for this vegan soup it adds depth and character. Since there is no cheese or cream, you want that added salty flavor from the roasted cauliflower. All the flavors together meld so well, Mr. TCW could not believe the soup was vegan. Perfect for him because the cream really upsets his stomach. You can choose to omit the fresh dill, but it really worked here! I was going to title the post vegan roasted cauliflower soup with fresh dill, but I was afraid the fresh dill would scare some people off...
I am so proud of this recipe! I really hope it works for everyone. With the cold weather upon is, it is the perfect time to whip up a batch!
Love this vegan roasted cauliflower soup?! Try some of these recipes: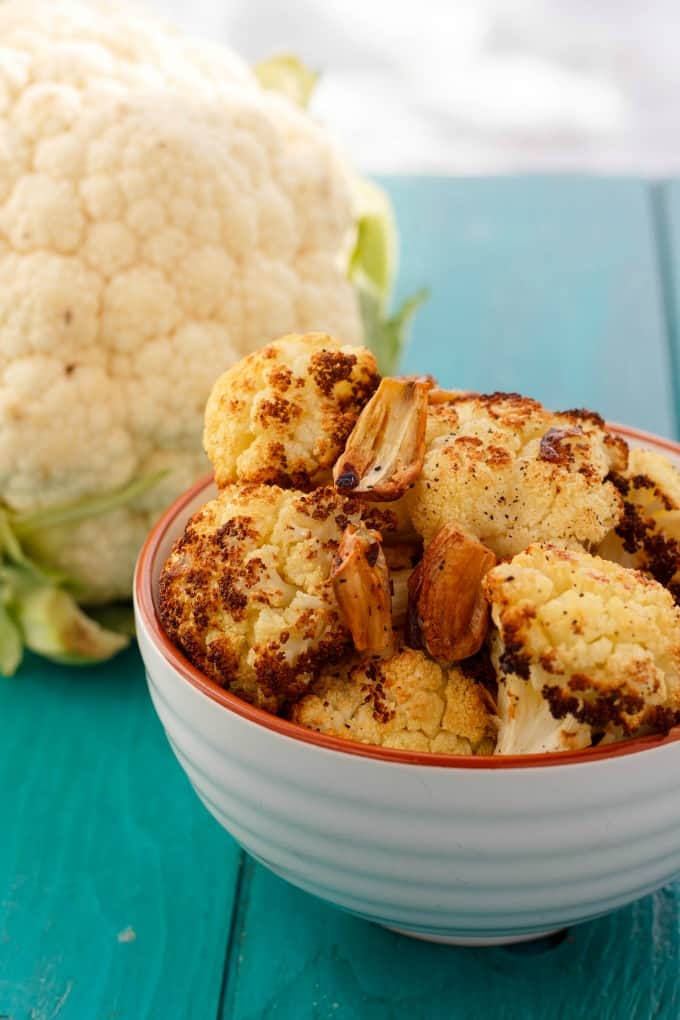 Oven Roasted Cauliflower with Garlic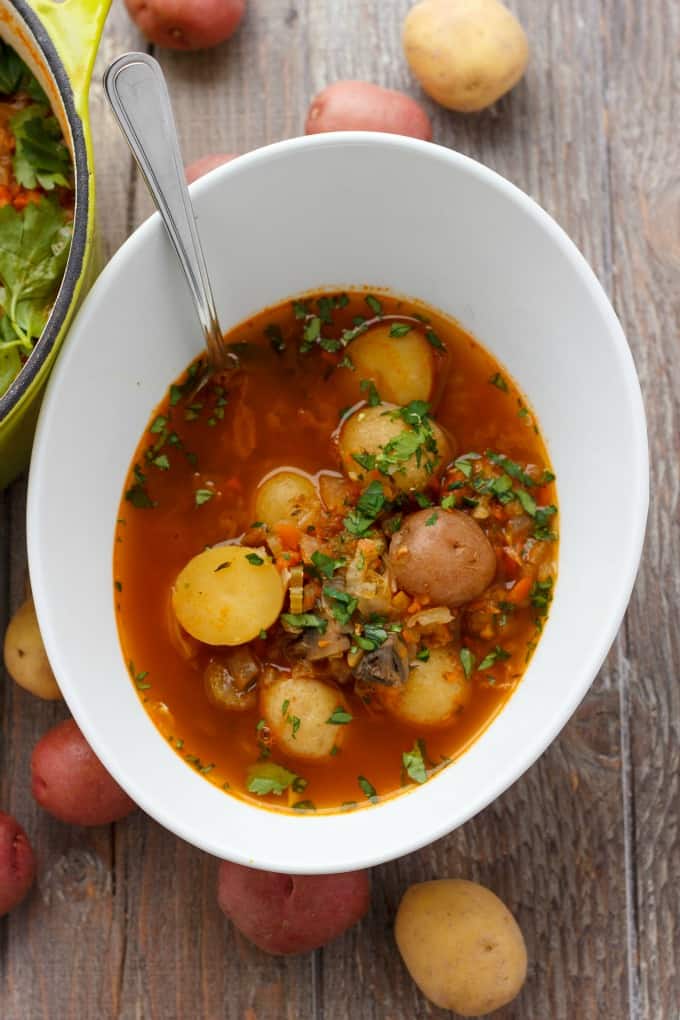 Simple Vegetable Soup with Creamer Potatoes
*This post was sponsored by Almond Breeze and I was lucky enough to receive some awesome merchandise from them. All opinions are my own and I am happy to be working with this product.