Looking for a fast breakfast on the go? This almond milk banana-blueberry breakfast smoothie is the perfect breakfast in liquid form! Plus, it is vegan and gluten-free (but you can customize the smoothie to your liking!)
In all my years of cooking, I have never made a smoothie before!
There are many reasons for this outcome. Firstly, whenever I bought a smoothie to go, I would always make sure it was dairy-free. While I do not follow a vegan diet, I do not like milk in my fruit smoothies. Much like I don't put milk on my cereal... Yes, I know, I am one of those weirdos. I have always preferred my milk in a tall glass, all by itself. Another reason for my smoothie-less life was the lack of blender in my life (until a few years ago when I started making homemade baby food.) My kitchen is small enough as is, so I only wanted the appliances that were necessary. Since the blender I have obtained many other appliances, but that is another story!
Then I was fortunate enough to receive some almond milk from Almond Breeze and my smoothie-less experience turned around! I knew I wanted to create a simple recipe, and a smoothie was the best approach I found. I had some extra fruit laying around and my daughter was asking for a cup of juice. I thought to myself 'why not create a recipe using the almond milk, all the while quenching kiddo's desire to have some juice?' And that is where this almond milk banana-blueberry breakfast smoothie came to life!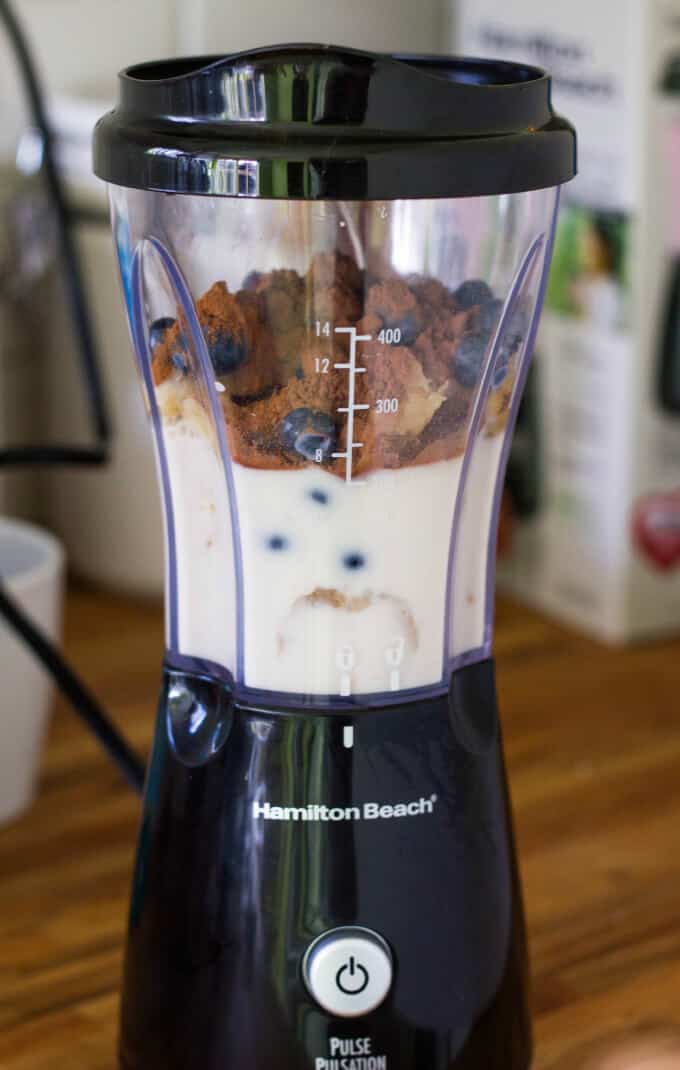 I was seriously impressed, I just started throwing things into the blender and hoping for the best. I mean, how hard can a smoothie be? Well, you can throw in some things that do not work, let me tell you. I tasted as I went and adjusted accordingly. I realized I was using Almond Breeze's unsweetened, original almond milk and wanted to add some elements to it. It tasted really good on its own (and I will admit I was a little weary with the fact that it was unsweetened, but it really worked.) Before I put the almond milk into the blender, I added some vanilla extract to it. It was okay for me, but I think it would have tasted better warmed up with the vanilla extract. My daughter liked it with the touch of vanilla so we must have different tastes. However, once added to the smoothie, the vanilla almond milk worked nicely. Next time I am going to skip the vanilla completely and leave it purely unsweetened as I like the tartness to fruits anyway. As always, I will say: sweeten accordingly to your tastes!
📖 Recipe
Almond Milk Banana-Blueberry Breakfast Smoothie
Ingredients
¾ cup Almond Breeze Almond Milk (sweetened or unsweetened.)
1 tbsp. unsweetened cocoa powder
½ tsp. vanilla extract
⅛ tsp. ground cinnamon
1 banana, sliced and frozen
½ cup fresh blueberries
3 ice cubes
1 tsp. chia seeds
2 tbsp. old-fashioned oats
Instructions
Place all your ingredients into a blender and puree until smooth.
Pour into a glass and serve immediately.
Notes
I like the crunchy texture of chia seeds. If you want a smoother texture, pre-soak them in a bit of almond milk to help aid in reducing the crunchy texture. Same can go for the oats!
Nutrition Information:
Yield:

1
Serving Size:

1
Amount Per Serving:
Calories:

907
Total Fat:

60g
Saturated Fat:

5g
Trans Fat:

0g
Unsaturated Fat:

52g
Cholesterol:

0mg
Sodium:

532mg
Carbohydrates:

80g
Fiber:

20g
Sugar:

34g
Protein:

28g
Now that I think about it, when I was making baby food for kiddo, I did make her some homemade smoothies... But does that count? They were fruit smoothies poured into ice cube trays and defrosted every morning for breakfast to go with her meal. We will pretend that didn't count for now.... Haha.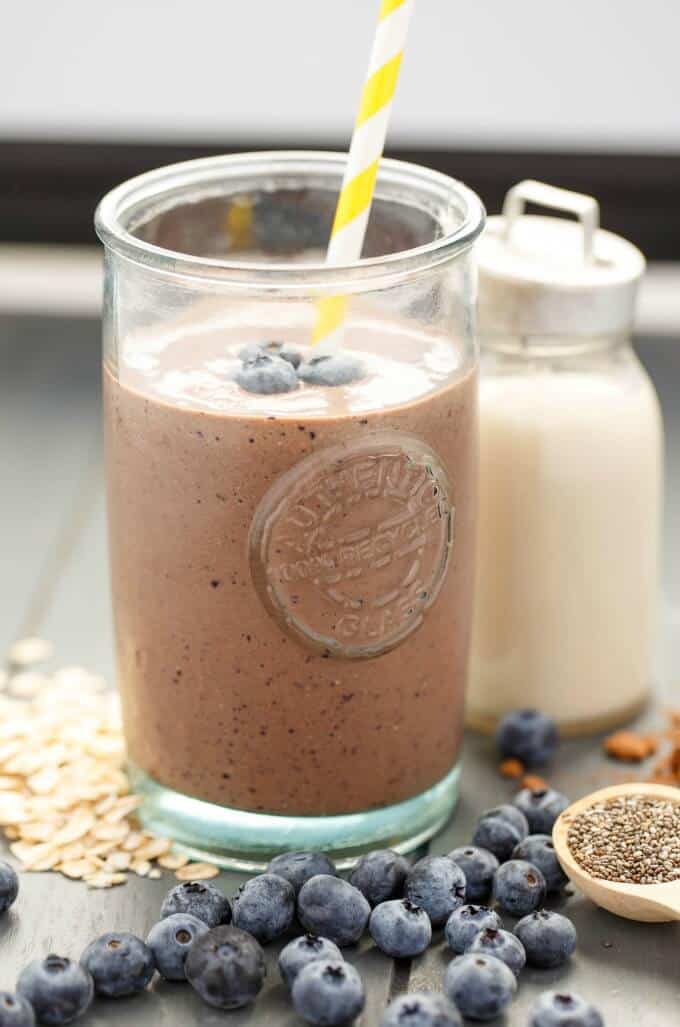 While photographing this awesome breakfast smoothie, I was bombarded with question after question from kiddo along the lines of "can I try it yet?" "When can I have it, mommy?" See what I have to go through during a photo shoot?! Though I would not change it for the world! So, what did kiddo think of my breakfast smoothie?
That is enough for me 🙂 I thought it was awesome! In a way I felt like I was having oatmeal for breakfast, but in liquid form. Hmmm, that does not sound appetizing when I word it as such, but trust me, it was great! And the almond milk gave it a great consistency without giving me that dairy feeling. I was going to freeze the almond milk into ice cube trays so I didn't have to use water in the recipe, but the label said not to freeze the almond milk. I have seen others do it with fine results so I am going to try it next time. I think the label meant not to freeze the entire container of almond milk. Update: For fun, take a look at the above and below photo to see how far my photography has come! Cringe!
*This post was sponsored by Almond Breeze and I was lucky enough to receive some awesome merchandise from them. All opinions are my own and I am happy to be working with this product.
Love this almond milk banana-blueberry breakfast smoothie?! Try some of these recipes: