Stomp on that sweet tooth-monster with these three ingredient banana granola bars! Healthy, hearty, and the better choice to fighting off those sweet cravings!
I have been so excited about this post! My first batch was whipped up months ago, but since then these three ingredient banana granola bars have been a frequent flyer in this household. It is a great way to use up browning bananas (a couple thing here) as well reducing that inner sweet tooth! I crave chocolate like there is no tomorrow, but when I have these on hand, I find myself indulging a lot less (chocolate is amazing, but if you eat it like me then you know that there is a problem...)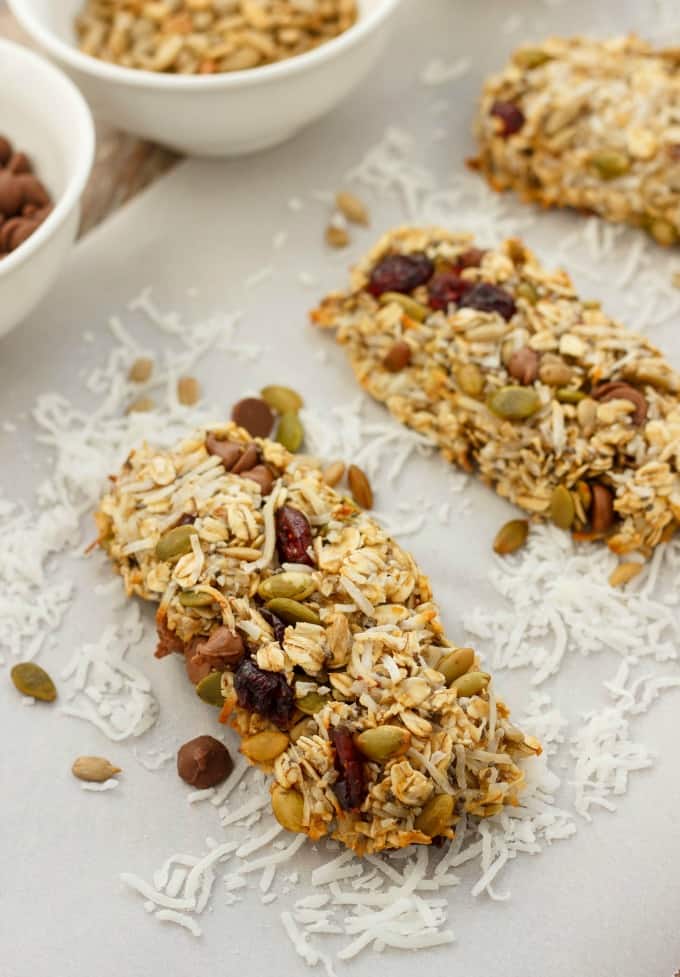 Now, before anyone takes a look at the ingredients and goes "there are more than three ingredients in this recipe," I know. I can read and count. The base recipe is three ingredients, much like those banana and oatmeal cookies! The base recipe will taste just fine, and is probably suitable for toddlers and children. However, I like mine with mix-ins and this recipe allows you to customize your three ingredient banana granola bars however you see fit!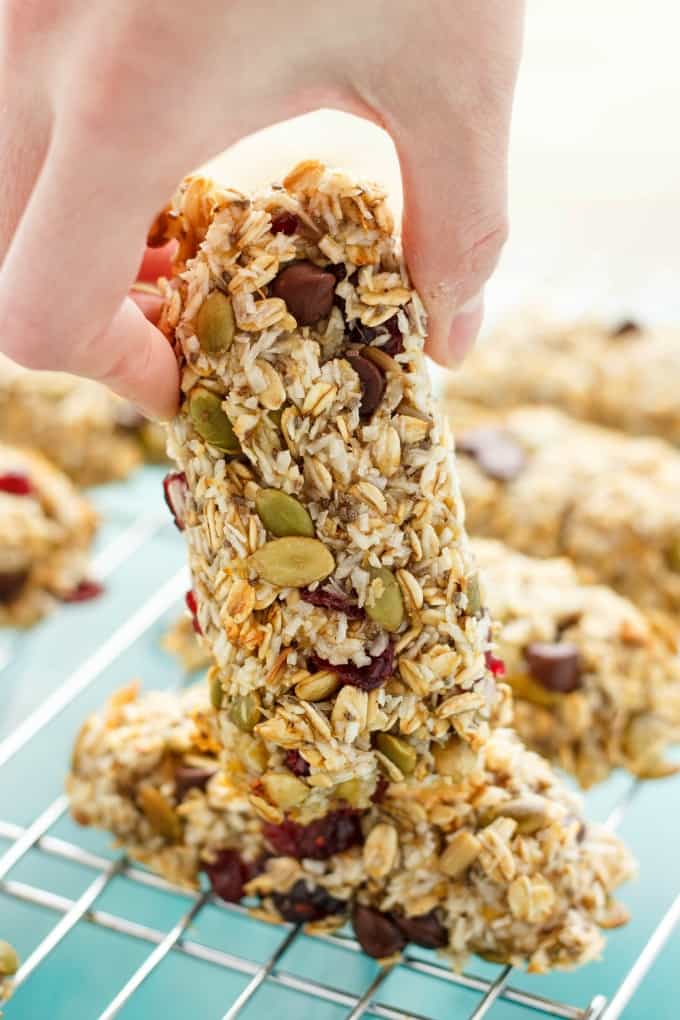 To gain that beautiful bar shape, you have to make sure your consistency is right. If it is too dry, they will crumble ( you can see in my pic below that they are a bit on the drier side this time around. I only had two bananas left.) Just add in more banana to fix that problem. The above bars are the perfect consistency. I scooped out ice cream scoop portions onto my silicone mat and molded them using my hands on the mat (no picking up or getting all sticky!)

📖 Recipe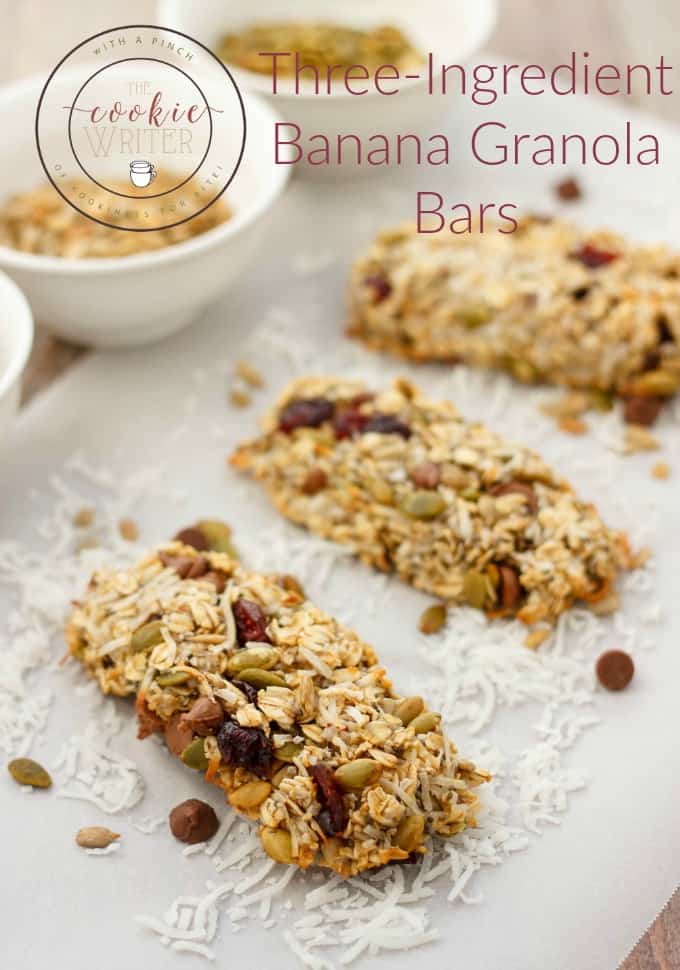 Three Ingredient Banana Granola Bars
You can easily make these bars smaller so that they are more snack-like as opposed to meal size!
Ingredients
3 medium-sized ripe bananas
1 cup shredded coconut (sweetened or unsweetened, all up to you!)
1 cup old-fashioned oats
Desired Mix-ins!
1 tbsp. chia seeds
½ cup unsalted, roasted pumpkin seeds
¼ cup unsalted, roasted sunflower seeds
¼ cup dried cranberries or raisins
¼ cup dark chocolate chips
Instructions
Mash the bananas in a medium-sized mixing bowl. Mix in the coconut and oats (you may need more of these ingredients depending on how big your bananas are. If the mixture seems too wet, add more oats/coconut!)
Stir in the remaining mix-ins if using (highly recommend!)
Preheat oven to 350F. Line a baking sheet with parchment paper or a silicone mat.
Using an ice cream scoop, measure out 9 portions (yours may be more or less depending on the size of the scoop,) onto the baking sheet. Using your hands, gently push the sides to form bars.
Place into oven and bake for 15 minutes, or until nice and golden. Allow to cool on baking sheet for 3-5 minutes. Move to cooling rack to completely cool.
Nutrition Information:
Yield:

10
Serving Size:

1
Amount Per Serving:
Calories:

206
Total Fat:

9g
Saturated Fat:

4g
Trans Fat:

0g
Unsaturated Fat:

5g
Cholesterol:

0mg
Sodium:

234mg
Carbohydrates:

29g
Fiber:

4g
Sugar:

15g
Protein:

5g
Even though these three ingredient granola bars are healthy, they sure do not taste like it and we love having them around to quench our sugar cravings! Now that my daughter is joining more extracurricular activities, I like having recipes like this around to tie her over until dinner. You'd be surprised how fast they work up appetites, especially in activities such as gymnastics 🙂