A blend of fresh baby spinach, chickpeas, walnuts, and some other goodies makes this spinach sauce the perfect healthy topping for pasta!
Let me start off by saying that I am not one of those crazy-health-junkies who eats nothing but organic, no-sugar, no-salt foods. Heck, I am probably far from it (and totally believe food needs salt!) But sometimes I have cravings, or my body is lacking nutrients and I must make up for them. In this case, my iron has been low. Not surprising with the cooler months, but it is probably the lowest it has ever been and if I want to continue donating blood, I need to work on getting those levels up!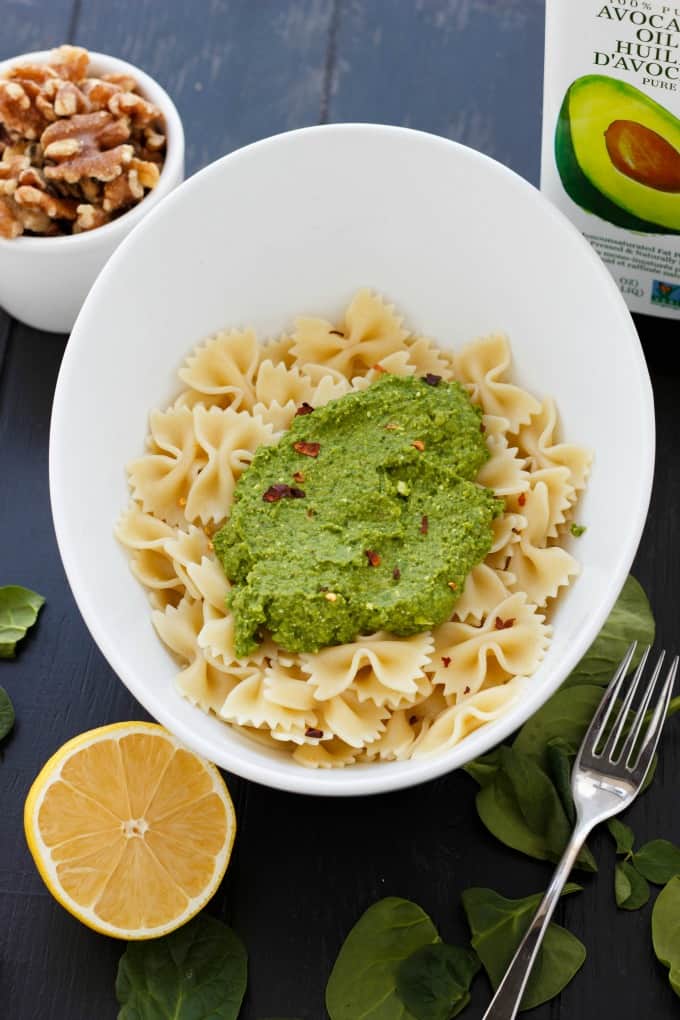 I first made this spinach sauce in November when I had a ton of fresh spinach hanging around and wanted something lighter (I was testing all my dessert recipes for Christmas!) It came together by me throwing everything into my food processor and hoping for the best. And let's just say, I am soooo happy with my food processor. I cannot believe there was a time when I thought they were not necessary... Yeah, I would trade in my blender any day! That being said, this entire meal is made in the food processor (except the pasta) which eliminates a ton of dishes and makes clean up a breeze.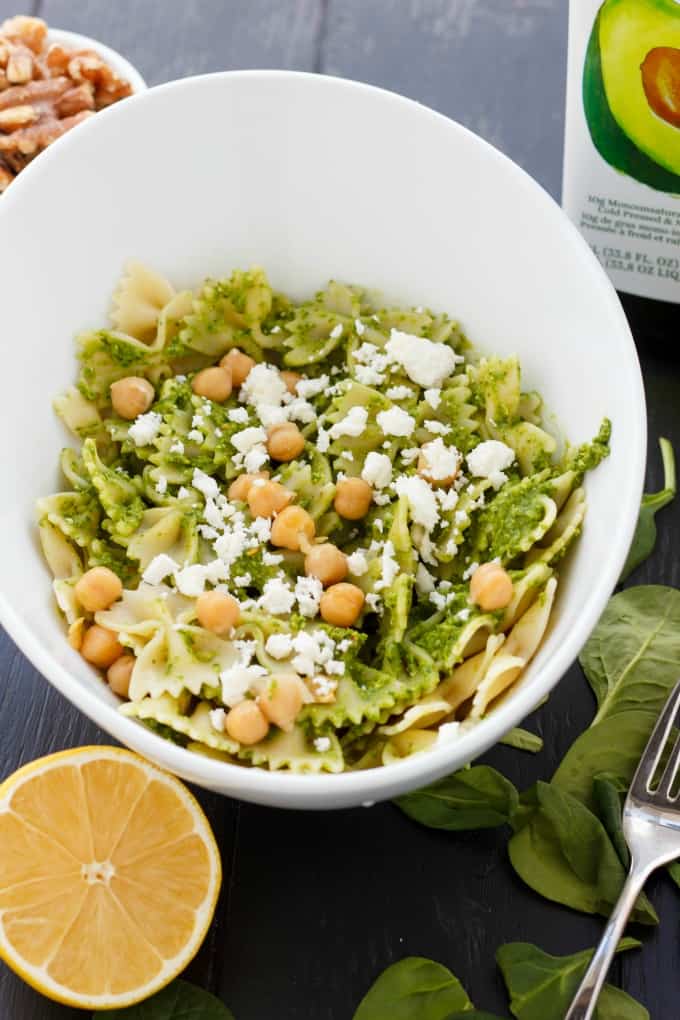 What I probably like most about this spinach sauce is how adaptable it is. I have tried it without the feta and it makes a wonderful vegan sauce! Poured over the correct pasta and this dish is gluten-free. You can add some ingredients here, take some away there. The only probably I ever had was increasing the walnuts to ½ cup. They seemed to overpower the dish and personally, while I did eat it, it was a bit too strong for my liking. Lesson learned, but for the most part, I cannot see anything going wrong with this recipe. My favorite part is definitely the crunch from the water chestnuts, and I was so sad this time around that I did not have a can on hand 🙁
📖 Recipe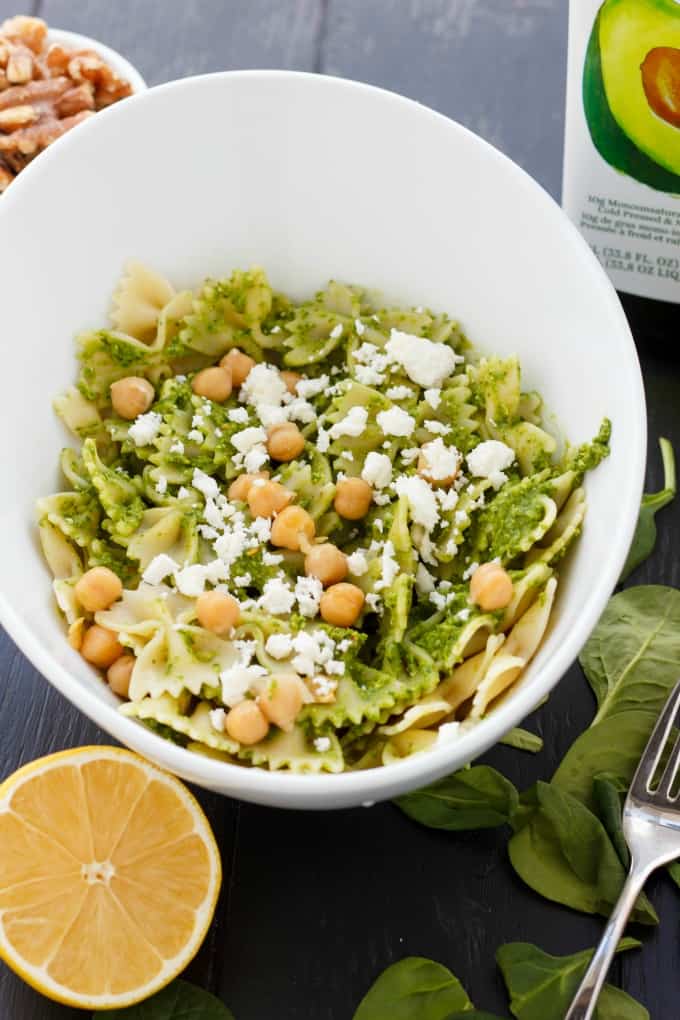 Spinach Sauce with Chickpeas and Walnuts
Make the roasted garlic ahead of time so this meal can be made in 15 minutes or less!
Ingredients
4 oz baby spinach
1 head of roasted garlic (see recipe link below.)
Half a lemon, juiced
1 cup canned chickpeas + more for topping
¼ cup walnut halves
¼ tsp. chili flakes
1 tbsp. avocado oil or preferred oil
¼ cup chopped feta cheese + more for topping (exclude for vegan option.)
1 small can water-chestnuts, drained and chopped
Salt and pepper (exclude salt if using feta cheese)
Instructions
In your food processor, puree together the spinach, walnuts, roasted garlic, lemon juice, chickpeas, chili flakes, pepper, and feta if using (if you are omitting, add salt!) Puree and add the 1 tbsp. oil slowly until the mixture is smooth (adding another tbsp. if necessary.)
Serve the sauce over your favorite pasta and garish with waster-chestnuts, chickpeas, and feta if desired.
Nutrition Information:
Yield:

6
Serving Size:

1
Amount Per Serving:
Calories:

157
Total Fat:

10g
Saturated Fat:

2g
Trans Fat:

0g
Unsaturated Fat:

7g
Cholesterol:

6mg
Sodium:

193mg
Carbohydrates:

15g
Fiber:

3g
Sugar:

3g
Protein:

5g
(Recipe for
roasted garlic
.)
This recipe was the first time I experimented with avocado oil and I was so happy! I have had it in food before, and while its nutritional values are great, I am more inclined to buy it because it has a high smoke point. You all know what I am talking about: nothing worse than searing some chicken or steaks at high temperatures on the stove and the smoke starts appearing. It is actually neat how clear the oil is (not going to lie, was totally expecting it to be green!)