Cold temperatures are upon us, and this simple vegetable soup with Creamer potatoes will be sure to warm your stomach! Another day, another post as I continue my brand ambassadorship with The Little Potato Company!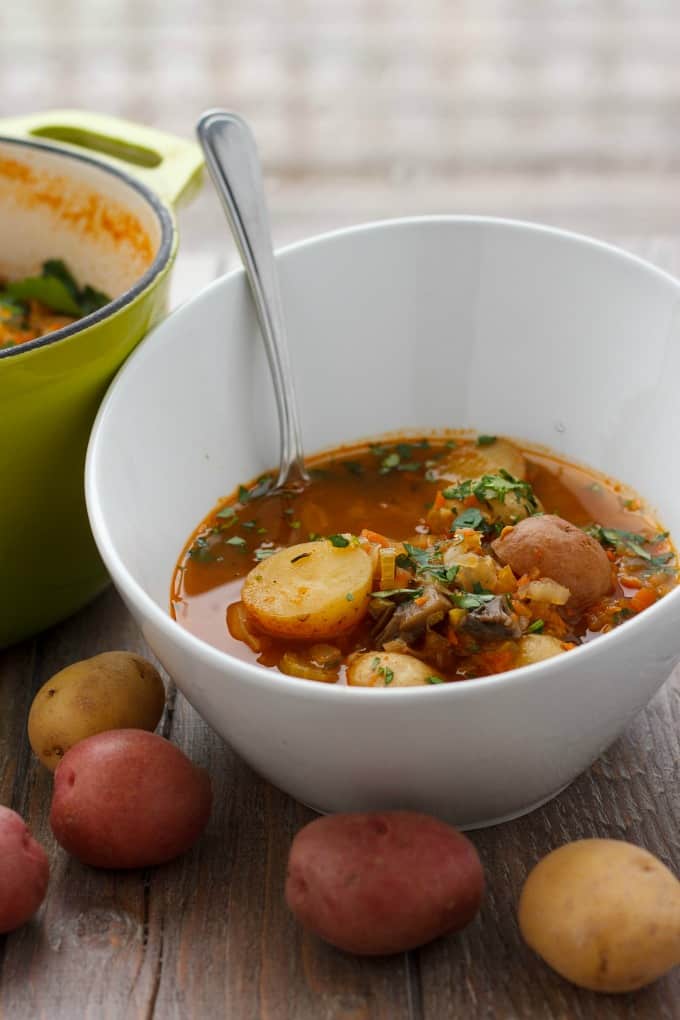 What a week it has been! Over the weekend we had positive temperatures and lots of rain. Washed away all the snow from the previous week. And then, as soon as Monday hits and I have to walk my daughter to school, bam! Cold temperatures. I mean really cold (minus 16 with the windchill on Monday!) We bundled up nicely and made the trek no problem (though I consider her lucky as I had to make the walk back home in the wind!) Then, more snow!! Thankfully that came after the whole "I am going to think I am awesome and try and change my permalinks on my blog." Yeah, what a disaster! I really thought I killed my site! Seriously, almost in tears. Thankfully, when you make friends in this business, it really shows in the time of crisis. Becky from The Cookie Rookie was nice enough to recommend me to Charles from WPopt who graciously fixed all my problems (and trust me, he has some patience dealing with someone like me who had no clue what they had done wrong!) I was so happy with his work I switched my hosting company over to his company (if he was willing to help someone who was not a client you can only imagine what he does for his clientele!)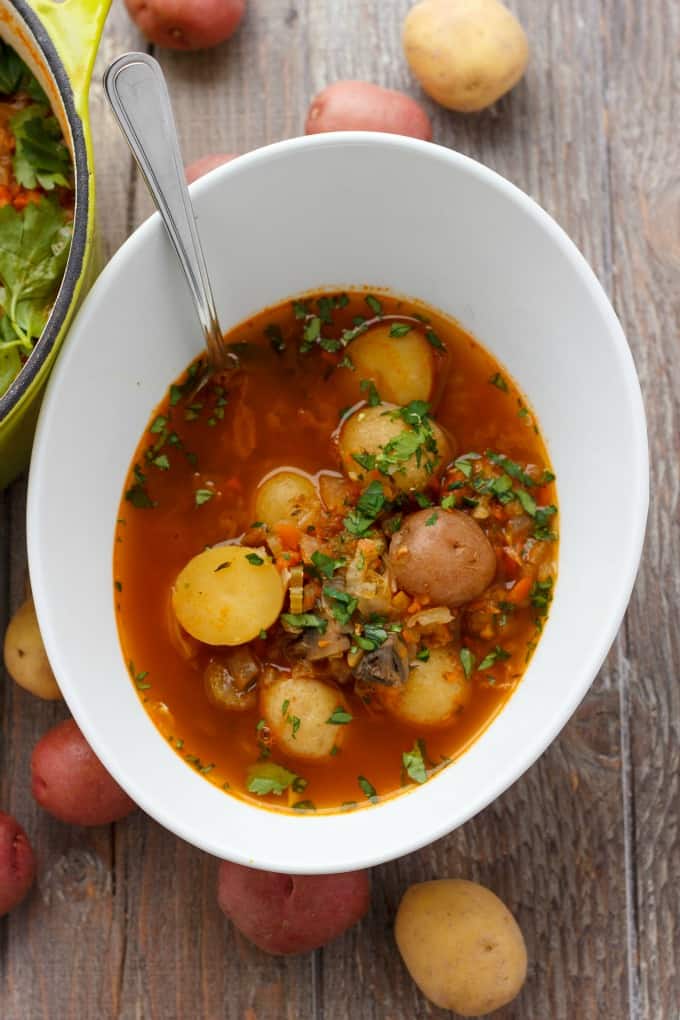 Hopefully you notice faster load times now 🙂 That aside, I am back with another recipe with The Little Potato Company! This simple vegetable soup stands up to its name. Relatively quick, simple, and full of heartiness, this is perfect for the cold nights (and those colds that I am sure everyone is battling.) Not only is the soup vegan and gluten-free, but it is packed full of nutrients from all those wonderful vegetables. This time around I opted to use the Dynamic Duo varietal. I had many reasons: I like how these guys come in larger bags (I used the 5 lb bag here.) I also like the mix of red and yellow potatoes, which adds some colour to our soup 🙂 And added bonus, we are looking at 12% of our daily fibre and 19% of our daily potassium (source.) The story behind these Little Potatoes is one of interest and delight! Check out the video below to get a full understanding of how The Little Potato Company has come to be!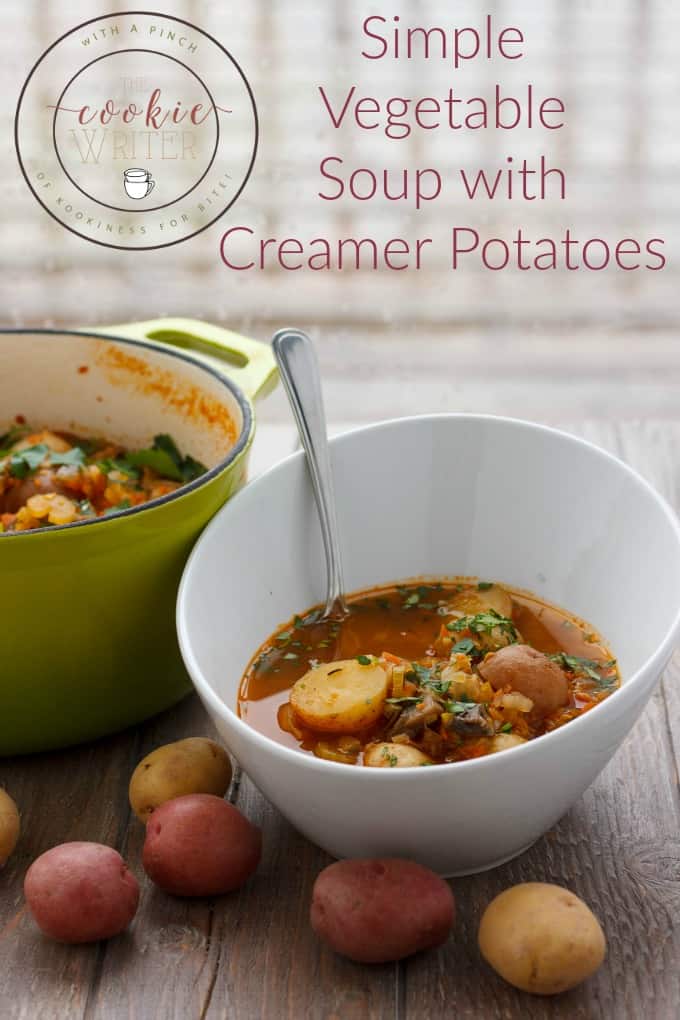 Simple Vegetable Soup with Creamer Potatoes
---
Kacey
Yields 4
15 minPrep Time
1 hr, 30 Cook Time
1 hr, 45 Total Time
Ingredients
2 lbs Creamer potatoes (I used The Little Potato Company's Dynamic Duo)
1 lb carrots, diced
2 onions, diced
8 oz button mushrooms, cubed
3 celery stalks, sliced
4 garlic cloves, minced
1 cup roughly chopped napa cabbage
8 cups broth (or more if you like an even stockier soup!)
1 tbsp. tomato paste
2 bay leaves
10 sprigs of fresh thyme, left on stalks
10 sage leaves, left on stalks
Pinch of cayenne
Salt and pepper
Fresh parsley
Olive oil
Instructions
In a large pot, add a tablespoon of oil or two and set over medium-high heat. When hot, add in the onions, carrots, and celery. Cook for about 5 minutes. Stir in garlic and cook for another minute. Add the tomato paste and cook for another 3 minutes, stirring often. Add in all the remaining ingredients except for the potatoes and parsley. Bring to a boil, leave uncovered, and simmer for 30 minutes. Add potatoes and simmer for another hour.
Remove fresh herbs (that is why we keep them on the stems!) Pour into bowls and serve with fresh parsley!
*I find using a food processor saves time and effort when chopping the veggies. I also used napa cabbage because the taste is very subtle compared to regular cabbage, so do not exchange the two.
7.8.1.2
86
https://thecookiewriter.com/simple-vegetable-soup-with-creamer-potatoes/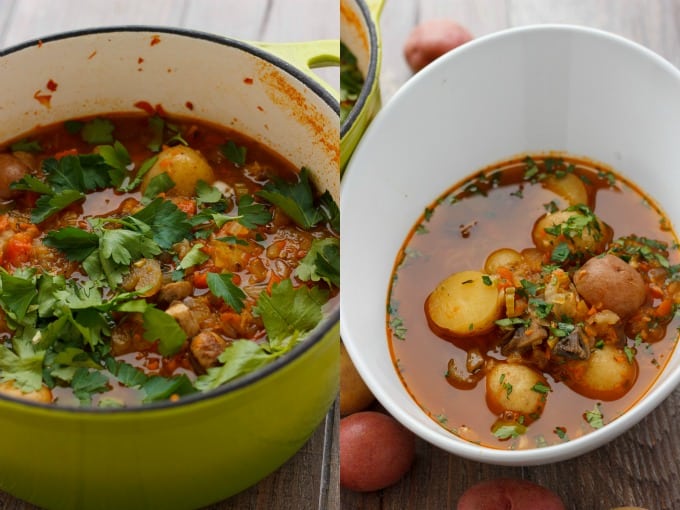 As always, you can use any of The Little Potato Company's varietals (they are all nutritious, fun, and Creamer potatoes, not baby potatoes, making them unique in shape and size!) They fit perfectly into this simple vegetable soup as they retain their colours and are perfectly proportional for the ultimate bite! It is a season of flavours in this simple vegetable soup, and I have had no problems eating it every week so far (yes, I have made it THAT much!) The fresh vegetables and herbs only heighten the flavour!
This is a sponsored post. I was fortunate enough to receive products and monetary compensation from The Little Potato Company. Though products were received, all opinions are my own and I would not recommend a product that I did not enjoy.