You can take shredded coconut a step further with this awesome tutorial on how to make toasted coconut! Trust me, it makes a difference!
I LOVE coconut. Coconut anything for that matter! Not sure how I felt about it as a child, but now you cannot keep me away! I try to explain to people how wonderful it is, but there are still those hesitant people. Personally, I highly recommend toasted coconut over plain coconut as there is a huge difference in flavor (and with little effort!)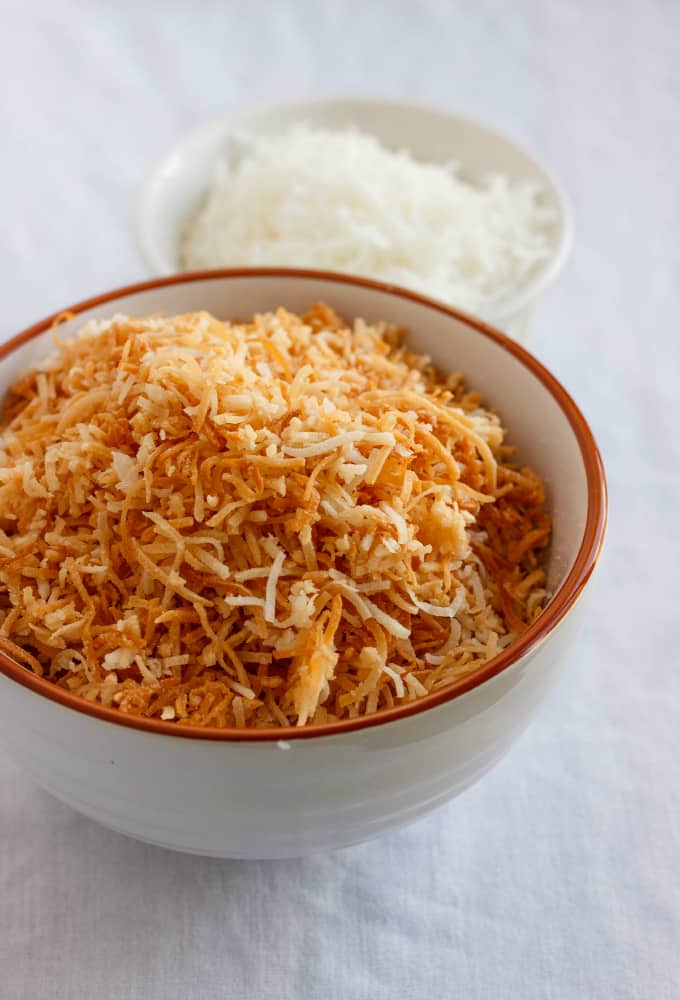 Since I always take things a step further, I am presenting you with my tutorial on how to make toasted coconut. Do not be fooled, it is super easy. The easiest recipe out there! And the worst part(or maybe the best part now?) Stores will charge you double the price for toasted coconut compared to the non-toasted variant. So not only are you making something "homemade," but you are saving money as well!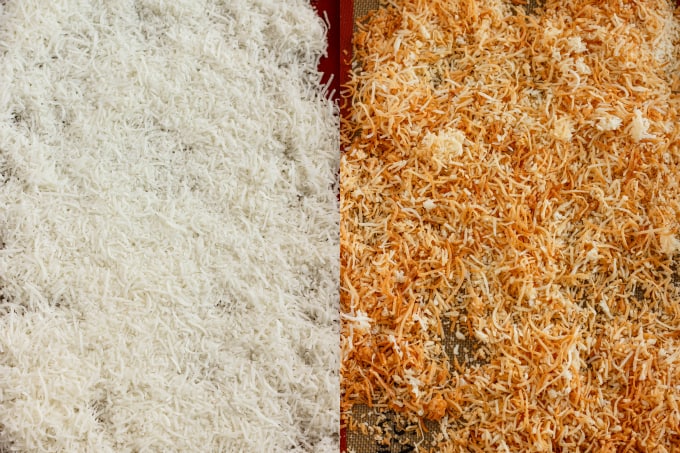 You start off with any amount of unsweetened or sweetened shredded coconut and layer it in single fashion on a baking sheet. It will last a couple of weeks so you can choose to do a small amount or a lot. I tend to like it on everything (oatmeal, ice cream, on its own, you name it!) so I go with anywhere between two and three cups. Sweetened or unsweetened depends on your preference. I used to be a sweetened lover, but now I do with unsweetened and add sugar accordingly!
What do you mean, Kacey? Well, let me tell you! If you only have unsweetened coconut on hand and a recipe calls for sweetened, you can mix in some confectioners' sugar before baking the coconut to add sweetness. Go with 1 tbsp. confectioners' sugar to about ½ cup of coconut. Or, you can just add more sugar to the recipe but some people may get a bit nervous with that. I have done the confectioners' sugar method with no issues, and since the shredded coconut releases oils while cooking, the sugar should stick no problem 🙂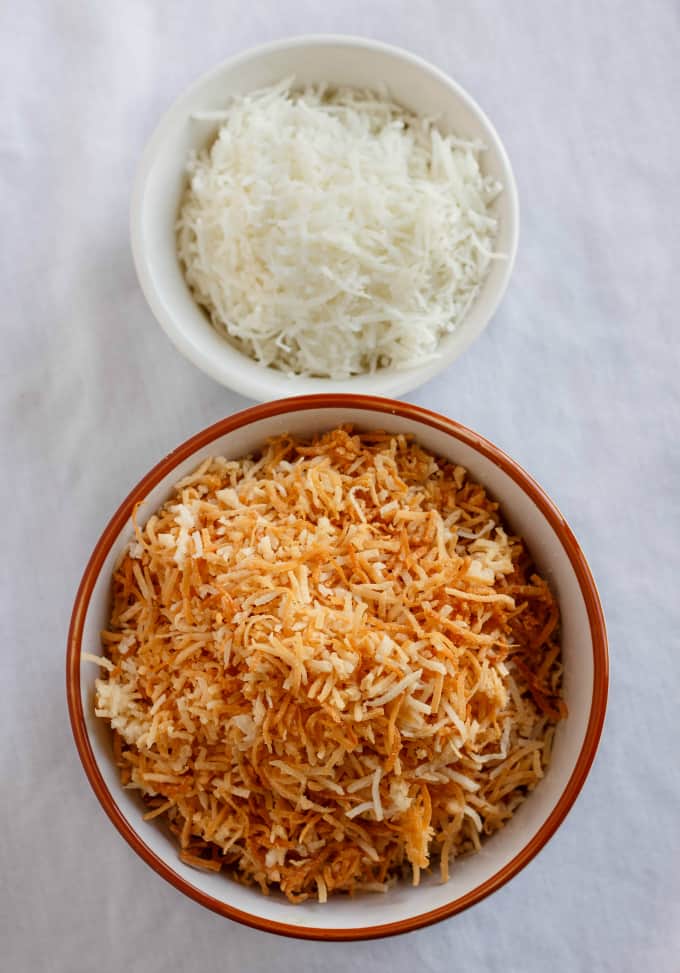 📖 Recipe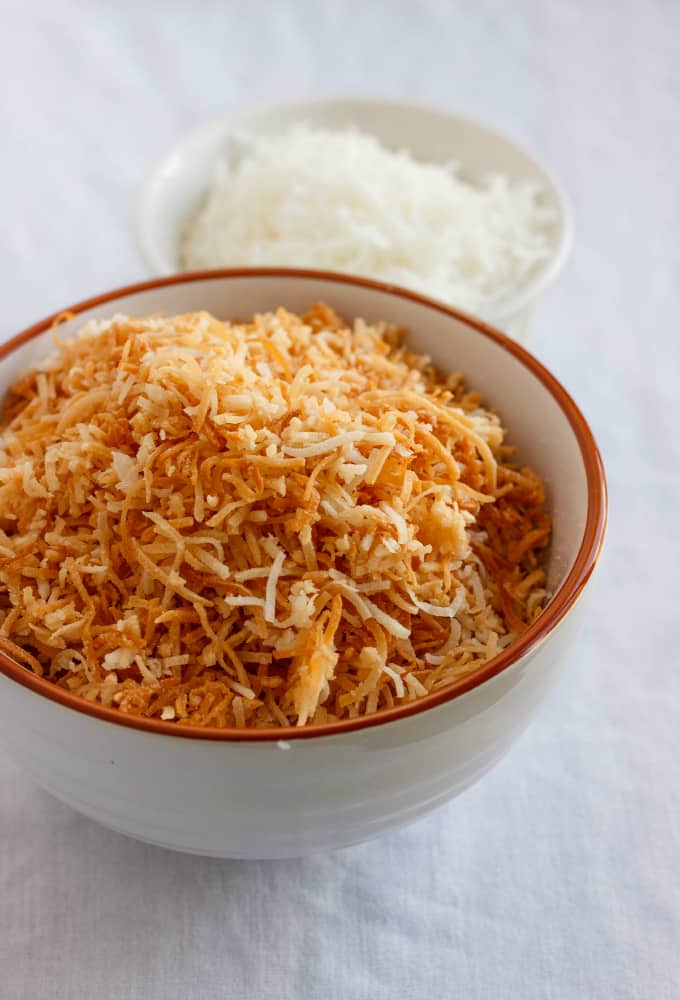 Tutorial: How to Make Toasted Coconut
Take shredded coconut to the next level with this tutorial on how to make toasted coconut! Easy, quick, and suitable for any dietary choices!
Ingredients
2 cups shredded coconut (you can choose whether you use sweetened or unsweetened!)
Instructions
Preheat oven to 350F. You can line a baking sheet with parchment paper for easy clean up if desired (but it is not necessary.)
Sprinkle coconut onto baking sheet and spread out in single fashion. Place into oven and bake for 5 minutes. Toss coconut. Continue cooking for another 10 minutes, or until nicely golden, making sure to stir often so the coconut does not burn.
Remove from oven and allow to cool. Store in air-tight container for a couple of weeks.
Nutrition Information:
Yield:

2
Serving Size:

1
Amount Per Serving:
Calories:

388
Total Fat:

24g
Saturated Fat:

22g
Trans Fat:

0g
Unsaturated Fat:

1g
Cholesterol:

0mg
Sodium:

242mg
Carbohydrates:

44g
Fiber:

8g
Sugar:

31g
Protein:

3g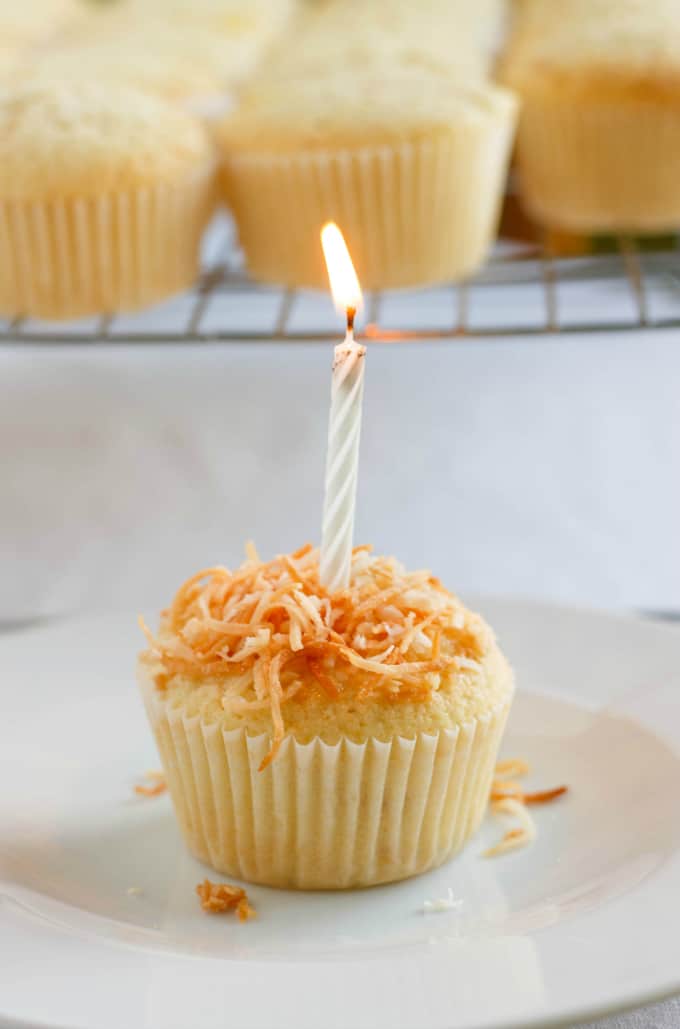 Now, a tutorial would not be complete without some recipes where I actually use the toasted coconut! Let's just say I have many, but feel free to use it anywhere you like! On top of ice cream, topping for pies, oatmeal or even cereal. I have brought coconut-haters over to the awesome side when I introduced them to toasted coconut. My neighbor, Melissa, hates coconut, but I made her some toasted coconut and ever since she cannot go back (and loves it on ice cream!) Heck, I even tend to use coconut oil in most of my baking now and while it is often masked, the flavor sometimes pulls through and I have had no complaints (soon everyone will be coconut lovers!)