When you have some extra fruit hanging around, turn it into a fresh fruit salad (and add the delicious simple syrup for a sweeter note if desired!)
Okay, this recipe has been a long time coming!
Last month I shared my experience with Ricardo Cuisine and their Candied Citrus Peels recipe that I had the opportunity of tutorializing (psh, not even a word but I am rolling with it!) Since I was only using the peels of the fruit, I knew I would have a lot of leftover ingredients. Seeing as we try not to be wasteful in this house, I immediately utilized the leftover simple syrup mixture from the candied citrus peels and the fruit to make fresh fruit salad!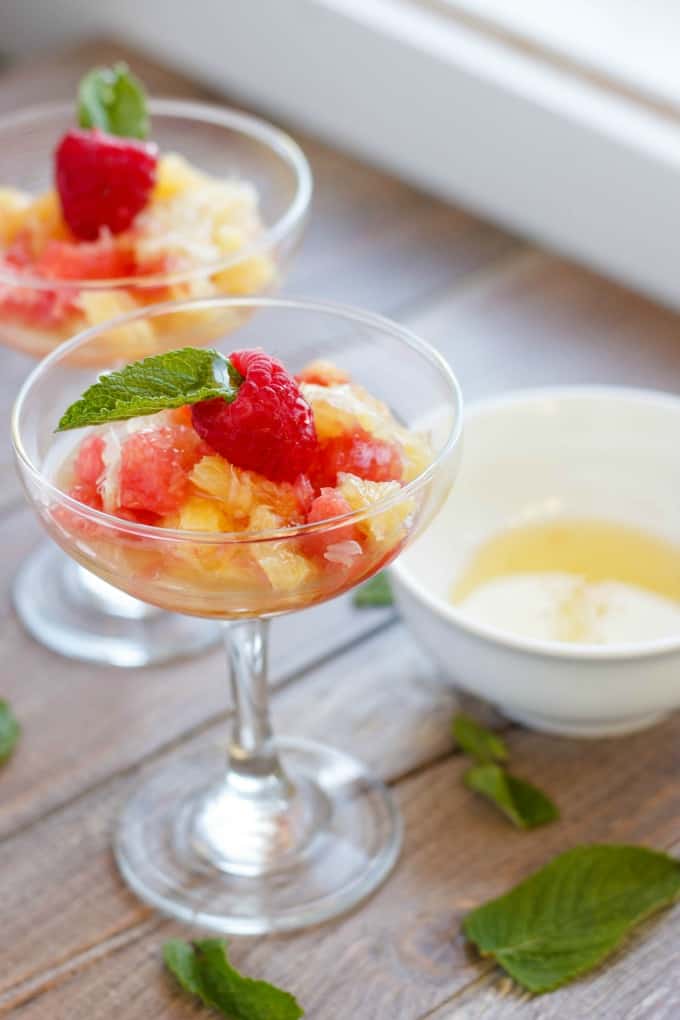 Now of course, in a time where everyone is trying to be healthy, you can totally leave out the simple syrup. But I only used a bit for this recipe because I love the taste of fresh grapefruit and other citrus fruits. Plus, it is not THAT bad for you 🙂 Personally, I loved the addition of the simple syrup mixture because it added some of the subtle bitterness from the boiled fruit skins. However, if you are making this fresh fruit salad from scratch, you will have to make your own simple syrup (which is just the combination of equal parts water and granulated sugar cooked over low heat until all the sugar dissolves!) A real simple dish and a great way to get some Vitamin C in during the winter months.
📖 Recipe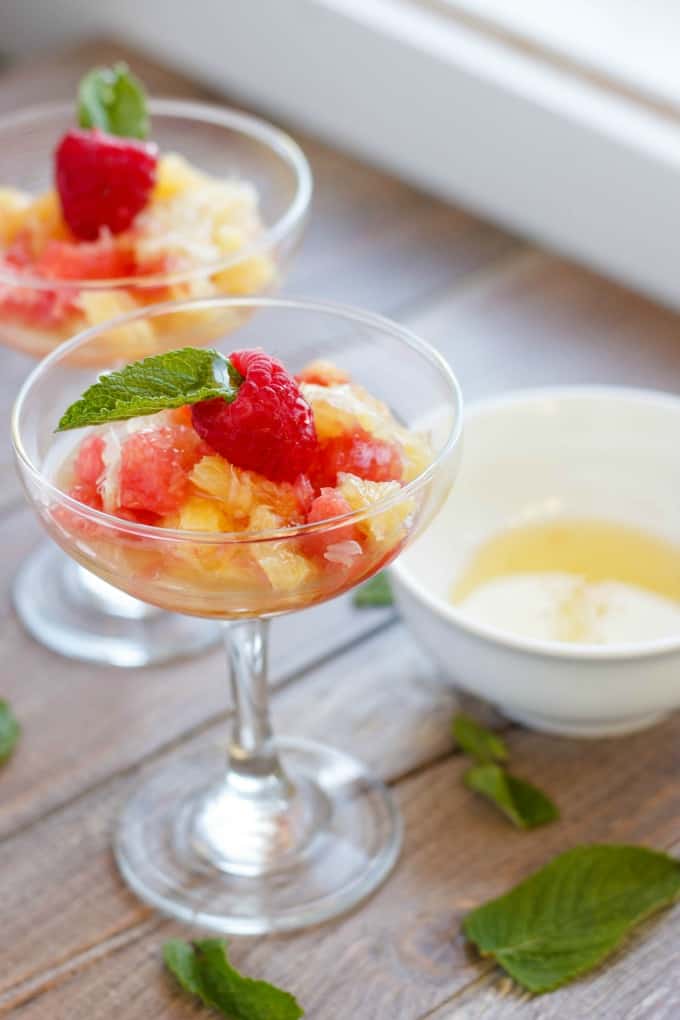 Fresh Fruit Salad using Leftover Fruit and Simple Syrup
Using leftover ingredients, you can make this fresh fruit salad in under 15 minutes! Healthy and delicious, the perfect summer dessert!
Ingredients
1 large grapefruit
1 large orange
1 large lemon
1 lime
1 pint raspberries
Leftover simple syrup (or make your own!)
Fresh mint leaves
Instructions
Peel all the fruit and slice into small pieces. Combine in a bowl (since I used leftover fruit I had my salad sit in the fridge overnight before eating which helped create extra juices.) Place into individual cups/bowls and drizzle with simple syrup mixture. Chiffonade mint leaves and add to cups if desired. Serve as is or allow to chill overnight in the refrigerator (I would omit the mint leaves until serving so they do not discolor but up to you!)
*NOTE: to make simple syrup, combine equal parts granulated sugar and water in a small saucepan over medium-low heat. Heat until sugar dissolves entirely, never boiling. Allow to cool before using.
Nutrition Information:
Yield:

2
Serving Size:

1
Amount Per Serving:
Calories:

493
Total Fat:

2g
Saturated Fat:

0g
Trans Fat:

0g
Unsaturated Fat:

1g
Cholesterol:

0mg
Sodium:

7mg
Carbohydrates:

126g
Fiber:

17g
Sugar:

100g
Protein:

5g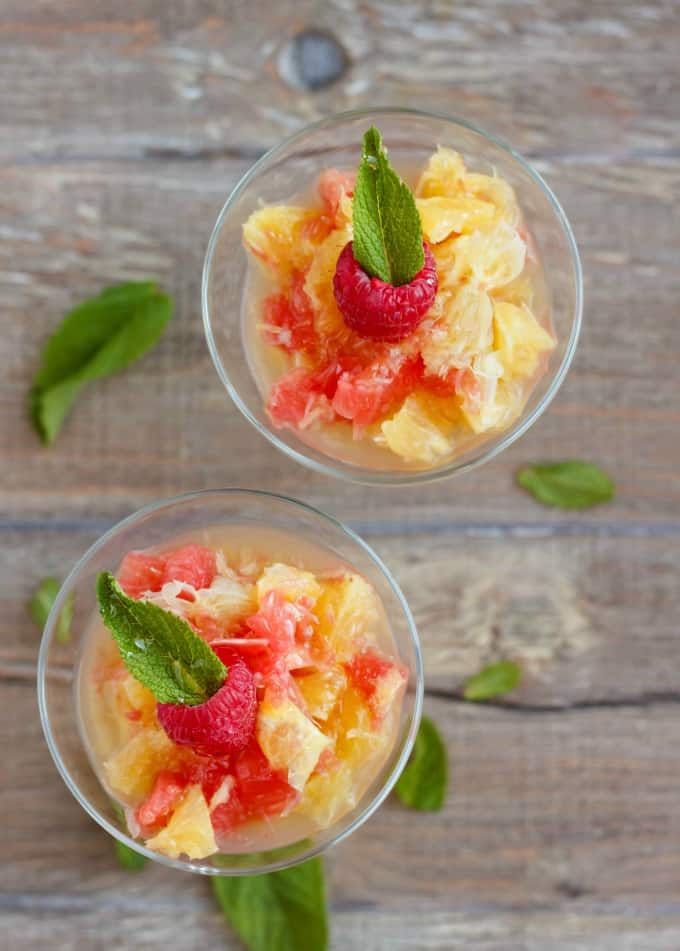 Remember, a little simple syrup goes a long way. Add accordingly! I just loved the blend of everything together in this fresh fruit salad, and plan to make it again (though I may have to boil some rinds in the mixture so I get a hint of that lovely bitterness.)
And maybe plan ahead next Christmas with these Candied Citrus Peels!