A warm and comforting meal for the new year, and let's just say this spicy tofu quinoa bowl is the perfect way to end Tofu Week here at The Cookie Writer!
Day One: Quinoa Crusted Tofu Nuggets (Tofu "Chicken" Nuggets)
Day Two: Coconut and Peanut Tofu Vegetable Mix
I feel today's spicy tofu quinoa bowl is not too different than the previous post, but let me tell you, in terms of flavor it is bold and spicy!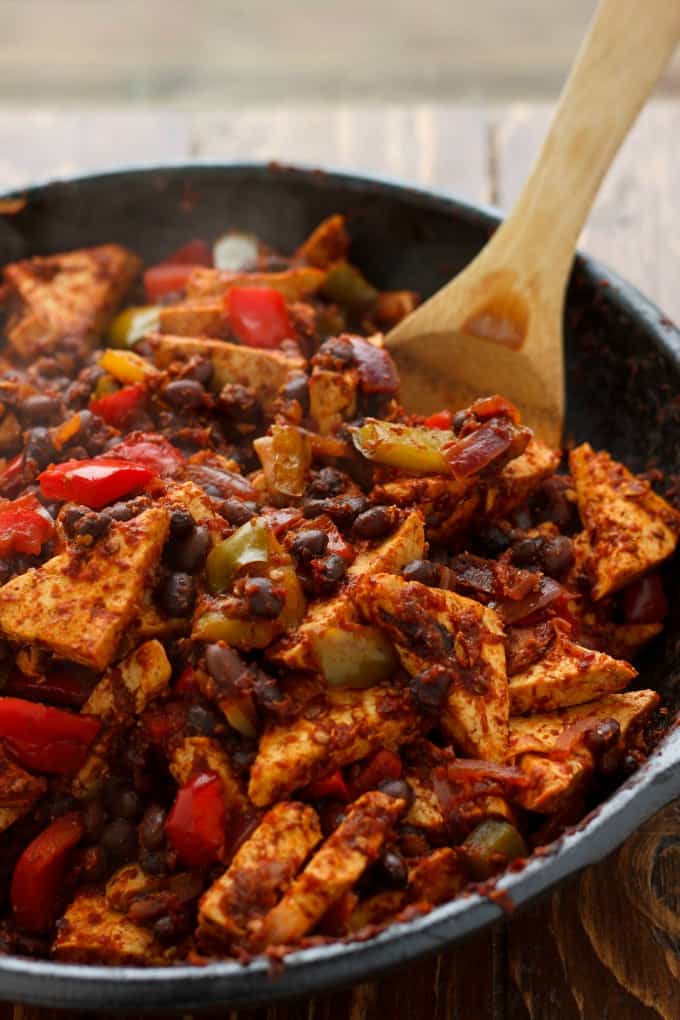 I like meals that come together and you do not have to worry about a main, a side or two, and more additives to the plate. Since I cook for the blog so often, we are generally left eating a main course without sides, or side dishes as meals. It sounds terrible but I assure you we get all our nutrients 🙂
That being said, I love when a recipe comes together and incorporates everything you need. Grains, dairy, vegetables, you name it. Bowl recipes are fantastic for this, and they are definitely popular at the moment. When I was creating this spicy tofu quinoa bowl, I wanted something that was healthy, quick, and available to a wide arrange of dietary lifestyles. This recipe is both vegan and gluten-free (vegetarian if you choose to use butter,) and would make the heartiest of meat-eaters proud. My husband really liked those tofu nuggets, but I think this may be his favorite recipe of Tofu Week.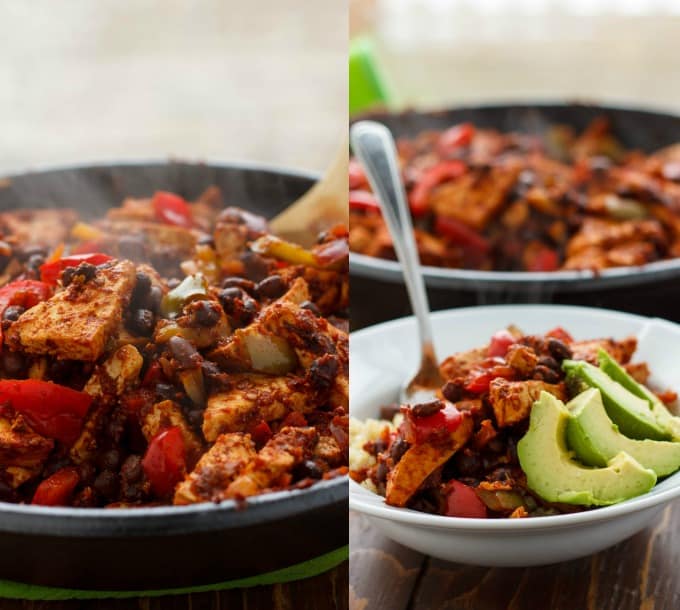 Once again I utilize firm and extra firm tofu here, and having made this dish multiple times now, I will say that a frying pan does work a bit better than a cast iron pan here. I mean, if your pan is seasoned properly it should be okay to handle the dry tofu method, but since my pan was brand new and factory-seasoned, I found the tofu stuck a lot. With a frying pan I have never had my tofu stick, so just food for thought.
📖 Recipe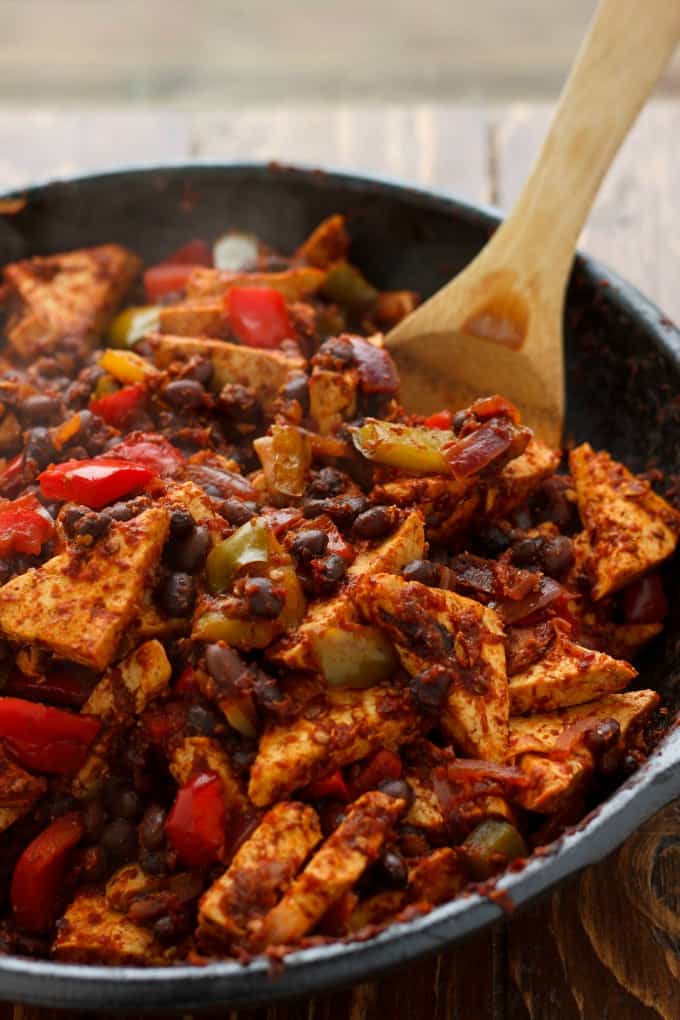 Spicy Tofu Quinoa Bowl
Total Time:
1 hour
5 minutes
A warm and comforting meal for the new year or any other occasion. Very easy to make.
Ingredients
2 lbs firm or extra firm tofu, drained
2 cups uncooked quinoa
4 cups water
1 lime, juiced
Salt
1 (19 oz) can black beans, drained
1 small red onion, diced
1 small red pepper, diced
1 small green pepper, diced
Sauce:
1 (6 oz) can chipotles in adobo sauce
4 garlic cloves
½ lime, juiced
1 tsp. granulated sugar
1 tablespoon butter (or oil for vegans)
½ cup salsa (or more to tone down the spiciness!)
Avocados
Instructions
In a medium-sized pot, combine the quinoa, water, lime juice, and pinch of salt over high heat. Bring to a boil, reduce heat, cover, and simmer for 15 minutes. Remove from heat and set aside.
Squeeze out as much water from the tofu that you possibly can (I wrap it in paper towel and place heavy pans on top.) Slice into bite-sized squares.
Heat a large frying pan over medium-high heat. Add the tofu (no oil needed as we are dry-frying these) and cook until golden brown on all sides (cook take as long as 15 minutes,) stirring occasionally.
While tofu is cooking, in a food processor combine the entire can of chipotles with sauce, garlic, lime juice, sugar, butter, and salsa. Puree until smooth.
When the tofu is golden, reduce heat to medium and stir in onions and peppers. Cook for 1 minute and then add the sauce with the black beans. Simmer for 15-20 minutes.
To assemble, pour quinoa into bowl. Top with tofu mixture and some avocado slices.
Nutrition Information:
Yield:

4
Serving Size:

1
Amount Per Serving:
Calories:

711
Total Fat:

28g
Saturated Fat:

6g
Trans Fat:

0g
Unsaturated Fat:

20g
Cholesterol:

8mg
Sodium:

446mg
Carbohydrates:

83g
Fiber:

17g
Sugar:

8g
Protein:

41g
So sad to see Tofu Week come to an end. If you have not tried tofu before, I highly recommend it (it just takes on the flavor of whatever it is cooked with!) Cooking the tofu with no oil or fats in a frying pan (what we like to call as dry-cooking) ensures a nice, crispy exterior which really helps with the texture (a common fear of most people who have never tried tofu.) If you fry that tofu right, it will not get soggy in recipes like this spicy tofu quinoa bowl and you will be left with a great tasting meal (and no textural issues!)