Let's celebrate everything healthy with these quinoa crusted tofu nuggets (or tofu "chicken" nuggets as I like to call them!) What a great way to start off Tofu Week here at The Cookie Writer!
I love tofu. Even if I was not a vegetarian I would have no issues eating this protein. I actually started experimenting with tofu at a young age while I still lived at home. My dad would often make a huge meat chili, and while I loved chili, I was not the craziest meat-eater. I decided to make my own batch alongside my dad and added tofu. Now, of course at the time I did not realize there was a difference between all the different tofu out there, but I have learned. I worked with silken tofu which basically fell apart in my chili. Still delicious, but not the texture I wanted at all. For most recipes you will find yourself working with firm or extra firm, like I did here with these quinoa crusted tofu nuggets.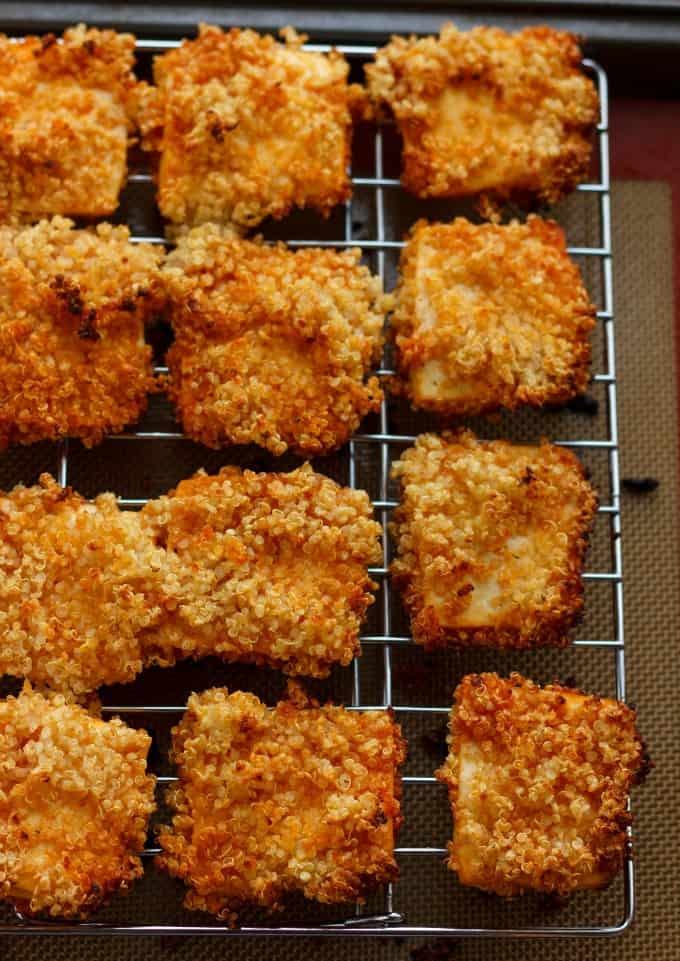 Extra firm would be best, but I got away with using firm tofu. Now, tofu holds A LOT of water. A lot. So you want to do something about that because it will inhibit your tofu from nicely browning/absorbing those wonderful flavors. I tend to wrap my tofu in paper towel and set heavy objects on top to push out the water. You may have to do it a couple of times, but trust me, so worth it. My favorite tool is my cast iron pan. Once that prep is out of the way, working with tofu is a breeze!
I was totally inspired by the idea of tofu nuggets and really liked this one recipe from Forbidden Rice Blog. But since January is the month of health awareness (ohhh how the gyms love January!) I wanted to go a healthier route. Replacing the breadcrumbs with cooked quinoa seemed so perfect, and while I did not think the ingredients would stick together, it miraculously worked! And you know what?! These quinoa crusted tofu nuggets were devoured by my husband! Yes, that is right, the meat-eating husband loved these so much he only managed to save one nugget for my daughter, and one for myself. To be fair, Mr. TCW enjoys tofu and his coworkers love teasing him when they see his meat-free lunch 🙂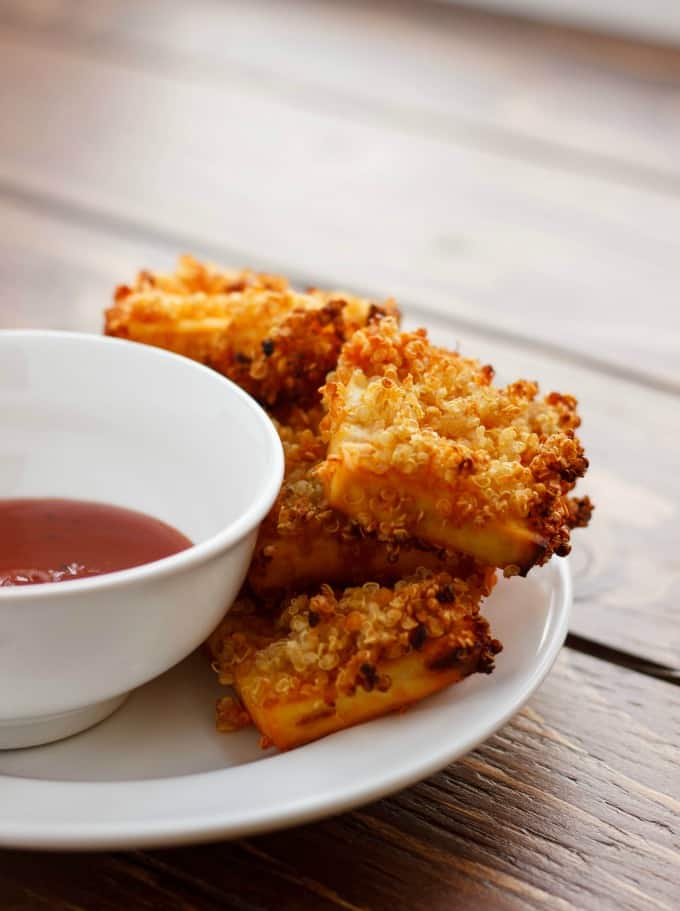 Any THICK sauce shall do, but I went with BBQ sauce. Yes, I realize the sugar content can be high, but it is all I had. You can make your own sauce or coat the tofu in your favorite variety. Just remember, thick is key because otherwise the quinoa will have a hard time sticking.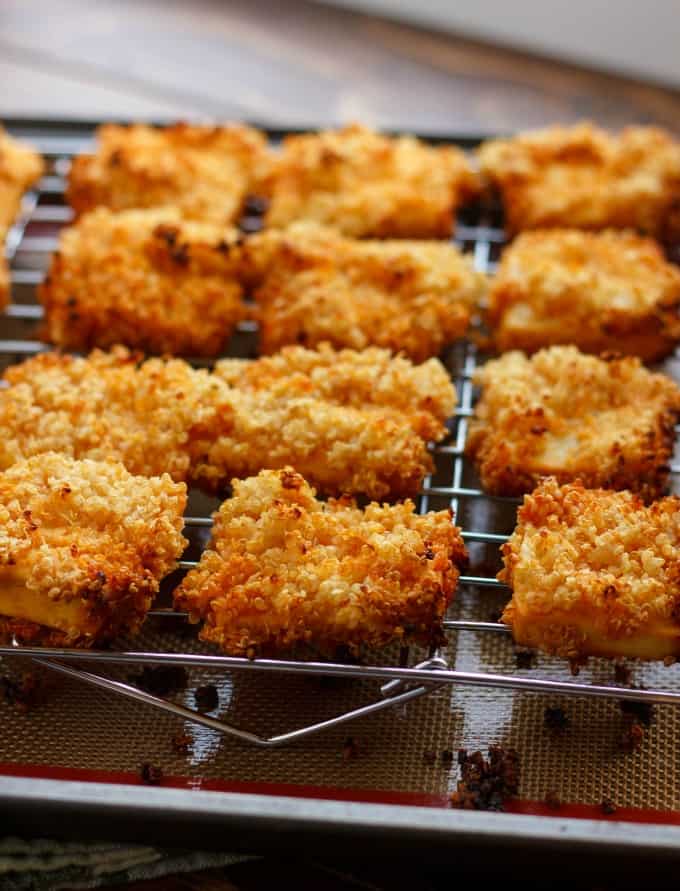 📖 Recipe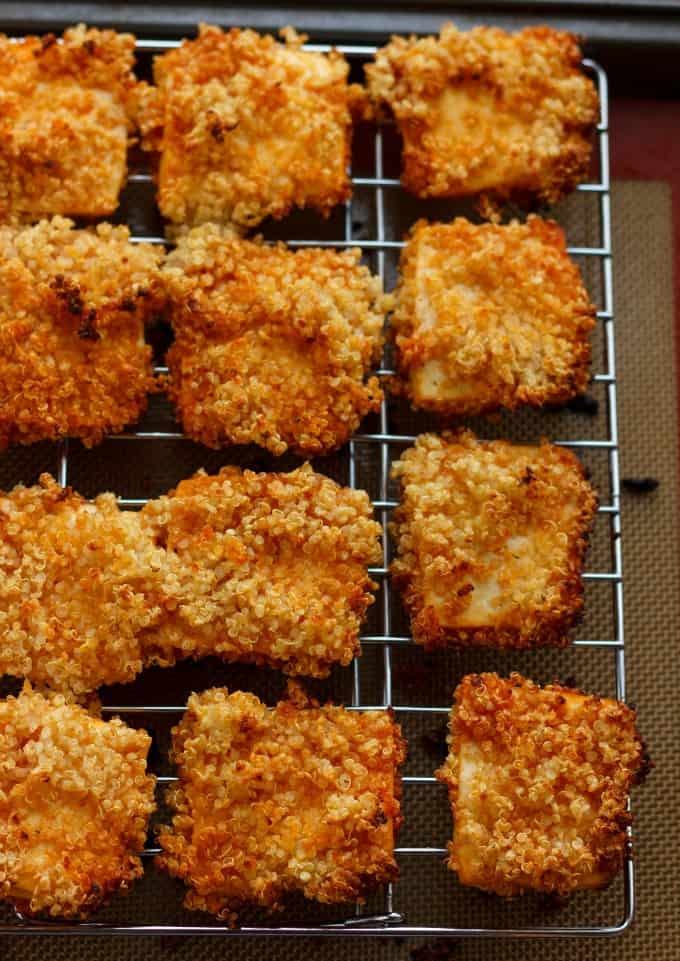 Quinoa Crusted Tofu Nuggets (Tofu "Chicken" Nuggets!)
Turn down that breading and standard chicken nuggets and try these quinoa crusted tofu nuggets instead!
Ingredients
1 lb firm or extra firm tofu, drained and pressed of any water
Bottle of your favorite BBQ sauce (or any healthy, thick sauce.)
½ cup cooked quinoa
Instructions
Preheat oven to 425F. Line a baking sheet with parchment paper or a silicone mat. Add a wired rack on top (not necessary but I like this because the heat can get underneath the nuggets.)
Slice tofu into little "nuggets." I suggest ¼ inch thickness if you are not familiar with tofu. Dip into BBQ sauce (generously) and then coat with cooked quinoa (it can get messy: I kind of placed some extra on top when I brought the tofu pieces out of the quinoa.) Place onto wired rack. Continue until none remain.
Cook for 15-20 minutes, or until quinoa is browned and crispy. Serve alongside more sauce if desired!
Nutrition Information:
Yield:

15
Serving Size:

1
Amount Per Serving:
Calories:

36
Total Fat:

2g
Saturated Fat:

0g
Trans Fat:

0g
Unsaturated Fat:

1g
Cholesterol:

0mg
Sodium:

26mg
Carbohydrates:

3g
Fiber:

0g
Sugar:

1g
Protein:

3g
Another great recipe to use up leftovers (because we know how great quinoa is!)
Bam! Recipe one of Tofu Week complete! If you thought these quinoa crusted tofu nuggets were neat, stay tuned for some more awesome recipes!